Why both Mayweather and Mosley can't beat Pacquiao
Mayweather's neighbor says Shane Mosley is old
By ALEX P. VIDAL / PNS
February 15, 2011
LAS VEGAS, Nevada – At 39, Shane Mosley is past his prime and is not anymore as quick as when he was world welterweight champion 10 years ago.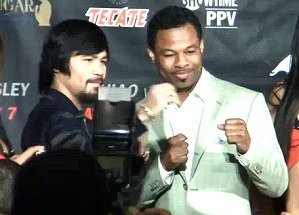 This was the assessment made recently by Freddie Dawson, a veteran boxing analyst and neighbor of Floyd Mayweather Jr. (41-0, 25 KO's) in Southern Highlands, here.
Dawson, 62, said he wasn't excited to hear that Mosley, who beat 1992 Barcelona Olympics golden boy Oscar De La Hoya (39-6, 30 KO's) twice in as many confrontations during his prime, will fight Manny Pacquiao on May 7 at the MGM Grand.
"Mosley is old and he won't last the distance with Pacquiao," said Dawson, who predicted the 32-year-old eight-time world champion Filipino to demolish the black American speedster in five to six rounds. "He doesn't have the stamina that he used to have."
Dawson, a registered nurse and retired army, said Pacquiao's advantage is he is quicker and younger. Mosley (46-6, 39 KO's), he said, can't take the Filipino's strong punch as "he has never fought anyone that has put a lot of pressure on him."
Vernon Forrest
Dawson cited Mosley's two back to back losses to the late Vernon Forrest in 2002 where Mosley got buried from Forrest's avalanche of punches on several occasions and was nearly counted out if not for his footwork, en route to losing a decision on January 26, 2002.
In their rematch on July 20, 2002, Dawson observed that Mosley "obviously didn't fight toe-to-toe with Forrest for fear of being knocked out."
Forrest (41-3, 39 KO's) had been pulverized by heavy hitting Hispanic Ricardo Mayorga (29-7, 23 KO's) and was shot dead in a robbery in Atlanta on July 25, 2009.
But Dawson credited Mosley for nearly stopping Mayweather in the second round in their title fight on May 1, 2010. "Mosley, of course, could still punch hard as manifested by his brutal annihilation of Antonio Margarito and his near upset knockout win over Mayweather," Dawson pointed out.
Mayweather recovered from the second round ambuscade and outslicked Mosley for a 12-round unanimous decision win.
Dawson cautioned Mosley from fighting toe-to-toe with Pacquiao (52-3-2, 38 KO's) saying his best chance to beat the best boxer pound-for-pound is to "stay away from Pacquiao and avoid his left."
Best Weapon
Dawson believed that Pacquiao's best weapon is his left straight although the hard-hitting lefty, who was elected congressman in the Philippines before beating Margarito in Arlington, Texas last Nov. 13, 2010, has developed his right punch and is now believed to be equally destructive.
Dawson said Top Rank needed to tap Mosley to fight Pacquiao because Mosley has a large follower in California and Las Vegas "and this means a lot of money."
In agreeing to fight Pacquiao, Mosley believed to have severed his ties with his former promoter, Golden Boy Promotion.
Top Rank CEO Bob Arum considers the Pacquiao-Mosley fisticuffs as "boxing's version of the Super Bowl."
Dawson also predicted that the Pacquiao-Mayweather fight will push through.
"I think Mayweather is only waiting for Pacquiao to get older and slower because he knows that, by that time, he can beat Pacquiao," he stressed. "If Mayweather will fight Pacquiao today, Pacquiao will knock him out in the third round."
"Every great fighter has trouble with another fighter," Dawson explained. "Muhammad Ali always had trouble with Jose Frazer. Pacquiao will always have trouble with (Juan Manuel) Marquez. Mayweather will have trouble with Pacquiao."
Greatest Fighters
Dawson worked in the emergency room of the West Anaheim Medical Center in Anaheim, California for 15 years and has watched and analyzed with his late father, Luther, the epic heavyweight title clashes between American Floyd Patterson and Sweden's Ingemar Johansson as well as the bloody wars of Jersey Joe Walcott and Dick Tiger, among other prominent pugilists in the 50's and 60's.
He rates Muhammad Ali as the greatest fighter of all time followed by Joe Louis and Sugar Ray Leonard. "Pacquiao would be no. 3 or 4," Dawson gushed.
Meanwhile, Mosley has expressed confidence of beating Pacquiao. In a recent press conference to kick off the promotional tour in Los Angeles, Las Vegas and New York, the three-time world champion gushed: "I think it's very hard but styles make the fight. Being that he's a very exciting fighter and likes to bring it, that leaves openings for me. We'll see when we get to the fight. It's not the African-American style that will beat him. It's my style that will beat him. Everybody fights differently and styles make the fight and in this fight you have two guys engaging and I think I have what it takes to get the job done.
"I don't know what the odds are for this fight. I'm not a betting man. I definitely won't be on the losing end. I think it should be even. We are two similar types of fighters. We both like to battle. He throws punches more rapidly than I do but my punches are heavier. I don't know what the over-under is. It won't go the distance. This is the type of fight that would never go the distance."
Top ranking CPP personality nabbed by the Army's 34IB
By CMO Battalion, 8ID PA
February 16, 2011
CAMP LUKBAN, Catbalogan, Samar – With the serious and continuous implementation of the government's Internal Peace and Security Plan "Bayanihan", top personality of the Communist Party of the Philippines's Central Committee fell into the hands of the Army's 8th Infantry Division in the vicinity of Brgy Bay-ang, San Jorge town in the province of Samar around 10:00 a.m. of February 13, Sunday.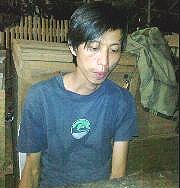 Ericson Acosta
Initial reports that had reached to this headquarters disclosed that a platoon from 34th Infantry Battalion under Second Lieutenant Jacob Madarang was conducting their routine security patrol when they intercepted a certain Ericson Acosta who was about to board a pump boat towards the municipal proper after acting suspiciously.
Lieutenant Madarang said that he (Acosta) gave conflicting and confusing answers to simple and routine questions and later appeared nervous until attempted to draw hand grenade from his pocket.
One soldier immediately grabbed Acosta's arm and grasped the explosive to preempt more serious occurrence that might follow.
Acosta who is 37 years old was later identified by an informant (identity was personally requested to be withheld for security reasons) and further revealed to be from Cubao, Quezon City and working under the Instruction Bureau of the National Education Department of the CPP-NPA-NDF's Central Committee.
The informant further revealed that Acosta also masquerades as August Lim in the underground movement. He also said that he (Acosta) was sent by the CPP to facilitate the production of various propaganda materials such as "Ang Bayan" newsletter intended to shoot propaganda to the people. Troops also recovered from Acosta one (1) laptop notebook with complete accessories and spare battery, an external hard drive, Globe tattoo (USB globe broadband), one (1) unit Nokia 3530, 6 pcs SIM cards, a cash amounting to Four Thousand Eight Hundred pesos (P4, 800) only and his personal belongings.
Meanwhile, Major General Mario Chan, 8ID's commander assured the public that the rights of Acosta were respected during and after his apprehension.
"Acosta was treated very well by the apprehending troops. As we've done so in the past, we assure our people that we will always be observant of human rights. Acosta will be accorded his right to counsel and be given his day in court," the good general adds.
As of 10:00 a.m. this morning, criminal charges have already been filed against Acosta at RTC Branch 41 – Gandara under criminal case # 11-0501 and he is now in the custody of Gandara Municipal Police Office.
With the capture of alias August Lim, the legal front of the CPP and its allied organizations are expected to stage propaganda activities in order to deny the affiliation of Acosta in their mother organization.
The 8ID remains focus on their mandate to pursue the IPSP Bayanihan for the enormous gain towards peace and development if being stormed with propaganda issues just to free their ally especially that the result is now clear and the people have already embraced its worth.
City policemen hone skills in public speaking, writing
By ALICE NICART, PIA Samar
February 15, 2011
CATBALOGAN, Samar – After finishing their special modules in learning how to write technically and speak effectively in public, some 29 members of the Catbalogan City Police Station can now better perform their duties as police personnel.
Expressing his thankfulness to the training initiative afforded of them, PO1 Allester B. Estonilo said that the training has equipped them with the much needed skill for them to be able to write and talk more credible and reliable investigative reports.
"It has also boosted our self-confidence, because we are now better speakers and writers", Estonilo said.
All 29 are thankful to the three police officers from New Zealand who were sent by the United States under the International Criminal Investigative Training and Assistance Program (ICITAP) with SPO1 Bernard D. Briones as instructor of ICITAP Philippines.
Asked why they chose Catbalogan City policemen in the entire Samar island, PInsp Dana McDonald could not share any information except that they were just sent to the place by the US Department.
Meanwhile, PInsp Jhon Price had so much to appreciate about the warmth and hospitality showed to them by the Catbaloganons.
"Thank you for the way you received us here, you people are warm and so kind-hearted", Price said during the closing program. He also expressed hope that the newly trained policemen would be able to apply their new skills in the performance of their duties.
Recognized for their excellence in the training and active participation are the following: PO2 Agustina Sison, SPO3 Samuel Rosales and PO1 Carlo Merida for Public Speaking Awards and PO1 Michael Beduya, PO1 Allester Estonilo and PO1 Joanne Nayanga for Technical Writing.
As guest speaker, PIA shared them some practical tips on effective public speaking and some phoneme drills.
Volunteer doctors perform 196 free major operations
By NINFA QUIRANTE, PIA Samar
February 14, 2011
BORONGAN, Eastern Samar – Over a thousand estehanons received free medical attention during the Diocese of Borongan's 7th Medical Mission that extended from January 31 to February 11, 2011.
According to Eden Cidro, the mission's volunteer coordinator, the doctors from the United States and Canada operated on 209 patients.
"Most of these were major operations, only 13 were minor," Cidro said.
Some of the major operations done during the medical mission were thryoid surgery, mastectomy and nasal polyp surgery.
The patients had the operations, free of charge.
According to Dr. Grace Quinto, a patient would normally spend around P70,000 for a mastectomy.
In a separate interview, Commission on Social Action's Head Fr. Juderick Calumpiano said that the parish priests were the ones in charge of referring patients to the medical mission.
From the name of the program, "Bulig Kablas," the medical mission aimed to make medical attention available to indigents.
The word "kablas" in Waray means impoverished.
The medical mission was done in partnership with the Diocese of Joliet Illinois and the local government unit of Eastern Samar.
Pacquiao-Mosley fight promotional tour
My power is natural – Pacquiao
By ALEX P. VIDAL / PNS
February 14, 2011
LAS VEGAS, Nevada – Insisting he never used illegal substance in his entire fistic career, eight-division world champion Manny Pacquiao on February 12 told boxing fans at the MGM Grand here "my power is natural" during the Las Vegas leg of the kick-off press conference of his May 7 fight against Shane Mosley.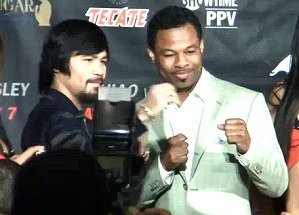 "You have to believe me that my power is natural," the 32-year-old Pacquiao declared in answer to the question of a male boxing fan during a press conference at the Grand Arena which was opened to public.
"I never used any medicine because my power is natural," he reiterated. "I am strong."
Pacquiao (52-3-2, 38 KO) and Mosley (46-6, 39 KO) hit this city, known as gambling capital of the world, for promotional tour of their mega fight to be held in the same arena which will end in New York February 14.
Pacquiao, meanwhile, assured boxing fans there will be no distractions in his preparations against Mosley despite his schedules in Philippine Congress.
He also nixed reports he is planning to run for Philippine president. "My job is to continue boxing and attend to my responsibilities in Congress and I have no plan to run for president," he said.
Pacquiao also dismissed reports that he would hang up his gloves soon.
"I will not yet retire after my fight with Mosley," he promised.
Even before his fight against Mosley, promoters were already starting to negotiate for his possible showdown versus Floyd Mayweather Jr.
Mosley, for his part, said his fight against the Filipino best boxer pound-for-pound "will make me shine and I will shine again."
The former protégé of the Golden Boy Promotion owned by his one-time victim, Oscar De La Hoya, refused to make predications but claimed he is unfazed by being tagged as underdog.
The two-hour press conference was arranged by Top Rank chief Bob Arum who announced that the May 7 event will be distributed at SHOWTIME Pay-Per-View.
"As everyone knows we've been in the land of Cowboys for our last two fights, but I live in Las Vegas and I thought it was time to come back to the place which is the capital of boxing. I think boxing needs Las Vegas and Las Vegas needs boxing. This is like boxing's version of the Super Bowl," Arum said.
Some 3,000 fans watched the press conference and about 20 of them were allowed to ask questions.
DOH-Samar opens new Schistosomiasis control unit
By ALICE NICART, PIA Samar
February 14, 2011
CATBALOGAN, Samar – With a total package costing some P500,000, the newly rehabilitated Schistosomiasis Control Unit of Samar province was inaugurated Monday with Father Arnold Sison, who blessed the building and its surroundings.
Doctor Antonio Terazona, Medical Specialist IV and Provincial Department of Health Representative (DOHREP) informed that the building in shades of yellow paint will serve the public here with Malacology and Paracetology rooms.
"Malacology specialists treat the disease-bringing snail while the Paracetologists treat the human stool for infectious organisms," Dr. Terazona said.
He further reported that nine municipalities and one city in the province are schisto endemic, thus the need for the center: Basey, Sta. Rita, Catbalogan, Tarangnan, San Jorge, Gandara, Pagsanghan, Sta. Margarita, Pinabacdao and Calbayog are under the list, however, the doctor assured that not all barangays in the towns mentioned are affected with the dreadful snail.
Asked how could the public prevent such a disease, the 51 year-old doctor mentioned about their control program which includes mass treatment cum deworming which is done to 6 to 65 year-old group of people. Also, massive information campaigns continue for people to avoid stagnant waters and submit whenever possible for stool examination and treatment, even the strike of the disease.
It is because once the larva enters the human body, the health officer informed that it is hardly irreversible except when major organs have not yet been damaged.
"But otherwise, we can only control the further spread of the granola and lengthen the life span of the patient, thus, it is important to detect the early stage of the schisto in the body", he added.
The Schistosomiasis Team which comprise also the technical team from the Rural Health Unit here is responsible in providing the health service needed by the public.
Dr. Terazona warns the public to be alarmed and submit for medical help when an unusual stomach pain is felt added to bloody stool and fever, but a regular check up is still better, he said.
The newly rehabilitated Schisto Control Unit was financed by the Department of Health, Eastern Visayas.
DOLE deploys 170 nurses to Eastern Samar towns
By NINFA B. QUIRANTE, PIA Eastern Samar
February 14, 2011
BORONGAN, Eastern Samar – Department of Labor and Employment (DOLE) Provincial Chief Alexi Abellar confirmed today that 170 nurses have been deployed to all 23 municipalities in Eastern Samar under the Registered Nurses for Health Enhancement and Local Service (RN HEALS) Program.
The nurses went through an orientation on Friday and Saturday to prepare them for their assignment.
Wevina Cainday, one of the nurses under the program, got ready as early as 3:00 AM because she had to take a four-hour trip to her assignment. Although Cainday is from Borongan, her assignment is in San Policarpo town.
Abellar, in earlier interviews, said that although ideally the nurses are to be assigned to the town where they are from, some applicants from Borongan and Guiuan were assigned to other towns that had few applicants, or some none.
Cainday and the other nurses in the program were promised an P8,000 allowance from the Department of Health (DOH) monthly for the whole year in the RN HEALS Program. The DOH also confirmed that it has encouraged the local government units where the nurses are assigned to add P2,000 to the allowance.
Abellar said that the nurses will also be enrolled under the Phil Health.
Towns under the Pantawid Pamilyang Pilipino Program (4Ps), like Jipapad and Maslog, will have 10 nurses assigned to the rural health units.
The government hopes to make basic health services more accessible through the assignment of the nurses to RHUs under RN HEALS.
Zamboanga hosts the country's first observance of "World Interfaith Harmony Week"
Press Release
February 8, 2011
ZAMBOANGA CITY – The city's different religious leaders, Christian constituents and Muslim women leaders and peace advocates hailing from Luzon, Visayas and Mindanao, including those from the islands of Sulu, Tawi-Tawi and Basilan, gathered together for an Interfaith Harmony Solidarity Dinner held at the Garden Orchid Hotel to observe the UN-declared "World Interfaith Harmony Week".
Amina Rasul, the President of the Philippine Center for Islam and Democracy (PCID), a non-government and non-profit organization, revealed that 2011 is the first celebration of World Interfaith Harmony Week, which takes place every first week of February, after the passage of a UN General Assembly resolution in October last year, sponsored by King Abdullah of Jordan.
"There are over 45 events that have been scheduled worldwide to celebrate World Interfaith Harmony Week. Our Interfaith Harmony Solidarity Dinner is one of many events and the only event in the Philippines which is known as a champion of interfaith dialogue, in the world," she disclosed further.
Rasul said interfaith dialogue is important to strengthen Muslim-Christian relations strained by persistent conflicts in Mindanao.
In his welcome message, Mayor Celso Lobregat of Zamboanga City thanked the organizers for choosing his city as the venue for the Interfaith Harmony Week celebration. "Our population is a good mixture of Christians, Muslims and Lumads who co-exist with great respect for and tolerance for one another despite religious differences."
A Religion of Peace
Dr. Aboulkhair Tarason, vice-president of the National Ulama Conference of the Philippines, encouraged fellow Muslims to emphasize that Islam is a "religion of peace, compassion, forgiveness, moderation and harmony, and not a religion of lawlessness, kidnapping, violence and terrorism."
Archbishop Romulo Valles of the Archdiocese of Zamboanga, appreciated the initiative and was grateful for the many efforts of interfaith dialogues in the Philippines. He added, "It was not easy at the beginning to convince people of other faiths that the Catholic Church is sincere in promoting interfaith dialogue, but we continue to promote dialogue and help many in the Church to believe that this is the way to be faithful to our mission."
Reverend Ira Lee Rosalita revealed he feels at peace and secure in the company of Muslims and has never experienced being harassed while passing through Muslim communities in Lanao and Maguindanao.
Bartolome Madriaga of The Church of Jesus Christ of Latter Day Saints, urged Zamboangeños to strengthen their individual resolve to be "doers of the word and not hearers only" when it comes to promoting peace and harmony in this city and beyond.
From the RVM Congregation, Sister Maria Niña Balbas, Directress of Pilar College, said that peace is recognized as one of the highest values to be sought and defended. She stressed that, "by bringing harmony among the different faiths in the world, we then are able to contribute to the healing of our wounded planet."
Father Sebastian d'Ambra of the Silsilah Foundation, said that "harmony" is a very good synthesis one can apply to one's faith. He pointed out that despite many efforts and initiatives in peace-building, trouble still exist which tells us that "we need to work more."
Muslim peace advocates in Zamboanga are active in sowing peace and harmony among the followers of different faiths according to Prof. Ali Yacob, head of Golden Crescent Consortium of Peace Builders. "We continue what our past traditional leaders have started – spearheading peace-building efforts to strengthen Muslim-Christian relations on which we enjoy the fruit," he added. He disclosed that the city is relatively peaceful where Muslims and Christians have love and respect for one another.
More than 180 participants attended the event hosted by the PCID, Magbasa Kita Foundation and the NUCP.