8ID Army Commander composes hymn for Filipino soldiers
By EMY C. BONIFACIO, Samar News.com
February 12, 2011
CATBALOGAN, Samar – A newly composed hymn for Filipino soldiers was first heard by members of various civil society organizations who attended the "Ilaw para sa Kapayapaan" candle lighting activity at the camp premises of the Stormtroopers on Feb. 8, this year. It was aired as a finale number in a short program that followed after the candle lighting.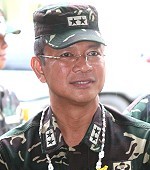 MGen. Mario Fontanilla Chan
The new song, "Sundalong Pilipino", which will be applied for patenting for its intellectual right was composed by MGen. Mario Fontanilla Chan, Commanding General of the 8th Infantry Division, Philippine Army based in Catbalogan Samar.
The music was arranged by Cpl AP Julaton and Cpl MG Sandigan.
"I composed the song for just two weeks. I am even asking how to apply for its intellectual rights", the army commander beams with pride while he tells on how the song was inspired by his passion for his profession. According to him, it was his way of acknowledging the efforts of his men who are at all times ready to serve the country and its people.
"Sundalong Pilipino" as a song, narrates of a soldier's coping up with the challenges in preserving the peace in every Filipino family. "They need to be well trained physically, mentally and intellectually. Soldiers are molded to possess a clean/pure heart with human dignity and intense commitment to be able to serve at all times", says the composer.
The commander received congratulatory remarks from the crowd. While requests for copies of the song poured in, release of its copies are temporarily withheld as he would like to further improve its arrangement and packaging before it goes out for public. However, Samarnews was privileged to get a copy of the lyrics of the song. Chan is hopeful that the song will be played in all other army divisions in the country.
In a related story, the 8ID invited multi-sectors in a candle lighting ceremony which was simultaneously held in other military camps nationwide. "Ilaw Para sa Kapayapaan" is a peace advocacy initiative by the Office of the Presidential Assistant for Peace Process (OPAPP). It was well attended by MATA-Samar, Alert Radio Group, Kabalikat and other Civil Society organizations in Catbalogan. The same activity was conducted at the Quezon Memorial headed by P'noy himself who was also celebrating his birthday on the same date.
"The candle lighting symbolizes our solidarity and our call for peace across the land. Let us all pray that through our concerted efforts, we can attain peace and progress in our country. Attaining peace isn't just a military role. Peace is not a defense matter. Each and every member of the community should play his role." was Chan's justification for the candle lighting.
He further stressed that "development has long been forgotten in Samar". Despite Samar's being the 3rd largest island endowed with natural resources and potentials for development, Samar remains to be one of the poorest provinces in the country.
Samarnons were advised to refrain from partisan politics. Instead, he suggests to put in place all development plans and programs that would alleviate poverty and improve the lives of Samarnons. Focus has been made on the development of road projects that would interconnect tri-boundaries in Matuguinao, Las Navas, Maslog and Jipapad which are considered as insurgents' main bases.
Finally, Gen. Chan is hopeful that peace will soon be attained. "Winning the Peace is our theme. Peace can be attained by sitting down and talking and agreeing among ourselves. Development cannot be achieved by continuous fighting", says the General as he announced the start of a formal peace talks on February 9.
PBA partylist sponsors scholarships for Eastern Samar youth
By NINFA B. QUIRANTE, PIA Eastern Samar
February 12, 2011
BORONGAN, Eastern Samar – More than a hundred scholars from the Eastern Samar State University (ESSU) received scholarships from Pwersa ng Bayaning Atleta (PBA) partylist recently.
PBA Representative Mark Ahron Sambras personally distributed the certificate coupons to the poor but deserving students.
Two ESSU campuses; ESSU main in Borongan and Can-avid campus, both in Eastern Samar got the scholarship slots.
The Puwersa ng Bayaning Atleta (PBA) has a mission to support nation building through a world-class sports program, promote an active, drug-free and healthy lifestyle, engage in competitiveness, sportsmanship and fair play through sports.
The partylist is branching out to education, the representative said in his speech.
The scholarship slots benefitted those that have enrolled in the second semester of school year 2010-2011.
Hermie Oraya, a third year BSEd student thanked the sponsor, instead of paying his tuition full of P3,330 he will just pay less than a thousand as PBA will pay P2500 directly to the school. Oraya is a working student as his mother earns very little as a Barangay Health Worker.
Mary Ann Pombo from Barangay Bugas, Borongan is also a recipient, like Oraya, she is thankful for the scholarship and prays for another entitlement come school year 2011-2012.
Both recipients share the vision of Eastern Samar Governor Conrado Nicart who stressed in his speech that education is the basic foundation of life of the modern man.
Vice-Governor Christopher 'Sheen' Gonzales was said to be instrumental in getting the attention of PBA to help the poor but deserving ESSU students.
Sambras, in his speech told the students that PBA does not only care for sports but even for the poor who believe that education will uplift them to a better quality of life.
Publish rice import permits, solon urges NFA
Press Release
February 12, 2011
QUEZON CITY – To ensure absolute transparency and accountability, Cebu Rep. Eduardo Gullas has urged the National Food Authority (NFA) to publish the complete details of every rice import permit issued to private traders and large end-users such as fast food chains.
"The NFA should post on its web site the details of every new rice import license issued, to include the entity allowed to make the importation, the entity's controlling owners, and the exact volume of the authorized shipment, among others," Gullas said.
"This will help discourage potential abuses moving forward," Gullas pointed out.
Gullas made the statement not long after Malacañang exposed a scam in which a highly favored group of traders cornered and profited from the importation of up to 200,000 metric tons of rice in the previous administration.
NFA Administrator Angelito Banayo later revealed that at least 10 fictitious farmers' cooperatives, backed by a lone financier, irregularly obtained rice import licenses in the past.
The Department of Agriculture (DA) said earlier this week that the country would have to import another one million to 1.3 million tons of rice this year.
"Rice is an extremely sensitive commodity, both economically and politically. Government should be watchful in ensuring ample supply of the grain at fair and stable prices," Gullas said.
Since December, Gullas noted that rice retail prices have already increased by around five percent, after the NFA raised its selling price of the grain from P25 to P27 per kilo.
"The wild card in our rice supply is harsh climate change. Brutal weather conditions, be it severe flooding or a prolonged dry spell, can easily set back domestic production," Gullas warned.
The same conditions could also upset the output of the world's three leading rice exporters – Thailand, Vietnam and Pakistan, he said.
"Extreme flooding in China, for instance, can easily tip the global balance of rice supply and demand, because China is a large importer of the grain," Gullas added.
The Philippines imported almost 2.5 million tons of rice in 2010 due to "unprecedented supply issues."
Banayo later claimed that the previous administration actually imported an excessive amount of rice last year.
The country is projected to produce 17.4 million tons of rice this year from a lower-than-expected 15.77 million tons in 2010, according to the DA.
EO standardizes pay and perks of GOCC, GFI executives
Press Release
February 11, 2011
MALACAÑANG, Philippines – Malacañang has issued an executive order standardizing the salaries and bonuses of executives in government-owned and controlled corporations (GOCCs) and government financial institutions (GFIs) to strengthen control over compensation levels.
President Benigno Aquino III signed Executive Order No. 24 on Thursday to address deep concerns on the excessive and unreasonable pay and perks received by board members and trustees of GOCCs and GFIs that had unnecessarily depleted government funds and caused demoralization within the bureaucracy.
"This EO will serve as a stop-gap measure to rein in excessive pay for GOCC board of directors and trustees until a law is passed mandating such," Executive Secretary Paquito N. Ochoa Jr. said on Friday.
According to Ochoa, one such measure is Senate Bill No. 2640 or the proposed GOCC Governance Act of 2011 put forward by Senator Franklin Drilon, which is now pending in Congress.
The Executive Secretary said the EO set out the policies on salaries, per diems, allowances, bonuses, incentives and other benefits of the GOCC and GFI board of directors and trustees "to a level that is reasonable, justifiable and appropriate."
"While we do not begrudge GOCC execs for rewarding themselves for exemplary performance, these financial rewards should be within reason. This EO seeks to set the guidelines that will standardize pay rates to prevent abuse," Ochoa said.
He thanked the Departments of Finance and Budget and Management for "working with us to exhaustively study and review existing compensation policies. Their input was invaluable in the drafting of these policy guidelines."
The EO covers board members and directors of GOCCs and GFIs regardless of classification and whose compensation shall be subject to the approval of the President.
It also includes representatives of GOCCs in the boards or private corporations wherein the government or GOCCs have investments.
This means that all chartered and non-chartered GOCCs – whether covered or exempted by the Salary Standardization Law – and their subsidiaries are directed to comply with the policies and guidelines on compensation and reimbursable expenses set by the EO.
Under the new guidelines, the peculiar nature of corporations in terms of size, strategic positioning, nature of operations and financial capability should be taken into consideration in determining a compensation system that is consistent with the pay practices in public and private corporations, as well as the principle of equal pay for work of equal value.
The maximum amount of performance-based incentives to be granted to board members or trustees should depend on the size of the GOCC and GFI, and should not exceed 50 percent of the board member's annual compensation received for outstanding performance.
The EO says reimbursable expenses cover performance of official functions such as transportation going to and from the place of meetings, travel during official trip, communication and meals during business meetings. These, however, are subject to budgeting, accounting and auditing rules and regulations.
"Let me emphasize what the President said on GOCC Governance Day last January: The money earned by GOCC belongs to our people and should be used for their benefit, not the benefit of those who run GOCCs. Our people are our boss, and this EO should help those who manage our GOCCs remember that," Ochoa said.
8ID joins nationwide "Ilaw Para Sa Kapayapaan"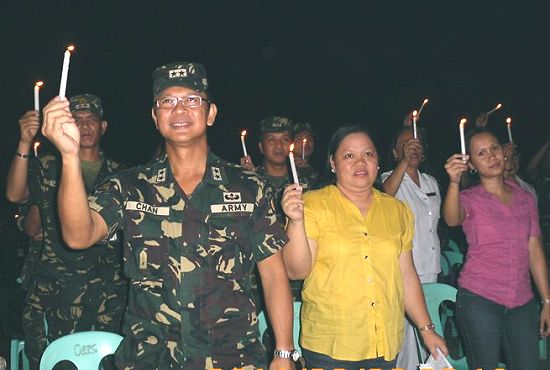 By EMY C. BONIFACIO, Samar News.com
February 11, 2011
CAMP LUKBAN, Catbalogan Samar – The Army's 8th Infantry Division joined the whole nation in the simple yet meaningful candle lighting activity dubbed as "Ilaw para sa Kapayapaan", a nationwide simultaneous lighting of candle in front of 8ID Admin building around 6:30 pm., February 8.
More than two hundred (200) participants from the Civil Society Organizations (CSO), Non Government Organizations (NGO's), local media, academe, religious and other social sectors joined the officers, soldiers and civilian employees of 8ID in the nationwide call for peace.
In his message, Major General Mario Chan, 8ID's commander said that the event gives hope to the people of Samar and the whole Eastern Visayas region.
He further stressed that the candle's light symbolizes "Peace" which is long desired by the people of Samar.
"The suffering of our Samareno in this insurgency problems is long enough that needs to be given serious attention. The light gives hope for peace and progressive place to live in with… War is not the solution to all of this, we can win this war by convincing them to be part of us and live a normal life," General Chan adds.
"We hope that this light (candle light) will surely give us enough hope to fully achieve peace here in Eastern Visayas" General Chan concludes.
Meanwhile, Miss Myra Tambor, the President of Katungod Han Samarena Foundation Inc, who was the event's guest of honor and speaker, regarded the activity as a very meaningful activity especially that it aims peace to reign.
She said that it is high time for all sectors of our society to join hands for the common interest and attainment of peace in Region 8.
She also encouraged the participants particularly those coming from CSOs and NGOs to give their share and contribution for the ultimate winning of peace.
"May I request everyone to please do not take the candle lights off yet, for it gives us a meaningful light for us to have a continued and burning desire for peace. These lights be our light and hope that someday, peace in Region 8 will surely be attained," Tambor said.
The activity has concluded bringing the participants new hope for the coming days to come and made them more aware on the present Internal Peace and Security Plan (IPSP) "Bayanihan" of the government.
The activity is an advocacy initiated by Civil Society Groups and Non Government Organizations (NGOs) supported by the Office of the Presidential Adviser on the Peace Process (OPPAP) and the Armed Forces of the Philippines (AFP).
City Hall jumpstarts SWM advocacy with clean-up activity
By LAIMINH S. MABULAY, City Mayor's Office
February 11, 2011
CATBALOGAN CITY – Employees of the City Hall put a twist to the old saying, "charity begins at home". In their case, it's proper waste disposal begins at home, sending a clear signal that it intends to take the lead in promoting solid waste management.
This was the message that City Mayor Coefredo T. Uy and the City Government wanted to convey as it launched a clean-up drive right in its own premises last February 4, 2011 starting at one o'clock (1:00) in the afternoon. The inter-office clean-up activity was meant to be an initial move before the City Government proceeds to its other activities related to Solid Waste Management (SWM). To further drive home this point, the City Government has purchased color coded plastic trash bins so that proper waste segregation may be applied within the workplace. This was incorporated in its new program dubbed as "Let's S.T.E.P. up or Segregate Trash for Environment Protection!"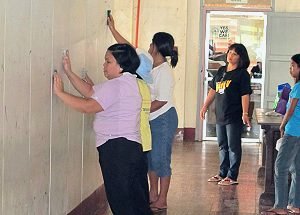 Starting today, the waste receptacles will be placed at various areas of the City Hall to maintain its cleanliness and make it more inviting to clients and visitors. The trash bins come in a set of three bearing the colors red, gree and blue. Each color indicates the type of trash that is to go into a certain bin.
The red trash bins are for biodegradables wastes such as food wastes, fruit peelings and plant and animal wastes. The green trash bin is for non-biodegradable wastes such as papers, plastics, glass and metal items. Lastly, the blue trash bin is for wastes that cannot be thrown in either the red and green trash bins. Examples of these are styrofoams, sanitary napkins, batteries, machine spare parts and other industrial wastes.
The City Hall's clean-up activity was meant to serve as a small step towards a bigger goal, which is to eventually institutionalize solid waste management program as an important component of environmental protection. Without any legislative measure still in place, Councilor Stephany Uy-Tan – who is the Chair of the City Council's Environment Committee – is currently targeting the public's awareness as the first step towards gaining support for this advocacy.
With the Market Code, Slaughterhouse Code, Sanitation Code and the Water Code, crucial legislations that will eventually be incorporated into the Environment Code still being drafted, Step Tan believes that changing public behavior towards waste disposal is the best solution for now for this will make implementation smoother once appropriate legislations are already passed.
2,011 seedlings of native trees planted to launch 2011 as International Year of the Forest
By BONG PEDALINO, PIA Southern Leyte
February 10, 2011
SILAGO, Southern Leyte – The year 2011 is Year of the Rabbit in Chinese Calendar, but 2011 was also the International Year of the Forest, as declared by the United Nations, to raise awareness and strengthen importance of forests.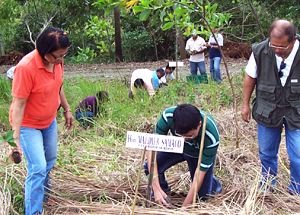 Last week, either by design or coincidence, the Chinese New Year, which fell on February 3, also became the date for the launching of this yearlong observance here in this pacific town, as initiated by the Visayas State University (VSU), according to Provincial Environment and Natural Resources Officer (PENRO) Ricardo Tomol.
The UN launching was held also on the same date in New York (Feb. 2), it was learned.
"Some 2,011 pieces of local indigenous seedling were planted, like lawaan, tugas, narra as a way to launch 2011 as international year of the forest," Tomol told Philippine Information Agency (PIA) in a phone interview on Wednesday.
These were planted by high school students, personnel from VSU, the local government unit, and others, said Tomol, who was present during the event.
Congressman Roger Mercado and Governor Damian Mercado each sent representatives who also joined in the tree-planting, he added.
Venue of the activity was the watershed area, the upstream portion of Silago's Mag river.
The VSU-led project headed by their President Jose Bacusmo called for a close monitoring in two to three years' time of some 50 hectares of Silago's total forest, while another component was the rehabilitation or reforestation of some 75 hectares of this town's denuded mountains and open areas.
PENRO Tomol said DENR's participation of this endeavor, together with the LGU, was the identification of specific areas that need to be closely watched and to be focused attention.
He said Silago still has over 530 hectares of virgin forest.