Maslog mayor fears hunger in his town
By PIA Eastern Samar
January 17, 2011
BORONGAN, Eastern Samar – Septemo Santiago, Maslog town mayor fears hunger will occur in Maslog after the relief goods are consumed.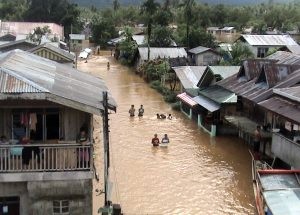 In a phone interview, today, the mayor said that the ricefields of Maslog have been totally submerged in flood waters.
"My people can not even go to their farms due to this incessant rain," Santiago told PIA.
However, the mayor is grateful that many entities have relayed relief packs to the people. "Yesterday, GMA foundation was here, they distributed some 150 relief packs," the mayor was grateful. "DSWD Region also gave us relief goods, this is on top of the P1 million worth of relief goods that the LGU has procured."
The mayor shared that the water has sunk down to the river but his people have not returned to their residences yet for fear of the same occurrence as rains continue to pour in torrents until today.
These people constructed makeshift houses made of canvass, materials from coco trees and others indigenous materials just to have roofs over their heads.
Although the mayor is not alarmed at the health of his strong bodied constituents, still he is concerned that some cases of influenza, respiratory problems and diarrhea have been observed.
The mayor has never left his town since the flooding. "Only on January 4 when DSWD summoned me to get the relief packs, since then, I have stayed with my people, come hell or high waters," Mayor Santiago said with a silent prayer that his people will be safe despite the onslaught of natural calamities.
Floods claim two victims in Eastern Samar
By NINFA B. QUIRANTE, PIA Borongan
January 17, 2011
BORONGAN, Eastern Samar – Two more warm bodies succumbed to death due to the flooding that has plagued Eastern Samar.
In today's update of the Eastern Samar Provincial Disaster Risk Reduction and Management Council aired over Radyo ng Bayan-DYES, Peregerio Balase, PDRRMC coordinator said that one Balbina Herbosan, 89 years old from Barangay Malogo, Can-avid town and another Eustaquio Dacles from Maslog town died.
The casualty from Malogo, Can-avid drowned while Dacles from Maslog had a heart ailment and could not be brought to the hospital due to the risky flood waters.
To date, Eastern Samar mourns for eight casualties, with some P371 million damages in agriculture and infrastructure with some P91 million damages in rice crops alone.
Hardest hit is Dolores town, considered the rice granary of the province. Vegetable crops suffered damages in Borongan, Llorente, Maslog and Sulat, according to Balase as they reported by Balase.
Relief operations are still going on even during the weekends as they did last Saturday in Maydolong town.
"I am thankful to Sen. Escudero who donated some 50 sacks of rice," added Balase.
He added that An Waray Party List also donated some goods for relief, an NGO based in Moonwalk, Parañaque and ABS-CBN were some of the entities that pledged to assist the province in this time of calamity.
Meanwhile, Dr. Mariane Isederio of the Provincial Health Office has distributed hygiene kits to affected families courtesy of the United Nations Population Fund (UNFPA).
The health department is concerned that victims of the flood will be afflicted with amoebiasis and upper respiratory ailments.
Flooding affects 64,914 families, causes loss 2 lives in Northern Samar
By TERESITA B. CARDENAS, PIA Northern Samar
January 17, 2011
CATARMAN, Northern Samar – The continuing heavy rains and flooding in Northern Samar affected 64,914 families (330,269 individuals), and loss 2 lives. This was learned from the Provincial Disaster Risk Reduction Management Office (PDRRMO) in an interview conducted by the Philippine Information Agency.
Of the 24 municipalities in the province, 18 were affected by the heavy rains and flooding that continuously pounded the area until today namely, Bobon, 18 barangays with 4,570 families (23,105 individuals) affected; Catarman, 35 barangays with 5,298 families (24,112 individuals); Mondragon, 24 barangays with 6,729 families (40,098 individuals); Lavezares, 16 barangays with 3,667 families (18,533 individuals);
San Roque, 18 barangys with 3,682 families (18,083 individuals); Pambujan, 26 barangays (22,260 individuals); Lapinig, 15 barangays with 2,330 families (11,842 individuals); San Jose, 16 barangays(18,000 individuals); Pambujan, 26 barangays with 3,710 families (22,260 individuals); Lapinig 15 barangays with 2,330 families (11,842 individuals);
San Jose, 16 barangays with 3,600 families (18,000 individuals); San Isidro, 14 barangys with 4,190 families (20,090 individuals); Catubig 47 barangays with 5,751 families (21,735 individuals); Rosario, 11 barangays with 2,027 families (10,035 individuals); Palapag, 11 barangays with 2,363 families (14,052 individuals); Mapanas, 13 barangays with 2,179 families (12,321 inidividuals); Gamay, 2 barangays with 599 families (3,592 individuals); Las Navas, 53 barangays with 6,014 families (30,070 inidividuals); Allen, 20 barangays with 4,470 families (22,350 individuals); Laoang, 23 barangays with 3,492 families; Lope de Vega, 1 barangay with 243 families.
The two children died drowning were Mark Paul Alastoy Aguinaldo, 21 yrs. old of Brgy. Cabariwan, Palapag and Richard J. Acibar, 19 yrs. old, of Brgy. Dona Aniceta, Pambujan.
The hardest hit municipalities were Las Navas, Mondragon and Catubig where all barangays were flooded with up surging affected families due to the continuous heavy rains.
GMA Kapuso Foundation has provided family packs, hygiene packs, camping tents, bottled water, purifying tabs and medicines to 700 disaster families of Catarman. Likewise, additional assistance to 5,000 families will be provided to some other affected municipalities such as Catubig, Las Navas and Palapag.
Women rights defenders call for vigilance in ensuring justice for raped woman vendor
By TANGGOL BAI
January 17, 2011
MANILA – Women human rights defenders today called for vigilance in ensuring that justice will be served for the woman vendor who was recently raped by a policeman in Manila by making the perpetrator accountable under the Anti-Rape Law.
"PO3 Antonio Bautista Jr. of the Manila Police District may be liable under the Anti-Rape Law of 1997, where the penalty of reclusion perpetua is imposed on offenders who is a member of the Philippine National Police, any law enforcement agency or penal institution, or the Armed Forces of the Philippines or its para-military units. We enjoin all women human rights defenders to remain vigilant in calling for justice for the 31-year old woman vendor," said Cristina Palabay, convenor of Tanggol Bayi, the women human rights defenders programme of Karapatan.
Palabay said this continuing practice of prisoner rape, sexual humiliation, abuse and violence even inside the offices of police stations, jails, and military camps should stop. She cited the shadow report on the Philippines submitted by international NGO Just Detention International to the 42nd Session of the United Nations Committee Against Torture (April 2009), when they reported that, in one of the few official studies conducted on prisoner rape in the Philippines, four percent of 552 female jail inmates surveyed reported to the DILG that they had experienced sexual abuse while detained. Seven of the women had been raped, while others were subjected to abusive conduct including sexual touching, kissing, corrections officials exposing their genitalia, and attempted rape.
"We condemn the abuse of authority, force and violence by which members of the police or military exert over women, especially poor women, through these sexual forms of violence. We demand justice for the victim, as we continue to demand accountability for all human rights violations inflicted against women," Palabay ended.
Saint Bernard MDRRMC permits some barangays to return to their homes, others advised to remain at evacuation centers
By R.G. CADAVOS, PIA Southern Leyte
Janaury 17, 2011
SOUTHERN LEYTE – Based on the recommendation from Saint Bernard Municipal Disaster Risk Reduction Management Council Disaster Analysis Committee after the fair observation of a fair weather conditions and site visit, Public Information Committee chair Jane Araneta reported that there are some barangays that can return to their homes.
At least 13 barangays are permitted to return, effective January 15, 2011, namely: Ma. Socorro, Catmon, Libas, Mahayahay, Tambis 2, Carnaga, Ma. Asuncion, Himbangan, Panian, Malibago except Purok Paradise , Mahayag except Purok 1 and 4, Himbatngon and the Barangay of Tambis 1, Araneta disclosed in a report sent to PIA, Saturday.
Though, the above-mentioned barangays are still advised to be alert and to continue monitor the rain gauges, she added.
Meanwhile, the rest of the barangays were advised to remain in the evacuation centers or safe areas until further notice from the proper authorities, Araneta said, and added that MDRRMC proposed for some areas in barangays Tabon-tabon, Mahayag, Tambis 1 and Sitio Ma Socorro of Barangay San Isidro for permanent relocation.
Aerial assessment of the municipality was conducted together with the local government unit, Philippine Air Force and the Philippine Army, Araneta revealed. While the data gathered will be utilized as basis for the next MDRRMC's course of action relevant to the present and post-disaster response operations, it will also be used to help the continued efforts in preparedness and mitigating measures, she added.
As of this writing, updated number of evacuated families counted to 428, or a total of 1,875 individuals.
Through Miss Araneta, the locality expressed its sincerest gratitude to all the people who became part of the operations since the beginning of the tragedy that hit the area, January 2, 2011 and up to the present, especially those organizations, government and non-government agencies, individuals who had tirelessly with the MDRRMC and are still working with the municipality. She also promised to continue send updates of the ongoing and rehabilitation operations.
Leyte's Tribu Buyuganon is 2nd best at Sinulog Festival 2011
By Philippine Information Agency (PIA 8)
January 17, 2011
TACLOBAN CITY – The Tribu Buyuganon of Abuyog, Leyte was adjudged as the second placer among the 26 contingents in the free interpretation category of the just concluded Sinulog Festival 2011.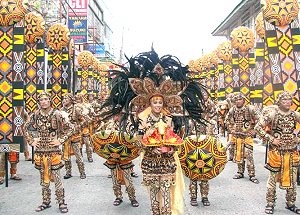 The Tribu Buyuganon's presentation which depicted the bees or the "buyogs" in the Visayan dialect wowed the big crowd, and prided itself for being the most applauded and the one and only presentation which was given a standing ovation.
The Tribu Buyuganon also won the Best in Costume special award because of the dancers' bees-like costumes.
The Tribu Buyugan has already won for its name several festival championships. Among which are the Champion in the Pintados-Kasadyaan Festival and champion in the Aliwan Fiesta in two years ago.
This year's first place in the free interpretation category was Tribu Himag-ulaw of Placer, Masbate. The children from the Mabolo Elementary School won third place. The returning contingent from the northern municipality of Daanbantayan won the fourth spot in the FI category in this year's grand parade while the fifth spot went to the Talamban Elementary School contingent.
Tribu Sinanduloy of Tangub City bagged the top prize in the Sinulog-based category.
Other winners in the Sinulog-based category were Abellana National High School, 2nd place; City of Carcar, 3rd place; Bayawan City, 4th place; and City Central School, 5th place.
The Sinulog Festival 2011 started with a Pontifical Mass led by the new Archbishop of Cebu Jose S. Palma.
President Benigno S. Aquino III graced the occasion and gave the keynote address in the Sinulog Fetival 2011 which has for its theme "One beat, one dance, one vision."
Arriving at 10:00 o'clock in the morning, the President left the Sinulog Festival grounds at about 11: 30 in the morning.
The Sinulog Festival ended at 9:00 o'clock in the evening. The awarding will be held at 1:00 o'clock in the afternoon of January 17.
Relief arrives at isolated San Jose de Buan
By Philippine Information Agency (PIA 8)
January 17, 2011
TACLOBAN CITY – After being isolated for six days due to floodwaters that washed out several bridges and landslides that blocked the only road that leads to it, the hinterland municipality of San Jose de Buan in the province of Samar, today received its much needed help.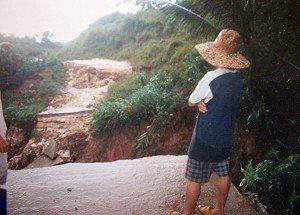 This road section to San Jose de Buan was washed-out by heavy flooding isolating the whole town for several days now.
Major General Mario Chan, commanding officer of the 8th Infantry Division, informed that the chopper of the Philippine Air force carrying the relief goods and the team composed of GMA Kapuso Foundation and troopers of the 8ID, after several failed attempts since this morning, was able to land in San Jose de Buan.
As of press time, the chopper is already on its second sortie of delivering relief goods.
It was reported that on Sunday, the chopper of the Tactical Operations Group attempted to land at San Jose de Buan but also failed.
The Municipality remains to be isolated due to landslide and damaged bridges, Mayor Ananias Rebato said.
The local government unit despite its meager resources has provided relief goods in the form of rice, noodles and sardine.
Mayor Rebato said that the drop off point of relief assistance was at Barangay Hinicaan, Motiong, Samar, about 11 kilometers away from San Jose de Buan. The recipients, the Mayor said, had to hike 10 klilometers to get the relief goods.
Mayor Rebato further reported that road maintenance workers have been deployed to conduct clearing operations on landslide sites as well as to repair the damaged timber bridges so that relief assistance could be facilitated soon.
However, Mayor Rebato mentioned that doing these manually would take a long time before being completed if done manually.
DSWD-8 Director Letecia Corillo has given instructions for her staff to allocate 400 family relief packs and 400 used clothings to the affected families in the said municipality.
Evardone equals relief packs given by Borongan LGU
By NINFA B. QUIRANTE, PIA Eastern Samar
January 17, 2011
BORONGAN, Eastern Samar – The lone representative of Eastern Samar, Rep Ben Evardone will equal the family care packs (relief goods) prepared and given by the Borongan LGU.
In an interview with the Executive Assistant of Borongan Mayor Fe Abunda, Cora Basada, today, January 17, 2011 over Radyo ng Bayan-DYES, she said that some 2,700 relief packs have been given to Borongan LGU for distribution.
Basada said that Borongan LGU as so far distributed some 2,400 relief packs to those affected by severe flooding on January 8, 2011.
She added that bags of rice, canned goods and other grocery items have been delivered to the LGU which the LGU will in turn repack for the flood victims.
The lady also explained that some relief packs have been reserved for areas near the Suribao River like Barangay Panalugan and others.
In last Friday's Disaster Operation report from the social welfare department, it bared that some 2,400 families have been affected, with some 22 families in Barangay Bato at the evacuation center, 2 casualties, 57 totally damaged houses especially in Barangay Bato and more than P2 million estimated cost of damages.
As of press time, Borongan is again experiencing heavy rains after a day of sunny weather on Friday.
Leyte extends P2.2M production loans to 136 farmers affected by torrential rains in Palo town
By Philippine Information Agency (PIA 8)
January 16, 2011
TACLOBAN CITY – Farmers In Palo, Leyte can immediately start the rehabilitation of their rice fields that were destroyed in the latest flooding wrought by continuous heavy rains in Eastern Visayas.
This, as no less than Leyte Governor Carlos Jericho L. Petilla and Palo Mayor Remedios L. Petilla distributed on January 15, 2011 at the Palo Gym, production loans amounting to P2.2 Million to about 136 farmers of the municipality of Palo who were affected by torrential rains that wrought destruction to crops in the early days of 2011.
In order to help the farmers who are taking the toll caused by the hammering rains early this year, the Provincial Government of Leyte under the leadership of Governor Carlos Jericho L. Petilla, expanded its Increased Crop Output through Rural Infrastructure and Community Empowerment (ICOTRICE) Program to the town of Palo, one of the top rice-producing areas of the province.
The ICOT-RICE is part of Leyte province's rice productivity and sufficiency strategy wherein production loans are extended to farmers in the amount of P15,000 per hectare to cover the cost of seeds, fertilizers, labor, pesticides and insurance.
In return, Mayor Petila said, the farmers would pay back their loans with good quality palay, computed on the prevailing market price and P1 higher.
This project has been designed to spur farmers' participation in the local government's rice production enhancement program.
For his part, Governor Petilla said, "there are so many rice producing towns that have been clamoring for the ICOT-Rice Program to be brought to their place, but we are doing the expansion one town at a time."
Among the local government units clamoring to avail of the program, after seeing its successful implementation in the pilot area of Sta. Fe town, are Palo, Carigara, Leyte, Hindang and Hilongos, Governor Petilla said.
Governor Petilla said the ICOT-RICE is actually part of the province's rice production enhancement program. The difference is that instead of just providing the farmers with the seeds and other farm inputs, they are provided with financial support that they can pay later with their harvests, which the province would also buy from them.
Last year, more than P5 million in loans was extended by the provincial government of Leyte to more than 200 farmers in Sta. Fe, Leyte who availed themselves of the program. Because the project entails a big budget allocation, recipient towns and rice-farmer beneficiaries are being closely evaluated and monitored, Governor Petilla said.
Army apprehends armed group in Samar
By CMO Battalion, 8ID PA
January 15, 2011
CAMP LUKBAN, Catbalogan Samar – Army troopers from the 52IB of Purog detachment headed by SSg Victor Raras receives information coming from the civilian on the existing presence of the Armed Group at vicinity Brgy. Dinaitan and Purog both of Gandara, Samar this morning.
Report reaching this headquarters from concerned citizen of said barangay, divulged that about 02:00 a.m. this morning troops from Purog detachment led by SSg Raras jumped off said detachment and proceeded to the reported area. Upon arriving thereat, troops encountered unidentified armed group under uncertain leader at about 06:00 a.m. of same day.
Firefight lasted for about five (5) minutes that resulted to the recovery of the following items from the enemy side: one (1) M16A1 bearing serial number #RP168738; five (5) loaded magazines of M16 rifle; seven (7) loaded magazines of M14; two (2) rifle grenades and one (1) body count known as Reynaldo Loberando. Said troops are still in the area and coordination has been established with the local PNP for the legal documentation and disposition of the cadaver.
The success in the campaign against armed groups was basically the result of the enhanced cooperation established between the Army and the civilian populace in the area. The massive information drives conducted by the Army have immensely enlightened the people of Samarnon their roles in our overall peace and development efforts.
Maj. Gen. Mario F Chan, the 8th Infantry Division Chief commended the operating troops of 52nd Infantry Battalion for a job well done of protecting the people, and likewise expressed his gratitude to the people of Samar for their wholehearted support to the intensified security operations.
Good plans, long-term solutions needed to mitigate the effects of disasters – President Aquino
By FLOR JACKSON, PIA Biliran
January 15, 2011
TACLOBAN CITY – "We cannot go against nature, but we can mitigate the effects of the disasters by having good plans and long-term solutions," thus said President Benigno S. Aquino III during a press briefing with the local media held at the pre-departure area of the Ormoc City airport on Friday, January 14, 2011 with no less than Presidential Spokesperson Edwin Lacierda as the moderator after his arrival from St. Bernard in Southern Leyte to see for himself the actual situation in the area after it was hit by floods and landslides as a result of the continuous rains in the past two weeks.
President Aquino together with his entourage who was on the second leg of his trip from Legazpi in the province of Albay upon his arrival at the Ormoc Airport on Friday was welcomed by Governor Jericho Petilla in behalf of the people of the province of Leyte.
Also at the airport to welcome the President and his entourage composed of some cabinet secretaries were Ormoc City Mayor Eric Codilla, Vice-Mayor Nep Aparis, Sangguniang Panglungsod members whose attendance was complete and other officials of the Ormoc city government.
President Aquino and his entourage immediately flew to St. Bernard in Southern Leyte via presidential chopper.
According to reports, before landing in St. Bernard, the President and his party made an aerial survey on the damage caused by the flooding in the area.
Two of the seven cabinet secretaries who were with the President did not go with him but stayed behind in Ormoc until his return from St. Bernard.
The cabinet secretaries who opted to stay were Department of Public Works and Highways Secretary Rogelio Singzon and Department of the Interior and Local Government Secretary Jessie Robredo.
At the press briefing President Aquino informed that he always gets reports on updates of weather conditions and other reports in all areas across the country, hence, the reason for his trips to validate these reports.
When asked about the low-risk areas of the country, President Aquino said, he was surprised why the map that is being used is still in the scale of 1:250,000 when in fact the lower the scale, the more precise is the identification of the risk areas.
He said, a map using a scale of 1:10,000 is now being worked out so that identification of high risk areas becomes easy and precise.
He added that in region 8, preparation of maps using the scale of 1:10,000 has already been started but for Samar, it's not yet through.
In his visit to St. Bernard, one of the areas in region 8 most affected by flooding, President Aquino said "since there were so many suggestions made by the mayor, the congressman and other experts, I asked all of them, what solutions do you want so that we can consolidated all of these plans, we will validate and we will look for the necessary funding."
The President was also asked by one of the media personalities in Tacloban about the long term solution he has in mind to mitigate the effects of these disasters, and he said, "everything has to be validated first to determine what are needed."
He informed that part of the long-term solutions to mitigate the effects of disaster like this, is to educate the citizenry. He mentioned as an example when he said "if people hear about typhoons, they know and understand already and act immediately what to do, but if they hear Tail End of a Cold Front (TECF), what others think is, it's going to be a cold weather, not warm and rainy days come," so people need to be educated.
Another media practitioner based in Tacloban City mentioned about illegal cutting of trees as the cause of flooding and landslides not only in St. Bernard in Southern Leyte but also in other parts of region 8 and the whole country.
In reaction to this, President Aquino said "I am surprised why sawmills are still there when there are no regular supply of timber. Why are they still operational, so we might order them closed. There might be a moratorium on cutting any logs as much as possible and details will be worked out. There are agreements that have been entered to – that are still existing and still valid and we don't want to sue each other in court," so we have to look into this.
"There are at least six provinces in the country that have high prevalence of illegal logging, so the Department of Environment and Natural Resources (DENR), the lead agency together with the security forces both the Philippine National Police (PNP) and the Armed Forces of the Philippines (AFP) is tasked to put a stop to this," he added.
After the short press briefing, President Aquino and the members of his entourage immediately left Ormoc airport for another engagement in the province of Butuan.
P-Noy calls for revisit of disaster plans in search of long term, permanent solutions
By Philippine Information Agency (PIA 8)
January 15, 2011
TACLOBAN CITY – President Benigno S. Aquino III called revisit of disaster plans, collation of all proposals so that long term and more permanent solutions will be reached.
President Aquino made the statement during the briefing on the effects of flooding at St. Bernard, Southern Leyte, and the LGU's interventions on disaster risk reduction management and disaster response mechanisms.
The President said that long term if not permanent solutions must be determined to avoid unnecessary lost of lives and properties; and unnecessary expenditures.
In relocating the affected families of disaster-prone areas, the new site must be totally safe and not identified as a disaster-prone area.
President Aquino also called for proper assessment of the disaster so that the priority concerns will be immediately served and met.
The areas that are mostly affected must be given immediate attention, the President said, as he noticed the big number of affected families in Northern Samar.
Together with the President were DSWD Secretary Corazon Soliman, DND Secretary Voltaire Gazmin, DA Secretary Proceso Alcala, Presidential Spokesman Secretary Edwin Lacierda and USec Benito T. Ramos, Administrator of OCD, Executive Officer of NDRRMC and Leyte Governor Carlos Jericho Petilla who met the President at Ormoc.
Present during the briefing were Congressman Roger Mercado, Southern Leyte Vice-Governor Miguel Maamo, St. Bernard Mayor Rico Rentuza, Major General Mario Chan, OCD Director Angel Gaviola, DSWD Director Leticia Corillo, DA Regional Executive Director Leo Cañeda, DPWH Rolando Asis, DOH Director Edgardo Gonzaga, DILG Director Francisco Jose, MGB Director Roger de Dios, DENR RTD Felipe Calub, PIA Director Olive Tiu and DOLE Director Forter Puguon.