MATA-Samar identifies anti-corruption activities for 2011
By EMY C. BONIFACIO, Samar News.com
January 11, 2011
CATBALOGAN, Samar – On its first planning activity for 2011, Samar's newly launched anti-corruption group, MATA-Samar, has identified priority projects that have to be monitored. The meeting that took place last January 8 at its newly installed office laid down the plans and programs for the 1st quarter.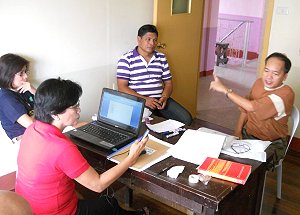 In order to capacitate its members, the Multi-sectoral Alliance for Transparency and Accountability, will conduct trainings on the budget process, tracking and procurement. These skills will be very essential in the monitoring of the various infrastructure projects that are on-going and proposed for implementation in Samar.
The group will invite resource speakers that will come from the Department of Budget and Management (DBM), Philippine Public Transparency and Reporting Project (PPTRP) and the Transparency and Accountability Network (TAN). The DBM will share in detail the regular processes that a budget has to undergo while the PPTRP and the TAN will equip the participants, knowledge on budget documentary reporting and paper trailing to ensure that irregularities and manipulations may be preempted.
In an effort to equip the members with other skills necessary in addressing various aspects of corruption, Fr. Cesar Aculan of the Social Action Center, has been tasked to draft project proposals based on the training needs that were assessed in the same forum.
The group will focus in the researching and gathering of documents relative to the on-going civil works that are being implemented by the provincial government. An estimated P274,106,000.00 worth of projects that are to be implemented in clusters and in lump sum appropriations are now made subjects for monitoring. The monitoring teams will dig into the programs of work, plans and specifications, contractor's profile and the progress reports of each and every project.
In this regard, MATA-Samar sent out letters to the members of the Sangguniang Panlalawigan of Samar, requesting copies of the above documents from the Provincial Engineering Office. At the same time, listings of the proposed projects, location, duration and its corresponding budget requirements have been posted at the MATA website and facebook account for transparency purposes. The group further intends to furnish the local government units of the said lists for their own monitoring. MATA-Samar calls on residents to actively participate in the monitoring of projects in their respective localities. Hotlines will be disseminated for feedbacking purposes.
It must be recalled that DILG Secretary Jesse Robredo has signed a Memorandum of Agreement with the Samar Island Partnership for Peace and Development (SIPPAD) during his visit to Samar, last September 2010. DILG expressed its commitment to fully support the anti-corruption efforts of the various civil society organizations. To this effect, directives have been disseminated to all Local Chief Executives to be transparent in their transactions and that public disclosures of all government procedures be a must. The order is also in line with President Noynoy Aquino's national thrust for transparency and vision for a corrupt-free Philippines.
It was further learned that MATA-Samar will conduct its protocol visits to the different Regional Offices for coordination by next week. The visit also expects to solicit support from the agency heads.
Finally, MATA Samar expressed thanks to all other national anti-corruption organizations who have acknowledged the group's efforts. "The successful launch held last December 10 is an indicator that it has the support from all other sectors. There's no other way up, but to get united and continue the fight against corruption. Let's all safeguard our resources", a PPTRP official said.
41 new classrooms completed in Leyte in 2010
By Provincial Media Relations Center
January 11, 2011
TACLOBAN CITY – Addressing the need for more classrooms among public schools, the provincial government of Leyte reports it managed to put up a total of 41 new classrooms in various elementary and secondary schools in the province.
The school buildings are units of one classroom, two-classroom, three-classroom and even two-storey buildings.
The 41 classrooms completely implemented in 2010 included barangay elementary schools in Alangalang, Palo, Burauen, Carigara, Dulag, Leyte, Tabango, Kananga, Palompon, Abuyog, Calubian, Babatngon, Tolosa, Kananga, Matag-ob and Villaba.
Secondary public school buildings were also completed at the Consuegra National High School in Leyte town, Calubian High School in Dulag, Hindang National High School in Hindang, Polahongon National High School in Mahaplag, Alangalang National High School in Alangalang, Palo National High School in Palo and to include a 3-classroom building at the Eastern Visayas State University (EVSU) Dulag Campus in Dulag.
Leyte Governor Carlos Jericho Petilla said the province is presently prioritizing schools identified by the Department of Education as 'red flags', which means that the student-classroom ratio is beyond the ideal set by the education department.
"There are still many schools in the province identified as 'red flags' and these are the ones we are going to prioritize this 2011," Gov. Petilla said.
These projects cost the provincial government millions in fund to improve the school infrastructure that is continuously increasing in student population.
As it is, DepEd projected the classroom shortage will jump from 170,000 in 2011 to 266,000 in 2016 in the whole country.
As this develops, a School Building Program bill has been recently filed in the Senate by Senator Edgardo Angara that proposes to tap the private sector to construct school buildings through a build-operate-transfer and rehabilitate-operate-transfer deal.
Under the bill, both government and private funding can be used for the construction of school facilities. The program will be handled by an inter-agency committee headed by the secretary of education.
The proposed bill is said to be consistent with Republic Act 7880 (Fair and Equitable Access to Education Act) and will create an inter-agency committee, composed of the DepEd, DBM, DILG and DPWH, to submit to the Committee on Education of both houses of Congress a comprehensive school building program.
Rash of kidnappings in the city
Chiz seeks relief of Cotabato PNP, AFP leadership
By Office of Senator Chiz Escudero
January 11, 2011
PASAY CITY – The rising number of abductions in Cotabato City over the past months has prompted Senator Chiz Escudero to call for the relief of the local police and armed forces chiefs in the area, saying they failed in their duties to secure and protect the people from criminals like the kidnap-for-ransom gangs.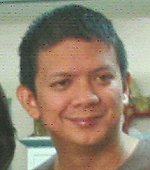 Escudero, chairman of the Senate committee on national defense and security, condemned the latest abduction in the city involving Chinese businessman Eulogio Lim Yu last Saturday.
This came a month after a nine-year-old girl was kidnapped but rescued in Pigcawayan, a town adjacent to the city. The girl's father, trader Allan Tamayo, was killed when he tried to stop the abductors.
Before this, Chinese businesswoman Conchita Tan was also snatched in Cotabato City, and her driver and bodyguard were gunned down for resisting the kidnappers. In August of the same year, trader Nelson Tay was abducted by armed men.
According to the senator, this abduction spree was very alarming because kidnappers continue with their criminal activities under the noses of authorities.
Since last year, 10 kidnapping incidents, mostly involving Chinese traders, have been recorded in Mindanao, particularly in the Autonomous Region of Muslim Mindanao (ARMM).
"This is already a shame to our security forces. Kidnapping has become the norm more than it should just be an exemption. There is no more excuse for kidnap-for-ransom incidents happening once or thrice in successive months," Escudero said. "Those manning the security fort should be held responsible for the proliferation of lawlessness in the city."
The notorious Pentagon Gang has been tagged as the major perpetrator of the kidnappings. In some cases, terror group Abu Sayyaf has been identified as responsible for the crime.
Escudero said there ought to be a serious evaluation not only of the existing security measures of the Philippine National Police (PNP) and the Armed Forces of the Philippines (AFP), but also of their officers and personnel following persistent talk that some of them were involved in kidnapping activities.
"The PNP and AFP leadership in ARMM should shape up or they better ship out and let those who are capable do the job. These security organizations should purge their ranks starting from top to bottom. The system and those implementing the system may no longer be fit to carry out what is really necessary in curbing lawlessness and promoting peace and order," Escudero said.
Palace prepares for first LEDAC meeting
Press Release
January 11, 2011
MALACAÑANG, Philippines – Executive Secretary Paquito N. Ochoa Jr. said on Tuesday the Cabinet had identified 32 bills that would be submitted to President Benigno Aquino III ahead of the Legislative-Executive Development Advisory Council (LEDAC) meeting to be held before the end of the month.
Ochoa convened the other day members of the Cabinet for a workshop designed to identify key legislative measures which will be included in the administration's Priority Legislative Agenda.
"The priority legislative measures we have crafted are consistent with the President's social contract with the Filipino people," Ochoa said. "We want to ensure that this administration succeed in addressing this with the help of Congress."
The objectives of the priority legislative agenda are the following:
- address poverty and promote a healthy, educated, and empowered citizenry
- promote productivity, generate employment and promote food sufficiency
- encourage more public-private partnerships and promote a competitive policy environment
- protect our sovereignty, ensure security and promote the rule of law
- strengthen the capacity of the bureaucracy to govern
According to the Executive Secretary, 139 proposed bills were put forward by Cabinet members during the workshop and another 41 were submitted by the Joint Foreign Chambers of Commerce of the Philippines.
At the workshop, these proposed legislative measures were processed, integrated and prioritized by five clusters, each representing a critical area, Ochoa said.
The heads of the five clusters are Vice President Jejomar Binay, Human Development; Economic Secretary Cayetano Paderanga Jr., Economic Development; Public Works Secretary Rogelio Singson, Infrastructure Development; Justice Secretary Leila De Lima, Rule of Law; and Ochoa, Good Governance.
He said the Office of the Executive Secretary, Presidential Legislative Liaison Office and other concerned agencies will undertake another review of the proposed bills and take into consideration the recommendation of Budget Secretary Butch Abad to study their impact on the budget.
"Once this study is done and the President goes over the proposed measures and approves them, we will make the necessary preparations for the first LEDAC meeting together with NEDA (National Economic Development Authority), the LEDAC Secretariat, as well as make public the specific measures that will make up our Priority Legislative Agenda," Ochoa explained.
The Executive Secretary added that the administration was optimistic that with the help of Congress, "we can add or maybe improve the legislation we will be submitting to them."
Floods dislodge armed strife as PH's biggest creator of internal refugees
Press Release
January 9, 2011
KIDAPAWAN CITY – Floods everywhere have dislodged armed conflict as the country's top generator of internal refugees, a governor from Mindanao said over the weekend.
"Without playing down the perils of recurring armed conflict, we're afraid more Filipinos now risk being driven out of their homes and sources of livelihood due to harsh climate change," North Cotabato Gov. Emmylou "Lala" Taliño-Mendoza said.
Taliño-Mendoza also warned that massive flooding on one hand and intense drought on the other would expose a greater number of Filipinos to hunger, due to spoiled farm harvests and lack of ready access to affordable food.
"We have to change many things, including the way we use and hoard water, the way we cultivate our farms, even the way we build our roads, if we are to cope with brutal weather conditions in the months ahead," she said.
The Mindanao governor made the statement shortly after the National Disaster Risk Reduction and Management Council reported that a total of 470,763 persons or 92,606 families have been severely affected by flooding and landslides that hit eight regions across the country. The disasters also left at least 26 people dead.
North Cotabato and other parts of Central Mindanao have had their share of recurring floods every time the 373-kilometer Mindanao River overflows on account of a heavy downpour.
Taliño-Mendoza pushed for the implementation of a 1989 law that requires the installation of rainwater collectors in every barangay, as means to ease flooding during the rainy season and hoard fresh water for irrigation and other uses during dry spells.
The 22-year-old Rainwater Collector and Springs Development Act remains largely unimplemented, she lamented.
"We also have to change the way we construct our roads and drainage systems so that during heavy rainfall some of the surface runoff gets purposely channeled to impounding structures and watersheds, instead of flowing into our river systems and draining into the open sea," she said.
Surface runoff is the water flow that occurs when soil is infiltrated to full capacity and excess water from rainfall flows over the land.
Taliño-Mendoza also pushed for the grant of national government subsidy, by way of cash rewards, to farmers who practice soil and water conservation.
"The planting of bamboo trees by farmers near river banks, for instance, can check rapid soil erosion and lessen silt in waterways," she pointed out.
Communities that invest heavily in lessening disaster risk, and prepare ahead stood a better chance of thriving amid extreme weather patterns, the governor said.
The Philippines ranks 12th among 200 countries most vulnerable to tropical cyclones, floods, earthquakes, landslides and other natural disasters, according to the latest Mortality Risk Index of the United Nations International Strategy for Disaster Reduction.
Leyte IDOL lands Top 5 spot in TV singing search
By Provincial Media Relations Center
January 8, 2011
TACLOBAN CITY – Leyte's former Bulilit Singing Idol is making waves as the year started by landing in the Top 5 of ABS-CBN's "Star Power - Sharon's Search for the Next Female Pop Superstar".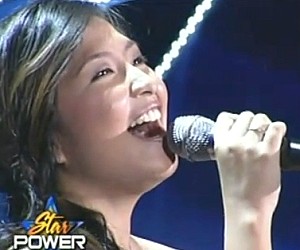 Monica Sacay, 16, a native of Kananga, Leyte, continues to hold on to the chance to become the next singing sensation as the "Star Power" search brought down to five the remaining finalists during the first live telecast this year.
Monica is now being tagged in this singing search as the "Charming Biritera" together with other top five finalists: Angeline Quinto as the "Pop Belter" from City of Manila, K-La Rivera the "R&B Sweetheart" from Canada, Krissel Valdez the "Soulful Diva" from Davao and Akiko Solon the "Sweet & Sexy Siren" from Cebu.
Being a part of the Leyte Idol talent pool, Leyte Governor Carlos Jericho Petilla has extended financial assistance to the rising star to boost her chances of becoming Sharon's Next Female Pop Superstar.
The governor said starting a career in showbusiness is no easy endeavor and needs a lot of personal expense to build up her own name.
"We would help our own talents in any way we can. We are proud Monica have made it this far proving that our local talents can really compete in the national scene and make it big," Gov. Petilla said.
It was learned that the governor himself has asked his employees in his private-owned businesses to vote for Leyte's singing star to increase her chances to figure in the top four and reach the Grand Finals night for the said search.
Meanwhile, according to Loloy Loreto, who manages the Leyte IDOL talent pool, this is one of those opportunities that the provincial singing search would like to provide the local talents – exposure in nationwide singing search, possibly pass the qualifying round and hopefully making it to the top.
"We are very happy and very proud she's doing good in the search. Landing in the Top 5 is already a big feat as it is. But if she wins the title, it would be very, very big honor indeed, not only for Monica but for the Leyte IDOL itself, the program where she started her dreams as a singer," Loreto said.
"Leyte Idol," conceived Gov. Petilla and produced by the provincial government of Leyte, is now on its sixth year of discovering and bringing together the very best singers not only from the province of Leyte but also the Eastern Visayas Region.
P23M worth of rice farms damaged in Abuyog due to heavy rains
By Provincial Media Relations Center
January 6, 2011
TACLOBAN CITY – More than 23 million worth of damaged crops in Abuyog town has been reported by the Provincial Disaster Coordinating Council of Leyte following heavy rains that inundated the region and other parts of the country since the start of the new year.
In a report submitted to PDC-Leyte, about 1,935 rice farmers in various parts of Abuyog have various rice farms which are presently submerged in water since January 1.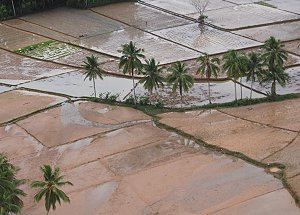 1,950 hectares of seedlings and newly planted rice were affected which damage is estimated at P6,700 per hectare. The report further says these affected areas have no chance of recovery.
"That's more than P13 million in production yield loss for the 1.9 hectares now submerged in water," says Abuyog Municipal Agriculturist Gerardo Bauya.
Meanwhile, damaged rice farms at the tillering stage is more or less is 1,300 hectares with an estimated loss of more than P10 million. These 1,300 hectares of rice farms are however reported to have a chance of recovery.
On the other hand, a total of seven carabaos owned by farmers have been reported drowned since January 1. The livestock loss is estimated at P134, 000.
Earlier, the Regional Disaster Risk Reduction Management Council (RDRRMC) has issued warning to various local disaster risk reduction and management councils to be on alert on 26 rivers in the region prone to flooding.
Twelve of these rivers are found in Leyte province including the Eastern Coastal River of Abuyog; Hibagdan River of Matalom; Bonguerogan-Salag River of Hilongos; Pagbanganan of Baybay; Ormoc Basin and Anilao River of Ormoc City.
Other rivers in Leyte also considered as flood prone are the Binahaan River that traverses through the towns of Jaro, Pastrana, Dagami and Palo; the Northeast Leyte Basin that covers Carigara, Barugo, San Miguel and Jaro; the Daguitan River along the towns of Burauen, Mayorga and Dulag; the Bito River of MacArthur; and, the Layog River of Abuyog.
Army starts airlifting trapped families in St. Bernard
By CMO Battalion, 8ID PA
January 6, 2011
CAMP LUKBAN, Catbalogan, Samar – Landslides and other road slips gets worst with the continuous down pour of rains in the whole region that the access to withdraw the trapped families in the two (2) remaining barangays of St Bernard, Southern Leyte is hampered.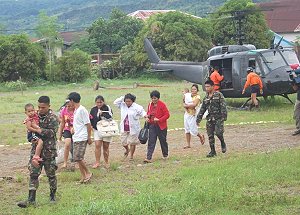 First Lieutenant Jerson Palawan, ground commander of the rescue units in St Bernard said that Brgy Tabon-tabon and Mahayag are still inaccessible at present due to several landslides and eroded mountains along the road.
He also said that evacuating the trapped families by land is not possible and only by air is feasible. Two (2) UH-1H helicopters of the Philippine Air Force are now being utilized to assist the rescue units in the ground in pulling out the trapped families to safer grounds.
46 families had been evacuated yesterday before the total closure of the roads and 291 individuals from above mentioned barangays were able to evacuate by air today and now in stable situation at St Bernard Central School.
Meanwhile, Lieutenant Palawan's unit also tried to make any possible means to pull out some families that can be evacuated by land. 40 families or a total of 180 individuals from Brgy Malinao crossing over the river to Brgy Catmon were able to withdraw and now in safer condition.
As of press time, air evacuation is still on progress despite of the fact that heavy downpour of rains, flooding and mud slides are continuously threatening the localities.
The DRU of 19IB is closely coordinating PNP, MDCC and Municipal Rescue Team for quick and fast extraction of the families still trapped in the three mentioned affected barangay.
Relief from different GOs and NGOs are expected to arrive today to provide temporary assistance to the affected families that are now housed at St Bernard Central School.
Cañeda cites Rep. Gomez, Gov. Tan for heeding call to subsidize rice seeds
By NINFA B. QUIRANTE
January 6, 2011
CATBALOGAN, Samar – Regional Executive Director Leo Cañeda hailed Samar Governor Sharee Ann Tan-delos Santos for heeding the call to grant subsidy to certified rice seeds at P300 per bag.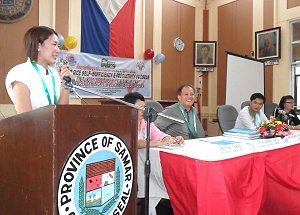 Cañeda was also all praises for Rep. Lucy Marie Torres-Gomez of the 4th District of Leyte for the deed.
"Of the chief executives, only Gov. Ann and Rep. Lucy Torres-Gomez responded positively to our invitation about this program," Cañeda told reporters.
Speaking in front of Samarnons farmers, municipal agriculturists and seed growers, Cañeda praised the two Tans.
Samar governor was accompanied by her brother, Vice-Governor Stephen James Tan. Gov. Tan-delos Santos always drag along her brother in the credits.
"Today's activity signals a new era for agricultural development in Samar," the agriculture director said. He also reminded the farmers to use certified seeds to have better yield.
A Samar seed grower, named Emilio Mabingnay of San Vicente, Catbalogan testified that because he used certified seeds and embraced the modern technology in farming, his one hectare rice field yielded 160 bags of palay.
Another farmer from Casab-ahan, Gandara named Boy Bacalawdo said he also harvested 134 bags of palay in his one-hectare rice field.
The certified rice seeds subsidy is right at the very heart of the blue print for agriculture development in Samar, Cañeda noted.
"This act is one of the many steps to undertake to ensure that we will experience productivity and rice self-sufficiency," Cañeda punctuated his speech. (PIA-Samar)
Rockslide in Calbayog due to unabated quarrying says DPWH
By PIA Samar
January 6, 2010
CATBALOGAN, Samar – The unabated quarrying in Barangay Peña, Calbayog City has caused the rockslides in Barangay Peña, Calbayog City.
This is what Engr. Virgilio Eduarte of the Department of Public Works and Highways (DPWH) 1st Engineering District in Samar told to DYOG Calbayog in an interview.
The engineer noted that quarrying operations are going on in Tinambacan District in Calbayog City.
The incessant rains have aggravated the condition of the soil since the onset of New Year 2011 thus, boulders from uphill fell down on the highway.
The highway is part of the Daang Maharlika that motorists going to Luzon and Mindanao are using. Eduarte added that the office has warned residents about quarrying, but because this is the only livelihood they know, they ignored the order.
Engr. Eduarte said that his office will coordinate with the Local Government Unit of Calbayog and CENRO to devise means to prevent the rockslide in that area.
Presently, the PNP is supporting DPWH through establishing a chokepoint where they regulate the flow of traffic. The DPWH undergoes clearing operations every thirty minutes, so the PNP regulates the flow of vehicles, after sometime, the road is opened to the motorists again.
The boulders are removed from uphill so as not to endanger motorists.
With the incessant rains, the DPWH with the help of PNP will ensure that precautions are observed in passing through that portion of Daang Maharlika. (with KC Caranzo / DYOG)
46 families evacuate to safer place, 19IB to continue operation next day
By CMO Battalion, 8ID PA
January 5, 2011
CAMP LUKBAN, Catbalogan, Samar – 46 families were reported to have been evacuated to safer place after the rains that temporarily stood still three days after New Year continued until today that alarmed the local government of St. Bernard in Southern Leyte.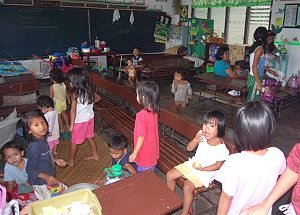 Mud slides and mud flows are continuously threatening the safety of the localities particularly in barangays Tabon-tabon, Mahayag and Malinao of said municipality.
Three (3) innocent minors were found dead following the unperceived landslide in Purok 4, Brgy Bulod-Bulod of the same town while six (6) are still recuperating in Anahawan District Hospital.
Base on the report from First Lieutenant Jerson Palawan, ground commander of the rescue team of the Army's 19th Infantry Battalion, the 46 rescued families has already been sent to Brgy Catmon where they are temporarily housed.
Lieutenant Palawan also said that there are still stranded families who are now in their respective barangay halls for safety that will be evacuated the next day after the landslides that block their access to those barangay are cleared. There are also some minor landslides all over the municipality that had been reported.
Troops also fearlessly assisted the evacuees in crossing the forceful current of the muddy river just to assure that no one will be hurt. PNP St. Bernard, MDCC and Municipal Rescue Team are also working hand-in-hand with the troops in withdrawing the families away from danger.
DRRU Company of the 8th Infantry Division remains on standby alert for possible deployment all over Eastern Visayas especially that rains are persistently pouring.