Data privacy measure to bolster PH's top rank in BPO – Romulo
Press Release
December 11, 2010
QUEZON CITY – The Philippines is expected to solidify its position as global leader in business process outsourcing (BPO) activities once Congress passes a special law securing personal data privacy, House Deputy Majority Leader and Pasig City Rep. Roman Romulo said over the weekend.
"We are absolutely confident that more companies around the world will subcontract their business support jobs to Philippine providers once the proposed Act Protecting Individual Personal Data in Information and Communications Systems is decreed," said Romulo, the bill's author.
Romulo was referring to House Bill 1554, which seeks to regulate and establish fair practices in the gathering and use of an individual's personal details in information-technology (IT) systems.
"We are very hopeful the bill will be passed soon, at least by the House initially," Romulo said.
He said the measure would provide adequate safeguards against the potential misuse or mishandling of personal facts in IT-enabled services such as customer care and electronic data processing.
"This will sharpen the country's competitive edge in BPO activities, besides reinforcing consumer trust and user confidence in electronic commerce," Romulo said.
He pointed out that BPO providers handle a great deal of customer and account master files. "Naturally, their principals wish to be assured that we have definite, predictable and enforceable personal data privacy rules," he said.
The principals of Philippine BPO subcontractors include some of the world's largest banks, insurers, stockbrokers, hotel chains, airlines, travel operators and newspaper publishers as well as providers of health, telecommunication, Internet, and satellite or cable TV services.
According to IBM's latest Global Locations Trend Annual Report, the Philippines emerged as the world's largest recipient of new outsourcing business in 2009, edging out India.
"We are determined to support our BPO sector, which is remarkably labor-intensive. This is exactly what we need – relatively gainful and stable new jobs for our fresh college graduates and young professionals," Romulo said.
Citing projections by industry groups, he said the country's BPO activities have the potential to produce up to 700,000 additional full-time jobs over the next five years.
At present, the industry already employs some 600,000 workers in customer care; back offices; medical, legal and other data transcription; software development; animation; engineering design; and digital content services.
The industry is projected to generate up to $25 billion in annual revenues by 2015, nearly three times the estimated $9 billion this year, according to the Business Processing Association of the Philippines.
14IB discovers NPA's war materiel cache
By CMO Battalion, 8ID PA
December 10, 2010
CAMP LUKBAN, Catbalogan, Samar – Various war materiel owned by the terrorist New People's Army (NPA) were recovered by the elements of the Army's 14th Infantry Battalion in the boundary of Maslog, Eastern Samar and Las Navas, Northern Samar late morning of December 7.
Reports disclosed that the enemy's war items were safely kept in a concealed haven in the said area that was just revealed through a tip from knowledgeable civilians.
Recovered items were two (2) improvised landmine, two (2) rifle grenades, three (3) blasting caps, 31 rounds of ammo for K3 (linked), voluminous subversive documents, hand outs in making improvised explosive devices (IED), stethoscope and blood pressure apparatus which are believed to have been kept following the successive discovery/seizure of various enemy camps in Samar by the government troops. Said items are still in the possession of the operating troops and are being transported to their headquarters for proper disposition.
Still in Northern Samar, two (2) civilians were killed and two also were wounded following a brutal and merciless ambush perpetrated by the terrorist NPA in the periphery of Brgy. Taylor, Las Navas.
The slain civilians were identified as Julie Casio, former Chairman of Brgy Poponton of Las Navas town and Edwin Gudcad, 15 year old, son of the pump boat operator. Winifredo Gudcad and the assistant boatman Leo Impes were wounded.
Wounded civilian was immediately evacuated to Catubig District Hospital for immediate treatment prior to evacuation to Catarman Provincial Hospital for more intensive medication. Wounded civilian is now under appropriate medication as of press time.
Troops of 63rd and 87th Infantry Battalions and the 3rd Scout Rangers Company are already conducting pursuit operations in order to track down the fleeing terrorists. 63IB is also preparing all of the necessary documents and witnesses for filing of legal charges against the terrorists involved in the said ambush of innocent civilians.
The incident is another NPA's violation on the Comprehensive Agreement on the Respect for Human Rights and International Humanitarian Law (CARHRHIL) for targeting unarmed and innocent civilians as what they considered as soft targets.
"This is a total violation of our people's right and must be condemned in a strongest possible term. This must be looked after by our human rights advocates and sue these terrorist who vehement pursue their bloody ideology. This is the time to work hand in hand against these terrorist. All of us should be united. If we will remain working solitarily against these insurgents, we'll just allow them to blemish the precious rights of our people," 8ID chief MGen. Mario Chan said.
Barangays to hold assembly day on Saturday; officials to recite good governance pledge
By DILG-Office of Public Affairs
December 9, 2010
QUEZON CITY – The country's more than 42,000 barangays will hold the first synchronized barangay assembly day under President Benigno Aquino III's administration on Saturday, December 11, 2010, which shall be highlighted by the recitation of the pledge for good governance by the barangay officials before their respective constituents.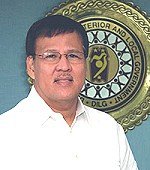 The conduct of the assembly day is in accordance with Proclamation No. 74 issued by the Office of the President.
Secretary Jesse M. Robredo of the Department of the Interior and Local Government (DILG) said that this is the first barangay assembly day where barangay officials shall recite the "Panunumpa Para sa Mabuting Pamamahala Tungo sa Tuwid na Landas" as their commitment to promote and uphold the principles of barangay good governance.
"With the recitation of the pledge, they (punong barangays) are in essence vowing to institutionalize the tenets of transparency, responsiveness, accountability and participation at the barangay level," Robredo said.
The pledge partly reads: "…na itataguyod at isasakatuparan ang pamamahalang matuwid, malinis, hayag at nagbibigay puwang sa lahat ng mamamayan na makilahok sa pagpapaunlad ng barangay."
In his directive to local chief executives, Robredo urged barangay officials to discuss the guideposts in promoting and sustaining barangay good governance, particularly on transparency of barangay financial records, such as the posting of monthly collections and disbursements.
The DILG Secretary said the assembly day would also be a venue for them to present the current state of development and financial status of the barangay.
He said consultations and discussions with barangay residents on the proposed plans and programs to be implemented in the barangay for the next three years may also be held.
"As the basic political institution, the barangay is an important vehicle to elicit feedback from the public on community issues as well as to mobilize their support for government programs and projects," Robredo said.
Proclamation No. 342 and the Local Government Code require the conduct of a barangay assembly every first Saturday of March and third Saturday of October.
For 2010, it was supposed to be held last October 16, but was postponed due to its proximity to the barangay and youth elections last October 25.
More enemy camps fall into the hands of government troops
By CMO Batallion, 8ID PA
December 8, 2010
CAMP LUKBAN, Catbalogan Samar – Another enemy camp fell into the hands of the government when the troops of the Army's 14th Infantry Battalion discovered an abandoned camp in Barangay Cagmanaba, Jipapad Eastern Samar around 7:30 pm., December 6.
Based on the report from Lieutenant Colonel Hermilo Demafiles, commanding officer of 14 IB, while his troops was conducting security operations in the said area an undisclosed resident tipped off about an enemy camp quite distant in the area.
When troops proceeded to the said area, an abandoned enemy encampment was found which can accommodate around 30 rebels.
Recovered from said camp were different war materiel that includes Improvised Explosive Device (IEDs) such as four (4) improvised anti-personnel landmines, one (1) pair of combat boots with markings "Soriano", one (1) bag pack, assorted toiletries and kitchenware, assorted medicines and personal belongings.
Colonel Alex Albano, commander of 801st Brigade said that they will continue scouring the area for the possibilities that there are other war materiel that were left behind by the rebels. The said IEDs endangered the lives of the civilians in the nearly areas. Likewise he extends his thanks to the people of Barangay Cagmanaba for their relentless support of providing information to the troops.
Meanwhile, Major General Mario Chan, commander of the 8th Infantry Division, lauded his troops for a job well done and for exerting every effort and dedicating their lives in the accomplishment of the said task. He further said that the reason why more abandoned camps are being recovered is because enemy is continuously evading the troops who are conducting intensified combat operation.
At present, 8ID had already accounted for a total of 47 camps that was already seized/discovered since the month of September.
Rescued Risso's dolphin in Maqueda Bay dies
By NINFA B. QUIRANTE, PIA Samar
December 8, 2010
CATBALOGAN, Samar – The Risso's dolphin rescued in Maqueda Bay died the other day while undergoing rehabilitative care from the Samar State University College of Fisheries (SSU).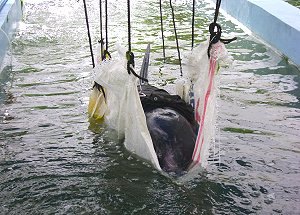 The Rissos Dolphin was safely lodged at the Samar State University College of Fisheries and Marine Sciences cared for by Dr. Renato Diocton, so as to stabilize its breathing because of the trauma it experienced before it dies. (PIA-Samar)
In an interview, Dr Renato Diocton felt exasperated that despite their efforts, the dolphin died in the afternoon of Monday December 6, 2010, a day after it was found stranded in the shallow waters of Maqueda Bay.
Diocton said he suspected that it died of pneumonia because water may have seeped in its blow hole. He added that in his recording of respiratory interval, he sensed something was wrong. The dolphin too may have been starved after being sick for a while and being unable to feed for itself as it was injured due to blast fishing.
The dolphin's condition was aggravated by the handling of those who found it earlier that its vertebral flippers were damaged.
Diocton felt sad that people are still unaware of the delicate conditions dolphins maybe in when they are dislocated in inhabited areas. "People should not try to touch them unless there are authorities and experts who knew their care and handling, "Diocton sighed.
On a happier note, Diocton said that some Fishery authorities reported that one (of the same specie) was found and revived in the shores of Villareal town, a coastal municipality facing Maqueda Bay.
He suspects it could have been a member of the 'school' where the unfortunate dolphin that died, belong.
Another sad note emerged too from Barangay Sugod, Zumarraga where a 'pregnant' dolphin was found and butchered. The tuff (young or dolphin fetus) also died.
Diocton expressed sadness that some people when they see big sea mammals immediately equate them to food.
He added that several sightings of these sea mammals have been reported. He sensed these dolphins are disoriented and may have been looking for spawning grounds. They may have been also lured in Maqueda Bay due to plentiful pelagic fish (fish in the surface of the sea) that serve as their food.
Diocton appealed to his fellow Samarnons to inform authorities who know how to handle these creatures. He also alluded to climate change as a reason that may have pushed the dolphins into untreated grounds that proved dangerous to their kind.
ICRC presents record field budget to address ever more complex needs
By ICRC
December 6, 2010
GENEVA – The armed conflicts and other situations of violence now in existence require a more targeted and diverse humanitarian response than those of even a few years ago, said the International Committee of the Red Cross (ICRC) today on launching its annual appeal to donors in Geneva. To be able to take the kind of action required, the ICRC is asking donors for more than 1.2 billion Swiss francs to fund its worldwide efforts in 2011.
"The proliferation of non-State armed groups, combined with the increasingly drawn-out nature of today's conflicts, is inflicting new kinds of harm and suffering on people caught up in fighting," said ICRC President Jakob Kellenberger. "They're exposed to multiple risks, from suicide bombings to sexual violence, and many wind up living in a perpetual state of fear as their coping mechanisms are weakened day by day."
The ICRC's 2011 budget includes the initial figures of nearly 1.05 billion Swiss francs for field operations and of 183 million francs for support provided by the organization's headquarters in Geneva. The initial field budget for 2011, at 12 per cent above the corresponding figure presented a year ago, is the highest ever. For the first time, the ICRC intends to simultaneously run four different operations at an annual cost of over 80 million francs each, and nine with annual budgets in excess of 40 million francs each.
"The size of our projected field budget is an indication of the complexity and diversity of the needs we are addressing in the emergency and early recovery phases. We have had to find new and more effective ways of dealing with them," said Mr Kellenberger. "Not only do we need to meet acute challenges, like shortages of food, water or medicine, but we also have to focus more on addressing the indirect effects of hostilities, by ensuring for example that people have access to health care and by making counselling available for rape victims."
For the second year in a row, Afghanistan will be the ICRC's largest humanitarian operation in budgetary terms, with an expected expenditure of more than 89 million Swiss francs. This amount reflects the organization's renewed commitment to meeting the acute medical needs of countless war casualties and to providing the aid required by vast numbers of people displaced within the country. Other major operations include those in Iraq, with a budget of 85.8 million francs, and in Sudan and Pakistan, which are expected to cost 82.8 million and 82.4 million francs, respectively. The ICRC's operation in Yemen, where it is focusing its efforts on assisting tens of thousands of people displaced by fighting in various parts of the country, is set to receive the largest boost in funding, from 23.9 to 48.8 million francs. Thirty-seven per cent of the overall field budget is allocated to Africa, where the ICRC not only distributes food and household items to people suffering from armed violence and the general lack of security, but also helps people regain their self-sufficiency through agricultural initiatives.
Commenting on the ICRC's overall priorities for 2011, Mr Kellenberger said: "Our budget is ambitious, to be sure, but it is based on a thorough analysis of needs. And it is realistic, in that we feel capable of achieving our goals. Eighty per cent of the budget will still be devoted to classic conflict situations. But we will also be addressing the needs arising from other forms of violence, from inter-communal clashes to urban violence, where the effects on the population can be equally severe."
802nd Infantry Brigade meets new commander
By CMO Battalion, 8ID PA
December 4, 2010
CAMP LUKBAN, Catbalogan, Samar – The Army's 802nd Infantry Brigade met its new commander after a humble yet meaningful change of command ceremony that was held in their headquarters in Carmen, Bohol today.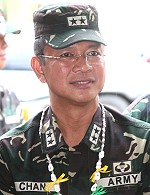 MGen. Mario Chan
It was presided by no less than the commander of the 8th Infantry Division, Major General Mario Chan which was also witnessed by the top brasses of the Army in Eastern Visayas and friends from different agencies and stakeholders such as Congressman Aumentado, Governor Chato and the Municipal Mayor of Carmen, Bohol.
After almost two (2) years of driving the successes of his brigade against the insurgents in Bohol and Cebu provinces, Brigadier General Alan Luga who will be assuming a higher post and responsibility in the Armed Forces satisfactorily relinquished his commandership to his successor, Colonel John Bonafos.
It was during the stint of Brigadier General Luga as commander of the said brigade when Internal Security Operations (ISO) responsibility in Bohol, Cebu and Biliran provinces were handed over to their respective Peace and Order Councils (POC).
On the other hand, Colonel Bonafos was not new in the area as he was one amongst those who gave their share of ISO accomplishments in Bohol being the former commanding officer of 15IB and the former deputy brigade commander of 302nd Infantry Brigade based in Bohol.
In his assumption speech, he said that, as a new commander of 802nd Brigade, he will focus his efforts to sustain the peace that reigns in Bohol and to prevent the re-incursion of the Communist Terrorists (CTs) to the provinces declared as insurgent free already.
Meanwhile, Major General Chan thanked Brigadier General Luga for his remarkable accomplishments that brought change of lives to the people in the area. He also congratulated General Luga for a job well done.
He likewise expressed his appreciation to the local leaders of the province such as Congressman Aumentado, Governor Chato and the municipal mayors for spearheading the fight against the insurgents.
"The success in Bohol is a classic example on winning against the CPP-NPA having the LCEs on the lead in the partnership with the Army," General Chan concludes.
Government troops discover another NPA camp
By CMO Battalion, 8ID PA
December 3, 2010
CAMP LUKBAN, Catbalogan, Samar – Operating elements of 3rd Scout Ranger Company discovered an NPA camp at vicinity Brgy. Rufino, Las Navas, Northern Samar at about 1:30 p.m. December 3, Friday.
Accordingly, troops received information coming from concerned citizen regarding the presence of armed men in their locality. Troops immediately acted on the information received thru text message and discovered NPA camp that can accommodate more or less 20 Communist Terrorists (CTs) with ten (10) makeshift hut bunkers, two (2) post and it has a water point at its vicinity with early warning devices installed in its periphery.
It can be recalled, from August to date, 38 encampments of the CTs were already discovered by the government troops. One of this is the main camp of Eastern Visayas Regional Party Committee (EVRPC) and that of the National Organization Department (NOD) of the Central Committee of the CPP that were discovered in the tri boundaries of three (3) provinces of Samar Island.
Colonel Oscar Lopez, the commanding officer of the Army's 803rd Infantry Brigade based at Catarman, Northern Samar disclosed that the occupants of the newly discovered camp was planning to conduct sniping and ambuscades to the operating troops of the government.
Meanwhile, MGen. Mario F. Chan, 8ID's chief extended his appreciation to the local folks for the timely information that resulted to the discovery of said camp applauded his men for a job well done.
He also said that, with the continued support of our people, we will soon achieve the long deprive peace and development in Region 8.
MOA on GREAT Women Project in Leyte signed
By Provincial Media Relations Center
December 3, 2010
TACLOBAN CITY – The provincial government of Leyte through Governor Carlos Jericho Petilla and the Philippine Commission on Women signed recently the Memorandum of Agreement (MOA) on the GREAT Women Project reinforcing the partnership to promote and sustain programs that provide leverage, opportunities and resources for women in the province.
The Gender-Responsive Economic Actions for the Transformation of Women of the GREAT Women Project is a governance and capacity development project that aims to promote and support a gender-responsive enabling environment for women's economic empowerment, particularly those in microenterprises.
The National Commission on the Role of Filipino Women (NCRFW), the national machinery for the advancement of women in the Philippines, is the lead executing agency for the Project. The Commission partnered with key national government agencies involved in micro-, small- and medium-scale enterprise (MSME) development and select local government units to support the project.
The project is piloted in four municipalities in the province namely: Barugo, Baybay, Capoocan and Tanauan, for a period of three (3) years.
The MOA provided for the signing of a Supplemental Agreement among all partners to specify the annual budget and deliverables of each LGU.
Also, one of the initial activity of the project is to enhance the websites of LGUs which seeks to enhance the LGU capacities in creating and organizing Gender and Development and GREAT Women Project web pages in the partner websites. This activity also aims to enhance LGU capabilities in organizing Gender and Development (GAD) and Women Economic Empowerment (WEE) resources in partner websites.
Gov. Petilla reiterated his support to the project saying that "women want a community where fulfillment of basic needs becomes basic rights and where poverty and all forms of violence are eliminated, where each person will have the opportunity to develop her or his full potential and creativity and where progress for women is recognized as progress for all."
The Memorandum of Agreement was signed by Ms. Emelline Verzosa, the Executive Director of the Philippine Commission on Women, Governor Petilla, and the mayors in the three pilot municipalities, Mayor Carmen Cari of Baybay, Mayor Agapito Pagayanan Jr. of Tanauan, and Mayor Avestruz of Barugo. Present during the signing were Vice Governor Mimyet Bagulaya, Board Member Roque A. Tiu, PIA Director Olive Tiu and Philhealth Region 8 head Walter Bacareza.