NPA attack innocent civilians in Calbayog
By CMO Battalion, 8ID PA
October 31, 2010
CAMP LUKBAN, Maulong, Catbalogan, Samar – An undetermined number of terrorist New People's Army (NPA) attacked the peace-loving residents of Brgy Malaga, Tinambacan District, Calbayog City amidst their sleep at around 4:30 this morning.
In a report from Lieutenant Colonel Jose Narciso, commanding officer of the Army's 20th Infantry Battalion based in Tinambacan Sur, Calbayog City, a group of undetermined number of communist terrorist with five (5) amazons armed with assorted firearms led by communist terrorist leader alyas "Nady" raided the houses of certain Arturo Flor, a businessman, Brgy Chairman Eugene Nuńes and other residences in the said barangay.
The terrorist NPA also shot one person identified as Kagawad Anthony Giray and the Chief Tanod but the latter was able to escape despite being wounded. He was later evacuated to Calbayog City for medical treatment.
During the said attack, the CTs had a missed encounter with their comrades that are also posted in the vicinity of the said barangay. The residents in the area claimed that the firefight lasted for about ten minutes and when they fled the area, they suffered one killed and one wounded as a result of the missed encounter.
Also during the attack, the terrorist NPA established a checkpoint along the highway utilizing vehicles that they flagged down to block the possible reinforcement of the government troops. One truck that did not stop in the said checkpoint was fired upon by the communist terrorist that resulted to the explosion of its tire. No one was reportedly hurt in the said incident. Sensing that they might get caught by the government troops, the communist terrorists left the area before the arrival of the reinforcing troops from 20IB.
Some undisclosed civilians from the area revealed that the incident is still related to the recently concluded Barangay and SK election that when the NPA supported candidates failed to pick a local seat thru election, they resorted to harassment as retribution to the people.
Lieutenant Colonel Narciso immediately ordered his troops to track down the fleeing rebels utilizing the full might and strength of his unit. The troops are still in the area as of press time.
Meanwhile, Major General Mario Chan, the 8ID's commander said that the attack was a desperate move by the terrorist NPA in order to divert the attention of the government forces in the ongoing combat operations. The communist terrorists resorted to attacking innocent civilians whom they consider as soft targets in order to project an image of strength and that they are still a force to reckon with.
Nevertheless, General Chan noted that the current conduct of operations of the 8ID has severely degraded the capabilities of the Eastern Visayas Regional Party Committee. The recent discovery of twenty CPP/NPA encampments, their arms and war materiel caches, their stock of food supplies, their communications equipment, medical facilities and other items have severely crippled their revolutionary activities.
"We have cut their supply lines, disrupted heavily their command control and communications, dislodged them from their guerilla camps, restrict their freedom of movement and most significantly, we have kept them on the run and we will continue to pressure them and put them on the edge of the fight where there will be no place for them to hide and they have no other option but to surrender and return back to the folds of the law and once again live a peaceful and decent lives" concludes General Chan.
NPA elements assault Malaga: Village councilor wounded, houses looted
By GINA DEAN-RAGUDO, Samar News.com
October 31, 2010
CALBAYOG CITY, Samar – Some 30 NPA (New People's Army) members allegedly assaulted Brgy. Malaga, Tinambacan District, Calbayog City at past 4 o'clock this morning, looted three houses and shot the village councilor using an M16 armalite rifle.
The victim was identified as Mark Anthony Giray, rank 1 in the latest barangay elections.
Another resident named JR Cantiga was tied by a rope and held hostage for almost 2 hours when the troops were roving around the area.
A tanod member said that the suspects were composed of men and women, using hand-held radios, and were looking for a person named Arturo Flor. "Waray na sa Malaga ini si Arturo Flor, kaiha pa. Buotan man ini siya nga tawo… bisan pa kam magpakiana san mga tawo," he added.
No police authorities and military elements were able to respond the area during the two hours captivity as their communication equipment were seized and the house of Punong Barangay Eugene Monuz and two others were ransacked, taking away with them sets of cellular phones, jewelry and money, he further said.
Buses and other vehicles bound for north and south sections were also used as blockade while the troops were conducting checkpoint, the tanod clarified.
It was past 5 in the morning when the NPA elements withdrew from the area taking with them one wounded comrade, the tanod said.
"Ira ada naunay an usa nira nga kaupod… pagkita ko patay na," he added.
Aside from valuables items looted from the residents' houses, suspects were able to embezzle one shotgun from the house of Arturo Flor.
Village Councilor Mark Anthony Giray was immediately brought at St. Camillus Hospital this city for medication.
JR Cantiga, still frightened from the incident avoided answering questions from the media.
Senate to heed UN committee's landmark ruling on Karen Vertido rape case
Press Release
By Office of Sen. Pia S. Cayetano
October 31, 2010
PASAY CITY – Senator Pia S. Cayetano today welcomed the landmark ruling of a United Nations (UN) committee that held the Philippine government accountable for the controversial dismissal by a local court of the Karen Vertido rape case five years ago.

Senator Pia Cayetano
Cayetano said the Senate Committee on Youth, Women and Family Relations "will seriously take into consideration" the recommendations of the UN Committee on the Convention on the Elimination of Discrimination Against Women (CEDAW) which criticized in a resolution the "gender-based myths and stereotypes" used by a Davao City court when it dismissed in 2005 the high-profile rape case filed by Vertido against a prominent local businessman.
"This issue falls within the ambit of laws that discriminate against women which are currently under review by the Senate Committee on Youth, Women and Family Relations. The recommendations of the UN body will assist our committee in reviewing and drafting measures to remove provisions in our laws that are gender-biased," said Cayetano, who chairs the committee.
She added: "Although the 1997 Anti-Rape Law already provides a broad definition of the crime of rape, there is still room for improvement to further protect women against discrimination and to make our laws in line with CEDAW principles."
"One possible amendment includes making 'lack of consent' of the victim an essential element of the crime of rape, as opposed to the current wording of the law which focuses more on the mode employed by the perpetrator in the commission of the crime of rape such as through force, intimidation or threat."
Cayetano, in her capacity as President of the Coordinating Committee of Women Parliamentarians of the Inter-Parliamentary Union (IPU), chaired the IPU's session on CEDAW in 2008 and in 2009 to give legislators from different countries a better understanding of the international convention that upholds the right of women against all forms of discrimination.
She also delivered a privilege speech in the Senate last year to call the chamber's attention on the need to review the country's compliance with CEDAW, which the Philippines ratified in 1982. Compliance would necessitate a review of all gender-discriminatory laws and their subsequent amendment or repeal, she added.
In her speech, Cayetano also pointed out that barring any other legal recourse in the county, any group or individual, such as in Vertido's case, may seek redress of gender-related grievances with the United Nations through CEDAW.
RP sailors' remittances up $250M, sustain double-digit growth rate
By TUCP
October 31, 2010
MANILA – Filipino sailors aboard foreign-flagged ocean-going vessels wired home a total of $2.461 billion in the eight months to August this year, up $250 million or 11.31 percent versus the $2.211 billion they remitted over the same period in 2009, the Trade Union Congress of the Philippines (TUCP) reported Sunday.
"The foreign exchange coming in from sea-based migrant Filipino workers is growing twice faster than those coming in from their land-based counterparts," said TUCP secretary-general Ernesto Herrera.
"At the current double-digit growth rate, we now see the full year remittances from Filipino sailors abroad hitting around $3.7 billion," said Herrera, former chairman of the Senate committee on labor, employment and human resources development.
Herrera, whose national labor center includes the Philippine Seafarers' Union, attributed the sustained growth in remittances to the increased deployment of sailors and global demographics.
"The intercontinental maritime transport of all kinds of commodities is growing along with global population expansion. Thus, the ever-increasing demand for a fresh supply of sailors," the former senator said.
The total remittances coursed through banks by all land- and sea-based migrant Filipino workers increased by $839 million or 7.40 percent, to $12.181 billion in the first eight months of 2010 from $11.342 billion in the same period in 2009, according to the Bangko Sentral ng Pilipinas.
Remittances from land-based workers alone increased by $589 million or 6.45 percent to $9.720 billion from $9.131 billion, year-on-year.
Filipino sailors on mostly foreign merchant ships wired home a total of $3.4 billion in the whole of 2009, up $366 million from $3.034 billion in 2008.
The 12.06 percent growth in remittances from sea-based migrant Filipino workers in 2009 was nearly three times faster than the 4.15 percent or $555 million year-on-year increase in the cash sent home by their land-based counterparts.
More than 200 detainees in Ormoc to benefit from improved facilities
By ICRC
October 29, 2010
ORMOC CITY, Leyte – More than 200 detainees in the Ormoc City Jail will enjoy better water supply, air circulation, and a new kitchen due to structural improvements initiated by the International Committee of the Red Cross (ICRC).
The renovation projects, which began in August and will be handed over today to the Bureau of Jail Management and Penology (BJMP), are meant to improve the living conditions of the Ormoc City Jail detainees.
"The ICRC identified Ormoc City Jail as one of the priority jails for intervention in 2010. These projects are part of a strategy to provide structural support for the BJMP in order to improve the living conditions of detainees," said Andres Casal, the ICRC's water and habitat coordinator.
The ICRC refurbished the jail's kitchen, which previously made use of firewood for cooking, by installing three stoves, stainless-steel preparation table, sink, tiled flooring, and a lavatory outside.
For the water supply, the Geneva-based humanitarian organization improved the jail's ground cistern tank and installed a 4,000 liter-capacity storage tank so detainees have steady access to safe drinking water.
Ventilation was also enhanced by removing a concrete wall in the main cell building and replacing it with steel bars to allow air circulation.
The ICRC works to promote dignity and respect for those detained in relation to armed conflicts by monitoring their treatment and living conditions. In the Philippines, the ICRC launched the "Call for Action" process to help authorities upgrade penal infrastructures, tuberculosis management in jails, and the criminal justice process.
"The 'Call for Action' process is a three-pronged approach that will benefit all persons deprived of freedom. With the support of agencies like the BJMP, we will be able to do more for those who suffer from the consequences of overcrowding in jails and prisons," said Casal.
Nearly 13,000 detainees in 27 BJMP jails and four provincial jails have benefited from structural projects done by the ICRC from January to August 2010, in line with the "Call for Action" process.
The ICRC had initiated similar technical projects in Tacloban City Jail, which now has a new infirmary, kitchen, and improved water facilities.
Greenpeace slams DA on Bt Eggplant
Demands a stop to experimental field trials
By GREENPEACE
October 29, 2010
MANILA – Greenpeace today slammed the Department of Agriculture (DA) for failing to put the brakes on planned field trials of the genetically engineered (GE) Bt eggplant, even as more provinces are banning what are essentially risky genetic experiments in their localities. Greenpeace is warning the government to heed the example of India, which has declared a moratorium on the commercialization of the genetically modified vegetable on safety concerns.
"The DA has to be more on the ball when it comes to the Bt talong issue. Once again the Philippines is accepting another country's rejects. A few years ago, the government wanted us to eat genetically-tainted US rice that other countries refused to import. Now they want to turn the country into a guinea pig for a risky experimental food crop already rejected by India. This is scandalous and completely unacceptable. What is the DA thinking?" said Daniel Ocampo, Greenpeace Southeast Asia Sustainable Agriculture campaigner.
"GE crop field trials are experiments that cannot yield any success because they are inherently risky. Bt eggplant field trials will endanger conventional eggplant varieties with irreversible genetic contamination and will eventually threaten farmers' livelihoods. It will also put at risk the health of Filipinos. No GMO has ever been proven safe for human consumption and the evidence that these organisms pose long-term threats is growing. The DA must listen to provinces who have refused to be part of this folly," he added.
Two of the seven selected sites for field trials – the City of Davao and Sta Barbara, Iloilo – have already issued provincial resolutions to ban field testing. Other proposed test sites in Pangasinan, Laguna, Camarines Sur, Leyte, and North Cotabato are in the process of passing similar statutes. Recent reports state that Bt eggplant proponents now refuse to divulge the date and time of planting, in blatant disregard of the public's right to know of matters that have serious implications on community health. Incidentally, the DA's go-ahead for Bt eggplant testing was given under a similar non-consultative process.
Bt eggplant is a GE crop that has a built-in pesticide intended to kill the eggplant fruit and shoot borer insect. As with all GMOs, no long-term studies on the effects on humans and the environment has ever been conducted. Moreover, GMO field tests are particularly risky. Pollen in an uncontained environment will travel and cause the GE crop to crossbreed with conventional varieties. The effects are near impossible to reverse, and the GE crop industry currently offers no solutions. The most serious example of such experimental contamination is the Bayer LL601 GE rice case. Planted as an experiment in 2001 in Arkansas, USA and subsequently abandoned as a failure, it silently contaminated US rice stocks in three states and was not detected until 2006.
Bt eggplant was developed based on experiments done on eggplant in India, but plans for its commercialization in the country were halted early this year due to safety concerns. Last month, Dr. Pushpa Bhargava, an eminent geneticist and member of the Indian Genetic Engineering Appraisal Committee, sent a letter to DA Secretary Prospero Alcala urging a halt on the field trials pending an actual assessment of the need for the GE crop has been determined, and if there is, after proper laboratory testing have been carried out.
"Even before one decides to develop a genetically modified crop, one must determine if it is needed and if so, if there are cheaper and better alternatives. In the case of Brinjal (eggplant), we certainly do not need it in India, and the alternatives to the Bt gene in the Brinjal are many, such as organic agriculture, integrated pest management and use of biopesticides," said Dr. Bhargava. "There are known and established numerous health, agricultural, environmental, and social hazards of open release of GE crops. In no case so far, any of these hazards have been evaluated properly, professionally and objectively; in the case of most hazards, no evaluation has been done at all for any GE crop till today."
Greenpeace maintains that GE crops are not the way forward to sustainable agriculture. Neither are GE crops endorsed by the IAASTD (International Assessment on Agricultural Knowledge, Science and Technology for Development) as a solution to food security.
"It would be a grave mistake for the DA to pursue the field trials for Bt eggplant. We are calling on Secretary Alcala to stop the GE Bt eggplant trials and instead focus on technologies that will give the most benefit to farmers and consumers such as ecological agriculture which does not rely onGE crops or agrochemicals," said Ocampo.
Greenpeace campaigns for GMO-free crop and food production grounded on the principles of sustainability, protection of biodiversity, and providing all people access to safe and nutritious food. Genetic engineering is an unnecessary and unwanted technology that contaminates the environment, threatens biodiversity, and poses unacceptable risks to health.
DILG, DTI launch project to streamline business permits and licenses
By MYLES JOSEPH E. COLASITO
October 28, 2010
TACLOBAN CITY – As part of the Nationwide Streamlining of Business Permits and Licensing System (BPLS) Reform Project for local government units (LGUs), a launching program was held on October 28, 2010 (Thursday) at the DILG-8 Regional Office, in Tacloban City.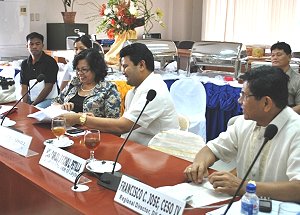 DTI Dir. Cynthia Nierras, Vincent Rama, representing 4th Dist. Cong. Lucy Torres-Gomez, & DILG Dir. Francisco Jose sign the Memorandum of Agreement on implementing BPLS in Eastern Visayas.
The activity is in line with a joint memorandum of the Department of the Interior and Local Government (DILG) and the Department of Trade and Industry (DTI) to speed up the issuance of business permits and licenses in cities and municipalities and thus improve business climate in the country.
DILG-8 Dir. Francisco C. Jose in his message cited the country's poor competitiveness ranking in investors' confidence as a reason to improve BPLS. "Improving the permits system will help towns and cities to attract more investors, foster economic growth, and generate jobs," Dir. Jose added.
DTI Director Nierras on the other hand, provided an overview of the BPLS Reforms. She expounded on the minimum standards for processing business applications. This included following a unified and single application form; reducing signatories to five, limiting the number of steps to five; and limiting processing time to 10 days for new applications and five (5) days for renewals.
The activity likewise had a sharing of good practices and success stories on BPLS implementation from the cities of Ormoc and Tacloban City. Board Member Roque Tiu represented Leyte Governor Carlos Jericho L. Petilla, while Mr. Vince Rama subbed for Leyte 4th District Congresswoman Lucy Torres-Gomez. Other officials from LGUs, national agencies, local resource institutions and NGOs were also represented.
A draft memorandum of agreement was also signed by concerned parties to strengthen BPLS implementation in the region. The DILG-DTI Joint Memo Circular No. 1 series of 2010 contained implementing guidelines that set the standards in processing business permits and licensing in all cities and municipalities.
BPLS is a priority reform program of President Noynoy Aquino and DILG Secretary Jesse M. Robredo to improve the country's competitive performance in combating red tape and improving revenue generation in local government units.
BPLS has four components: Simplification and Standardization of BPLS for new registration and renewals; Computerization; Improving Customer Relations; and Institutionalization of Reforms.
Leyte IDOL Bulilit Grand champ lands in ABS-CBN Star Power Search Top 20
By Provincial Media Relations Center
October 27, 2010
TACLOBAN CITY – One of Leyte's Singing IDOL recently made it to the Top 20 of the recently launched ABS-CBN Show, a weekly nationwide female singing contest search called "STAR POWER: Sharon's Search for the next Female Pop Superstar."
Monica Cuenco, 16 years old of Kananga town, was Leyte IDOL Season 2 Bulilit Category Grand Champion in 2007, made it among other would-be singing sensations in the country after auditioning in Cebu.
Cuenco was among the star wannabes who lined up in the preliminary auditions last Augusr 19-21 and got the nod of the search panel judges that included Executive Producer Crissy Baluyut, ABS-CBN Regional Network Executive Roland Padriga and ABS-CBN singing talent Christian Bautista himself a product of the famous 2003 reality search singing contest "Star In A Million".
In the Cebu leg of the audition, many female contestants shared on-camera interesting personal stories about their lives, their struggles and triumphs while going through the process of auditions.
Cuenco sang in her Star Power audition in Cebu the song "Somewhere over the Rainbow", the same piece she sang in 2007 which won her the grand prize in the Leyte IDOL Bulilit Category. She was 12 years old then when she joined Leyte IDOL.
According to Loloy Loreto, who manages the Leyte IDOL talent pool, this is one of those opportunities that the provincial singing search would like to provide the local talents – exposure in nationwide singing search, possibly pass the qualifying round and hopefully making it to the top.
"Hopefully, she can make it to the final stage of the search. But by just getting in to the qualifying round and making it to the Top 20 from among the hundreds who auditioned, is already a big feat. We are very, very proud of her," Loreto said.
"Leyte Idol," conceived by Leyte Gov. Carlos Jericho L. Petilla and produced by the provincial government of Leyte, is now on its sixth year of discovering and bringing together the very best singers not only from the province of Leyte but also the Eastern Visayas Region.