Pacquiao will have to wait 12 years to run for president, says House colleague
Press Release
November 11, 2010
QUEZON CITY – Manny Pacquiao is too young and will have to wait 12 years before he can qualify to run for president, Dasmariñas City Rep. Elpidio Barzaga Jr., chairman of the House committee on suffrage and electoral reforms, said Thursday.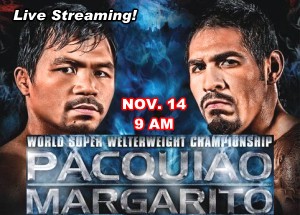 At only 31 years of age, Barzaga said Pacquiao is barred by the Constitution from running for president in 2016, when he will only be 37 on election day of that year.
In an interview on CBS's "60 Minutes," the number-one TV news program in America, Pacquiao did not rule out the possibility of a run for the Philippine presidency in the future.
Correspondent Bob Simon interviewed Pacquiao ahead of his fight against Antonio Margarito for the vacant World Super Welterweight Championship at the Cowboys Stadium in Arlington, Texas.
Under the 1987 Constitution, Barzaga pointed out that no person may be elected president unless he or she is at least 40 years of age on election day.
He said Pacquiao could not run for vice-president either, since the post has the same minimum age requirement as that of president.
Emmanuel "Manny" Dapidran Pacquiao was born on December 17, 1978 in Kibawe, Bukidnon. He will not turn 40 until December 17, 2018, or two years after the next presidential elections.
"The earliest Manny could meet the minimum age requirement to run for president would be in the 2022 elections, or 12 years hence," Barzaga said.
"Manny cannot even run for senator in the 2013 mid-term polls, because on election day that year he will only be 34, and turn 35 only seven months later," he said.
Under the Constitution, Barzaga said the minimum age requirement for a person to qualify to run for senator is at least 35 years on election day.
He said Pacquiao could, however, easily finish two consecutive terms as a member of Congress representing the lone district of Sarangani, and then at 37 years old qualify to run for senator in the 2016 elections.
"After serving a full six-year term as a senator, Manny can then run either for president or vice-president in 2022," Barzaga said.
Pacquiao is now only on his first three-year term as a member of Congress.
"Should he decide to seek higher office later on, Manny's distinct advantage is he is young. Time is on his side. He's bound to outlive many of the country's present-day political figures, who are mostly in their 40s, 50s or 60s," Barzaga said.
Calbayog's Tri District Programs now CDS initiated
By GINA DEAN-RAGUDO, Samar News.com
November 11, 2010
CALBAYOG CITY – All projects implemented by the city government of Calbayog under the previous administration of former Mayor now Congressman Mel Senen Sarmiento has underwent CDS process said Project Development Officer IV Reo Marquez Tuesday morning in a Kapihan sa Handuman press conference initiated by the City Tourism and Information Office.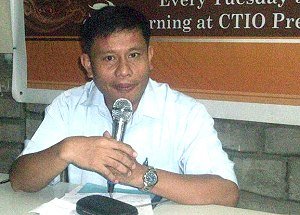 Marquez said that community development process works with communities or stakeholders to analyze initiate and influence social change. In practical terms means empowering the citizens with adequate support and resources to find their own solutions to problems they identify in their own communities from a series of consultation. Community development takes place in contexts of social, demographic, technological, economic, environmental, political and other change. Organizations in all sectors can provide crucial support to community development.
The projects he mentioned were the "Sakay na Program" which is being replicated in other local government units, the 4.9 hectares Calbayog Sanitary Land Fill at Brgy. Dinagan. Material Recovery Facility (MRF), and Calbayog City Cultural Convention Center.
The Tri District Program of Mayor Reynaldo S. Uy, now under the CDS has also identified priority projects for implementation such as the Hibatang River Cruise with a floating restaurant, Zipline, Malajog Beach Restoration – with a uniform cottage design and road rehabilitation, Aguit-itan Development Project, Construction of Calbayog City Hospital, the ongoing conduct of Community Based Monitoring System (CBMS) , House Numbering, CLUP (Comprehensive Land Use Plan) Revision, Nijaga Park Rehabilitation and Bangon Hydro Power Plant.
Marquez stressed that the World Bank is discouraging "ribbon type" development. "Kun karuyag naton development, mayda gud masasakripisyo", he added.
These projects he said are situated in the different strategic locations of Calbayog since the purpose of the city government is expansion.
Just like the ongoing construction of bus terminal and public market in Brgy. Rawis to Bagacay, negative reactions are surfacing from among the stall holders as they don't agree be relocated to the new business site.
But the purpose of the government said Project Development Officer Marquez should not be defeated. Resistance can be overcome if the local authority and community/voluntary sector workers will work at once.
RH bill advocates to Bishops: Don't Go Low, Be Respectable, and Be Constructive
By PLCPD
November 11, 2010
QUEZON CITY – Amid renewed word war on the controversial reproductive health bill, main authors of various reproductive health bills filed in the House of Representatives jointly called on some bishops to refrain from twisting the bill and to speak the truth on the measure.
In a press conference held today, Rep. Edcel Lagman, principal author of House Bill 96; Reps. Luz Ilagan and Emmi de Jesus of Gabriela Party List, authors of HB 3387; Rep. Arlene "Kaka" Bag-Ao of Akbayan Party List, author of HB 513; Rep. Jose Ma. Zubiri co-author of HB 96; and Rep. Antonio Tinio of Alliance for Concerned Teachers (ACT) Party List, co-author of HB 3387, laments the recent attacks thrown at them by some bishops.
According to Ramon San Pascual, Executive Director of the Philippine Legislators' Committee on Population and Development Foundation, Inc. (PLCPD), it is totally unfair for a religious leader to label RH bill authors and supporters as "people with lost morality" and "with consciences that are not well formed." Attacking the members of Congress merely shows oppositionists' lack of substance and further flames up hostility between certain church leaders and the general public.
San Pascual asked, "if the authors are indeed people with lost morality, what does that make of the 83% the Filipino people, who, by survey results, are clamoring for reproductive health education and services from the Government?"
He stressed, "ill health among women, high maternal mortality, and immorality of mass poverty – these are the central issues that RH bill authors would like to resolve by their determined efforts to pass this important piece of legislation. These are also the issues that opponents of RH bill continue to muddle by throwing threats and lies meant for public consumption."
In conclusion, San Pascual challenged those who have objections to the RH bill to be constructive and participate as decent members of society in bill deliberation in both chambers of Congress. "Act out your being spiritual leaders, stop bullying people. In the name of fairness, please allow lawmakers to deliberate on the RH bill and vote on it."
8ID overruns another NPA camp, recovers high powered firearms
By CMO Battalion, 8ID PA
November 9, 2010
CAMP LUKBAN, Catbalogan City, Samar – A week after the successful encounter of the 8th Infantry Division's 20th IB that resulted to the recovery of high powered firearms, another feat had marked the Division's ISO campaign when 14IB successfully overran New People's Army's (NPA) camp in the hinterland of Sitio Sapia, Brgy. Magsaysay, Mac Arthur, Eastern Samar Sunday afternoon, November 7.
Report reaching this headquarters form Lieutenant Colonel Hermilo Demafiles, 14IB's commanding officer disclosed that the troops under First Lieutenant Dagpin were conducting a security patrol when an undisclosed civilian approached and informed them on the presence of armed men allegedly seen in the aforesaid place.
Lieutenant Dagpin diverted their routes towards the mentioned area where they intercept around 30 armed terrorists under certain Gavino Guarino alias Mael that immediately resulted to a firefight. Exchange of fires ensued for about 30 minutes before the rebels fled away towards Sitio Carbon, Brgy. Huknan, Hiporlos of same province after suffering heavy casualty leaving their camp in a disastrous situation.
Captured in the area of encounter are three (3) M16 rifles of the fallen terrorists, M14 rifle's bolt assembly, pair of M16 rifles hand guard, 10 backpacks, assorted magazines of M16 and M14 rifles with live ammos, personal belongings and voluminous subversive document with significant value. No one was reported hurt on the side of the government.
Meanwhile, Major General Mario Chan, 8ID's commander commended collaborative effort of the civilians to the soldiers.
"The success of our campaign could not be possible without the support of our people whom we are serving. While I am congratulating my troops with their sacrifices, I would also like to appreciate our people who exert more effort just to contribute with our aspirations. Though we are gaining grounds against the terrorist, I am also saddened to note that somebody's life has to be sacrificed," says Major General Chan.
He further said that with the continuous conduct of the Division's combat operations especially with the unwavering support of the people to thwart the enemy in the area, the terrorists today has no where to hide.
Moreover, General Chan reiterated his previous call to the members of the underground movement to lay down their arms and re-embrace the genuine spirit of freedom and democracy for the sake of the succeeding generations.
"I once again call upon our brothers and sisters, whom I considered victims of Communist's deceptive ploy to embrace the governments means to re-integrate to our mainstream society to avoid the unnecessary lost of lives being brought by these armed confrontations. Our government is very much willing to give them a second chance for the sake of peace and democracy," concludes General Chan.
Lieutenant General Arturo Ortiz and Lieutenant General Ralph Villanueva, Philippine Army's Commanding General and Commander of Central Command, respectively has already conveyed their deep satisfaction to the 8ID troopers for consistently bringing forth success of addressing the threat groups towards the road to peace and development in Region 8.
MMFC is back in Leyte for another surgical mission
By Provincial Media Relations Center
November 8, 2010
TACLOBAN CITY – At least 29 patients suffering from either a cleft lip or cleft palette would be treated by a team of medical professionals of the Medical Mission for Children (MMFC) of Salem, Massachusetts, USA who are part of the surgical mission being conducted this week at the Leyte Provincial Hospital.
The MMFC surgical mission, which started Monday, is the fourth time to be conducted here in the province of Leyte.
Leyte Provincial Health Officer Dr. Erlinda Astorga says the 29 patients coming from various municipalities in the province passed the screening conducted weeks before the surgical mission set this week. Ten of these 29 patients, Dr. Astorga added, are follow-up patients.
"These ten were here during the last time the medical team was here in 2008. They were treated then for cleft lip. This time for their follow-up operation, they would already be treated for their cleft palette," Dr. Astorga said.
Operation of one patient last to two hours or more it was learned.
The MMFC team that is here in Leyte this time is composed of four surgeons, four anesthesiologists, three PACU nurses, a pediatrician and three media documenters. The team is headed by Dr. Robert Ward.
Leyte Governor Carlos Jericho Petilla said this surgical mission is such a big help to the parents since surgery of this nature is quite expensive in the country ranging from P20, 000 or more.
"We are very grateful they choose to come back to Leyte every year and help our children who are unfortunate to be born under such condition," Gov. Petilla earlier said.
MMFC is a non profit organization that has been providing much needed quality surgical and dental care to underprivileged children and young adults throughout the world and works to facilitate the transfer of education, knowledge and recent innovations to the local medical communities.
Based in Massachusetts, MMFC is comprised of a dedicated group of volunteer surgeons, medical specialists, dentists, nurses, biomedical engineers, administrative and materials personnel.
This year MMFC has just been on similar surgical missions around the globe particularly in Guatemala, Rwanda, Ecuador, Ukraine, Peru, Tanzania and in Angeles City in Pampanga here in the Philippines.
Their surgical mission in Leyte would be their last stop for 2010. Other schedules are already for 2011.
Governor Nicart's achievements in his first 100 days
By GINA DEAN-RAGUDO, Samar News.com
November 7, 2010
BORONGAN, Eastern Samar – Governor Conrado B. Nicart, Jr. made his State of the Province Address during the opening of the 45th Founding Anniversary Celebration of Eastern Samar province at the capitol ground on November 4, 2010 before the provincial employees.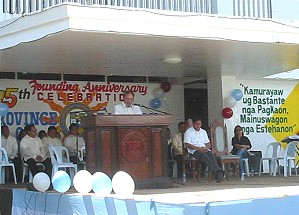 Nicart called it his "100th day address" which signified the accomplishments carried out by the new set of officials under his administration, despite the burden of paying all the obligations incurred by the former governor.
He admitted that when he assumed office, there was no fund to be used to facilitate his programs and projects and the fourth quarter budget for fiscal year 2010 was almost squandered.
Working on a limited resources was never been an obstacle to deliver services to his constituents.
One primary target of MDG (Millennium Development Goal) that he pointed out was to eradicate extreme poverty and hunger.
Next was on health, by improving and upgrading hospital facilities, providing medicines and increasing manpower; reducing maternal mortality (MMR); and promoting cleanliness and sanitation by launching a contest on cleanest hospital in the lone district of Eastern Samar.
He added that emergency rooms of Oras, Albino Duran (Balanggiga), Taft, and other district hospitals were subject for rehabilitation.
A campaign on anti-rabies was implemented and reducing child mortality rate was intensified.
UNICEF, World Health Organization (WHO) Department of Health (DOH), Australian-Aid, European Commission and other foreign agencies were gratefully acknowledged by the governor in his speech.
Underscoring on "drugs issue", Nicart revealed that a total of 113 blocks of high-grade cocaine amounting to P568M were confiscated by local authorities since the inception of their campaign in his 100 days of office.
On the other hand, education was also given importance by the local chief executive by stressing to equip primary and secondary schools in terms of facilities in order to achieve universal access to education.
Bill binds hospitals, other healthcare providers to display price list
Press Release
November 5, 2010
QUEZON CITY – House Deputy Majority Leader and Pasig City Rep. Roman Romulo is pushing for new legislation requiring hospitals and other healthcare providers to clearly display in their premises a price list of all their services and products.
The mandatory posting of an exact price list, as proposed by Romulo in House Bill 3560, would cover hospitals, ambulatory surgical centers, diagnostic and laboratory clinics, medical offices and other facilities that provide healthcare, including dental services.
"This gives more meaning to the State's avowed policy in The Consumer Act to protect the interests and general welfare of buyers, and to establish the standards of conduct for business and industry," Romulo said.
Romulo said a totally transparent and readily available price index would safeguard consumers against potentially misleading and unfair sales acts and practices, and facilitate sound choice by end users of hospitalization and other healthcare services.
"Patients invariably get billed for almost every item they consume while undergoing treatment in hospitals and other healthcare facilities," he pointed out.
"In some cases, without their prior knowledge, hospital patients even end up paying for the flimsiest expense, such as the extra cotton balls or toilet paper they consume," he added.
A price schedule would enable patients to freely decide where best to obtain some of their hospital supplies, according to Romulo.
"For instance, once the patient becomes aware that he could get charged for hospital toilet paper that is five times more expensive, then he might just opt to bring his own supply," he said.
Once Romulo's bill is enacted, every healthcare facility would be required to produce and visibly exhibit a detailed price catalogue of all services and supplies.
The price list would include all incidental expenses such as charges for room and amenities, meals, medicines, and use of medical equipment and technology.
Violators face fines up to P25,000 per instance, without prejudice to administrative sanctions.
If the offender is a firm, it faces a fine up to P50,000 per instance, plus suspension or revocation of its permit to operate.
The firm's officers directly responsible for the infraction also face fines and suspension or cancellation of their professional licenses. If applicable, they likewise face up to one year in prison.
Romulo's bill also provides that the patient's statement of account should itemize the services rendered, supplies used, and other incidental expenses incurred, with their corresponding prices.
Two more rebels embrace 8ID's call to surrender
By CMO Battalion, 8ID PA
November 2, 2010
CAMP LUKBAN, Catbalogan, Samar – With the standing call of the Army's 8th Infantry Division to the terrorists New People's Army (NPA) to lay down their arms and return to the mainstream society to re-experience the genuine democracy, two (2) more rebels operating in the hinterlands of Northern Samar voluntarily gave up their futile ideology in the morning of October 28, 2010.
Alias Noli and alias Speed whose identity are still undisclosed as of press time while custodial debriefing is being conducted revealed to be brothers and both residing in Brgy. Balud, Silvino Lobos town.
In an initial report from the 8ID's 803rd Infantry Brigade, Noli and Speed are both under the leadership of a certain alias "Pruding" of Northern Samar Provincial Party Committee (NSPPC).
The duo also revealed that the NSPPC is now experiencing unstable operations because of the impact of the recent major engagement transpired between 8ID troopers and their groups all around the Samar Island.
It can be recalled that weeks ago, enemy main camp and numbers of encampments and safe houses fell in the hands of the 8ID troopers following the intensified combat operations including the recovery of assorted high powered fire arms, war materiel caches, piles of food stuffs, medical paraphernalia, personal belongings, subversive document and other materials that greatly impacted their underground operations in the distant barrios.
"Guikukuri-i an kabutangan didto. Tikang sa pagka-engkwentro sa makaduru-dulain nga among mga kausa sa naglabay nga mga semana, baga nagkasamok, samok na sa sulod ngan nawara na liwat an am nga butang na am guingagamit sa am operasyon", (Our situation gets worst inside. It started after the encounter of our different groups against the government troops transpired. It resulted to misunderstanding between our ranks and our important materials used for operations were also lost) duo reveals.
"Damo ba gad an naruruyag sa am grupo nga sumorender kay damo na an nagkukuri sa solod. Naawa man an kadam-an sa am sa nahinabo sa am kausa na maupay na an kabutangan dihan sa gawa", (Many of our members really wanted to surrender because it is really difficult inside. Most of them feel envy to others who earlier surrendered and now having a good life in the open) adds the duo.
Meanwhile, Major General Mario Chan, 8ID's commander expressed his appreciation to Mayor Edmund Guillamac of Silvino Lobos who also shared his great effort for the surrender of the said rebels. He further acknowledges the good partnership of local government with the Army for common good of the people.
Furthermore, Major General Chan reiterates his call to the members of the underground movement to lay down their arms and reintegrate to the mainstream society. He once again emphasized that he is more than happy to see these people peacefully reaching their arms to the government for the sake of freedom and democracy than through a bloody resort of struggles.
"As vanguard for peace and democracy in Eastern Visayas, we assure our people to have a peaceful sleep at night, away from harm and a part from danger of the NPAs who sow terror in expense of power. Your 8ID will continue to intensify its operations for you to celebrate Christmas even the fruitful welcoming of the new year to come", vows General Chan.
GOCCs should report directly to public, not just to DOF, says solon
Press Release
November 1, 2010
QUEZON CITY – Government-owned and-controlled corporations (GOCCs) should routinely report their operating and financial performance directly to the public – to Filipino taxpayers – not just to the Department of Finance (DOF), Cavite Rep. Elpidio Barzaga Jr. said Monday.
"Taxpayers are the ultimate shareholders of all GOCCs. Thus, GOCCs should disclose their quarterly and annual results to the public, through management conducting a news conference, where their performance can be openly scrutinized by the media," Barzaga said.
GOCCs should also post detailed quarterly and annual reports on their web sites, in a format to be approved by the DOF, for all to see, Barzaga said.
"The reports should include the entity's net profit or loss in the period under review, subsidy received, dividends remitted to the National Treasury, and the emoluments of board members and senior executives," he said.
To discourage self-dealing, Barzaga said the reports should also include all "related party transactions" by board members and senior executives.
"This will promote absolute transparency and full accountability in the operations of every GOCC," he added.
Barzaga said many GOCCs still lack transparency. "If you go to the web site of the National Power Corp., for instance, the latest publicly available annual report you can download is for 2008," he pointed out. The DOF earlier ordered 158 GOCCs to submit all necessary information to the department a month before their board meetings, as part of new reporting rules meant to rein in abuses, including excessive rewards that many boards have been giving themselves.
Barzaga has been pushing for a mandatory cap on the remuneration of board members and senior executives at GOCCs, including Cabinet members who, by virtue of their positions, concurrently serve on the boards of multiple state-run firms.
He cited the case of the Power Sector Assets and Liabilities Management Corp., where the heads of the DOF, Department of Energy (DOE), Department of Budget and Management (DBM), National Economic Development Authority (NEDA), Department of Justice (DOJ), and Department of Trade and Industry (DTI) serve as board members.
At the Philippine Health Insurance Corp., the heads of the Department of Health (DOH), Department of Labor and Employment (DOLE), Department of the Interior and Local Government (DILG), and Department of Social Welfare and Development (DSWD) serve as board members.
At the Home Development Mutual Fund (Pag-IBIG Fund), the heads of the DOF, DBM, DTI, DOLE and Housing and Urban Development Coordinating Council serve as board members. At the National Development Co., the heads of the DTI, DOF, DBM, DOE, and Department of Environment and Natural Resources (DENR) serve as board members.
At the Land Bank of the Philippines, the heads of the DOF, DOLE, Department of Agriculture, and Department of Agrarian Reform serve as board members. At the National Transmission Corp., the heads of the DOF, DOE, and DENR serve as board members.