Gandara Mayor posts bail for gun ban violation
By EMY C. BONIFACIO, Samar News.com
August 21, 2010
CATBALOGAN CITY – Gandara Mayor Antonieto Cabueños posts bail amounting to P80,000 after he gets arrested by police authorities who were manning a routine checkpoint infront of the Sta. Margarita Police Station.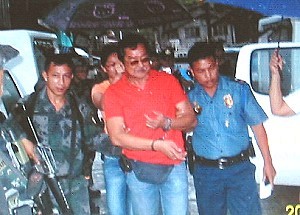 The incident took place around 3:30 in the afternoon of August 18, 2010. The arrest was made by virtue of a warrant issued by Judge Manuel F. Torrevillas of Branch 23, Allen Northern Samar on a case docketed as Case No.A-2564 for Violation of Sec. 26 par (t) of the Omnibus Election Code in relation to Sec.32 and 33 of RA 7166 and COMELEC Resolution No. 8714.
Cabueños, with two other companions, were passing through the Sta. Margarita checkpoint on board a Fortuner, when they were flagged down by joint police teams coming from the Sta Margarita and Gandara MPS led by P/Insp. Angelo Pueblos and P/Insp. Jovy Espinedo, respectively. He was handcuffed and immediately brought to the Gandara Municipal Police Station for documentation. Samar PNP Director Pancho Adelberto Hubilla was present to ensure that the proceedings are in order.
On its case files, it was reported that on or about 2:45 in the afternoon of February 2, 2010 Cabueños, with three unauthorized armed escorts namely; PO3 Jonathan Rama, PO3 Edgar Delector and P02 Perfecto Merilles of Gandara Police Station, were apprehended in a checkpoint in Lavezares, Northern Samar for violating the COMELEC gun ban.
As provided in sec. 32 of RA 7166, "during the election period, no person shall bear, carry or transport firearms or other deadly weapons in public places, including any building, street, park, private vehicle or public conveyance even if licensed to possess or carry the same unless authorized in writing by the Commission..." Likewise, Comelec Resolution No. 8714 provided the rules and regulation on the bearing, carrying or transporting of firearms or other deadly weapons; and employment, availment or engagement of services of security personnel or body guards during the election period for the May 10, 2010 national or local elections.
Cabueños was assisted by his counsel Atty. Hernando M. Hernandez during the documentation procedures. The earlier plan to transport him to the Provincial Hospital in Catbalogan for his routine medical check-up and further documentation at the Provincial Police Office was aborted after Dr. Ronaldo P. Roldan assessed Cabueños' unstable health condition. He was monitored to have high blood pressure and an abnormal heart rate, where travel for a long distance is unwarranted. The findings of Dr. Roldan, Chief of the Gandara Hospital, justified the counsel's appeal not to allow him to be travel to Catbalogan because of his health condition and as they were contemplating that his release orders will be served in that same evening.
In an interview with Mayor Cabueños, he said he was unaware of an existing warrant since they're still waiting for the resolution of the motion for reconsideration which was filed by his counsel. "Waray pa kami nakarawat nga surat kay kun may-ada daw la, amon kunta naasikaso kay baman bailable man an kaso. Waray naman ak iba nga kaso nga gin-aatubang. Maaram ka man nga tikang han akon pagkabata, waray gud ak gin kaaway. Baga man an ako na la an gin bibinantayan. Basta ako, nagsuporta gud la ak san amon partido." he added.
He was heard to complain about feeling dizzy and having gastric pains which was explained by his attending physician to be due to the tension and anxiety that he's experiencing. The police allowed him to be released from being handcuffed when he was stabilizing his condition at the hospital and when he was allowed to eat.
At about 8:30, on the same evening, Judge Reynaldo Clemens of Branch 31, Calbayog City ordered for his release. It was personally serviced by Mr. Gil L. Merencillo. The order was evidenced by OR# 3904984 for the bail posted. Immediately, Capt. Arthur Rubio, a PNP legal counsel, verified the signatories of the release order and ensured that all other legal aspects were complied with. Gandara Police Chief Espinedo facilitated the release of the Mayor in front of the media and his family, where he explained in detail the procedures that were done in accordance with the law.
Mayor Cabueños thanked the Police Chief and PNP Director Pancho Adelberto Hubilla despite the arrest. He was cheered by his supporters who patiently waited outside the Municipal Hall for his release. When he was personally made to comment on the arrest procedures, he assured the media that his rights were protected. "Waray man ak paglabti. Maupay gad ira pagtratar ha ak", was his answer.
PDEA recovers cocaine brick in a buy bust operation in Tacloban
By Philippine Information Agency (PIA 8)
August 21, 2010
TACLOBAN CITY – Philippine Drug Enforcement Agency Region 8 Director Julius R. Navales expressed concern as he informed that one cocaine brick was recovered in a buy bust operation held on Sunday, at a well-known eatery along Justice Romualdez St., Tacloban City.
In a talk with the Philippine Information Agency, Director Navales who personally headed the buy bust operation said that a PDEA asset tipped that someone was looking for a buyer of cocaine brick.
The buy bust operation resulted to the arrest of a certain Darwin Carnalan, 23 years old, a resident of Barangay 82, Marasbaras, Tacloban City, and Randy Doblon, 34 years old from Guiuan, Eastern Samar and temporarily residing at Marasbaras, Tacloban City.
Darwin Carnalan was caught while giving one brick of cocaine to a PDEA agent who posed as a buyer, Director Novales said.
"Ano ini," Darwin said as he was accosted at 3:00 o'clock in the afternoon.
"Huli ini," Director Novales answered Darwin, who confessed that he was just requested to deliver the package to the buyer by a certain Randy Doblon.
At around 5:30 in the afternoon, a follow up operation at Villa Dolina, resulted to the apprehension of Randy Doblon, Director Novales said.
The two suspects are now detained at the Tacloban City lock up cell, Director Novales said.
Cases of violation of Section 5 in relation to Article 26 of Republic Act 9165 have been filed against them at the Tacloban City Prosecutor's Office since they were arrested in Tacloban City, Director Novales added.
Meanwhile, the cocaine brick is now at the PNP Crime Laboratory for quantitative analysis and for a test to confirm its purity, and its being indeed, a cocaine brick.
Two-tons of cocaine cargo was allegedly dumped off the waters of Eastern Samar last December from a foreign vessel, the F/V King Yue 1, that was bound for Hongkong.
The foreign vessel was being tailed by international narcotics unit and fearing that it might get caught with the cocaine cargo upon learning that they were being followed, the crew of the ship was believed to have dumped the cocaine off the waters of Eastern Samar. (PIA 8)
Calbayog health team treks for three hours to reach rural barangays
By PIA Samar
August 21, 2010
CATBALOGAN CITY – Scores of health workers from the city of Calbayog trekked some three hours to reach a frontier barangay for a very noble mission – that of providing health care services to their rural brothers.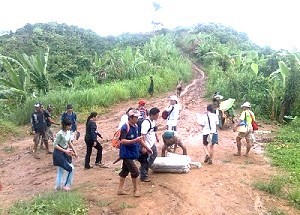 On Saturday, August 14, 2010, a Medical Mission in Barangay Tanval was held benefiting hundreds of barangay folks. The City Health Office acted to the measles cases in the Barangay.
The medical team treated some 10 active measles cases, 15 children were given vaccination while another 40 rural folks were afforded medical care.
Barangay Tanval is located in the so called Seven Hills Area. To get there, the medical team boarded the CHO service vehicle until Barangay Tagungtong, an area some 19 kilometers from Calbayog City proper. Beyond, the team trekked for three hours to reach Barangay Tanval.
The Tanval medical team was composed of Dr. Genaly Romano, Dr. Zandro Daguman, Anna Liza Gomez, Jessica Jao, Grace Campos, Sandra Candidato, Vivian Jumagdao, Roberto Bracamonte, Felipe Ignacio, Ramil Catalan, Leo Cabanatan, Joseph Von Catorce, Ito Lunas and Eunice Paulino.
On the same day, another remote barangay, Migara also received a Medical Mission led by City Health Officer Dr. Sylvia De Guzman with Dr. Christopher Corsiga and Dr. Letecia Aguilar.
For health workers in the countryside, riding in short distances and walking in long ones are the standard form of getting there to offer health services to the rural folks. (with Ron Ricafort)
Malversation raps eyed vs. execs w/ unsettled advances
Press Release
August 20, 2010
QUEZON CITY – If you think Ombudsman Merceditas "Mercy" Gutierrez's "no liquidation, no salary" policy shows no mercy to public officials and employees who fail to account for cash advances, think again.
House Deputy Majority Leader Roman Romulo has proposed to amend the Revised Penal Code and specify that any government official or staff who is slow to settle an advance could potentially be liable of the more serious offense of malversation or the criminal misuse of public funds.
Romulo's proposal is contained in House Bill 2009, which provides that the failure to liquidate a previous advance inside prescribed deadlines shall be "prima facie" evidence of malversation or misappropriation of the fund received.
"This is about improved governance. It is definitely very bad governance to have such a staggering amount in unsettled advances" said Romulo, who represents the lone district of Pasig City.
Gutierrez earlier asked nine agencies to withhold the salaries of their personnel who had been remiss in liquidating combined advances worth almost P2.4 billion.
"The immediate liquidation of all cash advances is supposed to be our first line of defense against the potential misuse of public funds. So we really have to build up enforcement of and compliance with existing laws and rules with respect to the settlement of advances," Romulo said.
Under existing laws, the failure to liquidate advances inside 60 days is actually punishable by up to two years and four months in prison, or a fine of up to P6,000, or both, according to Romulo, a lawyer by profession.
"Also under the Revised Penal Code, an official with an unsettled advance cannot lawfully leave the country. Should the official depart without clearance from the Commission on Audit, he or she faces up to six months in prison or a fine of P1,000, or both," Romulo said.
"There are also limits to advances. An official with an unsettled prior advance cannot obtain a new advance," Romulo said.
Once enacted, Romulo's bill would effectively make public officials who fail to liquidate advances potentially liable of the more serious offense of malversation or misappropriation of public funds, which carries with it up to life in prison, depending on the value of the unliquidated amount.
Under the bill, a public officer or employee has to liquidate a cash advance, depending on the purpose, within a defined period, as follows:
For salaries, wages, etc. - within 5 days after each 15th day/end of the month pay period;
For petty operating and field expenses - within 20 days after the end of the year;
For special operations, and operating expenses or purchases of supplies, materials and the like in an amount exceeding P100,000 - 20 days after the completion of operation or delivery and acceptance of the supplies, materials and the like;
For local and foreign travels - within 15 days and 60 days, respectively, upon return to official station; and
For others - within six months after the purpose had been served.
Dengue situationer in Maasin City and Southern Leyte province bared
By BONG PEDALINO
August 20, 2010
MAASIN CITY – A Sanitary Inspector at the Rural Health Unite I (RHU I) in this city, and a Department of Health (DOH) Representative assigned at the Salvacion Oppus Yñiguez Memorial Provincial Hospital (SOYMPH) have provided PIA updates on the latest dengue statistics.
Brenda Eway, Sanitary Inspector from RHU I, said that as per their periodic monitoring, a total of 91 confirmed cases of dengue was noted from January up to July this year, with the month of July being the peak month with 41 cases.
As for this month, August, four new cases were observed up to August 6, and no case yet came to their attention until August 16, Eway said.
Earlier, in a recent meeting with the Parents-Teachers Association at Saint Joseph College (SJC), Dr. Francilisa Tan, head of RHU I, revealed that of all the provinces in Region 8, Southern Leyte was the lowest in terms of dengue prevalence, but of all the local government units in the province, Maasin City emerged the highest in confirmed dengue cases.
She said at least two fatalities resulted as victims of dengue illness, while the rest recovered, although some were brought to hospitals in Tacloban.
She also said that five central barangays in the city – barangays Combado, Tagnipa, Tunga-tunga, Abgao, and Mantahan – were observed as the areas where most dengue victims came from.
More than half of those afflicted with the mosquito-borne disease were children aged 5 to 9 years old, while the age range also included up to 20 years old, Dr. Tan added.
At the provincial health office, Joel Napuli, the DOH Representative, disclosed that a total of 180 reported cases of dengue were listed by his office from May up to August 13 this year, adding that the computer record from January to April can no longer be found.
Napuli gave the breakdown of the affected towns as follows: Bontoc - 2; Hinundayan - 2; Liloan - 1; Limasawa - 14; Macrohon - 26; Malitbog - 9; Padre Burgos - 6; Pintuyan - 14; San Francisco - 2; San Juan - 2; San Ricardo - 11; Sogod - 10; and Tomas Oppus - 1.
Napuli included Maasin City in his list with 80 cases, apparently not an updated figure.
Not included in his list were the towns of Saint Bernard and Silago, but a local English weekly, quoting health sources, had 5 cases for Saint Bernard and 2 for Silago, while Limasawa had 17.
But Napuli also said that since August 16 until this report was written, 15 new cases were reported, even as some of the victims came from towns outside the province, like Matalom, Leyte. (PIA-Southern Leyte)
Three new authors in Eastern Visayas launches poetry books
By NEIL D. LOPIDO
August 20, 2010
TACLOBAN CITY – Three new authors from Eastern Visayas launched their first-ever poetry book written in Waray language held at Escaler Hall, Ateneo de Manila University last August 12, 2010.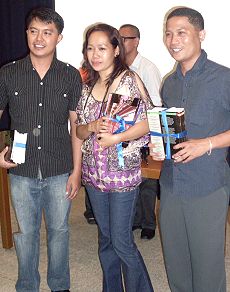 (From L-R) Phil Harold L. Mercurio of Northwest Samar State University, Calbayog City; Janis Claire B. Salvacion of the National Maritime Polytechnic, Tacloban City, and Leonilo D. Lopido of the Philippine Information Agency, Tacloban City, handling their first-ever poetry book. The three new authors from Eastern Visayas received their copies together with 11 others during the launching of the Ubod New Authors Series II held at the Ateneo de Manila University, August 12. PIA-8)
These young new authors are: Leonilo D. Lopido from Villahermosa, Dolores, Eastern Samar, who is now working at the Philippine Information Agency in Tacloban City; Phil Harold L. Mercurio from Brgy. Trinidad, Calbayog City and a teacher of Northwest Samar State University, Calbayog City; and Janis Claire B. Salvacion from V&G, Tacloban City, a researcher of the National Maritime Polytechnic, Tacloban City.
A collection of siday (poems) with English translations on selected pieces, the three books are entitled, "Ha Salog ug iba pa nga mga Siday," by Lopido and "Ayaw Pagpudla an Tuog ug iba pa nga mga Siday," by Mercurio both edited by Timothy R. Montes and "Siso Sakradang ug iba pa nga mga Siday han Taguangkan," by Salvacion edited by Merlie M. Alunan.
Dr. Victor N. Sugbo, NCLA Regional Coordinator, who was also present during the launching, was proud as three new authors have emerged and added the poetry books in Eastern Visayas.
The new books to include 11 other authors nationwide in the different Philippine languages (poems and short stories), are part of the Ubod New Authors Series II project published through the Ateneo Institute of Literary Arts and Practices (AILAP) with the grant given by the National Commission for Culture and the Arts (NCCA) and the National Committee on Literary Arts (NCLA). The first series of the book was published in 2005.
For his part, the ever thankful Dr. Ricardo M. de Ungria, NCCA-NCLA chairperson, said that this series saw imagination of the new authors throughout the archipelago. (PIA-8)
ACES wins in the Mandamus Case against Gov. Tan
By EMY BONIFACIO, Samar News.com
August 19, 2010
CATBALOGAN CITY – RTC Branch 41 Presiding Judge, Sibanah E. Usman, has finally handed down last August 3, 2010 its decision on the petition for the issuance of writ of mandamus filed by representatives of the capitol employees of Samar against former Governor Milagrosa T. Tan.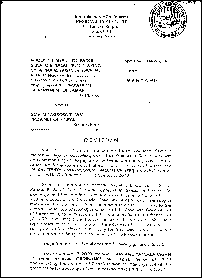 In a nine-page decision, Governor Tan is directed and commanded to pay unto the petitioners and the more or less One Thousand (1000) provincial employees of Samar, the Productivity Enhancement Incentive (PEI) for the Fiscal Year 2009, amounting to Twenty Five Thousand Pesos (Php 25,000.00) for each and every employee. The PEI was mandated in Ordinance No. 12-28 series of 2010 which was passed by the Sangguniang Panlalawigan on January 7, 2010. The Provincial Government was also obligated to pay the petitioners the amount of Sixty Thousand Pesos (P60,000) as attorney's fees plus the cost of suit.
Based on the case files, the signatories to the petition were Roque L. Limse, Luis I. Padul, Renato B. Basal, Ruel C. Aying, Catalina M. Saizes and Evelyn V. Domingo, who acted on their own and in behalf of all officials and employees of the Provincial Government of Samar. The petitioners are also identified to belong to the core group of the Alliance of Concerned Employees in Samar (ACES). It may be recalled that this same group went into massive protest actions in the later part of 2009 and demanded for good governance from the Tan's administration as well as for the release of the benefits of all employees. The ACES is now an active member of the Multi-Sector Alliance for Transparency and Accountability (MATA-Samar), an anti-corruption organization that forms part of the Philippine Public Transparency and Reporting Project (PPTRP) where Samar Province is a pilot area for its implementation.
The mandamus case was resorted to by the ACES as the most speedy and adequate remedy to demand and receive the PEI benefits as a right and to protect the interests of their colleagues in the service. Inasmuch as the issue at bar is of common and general interest to the 1,000 employees and considering the impracticability for all the employees to act as plaintiffs, the group decided to file a class suit and has contracted the legal services of their counsel to whom they are committed to pay an acceptance fee of P60,000.
The petition alleges that on January 7, 2010, the Sangguniang Panlalawigan of Samar enacted Ordinance No. 12-28, Series of 2010 appropriating the amount of P25 million for the payment of the grant of the Productivity Enhancement Incentive (PEI) for the Fiscal Year 2009 of all provincial government officials and employees of the Province of Samar at P25,000 each, pursuant to DBM Budget Circular No. 2009-5 dated December 15, 2009. Accordingly, the same ordinance was deemed approved pursuant to the provisions of Section 54 (b) of RA 7160 as certified by the Provincial Secretary, Mr. Alfredo C. Delector. The Certification was issued after the governor has failed to either veto or return the said ordinance to the Sangguniang Panlalawigan within the fifteen (15) days period from submission for her approval.
Furthermore, the Provincial Treasurer, Mr. Bienvenido Z Sabenecio Jr. certified for its availability of funds and directed the preparations of the corresponding vouchers and checks for the release of funds at Landbank, Catbalogan Branch. The checks were in the names of treasury personnel Rosita T. Eredia, Wenifreda A. Estremera and Marilyn E. Uy. However, Governor Mila Tan refused to approve and sign the said vouchers and checks when presented to her, notwithstanding the fact that the payment of the subject PEI benefits were authorized under a valid and effective ordinance and funds were available, therefore, her signing is a public ministerial duty.
On the other hand, the defense counsel insists that while it is true that there is an existing ordinance, it is also true that such enactment is without force and effect because it is violative of Sec. 323 of RA 7160 otherwise known as the Local Government code of 1991, thus it is inconsequential whether or not it is deemed approved by the Chief Executive for failure on her part to veto the same within the 15-day reglamentary period. The Governor further denied authorizing the Provincial Treasurer's Office to process the release of the funds or cause the preparation of the checks and had it been done by the treasury personnel, it was on the belief that there was legal basis for it.
The governor's lawyers also defended Tan's failure to sign or approve the cash advance vouchers and checks as dictated by prudence and the law. It is to the respondent's judgment that the SP Ordinance is a General Fund Supplemental Budget which is not authorized under a re-enacted budget. Samar has been operating on a re-enacted 2008 budget since 2009. In fact, the 2010 budget is still subject to the keen review and scrutiny of the new set of legislators.
The contentions of the defense were also reinforced by a DBM ruling that cited in particular Art. 415(a) par. 4 of its IRR, referring to Sec. 323 of the Local Government Code, that there can be no supplemental budget that can be enacted without the regular annual Budget. Thus, the respondent's lawyers believe that their client cannot be forced to sign and approve the vouchers since the act involves the exercise of discretion and judgment. In effect, they do not agree that the respondent can be compelled in a mandamus case.
After a series of hearings, oral arguments and presentation of facts and memoranda, last June 22, 2010, both parties agreed to submit the case for resolution. On the basis of the facts presented, the court ruled on the validity of Ordinance 12-28 duly enacted by the Sanggunaing Panlalawigan and the relief for the payment of P25,000 bonuses for each of the petitioners and other employees of the Province.
The decision anchored on the facts argued and considered that there were certifications issued by the Provincial Secretary declaring the Ordinance as approved; that there was a Certification issued by the Treasurer as to the availability of funds; and that the Ordinance was enacted pursuant to DBM Budget Circular No. 2009-05 dated December 15, 2009.
According to Judge Usman,"...clearly, the enactment of the ordinance is a compliance of an already established public policy to pay government employees their PEI...The relief prayed by the petitioners becomes already a matter of right and, therefore, the payment by the Provincial Government becomes already a duty or ministerial, otherwise, any unjustifiable condition or circumvention of the law will tantamount to a capricious, whimsical refusal and denial to grant the PEI benefits to the herein petitioners. Wittingly or unwittingly, they will eventually suffer undue damages. Apparently, there is no available remedy for the petitioners except the cause of action to pray for the issuance of a writ of mandamus in order that the respondent Governor shall be obligated, directed or commanded to comply with her duty as required by law."
PNP Samar apprehends Gandara mayor by virtue of warrant of arrest issued by Allen RTC
By Philippine Information Agency (PIA 8)
August 19, 2010
TACLOBAN CITY – The Samar Provincial Police under the leadership of PSSupt. Pancho Adelberto Hubilla, arrested at about 3:30 o'clock in the afternoon of August 18, Gandara Mayor Antonieto Cabueños in a checkpoint infront of the Sta. Margarita Police Station at Barangay Cautod, Sta. Margarita, Samar, a report coming from the Police Regional Office 8 said.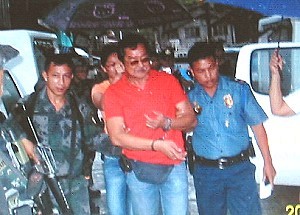 Mayor Cabueños (in handcuff) being escorted by the police to the Gandara Police Station for proper documentation. (PNP Samar photo)
He was apprehended by the elements of Sta. Margarita Police under PSInsp Angelo Pueblos, by virtue of a warrant of arrest issued by the Regional Trial Court Judge Manuel F. Torrevillas of Regional Trial Court Branch 23, Allen, Northern Samar, for criminal case number A-2564 in violation of the Omnibus Election Code.
Last February 2, 2010 at around 2:45 in the afternoon, Mayor Cabueños was arrested by the Police at the checkpoint in Lavesarez, Northern with three unauthorized armed escorts identified as PO3 Jonathan Rama, PO3 Edgar Delector and PO2 Perfecto Merilles of Gandara Police Station who are now under the custody of the Police Regional Office 8.
Section 32 of Republic Act No. 7166 provides that "during the election period, no person shall bear, carry or transport firearms or other deadly weapons in public places, including any building, street, park, private vehicle or public conveyance, even if licensed to possess or carry the same, unless authorized in writing by the Commission. The issuance of firearms licenses shall be suspended during the election period.
"Only regular members of the Philippine National Police, the Armed Forces of the Philippines and other law enforcement agencies of the Government who are duly deputized in writing by the Commission for election duty may be authorized to carry and possess firearms during the election period: Provided, That, when in the possession of firearms, the deputized law enforcement officer must be: (a) in full uniform showing clearly and legibly his name, rank and serial number, which shall remain visible at all times, and (b) in the actual performance of his election duty in the specific area designated by the Commission."
Comelec Resolution No. 8714 provides the rules and regulations on the bearing, carrying or transporting of firearms or other deadly weapons; and employment, availment or engagement of the services of security personnel or body guards during the election period for the May 10, 2010 National or Local Elections.
Mayor Cabueños has been released on orders of Judge Reynaldo Clemens of the Regional Trial Court Branch 31 of Calbayog City, at around 8:30 in the evening of August 18, after posting bail in the amount of P80,000.
Tabaquero named as new AFP NCR Command chief
By Philippine Information Agency (PIA 8)
August 18, 2010
TACLOBAN CITY – Major General Arthur Tabaquero, the commanding officer of the 8th Infantry Division of the Philippine Army based at Camp Lukban, Catbalogan, Samar, is now the new AFP-National Capital Region Command chief.


MGen. Arthur Tabaquero
This after President Benigno S. Aquino III has approved the revamp in the military hierarchy.
The orders were issued by the President, AFP Commander-in-Chief, based on the recommendation by the Board of Generals (BoG) through the Defense Secretary Voltaire Gazmin, the AFP said.
President Aquino has appointed new officers in the Armed Forces of the Philippines in line with the government's goal of having the "best players placed in the frontlines."
The changes in the military hierarchy will allow the AFP to cope with changes in the security environment, maintain momentum in its operations against security threats, and accomplish other goals, the military said.
AFP chief of staff Lt. Gen. Ricardo David said the reshuffled underwent a detailed process, from the nominations from the Board of Senior Officers from each of the major services, to the AFP BoG, then to the Office of the President through the Secretary of National Defense.
Major General Tabaquero replaces Rear Admiral Feliciano Angue who will now be commander of the Naval Forces Western Mindanao.
Major General Tabaquero will be replaced by Maj. Gen. Mario Chan is designated as commander of the Philippine Army's 8th Infantry Division (8ID).
Replacing Major General Chan as 4th ID Commander is Maj. Gen Victor Felix, the outgoing Deputy Chief of Staff for Civil Military Operations, who will in turn be replaced by Brig. Gen. Nonato Alfredo Peralta Jr.
As part of the revamp, outgoing Philippine Air Force (PAF) Vice Commander Maj. Gen. Eduardo Oban Jr. has been designated as AFP Deputy Chief of Staff. Replacing him as PAF Vice-Commander is Maj. Gen. Artemio Orozco, the outgoing commander of PAF 1st Air Division.
Rear Adm. Mario Catacutan is designated AFP Inspector General. Taking his post as Deputy Chief of Staff for Logistics is Commodore Teddy Pan, the outgoing Deputy Commander of the Western Command. Maj. Gen. Jovencio Magalso, the outgoing AFP Inspector General, is appointed as Deputy Chief of Staff for Reservist and Retiree Affairs.
The new Commander of the Naval Forces Northern Luzon is Commodore Edgar Abogado, the outgoing Commander of the PN Naval Logistics Center, while Commodore Jose Luis Alano, the outgoing Commander of the Service Force of the Philippine Fleet is designated as the New Chief of Naval Staff.
Philippine Marine Corps Commandant Maj. Gen. Juancho Sabban is designated as commander of the Western Command (WesCom) and will be succeeded by Brig. Gen. Rustico Guerrero.
Rear Adm. Roberto Estioko has been appointed as full-time Philippine Navy Vice-Commander. Army Col. Benito Antonio De Leon, previously the Senior Military Assistant to the Secretary of National Defense, is designated as chief of the AFP Command Center.
Borongan eyes sisterhood contract with Parañaque
By ALICE E. NICART
August 18, 2010
BORONGAN CITY – In its effort to patch up the insufficient funds for developmental projects of the City of Borongan, newly elected city Mayor Ma. Fe Abunda has began to move heaven and earth to solicit the support of friends in far Metro Manila.
Recently, she was able to win the hearts of the city officials of Parañaque city, particularly Mayor Jun Bernabe's, when they signed a covenant that stipulates the sisterhood relationship of the two cities.
According to Ms. Cora Basada, Secretary of Mayor Abunda, the sisterhood contract between the two cities will be most beneficial for Borongan. Foremost, Parañaque will be able to share the various strategies that they adopted which helped them in solving their problems.
Basada said, that like Borongan, Parañaque used to be cash strapped due to plenty of loans it incurred and inherited from past administrators, but they were able to slowly pay them.
Similarly, Borongan is presently financially constraint due to the Internal Revenue Allotment (IRA) which is pending because of the cityhood issue.
"That is why, Mayor Abunda is frequenting Manila to ask for favors from friends, and Mano Boy (Abunda) is of great help, because some of his friends are extending us their assistance, Mayor Bernabe for one," Basada added.
Another interesting idea which Borongan can expect from this "sisterly" relation with Parañaque is their waste management. Cora who personally gathered some accounts noted how trashes and wastes can be turned into usable materials, as in bags and decors. She said that some experts and consultants in Paranaque are willing to transfer the knowledge and technology to interested Boronganons through trainings.
She also reported that Borongan can also be taught how to go about with some tourism programs, which could entice local and foreign tourists.
To recall, Boy Abunda, in one of his campaign trails to Borongan with Ms. Kris Aquino, took pride when his friend endorsed in public the Borongan lechon.
It was Kris' first time to take a bite of the Borongan lechon and she announced publicly that the Borongan lechon can be one tourist attraction to Borongan and that she might pirate the lechon recipe. (PIA-Eastern Samar)
Paranas LGU awards P20 thousand to rebel returnees
By NINFA B. QUIRANTE
August 18, 2010
CATBALOGAN CITY – Paranas Local government unit through Mayor Felix Babalcon Jr, gave the two New People's Army (NPA) surrenderees some P20,000 each as immediate financial assistance to the Anagasi Brothers (names withheld for security reasons).
The duo was presented to the media and the Liga ng Barangay in Paranas town during the Municipal Peace and order Council meeting held on Monday in Paranas town.
One of them narrated that he used to bring ammos during raids. He, however, denied having committed any violent act like killing government soldiers during an interview with the media after the meeting.
New battalion commander Lt Col William Peñafiel of the 34th Infantry Battalion said that the brothers sent feelers to some army officials that they would surrender just a few days after he was installed as BatCom.
The arms and ammos surrendered including the claymore bombs could have rendered a platoon of soldiers lifeless had the rebels used them. On closer inspection, the gadgets hauled by the brothers included cell phones, handheld radios, M14, M16, carbines and some revolvers plus wires and other explosives.
There were also subversive documents and detailed listings of expenses in yellow pad.
Mayor Babalcon said that he was willing to give the brothers jobs after the army has done the processes to prepare the two as they will return to mainstream society. Lt Col Federico Tutaan, G7, also assured the brothers that they will receive some remuneration for the arms and ammos plus another cash assistance of P20,000 from the Social Integration Program (SIP) of the government.
When asked how much would the monetary equivalent be of the loads of weapons and ammo, Tutaan said the haul could easily fetch some P200 thousand.
Babalcon immediately requested the Sangguniang Panlalawigan to draft an appropriated ordinance to effect the P20,000 financial aid to the Anagasi brothers. (PIA-Samar)