Accounts Com chair Bem Noel prioritizes health programs to Waray provinces
By GINA DEAN-RAGUDO, Samar News.com
August 10, 2010
CALBAYOG CITY – Last termer An Waray Party List Rep. Florencio "Bem" Noel said in an interview with SIPC (Samar Island Press Club) that the democratic multi-sectoral organization would continue the programs and projects they have started, and on top of it is the health program which would infiltrate the provinces.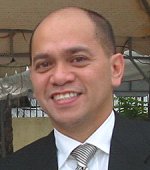 Congressman Bem Noel
Mentioning Calbayog District Hospital, he intends to provide assistance either the province or the city controls it. He however admitted that it is practical and easier to offer funds to hospitals managed by the region because they only tap the Department of Health (DOH). But if given a chance to talk with Calbayog City Mayor Reynaldo Uy, he would extend its support once the city hospital operates.
He is even planning to put up an extension office in every district or municipal hospital in Samar depending on the agreement with the local chief executive and the availability of funds that they can provide.
Noel disclosed that by next year, there will be turn-over of An Waray presidency, but regardless of whoever occupies the seat, he is hopeful that the organization would maintain its active performance and commitment to the people.
Being a Committee Chair on Accounts in the House, he is assured that the programs/projects for the Waray provinces will be carried out, as he is automatically a member of all committees.
"The house has a P5.5 Billion budget. In the appropriations, nagkakamay-ada hearing pero naagi ha accounts. From paper clip to computers, ha akon na agi kun diin ig-iisyu. Baga ako an administrator han bug-os nga house. With the approval of course by the speaker", he clarified.
In the 15th Congress under P-Noy administration, among the 4 national in scope bills and several co-authorship legislations the solon would prioritize the passage of the Coconut Development Act and other bills such as the water system (i.e. the host gets the royalties) and be supporting the passage of the Freedom of Information (FOI) for he is convinced it would get a favorable response from the Liberal-dominated house.
"Nga tanan nga problema nga nakita hadto, matatagan na solusyon. An eksakto nga dalan amo it aagian. Maagian hin maupay. An kan P-Noy SONA damo an kritiko. But P-Noy was actually stating the state of the nation, and he made some policies to address the problem. Definitely, this government will be anti-corruption. A very good direction for everyone," Noel asserted.
On the other hand, he agreed on the statement of COMELEC Commissioner Rene Sarmiento which states that "democracy in the Philippines is expensive".
"Right now it is the truth. By principle we don't agree, but that's how it works. Knowing Commissioner Sarmiento, he won't lie to you."
Relating to the upcoming barangay elections, two bills are being filed in the house. One is for postponement, moving it to October 2011 or 2012, and the other is by creating a law that barangay elections be held every after three years. But while the Committee on Suffrage is underway, a hearing for its postponement cannot be tackled yet, Cong. Noel concluded.
Following excessive bonuses, rice over-importation
Tough governance standards for 89 GOCCs pushed
Press Release
August 9, 2010
QUEZON CITY – Cavite Rep. Elpidio Barzaga Jr. has urged Malacañang to set rigorous governance standards for all 89 state-run firms "in order to promote best practices, full disclosure and spotless transparency in their operations."
Because they ultimately answer to the Filipino people, Barzaga said government-owned and controlled corporations (GOCCs) should be compelled to uphold ethical, accounting and disclosure standards that are equal or superior to those required of private firms listed in Philippine Stock Exchange (PSE).
"Both GOCCs and PSE-listed private firms have to answer to a public. PSE-listed firms have to answer to their shareholders. GOCCs have to answer to Filipino taxpayers," Barzaga pointed out.
He added: "Sound corporate governance will help boost efficiency and enhance profitability in the operations of GOCCs, some of which have become a financial burden to taxpayers."
Securities and Exchange Commission (SEC) rules already require PSE-listed firms to live up to stringent governance manuals drawn up and adopted by their boards.
The SEC mandated the manuals not long after large publicly listed firms in America collapsed as a result of unchecked self-dealing by board members and accounting fraud that shattered investor confidence.
SEC rules also require PSE-listed firms to dutifully disclose all information affecting their operations and profitability, including the compensation received by board members and senior officers, and every transaction with a potential conflict of interest.
Citing the belated discovery of a huge surplus of rice stockpiles at the National Food Authority, Barzaga said all GOCCs should be required to fully disclose all information "of public interest."
"In the past, GOCCs have also had their share of irregularities that, in retrospect, could have been avoided with tighter controls," Barzaga said.
He cited the case of the state-run Land Bank of the Philippines, where a number of officers were implicated in the diversion of large tax payments coursed through the bank, in an apparent breakdown of internal controls.
Malacañang is now reviewing the emoluments of board members and senior executives at GOCCs, toward curbing excessive bonuses.
"Amid the widening gap between government spending and income, we must stress that the productivity of GOCCs directly affects the National Treasury," Barzaga said.
"Since GOCCs are required by law to remit at least 50 percent of their annual net profits as dividends to the state, the less money they make, the less cash goes to the National Treasury," he said.
"Apart from this, the national government continues to spend billions of pesos every year to subsidize the operations of unprofitable GOCCs," Barzaga lamented.
The Commission on Audit lists a total of 89 GOCCs, of which at least eight are ranked among the country's top 1,000 corporations in terms of gross revenue.
Agri fair highlights culmination of Nutrition Month celebration in Biliran
By FLOR JACKSON
August 9, 2010
NAVAL, Biliran – The culmination of the Nutrition Month celebration in July this year in the municipality of Naval and in the province of Biliran which was spearheaded jointly by the Naval Municipal Nutrition Council (MNC) and the Biliran Provincial Nutrition Council (PNC) on August 3, 2010 was highlighted by the holding of the agricultural fair at the Naval Municipal Hall Compound.
The agri fair which was initiated by the Naval Municipal Agriculture Office through Mrs. Nascencia Abad, Municipal Agricultural Officer (MAO) who is also the Municipal Nutrition Action Officer (MNAO) of the said municipality, displayed and offered for sale agricultural products of farmers in the locality such as rootcrops, vegetables, fruits, a variety of fish like bangus and tilapia, crabs and other farm products which are best sources of vitamins, minerals and other nutritional elements that can lead to a healthy diet.
Likewise offered for sale at the agri fair was a variety of cut flowers raised by mothers in their own lot to augment family income.
The Nutrition Month culmination activity was started with a morning mass at 6:00 o'clock at the Naval Cathedral. This was followed by a motorcade around the main thoroughfares of the town which was participated in by the members of the Naval MNC; PNC; Barangay Nutrition Scholars (BNS) and Barangay Health Workers (BHWs) of Naval; officers and employees of the local government unit (LGU) of Naval, national government agencies; non-government organizations and other health workers.
Joining the motorcade was Naval Mayor Susan Parilla together with some Sangguniang Bayan (SB) members of Naval and other officials.
A short program immediately followed the motorcade.
Despite the heavy rains, the program went on smoothly at the municipal grounds with tents being put up to give shelter to the guests and program participants.
In her welcome message, Mayor Parilla thanked the SB members, the BHWs, and the BNS for their contribution in reducing the incidence of malnutrition in the municipality of Naval.
She likewise urged mothers to give their children nutritious foods so that when they grow up to maturity they will stay healthy and productive members in their own community.
The lady mayor believes that good nutrition and a balanced diet for children especially the pre-schoolers and the entire family will result to a dynamic community.
The guest of honor was Ms. Segundina Devota Dilao, Nutrition Officer III of the National Nutrition Council, Regional Office in Tacloban City who spoke on the highlights of nutrition information about the province of Biliran.
For his part, Biliran Sangguniang Panlalawigan (SP) member Brigido Caneja III who represented Governor Gerryboy Espina informed in his message that the provincial government of Biliran is providing essential health package for the Biliranons and this includes supplemental feeding in identified barangays in the province.
BM Caneja congratulated the LGU of Naval through Mayor Parilla for hosting the culmination program of the Nutrition Month celebration in Biliran.
He added that it is the goal of the provincial government to be a malnourished-free province in the years ahead.
He informed that the PNC has expanded its membership in include the non-government organizations.
As he ended his message, he urged mothers to breastfeed their babies so that they will grow up to be healthy and strong.
On the other hand, Dr. Alfonso Veneracion, Provincial Health Officer of Biliran who is also the Provincial Nutrition Action Officer (PNAO) in his message during the program said that the theme of the Nutrition Month celebration this year which is "Sa Pagkaing Tama at Sapat, Wastong Timbang Ni Baby ang Katapat" focused on babies less than one year old.
He urged lactating mothers to start giving complimentary foods to their babies after six months as he advised them to give their babies go, grow and glow foods to keep a well balanced diet.
He advised mothers not to delay in introducing complimentary foods to their babies and maintain a skin to skin contact to enhance bonding between mother and the baby. (PIA-Biliran)
Maasin to put-up more Nego-Kart and starter kits for entrepreneur-driven indigents
By BONG PEDALINO
August 9, 2010
MAASIN CITY – Move over, Department of Labor and Employment (DOLE).
DOLE's program on providing assistance in kind to business-minded indigents here in the city through its Negosyo sa Kariton (Nego-Kart) and the Starter Kits initiatives, in close coordination with the city government, have found a strong supporter from none other than City Mayor Maloney Samaco.
During the turn-over ceremony of a check amounting to P397,273 as start-up capital for basic materials, officially called Starter Kits, to 60 Maasinhon beneficiaries at the city gym Thursday, Mayor Samaco declared that the city government would intensify this livelihood activity by providing more funds so more can avail.
In the same gathering, some twenty beneficiaries of the "Nego-Kart" also joined the ceremonial turn-over, and with this Mayor Samaco also pledged to put up the same number of Nego-Karts.
The simple turn-over rites, which coincided with the Employees' Night activity, was joined by Fe Norma Valuis, DOLE Provincial Officer, and Fe Sta. Cruz, City Social Welfare Officer, as well as Vice-Mayor Effie Abiera Sabandal and some City Councilors.
Mayor Samaco handed a replica of the check to the beaming beneficiaries, while an actual and operational Nego-Kart was handed onstage to the smiling recipients as well.
Shortly before Samaco gave his inspirational message, a lady leader of the newly organized Nego-Kart association in the city shared how the mobile gadget helped them a lot in lifting their lives a notch higher from abject poverty.
Where before using only baskets, the ambulant vendors can have a gross sales of only P300 to P400 a day, but in a month's time of using the movable store on a bike, their sales tripled, even quadrupled she was able to pay her children's school needs.
A Nego-Kart operator among them was even able to hire a maid at P100 a day to take care of a child while the vendor was out doing business, and this shared experience elicited laughter and a pleasant surprise among those who listened, including Mayor Samaco.
Samaco said that with the DOLE's project, the city government had contributed P97,000 for the Nego-Kart, and P 75,000 for the Starter Kits.
For her part, DOLE provincial head Valuis was grateful to the tedious effort exerted by the city LGU to comply the necessary requirements leading to a relatively fast realization of the partnership undertaking.
She challenged the beneficiaries to do their very best so the assistance they enjoyed can make a real difference in their lives.
Valuis also hinted to Mayor Samaco that as soon as the City government can liquidate the funds, the DOLE office would be willing to extend more releases. (PIA-Southern Leyte)
No increase, no programs/projects will effect while budget is suppressed, says Tan
By GINA DEAN-RAGUDO, Samar News.com
August 8, 2010
CALBAYOG CITY, Samar – Approval of the budget is different from creating a new province. Without its passage, the 25% salary increase and the P25,000 PEI (Productivity Enhancement Incentive) will not be realized. This was the categorical statement of Governor Sharee Ann Tan in an ambush interview with Calbayog media during her visit at the District Hospital.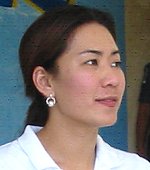 Governor Sharee Ann Tan
"Kay ano an rason nga magbabag-o hin probinsya? Unang-una an budget, magtutukod bag-o nga kapitolyo ngan mga national agencies. Why not accommodate na la in one province? Unless… kon mayday hira karuyag nga political side!
"An P25,000 discretion iton han LGU. Willing ako maghatag han P12,000 upon the approval of the budget. Pag sumiring ka ngani productivity, kinahanglan may product! Next year, nadiri na ako nga may productivity. Mahatag kita kun may makikita nga performance an mga empleyado," she replied.
The governor has admitted that the signatory of the 2010 budget was still her mother, the former governor because she believes that it was a long time proposal of the previous administration. Revising it would entail another delay. She instead asked the majority to just approve it and would make some amendments afterwards.
"Personally, may mga amendments ako liwat nga paghihimuon kay may mga programs ako nga igsusulod. Pero nadedelatar san mga board members nga nag-iinulang-ulang."
When asked on her reaction why no private funding institutions would like to invest in Samar due to non-performance and bad governance of the previous governor, the younger Tan ignored the issue but justified her performance in the second district when she was still representing it before the House.
"Waray man problema pag-asikaso han mga programa ngan proyekto. Kay han ha Congress pa ako, nag-aasikaso man ako. So yana, just give me this chance and opportunities nga ipakita ko ha ira. Diri kay uunahan ako. Siyempre, kon uunahan ako nira, ano man an akon mapo-prove? Tagi gad anay ako nira tsansa pinaagi han pag-approve han budget. Kitaon nira akon performance. Kay later on, diri ngani hira kuntento o an mga tawo, kay maaram man ako nga diri ha akon makukuntento an first district board members, sa sunod diri na nira i-approve an budget. Gin tsa-challenge ko hira!"
She further said that the majority did not even bother to answer her queries and clarifications on why are they delaying the approval of the budget.
"Diri man hira nambabaton. Ginpapakianhan ko hira, diri hira nagsusumat. Ginpapakianhan, diri nagtitingog. For me, talaga under the bunal hira han usa ka tawo."
She admitted that she was asking for a blanket authority coming from the Sangguniang Panlalawigan to authorize her to enter into any contract in behalf of the province, but until now, all she gets is an adverse reaction.
"Do you think deserving an akon administration han sugad hini nga treatment?! Of course, I would request for a blanket authority! Kay diri pwede nga sa ngatanan ko nga transaksyon maaro ako nga pirmi ha ira authority, nga diri man ngani iton hira nag susulod-sulod! Basta ako, gin-lay down ko na tanan akon karuyag signgon."
Tan strongly opposed for line budgeting because according to her selective approval is unauthorized.
She believes that the SP's major function is for the approval of the budget unless they opt to amend the law.
Lastly, she declared that the constituents can expect performance from her end once the 2010 budget is approved.
And she made an appeal yet slight audacity to the first district board members by saying, "Diri kami nakikiaway ha ira. Hira an nakikiaway ha amon. Pastilan pag-approve na gad kamo han budget kay iyo man iton trabaho. Meaning nangandidato la ngay-ankamo just to disapprove the budget?! Bantayi na la an iyo mga posisyon ngan atenderi an iyo dapat nga trabahuon. Ayaw pag-atenderi an kanan probinsya kay diri ito asya iyo lado. Baman ako liwat, di man ako naginginlabot han iba nga mga trabaho. Kay ako nagtatrabaho man la han akon."
Finally, Gov. Tan said that while the passage of the budget is still subject for SP scrutiny, the P400 Million hard cash in the bank will be used for business related purposes – bidding with other agencies revenue generation.
Last August 4, during SP regular session it was decided by the majority to refer the passage of 2010 budget to committee hearing – Committees on Finance, Budget & Appropriations and Laws.
The first district board members who have been the center of Tan's resentment decided not to answer her statements in public.
Calbayog Mayor conducts emergency meeting of Peace and Order Council after a PNP element lost two fingers
By PIA Samar
August 8, 2010
CATBALOGAN CITY – Calbayog City Mayor Reynaldo Uy conducted an emergency meeting of the city's peace and order council after a member of the Philippine National Police (PNP) element lost two fingers.
His brush with death happened during an encounter with a suspect who resisted arrest.
The report filed by newly-installed Calbayog Chief of Police, Senior Superintendent Nestor Valenzuela said that on July 18, 2010, the Calbayog City Police Station members led by PO1 Rolando Diaz, chief of the Police Community Precinct (PCP II) together with PO3 Joseph Justiniano, SPO2 Roberto Labian and PO3 Bebiano Caber were about to serve the warrant of arrest on (one) Lito Abajo at Brgy. Migara, Calbayog City, who was inside the house of Rose Sofronio.
Abajo is wanted for murder in Criminal Cases No. 5086, 6291 and 6386.
The report further said that Lito Abajo, armed with M-16 armalite rifle suddenly opened fire to the arresting officers resulting to the injury of PO3 Joseph Justiniano.
Justuniano who sustained gunshot wound on his left hand was rushed to the St. Camillus Hospital where his two fingers were amputated.
The suspect managed to evade arrest.
The elements of Calbayog City Police Station led by P1 Rolando Diaz, together with SPO2 Roberto Labian, SPO1 Nilo Martija, PO3 Nemesio Terado, PO3 Bebiano Caber, PO3 Charles Coprada, PO2 Rodelio Catamora, PO2 Jose Jay Senario and PO1 Allan Labrague conducted joint manhunt operation for the possible arrest of the suspect.
Recovered inside the house of Rose Sofronio were one (1) unit caliber .38 with five (5) live ammos inside the cylinder, no marking and no serial number, one (1) piece short magazine and one (1) piece long magazine of M-16 armalite rifle, one hundred twenty-five (125) pieces live ammos of M-16 armalite rifle, eighteen (18) pieces empty shells of M-16 armalite rifle.
The result of the meeting is still undisclosed as the council is still trying to corner Abajo who has remained at large. (with report from Ron Ricafort)
Calbayog campus journalists remember the 120th birthday of then Senate President Jose Avelino
By NINFA B. QUIRANTE
August 7, 2010
CATBALOGAN CITY – The publisher of the Samar Sunday Star in Calbayog City, Ike Macasa, gathered some 75 campus journalists from all over Calbayog held a campus journalist summit in time to commemorate the 120th birthday of then Senate President Jose Avelino.

Senate President Jose Avelino
Macasa said he felt he had to help the campus journalists re-kindle their passion for writing.
He invited some media specialists as speakers to inspire the young writers.
As Calbayog also celebrates the 120th birthday of then Senate President, Macasa also invited the granddaughter of Avelino, Ms. Loudette Avelino, who acted as the Guest Speaker.
Loudette is now based in New York and goes back periodically to Calbayog to perpetuate the legacy of her 'Lolo'. The lady had fond memories of Avelino who was a doting grandfather and expected excellence from his heirs.
The younger Avelino also ushered this writer to Calbayog's 'Handumanan' where a photo exhibit of the life and times of Avelino were proudly displayed.
Photos displayed included his Malacañang sorties, meetings with senators that included the first woman senator Geronima Pecson in an undated photo.
The writer also chanced upon a group of school children crowding at the exhibit. They were awed at the thought that a Calbayognon like them almost became a president of the country.
According to Wikepedia, José Dira Avelino (August 5, 1890 - July 21, 1986) was the first President of the Senate of the First Republic of the Philippines under the presidency of Manuel Roxas. He was President Pro-tempore to President Manuel Quezon prior to the establishment of the Commonwealth.
Avelino was born in Calbayog, Samar to Ildefonsa Dira and Baltazar Avelino. He is known as the Father of the Philippine Workmen's Compensation Law; one of the most famous bills which he passed during his term which focused on creating a contingency insurance fund for workers as a way to protect the workers from the various economic problems that plagued the post-war economy.
Avelino also founded the first labor union in Eastern Visayas, Gremio Obrero de Stevedores; he is a founding member of the Liberal Party; he was instrumental in the passage of the Social Security System and pushed for the establishment of public high schools in every province in the Philippines. (PIA-Samar)
Related Article: Remembering Jose Avelino: A heartbeat away from the presidency
NFA Samar airs side of rice stock
By NINFA B. QUIRANTE
August 7, 2010
CATBALOGAN CITY – The National Food Authority (NFA-Samar) airs its side on the rice stock issues that was one of the issues raised by President Benigno Simeon C Aquino lll in his first State of the Nation Address (SONA).
Rosario Cadiz, Senior Grains Operation Officer told PIA Samar in an interview that the rice stock in Samar particularly in Catbalogan and Calbayog is enough for the whole year and that there is no overstocking nor oversupply.
"Oversupply may have been true in Metro Manila but the situation is different in Samar, rice deployment is being strictly monitored," added Cadiz.
Meanwhile, in Eastern Visayas, NFA Regional Director Benjamin Marta said that the agency has maintained an ideal and comfortable level of rice stock inventory regionwide.
He issued the statement in the wake of reports stemming from the SONA of P-Noy that the agency has an over importation of rice resulting to undetermined quantity of rice with declining quality.
"As far as NFA Eastern Visayas is concerned the present total regional rice stock inventory is 759,599 bags at 50/kg per bag which will last for twenty (20) days based on the average daily consumption requirement of 38,120 bags," Marta added.
"This means that the region need not worry of oversupply nor under-supply of the basic staple," Marta said.
He underscored that the agency is mandated to provide food security especially at this time of the year when typhoons and floods are likely to occur.
"That is why we have adequately and rationally positioned our stock in nineteen warehouses regionwide in case of any eventuality."
Marta also said that NFA is expecting rice shipment from Cebu totalling 1.4 M bags which is part of the region's allocation until end of this year.
On the other hand, Marta informed that the agency would still go aggressive in its palay procurement operations.
The agency, the report said had bought a total of 9,280 bags versus a procurement target of 35,000 bags for 2010 or a 26% accomplishment.
One of the policy directions of the new Administrator Angelito Banayo is to lower the country's dependence on rice importation through domestic procurement to encourage farmers to produce more and to make this country rice-sufficient. (MA Militante with PIA-Samar)
Leyte councilors give PCL prexy fresh mandate
By Philippine Information Agency (PIA 8)
August 6, 2010
TACLOBAN CITY – Municipal councilors from the various municipalities of the province of Leyte gave a fresh mandate to current PCL Leyte president Hon. Wilson S. Uy of Palo, Leyte.
In a general assembly held at the Leyte National High School Gym on August 4, the Philippine Councilors League Leyte Chapter gave an overwhelming vote of confidence to Honorable Uy who is on his first term as Councilor of the municipality of Palo. During his previous term, Honorable Uy was a member of the Sangguniang Panglungsod of Tacloban.
In the same election, Councilor Francis Realino of Abuyog was elected as vice president. Elected as Secretary General is Luis Marlon Torres of Burauen, while elected as treasurer is Teofilo Cabello of Jaro. Honorable Erlindo Laplana of Baybay was elected as auditor; PRO is Councilor Mesias P. Arevalo of Palompon; and business manager is Alang-Alang Councilor Jill Sydiongco.
The Board of Directors is composed of Honorable Cheeryl Enrica Esperas of San Miguel and Honorable Ernesto Varona of Tanauan, for the first district; Honorables Jade Agullo of Dulag and Jul Co of La Paz for the second district; Honorable Carlo Pacito Villarino of San Isidro for the third district; Honorable Vincent Rey Taganas of Kananga for the fourth district; and Honorables Mar Aralan and Roseller Yan for the fifth district.
The Philippine Councilors League is an empowered foundation of governance that serves as catalyst towards progress of people within a sustainable environment for a strong and united Philippines.
The PCL obtained its official status as a local government association when it was accredited by the then Department of Local Government on September 3, 1990, and subsequently registered with the Securities and Exchange Commission on September 17, 1990.
The PCL was established primarily to carry out its objectives which include among others: to establish a strategic and accessible forum for giving life, meaning and substance to the concepts of decentralization and local autonomy, crystallizing and expressing ideas of primordial concern to the PCL, and strengthening public-private sector relations towards local development.