Food producers and processors enrich Samar Day celebration
By NINFA B. QUIRANTE
August 6, 2010
CATBALOGAN CITY – Food producers from Calbayog to Marabut and the island towns of Zumarraga and Daram have enriched the opening ceremony of Samar Day on Wednesday at the Samar Capitol Grounds, Catbalogan City.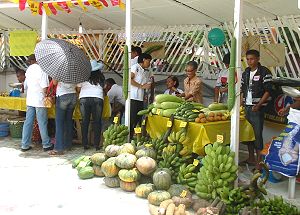 At least 60% of the Samar Day crowd entered the Bahandi han Samar booths fronting the Philippine National Bank.
Fresh fruits like lanzones were hauled from Matuguinao town while fresh vegetables came from Paranas, Daram, Sto. Niño, Zumarraga and Calbayog.
San Sebastian Mayor Arnold Abalos brought some crab meat, fresh shrimps of varying sizes and live crabs. He also brought with him crab and prawn crackers from San Sebastian.
From San Jorge town, live African hito were harvested from the San Jorge Fishery Hatchery along with some fresh vegetables grown in this agriculture-rich town.
Samples of wooden furniture from Marabut and the highest grossing banig products of Basey occupied another corner of the booth dressed and designed by the Department of Trade and Industry with the Office of the Provincial Agriculturist.
Pinabacdao, meanwhile brought pulverized ginger which is ready to drink, according to the person manning the booth, he also had banana chips, organic-grown rice and other processed food items.
Agriculture Regional Director Leo Cañeda and Agricultural Training Institute (ATI) Director Paulino Cabahit graced the opening of the agro-trade fair and even bought some products.
Leyte SP sets another consultative meeting with mining companies
By Provincial Media Relation Center
August 6, 2010
TACLOBAN CITY – The Sangguniang Panlalawigan (SP) of Leyte is expecting again the presence of two mining companies as it rescheduled another consultative meeting this August 17 to shed light on the various issues and concern as regards mining exploration in several Leyte towns.
The Provincial Board's committee on environment headed by Board Member Roque Tiu revealed that they have yet to gather thorough information on the mining issue that they are set to get to the bottom of this by inviting yet again the two other mining companies who were not in attendance during the July 27 consultative meeting.
These companies are the the Oregon Mining and Development Corporation (Oregon) and Lazarus Mining Corporation (Lazarus) but who informed in advance that they would be unable to attend the said meeting.
The committee is expecting the appearance of Oregon and Lazarus this August 17 which are targeting the exploration of magnetite sand and other associated mineral deposits in the northern part of Leyte's coastal areas covering Capoocan, Carigara, Barugo, San Miguel and Babatngon.
Meanwhile, it was found out from the Bureau of Fisheries and Aquatic Resources (BFAR) that Carigara Bay is declared as a marine sanctuary and being such would not allow large-scale fishing and large-scale mining.
Other Board Members such as Atty. Nico Villasin from Leyte's Second District that already with BFAR informing Carigara Bay, which is part of Leyte's coastal area, is a declared marine sanctuary, he is poised to oppose the mining exploration as this would affect marine resources and the people's main source of living.
Board Member Tiu, on the other hand, also suggests of a visit by the board members to Brgy. Pongon in MacArthur, Leyte where another mining exploration is underway by Nicua Mining Corporation (Nicua).
During the early months of this year, hundreds of residents in Brgy. Pongon, MacArthur, Leyte staged a protest rally and demanded for the permanent stoppage of the mining exploration in their area claiming the activity, which they beleived is more than just a mining exploration, has already caused massive floods and destruction of vegetation in their area.
It was learned that this protest by the residents has been laid before the regional trial court and the latter is set to conduct an ocular inspection of Brgy. Pongon on August 20.
Urban poor dwellers get attention from Urban HEART project
By NINFA B. QUIRANTE
August 5, 2010
CATBALOGAN CITY – The World Health Organization (WHO) and the Department of Health (DOH) partner with the Local government unit of Catbalogan City for the project Urban Health Equity Assessment and Health Equity Response (Urban HEART).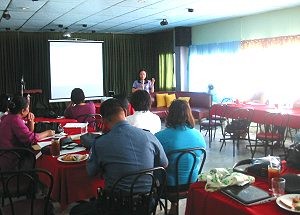 In the orientation held on Tuesday at the Maqueda Bay Hotel Restaurant, Center for Health and Development (CHD-8) focal person Dr. Imelda Ramos met with the stakeholders to map out strategies to implement the program.
Urban HEART, said the petite doctor is a tool intended to give policy makers and key stakeholders a guide for healthy initiatives at national and local levels.
It added that the 'tool' is a user-friendly guide to assess and respond to unfair health conditions and inequity.
Ramos in her presentation stated that most often, due to the rapid growth of an urban community, rapid growth of informal settlement is also observed. As humanity flock to the urban centers, housing becomes a major concern that the settlers occupy their own brand of housing that defies health and sanitary conditions.
The problem on health now becomes a major concern of the host government.
"It is not good to deny them, saying they are transient dwellers and are not legitimate residents," Ramos said.
The LGU will just have to deal with them as they pose health problems due to the almost inhuman conditions in their abode, Ramos told the department heads of the city.
Urban HEART with its partners aims to identify the gaps and interventions and promote health equity.
Among those suggested interventions include ensuring adequate water supply for washing and bathing, organizing tobacco-free sports events, initiating clean up campaigns for vector control and trying to prioritize health education for girls.
The project, said Ramos has given benefits to the urban poor in the cities of Ormoc and Tacloban and is aimed to radiate to the cities of Calbayog, Catbalogan, Borongan and Baybay.
The project is part of the 'Healthy City Initiatives' where the city of Catbalogan has 'enrolled' in.
The City Health Office with Dr. Senecia Yong and DOH Representative Joy Nabong is fully supported by a technical working group that will start choosing three urban poor and three urban rich barangays so that they can somehow study and/or analyze the inequities in their access to health facilities and services.
The project will be funded by WHO, DOH and some counterpart from LGU Catbalogan.
DOH conducts climate change and health forum in Eastern Visayas
By Philippine Information Agency (PIA 8)
August 5, 2010
TACLOBAN CITY – The Department of Health Center for Health Development in Eastern Visayas is scheduled to conduct a one-day live-out activity on Climate Change for Health on August 26, 2010 at the Leyte Park Hotel, Tacloban City.
DOH 8 Regional Director Edgardo Gonzaga informed that the importance of this activity is to tackle issues on climate change and its impact to human populace.
Because of this, there is a need to pool all the major stockholders in Eastern Visayas to generate participation in intensifying advocacy for climate change, Director Gonzaga said.
The good director said that the participants in this one-day forum are partner agencies and stakeholders and the various health sectors.
Among the participants are the officers and members of the Region Eight Administrators League; Region 8 Disaster Coordinating Council Members; Regional Inter-Agency Committee on Environmental Health representatives; CHD Program Coordinators and staff; chief of hospitals; provincial, city, and municipal health officers; and provincial, city health station inspectors in Eastern Visayas.
Climate change endangers human health, affecting all sectors of society, both domestically and globally. The environmental consequences of climate change, both those already observed and those that are anticipated, such as sea-level rise, changes in precipitation resulting in flooding and drought, heat waves, more intense hurricanes and storms, and degraded air quality, will affect human health both directly and indirectly.
Addressing the effects of climate change on human health is especially challenging because both the surrounding environment and the decisions that people make influence health. For example, increases in the frequency and severity of regional heat waves – likely outcomes of climate change – have the potential to harm a lot of people.
Certain adverse health effects can probably be avoided if decisions made prior to the heat waves result in such things as identification of vulnerable populations such as children and the elderly and ensured access to preventive measures such as air conditioning. This is a simplified illustration; in real-life situations a host of other factors also come into play in determining vulnerability including biological susceptibility, socioeconomic status, cultural competence, and the built environment.
Samar Day celebration captures a week of fun, freebies and festivities
By NINFA B. QUIRANTE
August 4, 2010
CATBALOGAN CITY – Samar Day celebration is going to bring Samarnons a week of fun, freebies and festivities, this was announced by the staff of new Governor Sharee Ann Tan-Delos Santos.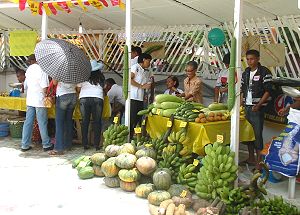 Different local products are now on sale at the Agro-Industrial Fair Trade in Imelda Park, Catbalogan City as part of the Samar Day celebration.
On august 4, 2010, the opening ceremony will be held with a grand parade, opening of the provincial agro-trade fair, dental and medical mission, Bingo Bonanza, supplemental feeding, press conference and a live band show in the evening.
On August 5, for sports buffs, basketball games are currently being held at the Capitol grounds while those who are saving coins for haircuts will be treated to free haircuts.
Other freebies like free medical consultations, free cotton candy and ice cream for kids while watching a kiddie dance contest at the Imelda Park is a welcome treat for park promenaders.
After the dance contest, a new show called Samar Got Talent will also be offered free to Samar patrons of music.
Another set of free products is up for grabs on August 6 like reading glasses, dental mission, and rice and grocery items for the event called 'Adlaw han Barangay'.
'Adlaw han Barangay' will travel to selected places to serve the barangay folks courtesy of the provincial government. The first of which will be in Pinabadcao town some 50 kilometers south of Samar's capital city of Catbalogan, one in Paranas and another in Calbayog City.
For the intellectuals, a 'Battle of the Brains' will be staged for high schoolers to compete in the afternoon of August 6.
As the' IQ war' is waged, free ice cream, cakes and cotton candy is expected to delight the audience or they may choose to queue for 'hot arroz caldo' to be distributed by the Provincial Social Welfare and Development (PSWDO).
On August 7, 2010, a Saturday, freebie patrons and donors will troop to the hospitals, prison houses to distribute love offerings.
For those lucky enough to stay out of the hospital and prisons, they can join the Bingo Bonanza promising appliances as rewards or prizes.
On August 8, 2010, a repeat of the same free wheeling distribution of eyeglasses, cakes, arroz caldo while the youngsters will try their stamina in 'Laro ng Lahi' featuring native games and sports played before the era of the internet. Palo sebo, Pupkpuk palayok, Sack race and Maria Went to Town were some of the golden games expected to be played.
On Monday, August 9, 2010, in addition to the freebies, gays and macho men will be doing boxing though not necessarily against each other but separately.
For beauty search aficionados, Mutya han Samar will be staged at the Samar Gymnasium featuring pretty lasses from the different towns in Samar province.
The following day Tuesday, additional features include Bangca Race, minor cyst operations, and Palakasan Marathon.
On the eve of Samar Day, August 11, 2010, a thanksgiving mass in the morning will be celebrated at the Capitol with a short program where the new and young governor is expected to address her numerous constituents, this will be capped by her favourite hobby of distributing free rice to the Samarnons.
At one in the afternoon a grand parade of festivals from the different Samar towns with a contest on drum and bugle is expected to draw a large crowd as the final activity.
This year's Samar Day celebration is anchored on the theme "Strengthening the identity of the Samarnon through unity and reforms".
This is the objective of the new administration claiming not being able to deliver basic services as the new set of board members has reportedly refused to pass the new budget.
But the Governor claims during the recent flag ceremony that should the board still refuse to cooperate, she will push all legal means for the approval of the budget. (PIA-Samar)
Eastern Visayas police nabs wanted person; raids illegal gambling activities
By Philippine Information Agency (PIA 8)
August 4, 2010
TACLOBAN CITY – In separate operations, the elements of the Eastern Visayas Police have recently nabbed a wanted person, raided illegal cockfighting and illegal gambling operations at General MacArthur, Eastern Samar and Dolores, Eastern Samar and Calbayog City, a report from the Police Community Relations Office, stated.
At 3:00 o'clock in the afternoon of July 29, joint elements of General MacArthur Municipal Police Station and 8th Regional Police Safety Battalion led by PI Emerson C Badilla, Chief of Police and PI Shyrile C. Tan, Platoon Leader, respectively, conducted a raid against illegal cockfighting activity at Sitio Palana, Barangay Vigan, General MacArthur, Eastern Samar.
Said raid resulted to the arrest of two male persons namely: Segundo Abendiano, 30 years old, married, bet taker or promoter; Ricardo Barbo, 68 years old, married, farmer, bet taker or promoter, both residents of said barangay.
It also resulted to the confiscation of four (4) fighting cocks, four (4) gaffs with cover, one (1) record notebook, one (1) ballpen and cash amounting to P1,200 in different denominations. Arrested person and confiscated items were brought to Gen. MacArthur Municipal Police Station for documentation and proper disposition.
Later, at 6:00 o'clock in the evening of July 29, a team from Regional Special Operations Group, PRO8 led by PI Dinvir L Revita in coordination with Calbayog City Police Station under the direct supervision of PSupt. Crizaldo O. Nieves, Chief RID, PRO8, conducted an Anti-Illegal Gambling Operation along Brgy Carmen and Brgy Capoocan, Calbayog City.
The operations resulted to the arrest of the following persons: George Lentejas alias Jojo, 43 yrs old, married, member of City Police Auxillary Group (CPAG) and presently residing at said place; and Peter Singamonon, 49 years old, married, jobless and a resident of Brgy San Policarpo, Calbayog City.
Said persons were caught in flagrante delicto engaging in illegal numbers game known as "swertres", who were acting as usher or collector.
Confiscated/seized from their custody, possession and control were several gambling paraphernalia to wit; George Lentejas: One (1) pc yellow paper used as tally sheet for illegal numbers game with numbers combinations and their corresponding bet dated 07/29/2010; one (1) pad of stub with number combinations and their corresponding bet; one-half pad blank; one pc one hundred peso bill; one pc fifty peso, two pcs twenty peso bill, one ballpen; one unit black RUSI motorcycle with no plate number and with chassis number RUEA152PM2PMIO5100397 and with key; one pc transparent plastic cellophane.
Confiscated from Peter Singamohon were: one pc yellow paper used as tally sheets for illegal numbers game with number combinations their corresponding bet dated 7/29/2010; one lengthwise yellow paper with number combination and their corresponding bet dated7/29/2010; one p lotto tip; one pc fifty peso bill; three pieces twenty peso bill; two pcs five peso coin; one unit Suzuki smash 110 motorcycle with plate nr HO5126 and with chassis number BE49J-204492 and Engine Nr E433-304565 and with key; one pc transparent plastic cellophane.
Subject persons together with the confiscated items were brought to Calbayog City Police Station, Calbayog City for safekeeping and subsequently referred to the Office of the City Prosecutor for inquest proceeding docketed under NPS No VIII-10-INQ-10G-00135 and NPS Nr VIII-10-INQ-10G-00135 with recommended bail bond of twenty thousand pesos (Php 20,000,00)
Meanwhile, at 2:00 o'clock in the afternoon of July 30, at Brgy Sta Cruz, Dolores, Eastern Samar, elements of Dolores Municipal Police Station and Borongan City Police Station led by PI Mamerto C Conopio and PI Jerome Camacho, together with eight PNCOs, arrested one Rodrigo Obias, of legal age and a resident of aforesaid place by virtue of alias WOA for the crime of murder docketed under CC Number 468 issued by Hon. Judge Gorgonio Alverez, Presiding Judge, RTC, Branch 4, Dolores, Eastern Samar with no recommended bail bond for his temporary liberty.
Subject person is now detained at Dolores Police Station lock-up cell prior to turn-over to court concerned, for proper disposition.
Search for Best CBFM PO in Region 8 launched
By PURIFICACION S. DALOOS
August 3, 2010
TACLOBAN CITY – The Department of Environment and Natural Resources (DENR) launched a "Search for the best CBFM Peoples Organization in Region 8 for the year 2010". The launching was made on July 23, 2010 during the First Regional CBFM People's Organization Summit held at the Paraclete Renewal Center in Salvacion, Tacloban City.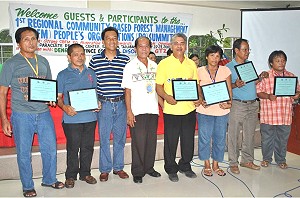 Presidents of the six CBFM POs with GTZ representative Forester Rogelio Abalos (2nd from left) and DENR FMS RTD Felipe Calub (3rd from left) posed after receiving their certificates of recognition as Best CBFM PO in their respective provinces.
The search aim to boost the level of enthusiasm of the POs and encourage them to undertake project activities which would enhance their environment and their socio economic status; encourage healthy competition among the POs and remind them to be compliant POs as regards to environmental regulations and other laws and principles governing POs; come up with a showcase PO which would serve as model for other POs and other DENR clientele in demonstrating upland development technologies and other ideal activities being done by POs in developing CBFM projects and the upland areas.
Regional Technical Director Felipe S. Calub of the Forest Management Service disclosed that six POs which were pre-selected as the Best CBFM POs in the six provinces of Region 8 are vying for the title as Best CBFM PO 2010. These are: the Young Innovators for Social and Environmental Development Association (YISEDA) in Lunas, Canlugoc, Maasin City; Kawayan CBFM Producers Association (KCPA) in Brgy. Madao and Ungali, Kawayan, Biliran; Katatapuran nga Pederasyon han mga Parag-uma han Samar (KAPPAS) in Tenani, Paranas, Samar; Cooperative Forest Development, Inc. in Borongan, Eastern Samar; Bililhong Ani sa Katunggan Hangtod sa Walay Katapusan in Brgy, Cruz, Palompon, Leyte; and the Luisita Upland Farmers Association in Luisita, Buenasuerte, Victoria, Northern, Samar.
Following a set of criteria, the selection of the Best CBFM PO will undergo different stages: These stages include the evaluation of credentials by the board of experts. These credentials include documentation of project activities that shall support that the PO has complied or completed the provisions in its updated Community Resource Management Framework; Socio-economic contribution to community development or the PO's participation in community development activities and other civic activities; PO is in good standing and has never been blacklisted by the DOLE, SEC, CDA and other registering agencies.
Other criteria include the ability of the PO to generate support from their respective local government units in terms of technical and financial support for project development undertakings. Linkaging with other partners such as government or private individuals and organizations as well as PO initiatives and innovations also form part of the criteria.
Validation on the ground and interviews with local government units and individuals who have influence with the PO contestants shall also be conducted to come up with a PO winner by the end of the year.
Regional Executive Director Primitivo C. Galinato, Jr. encourages the PO contestants not only to be ready with their credentials but also do development activities that are required of them. "We will be monitoring all the PO contestants to see to it that they are sustaining their activities even after the contest. The POs have significant role in upland development. In the DENR's thrust of protecting the environment using the direction "From the Ridges to the Reefs", the POs are considered as active partners of the DENR in the protection of the upland areas. Through the search for the Best CBFM PO, the POs' exemplary performance will be recognized and the slow performing POs will be encouraged to work more for their projects, RED Galinato stressed.
Mandatory coverage of OFWs to Pag-ibig takes effect August 1
By Philippine Information Agency (PIA 8)
August 3, 2010
TACLOBAN CITY – Membership to the Pag-IBIG fund is now a requirement for the processing of documents of OFWs and the issuance of OEC, for applications processed both in government-run placement agencies and in licensed recruitment agencies.
Based on POEA's Memorandum Circular 06, the mandatory coverage to the Home Development Mutual Fund (HDMF) or Pag-IBIG Fund, which took effect Sunday, August 1, involves a membership fee of P600 to be paid by the workers upon deployment.
The amount will cover 6 months. Thereafter, the workers will pay a monthly due of P100. Those already working abroad will automatically be covered by the directive.
The mandatory coverage of the Fund provided for under Republic Act 9679 or the Home Development Mutual Fund Law of 2009 signed by President Arroyo in July last year.
Under the new law, an OFW-member will contribute a minimum of only P100 a month as contribution, much lower than the US$5 he or she contributed before.
Under Pag-IBIG's universal or expanded membership coverage, all Overseas Filipino Workers, and Filipinos employed by foreign-based employers, whether deployed in the country or abroad, are mandatorily covered beginning January 2010. Also covered are those employees who are members of the SSS and GSIS, uniformed members of the Armed Forces of the Philippines, the Bureau of Fire Protection, the Bureau of Jail Management and Penology and the Philippine National Police.
Members' contributions are credited to their savings or the total accumulated value that earn dividends and fully guaranteed by the national government. In 2009, Pag-IBIG declared tax-free dividends amounting to P8.5 billion with a dividend rate of 5%. At this dividend rate, an OFW member will generate savings amounting to P40,753 if he contributes P100 monthly for 20 years; P81,507 if he contributes P200; and P203,768 at P500 a month.
The savings are also portable which remain in the name of a member even if he transfers employers, works abroad or becomes self-employed or even unemployed.
OFW-members can avail of short-term loans that will help address their immediate financial needs such as payment for tuition fees, hospital bills, appliance purchases, minor home repairs, and even for small business capital.
OFWs can apply for a home financing loan that has an interest rate of as low as 6% to 11.5% payable in 30 years. The maximum loan amount is P3 million. In 2009, Pag-IBIG extended a total of P9.6 billion in housing loans to their OFW members which financed 12,233 housing units. (PIA 8)