New Samar Governor vows to govern with transparency
By NINFA B. QUIRANTE
July 5, 2010
CATBALOGAN CITY – Newly enthroned Samar Governor Sharee Ann Tan vowed to govern with a sterner hand and transparency.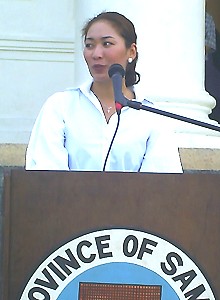 Newly elected Samar Gov. Sharee Ann Tan
In this morning's Flag ceremony, the young Tan, addressed the capitol employees in Waray. She called on all of them: those who supported her and those who did not, "let us unite." Tan promised the barangays that she will give them what they need, in terms of infrastructure.
She mentioned additional scholars and a plea to the Sangguniang Panlalawigan members to hold a session and allot some more funds for the scholarship program.
Tan also stressed that she will still support the different schools she supported as a congresswoman then, for the second district of Samar.
Like her predecessor, mother Milagrosa Tan, the young Tan said that she will continue her mom's favorite activities, rice-giving and medical and dental missions to every nook and cranny of Samar's poor districts especially in the island barangays.
She also mentioned the support of TESDA in the 'livelihood programs' she is set to implement.
She will also maintain 'the feeding program' in the barangays this time, through the schools.
As to health concerns, she claimed that it is her flagship program along with agriculture.
"I will support the maternal and child care program."
"I will support the Barangay Health Workers (BHWs) and the Botika ng Barangay through trainings and medicines."
The pretty governor also vowed to sponsor the enrolment of some more Philhealth members as only some 48 thousand families are Philhealth card holders.
She then requested the SP to grant her the authority to enter into agreements with national government agencies for some programs and projects that the people of Samar can benefit from.
To address the health problems, very much wanting in the province, Tan said that some P17M is ready for rehabilitation and improvement of Calbayog Hospital; some P7.8M for Basey District Hospital and some P3M for the Samar Provincial Hospital.
She especially mentioned Dr. Dulce Cernal and Dr. Rudolf Mabulay, the two leading health officials to help her realize her "healthy dreams" for Samarnons.
She promised to give the health workers subsistence allowance.
As to agriculture, the young governor said she and Provincial Agriculturist Anita Taran have made plans for this department.
What received the most applause was when she announced that the agriculture personnel will be allowed to collect TEV when traveling officially.
Some employees have complained in the past that they could not travel because they were not supported with transportation allowances.
Her mission in agriculture, Tan said is her province's support to the national government's Hunger Mitigation Program and Food Security.
As she appealed to the SP to approve the budget, she stressed that she is willing to change if the SP will call for it. "I am open to amendments and changes," she reiterated.
As her final announcements, she promised to give the employees, productivity benefits of P12, 000 for this year, all of them, but the succeeding years: "It will be subjected to performance and productivity."
But, the same will be released, once the SP approves the budget.
The employees were also satisfied and applauded the lady governor when she said she will implement the Salary Standardization Law.
While the lady governor seems to be generous with benefits for the provincial employees, she warned them that she will organize committees to monitor the employees. "To the department heads, I urge you to watch your workers!" (PIA-Samar)
Karapatan condemns first political killing under P-Noy
By KARAPATAN
July 5, 2010
QUEZON CITY – The human rights alliance Karapatan strongly condemns the killing of Bayan Muna-Aklan provincial chairperson Fernando Baldomero who was shot this morning while on his way to bring his child to school.
Baldomero, who is also a municipal councilor of Lezo, Aklan and at the same time provincial coordinator of the Makabayan Coalition, is the first victim of extrajudicial killing since President Noynoy Aquino was sworn into office. An attempt was made on Baldomero's life early this year when his house in Bgy. Sta. Cruz Bigaa, Lezo, Aklan was lobbed with a grenade by two men riding in a motorcycle.
According to initial reports, Baldomero was in front of his house, while trying to start his motorcycle to bring his child to school he was shot by two unidentified men. The attackers were armed with a 9mm pistol and long fire-arms.
Karapatan chairperson Marie Hilao-Enriquez said that the incident follows the announcement of the new three-year counter-insurgency plan by the newly installed Armed Forces of the Philippines (AFP) Chief of Staff Lt. Gen. Ricardo David. "Neither Gen. David nor President Noynoy have called to stop the killings and to end the culture of impunity that still prevails," Enriquez said.
"The lack of declaration from President Noynoy to stop the killings and impunity, coupled by Gen. David's pronouncement of another deadline to end insurgency, and this new wave of political killings, signals that former president Gloria Arroyo's counter-insurgency program, Oplan Bantay Laya, is still enforced under Mr. Aquino's term and has not let up on targeting progressive individuals", Enriquez said. She also noted that in June, seven individuals were killed, including an Ampatuan massacre witness, and last week, a former lawyer of the Mangudadatus was ambushed.
"We are concerned that the calls for justice and the ending of impunity will only fall on deaf ears," expressed Enriquez. "More than the ban on 'wang-wang, President Aquino must also issue a categorical order to stop the culture of impunity and put to end the atrocities of Oplan Bantay Laya implemented by the AFP."
Karapatan calls on the present administration to immediately conduct an investigation, and to arrest and punish the perpetrators of the Baldomero killing. "The total and complete justice announcement of Aquino is nothing if the polical killing and impunity is still prevalent and continuing", Enriquez concluded.
DOH 8 hosts National Sandugo Awards for Visayas
By Philippine Information Agency (PIA 8)
July 4, 2010
TACLOBAN CITY – The Department of Health Region 8 is set to host the National Sandugo Recognition and Awards Rites for Visayas on July 9, 2010, in line with the celebration of the month of July of every year as the Blood Donor's Month in the Philippines.
DOH 8 Director Eduardo Gonzaga informed that the National Sandugo Recognition and Awards Rites for the first and second time Barangay Captain Awardees for the whole of the Visayas will be held at the Ritz Tower de Leyte.
Director Gonzaga disclosed that there are 81 awardees from Region 6 and 16 awardees from Region 8, all of who are first time and second time awardees.
Director Gonzaga also intimated that three mayors and one governor from Region 8 are among the awardees in Manila for the National Sandugo Awards for Local Government Executives.
They are Biliran Governor, now Biliran Congressman Rogelio Espina; Mayor Manuel Labrador of Silago, Southern Leyte; Mayor Rolando Ty of Almeria, Biliran; and Mayor Nancy Grey of San Jorge, Samar.
The highlight of this month-long celebration is the National Sandugo Recognition and Awarding Ceremonies for Local Government Executives at the National Level, and the Regional Sandugo Recognition and Awarding ceremonies for Sandugo Blood Galloner awardees and the Sandugo Super Achiever Barangay awardees.
The National Sandugo Recognition and Awarding Ceremonies for first and second time barangay captain awardees from Mindanao was held on July 2 in Zamboanga City, hosted by DOH 9.
The National Sandugo Recognition and Awarding Ceremonies for first and second time barangay captain awardees from Luzon is set for July 16 in Tagaytay City hosted by DOH Calabarzon.
The National Sandugo Recognition and Awarding Ceremonies for Governors, Mayors and third time/hall of fame barangay captain awardees will be conducted on July 28, 2010 in Manila.
Gov't workers receive 2nd trance of salary increase
By Philippine Information Agency (PIA 8)
July 4, 2010
TACLOBAN CITY – All government workers will receive their second trance of salary increase under the Salary Standardization Law III effective June 24, 2010 pursuant to EO No.900 signed by Former President Gloria Macapagal-Arroyo.
In a statement, the Department of Budget and Management Region 8 Director Imelda Laceras assured government workers in Region 8 that the corresponding cash requirement for their salary increase will be released as part of the cash program for the second half of the year.
The SSL III, approved in June 2009, is a four-year plan to rationalize public sector pay through adjustments in the 33-grade government pay scale. While all employees will benefit from the pay raise, higher rates of increase are given to certain professionals like teachers, nurses, doctors, lawyers and accountants who would enjoy some 54 percent to 77 percent increase in their salaries with the full implementation of the law.
Aside from increasing salaries, these positions were upgraded in recognition of their importance in society in the case of teachers and medical personnel, and their market demand in case of lawyers and accountants.
DBM said that a soldier with the rank of Private in the Department of National Defense or a Police Officer I in the Philippine National Police would be entitled to a monthly increase of P1,342 over their current base pay; while a Nurse I would receive a P1,451 monthly salary increase.
The second trance implementation will not apply to officials and employees whose terms of office are co-terminus with the immediate past President of the Philippines.
Also excluded from receiving the salary increase are those hired without employee-employer relationships and funded from non-personal services appropriations and budgets.
For more information, interested parties may call the DBM Regional office.
78IB unveils marijuana haven
By DPAO, 8th Infantry Division, PA
July 2, 2010
CAMP LUKBAN, Catbalogan City, Samar – 300 stalks of fully grown prohibited marijuana plants and 250 seedlings were seized by the elements of the Army's 78th Infantry Battalion in Barangay Mantalongon, Dalaguete, Cebu, June 30.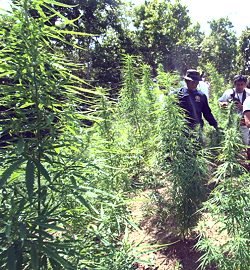 PROHIBITED GARDEN. Elements of 78IB and tanods uproot the fully grown marijuana plants at in an unnoticed area in Brgy. Mantalongon, Dalaguete, Cebu, June 30.
Report reaching to this office from 1st Lieutenant Geomar Pipit, civil-military operations officer disclosed that the said feat was the result of the tip from the civilian populace in the area.
Together with the barangay tanod, they immediately proceeded to the reported plantation.
Almost 2:30 in the afternoon when they reached the area and seized no one except the properly nourished marijuana plants.
Without wasting time, they uprooted the marijuana plants including the seedlings that are about to be planted.
The confiscated marijuana plants are now in the custody of 78IB as of press time and scheduled to be turned-over to PDEA-7 tomorrow for evidence and proper disposition.
Lieutenant Pipit said that this endeavor will serve as warning to future marijuana planters for the unit is intensifying its campaign against illegal drugs.
Meanwhile, Colonel Raymundo Bañares, 78IB's commanding officer expressed his heartfelt thanks to the civilian who tipped the information.
"The 78IB in close coordination with PDEA7 will continue to support Cebu Gov. Gwendolyn Garcia's "All out War" against Illegal drugs", said Colonel Bañares.
Police operatives recover cocaine bricks, apprehend 6 persons in East Samar
By Philippine Information Agency (PIA 8)
July 2, 2010
TACLOBAN CITY – Elements of the Philippine National Police have recovered 33 cocaine bricks amounting to P185 million and apprehended six persons who were selling the same, in two separate buy bust operations in Eastern Samar on June 30, 2010.
In a press conference held at the PNP Region 8 Headquarters, Director Rey Lañada together with PDEA 8 Director Julius Navales, informed the local media that the buy bust operations were conducted by operatives from the Anti-Illegal Drugs Special Operations Task Force from Camp Crame headed by PSSupt. Eduardo P. Acierto together with the joint elements of PNP8 under Director Lañada, personnel of the Eastern Samar Provincial Police under PSSupt. Felixberto Castillo, RID PRO8 chief Crizaldo Nieves, and Borongan Police Station chief Rosula Sabio Mambulao.
The group acted with the guidance of PDG Jesus A. Verzosa and PDDG Edgardo Acuna, Task Force Commander of AIDSOTF, who ordered the intensified operations after receiving information that huge volume of cocaine are being sold by a group of fishermen in Eastern Samar.
The police operatives were able to apprehend six sellers of suspected cocaine bricks in a successive buy bust operations conducted on June 30 in several parts of Borongan, Eastern Samar, and in Maydolong, Eastern Samar.
Buy bust operations conducted at Pebbles Resort, Opal St., Purok Remas, Barangay Bato, Borongan, Eastern Samar resulted to the arrest of John Carl Cabo y Hermano alias Caloy, 23 years old, single, jobless and resident of Barangay D-1, Baybay, Borongan; and his companion Ian Dizor y Ampong, 22 years old, single, college student and resident of Barangay Alangalang of the same town.
The two were selling two bricks of cocaine weighing about 2 kilograms to PNP poseur. Also confiscated from the suspects was one Isuzu motorcycle 150cc, color black and silver with plate number 3761 HC.
Another buy bust operation conducted at about 1:30 in the morning of the same date at the same place, resulted to the arrest of Noli Basilga y Catubay, 34 years old, single, laborer and a resident of Barangay Sabang, Suribao, Borongan; and the confiscation of 9 bricks of cocaine weighing about 9 kilograms and one Honda XL color black, with plate number HD4571.
At about 9:50 in the morning of the same date, another buy bust operation conducted by the same elements resulted to the arrest of Alfonso Amiday y Bula, 40, married and resident of Barangay Umiwas, Maydulong, Eastern Samar; and confiscation of 4 cocaine bricks, caliber .45 pistol colt marx IV Series 80 with serial number 890012 with one magazine, seven live ammunitions and a black Honda motorcycle with plate number 7882 HB.
Other buy bust operations conducted at about 2:30 in the afternoon of the same day, at Sitio Pipil-oton, Barangay Maybocog, Maydolong town, resulted to the arrest of Gil Cape y Lazarra, 36 years old, single and resident of Purok 1, Barangay Maybocog and Danilo Dala y Montes, 50 years old, balut vendor and resident of Purok 5, Barangay Maybocog; and the confiscation of 2 bricks of cocaine.
The suspects are now under the custody of the PNP for investigation and proper documentation, medical/physical and drug testing. The confiscated pieces of evidence were submitted to the PNP Crime Lab for examinations.
Cases of violation of Section 5, Article II of Republic Act 9165 are being prepared for filing against the arrested suspects. Another case, that of violation of PD 1866 as amended will be filed against suspect Alfonso Amida y Bula.
Follow up buy bust operations are being undertaken by the joint teams for possible recovery of more cocaine bricks and arrest of other suspects.
Series of surveillance operations were conducted from June 25 to June 29 in Eastern Samar prior to the conduct of buy bust operations on the 30th of June.
As of the morning of July 1, the joint team has already arrested 6 persons and confiscated 33 cocaine bricks weighing about 33 kilograms and with a total amount of P185 Million. (with data from PNP8)
Army in Eastern Visayas demilitarizes CCSR firearms
By DPAO, 8th Infantry Division, PA
July 2, 2010
CAMP LUKBAN, Catbalogan City, Samar – Around 468 captured, confiscated, surrendered and recovered (CCSR) assorted low and high powered firearms of the Army's 8th Infantry Division were demilitarized in Camp Kangleon, Palo, Leyte in the afternoon of June 30, Wednesday.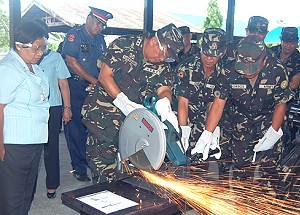 MGen. Arthur Tabaquero, commander of the Army's 8th Infantry Division (second from left) spearheads the demilitarization of the captured, confiscated, surrendered and recovered (CCSR) firearms at Camp Kangleon, Palo, Leyte, June 30, 2010. Looking is Mrs. Antonia Rebita, chief 8th Field Property Accountable Officer with Lt. Col. Roy Cabe, acting commander of 8th Forward Service Support Unit of the Army Support Command.
The said firearms were the result of the intensified ISO campaign of all organic units of 8ID in collaboration with the different concerned stakeholders in the continuous pursuit of peace and development in the region.
This endeavor was initiated by the 8th Forward Service Support Unit (8FSSU) of the Army Support Command through a simple ceremony inside camp to totally destroy the items that almost brought the region to disaster.
The highest military official in the region was also there to grace the ceremony as guest speaker.
In his remarks, Major General Arthur Tabaquero commended the troops for successfully implementing the capture, confiscation, surrender and recovery of the said firearms with the reminder to continuously working on for the ultimate attainment of their mission.
He also encouraged his troops to continuously move as one team in the region for the welfare, development and peace of Leyteños and Samareńos as well as the the Region 8.
Meanwhile, General Tabaquero also reminded his troops to uphold and support the duly constituted authority as another transition of the seat of power marked the pages of the Philippine history today.
"We are soldiers of our country and of our people, not of anyone else who is in power. God has spoken through the mandate of the people… we are duty-bound to constitutionally support our leaders and we also have to consider the welfare of the majority", the good General said.
"In our respective areas of assignments, wherever we may be destined, let us be focused on our mission. With our small triumph today in this simple yet significant occasion, we must not be complacent."
"Let our mission be worthy of our lives so that we can leave a legacy when retirement comes. Let us support our leaders and let us help them fulfill the vision that they have for our country. Let us work favorably for god and for our people so that in the end, as soldiers of the Philippine Army, our integrity will not be questioned", says General Tabaquero.
In conclusion, General Tabaquero lauded his troops for a job well done and for exerting every effort and dedicating their lives in the accomplishment of the said task.
Joy and sorrow reign as local officials take oath in Naval
By LANIE PITAO-TUPAZ
July 1, 2010
NAVAL, Biliran – Jubilant elected officials and supporters from all walks of life attended the 8:00 o'clock mass at the Cathedral Parish of Our Lady of the Most Holy Rosary in preparation for the 10:00 o'clock oath-taking ceremony at the Naval gymnasium.
Cheers and applauses filled the gymnasium as Judge Prospero Rapada of the Naval Municipal Trial Court swore into office Atty. Manuel Montejo, Jr. as Provincial Vice-Governor of Biliran; Engr. Bebiano S. Jadulco and retired PSupt Martin L. Lagat as Sangguniang Panlalawigan Members for the 1st district of Biliran; Susan V. Parilla as re-elected Mayor of Naval; Atty. Redentor C. Villordon as Municipal Vice-Mayor; Niceto L. Limpiado, Jr., Dr. Gabino S. Velasquez IV, Gregory T. Pastor; Marilou B. Lucente, Ramises V. Bongabong, and Edwin S. Pitao as Sangguniang Bayan Members of the municipality of Naval.
Elected vice-mayor of Cabucgayan Irvin Cordeta and vice-mayor Antonio C. Rosal of Biliran town took their oath of office before Naval Vice-Mayor Redentor Villordon.
Also sworn into office were newly elected Cabucgayan Sangguniang Bayan Members Ramon Amistoso, Elisa Oledan, and Felix Cabulang; and Biliran Sangguniang Bayan Members Rey Estacion, and Omar Cabillan by Atty Villordon.
However, tears fell when Mayor Susan Parilla expressed her gratitude to the truth-seeking people of Naval for giving her another three years to serve. In between tears, Mayor Parilla pledged her sincere and true service to the people.
The comic Vice-Mayor Villordon lifted the spirits of the audience with the anecdotes learned from the recently held automated elections. Moreover, he reminded the audience that in times of crisis, be it personal or political, it must also be a time for reflection and to remember Christian values.
Villordon added that as vice-mayor of Naval, he will urge the participation of the private sector and all other sectors of the society in the affairs of the local government of Naval where he will focus on people empowerment and encourage the oversight function of the local legislators to follow-up if the resolutions they sponsored were really implemented.
In the provincial level, Vice-Governor Manuel Montejo, Jr., appealed to the people to be cool in their search for truth and to go through the legal process calmly if truth is hidden from them.
As presiding officer in the provincial legislative branch, he will make each one account of what they are doing.
The inspirational message of outgoing Congressman Glenn C. Chong of the lone district of Biliran gave hope to those in attendance when he urged them to wait, to do their share, to do their jobs, to learn to let go and accept that he is no longer in the position for he is not indispensable. But he promised that he will still be there to help them face the challenge that agonized them.
The event concluded with a lunch where everybody shared the same packed foods with no one treated in special tables. (PIA Biliran)
801st Brigade delivers health services to celebrate their anniversary
By DPAO, 8th Infantry Division, PA
July 1, 2010
CAMP LUKBAN, Catbalogan City, Samar – The Army's 801st Infantry Brigade pre-celebrated their 22nd Founding Anniversary in peculiar way by delivering health services to the depressed folks in their covered area, yesterday morning.
The said event was carried out inside the brigade's compound where beneficiaries received complete accommodation.
Report reaching to this office from Captain Sergio Sabiano, the brigade's civil-military operations officer disclosed that it surmised to ninety-two (92) individuals who came from the different barangays of Hinabangan, Samar and Taft, Eastern Samar were given free medical and dental services.
It includes barangays Fatima, Bagacay, Cansolabao, Cabang and San Rafael of Hinabangan, Samar and barangay San Rafael of Taft, Eastern Samar.
Captain Sabiano said that the activity was the result of the concerted efforts and collaboration of their unit to other active supporters and stake holders in their area.
He mentioned specifically the services tendered by Dra. Emilda Abenio, the municipal health officer of Taft, Dr. Joselito Yulo of Samar Provincial Hospital and 2nd Lieutenant Jefferson Garcesa, the unit's dental officer.
"Our commander, Colonel Alex Albano initiated and implemented this of activity to support the government's program in alleviating the health problems of impoverished citizen in the far flung areas", said Sabiano.
"As part of the celebration of our unit's 22nd Founding Anniversary (July 1), we conducted this activity to express our gratitude to the people residing near our headquarters who in one way or another help safeguard our camp", he added.
Meanwhile, Captain Sabiano said that according to Colonel Albano, the unit will continue to extend support and assistance especially to the deprived communities as their continuous pledge to bring-forth the much needed services to them.
Colonel Albano also assured the public that they will continue to work-on the good working relationship with other stakeholders not for their own interest but for the good of the people.
Leyte guv being groomed to be RDC chair
By Philippine Information Agency (PIA 8)
June 30, 2010
TACLOBAN CITY – Leyte Governor Carlos Jericho Petilla who ran unopposed during the last election confirmed that he is being groomed to be the next chairman of the Regional Development Council of Eastern Visayas.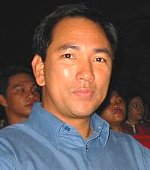 Leyte governor Icot Petilla
When first asked about this in the early part of June, Governor Petilla said that he is giving it a thought but he will first inform President Aquino about it. That time, he was scheduled to meet the President elect on a Friday. He said he will inform the President about it and he will respect the decision of the President.
Governor Petilla has already talked to President Aquino about this, thus, he has decided to seek the position.
This is not the first time that the Leyte Governor is being encouraged to run as the chairman of the highest planning body for Region 8. In fact, in 2007, he was the more popular choice but he did not push through with the idea when he learned that then President Arroyo has already committed the post to Mayor Mel Senen Sarmiento of Calbayog City.
Governor Petilla is respected by his colleagues because of his no nonsense development orientation. In fact, he has the support of most if not all of the governors in Eastern Visayas.
He envisions reinvigorating the tourism industry not only of Leyte but that of the entire Region which has been identified to be part of the Central Philippines Tourism center. This will open many employment opportunities to the people of Region 8.
Governor Icot who is in his third and last term as governor, also hopes to continue to invite investors to the Region particularly the ICT sector for business process outsourcing and call centers, as this will also generate jobs.
Noting that Eastern Visayas has remained to be an agricultural region, Governor Petilla is for the development of agriculture by tooling the farmers to enable them to produce more and earn more through diversifying to other agri-business.
Being the RDC chairman would enable Governor Petilla to tutor other provinces on programs which have been tested in Leyte and have been proven to be effective.
Based on Executive Order 325, the President appoints the RDC chairman and co-chairman from among the nominees submitted by the Council. The number of nominees includes at least two local chief executives and two private sector representatives.
The RDC 8 is composed of regional directors of various government departments, local government executives from governors to mayors of capital towns, president of mayors' leagues, city mayors and private sector representatives.
The RDC-8, which counts 96 members, serves, among others, as a policy and recommending body related to programs and projects in the region that needs support, mostly funding, from the national government.
The RDC is expected to conduct election of PSRs in July, ready for the election of the chairman and co-chairman in August or September.