Police nabs Gandara, Samar's wanted person
By Philippine Information Agency (PIA 8)
June 25, 2010
TACLOBAN CITY – Police Regional Office 8 Director Chief Superintendent Rey Laquihon Lañada informed that a wanted person by the name of Rex Pajarito alias Ricric, 19 years old, single, was nabbed at 7:00 o'clock in the morning of June 24 at Barangay Lungib, Gandara, Samar.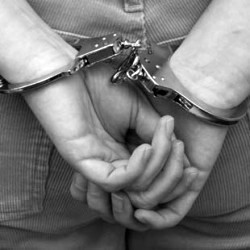 The apprehension was made by the combined elements of Gandara Municipal Police Station, the Regional Public Safety Battalion and Special Task Group 8 led by Police Inspector Jovie R. Espenido, by virtue of Alias Warrant of Arrest for the crime of murder docketed under Criminal Case Number 06-0342 with no bail bond; and serious physical injuries docketed under Criminal Case Number 6128, with bail bond of One Thousand Pesos, both issued by Presiding Judge Cesar T. Mabansag, Branch 41 in Gandara.
This fete is pursuant to Police Regional Office 8 Director Rey Laquihon Lañada's directive to his men to intensify their drive against all forms of criminality to ensure the safety of the general public.
Director Lañada said that the Philippine National Police in the Region is working harder in its fights against lawless criminals. He, thus, gave a stern warning to the Wanted Persons who are still at large to turn in themselves because the hands of justice will sooner or later nab them.
Do not resist arrest, Director Lañada said, because his men will defend themselves.
"If poverty is the reason why they commit crimes, they could work. There is a lot of work to be had in the locality. There is dignity in labor for as long as it is legal. There is no need for them to commit crimes in order to gain something," Director Lañada added. (with data from PNP RPCRD8)
LGA, DILG start training local officials in Eastern Visayas
By MYLES COLASITO
June 25, 2010
TACLOBAN CITY – Thirty-five (35) new mayors in the region attended the "First 100 Days" seminar of the Department of the Interior and Local Government (DILG) conducted on June 21-22, 2010 at the Sabin Resort in Ormoc City.
The live-in, free seminar which is a part of the second component of the 2010 Newly Elected Officials (NEO) Program was held simultaneously with other regions throughout the country, to prepare the new mayors for their tasks even before they assume office on June 30.
Next month and up to August, DILG rolls out a different training for all mayors, vice-mayors, called "Knowing My LGU". This is an on-site "utilization conference" to familiarize mayors, vice-mayors, and sanggunian members on their town's state of local governance, state of development and financial capacity based on the Local Governance Performance Management System (LGPMS) to help them prepare their respective term-based plans.
Executive Director Marivel C. Sacendoncillo of the DILG-Local Government Academy which oversees all DILG training programs, urged the neophyte mayors to learn from their more seasoned colleagues, especially on resource mobilization.
DILG-8 Regional Director Francisco C. Jose for his part urged the mayors to provide clear, concise and realizable vision of their municipality, and to exercise prudent use of their corporate powers. Likewise, he encouraged mayors to be magnanimous victors, and tap all resources and sectors to increase productivity and achieve their goals.
Heads of government oversight agencies: DILG, Department of Budget and Management, Civil Service Commission, Commission on Audit, as well as Parole and Probation Administration offered insights on common problems in local governance and held a dialog with participants.
Representatives from the Department of Agriculture, DENR, DSWD, Department of Health, and Philhealth likewise presented their programs for possible partnerships with LGUs.
Much of the questions put forth by training participants centered on appointments, succession of vacancies, local discipline, sharing of the Internal Revenue Allotment, environment, and local government – national government relations.
On the first day, Mayor Melchor Nacario of Calbiga, Samar shared his thoughts on protecting the environment and Leonardo Ubalde of Galing Pook highlighted some characteristics of local best practices.
On the second day, Mayor Roque Tiu of Tanauan, Leyte discussed revenue generation and fostering a business-friendly LGU. Both mayors have received awards in the past for their exemplary programs.
Towards the end of the seminar the mayors crafted their draft agenda for the first 100 days of office.
Out of a total of 143 local chief executives (mayors and governors) In Eastern Visayas, there are 50 new municipal mayors, two (2) new city mayors, and four (4) new governors. All of them are to undergo trainings and conferences by DILG together with the rest of the new set of local officials in preparation for their three year term.
The 2010 DILG Newly Elected Officials (NEO) Program has four components. Ensuring Smooth Transition mandates the creation of LGU transition teams to organize data, prepare transition documents, and develop briefing schedules to facilitate smooth transition in the LGU operations, as well as the conduct of a turnover ceremony between old and new officials.
The first track of Laying the Foundation component includes the First 100 Days and Knowing my LGU, while the second, Learning from the Experiences of My Peers involves mentoring and is led by the leagues of local officials.
Building Alliances shall be a province-led activity to shape a common vision, mission and goals with component cities and municipalities and harness multi-sectoral support, while Sharpening the Saw refers to trainings that may be requested by LGUs based on their needs.
Indigent vendors avail Nego Kart livelihood initiated by DOLE-Maasin City LGU
By ERNA GORNE
June 25, 2010
MAASIN CITY – Twenty local vendors here underwent two-days entrepreneurial and business meeting in preparation for them to avail the Negosyo sa Kariton livelihood program initiated by the Department of Labor and Employment -Southern Leyte Provincial Office in close coordination with the Maasin City local government unit thru the City Social Welfare and Development Office (CSWDO).
The CSWDO here endorsed the selected indigent vendors qualified to avail the free financial assistance from the DOLE.
At P15,000 each worth of goods and materials, the same group of indigent vendors were released a total of P300,000 grant from the said department.
The identified indigent vendors are already engaged in different vending activities such as snack vending - barbecue, tempora vending, sari-sari stores and buy and sell like pasalubong, among others.
The beneficiaries were advised on how to run their business properly in order to sustain for a longer period, enterprise development and business management. The two-day entrepreneurial and business orientation last June 21-22 was facilitated by the DOLE staff led by Provincial Labor Extension Officer Norma Fe Valuis.
According to Valuis, the turn-over of the financial assistance to the beneficiaries has been scheduled on July 5, 2010 with the presence of Maasin City Mayor Maloney Samaco and DOLE-8 Regional Director Forter Puguon.
Towards the end of the meeting, the group was formally organized into an association. Once the group will be accredited with the Department of Labor and Employment, the same group can avail more financial assistance, it was learned. (PIA Southern Leyte)
DepEd bans students in malls, internet cafes, cinemas during class hours
By Philippine Information Agency (PIA 8)
June 25, 2010
TACLOBAN CITY – The Department of Education is now prohibiting all students of public and private elementary and secondary schools from going to computer shops, malls, theaters, and other similar establishment during class hours.
Through DepEd Order No. 86 series of 2010 issued on June 18, 2010, Education Secretary Mona Valisno directed all school officials and employees concerned to institute and implement the necessary mechanism on the school discipline applicable under the situation.
Secretary Valisno said the school officials should monitor closely those students who are absent or cut class often. DepEd is aware of the prevailing situation that there are students in the elementary and secondary levels from public and private schools who go to computer shops, malls, theaters, and the likes during their class hours while in their school uniforms.
To carry out the ban effectively, Education Secretary Mona Valisno directed said school officials and teachers concerned to communicate and coordinate with their respective local government officials so that both parties could work on a possible enactment or implementation of the appropriate legislation to implement this. These legislations may be in the form of regulating the distance of computer shops, malls, theaters and the likes from schools, she added.
The directive may also be sent to the owners of these establishments not to allow entry of students during their respective class hours. The LGUs can ask the owners of these shops and malls to check first the class schedules of the student trying to enter the establishment, Secretary Valisno said.
Secretary Valisno said schools should accordingly provide their students with certified copies of their respective class schedules.
The Education Secretary also urged the school officials and teachers to provide their students with worthwhile and productive activities, particularly those that can enhance the creative and communicative skills such as debate or their creative skills such as dramatic activities and theatrical programs, which can be done during the free time of the students in school.
Calbayog LGU honors CPA topnotcher
By NINFA B. QUIRANTE
June 24, 2010
CALBAYOG CITY – Aside from celebrating Independence Day on June 12, 2010 the Local Government Unit of Calbayog City awarded an SP Resolution commending Mr. Reynaldo Prudenciado, Jr. an accounting graduate from Christ the King College, Calbayog City who placed 6th in the recent CPA Board Exam.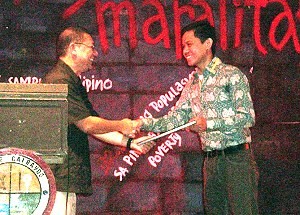 Calbayog city councilor Julius Mancol (left) handing over the copy of the SP Resolution to CPA topnotcher Reynaldo Prudenciado, Jr. during the awarding ceremony held at the Nijaga Park.
City Councilor Julius Mancol handed over a copy of the resolution to Mr. Prudenciado himself at the Nijaga Park stage.
In a phone interview, Rey told PIA that he did not expect to top the exam, he only prayed hard to pass.
Prudenciado's family is of humble beginnings, his father is a farmer while her mother tends a small sari-sari store in Barangay Guin-on, Calbayog City.
They are poor all right, said Rey but his siblings, four of them, including himself were able to go to school through scholarship grants.
His elder sister graduated cum laude at the Tiburcio Tancinco Memorial Institute of Science and Technology (TTMIST) now Northwestern State University.
He, too, graduated magna cum laude according to a personnel at Christ the King College.
Rey initially wanted to become a nurse, but a problem with his benefactor sprouted that he was forced to take accounting, a situation which gave him enormous blessings.
As he recalled how he learned of his passing the test, much more his being on the top 6 was too overwhelming for words.
He recalled being on review school because of another scholarship grant from Punongbayan and Araulo Auditing Firm which he hopes to serve for at least sometime.
He admitted he received many offers, but chose to stay with the Punongbayan Auditing Firm.
This 21 year old lad believes that being poor is not an excuse not to pursue higher education, one's determination and drive will more than compensate for any financial difficulty.
Meanwhile, Christ the King College admitted this is the first time their graduate topped the CPA Board Examination.
An employee told PIA that they have also students who topped the teachers board and other board exams.
Christ the King feels proud that their graduates have performed well.
Soon, a testimonial dinner awaits the successful batch of CPA examinees in and they will be led by this 21-year old lad who dreamed and infused diligence determination and perseverance to succeed. (with reports from Ron Ricafort)
ABS-CBN Tacloban's Trabaho Patrol draws 1,013 job seekers
By Philippine Information Agency (PIA 8)
June 24, 2010
TACLOBAN CITY – The ABS-CBN Tacloban sponsored jobs and livelihood fair on Saturday, June 19, 2010 at the Leyte SMED Center drew more than a thousand job seekers from the various municipalities in the region, DOLE Region 8 Director Forter Puguon informed.
Dubbed as "Trabaho Patrol", the employment activity was in coordination with the Department of Labor and Employment's Northern Leyte Field Office and its attached agency, the Philippine Overseas Employment Administration (POEA).
There were 5,540 job vacancies in both local and overseas employment that were offered by eleven local employers and seven private recruitment agencies that participated in the one day jobs fair. A total of 1,310 applicants were registered of which 1,288 were referred and interviewed.
The DOLE Regional Director said that the jobs fair generated twenty two (22) Hired On The Spot or HOTS all of which are for local employment.
Director Puguon explained that no HOTS for overseas employment was recorded as the qualified applicants will still have to undergo further processing like medical examinations, trade testing or employer's interview.
The local employers that participated in the jobs fair were APAC, Accudata, MJ Prime Agency, Trisean Ventures, Dranix, M Lhuiller & J Gourmet Partnership Co., Gaisano Central, Jollibee/Chowking/Greenwich, Lee King Yen MacAcrthur Beach Resort, Andoks and the Department of Social Welfare and Development Regional Office No. 8, Mr. Virgilio Doroja Jr., DOLE 8 Information Officer reported.
He said that seven (7) Tacloban-based private recruitment agencies also took part in the jobs fair with 5,240 job orders for employment abroad. These were the 10th Story placement agency, Ascend Overseas Recruitment Agency, Mondial Recruitment Agency, Mother's Way Overseas Manpower, New Era Placement Agency, Pacific Mediterranean.
The livelihood component of the fair has also featured opportunities for self employment through livelihood or entrepreneurship. Among the livelihood exhibits were the vegenoodles of Burak Magkaisa Small Business Association in Tolosa, Leyte, the deboned bangus of Tanghas, Tolosa, Leyte, the processed meat products of DORELCO Independent Workers Union in Tolosa, Leyte, their respective roscas, decania and torta of Barugo Roscas Producers Association and Barugo Food Delicacies Association, and the mushroom and bath soap of Tabon-tabon, Leyte.
A unique feature of the Livelihood Fair was the participation of Lifestyles Inc. which offered opportunity either for additional income or income augmentation to those already employed, or for self employment to those unemployed.
Director Puguon thanked the management of ABS-CBN Tacloban headed by its Station Manager Mr. Clifford Nolido for its continuing sponsorship of the Trabaho Patrol to help the people in Eastern Visayas find productive and decent employment. (with data from DOLE8)
Desaparecidos expresses dismay over the Supreme Court non-decision on Jonas Burgos case
By DESAPARECIDOS
June 23, 2010
QUEZON CITY – "For the Families of the Disappeared for Justice, the Supreme Court did not bestow justice; it only prolonged the Burgoses' agony." This was the statement made today by Lorena Santos, Deputy Secretary General of Desaparecidos or Families of the Disappeared for Jusitce after the Supreme Court came out with its non-decision over the Writ of Amparo on the Jonas Burgos abduction case.
"After making the Burgos family wait for more than a year for the Supreme Court ruling on the disappearance of activist Jonas Burgos, the decision is still found wanting," Santos said unable to hide her disappointment.
The victims' organization said that the Supreme Court failed to come up with a decision on the Writ of Amparo brought to their court after the Court of Appeals dismissed the appeal filed by the Burgoses. The Court of Appeals dismissed the case due to "lapses" by the Philippine National Police - Criminal Investigation and Detection Group (PNP-CIDG) in investigating the case. "Those were not lapses but a cover up on the abduction of Jonas Burgos." Santos stated.
"With the Supreme Court ordering the Commission on Human Rights to conduct an investigation on the case, it seems the legal woes of the Burgos family will be starting all over again." Santos shared while reminding the public that Jonas Burgos' family had previously filed a complaint before the Commission on Human Rights during the term of the CHR Chairperson Purificacion Quisumbing. "The Commission ordered a suspension of the hearings then." Santos lamented. "The Burgos family expressed the futility of the proceedings at the Commission at that time," she continued.
According to the Supreme Court ruling, President Arroyo should be taken out from the respondents. "It is simply unacceptable. She is the commander-in-chief of the AFP and her state policies include Oplan Bantay Laya (Operation Freedom Watch) that gives power to the military to abduct and disappear people like Jonas," Santos adds.
"Is this what we shall expect with the other pending Writ of Amparo cases that families of victims of enforced disappearances have filed before the High Courts?" Santos asks.
Decisions for petitions for the Writ of Amparo for the disappearance of National Democratic Front of the Philippines consultant for the peace process Leo Velasco, and, the UP Students Karen Empeno and Sherlyn Cadapan are still pending with the Supreme Court. They have been missing for almost four years now.
Meanwhile, with the acceptance of CHR Commissioner, Atty. Leila de Lima of the DOJ post under the Aquino administration, it is uncertain what future the holds with regards the Burgos case; however, families of the Disappeared hopes that with Atty. De Lima at the DOJ helm she will still continue to do what she has done while she was CHR Commissioner.
DepEd ALS extends A & E application till June 30
By NINFA B. QUIRANTE
June 23, 2010
CATBALOGAN CITY – The Department of Education (DepED) Alternative Learning System (ALS) is extending the period of application for the Accreditation and Equivalency (A & E) examination up to June 30, 2010.
It added that A & E test will be done on August 1, 2010 (Sunday) in three testing centers in Samar.
The three testing centers are in Samar National School, Catbalogan City, Calbiga Central School, Calbiga, Samar and in Sta. Margarita 1 Central Elementary School, Sta. Margarita located some 80 kilometers northwest this City.
As of the moment, some 500 applicants have been undergoing the process according to ALS Supervisor Teny Tobes.
PIA Samar chanced upon an applicant named Gerundio Lago, 19 who is a helper at a dried fish store in Barangay Ubanon, Catbalogan City.
Gerun said he will study in high school, if he passed the A & E exam and will even proceed to college until he qualifies to be a soldier.
"Gusto ko maging sundalo, amo gihapon an karuyag han akon kabugtuan," (Trans: I want to be a soldier, my sisters also share my ambition), Gerun shared to PIA.
Although the good looking lad just reached grade 5, he said he continues reading especially during his break time when he borrows pocket books from friends.
Gerun also displayed his mathematical skills as he computed the prices of dried fish and dried squid which his boss sells.
Like Gerun, those qualified are elementary drop-outs who are at least 11 years old before examination day; secondary drop-outs who are at least 15 years old before the examination day, non-passers of previous ALS A & E tests and learners or completers of the ALS program.
Requirements include: original and photocopies of any of the mentioned government issued identification such as valid driver's license, valid passport, voter's ID, postal ID, NBI clearance, Barangay Certification with photo and authenticated certificate of live birth. (PIA-Samar)
Region 8 hosts One Visayas Health Forum today
By Philippine Information Agency (PIA 8)
June 22, 2010
TACLOBAN CITY – All is set for the hosting of the Regional Development of Region 8 of the first One Visayas Health Forum today, June 22, 2010 at the Convention Center A of the Leyte Park Hotel.
The One Visayas Regional Development Committee is composed of the Regional Development Councils of Regions VI, VII and VIII, with the chairpersons of the RDCs namely: Governor Salvacion Z. Perez for Region 6; Governor Gwendolyn F. Garcia for Region 7 and Calbayog City Mayor Mel Senen S. Sarmiento for Region 8, leading.
About 120 participants from the three Visayas Regions have signified their intention to the Forum, the NEDA Region Social Development Division informed the Philippine Information Agency.
The Forum aims to generate issues and experiences from the Local chief Executives of the three Visayas Regions in their operations of devolved tertiary, provincial and district hospitals.
The Forum also hopes to solicit policy recommendations and courses of action to improve delivery of devolved health services to local government units, considering the impact of climate change on human health.
Furthermore, the Forum provides a venue to share best practices of the three regions on the four thrusts of Fourmula One Health Service Delivery, Health Regulation, Health Care Financing and Health Governance.
No less than the Secretary of the Department of Health, Hon. Esperanza Cabral has been invited to keynote the first One Visayas Forum on Health.
Among the issues to be tackled is Climate Change and Human Health which will be discussed by Dr. Jaime Galvez Tan, Executive Director of Health Futures, Inc.
The consolidated issues on Health Sector will be discussed by Ho. Paulyn Jean Rosell-Abad, Assistant Health Secretary.
The sharing of best practices in the Health sector will be done by the representatives of the three RDCs: Region 7 for Health Service Delivery; and Region 6 for Health Regulation. For Region 8, Dr. Jose Lito Trumata will share best practices for Health Governance and Financing.