Barangay agent from North Samar turns over 71/2 kilos of suspected cocaine bricks to police
By Philippine Information Agency (PIA 8)
June 16, 2010
TACLOBAN CITY – Police Region 8 Director Rey Laquihon Lañada expressed his gratitude for the all out support of the public in PNP programs, particularly that on drugs.
Director Lañada informed that at around 1:00 o'clock in the morning of June 15, a Barangay Intelligence Network (BIN) agent in Gamay, Northern Samar, turned over 7.5 kilos of suspected cocaine bricks amounting to about Thirty Seven point five Million (P37,500,000.00) Pesos.
The surrender was made to the combined force of the Regional Intelligence Division, Police Region Office 8, and Regional Special Operations Group led by Police Inspector Rolly Tagama and Police Inspector Raul Sarabia in coordination with the Philippine Drug Enforcement Agency 8 under the direct supervision of Police Superintendent Crizaldo Nieves, chief of RID 8.
The subject person and the surrendered cocaine bricks were brought to Gamay Police Station for documentation and subsequently brought to the office of RID, PRO 8 for proper disposition.
In a press conference held in the morning of June 16, Director Lañada turned over the surrendered cocaine to PDEA 8 Deputy Chief Operations Section Raymond Gidal who in turn deposited the same with SOCO8 for safekeeping.
Police Regional Director Lañada reiterated his directive to all police stations along the shorelines to monitor any similar recovery of cocaine bricks by the fishermen. He also called for the mobilization of Bantay Dagat of concerned municipalities and neighboring towns to monitor and inform the public to turn over to the PNP any recovered similar items.
Director Lañada said that the PNP together with the PDEA will continue to closely investigate the recovery of said white substances and to exert more efforts to further recover more cocaine from other municipalities.
On December 28, 2009, 218 bricks of cocaine were turned over by the Police Regional Office 8 to PDEA. Said bricks of suspected cocaine were recovered by joint elements of Eastern Samar, 4th Alpha Coy, PA and 52nd IB Delta Coy PA within the municipalities of Balangkayan, Maydolong, San Policarpio and Llorente, all in Eastern Samar, and in Northern Samar.
On January 11, 2010, another 80 bricks of suspected cocaine were turned over to PDEA 8. More than a month after, on February 26, 2010, another 28 bricks of cocain were turned over to PDEA.
PRO 8 has recovered a total of 335.320 bricks or kilos of cocaine which amounts to about 6 Billion, 676 Million, 600 Thousand Pesos (P6.67B).
GK launches Tacloban as first designer city in Visayas
By Philippine Information Agency (PIA 8)
June 16, 2010
TACLOBAN CITY – Gawad Kalinga Chairman Mr.Tony Meloto led in the launching of Tacloban City as the first Gawad Kalinga Designer City, at the Balyuan Convention Center on June 12, 2010.
Being a GK designer city, about 15,000 houses will be built in several communities in the City of Tacloban. The dwellings will be beautiful and colorful.
"Everyone who will live in that village will be beautiful. Bawal ang pangit (uglies not allowed), pangit ang ugali (ugly attitude), pangit na gawa (ugly act), pangit na bahay (ugly house) at pangit na kumonidad (ugly community)," Mr. Meloto said.
He expressed belief that Tacloban City can make a difference by showing the whole world that "we are one as a Filipino helping another Filipino to prosper."
He added that "it's about time we transcend and be one people, the Filipino by setting aside politics", quoting former Singapore Prime Minister Lee Kuan Yu when he said: "This is not about me. This is about Singapore".
The Gawad Kalinga Community Infrastructure Program in Tacloban initially started with a housing project at Cabalawan, Tacloban, called the Solis Legacy GK Village.
The Gawad Kalinga, the Tacloban City Government, sponsors and the beneficiaries of the project intend to build a community of 30 to 35 houses built at half a hectare lot donated by the Solis Family represented by Atty. Vicente Solis.
Once built, the Gawad Kalinga does not only foresee the infrastructure aspect of building a house and community but will also look into the community health aspect where every child, adult and elderly thrive optimally through capacity enhancement, health education, service and local health system development geared towards Building a Healthy communities and building a Healthy Nation.
Gawad Kalinga also has a program on child & youth development, a GK environment, empowerment & productivity programs for every community that they build.
Tacloban as a GK Designer City is envisioned as a strategy towards the achievement of the vision of Tacloban as a slum-free city by the year 2024.
The launching was highlighted with the signing of Memorandum of Agreement with Gawad Kalinga represented by its founder Mr. Tony Meloto, Mayor Alfred Romualdez for Tacloban City, Atty. Vicente Solis for the land donation and other stakeholders responsible for the GK project. (with data from City Info Center)
Leyte Kasadyaan trade and science & technology fair opens
By Philippine Information Agency (PIA 8)
June 16, 2010
TACLOBAN CITY – Visitors, balikbayans and tourists who are expected to come to Tacloban for the fiesta celebrations, will be treated to food and visual treat with the holding of the Leyte Kasadyaan Trade and Science and Technology Fair which features Diskwento Sales and Delicacies Festival on June 22 to 30 at the Leyte Pintados-Kasadyaan Park, Tacloban City.
Miss Raquel Abadiano, acting Information Officer of DTI 8 informed that the trade fair is made possible thru the joint and coordinated efforts by the Department of Trade and Industry-Leyte Provincial Office and Regional Office 8 (DTI-Leyte and RO 8), the Provincial Government of Leyte, the Leyte Chamber of Commerce and Industry (LCCI) and the Department of Science and Technology- Leyte and Regional Office 8 (DOST-Leyte and RO 8).
The Fair which showcases the best processed food, handicrafts, and furniture of participating producers and manufacturers from all over Region 8 most especially those from Leyte, is held as part of the Pintados-Kasadyaan Festival 2010 this month of June.
With the publicity and exposure that joining the festival will create, the fair is expected to boost the sales of participating producers in Leyte and create awareness for their products most especially those of export quality to institutional and walk-in buyers who are expected to constitute the bulk of its visitors.
The featured "Delicacies Festival", will highlight the various native delicacies that the region is known for such as the binagol, moron, and pastillas and with the anticipated huge turnout of visitors to the trade fair, sales of the producers are expected to increase as well.
On the other hand, the LCCI-organized "Diskwento Fair" aims to ease the burden of parents with the opening of classes this June by offering for sale to the public at the trade fair, selected basic and prime commodities as well as school supplies at reduced prices.
For more information on the Leyte Kasadyaan Trade and Science & Technology Fair, you may call DTI-Leyte at 323-6448 or visit its office at DTI-Leyte, Real St., Sagkahan, Tacloban City. (with data from DTI 8)
Noynoy's state visits eyed to "sell" RP's knowledge workers
By Office of Rep. Joseph A. Santiago
June 15, 2010
QUEZON CITY – Catanduanes Rep. Joseph Santiago favors the private sector's plan to tap some P160 million in government subsidy to help "sell" abroad the abilities of the country's knowledge workers during President-elect Benigno Aquino III's first state visits to other nations.
The plan is expected to draw in up to $5 billion new foreign investments, mostly in information technology (IT)-enabled services, Santiago said.
"We are absolutely behind the plan, which is essential to protecting and advancing our gains in the global markets for IT-backed services, particularly software development and engineering design," said Santiago, chairman of the House committee on information and communications technology.
He urged the Semiconductor and Electronics Industries of the Philippines (SEIPI) and the Business Processing Association of the Philippines (BPAP) to combine forces in lobbying the new President to support the planned global marketing campaign.
The plan involves the placement of high-impact advertisements in leading international cable TV channels and newspapers that cater to the business community.
Santiago said the ads and roadshows for potential investors should be synchronized with Aquino's initial foreign trips, which are expected to attract ample global publicity.
Aquino's highly credible pledge to fight corruption is also expected to help pull in the new investors, he pointed out.
"We don't see any reason why SEIPI and BPAP can't ask the new administration to set aside P160 million out of the ESF to finance the global marketing drive," Santiago said.
The ESF refers to the P1-billion Export Support Fund. Government established the fund to prop up exporters at the onset of the global financial crisis and recession in 2008.
Knowledge workers refer to personnel valued for their ability to interpret and analyze information within a specific subject area. Their skills help companies identify problems and work out solutions through innovation, design and development.
As a result, companies are able to create new products, enhance processes, and increase productivity.
The country's IT-enabled industries, which Santiago said are "basically exporting services," are solidly on track to sustaining growth in the years ahead.
Besides software development and engineering design, the services also encompass animation; digital content; customer care; back offices; and medical, legal and other data transcription.
Still driven mainly by contact centers, the services are expected to generate $12.2 billion in revenues this year. They are projected to directly employ more than one million Filipinos by yearend.
LGA-DILG conducts "My First 100 Days" training for newly elected Region 8 local chief executives
By Philippine Information Agency (PIA 8)
June 14, 2010
TACLOBAN CITY – The Local Government Academy which is the training arm of the Department of Interior and Local Government is scheduled to conduct an orientation training for the newly-minted local chief executives in Region 8, on June 21-22 at the Sabin Resort Hotel in Ormoc City.
LGA Executive Director Marivel C. Sacendoncillo informed that the training dubbed as "My First 100 Days" is aimed at helping the newly-elected local chief executives get acquainted with their tasks and responsibilities.
Ms. Sacendoncillo added that the activity will also serve as the venue for the LCEs to craft their program and governance for their first 100 days in office and gets them ready when they assume office on July 1, 2010.
With the just-concluded elections bringing forth new faces and new hopes in local governance, the LGA-DILG in partnership with development partners and other stakeholders, designed the 2010 Newly-Elected Officials (NEO) Program to strengthen the individual and institutional capacities of the local government units and improve the delivery of basic services and be able to map out the development direction of their respective localities.
The training "My First 100 Days" is a component of the Program, the LGA Executive Director informed.
Among the modules in the training is that on Financing LGU Operation which will provide the participants an overview of the LGU Fiscal Management so that they will understand the LGU financial condition, learn the sources of local revenue and alternative external sources of revenue, formulate the LGU financial strategies, thus promoting financial accountability of LCEs.
Ms. Sacendoncillo said that she has invited outgoing Tanauan, Leyte Mayor Roque Tiu who is the LMP Leyte Chapter President in the sharing of best practices of LGUs on mobilizing resources.
The other modules include Understanding My Environment; the Local Official as Agent for Development; Common Pitfalls in LGU Management; and Jumpstarting the First 100 Days Governance.
Metro Cebu MRT project revival eyed under Aquino
Press Release
June 14, 2010
QUEZON CITY – Cebu Rep. Eduardo Gullas is hopeful that President-elect Benigno Aquino III's economic and transport planners would be more aggressive in fulfilling the proposed mass rail transit (MRT) system in Central Visayas' fastest-growing metropolis.
Gullas said he is counting on the National Economic Development Authority (NEDA) and the Department of Transportation and Communication (DOTC) under Aquino to quickly revive and finally carry out Metro Cebu's first modern, efficient and reliable MRT project.
"The system has become absolutely necessary to enable Cebu to keep pace with rapid population growth and economic expansion," Gullas said.
"The sooner the system is installed, the more economical for government, and the less costly for taxpayers as well as commuters," he said.
Gullas expressed confidence the MRT system would boost Cebu's economic productivity in a big way.
He also stressed that the MRT project and a separate proposal to roll out a bus rapid transport system "are not necessarily conflicted."
The two could be rolled out in a manner that they would complement and reinforce each other, rather than make one redundant, he pointed out.
For years, Gullas has been pushing for the MRT project to ease Metro Cebu's heavy motor vehicle traffic congestion.
He has gone to the extent to introducing a bill seeking to require the DOTC to prepare and execute a plan to establish and operate the system.
Cebu desperately needs a fast, safe, convenient and inexpensive MRT system, according to Gullas, a former provincial governor.
Preliminary estimates for the MRT project have ranged from P46 billion to P55 billion.
The DOTC previously forged a $1 billion build-operate-transfer agreement with the AMA Group of Holdings Corp. to build a 71-kilometer, three-phased MRT project in Metro Cebu.
The project would run through Metro Cebu from Carcar City in the south to Danao City in the north.
However, project performance has been stalled, because the DOTC has found it difficult to get lower offers from other private entities.
Gullas' fresh bid to revive the Metro Cebu MRT project came shortly after the Department of Public Works and Highways accepted an unsolicited proposal from Metro Pacific Tollways Development Corp. to build a P17-billion, 13.2-kilometer elevated road linking the North and South Luzon expressways.
Leyte expects to produce more rice this year
By Provincial Media Relations Center
June 12, 2010
TACLOBAN CITY – The province of Leyte expects to produce more rice this year despite the prolonged dry spell caused by the El Niño phenomenon and the drop in fertilizer supply to local farmers.
Roger Portula, Leyte provincial agriculturist, said the province is still 113 percent rice sufficient even with the decline of about 40,000 metric tons (MT) of palay experienced last year.
"The decrease in rice production last year did not only happen in Leyte but nationwide. Hopefully we can recover this year. That is why we are exerting efforts that farmers use certified seeds to ensure good harvest," Mr. Portula said.
Leyte, one of the country's rice producing provinces which ranked sixth in 2007 among the country's rice producing provinces with a rice produce of 582,840 MT.
The province has more than 55,000 hectares of rice lands with the towns of Alangalang, Abuyog, Carigara, Sta. Fe, Palo, Kananga and the cities of Baybay and Ormoc as among the top rice-producing areas.
"Our farmers could avail of a subsidized certified seeds. They could get 40 kilos of seeds at P600 only while the government would shoulder the remaining P600 as subsidy to rice farmers. The Department of Agriculture (DA) will pay the remaining amount," Mr. Portula said.
Meanwhile, Mr. Potula disclosed that the ICOT Rice Program of the provincial government will continue this year in Sta. Fe, Leyte.
Under the said program, the province extends loan to rice farmers and the amount could be used to buy palay seeds and fertilizers as well as payment of workers who prepare the land for planting.
"Beneficiaries could avail of a maximum of P15,000 per hectare of land a farmer would plant. The farmers would pay back their loans in terms of good quality palay computed on the prevailing market price but P1 higher," Mr. Portula said.
The provincial agriculturist added that the loan program is one way of maintaining the province food-secured and improving the farmer's productivity and increasing their income.
"If they have surplus palay for sale, we (province) buy them. We also supply rice to the provincial and sub-provincial jails and provincial-run hospitals," he said.
NPA big fish arrested in SouthMin
By DPAO, 10th Infantry Division, PA
June 12, 2010
CAMP FELIX APOLINARIO, Panacan, Davao City – A New People's Army (NPA) leader was arrested by authorities in a checkpoint in the village of Madaum in Tagum City 1:30 PM Friday.
Mario Cabatlao alias Jomar, secretary of Local Terrorist Front-15 of the NPA was arrested by joint elements of 3rd Special Forces Battalion, Philippine National Police (PNP) of Madaum and Criminal Investigation and Detection Group (CIDG) 11. Recovered in the possession of Cabatlao were an Improvised Explosive Device (IED) and a fragmentation grenade.
Cabatlao was arrested by virtue of Warrants of Arrest in Criminal Cases 3432, 3433, 3483, 3484, 3485 and 3486 for multiple murder and attempted murder in his involvement in many NPA atrocities committed against the law and the people particularly in the towns of Baganga, Manay, Caraga and Taragona all in Davao Oriental province.
MajGen. Carlos Holganza, commander of the Army's 10th Infantry Division lauded police and soldiers who made the arrest as he reminded criminals that law enforcement efforts will continue to bring them to justice. "We take pride in the efforts and patience of our soldiers and policemen who painstakingly took it upon themselves that justice for our people will be served. May this bring warning to all criminals, murderers, kidnappers and bandits like the NPA that the long arms of the law will eventually catch-up with you and your crimes will not go unpunished." Holganza said.
"This is a welcome development as the whole nation celebrates our independence. May all criminals fall in the hands of the authorities so that our people may be free from terrorism and other crimes which these criminals commit against our country" Holganza added.
Cabatlao is the third NPA leader to fall in the hands of authorities in Southern Mindanao this year.
Zaldy Canete alias Jingoy, a celebrated case of child combatant who was recruited at the age of 13 and who rose steadily and quickly in the ranks of the NPA surrendered after being wounded in a gunbattle with the Army's 3rd Special Forces Battalion in Talaingod town in Davao del Norte January of this year.
Renelo Creita alias Jaguar who is responsible in planning and executing the ambush in Maragusan town which claimed the lives of five individuals and wounded a dozen others which was tagged by people as the "Maragusan Massacre" fell in the hands of joint elements of the Army's 66th Infantry Battalion and CIDG 11, PNP in May.
Like Cabatlao, authorities also found an IED fashioned as landmine and a hand grenade in the possession of Creita together with a caliber .45 pistol.
Authorities say the use of IED is a violation of International Humanitarian Law as it endangers the life of non-combatants specially that NPAs are planting said bombs along roadnets and bridges.
Canete and Creita also face multiple cases of murder, frustrated and attempted murder, arson, kidnappings, illegal possession of firearms and explosives and other criminal cases.
8ID actively supports Brigada Eskwela 2010
By DPAO, 8th Infantry Division, PA
June 12, 2010
CAMP LUKBAN, Catbalogan City, Samar – The Army's 8th Infantry Division actively supported the Department of Education's (DepEd) Brigada Eskwela 2010 last June 10-11, 6 A.M in the different areas of Catbalogan City.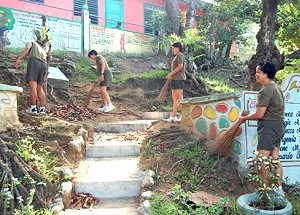 8ID was just one of the numerous government and non-government agencies who regularly join the said endeavor in welcoming the opening of the school year.
This activity further aims to show up with the public the coordinated efforts and partnership of all stakeholders and giving value to education even with this little things.
Local government units, local businesses, civic groups, NGO's, private individuals, religious sectors, students, teachers and parents also worked hand-in-hand in preparing school's classrooms for the comfort of the incoming students.
Minor repairs, repainting and cleaning the areas were just few among the activites of Brigada Eskwela wherein some public elementary schools such as Catbalogan National Comprehensive High School, Brgy Mercedes, Guinsirongan, Catbalogan V Central and Catbalogan IV Central elementary schools were benefited.
Meanwhile, other units under 8ID were already conducting and participating in similar activities in their areas of operations.
The 14th Infantry Battalion joined the Brigada Eskwela last week at the Dolores National High School, Dao Integrated School, Maslog Primary School, Parina Elem. School, Brgy. Parina Giporlos, San Miguel Elem. School, San Miguel, Hernani E .Samar.
The 52nd Infantry Battalion (CAFGU) also extended similar support at Bitaog Elem. School, Brgy Agsam Oras E. Samar and Samar State University of Catbalogan City.
The 78th Infantry Battalion was also very much active in their area of operation wherein they launched their Brigada Eskwela support immediately after the national and local automated election.
In his statement, Major General Arthur Tabaquero, 8ID's chief said that the overall activity was very successful thus he extends his heartfelt thanks for the support shared and extended by other participating agencies, organizations and individuals.
"This activity demonstrates no small amount to the eyes of our people, particularly to our students who will bridge change and success in the future. This will remarkably leave a very sentimental value that will continue to inspire them until they mature."
He further said that 8ID will continue to support any worthy programs of any agency in aid of promoting the value and effect of oneness and togetherness in security and nation-building.