To attain HOPE, PNP augments force to Buenos Aires
By GINA DEAN-RAGUDO
May 28, 2010
CALBAYOG CITY – While the constituents of Buenos Aires are patiently awaiting for their special elections which was previously scheduled on May 28 or 29, 2010 respectively, Pagsanghan Election Officer Renato R. Gaditano has finally sent a text message confirming the June 3 synchronize special elections.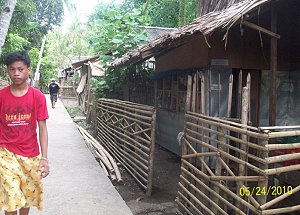 Most of the houses in Buenos Aires are empty, household members left.
This was in the midst of doubts among the residents whether or not poll automations would pursue in the absence of a Memorandum Order from the COMELEC.
In an interview, residents alleged that more or less 10 houses have been vacated when household members voluntarily decided to be transported to nearby municipalities and provinces.
Initial information revealed that those people who have been brought to Naval, Biliran while others were in Catbalogan City and in Poblacion Pagsanghan, Samar were supporters of the Nacionalista Party.
In the absence of Brgy Captain Aniceta Repol who opted to stay in Poblacion Pagsanghan the day after the postponement of May 10 polls, only the council members are visible and somehow involved in the big event.
They further revealed receiving money amounting to P2,500 each before May 10 poll automations aside from goods offered by certain politicians they refused to identify.
Election Assistant Nicolas Mendova said that transporting of voters on Election Day is a clear violation of the provisions of Omnibus Election Code. The acts allegedly committed by certain politicians before Election Day are mere strategies in order to obtain votes over the other.
Anticipating for possible untoward incidents in the area due to some political pressures from both parties, PNP Provincial Director Pancho Hubilla in his own discretion has decided to augment forces effective this week. In fact, the second platoon of the Provincial Public Safety Management Company came three days ago to secure the area in coordination with the 87th IB contingents.
Hubilla said that he can deploy even up to 400 PNP forces just to make sure that an orderly and peaceful elections would be implemented. The presence of his men and the military could help the people build their confidence in order to vote wisely.
Comparing to previous elections, he added that 2010 is the least violent based on their data.
On the other hand, PSupt. Doughlas Eloja said that the situation in Buenos Aires is normal and manageable, and no complaints have been reported in his office.
The presence of politicians in the area is non-intimidating but a big help to some residents in terms of assistance.
He however admitted having sighted unknown individuals in the area in the previous days that's why check points are strictly implemented for monitoring purposes.
NSO warns against census enumerators who fabricate answers, resolves other concerns
By NINFA B. QUIRANTE
May 27, 2010
CATBALOGAN CITY – The National Statistics Office (NSO) Samar warned enumerators who fabricate answers.
A senior announcer of Radyo ng Bayan-DYOG told Ms Letecia Chu, Provincial Statistics Officer that an enumerator came to DYOG for a 'panawagan' (public address) urging three barangay chairmen of some remote barangays in Calbayog City for a meeting.
Said enumerator whose name was withheld allegedly asked for the Barangay Chairmen to come down from the hills as he could not go the barangay without a companion.
Ms Chu reacted saying, if the enumerator was thinking of asking the chairmen the questions in the census, he should be reprimanded.
"For one, the questions are numerous, it will be impossible for the 'appointed' respondent to memorize his constituents." Chu said.
"Besides, there are questions about the physical characteristics of the house which is an integral part of the census," she added.
The NSO chief suggested that if the enumerators are afraid to go where their assignment is, then they could use the public address to seek help from the barangay official as to company in going to the target areas.
Chu also informed that she learned of some enumerators who just sit in the barangay hall and summon the respondents.
"This, again, " said Chu, "is another no-no in the conduct of the census."
Enumerators, PIA and DYOG learned are being monitored by NSO team leaders and DepEd supervisors.
Should some enumerators 'cheat' NSO will be able to tell through some safety measures they have formulated to discourage enumerators who are not truthful.
NSO added that these are some of their concerns which they immediately resolve to make the census smooth-sailing.
Another question aired by a listener has something to do with a boundary dispute in two barangays.
Chu said that the two chairmen are summoned to amicably settle the problem between them, if they don't, the area in dispute is added to the city or municipality and the barangay losses the additional IRA share.
Another solution is to elevate the matter to the City/Municipal Census Boards which are convened during census time.
Presently, NSO Samar has deployed close to 600 personnel to act as census enumerators, supervisors and team leaders.
Results of this year's census on population and housing will be announced by the President of the Republic of the Philippines come December 2010. (PIA-Samar)
U.S. nonimmigrant application visa fees to increase on June 4, 2010
Press Release
By US Embassy - Manila
May 26, 2010
MANILA – In order to cover increasing costs of providing highest-quality service for the processing of nonimmigrant visas, the U.S. Department of State will increase Machine-Readable Visa (MRV) fees worldwide starting on June 4. The U.S. Embassy in Manila will immediately begin collecting the new fees for appointments made for June 4 or later.
The new fee for tourist/business visas (B1/B2 category), seafarer/crew visas (C1/D), student visas (F), and exchange visitor visas (J) will be $140 or the equivalent in pesos. The new MRV fee for work visas (H, L, O, P, Q, and R categories) will be $150. Trader/investor visas (E) will rise to $390. Fiancé/Spouse (K) visas will be $350. All other nonimmigrant categories will be $140.
Visa applicants with appointment interview dates on or after Friday, June 4, will be required to pay the new fees. Applicants with appointments before June 4 will pay for their visa fees at the current rate of $131.
All applicants with an interview date of June 4 or later must pay the full MRV fee, even if they have already made an appointment and paid at the old rate of $131. The Embassy requests that visa applicants who have already paid the MRV fee of $131 for an appointment scheduled after June 4 pay for the difference in fees at the same bank branch where they made the initial $131 payment. For instance, if you have already made a visa interview appointment for a tourist visa for Friday, June 4, and paid the MRV fee of $131, you will need to pay the difference of $9 before arriving at the Embassy on your appointment date. Applicants for other visa categories will need to pay the appropriate incremental fee difference. You will need to present both blue MRV fee receipts when you arrive at the Embassy (in this example, receipts for $131 and $9). You will not be allowed to enter the Embassy for your interview unless the full MRV fee has been paid. For more information on the new fees, visit http://travel.state.gov/visa/temp/types/types_1263.html.
The Embassy also reminds the public that the Consular Section is in the process of converting to an on-line visa application form, known as the DS-160, to replace paper application forms. The DS-160 is a form that has been in use at many other U.S. embassies and consulates for several months. The U.S. Embassy in Manila's conversion to the on-line form is unrelated to the worldwide visa fee increase. Please see the Embassy website at http://manila.usembassy.gov/wwwh3024.html for information about the DS-160 on-line application form and instructions.
Pinoy sailors sent home $888M in 1Q, up 11% but Greek debt crisis worries labor center
Press Release
By TUCP
May 25, 2010
MANILA – Filipino sailors on foreign ocean-going vessels wired home a total of $888.949 million in the first quarter, up 11.04 percent or $88.414 million from the $800.535 million they remitted over the same three-month period in 2009, the Trade Union Congress of the Philippines (TUCP) reported Sunday.
TUCP secretary-general and former Senator Ernesto Herrera said the 11.04 percent growth in the money sent home by sailors was nearly double the 5.96 percent increase in the cash remitted by land-based migrant Filipino workers in the first quarter.
"We remain bullish overall about the potential growth in remittances from Filipino sailors in the months ahead," said Herrera, former chairman of the Senate committee on labor, employment and human resources development.
"However, we are also deeply worried about Greece's lingering debt crisis, which could depress economic conditions as well as shipping activity in Europe," added Herrera, whose labor center includes the Philippine Seafarers' Union.
Of the 10 biggest sources of remittances from Filipino sailors, six are European countries, Herrera pointed out.
The top 10 sources of Filipino sailors' remittances are the United States, Japan, Norway, Germany, the United Kingdom, Singapore, Greece, the Netherlands, Hong Kong, and Cyprus, according to Herrera.
Remittances from Filipino sailors based in Greece were still up 18 percent in the first quarter to $34.7 million versus $29.3 million a year ago.
However, Herrera also noted that remittances from Filipino sailors based in Norway, the Netherlands, Cyprus, Denmark, Ireland and Sweden were actually down an average of 20.81 percent.
Last week, the Bangko Sentral ng Pilipinas reported that total remittances from all migrant Filipino workers, whether based on land or at sea, reached $4.339 billion in the first quarter, up 6.96 percent from $4.057 billion over the same period in 2009.
In 2009, Filipino sailors sent home a record $3.4 billion, up $366 million or 12.06 percent from $3.034 billion in 2008.
Remittances from Filipino sailors have more than doubled since 2005, when they sent home only $1.669 billion.
PNP sustains its drive vs illegal activities in Region 8
By Philippine Information Agency (PIA 8)
May 25, 2010
TACLOBAN CITY – In line with its mission, the Philippine National Police in Region 8 continues to enforce the law, to prevent and control crimes, to maintain peace and order, and to ensure public safety and internal security with the active support of the community.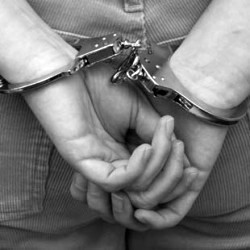 PNP 8 Director Rey Lañada said that one of the functions of the PNP is to enforce all laws and ordinances relative to the protection of lives and properties, thus, on or about 3:00 o'clock in the afternoon of May 21, personnel of the Santo Niño Municipal Police Station in Santo Niño, Samar, apprehended one fishing boat for illegal fishing.
The fishing boat which was owned by Rosa Albuera of Barangay Balete, San Isidro, Northern Samar, piloted by a certain Eddie Tiquillo as master fisherman with Tata Tiquillo as chief mechanic and 14 crew members, was illegally fishing at the estimated distance of 1.5 kilometers away from the shoreline of Barangay Corcawayan of Santo Niño, Samar.
The said boat was released after paying the corresponding penalty of P10,000 imposed by the municipality of Santo Niño.
Two shooting incidents were reported to the PNP Regional Office, one in Calbayog City on May 21, and another at Tarangnan, Samar on May 19.
Three unidentified armed men riding in tandem aboard a single motorcycle shot twice Jim Casino, 41 years old, married and a resident of Purok 6, Barangay Trinidad, Calbayog City while riding his red Honda XRM motorcycle at the vicinity of Purok 15, San Policarpo, Calbayog City.
The victim who was hit in the different parts of his body by a caliber .45 pistol, was rushed to the Calbayog Sanitarium and St. Camilus Hospital but unfortunately expired.
Recovered from the crime scene was one (1) empty shell for caliber .45 pistol and one (1) bull cap marked uhooker.com. Motive is now the subject of investigation by the Calbayog City Police.
On the other hand, responding to the call from Tarangnan Vice Mayor Danilo Tan about a shooting incident, the elements of the Tarangnan Police Station proceeded to Barangay Palencia, Tarangnan on or about 12:30 in the evening of May 19.
Initial investigation conducted by the police showed that the victim, Lolito Cerdeña was rushed to Samar Provincial Hospital for medical treatment due to the injury sustained.
The suspect, Urbano Mabini, married, 62 yrs old and a resident of Brgy Palencia, Tarangnan, Samar was arrested by the Brgy Officials and confiscated from his possession and control one (1) firearm magnum 357 revolver marked Smith and Wesson loaded with four (4) live ammos and two (2) empty shells.
The suspect is now detained and a case for violation of R.A 8294 in relation Nr 8714 was already filed by the Tarangnan MPS against the culprit docketed under NPS Nr. VIII-09-INQ-10E-00023. The police report stated Personal Grudged as the motive of the case.
Meanwhile, a case of attempted murder was filed before the Provincial Prosecutors Office in Catbalogan City, against Miguel Allego, of legal age, married, Brgy Councilor of Brgy San Jose, Daram, Samar.
Allegedly, on or about 11:00 o'clock in the morning of April 26, said suspect, armed with a caliber .45 pistol entered the house of Rolly Boy Montilla, 22years old, single, at Barangay San Jose, Daram, Samar, and pointed his gun to the victim and subsequently pulled the trigger but said fire arm failed to fire.
The suspect struck the victim with the firearm but the victim managed to disarm the suspect who fled away. Said firearm bearing SN 737248 and which was loaded with 6 live ammos, was turned over to the responding PNP/AFP elements.
19IB feats over NPA rebels killing one and recovering firearm
By DPAO, 8th Infantry Division, PA
May 25, 2010
CAMP LUKBAN, Catbalogan City, Samar – The Army's 19th Infantry Battalion prevailed over the attempted aggression of the terrorist New People's Army (NPA) while they are conducting a routine security patrol in the outskirts of Brgy. Tinaguban, Carigara, Leyte early Saturday morning, May 22.
Report reaching to this office disclosed that around 4:00 in the morning, elements of 19IB under First Lieutenant Malinche Tomarong were conducting a usual patrol in the vicinity when some members of armed terrorist sprayed them with fires.
Though encountering limited visibility, the troops managed to return fire and made necessary action against their foes.
Exchange of fires lasted for almost five (5) minutes before the terrorist fled, carrying with them their wounded comrades.
As a result, one (1) NPA was killed; an M14 rifle and back pack filled with personal belongings and subversive documents were also recovered by the troops upon clearing in the encounter site.
No reported hurt in the side of the government forces.
Major General Arthur Tabaquero immediately lauded the troops for the successful security operations.
"As I've said in the past, while we continue to perform our mandated task of preserving peace and stability in the province, we call to our people to continuously give their usual support in the restoration of peace stability for the ultimate attainment of development of the whole province".
"We've shown this during the past automated election. If we can do it once, why can't we do it one more time", the good general concluded.
Pinoy workers beat other Canadian immigrants in money remittance
By ALEX P. VIDAL / PNS
May 24, 2010
VANCOUVER, British Columbia – Despite the global recession, the Philippines is on top of the world in terms of receiving dollars sent by its Canadian migrant workers.
Filipino immigrant workers have the highest frequency of overseas remittance compared to other nationalities working in Canada, according to Belinda Lim-Herrera, an executive of a global bank remittance that operates here.
She attributed this to the "Filipino culture" where immigrant workers remit their earnings to their extended family members – brothers and sisters, husbands, wives, parents and relatives "up to third degree in consanguinity."
In 2009, Filipino workers transmitted some $185 million to the Philippines with average of $35,000 remittance per month or $500 individually, disclosed Herrera.
She operates a global remittance bank with offices in Alberta, Ontario and Vancouver and has branches in 27 countries, including Greece and Italy.
Statistics
Citing Statistics Canada, Tracy Scott, senior manager of Payment and Card Services, RBC, said in the same interview that about 23 percent of immigrants sent remittances within six to 24 months of arrival in Canada.
Twenty nine percent did so within 25 to 48 months of arrival, it was reported.
The average amount sent within six to 24 months was $2,500. After 25-48 months in Canada, the average amount sent overseas was $2,900, Statistics Canada added.
Dilip Ratha, lead economist of World Bank Development Prospects Group, who was guest in the same interview, said "the money remitted overseas last year was three times than the money intended for development assistance."
Some $316 billion was remitted by overseas workers to India, China, Mexico, Philippines and other countries in 2009, said Ratha. The amount is expected to reach $335 billion this year with increase of 6.2 percent and $360 billion in 2011, he added.
Top 10 countries
The top ten remittance recipients are: 1. India, 2. China, 3. Mexico, 4. Philippines, 5. France, 6.Bangladesh, 7. Spain, 8. Germany, 9. Nigeria and 10. Belgium.
In recent years, overseas workers from Asia have been sending remittances of about $8 billion annually to their home countries. These remittances are an important source of precious foreign exchange for the major labor-exporting countries, according to a study by Charles Stahl of the University of New Castle and Fred Arnold of East-West Population Institute, East-west Center.
"The overall development impact of remittances, however, has not been well established. Remittances are spent primarily on day-to-day consumption expenditures, housing, land purchase, and debt repayment," they reported.
Although only a small proportion of remittances are directed into productive investments, this does not warrant the conclusion that the developmental value of remittances is negligible, they added.
Remittances spent on domestic goods and services in Asia reportedly provide an important stimulus to indigenous industries and to the economies of the labor supplying countries.
Classes for school year 2010-2011 open on June 15
By Philippine Information Agency (PIA 8)
May 24, 2010
TACLOBAN CITY – The opening of classes in the public schools is not June 14 but June 15 as announced by the Department of Education on May 20.
The postponement of the opening of classes is due to the fact that the country will be celebrating Philippine Independence Day on June 14.
President Gloria Macapagal-Arroyo earlier issued Proclamation 1481, which moved the celebration of Independence Day from June 12 to June 14, in accordance with Republic Act 9492 which rationalized the celebration of national holidays.
Under RA 9492, holidays that falls on a Saturday or Sunday, except those that are religious in nature, are moved to the nearest Monday.
Education Secretary Mona Valisno said the June 15 opening is mandatory for all public schools nationwide but not for private schools, which may deviate from the schedule provided that they do not start classes earlier than the first Monday of June or later than the last day of August.
Private schools may have a different school opening so long as they comply with the minimum number of class days for the entire school year and they notify the local DepEd Division Office of the date of their class opening, Secretary Valisno explained.
She also said that for the coming school year, DepEd will be strict about the required number of school days.
"In the coming school year, we are directing all schools to hold make-up classes to compensate for localized suspension of classes due to typhoons, calamities or local celebrations like fiestas, foundation days and others," Valisno said.
DepEd is currently preparing for the yearly National Schools Maintenance Week, dubbed as "Brigada Eskwela which will start on May 24.
The Brigada Eskwela project which will run from May 24 to 28, urges communities to lend a hand whether through financial or other means, in preparing schools in their areas. (PIA 8)
Buenos Aires sets to conduct special elections on May 28
By GINA DEAN-RAGUDO
May 23, 2010
CALBAYOG CITY – While the special poll automation of Buenos Aires, Pagsanghan, Samar is fast approaching, the two parties – Liberal and Nacionalista are making their moves to outsmart each other. Buenos Aires has a total voting population of 420.
It is note taking that election paraphernalia of said barangay have been mistakenly transported to Generoso, Iloilo which caused the delay of their elections. The COMELEC has issued a resolution moving their special elections on the 28th of May 2010.
In an interview with LP Mayoral candidate Ruben T. Palma, he said that out of the total 7 thousand voters of this town, he was leading in the 12 barangays garnering 2,530 votes against his rival NP standard bearer Jim C. Canones with 2,469 votes from the partial unofficial result.
Supporters of Palma alleged that more or less 80 persons were transported to other neighboring municipalities for safekeeping and political maneuvering purposes. They revealed that these voters will only be released on Election Day.
Furthermore, to avoid experiencing the same plight with those who were transported to other places, residents were cautious not to go out late at night from their respective houses.
Pagsanghan COP Doughlas Antonio Bartolome Eloja said that they are planning to implement curfew hours in order to avoid any election related incidents or irregularities while awaiting for the special poll automations.
He also said that with the approval of the Municipal COMELEC Officer and after the result of their consultations with the residents, he is positive that Brgy. Buenos Aires will remain peaceful until May 28 special election day.
Situation in Naval, Biliran under control despite political tension, Biliran PNP says
By Philippine Information Agency (PIA 8)
May 22, 2010
TACLOBAN CITY – Biliran Provincial Police Director Wilson Caubat confirmed that some supporters of losing Biliran Congressional candidate and incumbent Representative Glenn Chong started a "prayer rally" on Thursday and tried to enter the provincial capitol.
Colonel Caubat said that the rallyists have shown a copy of the permit to hold a prayer rally issued by Naval Mayor Susan Parilla who is known to be an ally of Representative Chong. The permit did not specify the area where the rally was to be held.
Also, the rally permit stated that the group is allowed to hold a rally from May 20 to 30, Colonel Caubat added.
In the morning of Friday, about 300 rallyists were still in front of the capitol, Colonel Caubat said. An image of the Blessed Virgin Mary was placed by the rallyists in front of the capitol, he added.
The situation is under control, Provincial Police Director Caubat intimated. The police is constantly monitoring the activities of the rallyists in order to prevent any untoward incidents.
He said he talked to the rallyists into not entering the capitol and not to harass the provincial employees who are only doing their job. He also expressed his hope that cold heads will prevail and let the course of law to prevail over the matter.
Attempts to contact Governor Espina were futile. He was not "visible" in Naval and allegedly he is in Manila.
Meanwhile, as his supporters stage a prayer rally, Representative Chong was seen to be at the Congressional hearing on election frauds, saying he was bent on exhausting all legal means to nullify the proclamation of congressman-elect and incumbent Governor Rogelio Espina, insisting that he was no where near conceding defeat.
Representative Chong was among the losing candidates who attended the House hearing, where Smartmatic-TIM officials were hit after admitting there were time stamp errors produced by some of the counting machines.
During the hearing, Chong reported that some ERs from his province had time stamps saying May 10, 7:45 a.m., which he said, indicated that results were already transmitted only minutes after polls opened on May 10.
Representative Chong said he would be lodging a protest before the House of Representatives Electoral Tribunal, aside from the case filed before the Comelec. (PIA 8)
4 Phil-Sci East Visayas students win in world science tilt
By Philippine Information Agency (PIA 8)
May 21, 2010
TACLOBAN CITY – Four students from the Philippine Science High School-Eastern Visayas located at Government Center, Palo, Leyte, are the latest batch of Filipinos who have reaped international awards for the Philippines.
These four young Filipino scientists were successful in this year's Intel International Science and Engineering Fair held in San Jose, California, USA on May 9 to 14, taking home the fourth grand awards in their respective categories.
Three of the students are Jean Reni Briones de Guzman, Marc Abegonia Mapalo, and Maria Clara Isabel Sia of the Philippine Science High School-Eastern Visayas campus who won in the Team Awards category in the area of Life Sciences for their group study: Use of Natural Flocculants in Mitigating Harmful Algal Blooms (Red Tides), creating a natural treatment for "Red Tide" using indigenous materials.
The team came up with the study that will lessen the occurrence of harmful algal blooms. Their study will "help the fishing industry upon which many of our countrymen depend for livelihood."
The three young scientists all passed the UP College Admission Test. Maria Clara Isabel Sia is an Oblation Scholarship awardee and is set to take up BS Computer Science at UP Diliman.
Marc Mapalo, who finished his elementary education at Santo Niño SPED Center, is set to take up BS Molecular Biology and Biotechnology at UP Diliman.
Meanwhile, Jean Reni Briones De Guzman who finished his elementary education at Calbayog Pilot Central School is set to enroll at UP Los Baños to take up BS Biology.
The fourth Philippine Science High School-Eastern Visayas campus student, MarcArthur Jordan Irlandez Limpiado, was successful in the Microbiology category for his individual research – Microbial Inhibitory Activities of Extracts from Seven Philippine Seaweeds which dwelt on the on the antimicrobial properties of Philippine seaweeds.
Seaweeds as source of medicine were the focus of the study of the individual researcher Marc Arthur Limpiado who in one interview said that his project will help popularize his country's seaweeds industry.
"If this happens, our country will have enough sources of raw materials for pharmaceutical products," the 16-years old young scientist who has passed the UPCollege Achievement test and is set to take up a 5-year course in BS Chemical Engineering, said. He finished his elementary education at the Sto. Niño SPED Center in Tacloban City.
The Philippine Science Eastern Visayas Campus student achievers each received $500 as cash prizes.
This year's Philippine delegation was made up of six students from secondary schools across the country who produced the top entries at the 13th Intel Philippine Science Fair, held at the University of the Philippines Diliman last February. Rounding out the Philippine delegation were Hanna Escobido and Brayl Ymbol, both of Caraga State University who competed in the Physical Sciences category. (PIA 8)