Human rights group lambasts death threat to group's lawyer
By KATUNGOD-SINIRANGAN BISAYAS
April 23, 2010
TACLOBAN CITY – Human rights watchdog Katungod-Sinirangan Bisayas lambasts suspected military agents who sent a death threat letter to Katungod-SB's former Secretary-General and its current Legal Officer, Atty. Kathrina Castillo. The letter was received by her mother last Friday, April 16, 2010 at their ancestral house in Catbalogan, Samar which was sent via snail mail.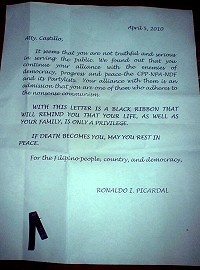 "There is no one except the military who has the motive to send a death threat to Atty. Castillo since she is known to be an active human rights defender and a critic of human rights violations perpetrated by state agents especially the military," said Flor Chantal Eco, Katungod-SB's Secretary-General.
The letter, which was signed by a certain Ricardo I. Picardal from Tarangan, Samar, said that they "found out that you [Atty. Castillo] continue your alliance with the enemies of democray, progress and peace-the CPP-NPA-NDF and its Partylists." A black ribbon is stapled to the letter "that will remind you [Atty. Castillo] that your life, as well as your family, is only a privilege." The letter ended with the threat: "if death becomes you, you may rest in peace."
"Atty. Castillo's personality has always been attacked in confirmed military sponsored radio programs "Dalan han Kamatuoran, Dalan han Kauswagan" in DYMS Catbalogan, and "Bantay Ka" in DYDW Tacloban, both anchored by Col. Armand Rico hiding as "Kuya Aaron". The military has consistently linked her to the CPP-NPA-NDF. Her name has been mentioned in almost every episode of their programs," furthered Eco.
According to Katungod-SB, this is a systematic red-baiting by the military to justify the harassment, abduction and killings of personalities and members of progressive groups and partylists.
"At first the military consistently attack Atty. Castillo's personality in their radio programs, then a death threat arrives, now they accuse that the death threat is a result of NPA's purging, what's next? Shoot her? This pattern has been evident in many victims of extrajudicial killings nationwide," added Eco.
Despite the death threat, the military has failed to scare off Atty. Castillo; instead, the threat roused rage from her family, members and supporters of Kabataan Partylist where she is the 3rd Nominee and fellow human rights defenders.
"Death threats will not stop us from exposing the truth and defending the people's rights," Eco concluded.
Environment, corruption surface in PPCRV-initiated candidates' forum
By ALICE NICART
April 23, 2010
BORONGAN CITY – Mining, illegal logging and corruption issues ruled the candidates forum which was held recently at the Nativity of our Lady College Seminary, this city.
Sponsored by the Parish Pastoral Council for Responsible Voting (PPCRV) the first ever major forum in the city proper was attended by about 90% of the provincial candidates who took turns in answering the issues thrown to them by the organized group of clergies.
Majority of the Board Member candidates beginning from Floro Batato Sr. are opposed to mining and illegal logging and argued that only the capitalists had been benefiting from it. Atty. Tinoy Cabato even noted that the revenue generated from the illegal acts are not worth the damage done to the environment. Victor Franco said that ever since, he has been a pro-environment and never had he signed before a pro-mining ordinance.
But Christopher Moscare implied that selective mining can be done for job generation and revenue, just like in Malaysia, but Edit Sepulveda was quick to refute, "since the damage done by mining is lingering as proven by the siltation brought about by the Copper mine in Bagacay". Sepulveda added that, the ill-effect of Bagacay is up to now pestering the rivers and marine resource in the area. Byron Suyot suggested to forego of mining if people's welfare are at stake.
Five gubernatorial bets presented their platform of governance. Some of their important points were quoted: Allan Contado believes that Eastern Samar is one of the neglected province of the country with marked 60% poverty level; corruption is widely practiced he said which results to poor roads and basic services, thus the need for a leader who has the moral authority to lead the province and one who will not "steal" government funds.
Efren Docena hopes to uplift the province from poverty by opening a friendly environment for business; with this he said, even medicines and other health care services will become accessible and affordable by the poor.
Leander Geli believes that elected officials should never rule the people nor the needy beg for their assistance and support; he said, instead that the concerns of the public should be attended to promptly; further he plans to further develop and empower the human resource because this will be their ultimate step in engaging in worthwhile practices that would lead to self-sufficiency.
Jose Tan Ramirez said he is running in order not be served but to serve with love and compassion; he stressed that he is a creation of God in His likeness and image; he also believe that a leader must have wisdom, discernment and guidance; he plans to improve the health program of the province and above all he will see to it that the laws are enforced.
Generoso Yu on the other hand, hopes to formulate plans that will protect the environment; foremost, he said he will adopt an acceptable waste management program and will see to it that 100% of school-age children must be in school.
Asked how could he make a difference for the good of the province, Jovy Opinion who runs for Vice Governor said it is through heartfelt service and never through the pockets.
Max Aljibe, Raymond Apita, Ben Evardone, Mateo Biong, Conrado Macasa and Angelo Miguel, all vying for the congressional seat, took turns in answering the two issues raised on the floor, after a careful scrutiny of the priests: 1)Graft and Corruption and 2) Perennial Problem of National Roads and hereunder are part of their replies:
Aljibe, bubbled a bold reply for the first issue: "Our people hunger for and in need of honest leaders who have the integrity and transparency in public service… the disbursement of, say, P70M CDF must be transparent… we need someone who will speak the truth in Congress, and the truth hurts". On the national roads, the resigned education director crackled: "Let us not copy the previous congressmen who scrambled and fought over the road projects… we will need excellent contractors… gone are the chop-chop contracts for us to get in return exact stretches of good and durable roads".
Raymond Apita, the youngest of 'em all began his public service as a Sanggunian Bayan Member of Borongan and became an SK President to becoming an Executive Assistant in the governor's office…he claimed that in his entire service, the issue on graft and corruption has never been attached to his name…he promised to consult the people regarding projects which would be deemed priority…government funds must be spent honestly, and the implementation of projects must be executed sincerely.
Mateo Biong proudly informed the audience that he was instrumental in the realization of the concreted Giporlos-Buenavista highway…he said that as then Giporlos mayor, he closely monitored and supervised the road construction which could have prevented some acts of mismanagements and instead the full implementation was successfully performed…what struck the audience was his promise to pass a bill in Congress that would provide for the division of Eastern Samar into two districts. According to him, if Northern and Western Samar were able to divide their provinces, why not in Eastern Samar.
Evardone vowed to consult the people and let them decide on priority projects…in fact he said, he had been practicing the same by adapting the CBMS survey where local residents are asked to identify priority projects…he said that in the region, it is him only who has been using the instrument, that is based on some indicators, the priority project is determined…"the people will be made to decide on what project they think is most urgent and fitting for them", the current Eastern Samar governor stressed," adding that monitoring and supervision will likewise allay graft and corruption. He also said that government funds will always come short, that is why he eyes for foreign donors to augment government funds in project implementation.
Both Macasa and Miguel pledged to renounce graft and corruption through transparency, accountability, monitoring and proper auditing procedures.
After the open forum, all the candidates in attendance signed the covenant for peace, in front of His Excellency, Bishop Crispin Varquez, military and PNP officers, COMELEC and other stakeholders.
It was indicated in the covenant text, among others the advice to all concerns to be humble in victory and be magnanimous in defeat….and always be mindful that "the voice of the people is the supreme law". (PIA-Eastern Samar)
DTI slams "Taiwanese" cellphone dealer
By ALICE E. NICART
April 22, 2010
BORONGAN CITY – Miss Antonia Candido, Chief, Department of Trade and Industry (DTI) Consumers Welfare Division assailed on Wednesday in public "Cell Zone", a dealer of cellphones and MP3s with store at Real St. this city.
Candido's exasperation resulted from several complaints reaching her office for defective cellular phones and MP3s. She said that the complaints include cellphones bought from Cell Zone which last only for a day or week, even if they did not drop. When returned to the store for repair, they are asked to pay for additional charge; the warranty period is never honored, Candido said.
"Nanawagan ako ha publiko labi na ha kabatan-unan, nga dire na kamo magpinalit hin cellphone ug MP3 dida hine nga Cell Zone!", (I am calling on the public particularly the youth, not to buy anymore cellphones, MP3s and other gadgets from Cell Zone), Candido's stern call went on air over DYES as interviewed by anchor Pen Pomida.
Candido reported that her table had become a landing field of several complaints emanating from defective gadgets bought at this foreigner-operated store, whom she suspects to be a Taiwanese.
"I have found it difficult to communicate with the owner," Candido jibed as she spoke about DTI's effort to talk to him and resolve the problem of the consumers.
The CWD Chief suspects the operator to be Taiwanese who could not speak neither English, Tagalog nor Waray which already is a violation of the Fair Trade Law.
She said that even product packages with printed foreign languages on it bear English or Tagalog translations, "that is why, I really find it hard communicating with this store", Tonette added.
Customer Godelia Luneza, 45, a househelp who bought a cellphone battery at the store, revealed to this writer that she noticed also that the operator and his staff use sign languages as though they are all mute; she also fears for the longevity of the battery which she bought for P150.00 with a week warranty; however, a P200.00 worth of battery she confessed promises a month-warranty but the former was the only one she could afford.
DTI further reported that very recently the office called the store operators in the city to a "Consultative Forum on Fair Trade Laws" but Cell Zone sent their security guard to the forum and obviously could not answer inquiries for the establishment.
In closing, Candido advised the public to buy Cellphones, MP3s and LCDs in authorized dealers to avoid stress and importantly waste of money. (PIA-Eastern Samar)
Samar cities join Earth Day celebration
By NINFA B. QUIRANTE
April 22, 2010
CATBALOGAN CITY – The Department of Environment and Natural Resources (DENR) spearheaded Earth Day celebration in Samar through the Provincial Environment and Natural Resources Office (PENRO) based in Catbalogan City.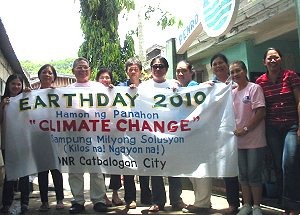 Similarly, the City Government of Calbayog through the City Environment and Natural Resources Office (CENRO) also observed Earth Day 2010 today.
PENRO George Guillermo led his employees and other government agencies in a parade around town.
"Everyone is enjoined to commit little acts of conservation for Mother Earth," said Guillermo.
In the thanksgiving mass, Msgr. Leonardo Guadalquever supported the need to be good stewards of nature that God gave his people.
Employees of DENR Samar also ventured into a pulong-pulong at barangay Guinsurongan to inform the people about climate change urging them to practice waste segregation and waste management.
PENRO Guillermo also added that this year's Earth Day celebration will focus on climate change mitigation and adaptation measures.
"For this, we are calling on all Filipinos to take action for the environment and make the move for a real lifestyle change by enlisting in the "10 Million Movement campaign for Earth Day 2010 and beyond," he added.
Meanwhile in Calbayog City, as per information provided by CENRO OIC Lorenzo Ras, Jr., he said that they will spearhead the campaign for signatures in support of the "10 million signatures" to improve Mother Earth Project.
They also conducted information dissemination aimed at promoting awareness on the significance of Earth Day celebration and the call to protect Mother Earth in all the barangays of Calbayog.
Today, Calbayognons and well meaning barangay folks ventured into mangrove tree-planting in the coastal barangays of Tinambacan District, Barangay Rawis, Barangay Bagacay and Barangay Carayman, Barangay West Awang with CENRO and the Knights of the Altar.
Aside from the mangrove tree-planting the Calbayog team also had roadside tree-planting at the Diversion Road (Barangay Dagum) with the CENRO and the City Social Welfare and Development Office personnel. Barangay folks also held a roadside tree-planting in Barangay Sinidman and Barangay Cagbilwang in Oquendo.
This year's Earth Day celebration is anchored on the theme: "HAMON NG PANAHON: CLIMATE CHANGE, 10 MILYONG SOLUSYON (Kilos na! Ngayon na!)". (PIA-Samar with Ron Ricafort)
Samar governor disqualified to run for congress
By RAY P. GASPAY
April 21, 2010
CATBALOGAN CITY – The Commission on Elections (COMELEC) First Division on Monday declared Lakas-Kampi-CMD 2nd congressional district candidate Samar Governor Milagrosa Tan disqualified to run due to a question on her citizenship.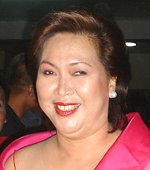 Gov. MIlagrosa Tan
In a 6-page Resolution penned by Commissioners Armando Velasco, Gregorio Larrazabal, and presiding Commissioner Rene Sarmiento, the COMELEC First Division on its April 19, 2010 promulgation said that "Respondent MILAGROSA TEE TAN is hereby DECLARED a naturalized Philippine citizen NOT QUALIFIED to be a candidate for the position of Member of the House of Representatives for the Second District of Samar."
The decision was based on a two separate petition for disqualification filed before the COMELEC by Carlo L. Gabon and Oscar E. Garcia against Respondent Samar governor Milagrosa Tee Tan to run as a member of the House of Representatives alleging that Tan is a naturalized (not natural-born) Filipino citizen.
Article VI, Section 6 of the 1987 Constitution states that "No person shall be a Member of the House of the Representatives unless he is a natural-born citizen of the Philippines…"
Petitioners Gabon and Garcia submitted to the Commission copies of the Respondent's Application for Naturalization dated October 12, 1976 filed by her father, her verified Alien Certificate of Registration, and a certified true copy of Certificate of Naturalization dated April 20, 1978 issued to Tan, among other things, proving that the Respondent is NOT a natural-born Filipino citizen.
Likewise, Petitioners submitted to the COMELEC the Commission's own Decision in 2005 in the case of Auguis vs. Tan where the Commission held that Tan's Certificate of Naturalization "cannot be collaterally attacked, and that Tan, being a NATURALIZED Filipino citizen, is qualified to run as a Governor for the Province of Samar". Petitioner Garcia pointed out that the Commission's Decision on Auguis is conclusive as to the status of Tan's citizenship.
In the April 19, 2010 Resolution, the Division said that "Tan's father is Chinese while her mother is a natural born Filipino. Tan's father eventually applied for naturalization as a Filipino in 1975 and was issued a Certificate of Naturalization in 1976. Thereafter, he applied for naturalization of his children, which included Tan."
The Division resolves that Petitioners Gabon and Garcia have submitted sufficient evidence which tend to show that, indeed, Tan is merely a naturalized Filipino and found out that "…Tan does not possess the legal qualifications to run for a seat in the House of the Representatives."
Tanauan Pasaka Festival is Leyte's bet to this year's Aliwan Fest in Manila
By Philippine Information Agency (PIA 8)
April 21, 2010
TACLOBAN CITY – The Pasaka Festival of Tanauan town, reigning Kasadyaan-Pintados Festival champion, is this year's bet of the Province of Leyte to the Aliwan Festival, the much awaited annual nationwide street dancing competition which showcases the country's best of the best festival street dancers from all over the Philippines.
Mayor Roque Tiu informed that the Pasaka Festival featuring the students from the Tanauan National High School, is all set for the Aliwan Festival. Observing the dress rehearsal which was conducted on Sunday, April 18, Mayor Tiu said the group is indeed in high spirits and is ready to show Leyte's best festival form.
For this year's Aliwan, Leyte is participating in the three festival contests: the Streetdance competition which will be participated in by the Pasaka Festival, the Float Competition with the Bahandi Han Dagat of Tanauan, Leyte and the Reyna ng Aliwan where Leyte will be represented by Ms. Marirose Modesto of Tanauan, Leyte.
The Reyna ng Aliwan 2010 will be conducted at the Aliw Theater at 7:00 o'clock in the evening of April 23 while the Aliwan Festival will be held on April 24, Mayor Tiu said.
Mayor Tiu disclosed that the reigning Aliwan Champion is also from Leyte. This is the Buyugan Festival which unfortunately will not be able to participate in this year's Aliwan.
It is not the first time that the Pasaka Festival of Tanauan has joined the Aliwan Festival, Mayor Tiu said. In 2004, the PASAKA Festival composed of the elementary pupils of Barangay Bislig, placed second winning P500,000.
With the help of God and with the intervention of the Patroness of Tanauan, Our Lady of Assumption, it is hoped that the Pasaka contingent will do well at the Aliwan.
About 17 festivals, 11 Reyna ng Aliwan candidates and twelve floats from all over the country will vie for this year's Aliwan Festival which is scheduled on April 22-24, 2010.
The Aliwan Festival Street dance will have a new route. It will commence at the back of the Mall of Asia and the final showdown will be held in front of the Aliw Theater in Sotto Drive, just beside the Cultural Center of the Philippines. Assembly area will be somewhere behind the SMX Convention Center.
There will be two judging areas. One at the back of the Mall of Asia and the final judging area will be in front of the Aliw Theater. The street dance will start at 4:00 o'clock in the afternoon.
Another improvement to this year's Aliwan Festival is the mandatory performance of all major prize winners immediately after the Awarding Ceremony.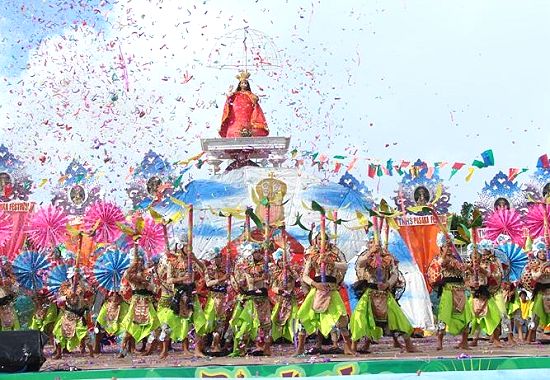 April 22 is Earth Day
By PURIFICACION S. DALOOS
April 21, 2010
TACLOBAN CITY – Hamon ng Panahon, Climate Change. Sampung Milyung Solusyon, Kilos Na, Ngayon Na! With this theme, the country shall join in the global celebration of Earth Day on April 22.
Spearheading the celebration in region 8 is the Department of Environment and Natural Resources. In coordination with the non-government organization Earth Day Network, a campaign for each individual to commit a green act for Mother Earth was launched as part of the 30-day countdown for Earth Day.
Dubbed as the Ten Million Movement (10MM), each Filipino is challenged to be part of the movement to save Mother Earth by doing simple deeds such as recycling, planting trees, conserving water and electricity among others. Individuals are encouraged to sign up with the 10 Million Movement and register their Green Act either through paper registration (signup sheets are available at the DENR regional and field offices), through the internet or text messaging. Those interested to do web-based registration may log on to www.10mm.ph while those who opt to register through text messaging may text GREEN REG first name/middle initial/last name/10mm and send to 5777.
DENR Regional Executive Director Primitivo C. Galinato, Jr. urges each individual to take part in this movement and be counted. "Each simple act of recycling, tree planting, or water and electricity conservation can go a long way in addressing the challenges brought about by climate change," RED Galinato says.
RED Galinato likewise bared other activities lined up to celebrate Earth Day 2010. On April 22, Earth Day, there will be a motorcade which will start at 1:00 in the afternoon, around the thoroughfares of Tacloban City to wind up at the Robinson's Place in Marasbaras. This will be followed by an Earth Day Program dubbed "Sayawan at Musikahan Para Sa Kalikasan" at the mall's ground floor. In coordination with Goldilocks and Robinson's Place, the program shall be highlighted with the signing of commitment to the 10 Million Movement to save Mother Earth.
"While we have invited mostly only our partners in government and some industries to join us in the motorcade, we are encouraging the public to unite with us in the Earth Day Program at the Robinson's Place," RED Galinato says. According to him, "we enjoin the participation of every individual particularly in signing up for the 10 Million Movement with the commitment to take action and be part of the Movement to Save Mother Earth."
Likewise, the DENR regional office shall set up an exhibit at the ground floor of Robinson's Place on April 21-22, which shall feature the theme, particularly on the pressing issue on climate change. Video presentations on climate change, biodiversity and other environment related themes shall also be featured during the two-day exhibit.
The annual observance of Earth Day began in the United States back in 1970 when more than 20 million people rallied for the cause of Mother Earth. In the Philippines, then President Corazon C. Aquino issued Proclamation No 553 in 1990 in support of Earth Day. Likewise, President Gloria Macapagal-Arroyo issued Presidential Proclamation 1481 on April 28, 2008 for the same purpose.
"Let us make each day an Earth Day," RED Galinato urges the public. Take action. Recycle, plant, and conserve water and electricity. Be counted. Sign up with the 10 Million Movement.
CSC Northern Samar to hold Professional, Sub-Professional Exams
By AILENE N. DIAZ
April 21, 2010
CATARMAN, Northern Samar – The Civil Service Commission, Northern Samar Field Office, Catarman, Northern Samar will conduct a Career Service Professional and Sub-Professional Examinations on April 25, 2010.
With 1,574 confirmed examinees, 1,364 will take the professional exams while 210 examinees will try their luck in the sub-professional exams.
According to CSC Director Rey Albert Uy, the 1,364 examinees for the professional level will hurdle a 170 item questions in 3 hours while there will be 165 items for sub-professional examinees who have to finish the exams in 2 and a half hours.
Scope of examination for professional level include vocabulary, grammar and correct usage, paragraph examination, reading comprehension, analogy, logic and numerical reasoning. For sub-professional level, examination covers vocabulary, grammar and correct usage, paragraph organization, reading comprehension clerical operations and numerical reasoning, Uy added.
Both levels, according to Uy, will have general information questions on Philippine Constitution; Code of Conduct and Ethical Standard for Public Officials and Employees (RA 6713); peace and human rights issues and concepts; and environmental management and protection.
The Civil Service Commission is now ready to administer the exams this coming Sunday, April 25, 2010. Director Uy calls on all examinees to be at University of Eastern Philippines, the examination area before 7 am. They should bring with them application receipt, admission slip, pencil and ballpen, and valid Identification Card.
"It is better for the examinees to be at the exam area early so that they would still have time to locate or look for their assigned examination room", Uy said.
In an interview, Director Uy also informed concern individual about the so called "four strike policy", wherein, if one took and failed four consecutive times on the same level, s/he will not be allowed to take the same level of examination in 2 years.
The passing rate for both examination levels is 80, Uy concluded. (PIA-Northern Samar)
PGMA can appoint the next chief justice, SC rules with finality
By Philippine Information Agency (PIA 8)
April 20, 2010
TACLOBAN CITY – President Gloria Macapagal-Arroyo can appoint the next chief justice.
This, after the Supreme Court, on April 20, denied with finality the appeal to reverse its March 17 decision that President Arroyo can appoint the next chief justice.
It would be recalled that several lawyers and cause oriented groups maintained that President Arroyo can no longer appoint Chief Justice Reynato Puno's replacement due to the appointment ban under Section 15 Article VII of the 1987 Constitution.
Chief Justice Reynato Puno retires on May 17 and the high court in its March 17 decision said that Section 15 Article VII of the Constitution, which prohibits an outgoing President from making further appointments two months before elections, does not cover the high tribunal.
The high tribunal, in a decision penned by Associate Justice Lucas Bersamin, ruled that the selection of Supreme Court justices is not covered by the election period ban on midnight appointments.
The High Court directed the Judicial and Bar Council to submit the list of nominees for the chief justice post, stressing that it is mandatory for the JBC to submit to the President the list of nominees.
Concurring with Bersamin that Arroyo can appoint the next chief justice are Associate Justices Teresita Leonardo-De Castro, Martin Villarama Jr., Jose Perez, Roberto Abad, Arturo Brion, Diosdado Peralta, Mariano Del Castillo and Jose Mendoza.
Chief Justice Puno together with Justice Antonio Carpio and Renato Corona, inhibited from the case.
On the other hand, Justice Antonio Eduardo Nachura and Justice Presbitero Velasco maintained their previous stand that the case is premature for the high court to rule on. Justice Conchita Carpio Morales meanwhile, said President Arroyo is already covered by the ban and the appointment ban covers the judiciary.