After leading Samar for 90 days
Redaja reports of his 90 days to Samarnons
By NINFA B. QUIRANTE (PIA Samar)
February 9, 2009
CATBALOGAN CITY, Samar – Acting Governor Jesus Redaja, after taking over from Samar Governor Milagrosa Tan for ninety days reported to Samarnons on his accomplishments.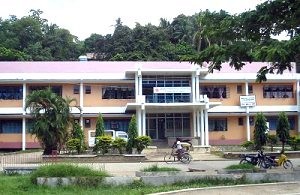 In just 90 days, acting governor Jesus Redaja was able to provide the requirement for upgrading the long neglected 6 hospitals in Samar. Upgraded the Samar Provincial Hospital from a second level hospital to a tertiary hospital, upgraded the primary category of Basey and Calbayog District Hospitals to secondary, and secured licenses to operate for the Gandara, Tarangan and Almagro District hospitals.
At two in the afternoon of February 6, 2009, a jampacked Governor's Conference Room stood witness to Redaja's action filled ninety days.
When Gov. Tan's suspension was served on November 10, 2008, Redaja vowed then to focus on agriculture and health.
This, more or less summarized his performance.
Health Care
Of the six hospitals in the whole province, three did not have licenses to operate because of so many deficiencies: they lack a transport vehicle, personnel, medical equipments and instruments and a lot more to be desired in the physical plant, his message read.
For the Samar Provincial Hospital, his administration he said installed a 4,000-liter overhead water tank, the leaking roof repaired, beddings, mattresses and pillows purchased for patients' use.
His office he said also initiated the so called Hospital Assistance Project where a group of specialists from SPH will visit the hospitals for major consultations at least twice in a month.
These visits, he said resulted to some 1,200 patients treated in Calbayog, Gandara and Basey.
He also took pride in declaring that Calbayog District Hospital was issued by DOH a license to fully operate, the only hospital in Samar to obtain the license, so far.
On agriculture
As to agriculture, Redaja mentioned being able to distribute 8,222 bags of certified palay seeds to Samarnon farmers courtesy of PGMA Rice Sufficiency Program.
As to corn production, he said some 300 bag of these are awaiting collection at the Department of Agriculture Regional Field Office 08 (DA-RFU-08), these, Redaja said will be given to farmers free.
As to vegetable productions, he said the Office of the Provincial Agriculturist, Lina Saises has also distributed seeds for egglants, pechay, kangkong, patola, okra and many more.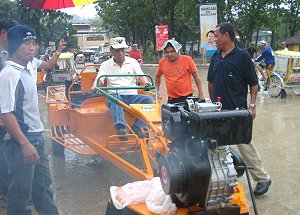 Samar acting governor Jesus Redaja test drive a 10HP engine hand tractor with trailer (Kuliglig) during the turn-over ceremony at the Samar Capitol grounds on February 4, 2009.
As to fisheries, one million tilapia fingerlings have been dispersed to the big rivers like Golden River (in Basey), Calbiga River, San Jorge and Gandara.
Some small lakes in Jiabong and Paranas also gained from the tilapia fingerlings seeding.
As to farm implements, 17 units of hand tractors with trailers were also distributed to the Municipal Agriculture and Fishery Councils from rice-producing towns in Samar, Redaja added, they were also promised with flat bed driers, a necessary post harvest facility for the recurring problem of palay quality deterioration during inclement weather.
Creation of special bodies
He also said he signed Executive Orders reactivating special structures like Provincial Peace and Order Council (PPOC), Provincial disaster Coordinating Council (PDCC), Provincial Inter-Agency Committee against Trafficking (IACAT) and the Provincial Small and Medium Enterprises Development Council (PSMED).
Others
His administration also dismantled shanties of ambulant vendors selling liquor around the park at night. He instead ordered the repair and repainting of the NBI Building, Government Offices Building and the COMELEC.
Redaja received the loudest cheer from those present when he reiterated that the provincial employees received P12,000 Christmas Bonus.
The acting governor concluded his statement with a reminder that "we are answerable to the people who have put their trust in us as government and public servants".
To officially end his appointment as acting governor in the province of Samar, Redaja joined his fellow government employees in the final flag retreat he would attend as the Governor of Samar.
On Monday, February 9, 2009, Gov. Milagrosa Tan will take it from there and Samarnons eagerly await what will happen then.
Big waves engulf 14 houses in a coastal barangay in Tanauan Leyte
By Philippine Information Agency (PIA 8)
February 9, 2009
TACLOBAN CITY – In a matter of two hours, fourteen houses were washed out, one after the other, by big waves, on the shores of San Roque in the coastal municipality of Tanauan, Leyte, at around four o'clock in the afternoon of February 7.
Tanauan Mayor Roque A. Tiu said that the barangay residents of San Roque which is the biggest among the 54 barangays of the municipality reported that big waves started to occur at around 2:00 o'clock in the afternoon.
Houses started to be washed out at 4:00 o'clock in the afternoon. Fortunately, all the 57 dwellers in the 14 houses are safe and accounted for, except for one who was nailed when he jump from his house which is being washed away.
Their houses having been totally damaged, the 57 people have been evacuated to the nearby San Roque Elementary School which is only about 50 meters from where the totally destroyed houses were formerly standing, Mayor Tiu said.
Mayor Tiu identified the victims as the families of Alejo Barcilla; Ronald Urdame; Edilyn Salano; Macaria Monsaga; Ronilo Almo; Leonardo Campo; Silvino Tangpuz, Jr.; Gladys Barcilla; Leri Sabarillo; Claro Lumantao; Gorgonio Mansalay; Jils Monsaga; Rogel Barcilla; Belen Abalos; and Brenda Lumantao.
Mayor Tiu said that through the Philippine Information Agency, he was able to talk to Regional Disaster Coordinating Council Operations Center and Office of Civil Defense Administrative Officer Rey Gozon, who in turn coordinated with the Department of Social Welfare and Development Region 8 for possible assistance.
DSWD Director Letecia Corillo promised to send clothings and blankets for the victims, Mayor Tiu said.
Mayor Tiu added that he also contacted the Leyte Provincial Disaster Coordinating Council through Provincial Administrator Vincent Emnas, who immediately sent to Tanauan representatives of the Provincial Social Welfare and Development Office.
The Provincial Government of Leyte gave the victims, family food packs consisting of rice provision for several days, noodles and canned goods, Mayor Tiu informed as he thanked the Provincial Government for its speedy response to his call. The victims are extremely happy, Mayor Tiu added.
Continuous pouring of heavy rains was experienced in Leyte from Friday until Saturday which resulted to rough seas.
Mayor Tiu informed that the Municipal Disaster Coordinating Council and the San Roque Barangay Disaster Coordinating Council, have already warned the residents near the shore to evacuate as big waves are expected especially at high tide between 8:00 o'clock in the evening to 1:00 o'clock the following morning.
Mayor Tiu bared that he has already requested the Sangguniang Bayan through Vice Mayor Agapito Pagayanan, Jr., to conduct a special session in order to allocate financial assistance for the victims.
Meanwhile, Mayor Tiu said that he will once again coordinate with the Department of Public Works and Highways to seek assistance in controlling the coastal erosion which is badly affecting the coastal barangays of Tanauan.
LGUs are prohibited from acquiring, using luxury vehicles, DILG says
By Philippine Information Agency (PIA 8)
February 8, 2009
TACLOBAN CITY – Local Government Units are prohibited from acquiring and using luxury vehicles like Sports and Asian Utility Vehicles, for their operations, the Department of Interior and Local Government said.
The prohibition on the acquisition and use of luxury vehicles is in line with the objective of utilizing government resources judiciously and is clearly provided for in Administrative Order No. 233 issued by the Office of the President last year.
AO 233 defines a "luxury vehicle" as any motor vehicle with the following specifications and with an engine exceeding 4 cylinders: car (sedan or hatchback) with an engine displacement exceeding 2200cc for gasoline or 3000cc for diesel; passenger van or pick-up type vehicle with an engine displacement of more than 2200cc for gasoline or 3000cc for diesel; crossover utility vehicle (CUV)/ multi-purpose vehicle (MPV)/ Asian Utility Vehicle (AUV) with an engine displacement higher than 2000cc for gas or 3500cc for diesel; and Sports Utility Vehicle (SUV) with an engine displacement of more than 2700cc for gas or 3000cc for diesel.
In a memorandum circular to provincial governors, city and municipal mayors, DILG Secretary Puno said a concerned LGU should first seek the approval of the Office of the President for the acquisition of the said luxury vehicles, including all types of aircrafts and seacrafts, regardless of funding sources.
LGUs should always be guided by the principles of functional suitability, affordability and practicability when acquiring government motor vehicles, Secretary Puno said.
All LGUs should also account for all their motor vehicle units, prepare a disposal program for all luxury motor vehicles and submit a report to the Department of Budget and Management and the Office of the President, through the General Government Administration Office.
The concerned LGUs shall then proceed to immediately dispose of such vehicles by public auction or sale in compliance with applicable laws, rules and regulations.
All proceeds from such sale shall be turned over to their respective local funds and shall be automatically appropriated for the purchase of new ones, subject to the provisions of AO 233, and for the repair of existing serviceable vehicles.
Under the Presidential directive, local chief executives, including punong barangays, are likewise authorized to approve the acquisition of the following types of motor vehicles to be sourced from unencumbered local funds: specific-purpose vehicles, such as medical ambulances, military and police patrol vehicles, armored vehicles, prisoners' vans and fire trucks; heavy equipment such as road construction equipment, cargo transport equipment, farm machineries, waste management/ environmental sanitation equipment, and similar vehicles/ equipment; locally assembled owner- or passenger-type jeep; motorized bancas/boats; vehicles for mass transport when necessary in the interest of public service; and motorcycles and tri-wheel vehicles.
LGUs should purchase at least 50 percent of their mobility requirements using alternative fuels such as biofuels-ready vehicles that run on higher blends, flexi-fuel, natural gas, solar and electric vehicles.
Health services in Samar takes a new turn
By NINFA B. QUIRANTE (PIA Samar)
February 8, 2009
CATBALOGAN CITY, Samar – Health services in Samar has taken a different turn these days.
Recently, the so called Hospital Assistance Project in Samar (HAPS) made the rounds of Samar district hospitals for consultation bringing with them specialists from the fields of OB gyne, pediatrics, ophthalmology, EENT and internal medicine.
The team, led by Provincial Health Officer Dr. Dulce Cernal, was in Calbayog District Hospital on February 4, in Gandara District Hospital on February 5 and was in Basey District Hospital on February 6.
Ms. Felecita Borata, Chief of Technical Services, stressed that it is not a medical mission, but a real consultation where the drugs are maximized.
She added that unlike in medical missions, drugs are dispensed with sporadically, here only patients who needed the drugs are given.
"It is sad to note that our constituents have lost trust in their hospitals and stopped patronizing them," a beleaguered Borata faced the media.
If the practice won't be interrupted, constituents would be visited at least twice a month for a follow up on the treatment, Borata enthused.
Samar's state of health services has declined in the past few years such that the hospitals were downgraded in terms of services.
It was that bad that a national TV production depicting Samar's health service called it "Mona Lisa" hospital where patients literally "lie there and they die there".
The 'resurrection' of a renewed zest to upgrade Samar's health services stemmed from the assumption of Acting Governor Jesus Redaja.
Redaja then vowed to focus on agriculture and health in his limited term of 90 days as the real governor Milagrosa Tan will be re assuming her post on February 9, 2009.
With this project and the benefits, HAPS team is confident it would earn the support of whoever sits as Samar governor.
Gov. Evardone leads turn-over of patrol cars to 7 towns
By Sinirangan News
February 7, 2009
BORONGAN, Eastern Samar – Governor Ben P. Evardone led the turn-over ceremonies of 7 brand new patrol cars to the municipalities of Oras, Can-avid, San Policarpo, San Julian, Taft, Llorente and Giporlos as the province aims to improve the peace and order situation in the province in line with Philippine National Police's Integrated Transformation Program.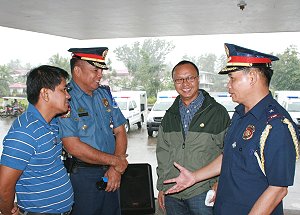 PCSupt. Rey Lañada (extreme right) shares some anecdotes with Mayor Antonio Cardona of Llorente, PNP Prov'l. Dir. PSSupt. Prudencio Dela Cruz and Gov. Ben Evardone (left to right) before the start of the ceremony.
The event was also attended by PNP Deputy Regional Director Rey Lañada, PNP Provincial Director Prudencio Dela Cruz, DILG Provincial Director Manuel Lagrimas and Llorente Mayor Anton Cardona.
The new patrol cars, 6 of which are Toyota Hilux and 1 Toyoto Innova, were received by their respective Chief-of-police who were all grateful for the added equipment needed to maintain orderliness in their respective jurisdiction.
According to Evardone, Eastern Samar already has complete police cars with the exception of Jipapad and Maslog towns which are inaccessible by land travel. Eastern Samar is the only province in Region 8 and even in the country to have a complete band of patrol vehicles.
"With the completion of the fleet of patrol cars, I hope that peace and order situation in Eastern Samar will improve even if we registered the lowest incidence of criminality in Region 8 compared to other provinces," Evardone stressed.
Chief Supt. Rey Lañada, meanwhile praised the governor for his full cooperation and support. "Without his prodding from the national headquarters for request of vehicles, this will not come true," Lañada said. Lañada is believed to be the next PNP Regional Director for Eastern Visayas vice RD Abner Cabalquinto.
Cabalquinto also brought a message to Evardone thanking the latter for his big help to PNP not only in Eastern Samar but in other provinces of Eastern Visayas.
Lañada reiterated that the issuance of patrol cars is part of the intensive integrated transformation program of PNP. "This is also part of strengthening capability development and to forward the morale and welfare benefits programs of PNP," he added.
He also stressed that Chief PNP Jesus Vesoza's aim for the police force under his leadership and administration is to ensure that each police station will receive newly issued vehicle. According to PNP data, the police force is 67% short of land patrol vehicles.
The provincial executive said that Eastern Samar is fortunate to have a complete fleet of vehicles.
Lañada, however, reminded the police officers that the vehicles will be used for official functions. "These (cars) will be for official use and duties like patrolling, intelligence, operations, investigations, traffic and other official purposes," he enumerated.
He also informed them that the Regional Director is expecting a good feedback from the community that these vehicles are running on the streets based on the transformation program of PNP.
Mayor Anton Cardona of LLorente, on his acceptance of the vehicles, said that the cars will serve as a challenge to policemen to answer promptly to the peace and order needs of the communities. "Good vehicles, good service," he said in vernacular.
PNP Provincial Director Dela Cruz, on the hand, informed the governor and Lañada that the provincial office still needs 2 brand new vehicles for Mercedes and 2 motorcycles for Maslog and Jipapad. Balangakayan and Mercedes have multicab patrol cars.
Governor Evardone, in his closing, thanked President Gloria Macapagal-Arroyo for her support to the province. He also expressed gratitude to DILG Secretary Ronaldo Puno and all PNP officials instrumental in the release of the cars.
"I hope this will signal and give us more strength in our over-all campaign against criminality in the province of Eastern Samar," Evardone conclude.
Gov. Mercado, DOH director Gonzaga sign MOA to upgrade Sogod District Hospital
By BONG PEDALINO (PIA Southern Leyte)
February 7, 2009
PROVINCIAL CAPITOL, Southern Leyte – A Memorandum of Agreement (MOA) that prescribes the guidelines for the implementation of a program to upgrade heath facilities in government hospitals, Sogod District Hospital in particular, has been signed here on Wednesday, February 4, at the Governor's office.
Governor Damian Mercado signed the document in behalf of the provincial government, while Officer-in-charge (OIC) Regional Director Edgardo Gonzaga of the Department of Health (DOH) did it for the health agency.
Standing as witnesses to the signing ceremony were Vice-Gov. Miguel Maamo, Provincial Board Member Dr. Alberto Lagumbay, the Sangguniang Panlalawigan (SP) chair of the Committee on Health, and SP Member Jason Calva.
Also present were Dr. Joselito Trumata, head of the Salvacion Oppus Yñiguez Memorial Provincial Hospital (SOYMPH), Dr. Felicisima Arayan, chief of Sogod District Hospital, Dr. Feliciano John Matibag, DOH provincial representative, and several staff from the DOH regional office.
Included as one of the provisions of the MOA was the setting aside of P1 Million which is available until the end of this year, 2009, to carry out the objectives set forth by the DOH, especially under the government hospitals upgrading project.
"The purpose of the project is to assist LGU hospitals to provide quality health services to its constituents especially the poor and marginalized people in the communities," the MOA stipulated.
Shortly before the parties inked their signatures, Director Gonzaga informed Gov. Mercado that the P1 Million fund can be used for repair of the out-patient department (OPD), the emergency room, and nursery of Sogod District Hospital, including purchases of required medical equipment.
Gonzaga also said an additional outlay amounting to over P5 Million has been set aside for upgrading of other government hospitals in the province this year, 2009, and that a separate MOA signing soon will be held once the allotment for the money shall be made available.
It was music to the ears of the provincial officials milling around, with Gov. Mercado saying he would conduct a consultation to determine as to which hospital should be prioritized for the upcoming additional DOH funding.
Gov. Mercado likewise relayed to Director Gonzaga that the provincial government had set aside funds for the rehabilitation and other physical infrastructure needs of Sogod District Hospital.
Meanwhile, Sogod hospital chief Dr. Arayan told PIA she was optimistic that with the DOH fund support the health services they rendered would be further improved.
She expressed hope that the classification of the Sogod hospital from secondary to tertiary can be undertaken sooner or later.
Before it was over, Director Gonzaga presented a certificate of commendation to Gov. Mercado in recognition for the untiring support extended to DOH-initiated programs and projects in the province.
Gov. Mercado responded with a renewed pledge to always push for any DOH-mandated developments, stressing that this is a priority since the health of Southern Leytenos is involved and at stake.
WB considers release of controversial bid-rigging report to Senate
By Office of Senator Chiz Escudero
February 7, 2009
Washington, D.C. – Senator Francis 'Chiz' Escudero here on Thursday (Friday in Manila) met with ranking procurement officials of the World Bank to discuss procurement processes and the possible official release to the Senate of the organization's report on the alleged bid-rigging of road projects in the country.
"It was a productive and enlightening meeting," Escudero said in a statement. The senator is here on a private visit to attend the four-day 47th National Prayer Breakfast event.
The opposition senator said he met for an hour with Shaun Moss, the Regional Procurement Manager of the Central Operational Service Unit in the East Asia and Pacific Region; Ben Gericke, Senior Transport Engineer; and Senior Operations Officer Steve Charles Burgess at the World Bank headquarters.
The WB, he said, was considering the release of the report to the Senate, which is now investigating the blacklisting of three Filipino construction firms from the Bank's future projects.
Escudero, who is chair of the committee of constitutional amendments and revision on codes and laws, has scheduled for February 17 the first hearing on proposed amendments to the current government procurement law.
He said the officials told him that they will find out if the Bank's internal rules will allow the release of the official report to the Senate. As a matter of rule, the World Bank only officially deals with the country's Department of Finance.
"I will know by next week if this is possible," he said.
The senator also said he and the WB procurement officers exchanged notes on procurement processes, particularly on matters relating to foreign-funded projects.
"The WB officials said they will provide me a copy of their proposed amendments to our procurement code. We can use this as guidance from a third party looking in, considering that they have a presence all over the globe. They have valuable insights and experience to share with us," Escudero said.
He said the WB is in "full support" of the procurement reform bill, which he filed soon after he became senator in 2007. The bill aims to strengthen and improve safeguards in the government's procurement system.
Escudero is scheduled to return to Manila on February 9.
Samar farmers get 17 hand tractors from province
By NINFA B. QUIRANTE (PIA Samar)
February 5, 2009
CATBALOGAN CITY, Samar – Elated by the 8,288 bags of certified seeds received from the national government through PGMA Rice Program, the provincial government of Samar supplemented the project by distributing 17 hand tractors with trailers (kuliglig) to some farmers group in Samar on Wednesday at the provincial Capitol.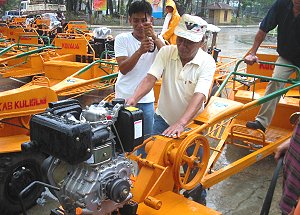 Acting Governor Jesus Redaja tries his skill in manually starting up the 10 HP hand tractor engine during the turn-over rites.
Acting Governor Jesus Redaja said he wanted to show that he fully supports the Hunger Mitigation Project of the national government and the Rice Sufficiency program of PGMA.
Redaja also promised the farmers flat bed dryers and more units of tractors.
From his message, he said that Samar province imports some 50 thousand tons of rice that could otherwise be provided by its vast farm lands had the government prioritized its support to agriculture.
With his 90-day stint, Redaja focused on agriculture and the health sector.
Apart from palay production, Redaja also sought the Bureau of Fisheries and Aquatic Resources (BFAR) for tilapia fingerlings which the agency seeded in the Golden River, Calbiga, Gandara San Jorge and other rivers in Samar.
Juan Anasarias, Basey Municipal Agriculture and Fishery Council (MAFC) president said that the tractors would help in the land preparation and eventually result to a better rice production.
When asked how he would bring the four units of tractors back to Basey which is some 90 kilometers away, Anasarias said he would haul them by dump truck or ride in them.
Come February 6, 2009, Redaja and his experts in agriculture and fisheries will inaugurate the Freshwater Hatchery in San Jorge town.
No less than the so called godfather of aquamarine culture and now the BFAR Central Office Assistant Director for Technical Services Gil Adora in attendance.
PNP members recognized for arrest of notorious hold up gang
By ALICE NICART (PIA Eastern Samar)
February 5, 2009
BORONGAN CITY, Eastern Samar – Some six members of the Eastern Samar Police force were given due recognition for having neutralized the so called "Ogale Hold up Gang".
The awardees were: Police Senior Superintendent and Provincial PNP Director Prudencio de la Cruz, Police Inspector Alladin Dingal, Police Inspector Jaime Chicano, PO3 Ric Esec, PO3 Carlito de los Santos, PO3 Nicolas Bebita and PO3 Jonathan Rivas.
The PNP report said, the team successfully captured one Arcadio Calines last December 2008 in Hernani town this province. Calines was one of the members of the notorious Ogale gang which is responsible for the series of hold-up incidents in the Samar and Leyte provinces. With his capture, the so-called Ogale gang had been dismantled and has stopped pestering the motorists and travelers in the province.
Aside from their certificate of recognition, the police awardees were also given cash incentives.
Gov. Evardone who awarded the honorees together with PNP Deputy Director Rey Lañada and DILG Director Manuel Lagrimas expressed his high hopes that the peace and order condition in Eastern Samar will continue to improve with the newly distributed PNP vehicles which are one of their primordial needs.
"I also appeal to the public, to other government officials to support the policemen so they can discharge their duties more effectively," he said. "There is one single Ogale member who is still operating in Borongan City, but our police force here, have already assured us of his capture".
He said that for the arrest of this last Ogale member, some P50,000 will be given as incentive to any civilian informant and P100,000 for the PNP personnel who can capture the notorious man.
Pag-IBIG reduces housing loan interest rates
By Philippine Information Agency (PIA 8)
February 5, 2009
TACLOBAN CITY – To make the monthly amortization for its most popular loan package even more affordable, the Home Mutual (Pag-IBIG) Fund further reduced the interest rates of its housing loans.
The rate reduction dovetailed with the Fund's commitment to allocate P82 billion for housing and multi-purpose loans this year as its contribution to President Gloria Macapagal-Arroyo's economic stimulus package.
This is good news for the low and middle income families as they will still be able to fulfill their dreams of building a house even at this time of global economic slump.
The interest rate for loans up to P400,000 has been reduced from seven percent to six percent per annum.
The interest rates for loans worth over P400,000 up to P750,000 is seven percent, while for loans over P750,000 up to P2 million, the interest rates is 10.5 percent.
As a result of this rate cut, the monthly payment for principal and interest for a P400,000 loan will go down from P2,661.21 to P2,398.20 at the maximum payment period of 30 years.
As the bulk of housing loans taken out by Pag-IBIG were actually those worth P400,000 and under, this latest interest rate adjustment will benefit the low income earner.
Vice President Noli de Castro said, "in these difficult times, we want more Pag-IBIG members to have home ownership as an affordable option to renting." The market for Pag-IBIG loans are mostly the low income earners.
The adjustment in interest rates hopefully will attract more borrowers and keep the housing market vibrant, generate business activity in related industries, and create much-needed jobs for the Filipino workers.
Aside from rate adjustment, Pag-IBIG is also reviewing its housing loan application process in order to find ways to further streamline it.
DTI-Leyte to set up Consumers' Booth during Palaro
By Provincial Media Relations Center
February 4, 2009
TACLOBAN CITY – The Department of Trade and Industry in Leyte province said they would be setting up Consumers' Welfare booth during the weeklong conduct of the Palarong Pambansa 2009 this April hosted by the province of Leyte.
According to DTI-Leyte's Mr. Joe Molina the booth is primarily set up to guide athletes, delegations and visitors who would need to buy merchandise, food supplies and other services they may need during their stay.
"We plan to set up the Consumers' Booth mainly to help guide our visitors to our different establishments in the area. This would be among our roles in the upcoming event," Mr. Molina said.
But more than that, Molina added, the booth will be set up to help visitors against unscrupulous vendors.
The booth serves as a venue for consumers to lodge their complaints on vendors' violations like overpricing and shortchanging, among others.
He said these are familiar scenarios in events as big as the Palaro where establishment and local vendors tend to take advantage of the occasion to get a good market of their products, make a good sale and earn higher profits.
The Palaro committee is also set to stage an Agri and Trade Fair and Palarong Tindahan during the whole duration of the Palaro.
Some 8,000 athletes, coaches and delegation officials, excluding other guests and visitors are expected to troop to the province to participate and watch the games.
Organizers are projecting that with the easy travel means and accessibility of the province, this year's edition of the gathering of the country's student athletes may yet be one of the biggest in terms of attendance.
Business aside, the Leyte Palaro committee is cooking up a grand opening ceremony, that delegates, participants and visitors that would showcase the rich cultural history of the province and the region.
Aside from the opening ceremony, other nightly presentations would include the Search for and Governor's Night, Ginoo at Binibining Palarong Pambansa 2009, DepEd Director's Night Dance Sport Competition and the Paalam Night or the Send-Off Party on May 2.
Only last week, the provincial government of Leyte and the Department of Education in the region mounted the kick-off ceremony heralding the 90 days countdown to the summer games.
Samar town plays host to Tilapia hatchery
By NINFA B. QUIRANTE (PIA Samar)
February 4, 2009
CATBALOGAN CITY, Samar – San Jorge, a Samar town will be playing host to a tilapia satellite hatchery in this part of the Eastern Visayas.
This was learned through a letter of invitation by OIC Catalina Saises for the inauguration on February 6, 2009 of the Integrated Freshwater Hatchery located in Barangay Blanca Aurora, some 11 kilometers northeast of San Jorge town.
The hatchery is located in the rich San Jorge River and construction of the building has started yet in November of 2007, although some finishing touches have yet to be effected, the Bureau of Fisheries and Aquatic Resources (BFAR) authorities believe it is time to open it.
The project, said John Meniano, Chief of the Fishery Sector, Provincial Agriculturist Office, is in line with PGMA's Hunger Mitigation Program in Eastern Visayas.
BFAR Chief Rolando Ay-ay said that the LGU of San Jorge through Mayor Nancy Grey, National Agriculture and Fishery Council (NAF-C) BFAR central and BFAR Samar offices with the Office of the Provincial Agriculture and Governor Milagrosa Tan pooled resources to finance the project proposal penned by Ronnie Berida of the BFAR-Training Center.
According to data from BFAR, tilapia is the second most important fish cultured in the country, next to milkfish (bangus). In 2004, of the total fisheries production (3,924,510 MT) tilapia contributed some 145,868 MT or 18.6%.
The government, BFAR added has developed and launched a new tilapia strain, the GET EXCEL Tilapia and Saline Tolerant Tilapia (Best 1 and Best 2). This is expected to further increase tilapia production in the country, increase income and provide livelihood opportunities among local fisherfolks.
The establishment of the satellite hatchery in Blanca Aurora, San Jorge, Samar will assure the success of this intervention for the Aquaculture for Rural development to feed the upland farmers added BFAR.
BFAR expects big names from fisheries to grace the event. Among those expected are Director Gil Adora, BFAR Juan Albaledejo, Agriculture Leo Cañeda, Dr. Melchor Tayamen, Sesinando Olgado, San Jorge Mayor Nancy Grey and acting Governor Jesus Redaja.
No Salmonella outbreak in Sta. Rita, Samar – DA
By Philippine Information Agency (PIA 8)
February 3, 2009
TACLOBAN CITY – The common denominator among the hogs affected with Salmonella in Sta. Rita, Samar, is that they are astray and live in unsanitary environment, Dr. Leo Mira of the Department of Agriculture (DA) in Region 8 informed.
Dr. Mira said such is the finding of the DA team who conducted an animal health mission to the affected areas in Sta. Rita last week.
There is no Salmonella outbreak in Sta. Rita, Dr. Mira said. He clarified that only 43 of the affected 430 affected hogs in the eleven barangays of Sta. Rita, died because of salmonella.
The number of hogs which died of Salmonella, is only about ten percent of the total number of hogs affected. An outbreak could only be declared if twenty percent of those affected died.
Most of those which died were astray pigs or live directly in dirty and unsanitary environment, Dr. Mira said. It was observed that hogs which are in pigpens with proper housing and proper nutrition were not affected.
It would be recalled that people are becoming alarmed because of the reported salmonella outbreak in Sta. Rita which may affect the other municipalities.
Dr. Mira informed that the mayors from the municipalities of Calbiga down to Basey were to meet with the officials of the Department of Agriculture, in order to come up with proper policies and regulations in order to prevent the salmonella infection from affecting the other municipalities.
The Department of Agriculture is recommending to quarantine the area, thus, proper coordination with all concerned, is but proper and very necessary, Dr. Mira said.
The Salmonella strain that affected the hogs in Sta. Rita, is specific for pigs, Dr. Mira said.
He called on the hog farmers to report to the proper authorities, the Department of Agriculture and the municipal agriculture offices, any unusual unhealthy state of their hogs. Because Salmonella is a bacteria specie, those affected are curable with antibiotics.
The Department of Agriculture veterinarians have conducted injection of those hogs affected in Sta. Rita, Dr. Mira said.
DENR 8 apprehends several forest law violators
By Philippine Information Agency (PIA 8)
February 1, 2009
TACLOBAN CITY – In line with Environment Secretary Lito Atienza's declaration of 2009 as Law Enforcement Year, operatives of the Community Environment and Natural Resources Office (CENRO) in Sta. Rita, Samar and the PNP Regional Mobile Group, jointly conducted a series of apprehensions for violation of forestry laws, Ms. Purificacion Dalooos, DENR Regional Public Affairs Officer informed.
Newly installed DENR Regional Executive Director Regidor de Leon says that the series of apprehensions shows how serious the agency is in running after violators of environmental laws especially with the pronouncement of Secretary Atienza marking 2009 as Law Enforcement Year.
CENR Officer Peirre Gillo of CENRO Sta. Rita reported that a service ambulance with red Plate No. SES 535 was accosted by the joint operative team at the CENRO Sta. Rita Checkpoint on January 24, 2009.
Upon inspection, the ambulance yielded undocumented furniture of narra species estimated to be valued at P10,000 allegedly owned by San Julian Mayor Jorge N. Erroba. The ambulance, said to be owned by the town of San Julian, Eastern Samar, was driven by Mr. Jose A. Conge.
On the same day, another vehicle, an Elf Truck with Plate No. GEM 749 was apprehended by the team found to be transporting 63 pieces of mangrove firewood allegedly owned by Mr. Raul Lago of Sta. Fe, Leyte.
On January 25, the joint operatives flagged down an L300 Mitsubishi Van with Plate No TRM-299 loaded with 461 pieces of knocked down/dismantled furniture of banuyo species. The apprehended furniture has a volume of 597.13 board feet, estimated to be valued at roughly forty seven thousand pesos (P47,000) and is said to be owned by a certain Jonas J. Ablay.
All the impounded forest products and vehicles are being held for safekeeping pending final disposition, at the CENR Office Compound in Sta. Rita, Samar.
In declaring 2009 as Law Enforcement Year, Secretary Atienza said, "I will ensure that the full force of the law will be meted out against anyone who will violate the environmental laws because the certainty of punishment is the best deterrent to the commission of a crime."
DENR Regional Technical Director of the Forest Management Service, Felipe S. Calub said that this should serve as a stern warning and deterrent to the public to refrain from cutting and transporting naturally grown trees. These acts are discouraged by the DENR Secretary in order to maintain the good shape of our forests which are necessary in mitigating the effects of climate change that we are experiencing at the present.
Leyte dad leads awardees for the 18th anniversary rites of PNP in region 8
By Philippine Information Agency (PIA 8)
February 1, 2009
TACLOBAN CITY – Leyte Governor Carlos Jericho L. Petilla leads the Special Awardees for the 18th Anniversary Celebration of the Philippine National Police in Region 8 which was held at the PNP Grounds at Camp Kangleon on January 29.
Governor Petilla was cited for his invaluable contributions and support for the maintenance of peace and order not only in Leyte but in the whole of Region 8.
Together with Governor Petilla, the other awardees were Department of Public Works and Highways USec Rafael Yabut Jr., DPWH Region 8 Director Angelito Twaño, Engr. Victorino Esperas, Judge Ephrem Abando, Regional State Prosecutor Rosulo Vivero, Mr. Jack Gadaingan, and the Tacloban City Police Volunteer Anti Crime Brigade.
The Unit Awardees include the Leyte Police Provincial Office as the Best Police Provincial Office. The award was received by Police Senior Superintendent Dorotheo Napalit Palconit.
The Best City Police Office is the Ormoc City Police Office with PSSupt Wilson Cayanong Caubat.as the best City Police Office.
Col. Romulo Cleve Taboso received the award for the Tacloban City Police Station as the Best City Police Station while Police Inspector Ma. Bella Rentuaya received for the Almeria Municipal Police Station as the Best Municipal Police Station.
The Best Police Provincial Mobile Group is the 804th Police Provincial Mobile Group and the award was received by Police Senior Inspector Aladin Dingal.
The Outstanding NUP of the Year is NUP Jinky G. Negrido.
The presentation of the awards was done by PCSupt Abner D. Cabalquinto and PCSupt Romeo C. Hilomen, Director for Comptrollership of the Philippine National Police.
First inter-collegiate sports meet takes shape in Maasin City
By BONG PEDALINO (PIA Southern Leyte)
February 1, 2009
MAASIN CITY, Southern Leyte – Four tertiary institutions of learning in this city, one public college and three private schools, actively took part in the pioneering Maasin Inter-Collegiate Athletic Association (MICAA) sportsfest, which opened last Wednesday night following a short torch parade around the city.
City Vice-Mayor Effie Abiera Sabandal and the rest of the Sangguniang Panlunsod (SP) members were up front leading the brief parade, followed by the athletes and the various school bands. City Mayor Maloney Samaco was unable to join the parade because of an earlier appointment, it was learned.
Among the participating colleges were Saint Joseph College (SJC), the College of Maasin (CM), Systems Technology Institute (STI), and Maasin City College (MCC), the only public college founded and administered by the city local government unit (LGU), now on its second year of operation.
Selected students of each school team, men and women, played this week in five sports events up for competition, such as basketball, volleyball, badminton, table tennis, and chess.
In his message during the opening program at the stage fronting city hall, Mayor Samaco stressed that the gathering was meant to promote the spirit of camaraderie, develop social bonding, and foster closer ties among the four colleges through healthy, friendly games.
Samaco, who is the chair of the City Sports Council and MCC President, said bigger things were considered to happen for the succeeding years' conduct of the MICAA meet.
He thanked administrators, officials, and sports coordinators of every school for their support and for responding favorably to the idea of forming the MICAA, much like the University Athletic Association of the Philippines (UAAP) and the National Collegiate Athletic Association (NCAA) in Manila, and a similar grouping in Cebu.
But another purpose of hosting the inter-collegiate games was to inspire incoming college students to study only here in the city, not in Cebu or elsewhere, Samaco pointed out, adding that local colleges can very well compete with outside colleges and universities in academic and physical fitness activities.
He cited as clear example his son who is now studying at CM taking up a nursing course.
A highlight of the opening ceremony was a torch run led by Mayor Samaco and followed by the four sports coordinators of the colleges.
City Administrator Atty. Feorillo Demeterio, Jr. recited the oath of amateurism that was repeated by all the athletes and officiating officials.