Gov. Evardone, 3 bishops urge DPWH to act on road rehab in E. Samar
By BRYAN M. AZURA
December 13, 2008
BORONGAN CITY, Eastern Samar – Eastern Samar Governor Ben P. Evardone, together with the 3 bishops of the 3 dioceses in Samar Island, collectively urged the Department of Public Works and Highways (DPWH) to prod the winning contractor to immediately implement the P497 million worth road rehabilitation of the national roads in the province.
In the 9th meeting of the Samar Island Partnership for Peace and Development (SIPPAD) held at the Capitol Conference Hall, Governor Evardone, Bishop Crispin Varquez of Borongan Diocese, Bishop Emmanuel Trance of Catarman Diocese and Bishop Isabelo Abarquez of Calbayog City Diocese, chorused on urging Secretary Hermogenes Ebdane Jr. of DPWH to call the attention of Yakal Construction, the winning bidder of the road rehabilitation in Eastern Samar national roads, to make true to its promise to finish the project on or before the date of completion.
The worsening condition of the national roads in the province has long caught the ire of the commuting public and the villagers directly affected.
Recently, Bishop Varquez and 40 other priests in Eastern Samar wrote a letter to the Philippine Daily Inquirer (PDI) asking President Gloria Macapagal-Arroyo to intervene in the implementation of the project. Titled 'Eastern Samar's Roads from Hell,' Varquez made mention that the roads in the province are "chronic and, in some places, even dangerous. "We are informed that there are more than a million pesos in maintenance fund monthly," Varquez wrote. "Yet all we see are splintered rocks and sand being used to cover ravaged roads, originally of asphalt or concrete overlay," he continued.
Few days later, Atty. Byron Suyot, Chief-of-staff of the Office of the Governor (PGO), wrote another letter to the same media outfit saying that Sangguniang Panlalawigan (SP) has found out that part of the maintenance fund is being used to pay the salaries of casual employees and some expenditures of the Congressional District Office (CDO).
"This is highly anomalous," Suyot said in his letter. The lawyer further said that the DPWH District Office is "controlled" by the congressman. "It is the congressman who dictates on who will be assigned as district engineer. It is widely believed that it is the congressman who decides on major issues in the DPWH District Office, such as hiring and promotion of regular and casual employees, and the determination of winning bidders of contracts, among others," he continued.
Engineer Atilano Sabulao, Acting Administrative Officer and DPWH representative to the said forum, apparently washing hands, said that DPWH should not be blamed on the current bad road conditions as it has already been awarded to a contractor. "Our role here is just to make the roads passable," Sabulao said.
Judge Reynaldo Alconaba, one of the participants of the SIPPAD forum, challenged the DPWH to be "honest and report the real things that are happening in their office."
"If we need to replace the District Engineer and the contractor, why not do so, if only to start the rehabilitation of the road," Judge Alconaba opined.
Governor Evardone reiterated that while the rehabilitation of the national highway is the sole responsibility of DPWH, acting upon a separate resolutions passed by the Provincial Disaster and Coordinating Council, League of Municipalities, Provincial Development Council and Sanguniang Panlalawigan, the provincial government allocated an initial amount of P10 million to repair the national road.
On April 15, this year, Governor Evardone sent a letter to DPWH asking permission to help repair of the national highway using its fleet of heavy equipment but the latter did not reply the former. Following his request, he sent another letter to the same office on May 8, this year, but still nothing happened.
Provincial Engineer Dindo Picardal reported to the body that the province offered DPWH to work on the roads at a cost of P5 million per 1.1 kilometers, much cheaper than that of DPWH's P18 million per 1 kilometer.
However, Atty. Suyot, citing reliable sources said that Eastern Samar's Lone District Congressman (Teodulo Coquilla) blocked the request of the governor for political reasons.
"In short, the congressman is not serious in helping repair the the national highway," Suyot said in his letter.
Alconaba said that DPWH should be honest. "It is already a public knowledge that DPWH is being controlled by the Congressman," he said.
Asked as to who appoints on who will be sitting in District Engineering Office, Engr. Sabulao answered that it is the central office that appoints but with recommending approval. He did not elaborate who makes the recommending approval.
In a hearing conducted by the SP, Engineer Natividad revealed that the P1.3 million maintenance funds is being used to pay the salaries and casuals in the Office of the Congressman.
Bishop Trance noted that somebody has to be accountable for the (P1.2M) maintenance fund as the transactions regarding maintenance is to be addressed to the maintenance section.
Judge Alconaba said that DPWH should regularly check the maintenance of the road saying not doing so has adverse effects on economy. "They need to regularly check the (maintenance) of the roads so as not to jeopardize the economic activity of the province," Alconaba noted.
Congressman Chong joins call of Biliranons to stop mining operations in the province
By RODRIGO S. VICTORIA (PIA Biliran)
December 13, 2008
NAVAL, Biliran – With the mounting call of the Biliranons to put an end to the on-going and future mining operations in the province of Biliran, Representative Glenn A. Chong of the Lone District of Biliran officially voiced his opposition by pointing out several reasons why these should not be done in this beautiful province.
In a web poll conducted by Biliranisland.com on the issue of mining operation in Biliran province, 81.05 % or 124 respondents voted NO while 18.95 % or 29 respondents voted YES as of December 9, 2008.
Web poll voting still continues at Biliranisland.com, one of the province's private websites catering to the information needs of the Biliranon through the internet, to get the pulse of the public on the mining issue in the province.
In a meeting of the clergies in the Diocese of Naval with Sofronio B. Dacillo, Jr., environmental management specialist of the provincial government held last week at the Bishop's Chancery, Bishop Filomeno G. Bactol and the rest of the clergies in attendance have expressed their strong opposition to the mining operations in Biliran province.
In the official statement of Representative Glenn A. Chong posted in Biliranisland.com at 7:28 pm on December 9, 2008, the young Biliran solon recognized three major concerns in his opposition to the mining issue.
The 34-year old lawmaker pointed out that mining is not a sustainable driver of the local economy and by nature hazardous to the health of the people working or living near the mining sites aside from the high-impact ecological and environmental degradation affecting not only the immediate locality but the broader community.
"Though it may provide temporary jobs and economic upliftment in the short-term, the mined and extracted resources are either almost irreplaceable or totally irreplaceable and once the deposits dry-up and will totally be extracted, the mining operators will just stop their operations and leave", Representative Chong said.
The first-termer solon added that the communities within which mining operations take place are the first ones to suffer and will suffer the most both individually as well as collectively
He also stressed that mining operations disturb the ecological and environmental balance that contributes to the general well-being of the communities and in the absence of specific guarantees for their restoration after extraction, communities stand to suffer irreparable damage not only in this generation but the future generations as well.
He likewise urged the Biliranon to increase pressure on Governor Rogelio J. Espina to start acting in their best interest since it is he who signed or will sign the permit and so he will be the one to revoke it.
"He must demonstrate his commitment in clear and unequivocal terms by revoking the permit already issued and holding indefinitely in abeyance the issuance of new permits", he added.
200 Boy Scouts featured in a peace forum
By NINFA B. QUIRANTE (PIA Samar)
December 13, 2008
CATBALOGAN CITY, Samar – Some 200 boy Scouts from Samar were special guests of the army as it hosted the Peace Forum held in Paranas, Samar in celebration of the Universal Declaration of Human Rights.
Brig Gen. Francis Lanuza of the 801st Brigade said they invited the boy scouts aged 10-12 years old because they are the future leaders and need to understand how peace and development are interrelated.
On the other hand, Battalion Commander of the 34th IB, Lt.Col. Larry Mojica said that the rebels are recruiting younger people and that they should be forewarned.
According to a report of the Office of the Presidential Adviser on the Peace Process (OPAPP), there is a recognition of an alarming situation of children's involvement in armed conflict either as combatants, couriers, guides, spy or any similar capacity, which need special attention from all sectors of society.
Aside from this concern, the children were also made to understand to uphold human rights though as young as they are in a way they would understand, said an army official.
The peace forum was quite unusual, with the presence of the children. Previous Peace rallies usually gather hundreds of KAIBIGAN supporters and Local Chief Executives and other leaders to gain support for the army's anti-insurgency campaign.
With the recent peace rally in Paranas, the army seemed to gain grounds from both the adults and the junior citizens who felt a certain pride for being treated like adults. Some boy scouts even expressed their ambition to become the snappy army officers in their midst, confided the government soldiers look so brave and smart in their uniforms.
The crowd included residents from Paranas headed by Mayor Boy Babalcon, from Jiabong with Mayor Chanita Gabieta, from Catbalogan with their pretty ABC Chair Ms. Stephanie Uy-Tan along with other residents coming from Hinabangan and Motiong.
Other peace fora were also held in the municipalities of Oras and Gen MacArthur in Eastern Samar.
Pres. Arroyo signs AO 250 granting P10 thousand performance bonus to gov't workers
By Philippine Information Agency (PIA 8)
December 13, 2008
MANILA, Philippines – Saying that the government is cognizant of the economic difficulties which may arise as a result of the global financial crisis, President Gloria-Arroyo signed on December 10, 2008, Administrative Order No. 250 Authorizing the Grant of Performance Bonus for FY 2008 to all personnel of the government.
President Arroyo granted the performance bonus to government workers in recognition of their commendable efforts which enable government agencies to attain efficiency in government operations which contributed to the generation of savings.
President Arroyo took note of the fact that despite economic challenges, government personnel have discharged their duties with dispatch and provided quality service to the Filipino people.
A P10,000 performance bonus will be given to all who are employed by the National Government Agencies and Government Owned and Controlled Corporations including Government Financial Institutions, whether hired on permanent, temporary, casual or contractual basis, and who have rendered at least four months of service as of November 20, 2008.
The Government Personnel who have rendered less than four months of service as of November 30, 2008 shall also be entitled to Performance Bonus on a pro-rated basis.
Those whose length of service is three months but less than four months will be entitled to 40%. Those whose length of service is two months but less than three months will receive 30%.
On the other hand, those whose service is one month but less than two month will receive 20% while those who are less than one month in service will receive 10% of Ten Thousand.
The National Government will provide P7 thousand pesos while the remaining P3 thousand will be taken from the savings of the National Government Agencies.
For agencies belonging to the CFAG, the amount required shall be charged against their available savings and for GOCCs and GFIs, the amount needed shall be charged against savings from their respective approved corporate budget.
The payment of the performance bonus shall be made not earlier than December 15. The Implementing Rules and regulations cover this AO shall be issued by the Department of Budget and Management.
Now it can be asked
Weighing scale trick: Last-minute move to save De La Hoya's neck?
By ALEX P. VIDAL / PNS
December 11, 2008
LAS VEGAS, Nevada – Was the Golden Boy bloated?
Oscar De La Hoya could be weighing at least 149 lbs or two pounds over the welterweight limit when he tipped the scale during the official weighing December 5 at the MGM Grand Arena for his 12-round "Dream Match" with Manny Pacquiao on December 6.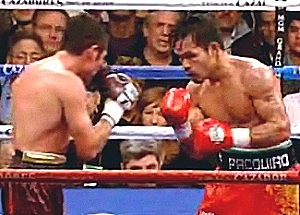 This suspicion emerged after the camp of Pacquiao expressed disbelief when the Filipino underdog officially weighed 142 lbs. Some 20 minutes earlier, he was 146 lbs when he tested his weight in another scale provided by the Mandalay Bay Resort and Casino, a hotel located half a mile from the MGM Grand, where Team Pacquiao stayed since December 1.
If there was hanky-panky in the weighing scale provided by the Nevada State Athletic Commission (NSAC), was it deliberately done to save the neck of the Golden Boy, whose outfit, Golden Boy Promotions, was Top Rank's co-promoter?
De La Hoya officially tipped the scale at 145 lbs. If the scale had been maliciously calibrated and reduced by at least four pounds, was it the reason why Pacquiao "lost" four pounds on his way to the arena from the Mandalay Bay Resort and Casino?
"This should be investigated," Larry Merchant, HBO's highly esteemed commentator, sighed several hours after the official weigh in.
Even Emmanuel Steward, the former trainer of Thomas "The Hitman" Hearns, noticed the weird incident. So was Shelly Finkel, Pacquiao's former manager, who also expressed disbelief.
When pressed to say something about the controversy, Freddie Roach said "it's okay. Anyway, we will win this fight."
Roach was more interested about the way De La Hoya's cornermen taped his fist and this was the bone of contention when he engaged De La Hoya's backers Golden Boy Promotions CEO Richard Schaefer and the Golden Boy's best friend Eric Gomez in a prolonged and heated debate before officials of the NSAC led by executive director Keith Kizer inside the media room.
When the tape issue was concluded, the weighing scale controversy remained unresolved and the grapevine had it that there was a deliberate and treacherous attempt to cheat Pacquiao and save "overweight" De La Hoya from disqualification.
"They (Team De La Hoya) may have realized De La Hoya could no longer scale down to welterweight," said a Panamian journalist.
When the matter was brought to Pacquiao's attention, the boxer simply shrugged off the issue and quipped: "Kung totoong nandaya sila, Diyos na ang bahala. Total kakampi ko ang Diyos (If it is true that they cheated, God will take care of everything. God is with me)."
And there was neither official protest nor attempt to dramatize the furor for publicity.
Did some high-ranking boxing officials connive to protect De La Hoya and ensure he was heavier on fight night?
The result could have backfired as De La Hoya hardly moved his legs and was like sleep-walking above the square jungle. Pacquiao, who was lighter and quicker, wrecked the Golden Boy's defense and stymied him like a confused elephant.
After eight stanzas, the dream match turned into nightmare for the Hispanic fans.
"Manny Pacquiao is a great fighter and he fought a great fight," De La Hoya said. "He was a better man tonight and he deserves all he has accomplished in his career."
"I am not shocked because at this stage, when you face someone like Manny Pacquiao you know you are going to be in a fight. I worked and trained really hard for this fight, but as I have told everyone, it is a totally different story when you get in the ring.
"My style is to go forward, but he was boxing on his toes all night and waiting for me to make my mistake. I just didn't have the strength to stop him and my body did not respond," De La Hoya explained.
Gov. Petilla bares infrastructure plans for tourism promotions, economic development
By Provincial Media Relations Center (PMRC Leyte)
December 11, 2008
TACLOBAN CITY, Leyte – Leyte Governor Carlos Jericho Petilla reported new infrastructure plans for the province to correspond with the province's tourism and employment promotion as a means to stir up economic development.
This was presented by the governor during the Provincial Development Council Meeting held Thursday at the Governor's Hall.
Gov. Petilla said the province still sets its sights on a bigger convention center, big enough to host national conventions and other big events.
He pointed out during the meeting to PDC members, who are composed of different local chief executives and other officials of the province, that by providing the province with more convention centers, business activity will flourish and become more vibrant.
More visitors would then be willing and encouraged to come here as the province would then have the capability to host larger local, national, and even international events.
It can be recalled the province early on announced it is planning to erect a convention center at the Old Children's Park.
The province is eyeing a facility that could house more or less 3,000-6,000 people in just one venue with the capability of holding events such as conventions, forums and seminars of national scope.
Meanwhile, the governor also reported the provincial government has plans of putting up an additional building inside the Leyte ICT Park.
However, this plan has to be on a later stage since the aim now is for APAC to fully locate, establish and operationalize itself before inviting more call center and other ICT locators at the PEZA-facility.
"We cannot as yet invite other call center companies to locate until APAC has established their branch. Because they are the first ones to accept our invitation to locate, we give them some privileges to enjoy such as operating for a period of time without other competition," Gov. Petilla said.
APAC Customers Inc., as has been reported, is the first call center company that would start operations by February 2009.
The governor said this infrastructure plans are geared towards Leyte's primary target of tourism and investment.
This as he considers that tourism and investments are two big generators of employment which could pull the gap in the figure of unemployed in the province.
About 39,000 people affected, 6 dead, 2 injured, in the flooding at East and North Samar
By Philippine Information Agency (PIA 8)
December 10, 2008
TACLOBAN CITY, Leyte – About 38,884 persons have been affected, six people died while two others were injured in the recent flooding that hit Eastern and Northern Samar provinces.
The Regional Disaster Coordinating Council of Eastern Visayas under the Chairmanship of PRO 8 Director Abner Cabalquinto, reported that two persons died while another two persons are missing in Jipapad, Eastern Samar where 13 barangays have been submerged in flood waters up to 6 meters high.
In Bobon, Northern Samar, one person was reported dead, two were reported dead in Mondragon, Eastern Samar and another one in Palapag town, making six the total number of persons who died due to the flooding.
As of December 8, the Department of Social Welfare and Development, in its report to the DSWD Central Office reported 38,884 as the number of persons; and 7,587 as the total number of families affected by the flooding in the two provinces.
DSWD Region 8 also reported that 124 houses were totally damaged while 1,765 houses were partially damaged in the 110 flooded barangays of the two provinces.
It appears that Jipapad, Eastern Samar was the most hit where 13 of its barangays were flooded, 7,614 persons were affected, 50 houses totally damaged and 693 houses partially damaged, two persons dead while another 2 were injured. It was reported that at the riverbanks, flood water was up to 8 meters high while in the poblacion, flood water was 4.5 meters high.
DSWD has sent 500 family food packs and 150 pack used clothing to the municipality of Jipapad through Mayor Joji Montallana. The municipality of Jipapad has already spent P500,000 from the local calamity fund, it was learned.
Only Jipapad has submitted an estimated cost in damage to infrastructure and agriculture, which was pegged at P5Million.
As of 5:00 o'clock in the morning of December 10, RDCC 8 reported the still affected municipalities as Jipapad, Can-avid, and Oras in Eastern Samar; and Bobon, Catarman, Lavesares, Mondragon, Palapag, Catubig and Las Navas in Northern Samar.
RDCC 8 Executive Director Angel D. Gaviola and other OCD 8 personnel are still in the affected provinces to conduct rapid assessments.
The PDCC of Northern Samar is still conducting assessment and evaluation of damages and evacuees per barangay.
4 towns in E. Samar submerged, Gov. Evardone sends relief assistance to flood victims
By BRYAN M. AZURA
December 10, 2008
JIPAPAD, Eastern Samar – 4 northern towns of Eastern Samar was submerged in waters for 3 days after non-stop rains hit the province the past few days prompting Gov. Ben P. Evardone to send relief assistance to hardly hit areas in the said municipalities.
As of press time, some towns of Jipapad, Maslog, Oras and Dolores were still underwater due to the continuous rains that battered the province anew in the last 4 days.
According to Flora Pecayo, Municipal Social Welfare and Development Officer of Jipapad, 2 persons have lost their lives due to a flashflood that hit the town on December 7, Sunday, at around 11a.m. 2 persons have also been reported injured while no there is no missing person in the said disaster.
Damages to infrastructure, agriculture and properties were estimated at P20 million. While the Department of Agriculture (DA) has not made an official report on the damages caused to ongoing InFres projects, local authorities said that major sections of Dolores and Jipapad (InFres) projects have been heavily damaged.
Pecayo said that a certain Jose Rosco, 16 years old and a resident of Brgy. 1, Poblacion, was one of the casualties in the flood. Resident's accounts told that Rosco was trying to salvage their personal belongings from being carried by water by transferring to the 2nd floor when he slipped and knocked his head.
Immediately, Gov. Evardone dispatched 145 sacks of relief rice to patch up the food scarcity among the flood victims.
"I already gave orders to bring 20 sacks to Jipapad, 20 sacks to Maslog, 50 sacks to Dolores and 75 sacks to Oras," Evardone said in a text message.
In the Initial Flood Assessment Report of Disaster, Pelayo indicated that the deepest point of the flood was estimated at 6 meters deep while the average water level at the Poblacion was 4 meters virtually drowning the town with water.
The flood, which affected 13 barangays and 7614 families in Jipapad alone, has sent 60 families to various evacuation sites in the municipality. The other 3 towns are yet to come up with damage assessments.
The Local Government Unit (LGU) of Jipapad through Mayor Joji Montallana has allocated P500,000 to purchase canned goods, noodles, rice, milk and sugar. All barangays in the Poblacion provided assistance as well reaching to P130,000 to procure rice which is scheduled for distribution on Wednesday.
Meanwhile, Gov. Evardone said that the province is trying to mobilize all the necessary resources to come up with a more thorough assessment on damages in the highly affected areas.
Samar acting governor signs Executive Order creating Samar PDCC
By NINFA B. QUIRANTE (PIA Samar)
December 10, 2008
CATBALOGAN CITY, Samar – Prompted by the flooding in neighboring provinces of Eastern and Northern Samar, Acting Governor Jesus Redaja discovered that the Executive Order creating the Provincial Disaster Coordinating Council has not been signed by his predecessor.
Upon the information of the Department of Interior and Local Government (DILG) Provincial Director Jovito Lacaba, Redaja vowed to sign the document to fortify the council and make it work.
On Tuesday, December 9, through the attendance of some 40 members out of the 46 member-agencies, Redaja made the promise.
He said that he convened the council not only to plan out for disaster preparedeness but also to comply with the request of the newly installed PNP Provincial Director PSSupt. Pepito Marigmen Pacada.
However, Pacada was not in the meeting and instead sent his Information Officer Felipe Tan to attend in his behalf. Tan explained that Pacada rushed to the regional command for a conference.
In the same meeting, Provincial Agriculturist Lina Saises reported that some rice farms in San Jorge are under water. However, she still have to get an official report from the Municipal Agriculturist as to the damage of the crops.
Meanwhile, PAG-ASA-Samar Bureau Chief Ed dela Cruz said that the rains only reached 100mm which is considered normal, rains, he said has to reach some 200 mm to be declared as above normal for the townsfolk to be concerned. PAG-ASA is a very important member of the PDCC.
DILG Lacaba also informed all present that to prevent casualties in times of typhoon, all Barangay Captains have been deputized to prevent boats from sailing if there is an announcement of typhoon number 1.
The PDCC members are pushing for an 'operation center' where all information, deployment for rescue and relief will come from.
Pia deplores bleak state of human rights in RP
Press Release
By Office Senator Pia Cayetano
December 10, 2008
PASAY CITY, Philippines – Senate opposition member Pia S. Cayetano today deplored the bleak state of human rights under the Arroyo regime as the world observes International Human Rights Day and the 60th anniversary of the adoption of the Universal Declaration of Human Rights by the United Nations General Assembly.
"The long list of unresolved killings of journalists and political activists best illustrates the bleak state of human rights today."
The impunity with which these violations were done and are continuously being perpetrated have caused so much disillusionment with the government that it seems our only remaining hope for all of this to cease is when a new president is finally elected in 2010," she said.
Cayetano said that among the more prominent unresolved rights cases are the 2007 abduction of agriculturist and political activist Jonas Burgos, son of the late press freedom fighter Jose Burgos.
She also cited the 2006 abduction of UP students Sherlyn Cadapan and Karen Empeño, whose case became the subject of the very first writ of amparo that was issued by the Court of Appeals and subsequently affirmed by the Supreme Court.
"As a mother who also lost a child, I grieve with the victims' mothers who continue to seek justice even as they painfully search for any traces that may lead to their missing children."
She also noted the case of community journalist Marlene Esperat who was slain in 2005 by assassins reportedly hired to silence her after exposing the fertilizer fund scam in 2004.
"The Senate's continuing search for truth on the fertilizer fund scam and much of what has been uncovered so far regarding this multi-million scandal can be traced to the crusading work of Esperat, a lady journalist who was killed in the line of duty."
Cayetano also expressed concern over the report by press freedom watchdogs that 77 journalists have already been killed in the line of duty since 1986, 39 of them during the Arroyo presidency.
"Human rights day should remind us of the continuing need to affirm and assert our basic rights and to press state actors on their commitment to protect and uphold the rights of the citizenry," she concluded.
Continuous heavy rains cause flooding in Samar provinces
By Philippine Information Agency (PIA 8)
December 9, 2008
TACLOBAN CITY, Leyte – Continuous heavy rains caused flooding in some parts of Eastern and Northern Samar.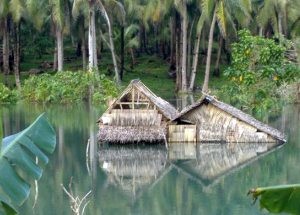 Flooding has been reported in Can-avid, Oras and Hipapad in Eastern Samar; and in Palapag and Catarman in Northern Samar.
About 13 barangays in the municipality of Hipapad in Eastern Samar have been submerged in flood waters since 8:00 o'clock in the evening of December 6, 2008, Sangguniang Bayan Secretary Marlon Ingo and Municipal Social Welfare Officer Flora Pecayo informed the Philippine Information Agency.
As of 11:00 o'clock Monday, flood water in the area was measured to be about five to six meters high. Since 2:00 o'clock Monday morning, the flood only subsided by about one foot, according to Mr. Ingo.
About 50 families have evacuated to the church, barangay hall and clinic in the municipality. Other families evacuated to the houses of their relatives while many more could not evacuate because of high flood waters.
Ms. Pecayo said that the municipality's immediate need is food. A private doctor, Dr. Carmen Sherri has generously provided hot meal for the evacuees, Ms. Pecayo said, but the local government cannot rely on the private sector alone.
Mr. Ingo said that a certain Jose Norcio, 16 years old of Barangay 1 in the town proper of Hipapad died of drowning, Monday morning. Norcio was reported to have been swimming towards a neighboring house when his head was hit in the concrete wall of another house. He was brought to the hospital in Oras where he was declared dead. His remains now lie in state at the Hipapad Church.
Meanwhile, Mr. Luis Cidro Moscosa, the civil defense deputy coordinator and secretary to the Mayor of Can-avid, informed that as of 2:00 o'clock in the morning of December 8, 2008, the twelve offshore barangays of Can-avid along Olot River have been reported flooded in about one-meter high flood waters.
Mr. Moscosa said that as of 11:00 o'clock in this morning, flood water has subsided to about knee-deep in Can-avid. No casualty has been reported.
On Saturday, December 6, one person was reported to be missing in Palapag, Northern Samar, the Office of Civil Defense in the Region informed. The neighboring towns have been informed about this, so they can relay the information to Palapag town in case they see this person in their waters.
Flooding has also been reported in Catarman, the capital town of Northern Samar.
The Office of Civil Defense in the Region said that it will go to Oras on Tuesday to monitor the situation. In the meantime, the Provincial Disaster Coordinating Council in Northern Samar is already conducting field survey to be able to know how many barangays and municipalities are flooded.
Two low pressure areas (LPA) were spotted in the country Sunday afternoon that are expected to bring more rains over the Bicol and Visayas regions in the next 24 hours, the state weather bureau said.
The Philippine Atmospheric, Geophysical and Astronomical Services Administration (Pagasa) said the LPAs were located at 100 kilometers northeast of Borongan, Eastern Samar and at 230 kms south of Puerto Princesa City.
Pagasa Director Prisco Nilo has warned residents in Albay and Samar provinces against flashfloods and landslides as heavy rains are expected in these areas.
He said Southern Luzon and Visayas would experience cloudy skies with scattered rain showers and thunderstorms becoming widespread rain over the eastern and western sections of the Visayas, including Palawan and Bicol region that would trigger flashfloods and landslides.
PNP Samar gives recognition to Pupua barangay folks
By NINFA B. QUIRANTE (PIA Samar)
December 9, 2008
CATBALOGAN CITY, Samar – The Samar Philippine National Police (PNP) showed appreciation and recognition to the barangay folks of Pupua, Catbalogan City for being able to apprehend one Arvin Mateo, 20 who was found to violate Republic Act 8294 aka Illegal Possession of firearms.
From the report of Barangay Tanod Rogelio Basal, Mateo, a neighbor armed with a home made shotgun called sumpak or norit-surit (in the dialect) and a long bolo was trying to pick up a fight in their barangay on November 30, 2008 at eight in the evening.
Basal tried to pacify the man, but said weapon-brandishing man ignored him.
He then called on Barangay Captain Rogelio Mana who incidentally was having a meeting with his kagawads.
In full force, tanods and council members accosted Mateo who then failed to resist arrest. That same night, Mana and his men transported Mateo to the Catbalogan City PNP for proper disposition.
Samar PPO with the newly-installed Provincial Director PSSupt Pepito M. Pacada deemed it right to give due recognition for the community helping PNP in their mission against lawlessness and criminality.
On Monday, December 8, 2008, after the usual flag raising ceremony, the six-member team of Pupua received certificates from Pacada himself. Pacada in his message extolled the significant contribution of the community in their quest for lasting peace and development.
Mana on the other hand felt happy that their efforts do not get unnoticed.
With the inspiration and recognition they got from their PNP partners, Mana said he will encouraged his barangay folks to report any suspicious elements in the barangay for the preservation of peace.