Catbalogan city council member to sponsor ordinance to establish city AIDS council
By NINFA B. QUIRANTE (PIA Samar)
December 2, 2008
CATBALOGAN CITY, Samar – Catbalogan City Sangguniang Panlungsod member Arthur Vaughn Zosa vowed to sponsor an ordinance that would create the city AIDS council.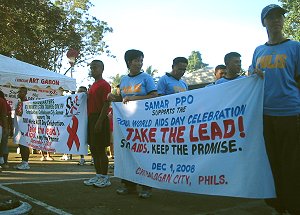 This he announced as the Samar Provincial AIDS Council commemorated World AIDS Day on Monday at the Imelda Park, Catbalogan City.
Zosa reacted to the clamor of the stakeholders to create local AIDS council to address the silent pandemic, as called by health authorities.
It was in the year 2007 when a group of concerned individuals both from government and NGOs deemed it proper to organize SPAC to address concerns as regards AIDS.
Now operating on its second year (although not registered yet with SEC), SPAC serves as a unifier when it comes to activities that have something to do with HIV/AIDS in the province of Samar. SPAC feels that with the creation of the new Catbalogan AIDS Council, it will be an effective partner in the advocacies being done at the local level.
Zosa brought with him scores of city government employees to join the 'joggers' united to stand for the prevention of HIV/AIDS. The group also commits to serve as multipliers of correct information as to the prevention of HIV/AIDS in the province of Samar and the city of Catbalogan.
In the program, Acting Governor Jesus Radaja was joined by SPAC Chairman Eunice Babalcon and Board Member Ida Lim to show people how the leaders support the programs in response to HIV/AIDS.
Leadership is the theme for World AIDS Day 2007 and 2008 with the campaign slogan: "Stop AIDS. Keep the promise-leadership."
Leadership, said one organizer, encourages leaders at all levels to stop AIDS. In the global perspective, leaders committed to stop the spread of the disease as early as 1988.
It was in 1988 when health ministers from around the world met and agreed on the concept, it is now time to deliver and keep the promise of stopping the spread of the disease.
And leaders should lead them to it!
Government formally accepts former rebels in Leyte into the social integration program
By Philippine Information Agency (PIA 8)
November 30, 2008
TACLOBAN CITY, Leyte – Former Rebels in Leyte will be formally accepted in to the Social Integration Program of President Gloria Macapagal-Arroyo, in a formal ceremony on December 3, 2008, from 3:00 o'clock to 5:00 o'clock in the afternoon at the Municipal Gym of Kananga, Leyte.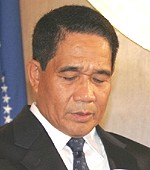 Sec. Hermogenes Esperon, Jr.
The Office of the Presidential Adviser on the Peace Process, in cooperation with the Local Partners in Leyte, is scheduled to launch in Region 8 on December 3, the Social Integration Program for former rebels who wish to go back to mainstream society.
Undersecretary Pedro Cesar C. Ramboanga, Jr. informed that the formal acceptance of former rebels into the Social Integration Program will follow the Social Integration Program Orientation for Leyte Peace Partners.
The formal acceptance program ceremony will start with a welcome remarks by Hon. Elmer Codilla, mayor of Kananga, Leyte.
Police Chief Superintendent Abner Cabalquinto, Regional Director of Philippine National Police in Region 8 and Lt. Gen Pedro Ike Inserto, commanding general of AFP Central Command will deliver their respective Peace Message.
The awarding of financial assistance will be done by Secretary Hermogenes Esperon, Jr., Presidential Adviser on the Peace Process, assisted by Undersecretary Pedro Cesar C. Ramboanga, Jr., Leyte Governor Carlos Jericho L. Petilla, and the National and Local Peace Partners.
Governor Petilla is expected to deliver his peace message after the awarding of the financial assistance.
The ceremonial reception of former rebels by the Provincial Government of Leyte will be done by Atty. Reuben Dasay A. Lingating, program manager of SIP; Governor Petilla and Ms. Clotilde Malatbalat, Provincial Social Welfare Office of the province of Leyte.
Secretary Esperon will then deliver his message on the Social Integration Program for former rebels. After the singing of Pilipinas Kong Mahal, a press conference will be conducted.
The Social Integration Program is a process whereby former rebels and their dependents are provided a set of interventions to facilitate their integration into mainstream society.
It is being implemented pursuant to Administrative Order No. 172 promulgated on March 23, 2007 by Pres. Gloria Macapagal-Arroyo. The program, in contrast to previous programs of the government, provides increased remuneration for surrendered firearms, explosives and ammunitions.
The same program also provides immediate cash assistance while former rebels undergo the process requirements for the grant of Socio-Economic interventions. The Socio-Economic interventions, on the other hand, could be in the form of capital assistance in goods or financial resources, livelihood skills development, job placement, educational assistance, health services, "balik-probinsiya", or access to other basic social services.
PNP airs side on crime incidents in Eastern Samar
By ALICE NICART (PIA Eastern Samar)
November 30, 2008
BORONGAN CITY, Eastern Samar – The series of holds ups and other related crimes in the area of responsibility (AOR) of the Eastern Samar Police Headquarters under the leadership of Senior Superintendent/Police Director Prudencio de la Cruz have raised doubts as to its effectiveness in its delivery of police protection service.
Many have asked "are we still safe with our police around?" No less than de la Cruz's immediate superior "have expressed his disappointment on what he described as slow intelligence networking on the part of Eastern Samar PNP" (LSDE, Nov 26, 2008)
In a radio interview Thursday, however, de la Cruz aired his view in reaction to the statement of his boss.
"It is not true because we have solved some. For instance, we already have filed the case vs. the suspects in the Baquilod crime in Baybay, Borongan who were allegedly relatives themselves of the victim," de la Cruz reported. "Also the one in Maydolong where a Taytay Lending Company employee was robbed of a good sum, the case was likewise filed vs. the suspects Roy Canales and his group. However, as a professional, I cannot do otherwise, I will leave my post as may be ordered by higher authorities," the PNP director humbly uttered. "But, I would like to let them know, also, we have not been negligent in our police duties", he said.
Asked if he considers it solved when no arrest at all had been done, de la Cruz swiftly replied that no warrant of arrest had been issued by the Court which is why, they cannot execute the arrest because they are not armed with the warrant.
In which case, the Police Director appealed to the public for any information which may lead to the arrest of suspected criminals. He said that the cellular phone is the best information tool so the informant can be protected. He also mentioned the inadequate number of personnel in his AOR. If only the number of quota can be filled up, every time there is a recruit proceeding, then perhaps, the ideal ratio of police to population can be approximated, all provincial offices can be manned with ideal number of PNP personnel.
As to the recent highway robbery hold-up of MIA Bus in Canpidhan, San Julian, (near Putong crossing) which cost the life of an ESSU engineering student from Taft, only because he refused to give his cell phone to the hold upper, de la Cruz reported that they already have a suspect from Western Samar from where the suspect took the bus to Borongan. He added that, an informant told them the man is out of Parole. He said that he already has sent for a picture of the guy and what he is thankful for also is that, most of the MIA passengers when the crime occurred, have expressed likeness to cooperate. Once they get the picture, the passengers will be asked if the same was one of the hold uppers of the bus, de la Cruz promised.
Aside from the young fatality in the hold up, reports said more cell phones had been carted away by the heartless men, including the newly withdrawn bonus and cash gift of a soldier-passenger.
The MIA Bus Company had become the cheaper transport option of Eastern Samareños going Borongan-Tacloban and back. It takes the northern route to Tacloban passing through Taft-Buray.
Coco farmers rejoice over 'incentives'
By NINFA B. QUIRANTE (PIA Samar)
November 30, 2008
CATBALOGAN CITY, Samar – After almost a year of hopeful waiting, some 103 coconut farmers in the island town of Zumarraga, Samar received their incentives for planting coconut trees.
In a simple distribution rites towards noon on Thursday, coconut farmers finally received their checks ranging from P750 - P7,000. The checks were personally delivered by Philippine Coconut Authority (PCA) Regional 08 Director Edilberto V. Nierva with PCA-Samar Emi Acasio and in-charge Laureano Verdeflor.
Coco farmers were promised an incentive of P5 per coconut to be placed in their own nursery for planting. These were inspected by the likes of Verdeflor and Acasio for registration to avail of the incentive.
Late last year, this program was launched to improve production, said Nierva. The program is called Participatory Coconut Planting Program (PCPP).
Farmers in Basey, Samar earlier complained that PCA authorities neglected their promise to 'pay' farmers who joined the program.
Nierva explained that it took a while to download funding from the Coconut Industry Investment Fund (CIIF) besides monitoring was doubly difficult for lack of manpower. Besides, Nierva said the amount was not a payment, but an incentive because the nuts were not taken away from them but remained with the farmers for planting. The farmers still will reap its fruits in time, Nierva added.
Mayor Neil Edwin Figueroa of Zumarraga in his message urged the farmers to plant more not only coconut but other fruit trees to green the island. Zumarraga from a profile boosts of 552 hectares of coconut area.
Lito Bello, 69, a coconut farmer and a beneficiary showed his plantation on top of a hill. He added that his coconuts are meatier and heavier because the 'salt' around the island makes them fertile.
The Philippines is the world's biggest supplier of coconut oil, exporting 80 percent of its output. Despite the challenges that face the coconut industry, farmers still choose to plant coconut more than any other tree, if there is an incentive, it is just a bonus, with or without it, they will plant coconut as passed down from the early Samarnons, said Bello.
Boxer Aguelo's next professional fight is abroad
By BONG PEDALINO (PIA Southern Leyte)
November 30, 2008
MAASIN CITY, Southern Leyte – This city's newest boxing sensation, Philippine Boxing Federation (PBF) Super Bantamweight champion Dennis Aguelo, will stake his title outside the country for his next professional fight.
This was revealed by Mayor Maloney Samaco, quoting an assurance by matchmaker Wakee Salud. In a radio program this week, Mayor Samaco also relayed Salud's invitation to watch the fight in person, adding that he readily accepted it if his schedule permits.
Last week, Nov. 20, during a boxing showdown at the city gym here held as one of the preliminary activities to mark Gov. Damian Mercado's birthday celebration, Aguelo defeated Tiny Tyson from Cagayan De Oro City in a convincing knockout in the second round of their 10-round fight.
At the start of round one, Aguelo was throwing solid punches that hit their mark in Tyson's face and body, and he was obviously dominating the fight.
The official knockout time came in one minute, 59 seconds of the second round.
"It was the first professional fight in Maasin City since the untimely death of local boxing hero Alex Aroy," wrote Mayor Samaco in a report he filed for a local weekly. "And a new hero emerged from this city in the person of Adonis Aguelo who snatched the PBF interim superbantamweight title via a very impressive knockout win over Tiny Tyson."
The win raised the barangay Matin-ao native's professional record to 4-0-1 with 3 wins by KO.
"Another rising Maasin City boxer Michael Ramos was successful in his pro debut by scoring a split decision win over Hector Rojoca, from Jagna, Bohol," Mayor Samaco further reported, referring to the supporting bout.
Samarnons usher launch of weeklong commemoration of World AIDS Day
By NINFA B. QUIRANTE (PIA Samar)
November 27, 2008
CATBALOGAN CITY, Samar – The Samar Provincial AIDS Council (SPAC) with stakeholders like Kartada han Samar, Leyte Family Development Organization (LEFADO), Waraya and Family Planning Organization of the Philippines (FPOP) converged to launch the week long commemoration of World AIDS Day Monday night in a program at the Catbalogan City plaza.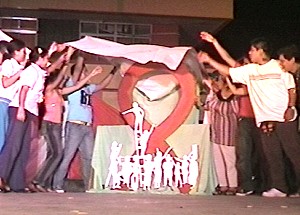 Stakeholders participated in the unveiling of the AIDS symbol during the launching program on November 24 at the Catbalogan City plaza.
They were also joined by the Samar State University (SSU), Samar College and the City government of Catbalogan.
Ador Hurtado, an officer of the Waraya, a youth organization said that the team stands for the education of people about HIV/AIDS in the hope of eradicating the stigma and discrimination that people living with AIDS (PWA) bear.
He added that there are now 33.2 M people living with HIV, including 2.5 M children.
He said that on December 1 the world remembers World AIDS day to raise awareness of the AIDS pandemic caused by spread of HIV infection.
In a message by City Health Officer Dr. Gerarda Tizon, the medical doc said that the spread of the disease can be attributed to the lack of information on the whys and wherefores of the disease and the sexual and behavioral lifestyle of the people.
She added that there is no vaccine to prevent HIV infection and no cure for AIDS. She cautioned the public to avoid behaviors that allow HIV infected fluids such as blood, semen, vaginal secretions and breast milk from entering the body.
She said: Let us not just prevent AIDS let us stop it!
City councilor Herminia Cabral, meanwhile urged the Samarnons to be aware; that families should make it a responsibility to inform their children about HIV/AIDS.
Although no case has been reported in Samar, still health authorities do not necessarily equate the information with no affliction.
Because of the stigma, it maybe that people are afraid to come out in the open to admit, said Waraya.
But nevertheless, SPAC with the different stakeholders believe that information and awareness should still be of paramount importance to reach the grassroots.
The AIDS team targets the tri-media through radio guesting and press conferences, symposia in barangays and schools and even focused group discussions.
The activities will finalize in a 'Jog for a Cause' that will mobilize stakeholders, barangays, military, PNP, students and the general public come December 1, 2008 which is considered as World AIDS Day.
GMA rice program for Samar offers free 5762 bags of certified seeds
By NINFA B. QUIRANTE (PIA Samar)
November 27, 2008
CATBALOGAN CITY, Samar – Gintong Masaganang Ani (GMA) Rice Program is now offering a 100% subsidy to rice farmers as it begins distributing close to 6 thousand bags of certified palay seeds in Samar.
In a conference with agriculturists all over Samar, Tuesday, at the Cocina de Cabral in Catbalogan City, the list of the number of seeds allotted to each municipality was read by Fernando Saludar GMA-Rice Provincial Coordinator.
Presently however, some 1,333 bags are only available because the agriculture department has to 'import' rice seeds from Bohol and Nueva Ecija. But farmers are assured that the remaining number of rice seeds needed would be available before the planting season. Rice farmers in Samar are now busy with land preparation.
Saludar told PIA that the 100% subsidy is offered only now, in the past it was only 50%. This is attributed to PGMA's commitment to attain rice sufficiency by 2013, the agriculturist noted.
In October, FIELDS caravan reached Samar and gathered more than a thousand rice farmers to partake of the good news where the agriculture department outlined its priority programs for agriculture.
Samar then was reeling because of the unavailability of a provincial agriculturist and the indifference of Samar provincial government to agricultural concerns.
Today, with the appointment of acting Governor Jesus Redaja and acting agriculturist Lina Saises, farmers are now assured of a formidable structure that would support the rice farmers.
In addition, DA Regional Field Office 08 has assured assistance and continuous support of incentives to agriculture employees.
Acting Governor Redaja committed to deliver the promised bags of rice to farmers free of charge.
Aileen Macauba, Municipal Agriculturist of Marabut said she is glad that the province is fast tracking the programs in agriculture. Ruth Dasal of Catbalogan City also echoed the sentiment. Most attendees lauded the 100% attention the agricultural sector is enjoying at the moment.
The last meeting, they had, an attendee disclosed was in 2003 yet.
DBM opens PS sub-depot in Biliran
By FLOR JACKSON (PIA Biliran)
November 27, 2008
NAVAL, Biliran – Procurement of office supplies, devices, office equipment and other office needs of the national government agencies, schools and the local government units (LGUs) is now made easier, faster and at low cost as the Department of Budget and Management (DBM) opened its Procurement Service (PS) Sub-Depot in the province of Biliran Tuesday in simple ceremonies held at the Provincial Capitol Showroom, Capitol Compound in Naval, Biliran.
The ribbon-cutting ceremony to formally open the Sub-Depot was led by Atty. Estanislao Granados, Jr., Executive Director of the Procurement Services in Manila who was the guest of honor, Director Imelda Laceras of the Department of Budget and Management (DBM) Region 8 who is also the Depot Supervisor of the PS Depot in the region and Biliran Governor Rogelio J. Espina.
The opening program was attended by the municipal mayors in the province, heads of NGAs, heads of schools, bank officials, provincial capitol employees and other local government officials in the province.
In his welcome address during the opening program, Gov. Espina expressed his thanks and appreciation to the DBM through Director Laceras for opening the PS Sub-Depot in the province of Biliran saying that this will truly cater to the needs of the intended clients to include the government workers.
He added that because of the low prices offered by the sub-depot, this will help save money on common items purchased especially on the part of the government workers.
Gov. Espina happily announced that the PS Biliran Sub-Depot is the 2nd sub-depot to be opened in the entire Eastern Visayas and the 8th in the whole country.
He encouraged all NGAs, the local government units, government workers and other target clientele to make their purchases with the PS sub-depot in the province and avail of the low prices offered in all items. However, he said, sale must be regulated so that the benefits will really go to the intended purpose of helping offices and government workers.
Atty. Estanislao Granados, Jr. who delivered his inspirational message for the occasion bared that they will open PS sub-depots in 82 provinces all over the country.
"As of now, we have 74 PS sub-depots more to be opened until the end of 2010 and this is one way of bringing the services of the PS closer to the people down to the barangays", he said.
He added that there are some 300 items of common use now available for sale at the PS Sub-Depot. These include office supplies, office devices, electrical supplies and accessories, janitorial supplies, computer supplies which include inks, toners, ribbons; and the common office equipment such as computers, printers, calculators, photocopiers, air conditioners, fax machines and furnitures and many more.
For her part, Director Imelda Laceras who declared the PS Biliran Sub-Depot open for business effective Tuesday, November 25, 2008 informed the guests and visitors present during the occasion that they are ready to supply the needs of their clients in Biliran province which can be coursed through the sub-depot personnel.
Before she made the final word of her closing remarks, she announced that as an opening promotion of the sub-depot here in Biliran, the first 20 clients who will make a purchase of P5,000-worth of the common items will get one free computer printer.
The PS Biliran Sub-Depot is conveniently located at the Capitol Showroom, Capitol Compound near the main highway going downtown Naval.
Campaign period for Tacloban HUC plebiscite starts today
By Philippine Information Agency (PIA 8)
November 25, 2008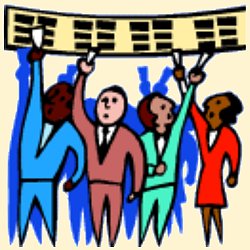 TACLOBAN CITY, Leyte – Campaign period for the December 18 Plebiscite to ratify the conversion of Tacloban City from a component city to highly urbanized city pursuant to Presidential Proclamation No. 1637, is November 25 to December 16, 2008.
December 5 is the last day of appointment of members of Plebiscite Committees and the City Plebiscite Board of Canvassers while the posting of the posted computerized voters list as of the October 29, 2007 Barangay and SK elections is December 15-18. The inspection of polling places is scheduled on December 16.
On December 17, the eve of Plebiscite day, the Comelec prohibits campaigning; giving, accepting free transportation, foods, drinks, and things of value; and the selling, furnishing, offering, buying, serving or taking intoxicating liquor.
On Plebiscite Day, October 18, Comelec prohibits cockfighting and other forms of gambling, holding fairs, boxing, or any other similar sports.
Also prohibited is the giving or accepting free transportation, foods, drinks and other things of value.
The selling, furnishing, offering, buying, serving or taking intoxicating liquor; and the opening of booths or stalls for the sale of merchandise, refreshments, etc. with the distance of 30 meters from polling place, are also prohibited.
The Comelec also prohibits on the Plebiscite Day, campaigning, soliciting votes or undertaking any propaganda for or against any candidate or any political party with the polling place or within thirty (30) meters from the polling place.
Very much prohibited is voting more than once or in substitution of another, as the Comelec Resolution No. 8515 promulgated on November 12, 2008 provided.
BM Loreto is one of RP's 8 champions of the youth
By Philippine Information Agency (PIA 8)
November 25, 2008
TACLOBAN CITY, Leyte – Senior Board Member Carlo P. Loreto of the Leyte Provincial Board, is among this year's eight outstanding legislators for youth development.

Leyte BM Carlo Loreto
The Kampeon ng Kabataan Award, a project of the National Youth Commission was presented during the recently held National Youth Summit at Tagaytay City. The award seeks to recognize local legislators who painstakingly devoted their time and effort in drafting, filing and sponsoring legislations to propagate youth rights and welfare at the local level as well as to enhance youth development.
The Kampeon ng Kabataan awards also aims to create a national databank of legislations for youth development; and to disseminate outstanding legislations for youth development to all provinces and cities for replication.
The award is National Youth Commission's tribute to the indefatigable men and women in the local government units who braved the undercurrents of mediocrity to make a difference.
Board Member Loreto was cited for being the author of the Leyte ordinance creating the Comprehensive Youth Employment and Entrepreneurship Program which ensures that every youth in the province of Leyte will avail of the right to learn skills and engage in productive undertaking regardless of their economic situation.
Board Member Loreto was among the 130 nominees from all over the country. His ordinance had the most impact and relevance to the needs and challenges of the times, according to former National Youth Commissioner Aries Goyena who was one of the judges for the Search.
Board Member Loreto, who is a lawyer by profession, is recognized as among the most prolific and productive provincial legislators. He is currently serving his second three-year term as number one board member of Leyte. He was first elected board member last 2004.
The other awardees for 2008 were Board Member Jomar Buyucan of Ifugao; Vice Mayor Tomas Ilao of Tiaong, Quezon; City Councilor Betty Lourdes Tabanda of Baguio City; Councilor Peve Ligan of Sta. Catalina, Negros Oriental; Councilor Nathaniel Binlod of Carmen, Bohol; City Councilor Ma. Charo Dichoso of Sorsogon City; and Councilor Joan Kristine Tabernilla of Daet, Camarines, Norte.
Roselle Nava spearheads info campaign on nutrition
By NINFA B. QUIRANTE (PIA Samar)
November 24, 2008
CATBALOGAN CITY, Samar – Singer-actress Roselle Nava and stand-up comedian Le Chaz spearheaded the National Nutrition Council (NNC) advocacy on proper nutrition in the top twenty poor provinces in the country.
In such venture in Catbalogan City on November 20, 2008, Nava drew some 300 participants to gather at the Samar Gymnasium for the two-hour informative and entertaining show.
The events organizer tapped by NNC, combined entertainment, information and games to educate the general public on promoting good nutrition.
Work in Progress, the events organizer had video clips, after which games were held to make the information be absorbed deeper by participants. Those who were able to answer were given household gift packs like soap, detergent and even t-shirts.
Ellen Chua, an employee from the Provincial Social Welfare and Development Office (PSWDO) said she got a t-shirt for her participation.
Steve Leyson, a local radio talent who also sings joined the professional singers on stage.
Kids were also entertained by mascots donning potato, carrot and pineapple costumes in a lively dance number.
Ms. Dina Dilao, Nutrition Officer 3 in her message stressed the need for Samareños to really live their daily lives being conscious of 'wastong nutrisyon'.
Alva Gadin, Provincial Nutrition Action Officer (PNAO) said that the activity was done in all 20 Priority Provinces with problems in nutrition.
In addition, Nava guested in Rommel Rutor's Bantay Probinsya program aired over Aksyon Radyo DYMS where the actress expounded on her diet, exercise regimen and healthy lifestyle. Rutor had a difficult time controlling the crowd that crammed the announcer's booth at DYMS.
The actress and Le Chaz also joined a motorcade just before the show.
Meanwhile, Gadin said that with the advocacy advanced by actress Nava and Le Chaz, trainings on nutrition and infant and young children feeding will gain attention from the mayors of more nutritionally depressed municipalities in Samar as the whole Provincial Nutrition Council pushes "Wastong Nutrisyon, alamin, gawin at palaganapin!"


Call Center Job Fair in Catbalogan slated November 28-30
By XERIANE LOU SAYO
November 22, 2008
TACLOBAN CITY, Leyte – After a successful job fair in Tacloban City, APAC Customer Services will be in Catbalogan this November 28 to 30 at Rolet Hotel Function Room to conduct another job fair.
APAC is looking to hire about 150 call center agents for their soon-to-open call center at the Leyte Academic Center in Palo, Leyte.
Interested applicants must be over 18 years old, with educational attainment of at least 2nd year in college or vocational training. Applicants must also be proficient in the English language and must have basic computer skills. "We have a very simple recruitment process to determine the qualification of the applicant and the team fit. Over all, we are looking for an individual with a passion to learn and a positive attitude" says Senior Director for Human Resources Benjun Castillo.
This will be APAC's first provincial location and everyone is excited by the company growth and the employment opportunities this will bring to the people of the Philippine's Region 8. "I have full confidence that we will have a successful operation in Leyte. The people are talented, well educated and have high level of professionalism. On top of that, they have the Filipino's gift of having excellent customer service, good will and compassion. With the help of the communities in the area and with the support of partners in business, we will have an outstanding business in Region 8" says Doug Almond, Vice President for International Operations.
APAC plans to employ about a thousand people in the new site to run and support it's international call center operations. "This is an exciting time to be with APAC- our organization is strongly positioned for this expansion and I look forward to meeting and working with our first 100 employees in Leyte" says Joemar Tabarangao, General Manager of APAC Leyte.
The 24,000 square meter office space will have state of the art design and lay-out, complete with world class equipment and technology. "Our plan is to build a top the line facility with the employee's comfort and convenience in mind; this is in line with our practice of providing a working environment that is conducive to work and fun" says Nizette Navia, Director of Administrative Services and Facilities.
APAC Leyte is targeted to be operational by January, 2009. Join the APAC Catbalogan Job Fair and start a career in the call center industry.
To know more about career opportunities at APAC or to apply by email, send your resume to: recruitment@apacmail.com