Daramnons thank PGMA for her gifts
By Philippine Information Agency (PIA 8)
January 17, 2009
TACLOBAN CITY, Leyte – The people of Daram expressed their gratitude to President Gloria Macapagal-Arroyo for the gifts she extended to them on the occasion of their town Fiesta.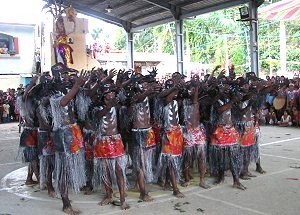 The Daramsiyaw Festival performers of Daram
As Daram Mayor Astorga said, although President Gloria was unable to push through with her trip to Daram, she gave instructions for all activities during her scheduled January 14 visit be continued. Without the instruction of the President, the activities could have been cancelled, the Mayor added.
During her welcome message in the short program attended by Presidential Assistant for Eastern Visayas, Honorable Cynthia Nierras, Congresswoman Sharee Ann Tan, two board members of Samar, Catbalogan Councilor Zosa and several regional directors, Mayor Astorga said that although the President was not able to push through with her trip to Daram, she and the Daramnons are still hoping that the President will visit them some other time because they really would like her to be the first President ever to set foot at the island municipality.
In 1963, the President's father, the late Past President Diosdado Macapagal, went to Daram, but he was not yet the President then, he was campaigning to become a Senator, Mayor Astorga said.
Mayor Astorga and the people of Daram really prepared a big welcome for the President. A drum and bugle corps and the Daramsiyaw cultural group were supposed to have been at the oval where the President's chopper would land, to welcome the President and lead her to the municipal gym where the program was to be held.
Since the President's trip was cancelled, drum and bugle corp and the Daramsiyaw cultural dancers were instead at the port together with Mayor Astorga to meet the visitors.
All the municipal and barangay officials were present during the program which was preceded by a cultural presentation by the students who presented the Sarakiki Festival and the Daramsiyaw cultural presentation.
The Program was highlighted with the launching of projects for the municipality of Daram. These include the Parasan Island Expanded Hybrid Yellow Corn Production Project costing P400,000 which according to DA Director Leo Caneda will benefit the five barangays of Parasan Island. A total of 200 bags of hybrid yellow corn seeds were distributed to 200 farmer families in the Parasan Island ARC.
Also launched were the two Agrarian Reform Communities in Daram, the West Daram Agrarian Reform Community Project which covers a total of 2,760 hectares of land in 11 barangays that would benefit 347 farmer families; and the Parasan Special Agrarian Reform Community which covers 1,107 hectares of land in 5 barangays that directly benefit 267 farmer families in Parasan Island.
The distribution of checks for Bagsakan Center and for coconut farmers, agricultural inputs like seeds, fertilizer, seaweed seedlings; medicines, and Certificate of Land Ownership Award, were also conducted.
Pre-school children were also recipients of one kilo of fortified rice each under the President's Food for School Program while about 386 senior citizens received PGMA's P500. Cash assistance under the Katas ng VAT: Tulong Para Kay Lolo at Lola.
About 2000 poor families went home happy because of the President's family gift pack which costed about P350 per family.
A one day medical and dental mission, conducted by the PGMA Caravan led by PAGCOR, was availed of by the people of Daram.
Gov. Petilla bares priority plans for 2009
By Provincial Media Relations Center
January 17, 2009
TACLOBAN CITY – Leyte Governor Carlos Jericho Petilla emphasized his administration's thrust for 2009 would still be on generating more jobs through the information and communication technology and the tourism industries respectively.
This plan he said, has been manifested during the last Provincial Development Council Meeting for the Leyte province where he emphasized that in providing jobs and business opportunities, would help abate the province employment dilemma.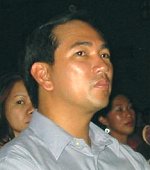 Leyte Governor Icot Petilla
"Tourism is considered one of the major growth sectors in the country today. It can create jobs rapidly, at relatively low cost and, with much flexibility. It creates human resource-intensive jobs which means it employs more people and not machines unlike other industries," Gov. Petilla said.
Thus he said, he has already encouraged local government units to formulate tourism programs and policies to enhance the positive impacts tourism can have on life, culture, and economy.
He added that through the tourism industry, economic conditions can be revitalized especially in less-developed areas as tourism generates jobs for the local town people.
In particular, the bulk of employment creation will emanate from the passenger transport, retail trade, hotel and accommodation, restaurants, travel agency and tour operations, and recreation and entertainment.
Direct and indirect employment targets in the tourism sector are projected to increase proportionately with the growth in visitor arrivals.
Towards this thrust, Gov. Petilla said Leyte's hosting of the 2009 Palarong Pambansa during the summer, is one big tourism promotion.
Also, he said, with the management of the Mac Arthur Park Beach Resort Hotel now placed under the provincial government, and with some interested investors signifying their interest to develop the place, more tourism bustle can be put into place.
Meanwhile, the governor disclosed that promoting the ICT industry would still be among his priority this 2009 saying ICT is the wave of the future and the foundation of tomorrow's economic development.
Towards this end, he disclosed, the province would continue to banner the Leyte ICT Park as an IT destination in the Eastern Visayas region.
In making the PEZA declared facility as an alternative IT destination in the Visayas would mean the province would continue its goal to provide accessible infrastructure, the development of world-class manpower, and a responsive government support service.
Already, by February, APAC Customer Services Inc., the first call center locator at the Leyte ICT Park, is targeted to formally start their operation that is employing hundreds of local workers.
Chiz to probe bribery scandal in prosecution service
By Office of Senator Chiz Escudero
January 16, 2009
PASAY CITY, Philippines – Purported acquittal of cases involving heinous crimes through alleged bribery and influence peddling in the National Prosecution Service will be probed by the Senate Committee on Justice and Human Rights once congressional session opens next week.
Senator Chiz Escudero, committee chairman said he is filing a resolution today to look into the alleged bribery scandal which has brought to fore a very serious issue concerning the administration of justice itself.
Escudero said the allegations involving the country's prosecutors are too disturbing to be ignored especially since these have been said to result to the acquittal of cases like large scale smuggling, plunder, rape and drug-related crimes.
The senator wants to validate reports that almost 80% of all cases filed in court have been dismissed, specifically illegal drug cases being handled by the Philippine Enforcement Drug Agency (PDEA).
"Such statistics is equivalent to two-is-to-one ratio of dismissal and acquittal as against conviction relating to illegal drugs alone".
Escudero is also after the track record of prosecutors in relation to the cases they have handled and are handling.
"Isa sa titingnan namin yung track record ng mga prosecutor pagdating sa mga kasong isinasampa o nirerekomendahan nilang madismiss, ilan na ba ito, ano ano klaseng kaso ito at kung mayroon tayong judge-bitay ika nga na noon, puro mga execution ang mga desisyon. Baka naman may mga piskal tayo na puro dismissal din ang desisyon ng anumang kasong nakakarating sa kanilang lamesa, kukunin naming ang statistics at datos dahil baka may pattern tayong makikita tungkol sa bagay na ito" Escudero said.
Escudero said the whole National Prosecution Service must be reviewed and accordingly provided appropriate safeguards to thwart any possibility of bribery or influence peddling.
"It really must be looked into and, if warranted, be tempered with appropriate legislation to avoid their office's vulnerability to money and fortune".
As this developed, the senator challenged the Office of the Ombudsman, which has now started a "quiet" probe into the matter, to really rise up in this issue and to show something for its investigation on this issue and all other issues in the past.
He said Ombudsman Gutierrez cannot sit idly by anymore as she did with previous issues under her office because this bribery scandal has shown the vast powers granted by law to public prosecutors.
"The Ombudsman is the underbelly of the government's cleansing system. Ombudsman Gutierrez has been one with the DOJ before she went to OSG. As a way of personal and professional aside, she should see to it that the National Prosecution Service and all government agencies for that matter, is properly cleansed and policed".
Was it too early for 2009 or too late for 2008?
Christmas comes in January for 2 thousand Daram families
By NINFA B. QUIRANTE (PIA Samar)
January 15, 2009
CATBALOGAN CITY, Samar – Two thousand families from Daram, Samar an island town located within an hour of boat ride from Samar's capital city of Catbalogan, received family gift packs worth P350 during yesterday's fiesta celebration honoring Sto. Niño.
Regional Director Ben Marta of National Food Authority (NFA) and Regional Director of Department of Social welfare and Development (DSWD) Letty Corillo distributed the gift packs with Daram Mayor Lucia Astorga, Rep. Sharee Ann Tan and Presidential Assistant for Eastern Visayas Cynthia Nierras.
Nierras mentioned in her speech that there are some 5 thousand families considered poor in Daram and that somehow, the gift packs made the two thousand families feel better for at least sometime.
The gift packs came from President Gloria Macapagal-Arroyo who would have done the distribution herself had it not been for the problems regarding natural calamities that plague Mindanao presently.
During the distribution, some 20 families from Barangay Casab-ahan, Daram trooped to the town hall for their packs, others claimed their packs after the program.
Daramnons received a deluge of "assistance" from PGMA like seed corns for planting in the Agrarian Reform Area in Barangay Parasan; check worth P200,000 for the LGU for the establishment of a 'Bagsakan Center', Food for School rice rations for Day Care center kids and Katas ng VAT Tulong Para kay Lolo at Lola one time cash gift of P500 for senior citizens aged 70 and above but are not pensioners.
Fisherfolks also received seaweeds as planting materials from the Bureau of Fisheries and Aquatic Resources (BFAR) for Daram's productive marine habitat and some 20 Botika ng Barangay boxes of medicines for the BnB operators.
Representative Sharee Ann Tan sponsored the training of BnB operators and was given a citation for her 'support'.
Philippine Coconut Authority (PCA) also distributed checks worth P183,000 for 53 farmers who joined the Participatory Coconut Planting Program, Regional manager Edilberto Nierva was present to distribute the checks.
Other VIPs spotted by the media include Regional Directors Olive Tiu of PIA, DOH Regional Director Ed Gonzaga, BFAR's John Albaladejo, DA Leo Cañeda, TESDA's Samar Provincial Chief Cleta Omega, NFA's Frannie Mercado, Grecon President Dr. Leo Lofranco and a host of DAR Samar officials led by Mr. Inigo Dacuag and Ms. Nenita Abinguna.
Samar's Board Members Tom Bolastig, Jimmy Dy and Catbalogan City councilor Vaughn Zosa were also present in the big-time distribution program.
Daramsiyao dancers choreographed by Fr. Melvin Ojeda and DepEd children provided grandiose production numbers while the 8th Infantry Division band welcomed the visitors and played the national anthem.
Mayor Astorga was beside herself with joy as she received her numerous guests which filled M/B Islander ferried from Catbalogan City, despite the turbulent waves in the Samar Sea.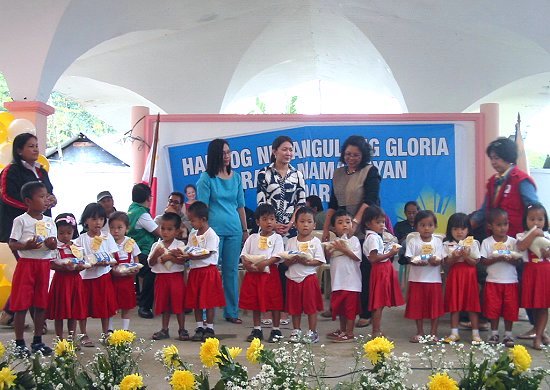 Day Care Center school kids received their Food for School rice rations in a ceremonial program held in Daram on Wednesday. In photo together with the kids (from R-L): DSWD regional director Letecia Corillo, Presidential Assistant for Eastern Visayas Cynthia Nierras, Congresswoman Sharee Ann Tan and Daram mayor Lou Astorga.
Gov. Petilla explains retrenchment of capitol workers
By Provincial Media Relations Center
January 15, 2009
TACLOBAN CITY – Leyte Governor Carlos Jericho Petilla explained the retrenchment of capitol employees this year is not a matter of choice but an action caused for a limited fund and the salary cap permitted to local government units by the budget department.
Speaking for the first time regarding the retrenchment issue of over 100 employees at the Leyte Provincial Capitol, he appealed for the reality that the situation call for.
"Contrary to what has been speculated and talked about for the past weeks, the decision really came from the fact that with lesser budget we have to cut loose on some ends somehow. And with the bulk of the yearly provincial budget going to salaries of the capitol employees, we are presented a choice to cut on expenses on employee salaries," Gov. Petilla explained.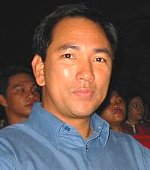 Leyte Governor Icot Petilla
He however dispelled earlier reports the retrenchment would be based on the residency of the employees, particularly Tacloban based employees after the latter recently earned its status of a highly urbanized city and officially detached itself from the province with its reclassification.
"This is one thing that I would like to clarify most. If it would be because of the reclassification of Tacloban, the first to be retrenched would be our provincial administrator (Vincent Emnas) because he is from Tacloban. We also have our department heads who are from Tacloban City and other persons holding positions. If we would base our retrenchment on that we would definitely lose a significant number of capitol employees," Gov. Petilla said.
With the more or less 2,300 capitol employees, the provincial government spends around P450 million for employees' salaries yearly roughly about 50% of the yealry internal revenue allotment (IRA) of P950 million.
"It is a situation where we have to choose between cutting on our allocation for projects such as roads, our bridges, our health programs and others or to really look into our employees kon ano gud an mga positions nga are really vital and important and are doing their jobs," the governor said.
Further, he added that with the lesser budget for the province, it also has to conform with the salary cap set by the Department of Budget and Management which is at 45% of the total budget allocation.
"We may have a problem in explaining why with a lesser budget we would still be maintaining the same allocation for the same number of employees. With a lesser budget it would mean a lesser 45% salary cap for employees' salaries so naturally we would cut on that," the governor added.
Meantime, casual employees would be renewed contract for two months and examined which positions are really important to the functions and operations of the provincial government. Those that would be deemed unnecessary may be finally retrenched after such period.
As earlier reported, Provincial Administrator Vincent Emnas disclosed over 100 employees of the Leyte provincial Capitol stand to lose their jobs early 2009 with the province's internal revenue allotment dropping by P90 million following the conversion of Tacloban into a highly urbanized city (HUC).
However, Emnas said that the planned mass termination of these employees should not be interpreted as an act of retaliation on the part of the provincial government but rather an act of fiscal management of the province.
Government allocates P2.8 B for cost-sharing with LGUs' solid waste program
By Philippine Information Agency (PIA 8)
January 15, 2009
TACLOBAN CITY, Leyte – The National Government allocated P2.8 Billion for cost-sharing with local government units to facilitate the shift from open and and controlled dumpsites to sanitary landfills.
In a proposed financing scheme for solid waste management program that he presented to President Gloria Macapagal-Arroyo in a recent cabinet meeting, Secretary Atienza recommended the provision of a National Government grant of 40% for 1st- and 2nd- class cities and 25% to 3rd- and 4th- class cities.
It was also recommended that the LGU share be either sourced from local resources or from loans to funding agencies.
This is expected to facilitate the compliance of the local government units in the DENR's continuing directive for the eventual phaseout of all open and controlled dumpsites to shift to sanitary landfills.
The local government units have most often cited the lack of funding as barrier to compliance to the Solid Waste Management Act particularly the establishment of a sanitary landfill.
At present, financing of solid waste management activities are from internal revenue allotment, additional income sources from taxes, licenses and fines and loans from financing institutions.
The government continues to call for the establishment and sound management of landfill sites in the country in order to address the threats of waste to the environment and to human health.
Section 37 of the Republic Act 9003 or the Ecological Solid Waste Management Act of 2000 said Act provided the deadlines on the shift from open dump to controlled dump by February 2004 and the phaseout of controlled dumpsite by February 2006.
Based on records of the National Solid Waste Management Commission (NSWMC), there are 16 existing sanitary landfills in the country. In addition, there are 19 landfill sites which have already been issued environmental compliance certificates (ECCs) and undergoing construction.
An updated report from the National Solid Waste Management Commission (NSWMC) cites 931 "non-complying LGUS" nationwide that have been issued warning letters by the DENR.
The first notices have been sent out; two months after, the second letter has be sent. After four months, the final notice has been sent. If the LGUs have not complied yet, Secretary Atienza said that DENR will have to start filing charges.
6 dead, 2 injured, 13,480 affected by landslide, flooding in Northern Samar
By Philippine Information Agency (PIA 8)
January 13, 2009
TACLOBAN CITY, Leyte – At least six persons died, two others injured and 13,480 persons were affected by the landslide and flooding on January 10, brought about by continuous heavy rains in Northern Samar, the Regional Disaster Coordinating Council headed by PRO8 Director Abner Cabalquinto reported.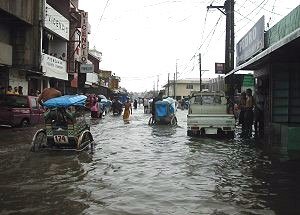 A landslide incident occurred at Barangay Ocad in the municipality of Lavezares, Northern Samar, at about 1:00 o'clock in the morning of January 10. All the six members of one young family were declared dead as their house was buried under debris.
Two other persons were reported injured during the landslide which totally destroyed about four houses.
The dead persons were identified as Edwin dela Cruz, 31 years old; his wife Gemma dela Cruz, 32 years old; and their children Dina, 5 years old; Ina, 4 years old; Carla, 2½ years old; and Rowena, 1 year and four months old.
Those injured who were identified as Victor Espina, 47 years old and Pacita Esplana, 40 years old, are presently confined at the Northern Samar Provincial Hospital.
The local government of Lavezares headed by Mayor Quintin Saludaga, shouldered the burial expenses like the caskets amounting to P26,000.
The continuous heavy rains also caused flooding in about five barangays of Lavezares town. About 831 families were affected and ten families with 50 individuals evacuated at the Lavezares Elementary School.
Three other municipalities of Northern Samar were affected by flooding. These are Bobon, Catarman and San Roque.
In Bobon town, 881 families or 4,405 persons in seven barangays were affected by the flooding. In San Roque, flooding occurred in 8 barangays and affected 684 families or 3420 persons.
In Catarman which is the capital town, 500 families or 2,500 persons in 24 barangays were affected. The Provincial Capitol Building became the temporary evacuation center for the 55 families composed of 275 persons who were affected by the flooding.
The Provincial Disaster Management Office of Northern Samar conducted relief operations in the Municipality of Lavezares on January 10. The Local Government of Lavesares also extended relief operations amounting to P46,800 to the people in the affected barangays.
Meanwhile, the Department of Social Welfare and Development Region 8 allocated 1,000 family food packs for the affected people in the affected municipalities. The SWAD team of Northern Samar has been dispatched to the affected areas to conduct rapid assessment and closely work with the concerned MSWDOs to determine the situation of the affected families.
The Regional Disaster Coordinating Council is constantly monitoring and coordinating with the concerned local disaster coordinating councils in order to know the needs of the said areas.
9 Fishermen missing in East Visayas due to continuous rains
By Philippine Information Agency (PIA 8)
January 13, 2009
TACLOBAN CITY, Leyte – About 9 fishermen from Leyte and Eastern Samar have been reported as missing on January 11, 2009, the Regional Disaster Coordinating Council of Eastern Visayas informed.
At about 2:20 in the afternoon of January 11, the RDCC Operations Center received a report from the Leyte Provincial Disaster Coordinating Council that two (2) fishermen from Barangay San Roque, Tolosa, Leyte were missing.
The two fishermen identified as Arnold Abello, 59 years old and Rogelio Advincula, 61 years old, allegedly left for fishing at around 4:00 o'clock in the morning of January 10, 2009. However, until the time of reporting, the two fishermen have not returned home.
The RDCC coordinated with the Philippine Coast Guard for possible Search and Rescue Operation. The Search and Rescue Team of Leyte is also on standby for possible deployment while the Bantay Dagat of Tolosa, Leyte conducted Search and Rescue Operations Operations for the missing persons on January 11.
Meanwhile, at about 5:00 o'clock in the afternoon of January 11, the RDCC Operations Center received a report regarding a missing motorized banca "Rogin" with seven (7) persons aboard from Suluan Island in Guiuan, Eastern Samar.
The said motorized banca left Guiuan at 3:00 o'clock in the afternoon of January 10, heading home to Suluan Island but until January 11, they have not reached home.
The last communication from them was at around 6:30 in the afternoon of January 10, informing their relatives in Suluan of the sudden change in sea condition producing big waves.
Volunteer motorized bancas from Suluan Island conducted search and rescue operations for the missing persons in the morning of January 11 but failed to locate the same.
The missing persons from Suluan were identified as Aileen Escoto, Alfonso Badar, Jose Talavero, Francis Mae Talavero, Tereso Garcao, Aida Mercado and Peroncio Mercado.
Meanwhile, it was learned that many travelers going to Region 8 were stranded for two days, since January 10 until the afternoon of January 11, at the port at Matnog, Sorsogon.
The commuters were not allowed to cross because of very rough seas. They were only allowed to proceed, in the afternoon of January 11.
Region 8 has new RED as DENR reshuffles Regional Executive Directors
By Philippine Information Agency (PIA8)
January 13, 2009
TACLOBAN CITY, Leyte – Region 8 has new Department of Environment and Natural Resources Regional Executive Director as a result of Sectary Atienza's reshuffling of DENR regional executive directors.
Effective January 9, the new DENR 8 Regional Executive Director is Regidor M. De Leon who was formerly the RED for Region 3. He replaces RED Alfredo Pascual Jr., who is assigned to the Central Office.
Under DENR Special Order No. 2009-01, all the newly assigned REDs have been directed to report to their new assignment on January 9. As such, they were ordered to clear themselves from all their accountabilities from their prior assignments.
To emphasize their accountability to DENR resources, the reshuffled officials were barred from bringing their service vehicles to their new assignments
Department of Environment and Natural Resources (DENR) Secretary Lito Atienza on January 5, issued a special order reorganizing the Department's regional executive directors (REDs) nationwide.
Secretary Atienza said that the reassignment of the regional executive directors is part of the agency's continuing organizational development. No less than President Gloria Macapagal-Arroyo expects from the department a more vibrant management of the environment and natural wealth.
With the new team, Secretary Atienza said he expects a more effective environment governance particularly in the enforcement of environmental laws.
Secretary Atienza underscored that the regional officials will not only exercise authority but also observe accountability. Any illegal activity in their respective jurisdictions, especially illegal logging, illegal mining and degradation of water bodies and protected areas, the REDs will be made responsible and liable. If warranted, charges will be filed against negligent DENR officials, Secretary Atienza added.
The newly assigned regional executive directors are Primitivo C. Galinato, Jr. for Cordillera Administrative Region (formerly detailed to the Legal Division of the Forest Management Bureau); Corazon C. Davis for Region 1 (formerly RED of DENR-NCR); Laureano B. Lingan, Jr. for Region 2 (formerly Regional Technical Director for Forestry, Region 2); Antonio G. Principe for Region 3 (formerly with the Office of Undersecretary for Field Operations); Jose Andres L. Diaz for National Capital Region (formerly Assistant Director of Protected Areas and Wildlife Bureau); Nilo B. Tamoria for Region 4-A; and Marcial C. Amaro, Jr. for Region 4-B.
The other newly assigned regional executive directors are Joselin Marcus E.. Fragada for Region 5; Ricardo L. Calderon for Region 6 (formerly RED of Region 11); Leonardo R. Sibbaluca for Region 7; Maximo O. Dichoso for Region 9 (formerly RED of Region 10); Ernesto D. Adobo, Jr. for Region 10 (formerly RED of Region 9); Jim O. Sampulna for Region 11 (formerly RED of Region 12); Raquil-ali M. Lucman for Region 12 (formerly Provincial Environment and Natural Resources Officer (PENRO) for Misamis Occidental, Region 10); and Edilberto S. Buiser for Region 13.
Search is on for RP's Outstanding Teachers
By Philippine Information Agency (PIA 8)
January 13, 2009
TACLOBAN CITY, Leyte – Metrobank Foundation, Inc., in cooperation with the Department of Education has launched the 2009 Search for Outstanding Teachers which bestows honor upon the teaching profession by according special recognition to teachers who manifest profound commitment to the development of the country's youth.
The Search singles out teachers who have made a significant contribution to national development raising the quality of outcomes of education through their effective, innovative and creative teaching strategies, materials and devices and their admirable efforts to bring the school closer to the community and consequently, the community to the school, and in so doing, providing models of excellence in the teaching profession.
The Search honors teachers in all levels of education, for their exemplary competence, remarkable dedication to their work and effective educational leadership. It is open to all teachers who are Filipino citizens with full load in the elementary and secondary schools, colleges and universities, who have been actively teaching in the Philippines for the last ten years.
For both the elementary and secondary categories, the basic educational requirement is bachelors degree. The average performance ratings for the last five years should at least be "Very Satisfactory" with no rating below "Satisfactory."
Elementary schools are entitled to nominate one each from the primary (kinder to Grade III) and intermediate (grade IV to grade VI) grade levels while high schools and colleges and universities are entitled to nominate only one teacher each for the secondary and higher education categories.
The nominees must be endorsed by principals, head teachers or school heads who are the only ones authorized to nominate teachers to the Search.
Head Teachers, Teachers in Charge, Assistant Principals are eligible to join the Search provided they carry a teaching load of at least 50% of the total load required. However, they should be endorsed by any of the Division Supervisors and the Division Superintendent concerned as the official nominators.
The nominators are required to accomplish and sign the nomination forms with the complete required attachments and submit one original copy to any Metrobank Branch nearest the nominee's school on or before February 13, 2009, or sign via courier to Metrobank Foundation, 15th Floor, Metrobank Plaza, Sen. Gil Puyat St., Makati City on or before February 14, 2009. There is no need to send the supporting documents yet.
Winners of outstanding teacher-related awards conducted by reputable organizations at the national and international levels, and past semi-finalists and finalists of the Search are deemed automatic second-round qualifiers, provided they meet the basic eligibility requirements of tenure, performance and teaching load and passed levels of screening.
Biliran has new PNP chief
By FLOR JACKSON (PIA Biliran)
January 12, 2009
NAVAL, Biliran – PSSupt. Leonardo M. Cesneros was installed on January 9, 2009 as the new Philippine National Police (PNP) Provincial Director of Biliran by no less than Gen. Abner D. Cabalquinto, PNP Regional Director of Eastern Visayas in simple ceremonies held at the Biliran Police Provincial Office (BPPO) compound in Brgy. Larrazabal, Naval in the province of Biliran.
The ceremony was attended by Biliran Vice-Governor Lucila Curso, Mayor Susan Parilla of the municipality of Naval, the capital town of Biliran province, Mayor Floresca Delante of Caibiran, Biliran town Mayor Carlos Chan, Sangguniang Panlalawigan members Engr. Eriberto Tubis, Eden Apolinar and Gina Enage, chiefs of police of the eight municipalities of the province, officers and men of the PNP in the municipalities and in the province, media and other guests.
In his welcome remarks, PSupt. Excel Lamerez, Deputy Provincial Director for Administration described outgoing PNP Provincial Director PSSupt. Arcadio Lelis as a good leader when he said "he had shown the qualities of a good leader that everyone desires – a leader by example who aspires for the welfare of his men".
"PSSupt. Cesneros, the incoming provincial director and alumnus of the Philippine National Police Academy (PNPA), the country's prestigious police academy, shares common leadership qualities with PSSupt. Lelis, hence, the province of Biliran is assured of a quality public service by the BPPO", he said.
The reading of termination order for PSSupt. Lelis as outgoing PNP Provincial Commander of Biliran province and the Designation Order for PSSupt. Cesneros was done by PSupt Raul Saysay, Deputy Regional Personnel and Human Resource Doctrine Division (RPHRDD) of PNP region 8.
In his remarks and relinquishment of office, PSSupt. Lelis appealed to the officers and men of the BPPO to extend their assistance and full support to the new provincial director.
For his part, PSSupt. Cesneros in his acceptance speech said "I only have few things to say – I am here to carry out the mission of the PNP, to enforce the law, prevent crime and maintain peace and order with the active support of the community".
He appealed and sought the support of the local officials present during the turn-over ceremony as he assured Gen. Cabalquinto that he will do his best as PNP Provincial Director of Biliran province.
Furthermore, he said, "I will do my best to make BPPO as the best PNP provincial office in region 8, but I cannot do this without your support."
He ended by saying "I have nothing in mind but to protect the people of Biliran".
Gen. Cabalquinto who capped the turn-over ceremony with his message thanked Col. Lelis for accepting the assignment as OIC Provincial Director of Biliran PPO inspite of his rank as Deputy Regional Director for Operations at the PNP regional office in Tacloban City.
He urged the officers and men present during the turn-over ceremony to be more credible and effective in doing their jobs as he said "Col. Lelis has these criteria".
"Biliran peace and order is unique and it is a challenge to the new Provincial Director", he said.
"I am urging all policemen in Biliran to exercise professionalism in everything you do. Always be professional and sustain the best practices of the PNP organization. Be loyal to all and not to any organizations or political groups", he added.
Before he ended his message, Gen. Cabalquinto announced that he will give additional four patrol cars and equipment to BPPO next month so that as PSSupt. Cesneros assumes office, all the eight municipalities of Biliran will have their respective patrol cars.
Maasin mayor simplifies business processing
By BONG PEDALINO (PIA Southern Leyte)
January 12, 2009
MAASIN CITY, Southern Leyte – Determined to attract investors to come and locate their shops here, the local government (LGU) unit starting this year has eased the requirements for Social Security System (SSS) coverage and the mandatory fees imposed by the Bureau of Internal Revenue (BIR), excluding these two as compulsory in the renewal or new applications for business transactions in the city.
City Hall also lifted the requirement on building permit as a pre-requisite regulation prior to renewing the Mayor's permit and related licenses of an already operating business establishment or one about to be opened.
This was one of the major changes announced by City Mayor Maloney Samaco during his "2009 State-of-City Address (SOCA), Mid-Term Report" held at the Ampil Pensionne, this city, Friday, January 9.
"Other cities also waived these requirements, so we are just following what was commonly practiced," Samaco stressed.
In the brief interaction with local media following his speech, Samaco clarified that in previous years the SSS and the BIR made representations with the LGU and requested assistance, and these were duly accommodated.
The move to exempt local business from SSS and BIR dues came shortly after the Department of Trade and Industry (DTI) advised the LGU to shorten the processes of business procedures in the city, Samaco further explained.
"Our businessmen should not be made hostage to the regulatory functions of other agencies, for they have their own legal personnel to go after alleged erring businesses," Samaco pointed out at the impromptu press conference.
The initiative gained support from the local business community, observers noted, especially with the expected global economic slump that may linger and hit the country this year.
A one-stop signature desk covering health and fire requirements, among others, has been set-up already at the city hall for fast and expeditious processing of business licenses, this time minus the SSS, BIR, and building permit, Samaco said.
Maasin City is widely seen as an emerging market for potential capitalists, as shown by the series of building construction going on in the heart of the city last year.
DepEd adopts Chess in the school curriculum
By Philippine Information Agency (PIA 8)
January 12, 2009
TACLOBAN CITY, Leyte – Chess will soon become a part of the school curriculum, per DepEd Memorandum No. 1 series of 2009, issued on January 8.
Education Secretary Jesli Lapus said that the Department of Education will adopt Chess as a strategy to promote the development of higher order thinking skills and values Grades 3 - 6 in the subject Edukasyon sa Pagpapalakas ng Katawan (Physical Education).
Chess will also be used at the secondary level as part of the Physical Education curriculum.
Furthermore, Chess will remain as a game category in the Provincial, Regional and National athletic games.
Global studies have shown that Chess is a game that improves individual organizational and analytic skills, Secretary Lapus said. Children when exposed to this game at an early age achieved academically better or even faster than those who have not been engaged in this game.
Chess is also among the activities that help build memory skills, concentration, self-confidence, self esteem, and in making disciplined divisions. Playing Chess provides opportunities to practice such values as perseverance, honesty and sportsmanship.
In order to facilitate the successful inclusion of Chess in the curriculum, Secretary Lapus has given specific directives to the DepEd Central, Regional and Division Offices.
He has directed the Division Offices to conduct mapping of Chess experts in the community to mentor teachers and children. The Division Offices have been directed to purchase chess sets using their MOOE and to provide each school with Chess sets following the three sets per class ratio.
The Divisions will also launch Project Chess with parents, local government units and non-government organizations in the community in order to generate awareness, support and appreciation of such strategy. Distribution of Chess sets will be done during the launching.
The Regions will monitor the utilization of Chess as strategy to develop higher order skills and values and provide technical assistance.
The Central Office will formulate guidelines, manual and or lesson exemplars on the use of Chess in developing higher order thinking skills and values in the elementary level and to enhance the existing practice at the secondary level.