An Waray partylist donates P1M for training center in Basey
By NINFA B. QUIRANTE (PIA Samar)
September 24, 2008
CATBALOGAN CITY, Samar – An Waray Partylist through Representative Florencio "Bembem" Noel is set to donate another one million for an additional space and building of the recently inaugurated Basey Manpower Training Center.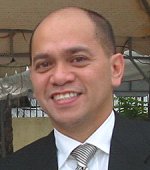 Congressman Bembem Noel
During his message in the inauguration Rep Noel announced that he will add another one million pesos to have another building to accommodate more trainees from Basey.
Basey Mayor Wilfredo Estorninos said that it was An Waray through Noel that provided the equipments and materials for the training center.
Noel also said that like Estorninos, he was willing to sponsor the training of some more workers for another P 100,000.00 scholarship grant from the Partylist.
The announcement received applause from the barangay officials of Basey gathered to witness the inauguration in time for Basey's Pagbungto Rites on September 19, 2008.
In his message, Noel congratulated the LGU of Basey for a good job – that of providing job opportunities for the people.
He also explained that while he accepts Resolutions from barangays, he is trying to apportion his funds to all 143 towns and cities of the whole Region 8. He added that his case is different from the District Representatives because assistance is concentrated.
Noel also gave cash assistance to Basey LGU for the numerous socio-civic and religious affairs the town is set to do this coming fiesta in honor of St. Michael de Arcangel on September 28-29, 2008.
Typhoon Nina leaves 1 dead in Samar
By Philippine Information Agency (PIA 8)
September 24, 2008
TACLOBAN CITY, Leyte – Aside from bringing strong winds and heavy rains to Eastern Visayas on September 20 and 21, typhoon Nina left one person dead in Catbalogan, Samar.
Reports received at the Regional Disaster Coordinating Council Operations Center indicated that the dead body of a certain Rodrigo Duena, 29 years old, a fisherman from Barangay Mercedes, Catbalogan City was found floating on September 22, 2008 along Antiao River in Catbalogan City. It was learned that Duena went fishing at the heights of the heavy rains.
No sea-going vessels were allowed to travel on September 20 which left about 1000 passengers were left stranded at the Looc Ferry Terminal and Dapdap Ferry in Allen, Northern Samar as typhoon signal number 2 was raised at Catanduanes while signal number 1 was raised at the three provinces of Samar Island, Camarines Norte, Camarines Sur, Albay, Legaspi, Sorsogon, Northern Quezon including Polilio Island, Arora, Isabela and Cagayan, the RDCC Operations Center reported.
All terminals in Northern Samar resumed their operations on September 21, at 12:00 noon when the storm signal in Samar provinces was lifted. As of 8:00 o'clock in the morning of September 22, there are no more stranded passengers, OCD 8 Regional Director Angel D. Gaviola, RDCC8 Executive Director, said.
Director Gaviola said that the Regional Disaster Coordinating Council in Eastern Visayas disseminated weather and flood advisories to all concerned Disaster Coordinating Councils and to media outlets; and advised those concerned to take appropriate actions, in the wake of typhoon Nina.
In Region 8 the river systems and streams which were critical as they may be affected by the heavy rains were Cabuyan, Bato and Pajo Rivers in Eastern Samar; Catarman, Bugko, Pambukhan, Catubig and Palapag Rivers in Northern Samar; and Basey, Calbiga and Silaga in Samar.
RDCC 8 also coordinated with the Rescue Teams and other volunteer groups in Region8 in preparation for Typhoon Nina, Director Gaviola said.
Talks on federalism opened to governors
By Provincial Media Relations Center (PMRC Leyte)
September 23, 2008
TACLOBAN CITY, Leyte – Leyte Governor Carlos Jericho Petilla disclosed talks on dividing the country into federal states has already been opened in the tables of the League of Provinces of the Philippines (LPP) with governors seeking to be educated and see the different types of federalism.
In a recent gathering of the league in Cebu, he said, the pros and cons in adapting federalism has been presented to the different governor where the foremost question was whether this system of government would enhance local autonomy and promote peace.
The objective of the forum, it was learned, was to bring together local chief executives and advocates of federalism in a "scholarly discussion" on the basic principles of a federal government.
"The league has yet to make a final stand though. The league wanted to start the discussion and the free flow of information coming from different sectors of society," said Gov. Petilla who is the league's current Public Information Officer for the Visayas.
Personally he said, the basic question of economic growth could lie in the equity among regions and among households and regional representations in the national government. Given the Philippine context, it is said that federalism will enhance the autonomy of local governments and the right to chart one's development path.
Although, the governor said, other aspects also have to be highly considered.
It was cited that the present form of government is a "highly centralized unitary system" which is one weakness that needed to be solved.
On the one hand, the governor said, Leyte can stand to benefit in terms of taxes and revenues, where local companies can directly remit their taxes to the local government.
It was learned that depending on the needs and negotiations between the federal and state governments, there will be responsibilities that will belong exclusively to the federal government such as foreign affairs, defense and currency; powers that will belong exclusively to state governments such as social services, agriculture and health; as well as shared responsibilities such as environment, education and trade.
Although the LPP has yet to make a collective stand, Gov. Petilla said, the more or less 20 governors who attended the said forum provided an open response to talks of federalism.
Greenpeace, Laguna youth lead clean up of Laguna de Bay
Press Release
By GREENPEACE
September 20, 2008
CALAMBA CITY, Philippines – Around five hundred Greenpeace Water Patrol volunteers and youth from Laguna Province led a clean up of floating trash in and around Laguna de Bay on World Coastal Clean Up Day today. The clean up was conducted even as the volunteers called on concerned government agencies to also protect Laguna Lake from less visible but more dangerous chemical and organic pollutants.
"Laguna de Bay is perhaps the country's most important freshwater body and should be protected to meet the needs of future generations. Besides the visible garbage and rubbish from our daily lives that is indiscriminately dumped here, Laguna lake is also under severe threat from less visible but more dangerous toxic pollutants from the industrial sector," said Beau Baconguis, Campaign Manager, Greenpeace Southeast Asia. "Increasing demand combined with the vagaries of hydrological patterns due to climate change a global fresh water crisis is looming ahead of us, as it is experts have predicted the death of Laguna in next five years if we do not implement measures to protect it now," she added.
More than 16 million people rely on Laguna Lake for food, water and livelihood, but its water quality is severely compromised by pollution. Industrial pollution from factories, domestic and municipal sewage, agricultural runoff and waste dumps are among the lake's most blatant sources of toxic pollution.
"Laguna Lake is a treasure of the province of Laguna that is why our youth saw the need to help protect it, starting with their participation in today's global clean up. We want this to be the beginning of a longer term engagement of Laguna's youth, as part of the Water Patrol to conserve and protect Laguna Lake," said Fatima Villaseñor, Head of the Youth Development Affairs Office of the Province of Laguna.
The clean up, which marks the start of a partnership between the Greenpeace Water Patrol and the Youth Development Affairs Office of the Provincial Government of Laguna, was conducted in the towns of Siniloan, Sta. Cruz, and Calamba, Laguna. Greenpeace Water Patrol activists onboard rubber boats and kayaks collected floating trash in the water while Laguna youth gathered waste on the shore.
Single-use or disposable plastics are expected to be the main culprit. An audit of the collected waste will be conducted by the EcoWaste Coalition to determine the amount and kinds of plastic which end up in Laguna de Bay. After auditing, the waste will be delivered to the Materials Recovery Facility (MRF) of the City of Calamba.
Laguna Lake is currently the focus of Greenpeace's 'Project Clean Water.' In April and August this year, Greenpeace Water Patrol exposed how Laguna Lake has been turning into a rubbish bin with waste dumps reclaiming the lake's shores.
Greenpeace launched 'Project Clean Water' in October 2007 with the aim to bring people together toward a common goal of safeguarding our water sources, and to catalyze much-needed action to reverse the continuing decline of our country's water resources.
Greenpeace is an independent, global campaigning organization that acts to change attitudes and behavior, to protect and conserve the environment, and to promote peace.
Basey LGU to start off fiesta celebration with religious, socio-civic and livelihood activities
By NINFA B. QUIRANTE (PIA Samar)
September 18, 2008
CATBALOGAN CITY, Samar – Basey LGU will start its fiesta celebration with different activities that caters to religious, socio-civic and livelihood activities as it is bound to start its first novena day on September 19, 2008.
Mayor Wilfredo Estorninos in a phone interview bared that on September 19, there will be a hectic schedule for his Basey folks.
Early on, his Basey constituents being devotees of Patron Saint Michael Archangel will celebrate the Pagbungto (coming to settlement) Rites.
A motorcade is scheduled from Basey to Barangay Binungtuan Chapel where a Eucharistic celebration will take place. From Barangay Binungtuan, the Basey devotees will conduct the image of the Patron Saint in a fluvial parade to terminate in the municipal wharf. Then, the image will be conducted to Barangay Buscada Chapel through a procession.
After the procession, the faithful and devotees will conduct St. Michael to Basey Gym where a scheduled vigil will last until the morning of the following day.
While the faithful Basaynons will take turns in the vigil, barangay officials and municipal officials will hold a Municipal Development Council Meeting including people's organizations (POs), Non-government Organizations (NGOs), and the two educational districts of Basey according to Val Estorninos, the municipal administrator.
As to pursuing livelihood activities, Basey LGU will inaugurate the Basey Manpower Training Center with TESDA.
The P1.5M building will house would be trainees to livelihood skills acquisition. Advance information received by PIA said bosses of TESDA, Overseas Workers Welfare Administration (OWWA), Department of Labor and Employment (DOLE) and Philippine Overseas Employment Agency (POEA) will attend the much awaited event.
All the activities will wind up at the Basey Municipal Gym in celebration of the ABC and LGU nite.
Basey has lined up several festivities to highlight with the longest Banig on September 28. Basaynons claim that Guiness Book of World Records will be setting a new record for this and said the event will be covered by major networks from Manila.
September 29 is the eve of the feast of St. Michael Arcangel, the centuries old Basey Church will be the center of all religious festivities.
According to writer Chito dela Torre, one of the oldest and earliest pueblos (towns) in the Philippine Islands, Basey is populated today by 43,809, most of whom are Roman Catholics who follow the teachings of Lord Jesus Christ and the practices of the Catholic Church.
Basey parish church and settlement are believed to have existed since 1591. The word Basey, history reveals is taken from the word bay-say (meaning beautiful).
Per PGMA instruction, DPWH fast-tracks infra projects in Eastern Visayas
By Philippine Information Agency (PIA 8)
September 18, 2008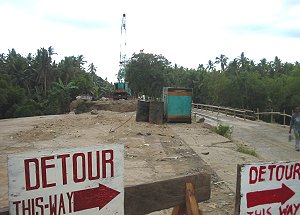 TACLOBAN CITY, Leyte – The Department of Public Works and Highways is now fast-tracking the implementation of the big infrastructure projects in Eastern Visayas, per instruction from no less than President Gloria Macapagal-Arroyo.
One of the vital road network in Eastern Visayas because it serves as access road to agricultural areas as well as tourist destinations, is the Gatanguit-Calbiga Road Project which was reported in June, 2008 to be 39.44% complete.
In his report to DPWH Secretary Hermogenes Ebdane, Jr., recently, Undersecretary Rafael C. Yabut disclosed that the road project is now 45.6% complete, ahead of scheduled accomplishment rating by 11.18%.
USec. Yabut who inspected the Project in July together with ASec. Jaime Pacanan and the DPWH Region 8 personnel, said that despite the frequent rains in the area, the accomplishment is beyond target because the contractor implemented measures such as overtime works especially in the production of sub-base and base course materials when the weather is good.
The Gatanguit-Calbiga Road Section which is under Phase !V of the Arterial Road Link Development Project, calls for the improvement and upgrading of about 59.53 kilometers of existing road. The Project commenced on January 16, 2007 and is scheduled to be completed in December of 2009.
On the other hand, the Department of Public Works and Highways reported that the Calbayog-Gatanguit Road Section which is included in Package III of the Arterial Road Links Development Project under the DPWH-Philippine Japan Highway Loan Project Management Office, is already 47.24% complete as of June 2008.
The Calbayog-Gatanguit Road Section under Package III of the Arterial Road Link Development Project, entails the improvement and upgrading of about 52.7 kilometers of existing road. The project started in November of 2006 and is scheduled to be completed by August of 2009.
Meanwhile, the Agas-Agas Viaduct Project was reported to be 52.93% complete as of June 2008. The Agas-Agas Viaduct extends 350 meters, its structure a mixture of steel and concrete, supported by two piers from the ground, and has a height of approximately 1000 feet from the ground.
Construction of the bridge was seen as a permanent solution to the perennial problem of unpassable road due to landslides which block the highway and sometime cause loss of lives and properties, especially during rainy season.
Leyte-based UP-Manila School of Health Sciences among this year's 7 CSC Presidential Lingkod Bayan awardees
By Philippine Information Agency (PIA 8)
September 15, 2008
TACLOBAN CITY, Leyte – The School of Health Sciences, the distance unit of the University of the Philippines-Manila which is based at Palo, Leyte, is one of this year's seven Presidential Lingkod Bayan Awardees under the Civil Service Commission's 2008 Honor Awards Program.
The UP School of Health Sciences-Manila which was formerly called UP Institute of Health, is being cited for pioneering the development and implementation of the ladderized education in the Philippines and for its "Doktor para sa Bayan" project.
It is being cited for producing world-class medical workers and ensuring quality and accessible health care for the country.
It pioneered the use of ladderized education through its step ladder curriculum, granted scholarships to 200 students yearly, and provided quality education in health profession, all of which have contributed to the pool of competent health workers, serving the medical needs of the Filipinos, especially the underprivileged.
The step-ladder curriculum is the main feature of the SHS academic program. Here, instead of the usual fragmented approach to health sciences education, the training of a broad range of health manpower from Barangay Health Worker to Doctor of Medicine is integrated into a single, sequential and continuous curriculum.
In the past five years, the group has maintained above average performance of its midwifery, nursing and medical students in the National Licensure Examinations. Moreover, it has successfully inculcated patriotism among its graduates such that 100% of its midwifery and nursing alumni, and 99.6% of its doctors, have remained working in the Philippines.
The UP SHS-Manila has been called a unique school of medicine was set up at the University of the Philippines in Palo, Leyte. It was deliberately designed to produce health professionals who would eventually serve their communities. The concept for this medical school was designed by a leading psychologist. Students who are admitted would only come from the rural areas of the country. Their psychological make-up would be that of rural folk who would not look for the amenities of sophisticated city life. Subjects were heavy on community medicine and community immersion.
The team members who will receive the award at the Rizal Hall of the Malacanan Palace on September 19, 2008 are Ms. Jusie Lydia J. Siega-Sur, Ramon Arcadio, Alan P. Baltazar, Romeo O. Ceniza, Amabel A. Ganzo, Evangeline C. Pasagui, Loreta C. Soledad, and Zenaida C. Varona.
The other 2008 Presidential Lingkod Bayan awardees are Mayor Roberto C. Agcaoile of San Mateo, Isabela; Warren L. Ambat, Teacher II of the Baguio City National High School; Dr. Celia Flor Brillantes of the Health Services Office of the Baguio City government; Mayor Ricardo Revita of Rosales, Pangasinan; Dr. Ceasar Saloma of the College of Sciences, University of the Philippines; and the Joint Department of Loans and Credit and Information Technology sub-Sector Teams for the development of the electronic rediscounting system of the Bangko Sentral ng Pilipinas.
Leyte signs MOA with LGUs for creation of Inter-local Health Zones
By Philippine Information Agency (PIA 8)
September 15, 2008
TACLOBAN CITY, Leyte – The Provincial Government of Leyte is scheduled to enter into an agreement with the municipalities in the province for the creation of inter local health zones, to work together more closely in addressing the health situation of the community.
The LGUs in Leyte will organize themselves into Inter-Local Health Zones that will integrate the implementation of the Department of Health's Fourmula One health reform strategies or Four-in-One Convergence sites with the support of GTZ.
Leyte Governor Carlos Jericho L. Petilla said that the signing of the agreement will be on September 15-16, 2008 in Manila where the local chief executives will visit an LGU facility with an exemplary health practice so they will gain some insights.
In the MOA signing program, DOH Region 8 Director Teogenes Baluma will welcome the participants while Undersecretary of Health Mario Villaverde, Undersecretary of Health David Lozada, Dr. Michael Adelheart, program manager of GTZ Health, and Governor Petilla will deliver their respective messages.
Short presentations on Local Health System, Inter-Local Health Zones Region 8 Experience and Provincial LGU Scoring System will be done by Director Juanito Taleon, Dr. Paula Paz Sydiongco and Dr. Edgardo E. Daya, respectively.
Dr. Lesmes Lumen, the Chairman of SP Leyte Committee on Health, will present the Memorandum of Agreement, afterwhich, the Inter-Local Health Zones MOA signing will be done by Governor Petilla, the participating LCEs, Director Baluma and the representative of the Philippine Health Insurance Corporation.
Tanauan Mayor Roque A. Tiu, the president of the Provincial League of Mayors will deliver the pledge of commitment, in behalf of the participating local chief executives.
Inter-Local Health Zones, managed by a governing board and technical management committee, is an inter-LGU cooperation that improves and coordinates all local health systems. It is where health reform initiatives are planned, developed and implemented.
Within the framework of the Philippine health sector reform initiative "FOURmula ONE for Health," the Department of Health is working with its partner, the GTZ, towards establishing a functional infrastructure with local health care services, including continuous assessment of their work; introducing and implementing programmes for sustainable population management, along with fair and transparent programme financing; supplying affordable pharmaceutical products, in particular to the poor; and advancing the national social health insurance scheme.
The Fourmula One for Health program has five components, support for local and national health care policy; pharmaceutical products; population management and reproductive health; further development of local health care systems; and national social health insurance.
Borongan bishop holds forum for peace, development
By ALICE NICART (PIA Eastern Samar)
September 14, 2008
BORONGAN CITY, Eastern Samar – "Realizing the current realities in the province, vis-à-vis, natural calamities, inflation, surge in prices of prime commodities", His Excellency Bishop Crispin B. Varquez of Borongan Diocese invited to a forum on Friday (Sept. 12) some stakeholders, leaders and sectoral representatives.
The forum was not however in any manner held, for the purpose of fault-finding but rather for the group to discuss what the people have longed for which is real peace and development, Bishop Varquez underscored in his letter.
As Fr. Cyrain Cabuenas put it in his rationale, the invitation was primarily for the concerned leaders and agencies to shade lights on peace and development efforts, to prioritize higher values and sacrifice for the common good.
Considering peace as the main ingredient for total development, it was deemed necessary for the military and the Philippine National Police (PNP) to update the forum with the current situations in regard to peace initiatives.
On the whole, Col. Alex Albano of the 801st Battalion claimed that since 2006 up to 2008, the insurgency problem went on downtrend, barangay affectation went negative and their engineering battalion has turned busy in implementing assigned infrastructure projects.
Asked if they are on track with the Department of National Defense' (DND) target to zero in on insurgency in 2010, Albano replied in the affirmative, and added that they are adopting the national strategy while they link their initiatives with those of the LGUs and other national agencies.
Provincial Director Prudencio de la Cruz of the PNP for his part reported of some successful police operations against illegal drugs, wanted persons, and crimes against persons and properties. He said that, despite limited mobility and financial resources they still try to manage through. However, de la Cruz admitted in the Open Forum that their intelligence network is rather weak which he said can be attributed to the reluctance of witnesses who can help in pursuing cases against perpetrators.
The presentation on Infrastructure Development projects was quite incomplete thus, Engineer Tili Sabulao of the Department of Public Works and Highways (DPWH) promised to give the full and exact data of other important projects in the next Forum which is scheduled for October. It was also noted that, unknown to them, sometimes, some infra projects in the province are implemented by the regional office. Thus, in the next forum, it is also expected that more concerns as well as recommendations will surface "for the common good of Eastern Samareños".
In closing, Fr. Euly Belizar, summarized and synthesized the reports and remarks of the forum. It is also believed that whatever came out will contribute or are good entry points to future plans and strategies that are geared towards making Eastern Samar a better place to live in. He concluded that as a whole, there is a need for better communication, a need for prioritizing values, need for a team that will monitor projects, need for consultation and the need for openness to other issues involved.
The Church-initiated Peace and Development Forum was first to be held since Borongan Diocese welcomed a new bishop last November 8, 2007.
Writs of amparo vs NPA killers part of Sept. 12 joint peace, justice forum in Basey
By CHITO DELA TORRE
September 12, 2008
BASEY, Samar – A still yet undetermined number of families of individuals in this town who were killed by members of the New People's Army since the first day of their operation in Basey until their last murderous flings are expected to start filing cases against the killers, including petitioning for writs of amparo, when they converge Friday morning (September 12) in sitio Rawis, a big progressive village of barrio Guirang, which is home of the town's newest international tourist attraction known as Balantac Falls.
The event, expected to be big and significant enough, is known as the Joint Peace and Justice Rally organized by the 62nd and 34th infantry battalions of the 8th Infantry Division, Philippine Army, to which all the 51 punong barangay of Basey have committed attendance and active participation.
Samar governor Milagrosa Tee Tan and Colonel Francis B. Lanuza, commander of the 801st Infantry Brigade, Philippine Army, will lend credence to the occasion that will open with an invocation from St. Michael Archangel Parish Church priest Reverend Father Niceas Abejuela, followed by welcome remarks from mayor Wilfredo O. Estorninos and the opening statement by lieutenant colonel Alberto C. Desoyo, 62IB commanding officer.
A few days after Lt. Col. Desoyo assumed command of 62IB following the mid-August turnover of leadership from Lt. Col. Jonathan G. Ponce, there have been families of victims of NPA atrocities that have come out to avail of the assistance of the military and the Philippine Commission on Human Rights in the filing of appropriate cases against the killers of their loved ones. The survivors from the violent, senseless and unjust killings were able to identify some of the members of the NPA.
At Friday's (September 5) meeting of the association of barangay councils of Basey, a military executive, including first lieutenant Alsiyao, company commander of 62IB's Alpha unit in Rawis, urged the barrio chiefs to seek out the affected families and encourage them to avail of this assistance.
Gov. Tan will lead the symbolic burning of the flags and effigies of the Communist Party of the Philippines, NPA and National Democratic Front, after the message of Col. Lanuza. After that, she will give the closing remarks, to be followed by the mass singing of "Pagkaurusa" to be led by non-government organizations leader Anita Ogrimen.
In the interaction portion, Gov. Tan, mayor Estorninos and the Army officers will listen and respond to every concern and issue that will be expressed by the town and barangay officials and their constituents, even as the government executives themselves will make their own appeals to the people and all sectors who have stakes in securing the peace and justice presently enjoyed in Basey.
Tuba-tuba planting in Basey will be discussed by Teodorico Dadale Porbus, president of the Baktas Kabub'wason Rural Workers Association, while agrarian matters will be the subject of the message of municipal agrarian reform officer Chito D. Dela Torre, immediately after the message of police inspector Marianito P. Malibago, chief of police of Basey in the early part of the program.
Guirang punong barangay Ignacio Guimbaolibot and all his barangay officials will lead the barrio folk in attending to their guests for the half-day affair, the first ever to be initiated by Lt. Col. Desoyo.
Theme for the event is: "Ungod nga pagkaurusa an kinahanglan para makab-ot an hinihingyap nga kamurayawan ngan kauswagan."
Maasin City welcomes Catbalogan "Lakbay Aral" delegation
By REBECCA CADAVOS (PIA Southern Leyte)
September 12, 2008
MAASIN CITY, Southern Leyte – At least twenty delegates from the City of Catbalogan visited Maasin City to learn how the local government officials implement successfully the Healthy City Program, City Mayor Maloney Samaco disclosed over radio station DyDM Thursday here. The team headed by their City Mayor Coefredo "Tekwa" Uy arrived Wednesday afternoon, September 10.
The City of Maasin consistently won the Healthy City Initiatives throughout Region 8 since the leadership of then City Mayor Damian Mercado, Southern Leyte's Governor and this year, a nominee for the national level category.
Hon. Samaco said that the visitors from the newly converted city will be toured around particularly to those areas that earn awards from the healthy city initiatives like the Healthy College – Saint Joseph College; Healthy Hotel – Villa Romana Hotel; Healthy Restaurant – Kinamot Sa Abgao, which was a consistent winner; Healthy Barangays from Tagnipa and Ibarra, also a consistent winner and they will also visit Danao – the Maasin City Forest Park at Barangay Matin-ao, among others.
Maasin Team consisting of the Healthy City Technical Working Group chaired by City Planning and Development Officer Engr. Othelo Rich conducted a one-day workshop-seminar to impart the knowledge on how they implement the Healthy City Initiatives successfully to the Catabalogan City delegation.
The enforcement of health ordinances in restaurants, schools, collection and segregation of wastes, impounding of stray dogs, among others, are some of the health ordinances implemented in the city, Mayor Samaco shared.
While, the study tour team will replicate what they have learned and observed here. Mayor Tekwa Uy was accompanied by his Vice Mayor Van Torevillas, City Budget Officer, City Accountant, City Social Welfare Officer, City Agriculturist, City Veterinarian, City Engineer, City Planning and Development Officer, Provincial PIA Manager Ninfa Quirante, representatives from selected non-government organizations, a Councilor and a few Barangay Captains.
7 British students volunteer in Basey barangay
By Philippine Information Agency (PIA 8)
September 12, 2008
TACLOBAN CITY, Leyte – Seven British college students from the Imperial College in London, England are now on a week-long educational mission at Barangay Balud in Basey, Samar.
Ms. Bonavie Robinio, Information Assistant of the Basey LGU informed that the seven volunteers are sharing their expertise in Math and Science to the elementary pupils of Barangay Balud Elementary School.
The outreach mission is part of the Imperial College London's centennial anniversary celebration, the volunteers informed.
The seven volunteers, Steven Chambers, Lisa Carter, Emma Thompson, Kristina Ostman, Adam Asiz, Neha Obrai and Ambarish Dash were the qualifiers among 150 students who competed for the global outreach program organized for the centennial anniversary of the school.
The volunteers will be teaching Math and Science subjects to the elementary pupils of Barangay Balud, from September 8 to 12. The emphasis is on inspiring the pupils in Science and Math, raising aspirations and providing a positive role model for both science and higher education.
The volunteers said, they are committed to raising aspirations of school children to encourage them to consider higher education.
Chambers, the group leader disclosed that they have chosen Barangay Balud as the pioneering model among the 51 barangays in the municipality of Basey because they feel that assistance is needed there, in terms of pupil learning, school equipment and environment.
After one week, the volunteers will go back to London but they promised that they will come back to the Philippines again to extend the same assistance to other barangays in the municipality.
Imperial College London is a university of world class scholarship, education and research in science, engineering and medicine, with particular regard to their application in industry, commerce and healthcare. Established in 1907, it is located in the heart of London. It is consistently rated among the United Kingdom's top three universities, and was ranked 5th in the world by the Times Higher Education Supplement in 2007.