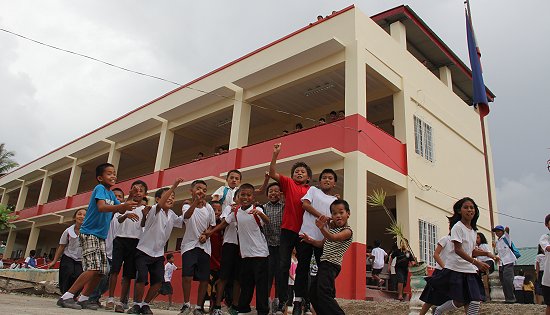 The students of Marasbaras Elementary School have their own sad stories to tell about Typhoon Yolanda but the new schoolbuilding donated by Coca-Cola Foundation/Coke Atlanta in partnership with Philippine Business for Social Progress gives them something to look forward to each day.
Helping Yolanda survivors start anew
One year after the typhoon, PBSP continues to lead the business sector's efforts in rebuilding the lives of school communities in the Visayas
By REGGIE MARIE B. BARRIENTOS
November 7, 2014
TACLOBAN CITY – It has been a year since Typhoon Yolanda (Haiyan), one of the strongest tropical cyclones to hit the country, reduced to wasteland the towns in Leyte and Eastern Samar, claiming thousands of lives, and washing out homes, schools, properties, and livelihood.
While the people have started to rebuild their lives with whatever little resources they have, many are still reeling from the trauma and loss of their loved ones.
But for the school communities being assisted by Philippine Business for Social Progress and its member-companies, partners, and donors, the reconstruction of their classrooms, provision of learning/teaching kits for students and teachers, supplemental feeding, and capacity building trainings are giving them something to look forward to each day – the promise of a better tomorrow through education.
The different ways of coping
Thirteen-year-old Sheila Caonte is still grieving for her father and grandfather who died while securing their home during the typhoon on Nov. 8, 2013. She and her three siblings, cousins, aunt, and uncle managed to survive after hiding in a bathroom of a commercial building in Tanauan, Leyte.
In spite of her great loss, the Grade 6 student from Bislig Elementary School dutifully reports for class every day, braving the heat and cramped spaces of their tent classroom for two noble reasons – to fulfill her father's dream for her to be a teacher, and to be able to share the gift of education to less fortunate children like her someday.
Caonte's classmate and friend Carol Almacin, 12, may be luckier than the former because her family is still complete and they have managed to rebuild their home with scrap materials right after the storm. But until now, Carol is suffering from a severe trauma after she and her siblings were tied to a coconut tree while braving the huge waves of the storm. Since classes resumed last December 2, she would hurriedly go back home every time it rained for fear that the horrific ordeal would happen all over again.
It's the other way around for Nicole Cordero, a Grade 5 student of Sto. Niño Elementary School, who would console her mother who was terribly shaken by the disaster. In the middle of her duties in the house, she would break down at the memory of the torrential rains. During the typhoon, Nicole and her two siblings sought refuge at her grandmother's home while her mother was the one who tried to salvage what was left of their home. Their father, a security guard, could not leave his work. To make it easy for her mom, Nicole would study hard and wake up early to help in the household chores. Her fervent prayer is for the Lord to not let another Yolanda happen again so her mother would no longer cry and recover from her trauma.
The ordeal was no different for sixth grader Daniel Sulit and his family who held on to the branches of a coconut tree during the storm, praying that they wouldn't be swept away by the giant waves. The next day, he had to search for his other relatives from the lifeless bodies strewn all over the place. Unlike other children who suffered severe trauma as a result of such ordeal, Daniel turned it into an opportunity to perform well in school. From being an average student, he is now at the top of his class at the Tugop Elementary School in Tanauan, Leyte. Daniel credits the Lord for this life-changing experience. He said that he vowed to study hard after the storm because the Lord gave him a second life.
Out of the many different stories of survival and resilience from the disaster, perhaps the most inspiring is that of the Lagarto family. Enriquita and Dioscoro got separated from each other during the storm. Enriquita fled with her five children to a safer ground while Dioscoro was still in their home when the huge waves engulfed it. While trying hard not to be swept away by the waves, provisions kept floating out of nowhere in his direction. First, uncooked rice, then came hotdog, cooking oil, and even kitchen utensils.
Right after the storm, the children aged 11, 10, 9, 6, and 4, took it upon themselves to help provide food for the family. At that time, their mother was sick and their father was injured. The eldest child, Christian Lagarto, led his siblings in picking up the galvanized iron sheets that were strewn all over their neighborhood, and selling them to make money. They earned P2,000 for it and immediately gave it to their father who was surprised and deeply moved. Later, the sixth grader from Bislig Elementary School also convinced his father to allow him and his siblings to sell 1.5 Coca-Cola bottles to their neighbors. Their 3-for-P100 promo was such a hit that they earned P4,000 capital money to use for reopening their sari-sari store.
The Lagartos are now doing brisk business through a bigger and well-stocked sari-sari store. The family is on their way to a bright future, thanks to their unwavering faith, loving parents, helpful children, and an entrepreneurial son who hopes to get a scholarship to finish school and help support his family.
Yolanda Heroes
Teachers Rosario Polenio of Bislig Elementary School and Tito Pajares of Marasbaras Elementary School have shown exceptional service and true heroism during the disaster.
Safely tucked in the comfort of their sturdy home in Tacloban, Rosario and her family took in seven families who rushed to their place to escape the monstrous waves that ravaged their homes. Even though she barely knew these people, Rosario fed them, clothed them, and kept them safe and warm in their home long after the storm was over.
Today, Rosario continues to play Good Samaritan, this time to her students who lost their parents and relatives by giving them the much-needed love, comfort, and care.
When Teacher Tito and his family returned to their house from his brother's place after the storm, he was devastated to find his home, and property earned after 27 years of working as a teacher, totally wiped out. Until now, he and his family are staying in a bunk house in Tacloban and still struggling to return to normal.
Nevertheless, Tito selflessly prioritized the needs of his students in Marasbaras ES by seeking for prospective donors who can help rebuild their school which was 70 percent destroyed by Typhoon Yolanda.
Soon enough, a six-classroom building called the Little Red Schoolhouse of Coca-Cola Foundation/Coke Atlanta has been built at the place through the assistance of PBSP, and is bringing immense joy to the Grades 4 and 5 eager students and teachers who couldn't wait to transfer to the new building.
"The building is so beautiful. At night, it glimmers in the dark sky, serving as a beacon and motivation for us to move on and continue reaching for our dreams," Tito said.
Project New Dawn
PBSP launched Project New Dawn last June 18 as its collective response to the long term rehabilitation needs of the Visayas region. The programs aim to assist in the immediate recovery and rehabilitation of areas most affected by the super typhoon. Some of these programs are on repair of barangay health stations, provision of motorized boats, mangrove reforestation and installation of potable water systems, among many others.
In education, PBSP member-companies, donors, partners, and aid agencies were able to give various kinds of assistance worth P167.51 million to Yolanda-affected schools in Tanauan, Tacloban, Marasbaras, Tugop, Bislig, Sto. Niño and Isabel in Leyte; Giporlos and Salcedo in Eastern Samar; Tabogon, Bogo, Daanbantayan, Bantayan island in Cebu; Inabanga, Bohol; and Estancia, Carles, and Lambunao, Iloilo.
These were in the form of classroom/school reconstruction and repair, provision of starter kits, teacher kits, school uniforms, shoes and chairs, supplemental feeding, psychosocial trainings for teachers, and capacity building trainings for parents, teachers, school heads, and the Local School Boards.
Among the benefactors are Dow Chemical Pacific Ltd, Epson Precision (Philippines), Inc. (EPPI), Telus/Navegar, CTBC, National Bookstore, Mondelez International, Intel Philippines, Felta Multi-Media, Inc., Coke Atlanta 2014/Coke Philippines, L'Oreal Philippines, Inc., GMA/Yes Pinoy Foundation, Flour Daniel, Insular Life, Deloitte Navarro Amper & Co. (Deloitte Philippines), We Can Be Anything, Ace Insurance, Lear Automotives, and the Australian government.