Caglanipao Flood Control Structure completed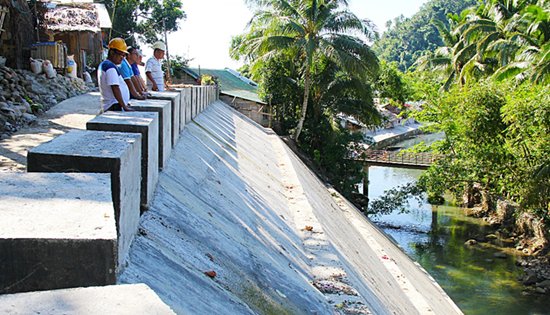 By DRIXEL ORTEGA
November 3, 2014
CALBAYOG CITY – The inspectorate team of the Department of Public Works and Highways (DPWH) – Samar First District Engineering Office (SFDEO), Calbayog City led by Assistant District Engineer Alvin Ignacio conducted an ocular inspection on the newly completed project, Rehabilitation of the Caglanipao flood control structure located at Brgy. Caglanipao Sur, Calbayog City, Samar.
This project is under contract with CDU Construction and has an appropriation of P20 million under the DPWH 2014 Regular Infrastructure Fund. CDU Construction kicked off the construction activities on the 24th of February 2014. They were given 192 calendar days (until September 24, 2014) to complete the project and they were able to finish it earlier than expected.
Scope of works for the project comprises of structure excavation, installation of reinforcing steel, construction of structural concrete and grouted riprap.
This project is one of the Department's adaptation programs aimed at combating the various effects of climate change that we are all experiencing. This will prevent flooding brought about by incessant heavy rains and high tide.