NYC commissioner Dingdong Dantes joins climate walk as it reaches Catbalogan on 35th day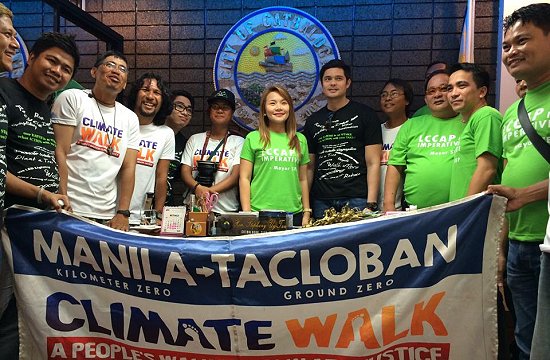 By Climate Walk
November 4, 2014
CATBALOGAN, Samar – Climate advocates demand world leaders to "make actions, not words" on confronting the climate crisis as they near the end of the 1,000-KM, 40-day journey from KM zero of the Philippines to 'Ground Zero' of super typhoon Haiyan (Yolanda).
"We are facing one of the greatest challenges to humanity. The way we treat nature is a reflection of how we treat others. No more aimless talks. We need to start walking the talk," stated by PH UN Climate Talks Negotiator and Climate Change Commissioner Naderev "Yeb" Saño who initiated the 40-day Climate Walk.
Dubbed as the Climate Walk: A People's Walk for Climate Justice, the march gathered various environmental groups, celebrities, government officials, faith groups, youth, and individuals during its launch last October 2 in Luneta, Manila, the International Day for Non-Violence, to take on a 40-day walk to reach Tacloban City on November 8, the first anniversary of the super typhoon's historic land fall.
Advocates taking on the Climate Walk empower local communities and help them become resilient in the impacts of disasters and climate change through the Climate Fairs, a series of events highlighting different issues of climate change affecting each area.
"Why are we walking? If we had taken the plane, we would not have met you. If we had taken the bus or our cars, we would have just passed by you and we wouldn't have known what you are going through. We offer this walk to everyone affected by climate change. We offer it to you," said Saño during his speech in one of the Climate Fairs.
Local government units along the route of the Climate Walk have also committed to taking action against the climate crisis by committing to draft their own Local Climate Change Action Plans (LCCAP). Climate Advocates facilitates distribution of Climate and Disaster Resilience Toolkits in local municipalities and institutions which is a set of resources that can be used to enhance community planning for climate change and assist in the protection of communities from climate disaster risks.
In the Climate Fair held at the Samar State University, Commissioner Dingdong Dantes of the National Youth Commission, joined the Climate Walk. As he addressed the 3,000 students of Catbalogan, he said, "This walk is about marriage. This is the coming together of institutions and the Filipino people to fight climate change. In every disaster, the youth is one of the most vulnerable sectors. We can't allow ourselves to be just victims. We have to be part of the solution."
Catbalogan City Mayor Stephany Uy-Tan welcomed the climate walk to her city and committed to implement their Local Climate Change Adaptation Plan (LCCAP) and to be resilient in the face of disasters. According to Mayor Tan, "Climate change is undebatable and we need to act together. Let us all be climate change warriors."
Following the People's Climate March last September 23 in New York, which mobilized about 400,000 people, Climate Walk encourages people deemed most vulnerable to climate change – farmers and fishers – as well as youth, faith groups, and the general public to support the Climate Walk even in their own little ways.
In ending, Saño said, "Climate change is a fight that we cannot afford to lose. Climate Walk is a call for unity. We cannot confront climate change and its dangers if we will act individually. We need collective action in facing this madness. We, as a developing nation and one of the most vulnerable to risks of disasters and effects of climate change, should stand up and demand for our survival."
"Our destination is not only Tacloban. Our destination is the hearts and minds of the nation and the whole world, hearts and minds that can change the world," Saño stated.
Now on its final week, Climate Walk already traversed parts of Metro Manila, Laguna, Quezon, Sorsogon, and Albay with commitments from different local governments, and will traverse the remaining parts of Samar, and Leyte. On November 8, participants will cross the famous San Juanico Bridge towards Tacloban City.