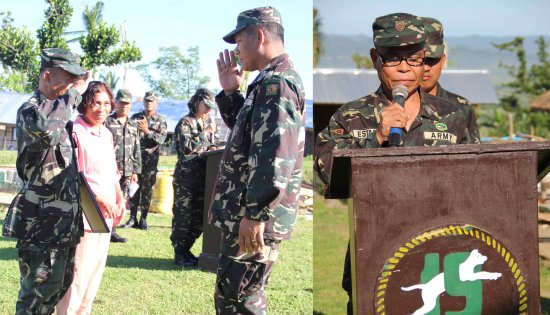 Left photo shows MSgt. Estafia rendering his last salute to LCol. Nedy Espulgar, the commanding officer of 19IB. Right photo shows MSgt. Estafia delivering his parting message to his colleagues during a simple ceremony held on Monday, April 28, 2014 at the 19IB HQ in Brgy. Aguiting, Kanaga, Leyte. (Photo by AB Bayani)
19IB's retiring soldier recognized, urges colleagues to be good public servants
By 19th Infantry Battalion, 8ID PA
April 30, 2014
KANANGA, Leyte – Soldiers of the 19th Infantry Battalion during its regular flag raising ceremony on Monday, April 28 recognized a senior non-commissioned officer who is retiring after 31 years and seven days of struggle in the military service.
Master Sergeant Benjamin Javier Estafia who hailed from St. Bernard, Southern Leyte was given certificate of recognition by Lt. Col. Nedy Espulgar for his invaluable and dedicated services to 19IB where he has been assigned months after his enlistment in the regular force of the Philippine Army on April 1, 1982. His wife, Nida Estafia also received a certificate of appreciation.
As Estafia bids farewell from the military service, his colleagues in 19IB commended and thanked him, not just by his subordinates but also the officers who had learned much from him in all aspects of the military.
In his parting message, Estafia tearfully recalled the hardships and sacrifices he had experienced and the various positions which he held while with 19IB.
He gained positions such as team leader, squad leader and company first sergeant because of his dedication in his assigned tasks and duties. He is both a combatant and a community relations specialist.
In his early years, Estafia also had survived two (2) NPA-initiated ambushes, one of which was on January 5, 1987 in Brgy. Rawis, Laoang, Northern Samar where he was wounded.
"I have reached the peak of the military service and hurdled different obstacles. You can also surpass the same challenges if you, my fellow soldiers exercise the legacy of being good followers and public servants", Estafia stressed.
Lt. Col. Espulgar said the service rendered by Master Sergeant Estafia is one of the longest in the history of 19IB and the hardest to achieve for every soldier.
"I hope we can all retire like Master Sergeant Benjamin Estafia, whose service cannot be equaled if we deviate from the true traditions and mandate of the Philippine Army. Let us all remain steadfast to the Internal Peace and Security Plan Bayanihan and the Army Transformation Roadmap as our guides in serving the people, securing the land", Lt. Col. Espulgar concluded.