NPA 'organized crime group' havoc in Northern Samar: Acts of desperation
By CMO Battalion, 8ID PA
January 24, 2012
CAMP LUKBAN, Catbalogan City – "The recent attack against a community of peace-loving people in Lapinig, the despicable murder of Mr. Jovito Pajanustan in Catubig and the ambush on soldiers doing community work in Las Navas by the 'organized crime group' locally known as the NPA were all desperate acts of terror to restore their influence in Northern Samar" said Maj Gen Mario F. Chan, Commander of the 8th Infantry Division of the Philippine Army.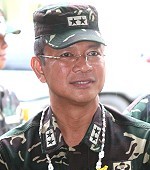 MGen. Mario F. Chan
"We condemn in the strongest possible terms these dastardly acts of terror perpetuated by the NPAs against the peace-loving people of Lapinig, the brutal murder of an innocent farmer and the ambush on soldiers who were engaged in community work to help the people in Las Navas", added the good General.
According to the 8ID Commander, the climate of fear sowed by the NPAs among communities in Samar Island has dissipated as the people have come to realize and appreciate the sincere efforts of the government and stakeholders to bring peace and sustainable development in the Region as manifested in the declaration by the Local Government Unit of Southern Leyte of an "Insurgent-Free" province on September 29, 2011 and followed by the declaration of the Local Government Unit of Leyte of a "Manageable Conflict-Affected and Development-Ready " province on December 8, 2011.
"Because of their waning influence, this NPA or group of thugs and bandits has embarked on a systematic and orchestrated employment of deception, treachery and violence and terror beginning with their murder of Mr. Pajanustan in November 2011 in order to blame it on the soldiers who were actually involved in community work," said MGen. Chan. He stated further that, "Knowing the futility of this deceptive act, the NPA group called on its cohorts 'Migrante' and 'Sagupa' to join in the accusation with fabricated data and information that was readily and handily exposed as lies by affidavits of local officials in Barangay Osang of Catubig and San Miguel of Las Navas and the PNP-Catubig Spot Report.
"The truth would eventually surface to manifest their peddled lies so the NPA embarked on acts of violence such as the ambush of the soldier-community worker in Las Navas in December and the recent attack on civilians in the quiet town of Laping last January 20," said the 8ID Commander.
"These acts or desperation to regain lost influence are typically manifested in NPA armed engagements where their volume of fire is greatest during their retreat," observed MGen. Chan.
"Notwithstanding these acts of terrorism by the NPA, the 8ID will continue to pursue to 'win the peace' in the affected areas and finally rid the region of this menace to development," MGen. Chan concluded.