Government should hire 93K personnel - Cong. Evardone
By ALICE NICART, PIA Eastern Samar
December 19, 2011
BORONGAN CITY, Eastern Samar – Government should fill up the 93 thousand vacant position otherwise the funds would be reverted to government coffers.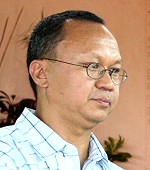 Cong. Ben Evardone
This was said by Congressman Ben Evardone who was in town recently to greet his constituents for the Christmas season.
Evardone who sits with the House Appropriation Committee said that the funds for these vacant positions, is incorporated in the recently approved P1.3 trillion national budget for 2012.
Of the 93 thousand positions, it was learned that 67 thousand had been left unfilled in years which has earned savings for some government agencies and departments.
Today, however, the budget which President Benigno Aquino has recently signed into a law, already disallows such a saving-generation strategy of concerned offices which they used to allot for their additional bonuses and incentives.
In a separate source, Budget Secretary Butz Abad also said that some P23B awaits to be spent for these unfilled positions and should these remain untouched, it will be retrieved by government for other meaningful expenditures.
Among others, 12 thousand nurses are needed by the country, 200 doctors, 1,000 midwives, 13 thousand teachers, 665 staff for Congress, 5 thousand for Supreme Court, 269 for the Civil Service Commission and still more policemen, auditors, lawyers, soldiers and judges.
More teachers are needed next year, the source added because of the implementation of the new DepEd Curriculum K+12. Today's hiring rate for teachers is now better-off as compared to the past, because it is now pegged at P15 thousand a month. Besides, generally, government salary rates are now close to be competitive with the private sectors and corporations, the source added.