LGU, Army distributes 600 food packs to indigent families in Leyte
By 19th Infantry Battalion, 8ID PA
December 14, 2011
KANANGA, Leyte – The Army's 19th Infantry (Commando) Battalion and 82nd CMO (Busilak) Company in coordination with the provincial government dispensed today a total of 600 food packs to three barangays in Leyte.
The activity benefited some 600 indigent families in barangays Mahawan of Kananga, Tinaguban of Carigara and Tabangohay of Alang-alang through a simultaneous gift giving and feeding dubbed as Pamaskong Handog 2011.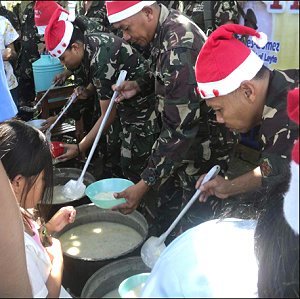 According to First Lt. Philip James Hocson, Civil-Military Operation Officer of 19th IB, the Pamaskong Handog 2011 is a joint initiative which aimed to alleviate the condition of indigents and revitalize the Filipino's tradition during yuletide season. Priorities of the said activity were indigents residing in remote barangays.
Receiving food packs and warm arroz caldo distributed by soldiers is not a common scenario in Brgy. Mahawan of Kananga, Leyte. But for the constituents of Brgys. Tinaguban in Carigara and Tabangohay in Alang-alang, gift-giving is an ordinary venture rendered by the soldiers.
It can be recalled that 19th IB in coordination with the Kiwanis Foundation International (KFI) handed out school supplies (notebooks, paper, pens, pencils and sharpeners) to one hundred thirty-three (133) pre-elementary and elementary pupils of Brgy. Tabangohay on September 28. Likewise, three boxes of assorted medicines were dispatched for Brgy. Tinaguban during the launching of the Army-led Pamaskong Handog 2011.
Lt. Col. Cabugon, Commanding Officer of 19th IB expressed his gratitude for the support extended by the provincial government of Leyte who co-sponsored the month-long activity.
"We are grateful to Gov. Petilla for granting us our request. These goods may only feed the recipients for one day but the good action extended by the local government will always be remembered", Cabugon said.