Lingganay Festival gears for Sinulog fete in January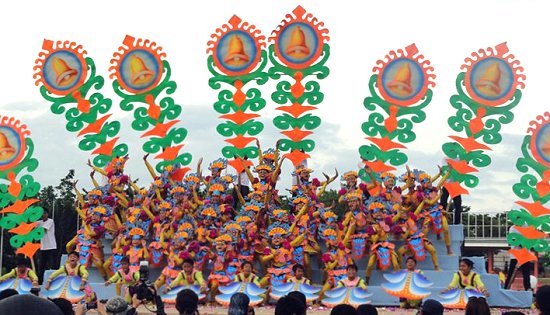 By Provincial Media Relations Center
December 14, 2011
TACLOBAN CITY – The Lingganay Festival of Alangalang, Leyte was recently given a P700,000 financial assistance from the provincial government of Leyte as it vies, for the first time in the nationally acclaimed Sinulog Festival in Cebu City this January.
According to Leyte Governor Carlos Jericho Petilla, this is one of the province's commitment to support and maintain Leyte's cultural heritage by engaging local festivals in national festival competitions as colourful and prestigious as the Sinulog Festival.
Gov. Petilla said maintaining a contingent to be fielded in various festival competitions around the country is no joke, considering the preparation – both physically and financially just to be able to compete.
"I am sure it's no easy task for the Lingganay as they will be bringing the name of the province as it competes in January," Gov. Petilla said.
However, he added, competitions such as the Sinulog is a big opportunity to promote the town – its cultural richness as well as its economic viability.
Meanwhile, Alangalang Mayor Loreto Yu lauded the governor for his unending support to make the various festivals in Leyte grow and flourish on its own.
He reported that already, the Lingganay contingent are deep in practice even as the Christmas seasons begin this December, to fully prepare for the Sinulog competition.
The Sinulog Festival is held every third Sunday of January. In 2011, Abuyog's Buyogan Festival earned the second place to Placer, Masbate's grand champion spot.
Alangalang's Lingganay Festival was the grand champion in the 2011 Pintados-Kasadyaan Festival of Festivals and, together with second placer Karatong Festival of Dulag, earned the rights to represent the province in the Sinulog as well as the Aliwan Fiesta in Manila during the summer next year.
For the 2012 Sinulog, festival organizers are also expecting contingents from Masbate, Negros Oriental, Tacloban City, Dulag and Alang-alang in Leyte and Eastern Samar; while, contingents from Mindanao, Tangub City, Zamboanga Del Norte, Cotabato and Lanao del Norte have also signified interest.
A whooping P1million cash prize awaits the grand champion in the 2012 Sinulog Festival.