DILG-8 commends Samar SP for temporarily setting aside political differences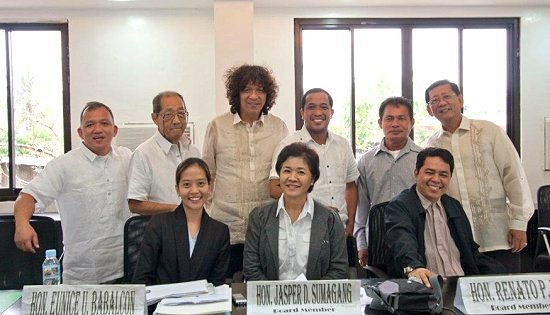 The 9 Samar board members present during the December 8 SP Regular Session were all smile as they approved the P20,000 PEI each for all regular employees of the province totaling P22.66 million to be taken from the unappropriated surplus of 2011. (photo by LUIS ORTIZ JR.)
By MYLES JOSEPH E. COLASITO
December 10, 2011
TACLOBAN CITY – DILG-8 Regional Director Pedro A. Noval, Jr., on Friday commended members of the Sangguniang Panlalawigan from both political fences in Samar, for temporarily putting their differences aside, and instead working on their real duties as legislators.
Noval, who had just assumed office in Eastern Visayas last October, happily reported that the Sangguniang Panlalawigan of Samar was able to hold its regular session at the governor's conference room last Thursday, December 8, 2011 after failing to achieve a quorum for several months now.
Dir. Noval voiced his concern at the possible effect of the continued absence of quorum in the regular sessions, which delayed all deliberations on the 2011 budget, including projects for Samar residents, and benefits due to provincial employees.
It would be recalled that Samar Vice-Governor Stephen James Tan wrote the office to ask about possible remedies for the continued absence of the opposition majority at the SP during regular sessions starting last August.
In a courtesy call, Dir. Noval reiterated to Governor Sharee Ann Tan, that in cases where the concerned absent Sanggunian members have no justifiable reasons, the Vice-Governor can seek assistance from the police to arrest these members, and bring them to the session hall to ensure quorum.
It was learned that the session on December 8, 2011 was attended by ten (10) SP members, including Vice-Governor Tan. In that session, the Sanggunian approved the grant of productivity enhancement incentive bonus of P20,000 for each regular provincial employee. The council also moved to refer to the committees on laws and finance, the proposed 2011 and 2012 annual budget of the province of Samar. The committees concerned will hold a meeting this Tuesday to settle these issues.
Dir. Noval expressed optimism that if public officials in Samar would remain faithful to their intentions of public service, both groups could achieve a constructive dialog with each other and be able to discuss their differences within the ambit of local legislative processes.