They should run for Governor not Board Members or apply at the Ombudsman or COA, says Gov. Tan
By GINA DEAN-RAGUDO, Samar News.com
July 28, 2010
CALBAYOG CITY – Samar Governor Sharee Ann Tan bluntly expressed her disappointment and disgust on the acts of the 7 board members in not taking steps for the immediate approval of the 2010 annual budget.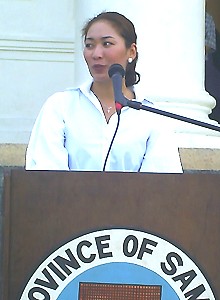 Samar Governor Sharee Ann Tan
Through a dialogue with the employees of Calbayog District Hospital last Sunday, she openly underscored the five and two board members from the first and second district, respectively, who allegedly dominating the legislative and blocking the approval of the P1.18 Billion annual budget which could be used for some development programs and projects of the province.
With the constant resistance of the majority, she blamed the majority for making the provincial government merely an employment agency.
"Gusto ko igpasabot ha iyo kon ano gud an tinuod nga estado han aton probinsya. As of now, an 7 nga board members, 5 tikang ha first district, diri naabuyon pag-aprubar han aton budget. Asya hira an nagkokontrol nga diri ig-approve an budget. Karuyag signgon, reenacted budget kita since 2008. Waray kita budget 2009, 2010 and hopefully ira gud ginpipinsar ngan gin-aampo nga diri liwat ma-approve 2011 til 2013. So, ano an karuyag sgngin hiton? Magigin merely employment agency an probinsya. Taga suweldo la han mga empleyado nga waray output. Waray output. Kay ano? Kay waray kita development fund nga akon maihahatag ngada ha iyo. An akon unta an pagburublig. Pero an ira karuyag pagburublag."
Tan was referring to the changes that she wanted to implement not only at Calbayog District Hospital but also with other hospitals within her jurisdiction such as renovations, upgrading or providing facilities and equipment. While the budget is subject for the SP control, she said that a P3 Million Phil Health savings would be used for the essential needs of said hospital.
She clarified that the budget also contains the P20,000 cost sharing/counterpart financial assistance for barangays to facilitate the implementation of their projects; the 25% per month increase for all provincial employees; and the P12,000 productivity long approved by the former governor.
"Dako na ini nga bulig nga 25% kay usa na ini ka sako nga bugas hilabi na hadton mga empleyado nga an ira la suweldo an ira gintatapuran ngan may-ada pa mga dependents. Naiintidihan ko ini nga panginahanglan, sanglit gusto ko igpasabot ha iyo, same with the former governor. But these 5 board members from the first district, nadiri hira nga ighatag ini ha iyo. I don't know kun ano ira karuyag signgon? I don't know kun ano an nakakalipay ha ira? Ha akon pag-abat, ginkakalipay nira kon nagsasakripisyo an iba. Nga waray man kunta benefit nga nakukuha hira. Kay mismo hira, waray hira maihahatag ngadto han katawhan. "
While Tan was explicitly declaring her displeasure on how the opposition allegedly doubt her credibility, she never failed to mention her mother, the former governor, and been very grateful for the trust she and her family obtained by winning last elections.
"Nagpapasalamat ako nga may-ada continuity an previous administration, who fortunately, my mother and now with my present administration. Sobra an burubingkil, sobra an pagdiin san aton kalaban sa pulitika. Yana, amo ini an natatabo han akon administrasyon."
At this point, the younger Tan admitted that there were lapses during her mom's administration which she attributed to excessive politicking.
"Diri ngani ma-approve this month or this year an budget, an 25% increase nga para han mga empleyado, mawawara, back to zero kita until next year. An pinaka worst yana nga scenario, until September na la kaya magpasweldo an probinsya. Yana nga 2010, an employment agency nga kapitolyo, tubtob na la September nga makakapasuweldo. Paglampas han bulan, diri na ako maaram kon diin makakakuha han PS (Personnel Services). Meaning, waray na kamo hiton suweldo because of the 5 board members nga ginmamanduan han mas dako pa ba nga posisyon? I don't know kun mas dako pa iya posisyon yana."
Tan also mentioned the P17 Million DOH Fund which has been a subject of SP approval. Said assistance she said would be used for the purchase of hospital equipment as well as its repair and rehabilitation.
"Maupay kunta kun mahiabot iton ha aton. But three sessions na yana, three Thursdays ko na ginhihinatag ha ira para ko na mapirmahan, pero an natatabo, allergic an 5 nga board members pag nabati na hira, kon may figures ug may kuwarta na nga involve. Nahahadluk hira nga makakarawat kita hito nga pundo. Kay ano man nga mahahadluk hira nga para man iton han probinsya?
"Nasiring hira, ira ginkukwestyon an credibility han yana nga administrasyon especially an governor. Ginsisiring ko liwat, dapat an gindalagnan nira diri board member, dapat gobernador. Or dapat, nag-apply hira ha Ombudsman or ha COA. Kay diri man hira na-approve han budget, nga asya man iton kunta an ira duties and responsibilities, an pag-approve han budget."
Aside from implicating the 5 BM in the "non-approval" of the budget, the governor also revealed that Mayor Reynaldo Uy and Cong. Mel Sarmiento went to the DBM allegedly requesting Sec. Abad to just approve and allow the release of selected items in the annual budget such as the salary increase of the government employees as well as the approval of the supplemental budget disregarding the annual budget.
"Karuyag nira i-approve an supplemental budget without approving the annual budget. Karuyag nira selective la an approval. But their request was declined by Sec. Abad. An employees mao an aton instrument para makadeliver han eksakto nga serbisyo. Diri kay ipi-please an mga empleyado. Nakigmiting na an mga department heads ha ira nga BMs pero kay mga batikulon man gud hira."
Since it was the first time that she took a visit and met CDH employees, she demanded loyalty, efficacy and a harmonious working area from among her personnel.
"Grabe an pamulitika dinhe ha first district, unlike in the second district. Irespeto niyo ako komo governor or else, maaram na kamo han kapasidad han usa nga gobernador. Bangin karuyag pa niyo igpasantop ko ha iyo. Para han akon kaalyado ug kapartido, ayaw kamo pagtapud nga mahatag ako proteksyon. Ugupi niyo an akon adbokasiya kun ungod kamo nga nahigugma han partido. Ipakita niyo an eksakto nga pagserbisyo. This is the only chance nga maipapakita naton ha kabila nga maupay aton partido, pinaagi han tangkud nga pagserbisyo."
Lastly, she announced that CDH have already 7 doctors, and hiring medical technologist, pharmacist and other office personnel.
Rotary Club Tacloban would be donating 4-tonner supply/medical equipment for the hospital.
"Let's make love not war and I am expecting a full support from everyone", she concluded.