Proposed ordinance for employees' PEI, still a subject of SP's deliberation
By GINA DEAN-RAGUDO, Samar News.com
July 28, 2010
CALBAYOG CITY, Samar – The P25,000 Productivity Enhancement Incentive of Samar provincial employees has yet to be realized while the 2010 annual budget is undergoing a thorough scrutiny from the 7 members of the Sangguniang Panlalawigan.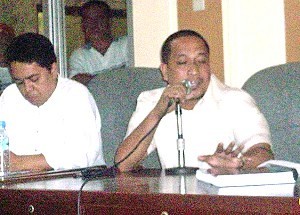 BM Jasper Sumagang, the proponent of an ordinance granting the employees' PEI lobbied for its inclusion during the session.
The firm disposition of the majority motivated BM Jasper Sumagang to propose an ordinance reverting the amount of P50 million to be taken from the unexpended balance of the re-enacted budget for CY 2009 and reappropriating the same for the implementation of the first tranche monthly salary schedule of local government personnel in pursuance to local budget circular no. 2009-92 dated September 2, 2009 of the DBM.
But the move for inclusion of said proposal became a ground for objection of ABC President Joseph Escober questioning the legality of said proposed ordinance.
He, as a member of the minority had been the subject of criticism as he was somewhat circumventing the proper legislative procedure.
The majority which is composed of Coñejos, Sumagang, Atty. Eunice Babalcon, Atty. Noel Sermense, Jimmy Dy, Prudencio Dy and Renato Uy were almost infuriated by the behavior of Escober as the latter's basis for objection was improper. The legislative body was not the right venue to declare the legality or validity of an ordinance. Only the judiciary can do that said Babalcon.
The majority presumed that it was Escober's excuse to elude the possible division of the body which would end up probable inclusion of Sumagang's sponsored ordinance while the session was tackling on the other matters.
In turn, BM Sumagang decided to withdraw his motion for inclusion and the said ordinance would be subject for this week's regular session.