Samar Day celebration captures a week of fun, freebies and festivities
By NINFA B. QUIRANTE
August 4, 2010
CATBALOGAN CITY – Samar Day celebration is going to bring Samarnons a week of fun, freebies and festivities, this was announced by the staff of new Governor Sharee Ann Tan-Delos Santos.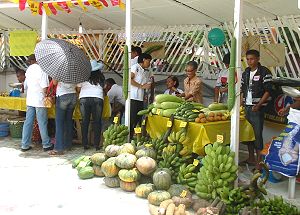 Different local products are now on sale at the Agro-Industrial Fair Trade in Imelda Park, Catbalogan City as part of the Samar Day celebration.
On august 4, 2010, the opening ceremony will be held with a grand parade, opening of the provincial agro-trade fair, dental and medical mission, Bingo Bonanza, supplemental feeding, press conference and a live band show in the evening.
On August 5, for sports buffs, basketball games are currently being held at the Capitol grounds while those who are saving coins for haircuts will be treated to free haircuts.
Other freebies like free medical consultations, free cotton candy and ice cream for kids while watching a kiddie dance contest at the Imelda Park is a welcome treat for park promenaders.
After the dance contest, a new show called Samar Got Talent will also be offered free to Samar patrons of music.
Another set of free products is up for grabs on August 6 like reading glasses, dental mission, and rice and grocery items for the event called 'Adlaw han Barangay'.
'Adlaw han Barangay' will travel to selected places to serve the barangay folks courtesy of the provincial government. The first of which will be in Pinabadcao town some 50 kilometers south of Samar's capital city of Catbalogan, one in Paranas and another in Calbayog City.
For the intellectuals, a 'Battle of the Brains' will be staged for high schoolers to compete in the afternoon of August 6.
As the' IQ war' is waged, free ice cream, cakes and cotton candy is expected to delight the audience or they may choose to queue for 'hot arroz caldo' to be distributed by the Provincial Social Welfare and Development (PSWDO).
On August 7, 2010, a Saturday, freebie patrons and donors will troop to the hospitals, prison houses to distribute love offerings.
For those lucky enough to stay out of the hospital and prisons, they can join the Bingo Bonanza promising appliances as rewards or prizes.
On August 8, 2010, a repeat of the same free wheeling distribution of eyeglasses, cakes, arroz caldo while the youngsters will try their stamina in 'Laro ng Lahi' featuring native games and sports played before the era of the internet. Palo sebo, Pupkpuk palayok, Sack race and Maria Went to Town were some of the golden games expected to be played.
On Monday, August 9, 2010, in addition to the freebies, gays and macho men will be doing boxing though not necessarily against each other but separately.
For beauty search aficionados, Mutya han Samar will be staged at the Samar Gymnasium featuring pretty lasses from the different towns in Samar province.
The following day Tuesday, additional features include Bangca Race, minor cyst operations, and Palakasan Marathon.
On the eve of Samar Day, August 11, 2010, a thanksgiving mass in the morning will be celebrated at the Capitol with a short program where the new and young governor is expected to address her numerous constituents, this will be capped by her favourite hobby of distributing free rice to the Samarnons.
At one in the afternoon a grand parade of festivals from the different Samar towns with a contest on drum and bugle is expected to draw a large crowd as the final activity.
This year's Samar Day celebration is anchored on the theme "Strengthening the identity of the Samarnon through unity and reforms".
This is the objective of the new administration claiming not being able to deliver basic services as the new set of board members has reportedly refused to pass the new budget.
But the Governor claims during the recent flag ceremony that should the board still refuse to cooperate, she will push all legal means for the approval of the budget. (PIA-Samar)