Anti-drugs campaign in Eastern Samar continues; Gov. Nicart strongly supports buy-bust and retrieval operations of cocaine
By SENTAY BELIZAR-QUITORIO, Samar News.com
August 2, 2010
BORONGAN, Eastern Samar – PNP provincial command and City of Borongan PO received commendations from governor Conrado B. Nicart Jr. for the conduct of operations against illegal drugs. Recognizing the initiatives of the PNP, governor Nicart stressed his flagship program to work out for a "drug free" province.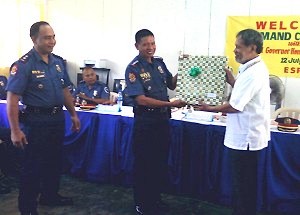 Governor Conrado B. Nicart, Jr. awards commendations to Eastern Samar PNP provincial command as received by the police provincial director Castillo.
Less than a month since his inaugural day, Gov. Conrado B. Nicart, Jr. immediately ordered authorities to sweep up proliferation of cocaine. It can be recalled that in December 2009 sacks and packages of this substance has been reported scattered in the shores of the province recovered by constituents mostly fisher folks.
In his inaugural speech governor Nicart emphasized his priority programs on top of which are agriculture and campaign against illegal drugs. He believes that initiatives to fight poverty are not complete unless pressing problems related to illegal drugs will not be curtailed. He was very bold about his fight against illegal drugs even during his stint as mayor of San Policarpo, a town in the northern region of the province. During his political campaign he made himself clear "illegal drugs will have no place in my province".
Few days after installed 7th elected governor, retrieval operations of this scattered cocaine immediately resumed. Documents showed that operations from July 5-27 2010 yielded 73.5 kilos of cocaine. As of press time more or less 500 kilos has been reported recovered through a buy-bust operations conducted by the PDEA and PNP and retrieval operations through peaceful negotiations with hoarders.
The National Bureau of Investigation (NBI) with its commitment awarded P2,000 while governor Nicart shared P1,000 for each kilo of cocaine surrendered to authorities. NBI headed by regional director Atty. Antonio M. Pagatpat, Jr joined forces with the Governor and PNP for this continued operations.
According to televisions reports, to avoid encounter with authorities, more or less 2,000 kilos of this cocaine were dropped by an unidentified vessel allegedly travelling from Cuba passing through the Pacific Ocean. (Eastern Samar is a coastal province facing the Pacific Ocean).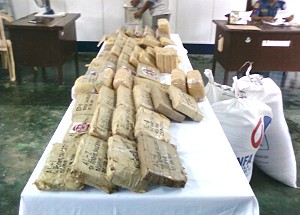 some of the retrieved cocaine bricks
Meanwhile governor Nicart appeals to all constituents to surrender hoarded cocaine. Further he said that he is open to any strategy by operation of law to continue this fight against illegal drugs. "Guti-ay gad la ine nga pahalipay kumpara han kantidad han droga, pero panawagan ko ayaw kita kasulay han salapi nga madali la mawara, ayaw ta ibalyo an hingyap nga katuhayan ngan kamurayaw, ngan an tul-id nga kabubwason han aton mga anak" (the cash award is very minimal compared to the value of this drug, but I appeal to you let us not be tempted by money in exchange of a peaceful and orderly province and the well-directed future of our children).