The sturdy Rose and the Cocaine bricks
(A tribute to a mother and an Officer)
By ALICE NICART
August 4, 2010
BORONGAN CITY – She was a frail, sick engineering student with a heart ailment that hampered her graduation from college, but today she was instrumental in the recovery of about 68 bricks of Cocaine (next to Llorente which had more ) which were found ashore of Borongan City, Eastern Samar.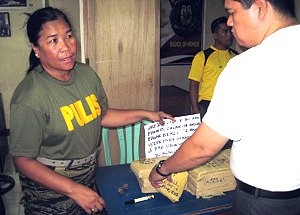 Police Supt. Rose Mambulao turns-over 16 bricks of high-grade cocaine, which were surrendered to her by two fishermen in Brgy. Divinubo, to PSupt. Emerson Maibo of the ESPPO, Camp Asidillo, Borongan City, Eastern Samar last July 23.
The name is Police Superintendent Rosula "Rose" Sabio Mambulao, 55, Chief of Police, this City.
The series of recovery began in December 23, 2009 in the island of Divinubo, some 25-minute motorboat ride from Borongan. On the same day, another cocaine bricks were recovered in barangay Cabong, just about two kilometers from the city. The next day, another 14 packs of cocaine were recovered back in Divinubo island.
Little did the lady officer knew that the Divinubo and Cabong recoveries were just openings of cans with worms; more and more fishermen surrendered the stuff to her and her team; the latest was last third week of July when Yolanda Mondedo, a housewife from barangay Locso-on, turned over to her four bricks of the illegal substance. Yolanda said, she was in Manila when her husband found the melting substance near the sea; she said her husband sorted the still compacted part of the suspected cocaine bars. Confused and knew nothing to do, he kept it in their house, but he could not sleep. She said her husband ordered her to go home to help him decide on what to do with the stuff.
"The persistent information campaign of the police authorities, led by Ma'am Rose through Pulong-Pulong and radio broadcast helped us decide to finally surrender to them the bricks," Mondedo confessed. "We are thankful that we were informed about the criminal liability we will have to bear if we don't surrender these bricks, never mind if we don't become millionaire out of this bricks, I told my husband; I think peace is better," the woman added.
The Chief of Police said, she did a lot of convincing powers to the residents where intelligence assets would report that some of the residents have the illegal substance in the keeping.
"I am thankful that there are times when before the end of my talk, a fisherman or two would surface from the crowd with the bricks in their hands," she revealed.
The recent recoveries included four bricks last July 19, by brothers Roberto and Dominador Azul of Divinubo, 16 bricks by Edwin Doculan and Edgar Beros and the four by Mondedo.
Who is this sturdy Rose in the police service? At home she is the disciplinarian mother of four and a wife to another member of the PNP; her eldest son is also a PO2, the next is a resident doctor in Tacloban, another is an accountant and the only daughter is a registered nurse.
She is the typical housewife next door in duster, who loves the Korean movies until daybreak of watching, dancing and social drinking. She admitted that hers was not a so easy life as a young girl maybe have taught her to be strong.
In the interview, she revealed life was incomparably hard in Quinapondan town where she was raised with her three other siblings. She said before morning school, she would tap the dews in the gumamela plants down their house for her body lotion, just to eliminate the scaly dry skin "pugis" in her legs because seldom could they buy even the cheap Victoria for hair oil and lotion at the same time. As a college student, they ate corn with salted "hipon" almost everyday.
But it did not deter her dream to move one. While advised by the doctor to rest to improve her heart condition, she heard of a recruitment process where she applied, underwent the tough agility test and neuro, and in 1977, at 21 she became a patrolwoman and she discovered she got cured of her ailment.
Since then, the towering 5'5" officer had had unstoppable trainings, schoolings and encounters. The latest was when she led a team of policemen, who conducted a raid and succeeded in the recovery of sachets of Shabu in a barangay in Oras town in December 2008. The operation yielded millions worth of the illegal drug and the arrest of a suspected family of pushers, one of them the mother.
Today, after several tour of duties in different stations in the region, this sturdy Rose has earned an array of medals: an undetermined number of Medalya ng Papuri, Medalya ng Kagaligan, Medalya ng Kasanayan and a national award as an Outstanding Officer for WCCD.

Dominador Azul (left) handshakes with PSupt. Rosula Sabio Mambulao during the awarding rites at the Governor's Office. To his left is Hon. Gov. Conrado B. Nicart, Jr. who gave Azul a cash award of P2,000 for the two bricks that he surrendered. Second from right is PSSupt. Felixberto Marudo Castillo, DSC, Provincial Police Director.
This July, Honorable Governor Conrado Nicart, accorded her a recognition together with Senior Supt. Felixberto Castillo for their outstanding performance, just like the other COPs, in the recovery of the cocaine that put Eastern Samar in the limelight worldwide. Here, another medal was added up to her collection; Medalya ng Kagalingan.
It was said that a Chinese vessel carrying the prohibited substance dumped them in the Pacific, upon realizing that a US Anti-Illegal Drug Enforcement Team was running after them in hot pursuit. As these suspected cocaine bricks were thrown into the sea, some inched closer to the shores of Eastern Samar and was founded by the fishermen in San Policarpo, Borongan, Llorente and elsewhere along the coastal areas of the province.
Police Supt Rose Mambulao can be tough and sturdy when needed in wars, but as a person, as a mother and friend, she is soft and compassionate. Asked what she considers her biggest accomplishment, "My children," she humbly replied.
Yet, life has not been a bed of roses for me, so to speak.
"Destiny has been good to me, but I have my own share of life's ups and downs," the candid sharing of this friendly woman went on. "Without our imperfections maybe life could be colorless. Somehow, we can't be regretful with some of life's lapses, after all "the road of life was not meant to be lived backward but forward," she cracked.
At 56 next year, the final curtain for police duties for this lady officer will finally fall. Still young and energetic she could still see herself actively participating in the community, minus the cocaine, hopefully, she jibed. Asked if she can be a politician, "why not?", she answered, "pero sayang ada it ak hin-retire-ran? Ayaw nala. Ballroom dancing nala," she laughed. (PIA-Eastern Samar)