A stranger's thoughts of a place in her country
By DIANNE MARIANO, AHRC
September 9, 2011
As a Filipino, born and raised in Manila, it is a shame to say that on my first trip to Mindanao I felt mixed emotions. I was happy because I had the opportunity of travelling to this part of the country, but I was also worried due to the stories of war in that land we called, the Land of Promise; at that I could not expect protection from the government on my trip there.
The dominant perception is that Mindanao is a violent place where there are conflicts between soldiers and the rebels and also the terrorist. This is what newspapers, radio and television usually report. Most the stories though are exaggerated and sensationalized but these were the images I had in mind: the island of Mindanao is a violent place.
While on the plane, I could not help but worry about my travel to the island. However, I realised that I had to set my worries aside and prepare myself for a worst case scenario. Questions were flooding my mind mixed with concern. What should I expect from the places where I will be going? Will I learn something from them? What can be done?
As I was deplaning, I just follow the other passengers. Apart from the soldiers near the gate the airport in Davao City is no different to the one in Manila. I saw a crowd of people taking shelter from rain in a tent while waiting for a ride. Later, a man approached me and asked me something but I could not understand anything. But a colleague told me the man was merely asking where we were going and whether we already had a car. I felt awkward. I thought to myself, we are both Filipino but I could not understand a very simple question from this man. I felt awkward. I felt as if I was a stranger in my own country.
New beginning
It was a long day. We spent the whole day travelling. Later I went out looking for a place where I could take my breakfast and found myself in a small shop selling food that hardly had any customers. A girl, who was probably around 13 years of age, served me food, while her mother cooked. I just told her the food that I wanted to eat. It was my first time to taste dried anchovies with cucumber, tomatoes and vinegar. I never thought it could be very tasty. Few minutes later, my attention was drawn to the girl. I thought to myself what I was doing at her age. My memories were coming back.
I could still remember that I was playing and going my friend's houses. But my mother, who was working abroad, was not with us. She was working abroad to serve foreigners in order to earn money. I envied the girl because she was with her mother. Even if she was not with her friends playing or visiting their houses, she and her mother were together. They were working together to make a living.
After eating, I went around walking, again. This time I saw a mother carrying her baby. At the corner dirty and barefoot children were playing. I could not believe in what I have seen and asked myself, "Am I really in Mindanao or in Manila?" This is the usual scenario that I see in Manila: children and the elderly begging money to buy food to eat. The people call them "Badjao". From what I know, the term "Badjao" is the name of the place where they come from and that they had to live for reasons I do not know.
On the same day, we travel to Samal (island). The air was fresh at the Island and the way of life is very simple. Most of the people there knew each other. Shortly, a young man approached us. He was a tattoo artist. He was using skin paint for temporary tattoos. He has many different designs for those who want to pay to have one done.
While my colleague was having his tattoo, they had the opportunity of talk about their life. The young guy mentioned that if he has no class, he is usually at the beach to offer tattoos to beach goers. He financially supports his own study in Architecture from his tattoo service. I admire the young man's determination to finish his study and given the need for school projects and equipment for his course would not be that easy.
As I was observing the surrounding, I noticed men who were also playing basketball at the nearby court. They were playing in a half-court basketball court I thought they themselves had constructed. It was fun to see them playing. It gave me a different sense of happiness while I was watching them. I could see from their faces the happiness and contentment in what they were doing. They were enjoying the game with their friends and their family as well -- simple things that I had already forgotten.
Lessons I learned
We went to many other places after our Samal trip. In few days, it seems that we had nearly travelled through most provinces in Mindanao. Our trip had showed me something that most of us had not paid attention to before.
The mother and her child at the shop had taught me that had there been sufficient opportunity for employment in our country her daughter would not have to earn a living as well at that very young age. She could have focused her energy in her studies and have time to play. That is what OFWs (Overseas Filipino Workers) should have been able to do (in the country as well) like what my mother did many years ago. Filipinos would not need to be separated only to get a job abroad, which is often dangerous, to feed their family.
It did not escape my attention also that if life in urban areas is difficult, it is similar to what the people in the urban areas are also experiencing. It illuminates to me that virtually the policy of the government for adequate housing, health and other public services could hardly do anything for the needy.
The story of that young man doing commercial tattoos had given me hope that we could do something if we work hard for it. I thought his parents were lucky to have a son like him because he was the one who thought of the need to earn money to support his studies. However, there is also anger that I feel inside because had our government allocated sufficient budget for education each youth would have had to the opportunity to focus and excel from their studies. They would not have to worry that the following day they could not go to school anymore because they no longer have money.
Now I thought I had given more value to simple and small things that I usually did not pay attention to; the simple things that give us happiness. My experience had taught me the simplicity of the way of life of the people of Samal. I realised this is what the people in urban areas were deprived of because they work so hard to earn a living they hardly find time for pleasure.
At the end, I had mix emotions from that trip. It was both happiness and concerns which were gradually overtaken by my determination. It is a determination to help others and fellow Filipino in order to inform the authorities as to the realities of my people.
------------
About the author: Dianne Mariano is a former intern of the AHRC. She wrote this article, originally written in Filipino, following her recent trip in Mindanao as part of her exposure programme.
On Senator Sotto's abortion bogey and the role of IPPF and FPOP
A statement by Family Planning Organization of the Philippines (FPOP)
September 6, 2011
Senator Vicente Sotto III, yesterday once again mentioned the International Planned Parenthood Federation (IPPF) and the Family Planning Organization of the Philippines, Inc. (FPOP) in his interpellation for the RH bill. He cast IPPF as an organization providing abortion worldwide. His line of questioning seemed to suggest that since FPOP is an affiliate of IPPF, ergo FPOP is also an abortion provider in the Philippines. All these tended to put doubt on the legal existence of FPOP as an NGO and the integrity of this organization.
For the benefit of Mr. Sotto and some members of the public who might have been misled by his revelations, IPPF is a global service provider and a leading advocate of sexual and reproductive health and rights for all. It has 153 Member Associations in 170 countries, proof that it is recognized and welcomed by governments and supported and patronized by peoples across the world. It is recognized by world leaders and its voice and advocacies are heard and respected by the United Nations and many of its agencies.
IPPF provides access to family planning and a constellation of reproductive health services especially targeting the poorest, marginalized, socially excluded and underserved populations in all of the countries where it is present. In 2010 alone, approximately 33 million clients, including Filipinos, were able to enjoy IPPF's services that include counseling, gynaecological care, HIV-related services, diagnosis and treatment of sexually transmitted infections infertility services; mother and child health, family planning, youth-friendly services, contraception, emergency contraception; and abortion-related services.
It is true that IPPF promotes safe abortion (as contrasted to unsafe abortion). But it does so only in countries where abortion is legal. In other words, it does not perform abortion where it is not legal.
FPOP is a proud member, in fact a very proud member, of IPPF because only one organization per country earns the distinction of becoming its member despite many applications to become such. We also have a proud history being the largest and oldest non-government organization that provides continuous and consistent family planning and reproductive health information and services in the Philippines. This we do even in difficult times and in the face of government's hemming and hawing if to fund these services such as during the Arroyo administration.
We have legally existed since 1969 and have served millions of mostly poor Filipinos. We preceded even the establishment of the Commission on Population and other family planning and reproductive health related programs of the government. We were founded by highly-respected medical leaders and practitioners at that time such as Dr. Jose Katindig, Dr. Josefa Ilano, Dr. Gregorio Lim, joined later by Dr. Juan Flavier, who later became DOH Secretary and Senator, and other personalities with Catholic and Protestant backgrounds.
At present, FPOP has 25 chapters all over the country and runs 28 clinics. We have hundreds of volunteers many of them doctors, nurses, midwives, teachers, lawyers, ranking government officials and politicians backed up by community leaders and ordinary folk – mostly women – who serve as our frontline service providers. To refresh the shortened memory of Mr. Sotto, he enthusiastically helped inaugurate one of our clinics, the Tandang Sora Community Health Care Clinic, when he was still an intrepid young Vice Mayor of Quezon City many years ago.
In his interpellation, Senator Sotto raised the abortion bogey obviously to muddle the issue. For his information, on no occasion has FPOP been hailed to court nor any of its volunteers and practitioners to prison for an abortion offense in FPOP's 42 years of service. Our only record is an impeccable one and that is our record of providing FP and RH services to those in need, oftentimes for free.
We do not intend to hide the fact that FPOP provides abortion-related services aside from our main service components on access to family planning and reproductive health services, young people's sexual and reproductive health, HIV and AIDS and advocacy. For the education of Mr. Sotto and for the satisfaction of our countless supporters, we cannot remain blind to the reality that there are 575,000 abortions occurring annually mostly in unsafe conditions. About 80,000 of them end up in hospitals after developing complications, which sometimes result in death. Family planning and abortion counseling, our principal abortion-related service and deterrence to unsafe abortion, have the capability to prevent unintended pregnancy that result to induced abortion by up to 25%, according to many studies. Prevention and management of abortion and its complications is a recognized abortion-related service and is being implemented also by the Department of Health and other health NGOs like us.
To bolster Mr. Sotto's abortion scare, he sought to associate IPPF and FPOP to the controversial advocacies of Margaret Sanger conveniently setting aside the fact that she is recognized as one of the leading figures in the struggle for women's emancipation and of sexual and reproductive health and rights. The good Senator's attempt to disqualify the claims of our courageous Senate and House sponsors and advocates of the RH bill based on the history of one of its founders is an attempt to veer the public's attention away from the more contemporary and equally noble cause that is the promotion of men's and women's rights to self-determination, information, health, and life.
At this juncture, the dismal maternal and child health situation in the country is more important than our own individual perceptions or opinions of history, much like our belief in Christianity and the Roman Catholic Church remains unaffected despite our knowledge of the Crusades that claimed the life of those perceived as heretics in the 16th century.
"Rain as grace"
By JUAN L. MERCADO, juanlmercado@gmail.com
September 1, 2011
"A man will fight over three things," the late Senator Barry Goldwater mused. "Water, women and gold – usually in that order." That sequence resonates in House of Representatives' Resolution No. 1573.
Filed by party-list legislator Rep. Arnel Ty, it urges government: Revisit its massive failure to implement the 22-year old law titled: "Rainwater Collection and Springs Development Act" approved in March 1989, RA 6715 requires rainwater be saved.
All administrations flopped in implementing this law. "The law hath not been dead, though it hath slept," Shakespeare wrote in "Measure for Measure."
Unsaved rain often turns into rampaging floods. And people will murder for wells, during droughts. "Where there is no water, guns are everywhere," UN Secretary General Ban Ki Moon wrote. Few remember that prolonged dry spells sparked the Darfur massacre where 200,000 died in South Sudan, he said.
Intense rainfall, half of the year, now alternates with searing droughts in the other half. Floods trigger landslide that morph by into fields baked by dry spells. Between 68 to 90% of land, in 19 provinces are "susceptible to landslides". So is 73% of Metro Manila, warns a Department of Environment and Natural Resources (DENR) study.
Deforestation expands threatened areas. Here are some (figures rounded) current estimates: Misamis Occidental (90%); Quirino and Bulacan (87%); Basilan and Bukidnon (85%) percent); Surigao del Norte (83%); Quezon (82%).
Include Camarines Sur (79%); Lanao del Norte (78%); Camarines Norte and Zamboanga del Norte (77%); Northern Samar and, Pampanga (74%); Pangasinan (71%t); Davao Oriental and Southern Leyte (70%); Aurora (69%) followed by North Cotabato and Sulu (67%percent).
"Issue a 'writ of kalikasan'," Magsaysay Awardee Antonio Oposa and concerned citizens earlier asked the Supreme Court. If granted, the writ would compel respondents – government units, provinces, even the new Commission on Climate Change – to implement RA 6716. "When the well's dry, we know the worth of water."
Clean adequate water ensures life and growth. In the Philippines, 66 out of every 100, lack safe water. Many die from tainted water. "The most fractured human right is that of a child to celebrate his first birthday". These preventable deaths are an obscenity.
People consume water, discard it, poison it, waste it," writes Marq de Villiers. "(They) restlessly change the hydrological cycles, indifferent to the consequences: too many people, too little water, water in the wrong places and in the wrong amounts."
Yet, solutions are doable. Take building a rain cistern. Or sealing leaks in water system pipes. Capiz province, in 1989, used a Canadian International Development Research Centre grant, to build 500 rainwater storage tanks. Made of were wire-framed ferro-cement, tank capacities ranged from 2 to 10 cubic meters. This was no free lunch. Loans of US$200, repayable over a three-year period, covered not only the cost of the tank but also one or more income generation initiatives, like rearing of pigs. "This mechanism for financing rural water supplies avoided costly water resources development subsidies.
Water-strapped Cebu and Davao City have such ordinances. Iloilo has drafted a similar measure. "Between saying and doing many a pair of shoes is worn out", an Italian proverb says. Implementation has been flabby. And there is a little recognized hurdle: Water districts which do not think beyond their backyards.
Take Bulacan's Water District. Like Cebu, it is bugged by more deep wells that spew brackish water, as the "saline edge contaminates underground aquifers. Both are over-dependent on aquifers ground water – which is not sustainable. An increase in rainwater use would result in savings for family budgets – but a drop in water district revenue,"
"At first, Bulacan was excited about harvesting rainwater," recalls a water speciatist. What about income to pay off loans?, finance people asked. "And that was the end of the planning. Mayor Ed Hagedorn wanted rainwater harvesting for Puerto Princesa. He, too, ran into a similar roadblock."
Today, water use is increasing at twice the rate of population growth, International Herald Tribune reports. But, 58% of our groundwater is contaminated, Asian Development Bank finds. Untreated domestic and industrial wastes poison reservoirs. Here, you can drink from only a third of our rivers. The rest are cesspools. By 2025, water availability will be marginal in 8 of 19 major river basins and most of the cities.
Providing clean water can save most of 1.8 million children who die yearly from diarrhea, says the UN study: "Beyond Scarcity: Power, Poverty and the Global Water Crisis." Installing a flush toilet in the home, increases by 59 percent a child's chances of surviving. "Not having access to clean water is a euphemism for profound deprivation," UN says. "The crisis in water and sanitation is above all a crisis for the poor."
Not one of the 16 unqualified towns, that became cities, thru a flip-flopping Supreme Court decision, will use their Internal Revenue Allotment for water. Mindsets must be overhauled to recognize rain as a primary source of water. What keeps rivers flowing and stores water in catchments or watersheds is rain. "Rain is the sky condescending to the earth," as John Updike wrote…"Rain is grace."
Medical practice – the poor are likely to die
By DANILO REYES, AHRC
August 31, 2011
The common phrase that the poor suffers the most, in all aspects of life, is not difficult to comprehend. But no one could ever grasp the depth of the poor's suffering in a life in which he was conditioned to live. It is not like an experimental exposure where a person can immerse himself in a situation in order to get a feel, knowing full well that he can simply step out of it when it becomes too much for him.
The experience I had as to how the disadvantaged suffer from the poor state of the medical practice in the Philippines is limited to me, my family and my relatives. I could articulate the experiences of the others but it would be broad and in an abstract idea as to how they have suffered; and my evidence to those experiences are anecdotal.
Yes. If you are poor, you have no political connection, you are not known to the medical service provider and if the latter thinks you have no education, you are likely to die.
Recently, I took my family for a holiday in my wife's hometown, a remote village in the southern part of the Philippines. After having been away for over two years, I thought of our travel as good experience for our two children, the eldest of which is five; and youngest, two. The latter was born in Hong Kong and has not been seen by our relatives since he was born.
A few days after we arrived, both children fell ill. One eldest had fever and was vomiting; and the youngest had loose bowels. In the village there are no taxis; there is an ambulance service but there is no way to contact them. In an emergency the villagers take the patients, some of whom are even dying, to the hospital by themselves – if not on foot, on a public bus or passenger jeep at the highway. These means of transport are only available about ten to twenty minutes walking distance from the house were we stay.
It was high noon, I carried my eldest and my wife our youngest to the highway to go to the hospital which was almost an hour away from where we were staying. After waiting for the passenger jeep to arrive we then had to wait until it was full as the driver was reluctant to leave without a full jeepney.
For me it was an emergency. Try to imagine the scene inside the jeep: I was carrying a plastic bag for my daughter to vomit in; and my wife, who was carrying our boy, was making sure the contents of the malfunctioning diaper of low quality (the best available) did not spill out of his pants. We waited in agony of despair for the jeepney to leave for the nearby town where the hospital is.
Finally we were there. We immediately went into the emergency section of the provincial hospital. Here, I saw an ambulance parked by the door and I wondered how it might be possible to contact the service. I did not see any sign or instructions on how to contact the ambulance service. At that time, I did not bother to find out. I had my two children with me right at the door to the emergency room. It had taken an hour and now we were just as worried and clueless as no one was telling us what to do.
Along the hallway, a hospital staff (probably a nurse), who did not bother introducing herself, asked us why we were there. She didn't stop to talk to us and we had to walk along with her. I had always assumed that in an emergency room where the lives of patients are at stake you do not waste time. Surely, no one would go to such a place unless it was a genuine emergency. Was it necessary for this nurse to ask such an obvious question? Apparently it was.
In an emergency situation the first duty of the hospital staff is to ascertain the immediate situation of the patient. However, without making any such inquiries the nurse arrogantly asked why we did not bring our sick children earlier. Before I was able to answer she told us that if we wanted to have our children attended to by a doctor, we would have to choose between submitting them for admission or just go away.
She then arrogantly demanded to know as to why we were unaware that the doctors at the provincial hospital only serve patients half day every Saturday. Thus, even if we admitted our children they would not be attended to by a doctor until one or two days later.
It was only after I told the hospital staff that we lived in Hong Kong and were staying at a nearby town, that she took the time to explain to us properly how we could get treatment at the hospital; something that should have been a part of her normal duties. My siblings and friends has told me that we were only likely to be accommodated by government employees, such as hospital staff, if they thought we had money, or were a professional and, most importantly, if you arrived at the hospital in a private car.
In this instance all we had was this arrogant woman to deal with. There was no one dealing with newly arriving patients, their conditions being an emergency or otherwise.
There was no apparent system or mechanism. I did not see any instructions on what the newly arriving patient should do to get registered and treated; that they are only open half days on Saturdays; that a patient could be admitted without being examined by a doctor; that patients have to wait until the doctors are available. There were no instructions, only posters from the health department on general public announcements.
When I realised this, what came to mind was not me and my two sick children, but how terribly the poor and ordinary person might suffer daily when they seek treatment from that government hospital in an emergency. Our case was vastly different. At least I had an idea of how to deal with government employees and we, at least, could also afford to go to a private doctor and hospital.
I was told how patients were refused treatment in health centers and hospitals for very petty reasons. My sister-in-law told me a story about an indigenous child, who came down with a relative from a far flung village in the mountains, sent away by health worker in the village because he did not carry proof that he was a resident there. The patient, whose foot was badly swollen was in pain, was refused treatment by the health center. The boy and his relatives had to leave the health center without being treated.
In the remote and far flung villages, villagers do not bother securing referral letters or any documents to prove that they are residents of that village. Most villagers know who live in their village regardless of how far a distance neighbor's house is from the other. The indigenous people, unless they could not remedy the illness in their own, also prefer to treat their patients on their own because – firstly, hardly any of them had any experience of getting treatment from medical services; secondly, hospitalization and medication means you need a lot of money which they do not have.
Even if you can afford to pay or are covered by health insurance in private hospitals, the doctors and hospital staffs make money from you in their own way.
Unlike in Hong Kong, the doctor's fee when you go to private doctors and hospitals in the Philippines is only for the consultation. Medicine is not included. The doctor would prescribe a medicine for you to buy at the private pharmacies outside. The prescription of medicine is where the doctors get money or commission from medical representatives (MedRep). The medical representatives are persons selling medicines for doctors to prescribe. They also have their own way of checking at pharmacies as to whose doctors prescribed what medicine.
Thus, when my wife and I fell sick few days later, the medicines prescribed by a doctor at a private hospital, which could possibly be cheap had it been prescribed as a generic brand, were very expensive. Usually private doctors in private clinics asked the patients what they do for a living (which has absolutely nothing to do your sickness) before prescribing medicines. The medicine that the patient would get depends on the patient's response – depending on the doctor's judgment as to whether the person can afford or not.
At the private hospital where my wife and I went, I could hear a female patient who was sitting next to me, trying to explain to a hospital nurse (who was attending to three to four patients at once) that she be admitted for treatment. The nurse refused to register her because she had no money to pay and she could also not produce a document showing the bus company would cover her hospital expenses. She was being a victim of the bus accident. The patient had not been admitted even after we left the hospital.
Doctors are subject to rules and regulation by the law and the medical profession. To refuse treatment to needy patients is illegal; however, hospitals and health centers gets away from it by not putting them on record in the first place. They do not have any liability or any responsibility to any patient where they do not have any records of them.
Talumpati para sa Araw ng Samar
A speech delivered by 8ID chief MGen. MARIO F. CHAN on the occasion of the 15th Samar Day Celebration on August 11, 2011 at the Capitol Grounds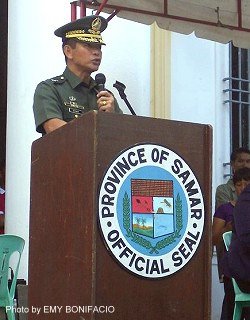 Ang pagdiriwang ng kaarawan, tulad ng ginagawa natin ngayon ay isang pagkakataon upang tingnan, lasapin at tasahin kung nasaan na tayo at kung ano ang mga pagbabagong naganap mula noon hanggang ngayon. Ito po ang ibig sabihin ni Gat Jose Rizal. Para marating natin ang gusto nating marating, kailangan pong balikan natin kung saan tayo nanggaling at kung papaano tayo tumatawid mula doon.
Sa pagkakataong ito, gusto kong magsalita, hindi lamang bilang isang Heneral ng Philippine Army, kundi bilang isa ring mamamayan na tulad ng nakakarami, nangangarap ng isang lipunang tunay na masagana at mapayapa. At tulad din ng nakararami, kailan man ay hindi ako nagsawang mangarap na baling araw giginhawa ang mamamayang Pilipino at magkaroon ng kapayapaan sa bawat tahanan at pamayanan.
Ang isla ng Samar, at ang mga lalawigang nasa loob nito, ay kasama sa mga tinaguriang mga mahihirap na pamayanan. Ayoko nang banggitin kung pan-ilan tayo sa listahan ng mahihirap na lalawigan. Sapat na para maalaala natin na kasama tayo sa listahan.
Sa totoo lang, may staitistics man, ot wala, ang pang araw-araw na karanasan ng mga Samarenyo ay sapat upang ipahiwatig sa atin na matindi nga ang kahirapan sa lugar natin. Kaya siguro nakakapag recruit ang CPP-NPA para sa kanilang armadong pakikibaka ay dahil sa kalagayang ito.
Kung kahirapan ang nagtulak sa iilan sa atin upang sumanib sa armadong pakikibaka ng kilusang komunista, di po ba't ang dapat nating gawin ay paunlarin ang kabuhayan ng mga mamamayan upang wala nang sasama pa sa kilusan nila, at maging ang mga nasa loob ay aalis na at iwanan na nila ang kilusan?
Pero paano po ba natin paunlarin ang Samar at ang pamumuhay ng mga mamamayan dito? May formula ba na kailangang malaman upang mangyari ito? Bakit mistulang napag-iwanan tayo ng ibang mga probinsiya sa loob ng rehiyon? Ano ang meron sila na wala sa Samar?
Sa paniniwala ko po, sapat na ang mga umiiral na batas upang magamit bilang pamantayan sa pagpapaunlad ng buhay at kabuhayan ng bawat pamayanan. Sa saligang batas po ay malinaw na isinalarawanang mahigpit at dinamikong ugnayan ng arikultura, repormang pansakahan at kaunlarang industriyal.
Upang magkaroon ng batayan sa pag-unlad ng mga industriya, kailangan palaguin ang hanay na agrikultura. Upang makamit ang sabay-sabay na pag-unlad ng kanayunan at kalunsuran, kailangang iangat ang antas ng produktibidad sa kanayunan at ang isang napakahalagang kailangan gawin dito ay ang lutasin ang problema sa monopoliyo sa lupa sa anyo ng repormang agraryo at repormang pansakahan.
Kung ito rin lang ang pag-uusapan, matagal ng nailatag ng gobyerno ang mga batayang pundasyon upang magawa ang lahat ng ito.
Ibig sabihin na ang mga kinakailangang mga patakarang legal upang makamit ang panlipunang kasaganahan ay nandiyan na. Kailangan na lang nating gawin.
Pero paano nga natin paunlarin ang Samar?
May batayan ba kung sabihin natin na paunlarin natin ang turismo? Kung may batayan, may mga plano at programa na ba para dito?
May batayan ba kung sabihin natin na paunlarin natin ang agrikultura sa kabila ng katotohanang ang Samar ay madalas dinadaanan ng bagyo? Kung may batayan, may malinaw ba na plano at programa para dito?
May batayan ba kung sabihin natin na paunlarin ang industriya lalo na ang sector ng manufacturing? Kung may batayan, may mga plano na ba at programa para dito?
Kung inyo pong napansin, lahat po ng kailangang gawin upang paunlarin ang isla ng Samar ay magmumula sa isang malinaw na plano at programa – isang plano at programa na angkop sa kalagayan at pangangailangan, at malinaw kung sino ang makikinabang: ang totoong bayan.
Dito po mahalaga ang usapin ng pamumuno at pamamahala o leadership and management. Pasensiya na po kung sabihin natin na ang kailangan dito ay political will. Kung meron man pong politically-relevant phrase na masyado nang naabuso, political will po yun.
Ang gusto ko lang sabihin na malaki ang hamon para sa mga namumuno at namamahala ng mga probinsiya sa isla ng Samar. Pangunahin po dito ang mga namumuno sa mga pamahalaang local. Pero kasali din po dito ang mga namumuno sa iba't ibang ahensiya ng pamahalaan, at maging ang mga pangunahing seksyon ng lipunang sibil o civil society at pribadong sector.
Sa panahong ito, mahirap na pong kumilos na nag-iisa. Di po kakayanin kung paisa-isa nating solusyunan ang mga problemang kinakaharap. Di po okay kung kanya-kanya. Kung ang mga suliraning panlipunan ay magkakaugnay sa iba't ibang anyo at antas nito, di po ba't ang kailangang solusyon ay magkakaugnay na gawain at magkakaugnay na mga tunguhin?
Kung gusto po nating lutasin ang matumal na kalakalan sa kalunsuran, iangat po natin ang kakayahang bumili (purchasing power) ang mga tao sa kanayunan. Para po mangyari ito, kailangan lumawak at umangat ang produksiyon; kailangan pong itayo ang mga kinakailangang imprastuktura; kailangan pong magbuhos ng mga suportang serbisyo para sa maunlad na produktibidad. At dito sa layuning ito, maging ang inyong mga sundalo ay may papel na dapat gampanan.
Kailangan pong magkaroon ng trabaho ang mamamayan – mga trabahong dito mismo sa Samar natin ibibigay at hindi sa Metro Manila, sa Hongkong, o sa Dubai. Sa totoo lang, humihina ang ekonomiya sa daigdig. Tumitindi ang krisis sa Estados Unidos. Tumitindi po ang krisis sa Europa. Kung meron mang ekonomiya na umaanagt ngayon, halos Tsina at India na lang po, kung ang pagbabatayan ay ang GNP ng mga bansa. Maging ang welfare states sa Europe tulad sa mga Scandivian countries ay matindi ang kinakaharap na mga problemang pang-ekonomiya. Kinakaharap po ng pandaigdigang ekonomiya ang mga phenomenon na kung tawagin ng mga ekonomista ay yugto ng decadence na ang pangunahing katangian ay ang magkakasunod na economic recession sa iba't ibang panig ng mundo. At hirap po ang lahat na hanapin ang solusyon para dito.
Ibig pong sabihin, sa darating na mga taon, hindi na po natin maasahan ang export ng lakas paggawa upang maibsan ang problema sa kawalan ng hanapbuhay sa bansa. Kailangan na pong pag-isipan ng maigi kung papaano tayo makalikha ng mga oportunidad para magkaroon ng hanapbuhay ang taong bayan dito mismo sa atin.
Kaya ko po sinasabi ang lahat ng ito ay dahil na rin sa malinaw na ugnayan ng kaunlaran at kapayapaan. Hindi po natin makakamit ang kapayapaan hangga't hindi po malinaw kung papaano natin pauunlarin ang kabuhayan ng mga mamamayan.
At para po sa kagaya kong may mahalagang papel sa pamumuno at pamamahala, huwag po nating sabihin na para umunlad ang Samar ay kailangang magsakripisyo ang mga mamamayan. Sa totoo lang, ang kahirapan po ay isang malaking sakripisyo kaya ang mamamayan natin ay matagal na pong nagsasakripisyo.
Baka po sa panahong ito, tayo ang dapat magsakripisyo. At isang sakripisyo po na kailangan nating gawin ay ang unahin at laging isaalang-alang ang interes at kapakanan ng taong bayan. Huwag po nating hayaan na ang ating interes ay maging balakid upang matugunan ang interes ng nakakarami.
Naniniwala ako na kaya ng Samar na umunlad gamit ang mga likas yaman na nasa Samar. Pero mangyayari lang po ito kung magpupunyagi ang lahat lalong-lalo na ang mga namumuno at namamahala. Makakamit po natin ang isang tunay na masaganang lipunan kung susunod tayo sa matuwid na daan na siyang isinusulong ng ating mahal na Presidente.
Pero maliban sa matuwid na daan, kailangan po nating isulong ang mga proyekto at programang pangkaunlaran na nakabatay sa ating kakayahan at kakkayahan, at tumutugon sa pangangailangan ng ekonomiya at pamumuhay ng taong bayan. At magaggawa ang lahat ng ito kung tayong lahat ay magtutulungan.
Ito po sa tingin ko ang panimulang hamon para sa ating lahat. Kaya ba nating magtulungan ng buong puso upang itaguyod ang panlipunang kaunlaran? Kaya ba nating isantabi ang pampulitikang dinamismo na kontra-produktibo sa pag-unlad ng taong bayan?
Ako po ay isang sundalo at isang mamamayan. Naniniwala po ako na hangga't hindi tayo nagtutulungan, wala pong mangyayari`sa ating mga matatayog na pangarap. Bilang isang sundalo, nakahanda akong gawin ang lahat ng aking makakaya upang maitaguyod ang interes ng nakakarami para sa isang maunlad at mapayapang lipunan.
Sa paniniwala ko, ito rin po ang hamon ng bawa't isa sa inyo. At alam ko na kasing tayog ng mga pangarap ko ang mga pangarap ninyo para sa bayan, para sa SAMAR.
Sa pagdiriwang natin ng ARAW ng SAMAR ngayon, gawin po nating handog sa kanya ang panata para sa pagtutulungan.
Leave benefits as explained by CSC provincial director Eamiguel

By CHITO DELA TORRE
August 17, 2011
Male parents who are government employees are entitled to go on a paternity leave. Yes, if female employees can enjoy their maternity leave, males also enjoy their own, and that is called, paternity leave. Adoptive parents – those with adopted children – can also enjoy all the benefits which biological parents are entitled to. As for the latter case, Section 34 of Republic Act No. 8552 or the Domestic Adoption Act of 1998 provides, in part, thus: "Maternity and paternity and other benefits given to biological parents upon the birth of a child, shall be enjoyed, if the adoptee is below seven (7) years of age as of the date the child is placed with the adopted parent through the Pre-Adoptive Placement Authority issued by the Department "(of Social Welfare and Development).
This is what male teachers and non-teaching personnel at the Basey National High School learned from the recent visit to their school by provincial director Cyril Nathan SM. Eamiguel of the Civil Service Commission Samar provincial office. (By the way, Dir. Eamiguel may become a lawyer one day. That's one of his biggest dreams.)
According to director Eamiguel, a paternity leave is a privilege granted to a married male employee allowing him not to report for work for seven (7) working days while continuing to earn compensation thereof, on the condition that his legitimate spouse has delivered a child or suffered a miscarriage. This leave type, he explained, may be enjoyed either in continuous or in an intermittent manner by the employee on the days immediately before, during and after childbirth.
Paternity leave is subject to three conditions, as follows: (1) Every married male employee is entitled to paternity leave of seven (7) working days for the first four (4) deliveries of his legitimate spouse with whom he is cohabiting; (2) the first four deliveries shall be reckoned from the effectivity of the Paternity Leave Act (Republic Act No.8187), which is July 15, 1996; and (3) married employees with more than one (1) legal spouse shall be entitled to avail of paternity leave for an absolution maximum of four deliveries regardless of whichever spouse gives birth.
Application for a paternity leave must be filed within a reasonable period prior to the expected delivery of a child, except in cases of miscarriage and abnormal deliveries. The male parent applicant may be required to furnish a certified true copy of marriage contract, birth certificate of newly born child, or medical certificate with pathology reports in case of miscarriage, signed by attending physician or midwife with date of childbirth/miscarriage. In addition, approval of the application leave is mandatory, unless the services of the male employee are urgently needed to preserve life and property, in which case, he becomes entitled to overtime pay.
In the case of adoptive parents, there are four general guidelines to observe: (1) Applications for maternity and paternity leave of absence by adoptive parents should be submitted to the proper head of agency/department/office, for appropriate action; (2) such applications should be accompanied by an authenticated copy of the Pre-Adoptive Placement Authority issued by the Department of Social Welfare and Development if the leave of absence will be availed before the grant of the petition for adoption; (3) if maternity and paternity leave benefits are availed after the grant of the petition for adoption, the applications should be accompanied by authenticated copies of the Decree of Adoption issued by the proper court; and (4) the grant of leave of absence under this Resolution shall be available to adoptive parents only once during the whole adoption process, provided, the adoptee or adopted child is below 7 years of age as of (a) the date the child is placed with the adoptive parents through the Pre-Adoptive Placement Authority, or (b) the date at which the application for maternity or paternity leave is made.
Apart from these leave types, there are also so-called "special leave privileges". These refer to a leave of absence of officials and employees that may be availed of for a maximum of three (3) days annually. The special leave privileges are "over and above the vacation, sick, maternity and paternity leaves". Director Eamiguel said the special leave privilege allows an employee to mark personal milestone and/or attend to filial and domestic responsibilities. Additionally, this privilege is non-cumulative and non-commutative or non-convertible to cash.
The young CSC provincial chief said that an employee can still avail of his birthday leave or wedding anniversary leave if such occasion falls on either a Saturday, Sunday or Holiday, either before or after the occasion.
Employees applying for a special privilege shall no longer be required to present proof that they are entitled to avail of such leaves.
Dir. Eamiguel, however, clarified that each employee is limited to only three days each year for his or her special privileges.
Special privileges can be availed by officials and employees with or without existing or approved collective negotiation agreement (CNA). These, however, cannot be enjoyed by teachers and those covered by special leave laws.
Apart from being granted to enable an employee to attend personal milestones, including death anniversaries, a special privilege may be granted for a leave to attend to parental obligations, such as attendance in school programs, PTA meetings, graduations, first communion, medical needs, among others, where the child of the government employee is involved.
The other four conditions for availment of this special leave privilege are as follows:
1) filial obligations to cover the employee's moral obligation toward his parents and siblings for their medical and social needs;
2) domestic emergencies such as sudden urgent repairs needed at home, sudden absence of a yaya or maid, and the like;
3) personal transactions to cover thee entire range of transactions an individual does with government and private offices such as paying taxes, court appearance, arranging a housing loan, etc.;
4) calamity, accident, hospitalization leaves pertain to force majeure events that affect the life, limb and property of the employee or his immediate family.