A blatant display of animosity from the South Wing

By GINA DEAN-RAGUDO, Samar News.com
June 3, 2011
It took me two days assessing whether to put this bad experience or not into words.
Taking into account how we reached our destination all the way from Malate up to the House of Representatives in the afternoon of May 30, 2011 was really strenuous. But the intention of the visit even without prior appointments from our respective congressmen was to take advantage of the situation while waiting for our flights back to our place of origin.
The intricacy of getting inside the house is the standard practice that everyone should undertake. But since it was not a "first time visit", the process of submitting into a routinary check-up at the entrance of North and South Wings was no longer an issue.
We passed through the two buildings (North and South Wings) as the offices of the subject interviewees were located separately.
In order to maximize our time, Elad Perfecto (Catarman Tribune Publisher) and I decided to go back to the South Wing Room 216 of An Waray Party List Representative Florencio "Bem" Noel for the purpose of requesting for an interview or to follow-up our pending request for medicines (intended for adults) and to verify the status of the new scholars admitted for the program. Though I already had prior information from Jude Acidre in regard to the scholars' checks, we believed it would be more convincing and would add more impact if we get the side of Cong. Noel or any of his staff in the house.
Upon reaching the room of An Waray, we knocked twice and initiated opening the door. A person of his 50's immediately asked for our identity and we hurriedly answered that we're from Samar Island Press Club. I couldn't remember him asking us for a seat but I sat infront of him as he continued asking about the purpose of our visit.
The very first concern I conveyed was the pending request for medicines. He immediately called Tacloban staff about it and right after his conversation on the other line, he told me in vernacular and I quote "pirme man ngay-an kamo nagrerequest, pirme kamo nareklamo". I was stunned hearing his statement but I calmed down by saying, "Yes there was a pending request last time we received Samar supplies in Tacloban City." Then he followed up if we're still conducting medical missions, which I said… "We suspend doing it instead we continuously give medicines through our respective media outlets like radio stations and the like. I added that most of the people who came to us were adults and we couldn't give any medicine because what we could offer are for children". Though I felt the atmosphere of animosity from him and other staff members were just staring at us, again I inquired about the scholarship status specifically the release of checks. I told him that we received complaints from the parents who are bothered that their children could not be enrolled this semester; that Tacloban coordinator in the person of Ms. Jean Padual seems so preoccupied that she's always out of coverage area causing us not to get exact information. That moment we were already pacing towards the door and my companions were already at the lobby sitting at the couch. He called up again Jean Padual in Tacloban City to check on the scholarship status. After their conversation he blatantly told me that Ms. Padual was attending her classes and not out of coverage area. That instant I was no longer interested to listen to his other statements as I felt his antagonism. I could sense that even my colleagues got awkward of the situation.
Feeling uninvited, I rectified his impression by telling him that "we're not complaining but was just making follow-up on the programs and services of An Waray Party List; and we didn't drop by the office to ask for anything but pure information.
The fact that we are visiting a government office, a friendly ambience is expected.
Just the two of us arguing, he persisted that our presence and the manner of the visit was to make a complaint. In as much as I would like to maintain my composure, the feeling of animosity seemed so unacceptable.
As a member of the fourth state, it is incumbent upon us to deliver the message to the right person who happens to be an elective official of the land and in his absence, any information, issues and concern can be passed on to any of his authorized representative.
Undeniably, he answered our queries in a manner where we could sense his enmity.
An Waray Party List through its representative Florencio "Bem" Noel and the Samar Island Press Club had a Memorandum of Agreement (MOA) wherein all of the programs and services of the party list shall be aired or published in our respective stations and publications like broadcast, print and e-media.
In fact, the medical missions initiated by the press club and the disposal of medicines as well as the facilitation of applicant-scholasr in Samar provinces are also part of the agreement.
Both parties have commitments in the name of public service.
Coming to the office of An Waray Party List was not the first time either. Our experience in the previous visit was enfolded with warm reception.
In this last visit, the swift change of mood was so surprising!
I don't want to be presumptuous but other members of the Samar Island Press Club, (SIPC) Inc. feel, the club we're no longer part of .An Waray's agenda. The club should realize that our role as partner or collaborator has been terminated without palpably informing us.
Media personalities and Non-career service or coterminous have diverse interests in terms of "public service."
There is a common saying that "there is no permanent friend or ally in politics, only permanent enemies."
If journalists are guided with our code of ethics, coterminous like the "confidential staff" is dependent on the whims of the appointing authority or subject to the pleasure of said appointing authority which is limited to the duration of a particular project for which purpose employment was made.
The manifestation of arrogance and hostility in his person is inherent in him and will always reflect to the office he's representing.
Compared to 2nd District Representative Emil L. Ong and his staff, they received us warmly. Just like in the previous visit either in his hometown at Brgy. Rawis, Laoang, Northern Samar or in the House of Representatives, we always end up conversing and doing good interviews.
In that visit, we learned our lessons. Never to rely too much to the words of our local leaders or any of his representatives for their display of sincerity could be deceiving. No matter how good a person/leader is, if he is blinded with power, it dominates the whole being. Failing to notice the very fact that he is affiliated with an elected official of the land whose duty is to serve his constituency; that in the absence of his superior, he has to act with civility to everyone and even to the lowest class of human being in this country.
According to Theodore Roosevelt, the most practical kind of politics is the politics of decency.
Seven "Thou Shall Nots"
By JUAN L. MERCADO, juanlmercado@gmail.com
May 29, 2011
The 20% Local Development Fund (LDF) is the "most abused" budget item today, Interior and Local Government Secretary Jesse Robredo told local officials at a Cebu conference.
LDF's are spent by 79 provinces. The Supreme Court, however, reversed itself on Dinagat Island's status. So, make that 80.
This trust fund is also vital for 122 cities. That excludes 16 towns where the Court flipped, then flopped, on their cityhood ambitions. A reconsideration motion is pending. Add to that roster 1,512 towns.
Six out of every 10 local governments flunk "full disclosure" criteria on tax spending. This fractures the General Appropriations Act of 2011 and Local Government Code. Both require "full disclosure to ensure transparency and accountability", adds Robredo.
This Magsaysay awardee's candor causes some to fume. "Does DILG control all LGUs?", snapped Dumanjug Mayor Nelson Garcia. He is League of Municipalities' national vice-president. "The League will challenge DILG circular memo 2010-138 before the Supreme Court.
Robredo's December 7 memo lists seven "Thou Shall Nots" in disbursing LDF. Bohol Gov. Edgar Chato, thus, flags a mayors' manifesto that bucks curbs on their spending.
What is the LDF? How did this trust fund come about? And what is it's track record? "Thou shall not ration justice", Justice Learned Hand once cautioned: Does Memo 2010-138 deny local officials equity?
Recall the 1972 UN Environment Conference in Stockholm. Delegates from 113 countries, including the Philippines, adopted an Action Plan that proposed a "20-20 Pact".
Governments agreed to earmark 20% of resources for the poorest. Such fund would address needs of the most deprived, namely: nutrition, health care, medicine, potable water, sanitation, primary schooling, etc.
Human development relieves grinding poverty, the Stockholm consensus stressed. Curbing disease and death rates makes human development possible. Unmet human needs usher more Filipino pre-school children to premature graves than it does in Egypt, Kenya or Tanzania, Asian Development Bank noted.
Sen. Aquilino Pimental wove that 20% vital safety net concept into the Local Government Code. Viewpoint noted (PDI/Oct 23, 2007) that politicians converted LDF into their mini-pork barrels, as successive COA audits found.
Davao Oriental Sanggunian officials ladled P669,892 as "financial assistance" – for themselves. Dapitan doled P1 million for an "executive band." San Carlos City allocated P110,000 for a Boy Scouts jamboree in Angeles. Northern Samar purchased seven brand-new vehicles, Cebu City Mayor Tomas' Osmeña's barangay leaders bought themselves high-powered motorcycles and handguns.
Plunder of the LDF does not stem from ignorance. Ruling after ruling underscores It's "preferential option for the poorest".
Could LDF supplement salaries of national high school teachers?, Mountain Province and Ifugao officials asked. Could it patch funding deficits in other projects? No way Jose, said DILG Opinion No. 5 on 10 August 1999.
That policy remains in force today. But is it honored more in the breach than in practice? Match some of Roberdo's "Thou Shalt Nots" with specific cases.
Underwriting "salaries, wages or overtime pay" is verboten, the memo says. In contrast, COA's annual report on local governments, has an unvarying gripe: "Regular expenses, such as salaries, wages, facilities maintenance, travel, celebration of festivities, etc are charged to LDF."
In 2008, for example, 102 LGUs failed to implement development projects," COA reported. The same sordid pattern persisted into the next year. It continues today.
Thou shall not underwrite "administrative expenses such as cash gifts, bonuses, food allowances, medical assistance, uniforms, supplies, meetings, communication, water and light, petroleum products, and the like," Robredo's memo tells LGUs.
Fifth class town Aloguinsan in Cebu splurged P540,000 for a live concert and a dance-breakout, COA said. Borbon town granted P24,000 to each department head. Jagna, Bohol, fittered away P1.85 million in LDF resources for heavy equipment.
Cotabato City appropriated P55 million under it's LDF for three development projects. It spent P44.3 million – most of which went for creating jobs, not meeting basic human needs.
"Evaluation conducted by the Audit Team Leader disclosed that majority of programs, implemented by city government under the 20% (Fund) consist of augmentation of manpower requirements," COA said. Some 480 workers were "assigned/detailed" at the 27 offices of the city. That chewed up P16.3 million.
Junkets or Lakbay Arals are out, Robredo says. "Travelling expenses, whether domestic of foreign" may not billed to the LDF. Neither may officials dip into the Fund for "registration fees in training, seminars, conferences or conventions."
Minglanilla officials (Cebu) burned P5.6 million from LDF for two trips to join Palawan's Kabunhawan festival. Lapu-Lapu city's Association of Barangay Councils "misused" P550,000 for Christmas party and gifts over two years and P776,500 for honorarium of 30 barangay captains.
A new Performance Challenge Fund will provide half a billion pesos to 344 LGUs that provide counterparts from LDFs for essential projects. These range from rural health units, water and sanitation to post harvest facilities.
Local officials stubbornly insist on having their LDF pork barrels "These are all honest men." the old adage says. . "But why can I not find my bag?"
Eulogy for Mayor Reynaldo Uy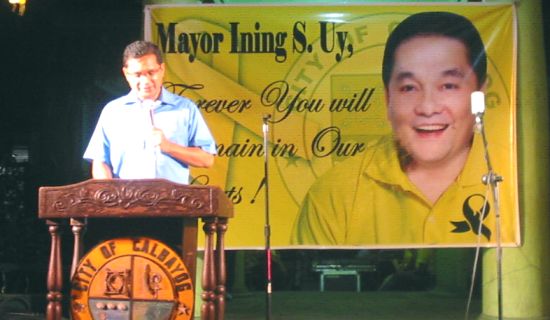 By Rep. TEDDY CASIÑO, Bayan Muna
May 20, 2011
Sa ngalan ng Bayan Muna at ng iba pang party list sa ilalim ng Makabayan Coalition - ang Gabriela Women's Party, Anakpawis, Act Teachers at Kabataan Partylist - pati na rin ang kanyang mga dating kasamahan sa Kongreso, nais kong iparating ang aming taus-pusong pakikiramay sa kabiyak ni Mayor Rey na si Jojie, mga anak na sina Aika, Jimjim, Joey at Jeca, kanyang mga kamag-anak at kaibigan, at buong mamamayan ng Calbayog at Western Samar. Hindi kayo nag-iisa.
Kasama n'yo kami at ang sambayanang Pilipino sa pagluluksa at paghangad ng hustisya para sa ating iginagalang at pinakamamahal na mayor at dating kasama ko sa Kongreso.
Bigyan natin ng pinakamataas na pagpugay si Mayor Ining - doktor ng bayan, lider ng progresibong kilusan, three-term congressman ng unang distrito ng Western Samar, Mayor ng Calbayog, at ngayo'y martir ng sambayanang Pilipino. (Palakpakan po natin si Mayor Uy.) Mabuhay ka, Mayor Reynaldo S. Uy! Ang alaala mo'y nakakintal sa aming mga puso.
Si Rey ay nakasama ko sa Kongreso mula 2004 hanggang 2010. Ako noon ay nasa Minority at siya naman ay nasa Majority. Kahit na siya'y nasa kampo ng administrasyon, madalas niya akong sulsulan na magsalita laban sa mga katiwalian at pang-aabuso ng gobyerno ni dating pangulong Arroyo. Ipinaubaya na niya sa amin ang laban sa mga usaping national dahil mas malaki ang labang hinaharap niya sa sarili niyang lugar dito sa Samar. Sa puso't prinsipyo, isa siyang tunay na aktibista - may puso't damdamin para sa masa at sa bayan.
Nasaksihan namin ito sa kanyang consistent na paglantad at paglaban sa extrajudicial killings, mga pagdukot at sapilitang pagkawala, at iba pang human rights violations na kinasasangkutan pangunahin ng mga militar at pulis. At nang siya'y nag-mayor, nakita naman ito sa kanyang patuloy na pagsisikap na linisin at baguhin ang pulitika sa kanyang lalawigan.
Palaging ipinagmamalaki sa akin ni Rey ang kanyang nakaraan bilang aktibista at lider ng Bagong Alyansang Makabayan. Ang malapit na pagkakaibigan nila ni Dr. "Bobby" de la Paz na katulad niyang nagsilbi sa mga mahihirap na Samareño sa halip na mangibangbayan. Katulad niya, pinatay din si Dr. de la Paz noong panahon ng diktadurang Marcos. Nakakagalit isipin na ilang dekada matapos mapatalsik si Marcos at maibalik ang demokrasya, nangyari kay Doc. Rey ang nangyari kay Doc. Bobby. Ngayon pa, na ang Presidente ng bansa ay anak ng isa ring biktima ng pagpaslang.
Lumaki ang paghanga ko kay Congressman Rey nang nanindigan siya laban kay Gen. Jovito Palparan nang magkalat ito ng lagim sa Samar at Leyte. Iilan lang silang naglakas loob na suwayin ang tinawag niyang "berdugo ng Samar" sa isang hearing sa Kongreso.
Kahit nang maging partylist congressman na si Palparan, hindi siya tinantanan ni Rey. Nang akusahan siya ni Palparan, sa isang privilege speech, na siya daw ay may mga pinapatay dito sa Samar, nag-privilege speech din si Rey upang pabulaanan ang mga kasinungalingan at isinama pa niya sa Kongreso – buhay na buhay – ang mga sinasabing pinapatay niya. Napahiya at hindi na nagpakita si Palparan at biglang nagbiyahe palabas ng bansa. Ganyan katapang si Rey.
Ipinaglaban niya ang mga biktima ng karahasan. Sino ang mag-aakalang siya mismo ay magiging biktima ng pagpaslang?
Kaya naman napakalaki ang ating panghihinayang sa kanyang pagkamatay. Bihira ang mga opisyal na may tunay na malasakit sa mahihirap at inaapi, na may paninindigan at lakas ng loob na sabihin ang totoo at ipaglaban ang tama, na may malinis na hangarin at likas na pagmamahal at paglilingkod sa bayan. Ang mga katulad nila, ang mga katulad ni Rey, ang gustong patahimikin at patumbahin ng mga masasamang loob at sakim sa kapangyarihan.
Palibhasa, akala nila'y tatahimik at titiklop ang taumbayan kapag pinatay nila si Mayor Uy. Akala nila, mababaon na lang sa limot at takot ang kanilang mga kasamaan. Akala nila, madadala rin sa libingan ang mga prinsipyo at adhikain ni Mayor Uy. Pwes, sori na lang sila. Nagkamali sila ng pinatay.
Sa ginawa nilang ito, lalong titibay ang pagkakaisa ng mga Samareño. Lalong uugong ang boses ng pagbabago. Lalong mayayanig ang kanilang mga kampo at palasyo. Sa pagpatay nila kay Mayor Ining, binuhay nila ang kanyang diwa sa bawat-isa sa atin. Ngayon, hindi na lang si Ining ang kanilang katatakutan kundi ang libu-libong naniniwala sa kanyang sinimulang laban.
Muli, pinakamataas na pagpugay kay Mayor Reynaldo S. Uy!
At sa ating lahat, tuloy ang laban, makibaka, huwag matakot!
Salamat po.
Breaking a deluding mantra

By Fr. ROY CIMAGALA, roycimagala@gmail.com
May 19, 2011
I'M referring to the often cited doctrine of the separation of Church and state that many people – politicians, mediamen, etc. – like to use when rationalizing their positions that clearly go against Christian faith and morals as taught authoritatively by the Church magisterium.
In their passion to justify their views, they repeat ad nauseam a mantra that indiscriminately stereotype and degrade Church official teaching, often confusing the Church official stand with the personal views of some Church faithful who also are citizens of the country like everybody else.
In the current RH Bill debate, for example, the official Church stand in a nutshell is that the RH Bill while having good intentions and good elements, is at its core morally dangerous. It's like a sweet cake laced with poison.
And that's because for all its affirmations about freedom of choice, women's rights and fight against poverty, etc., it espouses contraception as one option and that is intrinsically evil. The Church cannot keep quiet when an immoral option would be promoted officially.
As to the civil disobedience proposed by some people, that is not anymore part of the Church official stand even if the majority of those who propose it may be Church faithful. But these Church members are doing it as citizens of their own country, like everybody else. Besides, many of those who also propose it are not Church faithful.
The Church has the right to make this kind of judgment on certain issues that are publicly discussed. She intervenes when she thinks some state affairs have crossed the boundary of what is basically moral. In short, she acts when the matter involved is not anymore purely political or social or technical, but fundamentally moral in character.
What kind of democratic state would we be if we silence the voice of – to make an understatement – a very significant sector of our society such as the Church? What kind of a rational debate would we have regarding public issues if the moral aspect of such issues as seen by the Church authorities would be systematically disregarded?
It's amazing that for some supposedly smart and intelligent leaders in our society, the merit of these issues should depend only on their practicality or popularity or convenience. They think the morality angle, which is actually a universal concern and not just a concern of the majority, should be left to individual preferences.
This is tantamount to an imposition, to intolerance and bigotry. When inputs from faith, religion, morals are systematically ignored if not ridiculed, then we are left with a tyranny of relativism, of the majority, of the powerful. The common good is not served.
Faith and religion should permeate all aspects of our life. By their very nature, they are not meant to be confined to certain moments of our life alone. They have to be with us all the time, underlying our reason and emotions, our business and politics, etc.
If faith is excluded, then we would be left with reason and emotions alone. If faith is excluded, we would be left with our own devices, playing our own games. If faith is excluded, we would also auto-exclude ourselves in the dynamics of God's providence over us. We would dance to a different tune, the one we make, not the one of God.
It would not speak well of our democratic culture if our public officials feel threatened or if they think the Church is already interfering in state affairs every time the Church authorities make some official judgment on certain issues.
When the Church authorities make a public statement on a certain issue, it is because the issue has already entered a critical point involving basic faith and morals. This issue is not anymore a matter of opinion and techniques in human, temporal affairs such as our business and politics.
This is a grave and irrenunciable duty of the Church authorities. And in carrying out this duty, the Church officials do not depend on whether their position is popular or practical. Theirs would be above the results of polls and surveys. That's because they have to follow God's law rather than man's law, if the two would not be in harmony.
The bigger picture that we should remember is that our laws should reflect God's law. They may reflect God's law in varying degrees, including poorly, but they should not go against God's laws.
Otherwise we would be creating our own world, detached from the designs of its creator. We would be embarking on a dangerous adventure!
Ignore Uncle Bob; retire now, Manny!

By ALEX P. VIDAL / PNS
May 11, 2011
If Manny Pacquiao wants to fight poverty in the Philippines, now is the right time. Silencing Sugar Shane Mosley last May 7 should have been his farewell performance.
Pacquiao must ignore the saber-rattling of Bob Arum and his ilk who want him to fight again in November until next year.
It's his face that is being riddled with punches; it's his brains that are being rocked violently with blows.
Arum, et al are pushing Pacquiao to the limits. After 10 years of a successful campaign in the U.S. market, it's time for Pacquiao to wrap up his career while he is ahead – while his main faculties are still intact!
Definitely he is tired and weary. We don't see it but he can feel it. The 14-fight winning streak is a manifestation that a human body has underwent catatonic punishment.
He has been a beak buster since 14 and has accumulated more than 100 actual bouts (including his stint as amateur boxer in General Santos City).
In his March 2010 fight with Joshua Clotey in Arlington, Texas alone, Pacquiao received a total of about 1,300 punches after 12 rounds. Meaning, he absorbed more than 100 punches per round!
"How did he survive that? How can he withstand that? He is only human," observed my roommate Eddie Alien, dean of Philippine sportswriters.
He is only human, yes. Must he allow his body to be further peppered with more punishment when he has been assured now of a bright future and can rest on his laurels with comfort?
More Fights
Arum has hinted Pacquiao would next fight either Timothy Bradley or Juan Manuel Marquez in November this year before ducking it out with the perennial evader Floyd Mayweather Jr. next year. What for? How many more millions of dollars must Pacquiao pocket before he realizes that money, after all, is not everything in this world?
The guy has nothing to prove anymore as a fighter and acknowledged No. 1 boxer in the world pound-for-pound. He has breached the earnings of a paid athlete in fight business with his swashbuckling talent.
A crusader can only demolish poverty if he is mentally and physically fit. If Pacquiao will quit as prizefighter and focus his attention on his new-found hobby, his mission is already half accomplished!
Never mind his rock star-like mop-top that has contributed in his fame and glory. With his playful exuberance and charismatic appeal, Pacquiao can reach out with any sector in society and can be an effective ambassador of anti-poverty campaign for the United Nations non-pareil.