Basey Water District finally audited by LWUA

By CHITO DELA TORRE, delatorrechito@yahoo.com
June 29, 2011
The Basey Water District, which figured in a recent controversy resulting in about one year assignment of an interim general manager from the Local Water Utilities Administration, had succeeded in convincing the Bureau of Internal Revenue to accept the former's payment in the amount of P583,270.85 or more than one half of the total amount of P1,094,731.06 to be paid for taxes for calendar years 1996, 1997 and 1998. The payment was made between September and December, 2009.
The reduced amount actually paid for represented income and franchise taxes and expanded taxes withheld from the claims of suppliers starting from year 1996, up to CY 2000. Payment was effected "by virtue of the warrant of garnishment issued by the (BIR) to the district's depositary bank, the Philippine Veterans Bank in Tacloban".
The water district negotiated with the BIR, thus the reduced amount, but it "is yet to pay the said taxes for years 2001 to 2010".
This was one of fourteen findings and conclusions made Josephine P. Simene, LWUA's senior internal control officer B, when she conducted an operations audit of the Basey Water District during her official travel to Basey last February 14-25, 2011. On February 24, Auditor Simene also contacted the board of directors led by the BWD chairman and, on Feb. 24-25, LWUA-installed IGM Engr. Antonio Ronelo C. Palencia, "Set-Aside General Manager" Elsie V. Merida, and the staff of the water district.
This writer was furnished a copy of the auditor's March 2 report.
The auditor's report indicated that the Basey Water District has "no Masterlist of Service Connections that would otherwise provide relevant information on all BWD's concessionaires" and that some of the water users, including BWD employees themselves "are yet to be disconnected despite being in arrears up to thirteen (13) months". Add to that the other finding that collections are "not deposited intact" –"Petty expenses, personal cash advances and other operating expenses are taken directly from collections." To conscientious citizens, the practice, as discovered by the auditor is mysterious, anomalous, unfair (MAU [ma-uh]), something which Basaynons may want condemned.
The auditor also stumbled upon the board of director's failure to seek prior approval from LWUA to the water district's utilization of the P746,259.40 savings from the 4 million pesos emergency loan initial release. "Further, portions of the said savings were used to finance projects without the BOD's approval. These include labor costs for the 4.2 k.m. rehabilitation project, construction of anchor blocks, pipe anchorage and parallel line."
Just what can you say about the number 10 finding and conclusion of LWUA's internal auditor Simene? "The process of selling the P523,712 worth of scrap Cast Iron from the rehabilitated 4.2 km pipeline did not conform with the COA-prescribed guidelines. Among others, no auction committee was created, no COA representative was invited, no adequate publicity was made, and no formal report to document the sale of the scrap materials was prepared. Incidentally, on the reported sale on October 29, 2009, the WD did not receive the said-to-be proceeds of P80,200. The contractor alleged that it did not haul scrap materials on the said date. However, the receipts from the weighbridge attested that the contractor's truck contained 12,600 kgs. of scrap materials on the said date."
Here are two more eyebrow-raising findings from that audit: "7. There is not established disbursement ceiling on the P5,000 Working Fund (WF). Thus, the fund easily gets deleted, resulting to frequent replenishment of the WF." "8. The project fund is not separately maintained. It is mingled with the operating fund, hence, it is also being utilized for other purposes. For the initial release of P4M on the P5M Emergency Loan in 2009, P260,912.50 was used for the district's operating needs."
The LWUA auditor also discovered and concluded thus: "Some commercial practices are wanting of governing policies like the 5% additional charge on concessionaire's unpaid balance on loaned materials (aged at least six months) which has no covering policy. Meanwhile, the penalty on illegal connections is inconsistently applied on erring concessionaires. Also, concessionaires who are using electric pumps to boost water supply intake from the distribution lines to their households that may possibly cause water contamination due to high pressure, is yet to be stopped by the WD through a board resolution."
Her other findings are as follows:
"1. The term of office of the Women's sector representative is erroneous. The initial appointment given to her was for six years (1995-2000) instead of the unexpired portion of her predecessor's term, which is from 1995 to 1998 only. Thus, the terms of office in her two re-appointments were likewise incorrect, the latest appointment being from 2007 to 2012 instead of 2005 to 2010.
"2. The increases in the board's per diems have no prior approval from LWUA. The directors received P450 per diem from January 2008 to December 2009. This was increased to P600 per meeting in January 2010 but due to the water supply problem, it was reverted from February to July 2010. The following months, it was restored to P600 since the water supply has normalized.
"3. Appointments and personal data sheets of the board members are not properly filed. Separate folders are maintained for appointment papers, personal data sheets and certifications on non-membership in government service, instead of keeping individual files for each board director.
"4. The appointment of the General Manager on August 4, 2009 is still on a coterminous basis. This is because despite the 2-year grace period given by the CSC under its Memorandum Circular No. 13 series of 2006, to General Managers with coterminous status in 2006 to acquire the minimum requirements to qualify for permanent appointment, the incumbent GM failed to secure the required CSC second-level eligibility.
"5. Personnel management is not well administered. Employees' attendance is not monitored, while employees' performance is not duly appraised. In addition, pertinent documents like Statement of Assets, Liabilities and Net Worth (SALN), transcript of record and diploma, are not consistently available on the personnel's 120 files."
With these findings and conclusions, what should the present BWD and its board of directors do now? How will they correct these blunders and deficiencies? What must the responsible Basaynons do to help?
+ + + + + + + + + +
HAPPY FIESTA TACLOBAN AND TACLOBANONS! VIVA SEÑOR SANTO NIÑO, EL CAPITAN!!!! Pamatron kita ha Tacloban kay June 30 na!!
The Paris Air Show 2011, where is the Philippines?

By DANIEL ESCUREL OCCENO, danielocceno@gmail.com
June 20, 2011
Americans criticizing the development of the Philippines with comments like: Where is our manufacturing prowess in this year's Paris Air Show considered the world's largest and oldest aviation showcase of big time manufacturing? The remark is to imply the Philippines cannot be a leader of the world if it cannot compete with corporations like Boeing in Seattle, Washington.
The implication is that native-born Filipinos should let the American government takeover the country because the Americanos are taller, more brilliant, better looking, and have better schools. It reminds me of the Vatican for centuries of arguments written in history books I needed translated.
I will not lose sleep over it because Cebu Pacific bought "37 new Airbus jets worth $3.8 billion in the nation's biggest-ever aircraft order so it can expand across the Asia Pacific" and it was because of a mostly tourism industry economy generating the revenue to afford brand new manufactured overseas products.
I doubt rational Airbus executives will criticize the Philippines as a country of poverty heading for nowhere when the private corporations in the archipelago are capable re-ordering more of their aircrafts for commercial use because of profits, not government taxation revenue. It would be an economic indicator of anticipated future growth in the economy of the Philippines.
After the Cold War, Airbus concentrated on manufacturing for shorter distance engines and smaller aircrafts. It gave the Philippines an aircraft manufacturer to trade with since the country needed a domestic tourism and domestic business travel to develop the overall economy.
A little bigger, the new orders of Cebu Pacific are for venturing to neighboring countries, creating more trade for the future growth development of the Philippines while trading within Asia, closer to home.
The Philippines does not need an aircraft manufacturing company to end the poverty.
Speech of Gov. Sharee Ann T. Tan during the 113th Philippine Independence Day Celebration
Provincial Covered Court, Capitol Compound, Catbalogan City
June 12, 2011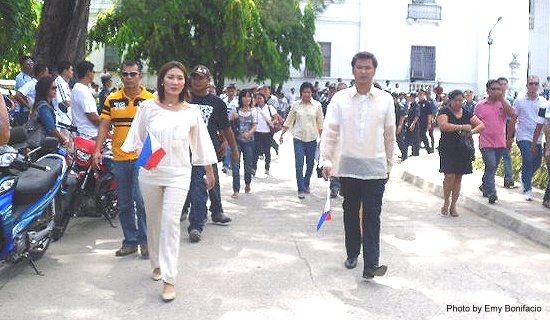 Text transcription by EMY C. BONIFACIO, Samar News.com
Exactly one hundred and thirteen (113) years ago, Gen Emilio Aguinaldo proclaimed Philippine Independence in Kawit, Cavite, the first in Asia. On this historical day, over a century ago, the entire nation was enthralled by Julian Felipe's Lupang Hinirang in its martial strains, a stirring tribute to the Philippines and its people. This historic ceremony, 113 years ago signaled the birth of a new nation, laying claim to its right to freedom and sovereignty. And so this morning, I take pride in greeting each one of you, a happy Independence Day! Let's give a warm welcome of applause.
Honorable Vice Governor Stephen James T. Tan, Honorable Members of the Sangguniang Panlalawigan (united colors), Fr. Jocal, RVM sisters, 8ID Family represented by Col. Labador of the 801st Brigade, S/Supt. Macapagal and the PNP family, Chief of Offices and employees of both national and provincial offices, dear teachers, friends, ladies and gentlemen, fellow Samarnons.
Being an independent nation, we aim for progress and development. And today, I want to share with you what the Provincial Government under my administration had accomplished. It has almost been a year since I took over the reigns of your Provincial Governor. Enjoying a fresh mandate from the Samarnons, I have no other dream for the province but to uplift the lives of the people of Samar and the Province as a whole.
Ever mindful that public office is a public trust and that at the final analysis I am to be held accountable to the people, I deem it proper as your Chief Executive Officer to update you of what is going on in the operations of the Province during the past year, for you to know the various developments in the fields of education, social services, infrastructure, tourism, agriculture and health among others.
Ini nga mga aspeto han kinabuhi han aton mga molupyo in gin tatagan hin dako nga importansiya han akon administrasyon. Nakikiusa ug nakikiduyog kita han mga panginahanglanon han aton mga molupyo. Aada hit aton pakikiusa ug pakakigduyog han panginahanglan han tagsa tagsa nga tawo, barangay ug munisipyo mababaruan naton an ira mga problema ug damgo ngan amo ini an aton tatagan hin kabatonan ug solusyon.
I'm so grateful to the provincial employees for your untiring support and hard work in implementing all the programs and activities we undertook this past year. Siguro naman, you have seen our sincerity han amon pagyakan nga kun ma approve an budget han 2010, amon ighahahatag dayon an iyo salary increase ngan ighahatag liwat an maiha na niyo nga gin papangandoy nga P25,000 productivity enhancement incentive ngan an P10,000 nga additional bonus para han bulan dan Disyembre.
At this juncture, let us have a glimpse of what your Provincial Government has done for you. In the field of Education, we believe that the education is the key to success, thus, we have given four thousand pesos (P4,000) as educational assistance to 3,067 poor but deserving students this past 2nd Semester and hopes to maintain or if possible increase the number of beneficiaries this coming semester depending on the availability of our resources. Thanks to Mr. Alejo Quitalig for taking charge in this endeavor. Hi alejo nga danay nakikit-an nakon nga nangangalot han iya ulo nga waray buhok han pamrublema nga danay kadamo han aton scholars. Usa-usa man gud ito nga na follow-up, so may-ada na kita mga coordinators ha kada municipality at the same time pagpagaan han aton mga estudyante han tagsa-tagsa nga pagkadi ha provnicial nga kapitolyo. This program is in partnership with Congresswoman Mila Tan, naaro liwat adto hi congresswoman Mila hin dispensa nga waray hiya paka atendir yana kay may-ada liwat hiya activity ha Malakanyang yana nga kaadlawon para liwat pagsalin-urog han Independence Day ngan pagpatawag han aton presidente, who had contributed P5M to the province for the scholarship program for the past second semester and another P5M for this year's first semester. So, ini hiya nga aton ayuda nga nagtitikang han aton congresswoman, dako ini nga bulig han aton probinsiya, kay an aton pundo deri ini sadang tungod han kadamo han kabataan nga aton gintatagan hin ayuda. So, dako ini nga akon pagpasalamat kay baga sering pa nga resulta gihapon nga maeksakto an aton pundo pinaagi han pag ayuda ni Congwoman Mila Tan. Aside from that, we have already paid to the respective schools whatever balance we owe them.
In this last graduation, we have given academic incentives to those who have earned latin honors upon graduating in the tertiary level. We had given out ten thousand pesos (P10,000) to those who earned and received latin honors. This amount was given in order to help these academically driven students defray their expenses for their review classes. Aside from that, an amount of Three thousand Pesos (P3,000) was given to students who were able to make it to the Dean's List. Ini nga ayuda gin hatag ini naton nga pribilihiyo ngadto han aton mga scholars nga nag excel ngadto ha klase. Kay ano nga ginsugad ini han aton admiinstrasyon? Ginsugad ta ini para ma encourage an aton mga scholars nga magbuyod ngan magtadong pag eskuwela para an aton pundo nga gin hatag o gin alutaga para ha ira deri makawang. So this is just to encourage our scholars nga magtuhay han ira pag eskwela ngan ito nga mga graduating o nag graduate, akon ini sort of incentive at the same time pagbulig ha ira, kay maaram kita nga ma attend hira han ira review classes. Sugad man la hiton nga nag-api hira han aton scholarship program, waray sugad hito nga yukot an ira mga kag-anak para han pagpadayon han ira pag review. Manggad naman la magkamay-ada na kita hin kadugangan nga mga professionals.
Para ngadto han magkuri an kabutang nga mga eskuwelahan, an iyo probinsiya in naghatag hin financial assistance ug mga materyales nga ira magagamit pagpakaupay han aton mga eskuwelahan. Maaram kita nga nagtitikadamo an mga estudyante pero an mga eskuwelahan, asya la gihapon. An kadamuon han mga maestra, asya la gihapon. Kun nadudungangan man, deri sugad hito kadamo, so, asya iton nga an probinsiya, nag aayuda hin mga materyales. Pareho ha Sta. Rita nga nagkamay-ada hira mga computers nga hatag han nasyonal, an probiniya nag hatag han mga wirings ngan pagbubutangan han mga computerrs. Ha Sta. Margarita, ha 1st district, naghatag liwat kita hin para pagpakaupay han eskuwelahan, sugad han magkadurudilain gihapon nga mga munisipyo.
In my one year stint as your Governor, the provincial government has constructed 18 school buildings to address the increasing number of enrollees especially in the primary level. Supporting the Department of Education Brigada Eskuwela Program, the provincial government is giving out 2 gallons of paint for every teacher, an mga teachers nga magtitikang ha Pagsanghan, Gandara, San Jorge, Tarangnan, Matuguinao ngan tikang ha Catbalogan, so, amo liwat ito an rason nga nagpatawag kami kay natuod kami nga pag week days sugad kamo hin ka busy pag atendir han iyo mga estudyante, weekends la an iyo available nga time. So, gin take ini naton nga opportunity para makaabot ha iyo ini nga akon gutiay nga bulig.
In the years to come, the provincial government intends to construct more classrooms and educational facilities to address the ever pressing demand of education. Let us strive to give our children the best education we can ever provide.
So, my dear teachers, an akon la liwat gin hahangyo ngada ha iyo end nga kun sugad man nga an probinsiya naniniguro para maka address han mga panginahanglanon han tagsa tagsa nga eskuelahan both from provincial and national kay mayda liwat kita nakukuha nga pundo han nasyonal, kadam-an han aton pundo from nasyonal, an aton man la maishare as teachers an maupay nga pagdumara han pagtutdo han aton mga estudyante nga magin maupay liwat hira nga mga tawo pag-abot han takna kay natuod ako nga mas gintutuod pa ngani danay an aton mga maestra kontra han aton mga kag-anak. Sugad ha akon nga usa liwat ako nga produkto han Catbalogan I Central elementary School at the same time han Samar National High School though waray ako mag graduate didto han high School, akon liwat gin coconsider nga pamilya gihapon ako han SNS. Iton pala, I owe ngadto han aton mga teachers iton education nga akon nakuha. Kun ano an akon na attain yana as provincial governor, akon ito otang tikang han mga maestra. Mayda ngani ako kanina nag approach ha akon, hi maam Uy, teacher ko ito hiya han Grade V ako.
In the area of social services, the present Provincial Administration through the PSWDO headed by Mrs. Luz Tacal, aadi han akon sapit, continued some basic services started by then Governor, now 2nd district Representative Milagrosa T. Tan such as the rice distribution program nga asya gud an napapaabot naton ngada han mga nagkukuri naton nga mga kabugtuan particularly to those affected areas brought about by the heavy rains last Febrauary and March. Rescue evacuations were also held in those affected areas. We also gave financial assistance to those who were affected by the heavy rains that resulted to ruined houses and devastated agriculture and livelihood, especially han mga areas nga nagkamay-ada gud hin baha parehas han Tenani nga iba pa nga barangay ha Paranas ngan San Jorge ngan iba pa nga lugar han Gandara ngan Hinabangan.
To better enhance the province responsiveness to any disaster and calamity, we underwent a PDRRMC training in Bicol, all geared in boosting the province rescue team. So, natuod kita nga kinahangalan gihapon kita mag upgrade or kundi man ngani magin aktibo deri la han pagtugon pero pag anticipate nga bangin magkamay-ada pa kita utro mga kalamidad nga andam an aton probinisya pag address hiton. Tungod na yana han climate change yana nga natatabo, kun summer may pag-uran. Pag mauran, kamapaso, tungod han climate change nga natatabo nga deri la ito nga aadi ha probinisya pero ngadto hiton nga mga barangay nga mapapadangat naton an pag train ha ira o pag equip ha iyo nga makapag-andam ha pag-abot han sugad hini nga mga panhinabo.
Nagkamay-ada kita hin mga feeding programs ngadto han magkadurudilain nga mga munisipyo dinhi ha probinsiya ngan aton gin padayon an magkadurudilain nga mga livelihood trainings kaupod an suporta ug ayuda han TESDA nga gintikangan ko pa dida han akon incumbency as representative han Segundo distrito. Nagkamay-ada kita libre nga trainings nga paghatag hin mga starter kits ngada han meat processing, fish processing, mga manicure, pedicure, libre nga pag-arot, an aton pagmasahe nga kun diin ini nga mga tawo nga han una waray sugad income, nagkamay-ada hin kadugangan nga income nga nacocontribute ngada han ira pamilya. Instead nga nagliliningkod, mayda na gihapon hira ginhihimo maskin dida ha ira panimalay. Danay on call hira, so an una nga waray earning, yana nagkamay-ada na hira 100 ngada ha 300. Karuyag sidngon kun naniningkamot la kita, waray magugutom denhi ha aton probinsiya.Asya iton nga nahatag liwat kami hin ayuda ngada ha iyo pero waray mahihimo kami bisan ano nga training an amon mahipapaabot kun deri liwat nakooperar an mga tawo. So nalilipay liwat ako nga an akon hadto gin pan train han small engine nga pag repair, automatically na liwat hira nga gin hire hira han DOLE immediately after han ira training.
For a province like Samar, infrastructure is an important factor in order to uplift the lives of our every Samarnon as it will bring about economic development to the province as a whole.
An aton probinsiya in nanginginahanglan hin maupay nga imprastruktura para mapaupay an panginabuhi han tagsa tagsa nga Samarnon kay ini magdadara ha aton hin kauswagon ha aton probinsiya.
The provincial government with the aid of the Provincial Development Council had lined up several infrastructure projects in almost all towns and cities throughout the province. This endeavor was made possible with the support of the PEO headed by Engr. Prudencio Quimbo, who is now about to retire this coming October and Engr. Divina Mate, the soon to be Provincial Engineer. In like manner, our thanks to all the project engineers and inspectorates for your immediate action in the implementation and supervision of our infra projects. So naaro liwat kita hin dispensa deri la ngada han PEO pero ngada han mga empleyado kay naserin kamo nga hi gov maisog o strikto. An akon la hito nga kun ano an aton dapat buhaton, kun ano an aton dapat ihatag nga serbisyo han mga tawo, mapadangat ta la nga deri sumering o mawara na hito han mga huna-huna han mga tawo nga an gobyerno permanente nga gin bubuwas-buwas la. I just hope nga kun iyo la ito maintindihan, waray ako gin huhuna-huna kundi an maipadangat la an serbisyo. With the approval of the 2010 Annual Budget, na approve an aton budget ngan nakakiwa na kita around December 2010 last year. Now, we have implemented the Phase 1 and usa na ini nga proyekto nga aton natatagamtaman. This covered court may be used for any function or occasion of the provincial government or any government agency or instrumentality. The development of this covered court will soon be enhanced as soon as our 2011 Annual Budget will get a nod from our worthy members of the Sangguniang Panlalawigan. So, nag smile an aton mga Sanggunian nga aadi. This year, magkakamay-ada na liwat kita gate denhi ha Provincial Capitol kay sobra na kasi an amon nagagastos han pagbutang han wiring ngan pag pa light han aton park. Only nga mayda kita mga kasangkayan nga siguro karuyag nira nga magmasirom an aton kapitolyo ngan Imelda Park nga gin papangawat an aton mga wirings. So, an akon nahuhuna hunaan, dapat siguro nga pag kudalon para may oras na la liwat an paggamit han Imelda Park. At the same time, mag bubutang liwat kita o mahangyo han PNP kay an aton mga Tanod dide gin dadalagnan la everytime may nakawat han mga bronze.
Concreting of roads has been a top infrastructure agenda of the current administration. Thus, we had allocated to the concreting of Gandara Roads as well as to some parts of the Lokilokon to San Jose de Buan, all geared that the same may be passable and is aimed in the province's participation to boost the tri-boundaries projects to the provinces of Northern, Eastern and Western Samar. Siguro makaka testify an aton mga teachers nga may-ada na kita gin bubuhat nga concreting ha Gandara ngan denhi liwat ha Lokilokon, Pacao, San Jose de Buan Road. Mayda liwa kita an ha San Jorge-Blanca Aurora road.
Makikita na naton yana an pag cemento han pira ka parte han San Jorge to Blanca-Aurora Road. Nag semento guihapon kita han pira nga mga kalsada didto han mga bungto han Marabut, Tarangnan, San Sebastian, Pagsanghan, Sta. Rita ug Pinabacdao going to Villareal Highway, kun diin an mga lugar nga permanente guin babaha in yana mga "flood-free" areas na.
In order to boost economic progress in the province and in order for farmers to easily bring their agricultural products and be competitive in the markets, farm to market roads have also been built. Before, it would take a thirty minute ride from Pacao to Villareal but with the newly constructed road, Villareal can easily be reached by about five minutes from Pacao. So, aside from this, an Camarubuan nga kalsada kun diin nakabati ako tikang han mga parag-uma nga kinahanglan gud nira farm to market road ngadto. Asya liwat ito an pagtatagan naton hin atensiyon.
In Catbalogan City, we have rehabilitated and enhanced not only provincial roads but also municipal and national roads within the city proper nga akon na ini gintikangan han congresswoman pa ako nga aton gin alotagaran hin pundo nga hadto nga time nagrereklamo an mga sundalo ngan aton gin pasemento an ha may Burak ug Maulong. We are set to start the repair and construction of the Catbalogan Airport. Gusto ko la tagan hin duon ngan ig explain ha iyo. Ini nga airport, maiha na ito nga gintikangan, only nga permanente kulang an pundo. An dapat nga mag alutaga han pundo hito an CAAP nga dapat gud talaga tikang ha ira an funds. Only nga an probinsiya, nag allocate liwat kita hin P30M para hiton. An program nag pa asistir kita han CAAP nga an P30M maigo la ito para han apron ngan extension han runway. Nagkaestorya kami han director han CAAP nga igsusulod nira ha budget han 2011 an pagcontinue han proyekto. Aton ini gin hihinay hinayan kay deri ngani kita magtitikang yana hasta ngada kahasta deri ito mahihinabo nga airport. So kun mapapaayos naton an aton airport, dako ito nga bulig ha aton. An akon na la gin fight ha CAAP nga an Catbalogan ansiya an capital ever since pa bisan pa han nagkakaurusa pa an Northern, Western and Eastern, an Catbalogan an sentro. How come nga until now, waray pa kita airport? I just hope nga maintindihan niyo nga an aton pundo deri pa puwede ngan aton pa gin kukumpleto an aton airport. Kay kun sadang la o sufficiente la an aton pundo, kay ano nga deri naton tapuson ora orada kay dako man gud ini nga bentaha para ha aton.
Our island coastal towns have their own share of development. In order to have an easy and safe access to people as well as to their farm products, 28 wharves were erected at 6 municipalities and 1 city, denhi ha Catbalogan. We built 5 wharves in Zumarraga, 1 in Talalora. Aton inin ginhatag ha Brgy. Placer kay ha bug-os nga Talalora, usa na la nga brgy an deri ko natutungtungan kay napakadto ngani kami, permanente hubas. An ira pantalan, sobra gud nga magbabaktas ka talaga. 3 at Tagapul-an, 3 at Almagro, 4 at Sto. Nino, 7 in Daram and 5 in Catbalogan City ha Sierra Island. Some were 100% accomplished and some are still ongoing.
Distance is no barrier for progress. Considered as one of the farthest town of the province, Matuguinao had its own share in the infrastructure development of this administration. For one, the present administration allocated for the construction of the Matuguinao River Landing and three units classroom. Ini yana, deri karuyag sidngon nga an Matuguinao, gihaharayo-i na, hingangalimtan na liwat hiya han probinsiya kay mayda pa kita pundo. An iba hini pundo pa han 2010 han panahon ni congresswoman Tan. Aton na la liwat gin dugan an iba nga iya priority projects, akon na la gin api pag pa approve han 2010. So asya ini an mga projects nga iya gin butangan nga prioridad.
Makikit-an na naton gihapon yana ha magkadurudilain nga parte han aton probinsiya in pipira nga mga multi-purpose building nga kun diin gin gagamit han aton mga barangay officials nga Barangay Halls o Day Care Centers. Nagpahimo kita hin covered walk para han aton eskwelahan didto han bungto han Hinabangan ngan on-going an ha Paranas. Mayda liwat kita didto ha Brgy Bagacay ha Hinabangan.
Ever mindful of the need of accessibility to the various towns of the province, Kalahi CIDSS were awarded to the different municipalities. Thus, One Million pesos (P1,000,000) for the municipality of Talalora, One Million Four Hundred Tousand Pesos (P1,400,000) for San Sebastian and Three Million Pesos (P3,000,000) for the municipality of Motiong, these amounts are our counter-part with the mayors.
More concrete and passable roads are what we have in mind for the province in the years to come in the realm of infrastructure.
Yana mayda kita gin wowork-out from Gandara to Matuguinao nga kun diin han akon duha ka beses nga akon pagkadto ha Matuguinao through hini nga ira river, an akon ginsasakyan ini nga gudti nga baloto nga deri ka gud pwede mag-unat kay bangin ka mayabo. Yana gin wowork out naton with the 8ID pinaagi kan Gen. Chan han Engineering Battalion nga kun diin gin kakalasadahan na naton bisan deri la anay konkreto, magigin passable kay an akon gin aambisyon nga makonkreto. Two weeks ago, nag meeting kami han DPWH district engineer han District I, togther with Gen. Chan nga mag bubulig ako para han fuel ngan filling materials ngan an engineering battalion naman liwat an labor ngan han equipment ngan an DPWH an approach kay tulo na ito nga bridges nga adto nga approaches na la kunta an kulang ngan asya gud talaga an ginhihinulat han mga parag-uma han Matuguinao.
At this time, let us move on the area of healthcare. Healthcare of the people of Samar has been the top priority of the current provincial administration. Given the approval of the 2010 Annual Budget, the province has allocated about Nineteen Million Pesos (P19,000,000). I order to give insurance coverage to about 65,000 families throughout the province. At present, these beneficiaries are now enjoying the benefits of Philhealth Member. So, ini nga mga Philhealth, maaabat na gud ini kay sering han Philhealth, 100% na gud an covered naton probinsiya. Dako gud ini nga bulig labi na gud an deri gud maupay an kamutangan nga aton kabugtuan. Ini bulig na ini han aton mga board members nga asya an nag aprubar hini nga budget kay kun deri hira bisan karuyag ko ihatag ini kun waray kita aprubado nga budget, waray la gihapon.
Today, the people of Samar can now enjoy better medical facilities and equipments with the refurbishing and renovation of hospitals. The province has allocated Three Million Pesos (P3,000,000) for the renovation of the Calbayog District Hospital, another Two Million Pesos (P2,000,000) for the Basey Hospital. On top of which, the Provincial Government has engaged the services of 12 visiting physicians for the Calbayog District Hospital primarily in the fields of OB-gyne, pediatrics, surgery, anesthesiology, among others. An pagserbisyo ngada ha mga hospitals, siguro deri na ito trabaho han gobernador pero para na ito han mga medical practitioners. So, yana nananawagan ako han aton mga doctors, nurses ngan han mga aada ha ospital nga dugtungan ta hin maupay nga kaburut-on, dugtungan ta hin maupay nga pagserbisyo an aton pag serbe ha ospital. I know nga deri ngatanan kaya naton ihatag ha ospital, maaram ako nga may-ada kita kakulangan. Pero an akon gin hahangyo, nga kun an aton kakulangan susumpayan ta pa hin maraut nga kaburot-on, waray na gud, reklamo gud an aton mahiabot ngadto han aton mga pasyente. Siguro kun an aton kakulangan, susumpayan ta hin pleasing nga personality, siguro waray kita babation nga reklamo.
The province has allocated P3M for the regulation of Calbayog, P2M for Gandara hospital and another 2 million for the 3 district hospitals. On top of these, the government have engaged the services of twelve visiting physicians for Calbayog District Hospital priority in the fields of Ob-gyne, anaesthesiology, surgery among others. So, deri o waray na excuse labi na gud an Calbayog pagsering nga waray hira doctor kay iton pala pagdugang la ito hiton ira resident doctors nga adto exisitng. Maaram ako nga mayda pa kita kakulangan hin mga doktors denhi ha provincial hospital, so kun mayda kamo mga sangkay o kilala nga doktor, pa pag apply kay aton dayon ig aaccomodar kay nagnginginahanglan pa gud kami.
Topping all of these, our hospitals in the province were upgraded in terms of classification in relation to their licenses. They are now also Philhealth Accredited hospitals. An una kasi, nasring ako nga what's the poinht of enroling ha Philhealth kun an aton ospital, deri Philhealth accredited. Ini nga aton Philhealth, deri la ini makakabenipisyo ngada han aton mga benificiaries, pero ngada liwat han aton mga doktors ngan hospital. Kay yana mayda kita 4.5 nga asya iton aton income han Philhealth nga aton pag gagamiton han pag renovate han aton emergency room. At the same time 50% han income han Philhealth, nahihingadto ito han mga doktors ngan an nurses. Yana, maadress na naton an reklamo han aton mga doktors nga kulang an suweldo nga deri sadang an suweldo nga naihahatag han aton probinsiya ngadto han aton mga medical practitioners. Ha pagkayana, aton gin kakarawat nga damo pa na kinahanglanon para han aton mga hospital. Pero, amon ginsasaad ha iyo nga ginhihimuan na naton ito yana hin mga pitad para matagan hin solusyon ini nga aton problema bahin han kakulangan ha aton mga hospital.
"Opeation Tuli" was also launched by the Provincial Government in time for the Summer Break of our social children. Thus, in May 2011, about 9,682 "nga mga ulitawohay" underwent circumcision for free. Also, the Provincial Government spent about P2,482,820 for medicines that will be used in dental missions throughout the province. To this date, it has created about 7,376 patients province-wide. Also, the province has joined the Oral Health Month Celebration in February of this year headed by Dra. Dulce Cernal, head of the Technical Group. A total of 3,389 patients were served during this month-long dental awareness program.
About P34,791,057 worth of medicines has been distributed and given to entirely all barangays in the province for the past year. This is aside from the Medical Missions hosted by the Provincial Government which has also spent around P11,210,752 in giving out free medical services to about 78,547 patients in the entire province under the leadership of Dr. Rudolf Mabulay. Nag may-ada liwat hin medical and dental mission han nagatanan nga mga barangay han bungto han Basey and Sta Rita pinaagi han panalinguha ni Dra. Rutchie Egos and han Medical Team han Basey Ditrict Hospital. Surgical Mission was also held at Calbayogt City where Dra. Pedrigal and Dr. Boy Sabenecio assisted Filipino doctors based abroad in operating patients with cleft plates and cyst.
Ambulance vehicles were also purchased by the Provincial Government. These vehicles are part of the Provincial Government's aim of giving the best medical services to the people of Samar. It further envisions that in the future, it will help in the repair of the emergency room of the Samar Provincial Hospital which funds will be taken from its share in the Philhealth Income estimated at P4,500,000.
In the fields of tourism and culture, the province acknowledges the rising need in the tourism industry. Samar has its own share of potential tourists spot that will surely drive both locals and foreigners to visit and savor the moment in these eco-friendly spots. Just recently, the Local Governmnet Unit of Mindoro has visited our province.
At present the Provicne is constructing the Small and Medium Enterprise Display (SMED) Center. This will serve as a venue to boost local tourism and industry by showcasing the best that Samar can offer.
An aton probinsiya in naghatag hin Five Hundred Thousand Pesos (P500,000) ngadto han Provincial Tourism Council para han Tourism Plan han aton Probinsiya. Naghatag gihap an aton probinsiya hin Trenta Mil Pesos (P30,000) para han aton ayuda para han pag training han mga tourist guides ha Calbiga. An Mutya han Samar in usa nga mga highlights han 2011 Celebration han Samar Day.
In the field of Agriculture, the provincial government through the grandiose and untiring effort of Mrs. Anita Taran and the DA family has given out hand tractors to several municipal agrilcuturist and fishery council throughout the province with the end in mind of helping farmers boost their agri-products.
Naghatag an aton probinsiya hin certified seeds and vegetable seeds ha magkadurudilain nga munisipyo han aton probinsiya. Nagkamay-ada kita hin Farmer's Congress kun diin may-ada 800 nga mga parag-uma an umatender. Nagkamay-ada gihapon kita hin agri-fair kun diin nagkamay-ada hin "one-town-one product" venue para maipakita ha aton an magkadurudilain nga mga produkto nga himo han aton probinsiya.
Nagkamay-ada Rice and Self-sufficiency and Productivity Program and launching han convergence (pagkaurusa han DENR, BFAR, DAR) kun diin an una nga activity amo an tree planting hin 700 pili seeds to address the climate change and kagurangan na nakakalbo na.
To further fortify the DA's efficiency, we have renovated their office and has constructed a new laboratory for them.
Para han akon mga pangontra ha pulitika, I don't know kun may-ada hini yana aanhi denhi. Siguro, ini nga akon report nga akon ginhatag, deri ini pleasing han iyo mga talinga. Deri liwat kamo malilipay nga may-ada development nga nahihinabo an aton administrasyon. An akon la maisesering, deri na ada kinahanglan nga mag-aragway pa kita. Yana, deri na ada an pag-aragway. Tapos na an election. Kumbaga, ibilin ta na la ito nga aton magraut nga buot. Kunderi, yana an pagkaurusa ngan pagkaburubligay. Kay makuri ora ora, mabug-at pag pinanhuna-huna an trabaho han gobernador hin makakaupay han probinsiya kun an aton mga kaupod deri nakooperar.
Kamo nga mga empleyado, mga supporters, kamo na la an nakakahatag ha akon hin strength nga magpadayon hine. Kay an una gud na umabot han akon huna-huna kay ano nga ako pa an gin butang hini nga posisyon nga kadamo hin interesado ngan kadamo han more qualified pa kontra ha akon. Asya ini siguro nga purpose ngan dida ko liwat nakita nga may purpose kun kay ano nga ginbutang ako hine. Nahikit-an ko liwat ngan akon ig sesering ha iyo nga waray ako iba nga gin huhuna-huna kundi an paka upay la ngan makapagbilin ako hin legacia ngada han aton probinsiya. Ini nga posisyon nga gin kakaptan ko, mahamot hin duro-duro. Tempting kun ha tempting. Marasa kun ha marasa. Pero an kaluyo hito, aada an pagsakripisyo, aada an serbisyo ngan expected naton an batikos. Ngan may panahon nga nagtatangis na la ako kay nauul-ulan na talaga ako, nasasakitan na ako han ginbubuhat han akon mga kalaban. Pero nasering ako nga kun lider ngani kita, ayaw pagpakita nga nasasakitan ka na, ayaw pagpakita nga nagtatangis ka ngan permanente, mapadayon la kita. Tulo la ka anyos ini kay deri ko gin kokonsidera nga permanente ini nga posisyon. Maabot an takna nga mapili gihapon kita han iyo kakaruyagon. Siguro naman, deri na kinahanglan... mababatian ha akon niyo yana nga deri ako an tipo nga maguliat ha iyo para magpasabot kun ano an akon karuyag sidngon kay deri mga bungol ngan mga buta an mga Samareño nga para akon guliatan para mayda ako maipakita kun ano nga mga butang kay maaabat ngan maabat gud niyo an gugma han pagserbisyo nga tikang han gobernador ngada han bug-os nga probinsiya. Ini ngatanan, makuri nga mag giginuliat ako pareho han gin bubuhat han aton mga kakontra han pulitika. An ira ginsesering nga ira na an probinsiya. Kay ano nga pag-aagawon? May-ada ba ito dida dapat pag-agawan? Deri ako mag guguliat ha iyo, kay deri kamo mga uripon nga pag guguliatan. Natuod ako nga madadara la ngatanan han maupay ngan mahinahon nga pag uroestorya. So, amo iton nga gin patawag ko kamo yana, gin pa atendir ko kamo para mahibaruan niyo an akon ginbubuhat para han aton probinsiya!
To Hon. Johnny Latorre, Hon. Bebot Nacario, Hon. Von Soza and Hon. Jimmy Dy, our sincerest thanks for your vibrant and active support in our programs. Your constant help and support is greatly appreciated by us. You are our pillars at the Sanggunian Panlalawigan. Ini nga mga Sangguniang Panlalawigan namon, maskin gin raraug-daug la hira, ada gihapon hira na fight, napakita kun ano an dapat pagbubuhaton ngan kun ano an igpapaabot han mga tawo. Kay danay mayda pira nga sugar coated masyado. Ha gawas matam-is, pero pag ada na ha sulod, iba na an ira intereses. So ini yana nga mga aanhi, dako an akon pagpasalamat kay hira la intawon an akon mga kaugop ha kapitolyo, ha probinsiya.
To my loyal and supportive mayors, maski waray hira yana denhi kay may-ada liwat mga kanya-kanya nga mga ctivities ha ira mga munisipyo, thank you for your unending support to my administration. Thank you for sharing the same vision with me for our constituents. Against all odds, you stood by me in making our dreams and vision a reality. Dida liwat ako ha ira nakuha hin strength. Tatay ug nanay ko na liwat ini hira. Pira pa la ako katuig ha pulitika, ha ira ako nakuha han inspiration ngan mga ideas nga pwede ko ma implementar denhi ha probinsiya.
My gratitude to other heads of offices. Thank you for your untiring, steady and persistent support to my administration. You, too, are my family and as we truly enjoy the fruits of independence, let us never forget to work hand-in hand for an enormous tomorrow.
With all of these, I dare say, this is the beginning of change. In like fashion, our forebears a century ago clamor for change. They wanted freedom from the hands of our foreign torturers, thus a new republic was born which paved way to our independence. Today, we want our own freedoms withheld by fear. With the support of my brother, Vice Governor Jimboy, we continue the good measure started by Congresswoman Mila Tan. Aksiyon Padayon is our way of catering to the growing and continuing demands of public service. As time changes, ways do change. The problems of today differ from yesterday calling for varied solutions. Amo ini an ungod nga pagtikang han pagbabag-o han Samar.
Mabuhay an Samar. Mabuhay kita ngatanan!