Laudable efforts of Kaisampalad Inc.

By CHITO DELA TORRE
July 27, 2011
KAISAMPALAD Inc., or KPI, a national non-government organization, continues to affect the lives and behavior of some potential community leaders in the Eastern Visayas Region, as it does in Mindanao, in relation to their understanding of how certain norms could be effectively injected into some transformation processes leading towards making rural areas developed amidst contending theories and forces of development. The affectation may still be at a slow rate, which is just right for a KPI's new development laboratory that the Waray region is, but it seems to be in the right track. It is the right response to what its takers may eventually realize to be an stimulus that should have come from the government but which could not due to dichotomous politics and erratic people's participation in what Ka Oca Francisco described as "governance" in a Philippine democracy. The desirable behavior should continue even if it needs to mobilize self-initiatives.
Organized in 1995, KPI advocates for local economy development through the collaboration of the various stakeholders in the value chain system. It is also campaigning for the promotion, and adoption and integration as well, of conflict transformation, corporate social responsibility and corporate accountability. KPI's program areas are the Eastern Visayas, the CARAGA region, and the National Capital Region (NCR).
According to KPI executive director Ray P. Abanil, who was in Tacloban last July 19 for a consultation-workshop that tackled the challenges for the banana sub-sector: "We are currently implementing a project called 'Integrating Conflict Transformation and Democratization in Selected Value Chain Sub-sectors of Local Economies in Southern Philippines' with two other NGOs, the Alternate Forum for Research in Mindanao (AFRIM) and Tripeople Concern for Peace, Progress, and Development in Mindanao (TRICOM). AFRIM is an independent research and advocacy NGO that has been operating in Mindanao for 32 year now. TRICOM works with indigenous peoples and Moro communities in Central Mindanao in securing their ancestral domains as well as increasing their capacity to participate in various levels of local governance. The project aims to contribute to the development of the coconut and banana subsectors in CARAGA, coffee subsector in Sultan Kudarat, and banana subsector in Leyte fostering collaboration among value chain actors, building capabilities in conflict transformation, and promoting enterprise development. In CARAGA, the province of Agusan del Norte is KPI's focus area."
Executive Director Abanil points out that the banana subsector has a strong economic importance for the province (of Leyte). "While efforts are in place to promote development in the subsector, issues are still faced by producers and even traders in the various stages of the value chain. Various forms of conflict also arise in the process. Addressing these concerns is not only the role of government. Participation of value chain actors and other stakeholders in the province is important as well."
Besides these, the KPI, through its regional coordinator for Region 8, Judy Torres, has gone to related concerns of development, all acceptable to all those to whom they were introduced. For instance, on his own and with the active participation of Baktas Kabub'wason Rural Workers Association in Basey through its president Teodorico "Dioring" D. Porbus and initiative of the Department of Agrarian Reform Samar Settlement Project in Basey, organic banana planting was introduced among agrarian farmer beneficiaries in Basey, Samar between August and December of 2010. For another, the KPI, still in collaboration with Baktas and DAR-SSP-Basey, conducted a training on Natural Farming Systems last September in barangay Sawa where eleven barrios were represented.
Last July 12, the KPI gave a computer-aided training on community organizing for the core group of the newly founded (co-convened on May 30, 2011 by pastor Guillermo Gacutan of Basey Baptist Church, Baktas and youth leaders Michael U. Dela Torre and Myron Gandia). Judy was the principal resource speaker. Issues on community organizing in Basey were tackled. Towards the close of the training that was held at the office of the DAR at the Espina Building in Baybay, Basey under the auspices of the DAR municipal agrarian reform officer, the participants (most of whom were agrarian reform beneficiaries) planned and scheduled their proposed activities that would climax with a big event one year after. The planning was a response to KPI's helpful inputs.
This afternoon, as part of that response, the COrBa will give a brief echo of that training for leaders of all other religious and community groups that it has invited, including the ALERT chapter that was formed last Sunday, thanks to pastor Marvin G. Añonuevo who heads the church that he founded in Pagsanghan, Samar. COrBa convenor Guil Gacutan plans to cap the activity with the election of officers of the COrBa, with the participants as added members from whom other officers may be chosen. The Metropolitan Bible Baptist Mission house in Loyo (to the right of the ascending road to the Basey hospital) will play host to the event, thanks to its pastor, Douglas D. Dela Torre, who was among Judy's trainees last July 12, like his son Michael. As participants will head back for their own homes, they will be looking forward to the preparation of their constitution and by-laws, registration with the Department of Labor and Employment, and the conduct of CO-related activities, such as the formation of core groups or cadres in selected barrios of Basey.
Off tangent to these, Mercy G. Caboboy of the office of Basey mayor Igmedio Junji E. Ponferrada, informed this section that the Holy Child Building of the MSH Sisters Academy in sitio Bangon of barangay Canmanila, about 1.3 kilometers from the town proper of Basey (towards the road to Catbalogan City, Samar) was blessed at ten o'clock in the morning last July 23, following a Holy Eucharistic Sacrifice of the Mass at the school quadrangle, officiated by His Excellency Most Reverend Isabelo Abarquez, D.D., Bishop of the Diocese of Calbayog, and assisting priests, and the inauguration ceremonies which consisted of the cutting of the ceremonial ribbon and turnover of the ceremonial key. The blessing was followed by a program and Agape Lunch at the quadrangle which saw selected fourth year studes rendering the Body of Christ Song, presentation (Life is a Beautiful Thing) by graders, and another presentation (Liwanag at Gabay) by selected studes. Mayor Ponferrada gave the welcome talk. Ex-mayor Mansueto Delovino and international Papal awardee and district supervisor Alejo Yu of the Basey I school district shared their meaningful thoughts with the audiences.
Mercy said that the MSH Sisters Academy of Basey was actually born inside the public school premises of Basey in during the school year 2006-2007, as probably the first in the Philippines for a Catholic school to be given birth within a public school environment, using government buildings as its first classrooms. The building built as Extension of the then Leyte State College (now Leyte State University, LNU) at Basey 1 was the first school building and home economics was used by the MSH Sisters as their living quarters (bedroom, sala, kitchen, dining room, chapel , school canteen and library, all in a space of just 6X5 or 30 square meters. Growing fast in enrolment, the school had to move to a wider but lower area near the big river, so much so that there were months of the year that the school was affected by the tide of the river. During high tides, the school becomes an island with its first floor only a few inches higher than the water level.
To the school administration, congratulations! To the whole school community, we say, we are proud of you.
AHRC questions the membership of former President Arroyo in the International Commission against the Death Penalty (ICDP)
(An Open Letter from the Asian Human Rights Commission to Mr. Federico Mayor, President of the International Commission against the Death Penalty)
Mr. Federico Mayor
President
International Commission against the Death Penalty
C/o The Secretariat
Edificio Torres Ágora, Serrano Galvache
26, 28071 Madrid
SPAIN
Tel: +34 91 394 89 53
Email: asunta.vivo@icomdp.org
Dear Mr. Mayor,
The Asian Human Rights Commission (AHRC) is writing to express its deepest concern at the inclusion of Mrs. Gloria Macapagal-Arroyo, former president of the Republic of the Philippines, as one of the 12 members of the ICDP.
The AHRC and its sister organisation, the Asian Legal Resource Centre (ALRC), which has Consultative Status at the United Nations, have been working for the protection and promotion of human rights in countries in Asia, including the Philippines – of which Mrs. Arroyo is a former head of State.
We have also been involved in the campaign against the death penalty in countries where our assistance is sought. Of late are the cases in Saudi Arabia where we are assisting Rizana Nafeek, a Sri Lankan domestic helper who was sentenced to death and in the Philippines the case of the Abadilla Five, the five torture victims who were sentenced to death prior to the abolition of the death penalty in the country.
We seriously question the credibility of Mrs. Arroyo's membership of the ICDP in advocating for the abolition of the death penalty. During Mrs. Arroyo's term as President in the Philippines, what we witnessed was not the execution of convicts but rather the extra judicial executions of human rights defenders and political activists, witnesses to court trials and complainants who were pursuing cases of human rights violations against the security forces. These executions were all done outside the parameters of the law and when executions are done outside the parameters of the law it demonstrates the government's incompetence and inability to protect its own people. This is where Mrs. Arroyo and her regime failed grossly; a failure for which she has not yet been held to account. Her regime left hundreds, if not over a thousand of unresolved cases of extrajudicial and summary executions, enforced disappearances, torture and systematic threats and the intimidation of any person working for the protection of rights.
We have thoroughly documented this in our special report titled: "The Criminal Justice System of the Philippines is Rotten" published in Article 2 (Vol. 06 - No. 01 February 2007). Other investigation reports, for example, by the Melo Commission in January 2007 (Independent Commission to Address Media and Activist Killings), a body tasked to investigate extrajudicial killings; and that of Mr. Philip Alston in February 2007, former UN Special Rapporteur on extrajudicial, summary and arbitrary executions, are also available for your serious perusal.
Four years since the Melo Commission and Philip Alston's reports were published, most of their findings and recommendations have not been effectively and adequately implemented. The implementation of these recommendations was negligible even during Mrs. Arroyo's term. The insignificant and minimal success in the prosecution of cases was visibly obvious during her term. The legacy that she left behind therefore is the unresolved cases of extrajudicial and summary executions by state agents under her command.
It is true that it was during Mrs. Arroyo's term as President that the death penalty was abolished. However, we must not forget that the campaign to abolish the death penalty would not have been possible without the tireless efforts of people who aspired for the abolition of this barbaric act of punishment. Even before Mrs. Arroyo's presidency the social movement and the campaign for the abolition of the death Penalty already existed. These are the families of convicts who were sentenced to death but whose convictions were questionable. They are the families of executed convicts who continue to question the legality of the conviction, and execution of their loved ones; they are the local NGOs who devoted their efforts to influence the discourse to abolish the death penalty, they are the members of Congress who lobbied strongly to enact the law that abolished the death penalty and many other nameless faces.
The fact is among the activists killed during Mrs. Arroyo's term as President are those who had an important role in the movement for the abolition of the death penalty. Take the case of Rashid "Jun" Manahan, a former coordinator of a coalition of local NGOs campaigning and lobbying for the abolition of the death penalty. He was killed in Davao City in August 2004 on his way to a meeting that was to discuss the abolition of death penalty.
We urge the ICDP to review and reconsider Mrs. Arroyo's membership of the Commission due to the lack of her credibility. The ICDP should also take into consideration the negative implications of her membership of the Commission on the ongoing struggle and aspirations of the Filipino people for the recognition and protection of their rights.
Unless Mrs. Arroyo is either cleared of the suspicion of allowing human rights abuses to take place during her presidency or answers the serious allegation of her complacency towards human rights violations and her failure to protect the rights of the Filipino people, she has no credibility at all to advocate for other countries in Asia to abolish capital punishment.
Yours sincerely,
Wong Kai Shing
Executive Director
Asian Human Rights Commission, Hong Kong
CC:
- Ambassador Rafael Valle, President of the Support Group of the International Commission against the Death Penalty Madrid, SPAIN
- D. Álvaro Lozano Cutanda, Consulate General of Spain, Makati, Metro Manila, PHILIPPINES
- Mr. Christof Heyns, UN Special Rapporteur on extrajudicial, summary or arbitrary executions, OHCHR-UNOG, Geneva, SWITZERLAND
Poverty revisited

By Fr. ROY CIMAGALA, roycimagala@gmail.com
July 21, 2011
CARDINAL Sin was reported to have said that if he was given money by Satan, he would accept it and use it for charity. Many people are reacting to that view, saying that this position is unconscionable, since it is like following the immoral doctrine that the end justifies the means.
With all this brouhaha of the so-called "Pajero bishops," a pure invention of PCSO chair Margie Juico (OMG, what was she thinking?), this statement of Cardinal Sin is understandably retrieved by those who still buy the line of the PCSO official despite its almost self-evident falsehood and malice.
What's becoming clear is that there is still a big number of people, some of them prominent, who are sick with respect to their life of faith and in the Church, and are in fact nursing a certain dislike, if not, hatred and hostility toward Church people.
They almost automatically think badly of churchmen, watching them with eagle eyes, and are happy when they notice or imagine some lapses on the part of bishops and priests. They are always ready for a strike.
Back to the statement of Cardinal Sin, may he rest in peace, I think the question to ask is, "What would we do with the money of Satan?" Would we just burn it or bury it, or allow it to stay idle and rot? Would it not be more common-sensical to use it for a good purpose?
Money is not Satan himself. It has its own existence, independently of Satan. We have to clarify this, because many people are misquoting a bible passage about money being the root of all evils.
I checked my Bible, and I found the quotation which reads: "For the desire of money is the root of all evils, which some coveting have erred from the faith, and have entangled themselves in many sorrows." (1 Tim 6,10)
So it's not money itself that is the root of all evils. It is the desire, the evil, coveting desire for money that is the culprit. Many people have a "colorum" grasp of the gospel and with that they start to pontificate. Hopefully in time, they will realize they have been victimized by their own ignorance or error.
So if Cardinal Sin or any bishop would receive money from Satan, they have to make sure that they use it properly. Obviously, it would be a different story if Satan would make some immoral conditions, or some unacceptable strings attached.
Or if the money involved would be in such amount and condition that using it would cause some evil effects, as in the case of money laundering. In these instances, I think, the donation should be rejected, unless the necessary changes of the evil conditions are made.
Of course, certain transactions may have to be done very discreetly, because not all people have the same perception and understanding of these transactions. There are those who are "weak" and can get easily scandalized even by a very good transaction. So, discretion is needed. This is not cheating. It is discretion.
With all this furor about the "Pajero bishops," it might be good to revisit the spirit of poverty everyone, prince or pauper, is asked to live and develop. Poverty is a matter of the heart, when it is detached from material things to keep itself whole and entire for God and for others.
Poverty therefore is not so much a matter of how much one has. It is more how one uses his money and the material things for love of God and for love and service of others.
To exaggerate a little, one can be a billionaire and live Christian poverty well because he uses his money for God and for the others, or can be a dirt-poor beggar and yet not live poverty well because he is selfish. This is possible.
Bishops and priests should lead the way in showing the true face of Christian poverty, which does not mean they, we, should be dirty, smelly and miserable. Everyone is entitled to certain level of wellbeing to keep our Christian dignity intact and our effectiveness working.
I was amused once when I visited a young priest who was assigned to a very poor parish made up mostly of farmers. When I asked him how much was his average Sunday Mass collection, he told me he would usually receive P15 to P20. I could not help but laugh. He survives because a rich benefactor takes care of all his needs.
Still I reminded him to live poverty well.
Pajero as the new wedge

By Fr. ROY CIMAGALA, roycimagala@gmail.com
July 5, 2011
IF it were not ridiculously funny, I would have been gravely mortified, even devastated. But I think that the government expose that some bishops received Pajeros from the PCSO of the previous administration had no aim other than to embarrass these bishops and drive a wedge into the Church.
It's a demolition job of the lowest and thoughtless kind, reeking of rash judgments, detraction, malice, unfair innuendoes, self-righteousness, etc. It's a very clumsy political operation that speaks badly more of its perpetrators than of its intended victims.
Its authors try to tell people that a government agency giving Pajeros to some bishops only has one interpretation, theirs. There can be no other possible scenario. In their political game plan, they want to inflict their own exclusive twisted view on all of us.
It's a puny declaration of war, abetted by the media, that will only go pfffft, since it would require from us that we don't think, that we let go of our common sense, that we have to automatically think badly of some people and of some transactions, etc.
Where is the respect for freedom and responsibility, and for the dignity of persons, when people are automatically held guilty for the mere act of receiving Pajeros from a government agency?
If it were not a demolition job, then why single out these bishops? Did that agency give Pajeros and we don't know what else only to them? Were there no other recipients – politicians in all their shifting colors, relatives of politicians, other religious leaders, etc.?
If it were not a demolition job, then why would they give the impression to the public that the mere giving by a government agency of cars to some bishops is intrinsically wrong?
Does that mean that bishops in all instances cannot receive these benefits, while others can? Does that mean that there can be no justification for such act of generosity on the part of the government to bishops?
If it were not a demolition job, why bring this accusation to the public only now? Was this practice limited only to a certain period of time, that of the previous administration? Could it not be that it is very politically motivated, since Church people are now more vocal about certain government maneuvers that clearly are immoral?
This unfortunate affair reminds me of what St. Augustine once said: "Let us never assume that if we live good lives we will be without sin. Our lives should be praised only when we continue to beg for pardon.
"But men are hopeless creatures, and the less they concentrate on their own sins, the more interested they become in the sins of others."
This, I think, is what is happening here. We are too quick to judge others, not realizing that we all need to ask for pardon because we are all sinners, and we just have to help one another do this. The Church, let's remember, is not so much a museum of saints as it is a hospital of sinners.
Sad to say, the right of Church leaders to make pronouncements on the morality of certain government and public issues is not yet well understood by many public officials. And I think it is not because of lack of explanations. It is more of hardheadedness of some officials, if not worse things, like atheism, agnosticism, etc.
What worsens this affair is that some clerics are buying the demolitioners' line, falling into their web, unwittingly playing crucial roles in the demolitioners' storybook. Obviously, this is what the demolitioners want to happen – to insert a wedge among them, bishops and priests, if not the Church as a whole.
In their reckless, off-the-cuff comments, these bishops and priests reinforce the political angle of the car donations, making blanket judgments on the acts of their fellow bishops and priests.
Sorry, but I find that self-righteous and grossly imprudent. If ever there has to be some investigation of some actuations of bishops, would it not be better to do it in a proper venue, far from where things can easily be misinterpreted? This is usually done in all cases, unless dirty politics is involved.
Obviously, not everyone has the same right to know everything about certain cases. That scenario is reserved to the Last Judgment, not here. Otherwise, we would have a mob rule, and further grave injustices can be committed. Pieces of evidence lending credence to this claim are just aplenty.
We should stop wasting our time making these reckless public accusations.
July 4, 1946
By R Sonny Sampayan-Sampayan, rsampayan@aol.com
July 4, 2011
Several years before my father passed away, he once reminded me that Filipinos used to celebrate July 4th as our independence day. At 12:00 o'clock in the afternoon on Thursday, July 4, 1946, and after 48 years of American sovereignty, The Philippines celebrated her independence from the United States of America.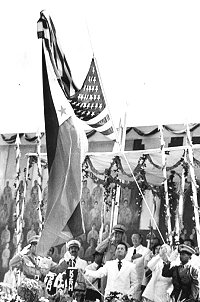 At the Luneta Park, Manuel L. Roxas took the oath of office and established the Third Republic of The Philippines. President Roxas became its first president. This historic event was witnessed by long-time residence of The Philippines and World War II hero, General Douglas MacArthur, US High Commissioner to The Philippines, Paul V. McNutt, and many other high ranking dignitaries from other countries.
General MacArthur reminded everyone in attendance that, "America praised The Philippines' Independence as soon as it was possible. America now redeems that praise." Under the order of President Truman, McNutt also delivers his speech and said, "I am authorized and directed by the President of the United States to proclaim the independent of The Philippines as a separate and self-governing nation" (British Pathe, Ltd, 2010).
After their speeches, they were joined by thousands of Filipinos and Americans to witness the final lowering of the US flag with its 48 stars. Filipinos, for the first time witnessed the unfurling and raising of the Philippine flag to celebrate her independence. A momentarily gust of wind forced the two flags to briefly tangle during the lowering of the Stars and Stripes and the raising of The Philippine flag as if to signal the ultimate hug and the everlasting friendship that exists between our two nations.
After over 377 years of struggle to gain independence from Spain and another 48 years of American sovereignty, Filipinos finally gained its long awaited independence. President Roxas (2010) reminded Filipinos in his inaugural speech and said:
My fellow citizens, there is one thought I want you always to bear in mind. And that is – that you are Filipinos. That The Philippines are your country and the only country God has given you…You must live for it, and die for it—if necessary. Your country is a great country. It has a great past—and a great future…The Philippines of tomorrow will be the country of plenty, of happiness, and of freedom. A Philippines with her head raised in the midst of the West Pacific, mistress of her own destiny, holding in her hand: A republic of virtuous and righteous men and women, the torch of freedom and democracy, all working together for a better world than the one we have at present.
I asked my father, "Why is The Philippines now celebrating her independence on June 12, 1898 when our motherland and her citizens were granted its independence in 1946"? My father could only tell me that President Diosdado Macapagal was ill-informed and wrongly proclaimed June 12, 1898 as The Philippine Independence Day.
Sadly, this meant that our original independence day only lasted 16 years. I asked my father, "How can one man take away what is historically right and change the Philippine Independence Day to 64 years ago?" The declaration of Independence Day is not a time-machine where we can pick and choose any day we like.
In December 1898, Spain turned over The Philippines and two outlying islands to the United States for $20,100,000 million for damages to Spanish properties; therefore, The Philippines was not an independent nation on June 12, 1898 (Trivia-Library.com, 2010).
Where is the glory and the Filipino pride of having our own and original Independence Day? My father could not answer my questions as we watched the July 4th fireworks explode in midair during the clear summer skies from our home in Earlimart, California.
Some twenty seven years later in 1998, I was still hungry for the truth and hungry for facts. Before the advent of the Internet, I found myself spending long nights in the Northside library at Ramstein Air Base in Germany where I was stationed from 1990 to 1998. Two weeks into my hunger for the truth, I came across some books and articles. I discovered an article from Time magazine that was published on Friday, May 25, 1962 (The Philippines: Debt of Honor). The article reads, "…the Philippines changed its independence day to June 12" (Time, Inc., 2011).
Apparently, a bill was pending for a vote in the United States Congress. In 1946, the United States approved a $400 million for war-damage related claims for The Philippines. This amount was not adequate, so an additional $73 million was needed to cover the remaining war damage claims (Time, Inc., 2011).
Over the years, Congress dragged its feet to pay the additional claims. Finally, a $73 million appropriations bill was finally brought to the U.S. House of Representatives for a vote. One Congressman who supported the bill said, "It is a debt of honor." Other lawmakers thought that this was a debt that the United States could renege (Time, Inc., 2011).
President Kennedy's administration deemed that this bill as very important and the Speaker of the House, John McCormack was confident that the $73 million appropriations bill would pass that he did not take a head count to make sure that he had enough votes to pass the bill (Time Inc., 2011).
Due to some misunderstandings, the $73 million war damage claim bill was defeated on May 9, 1962 in the United States Congress. Many US lawmakers decided to vote against this bill. According to Time Inc., (2011), one lawmaker said, "it was an economy vote. There aren't any Philippine votes in our districts." (para. 4).
The defeat of the $73 million appropriations bill was a major setback for the Kennedy Administration. Nevertheless, President Kennedy promised Macapagal that he would give his stronger support to have the bill reintroduce and pass (Time Inc., 2011).
On May 15, 1962, Macapagal wrote to Kennedy to inform him that the feeling of resentment among the Filipino people and the attitude of the US Congress negate the atmosphere of goodwill and that he was postponing his goodwill trip to Washington DC (John F. Kennedy Presidential Library and Museum, n.d.).
Macapagal hinted that he might be willing to change his mind about coming to the United States should the $73 million appropriations bill pass. According to Time Inc, (2011), Macapagal said, "I would be inclined to consider this a restoration of good will." (para. 6). On May 28, Kennedy wrote back to explain the situation of the $73 million war damage bill and hope for a convenient time.
When Macapagal was a congressman, he admittedly formed the opinion that July 4th was not proper for The Philippine Independence Day. Macapagal noted that this day cause considerable inconvenience but failed to enumerate them. He also formed the opinion that July 4th dwarfed The Philippine Independence Day to the United States and also served to perpetuate unpleasant memories. Macapagal selectively failed to remember that for 377 years, thousands of Filipinos suffered at the hands of the Spaniards as we struggled to gain independence. The Philippines was a Commonwealth of the United States for only 48 years. In addition, Macapagal (n.d.), said:
I felt, too, that July 4 was not inspiring enough for the Filipino youth since it recalled mostly the peaceful independence missions to the United States. The celebration of independence day on June 12, on the other hand, would be a greater inspiration to the youth who would consequently recall the heroes of the revolution against Spain and their acts of sublime heroism and martyrdom. These acts compare favorably with those of the heroes of other nations (para. 5).
Macapagal said, "I knew that this was an opportunity to take action on what been in my mind since entering public life. The specific question was when to make the change." Macapagal seized the opportunity as a judicious choice to change the Philippine Independence Day. After consulting with his legal adviser, Macapagal sadly proclaimed 64 years later on May 1962 that June 12, 1898 as the Philippine Independence Day. Macapagal's legal adviser informed him that July 4th is being celebrated as Independence Day but not as specifically designated by law but as an official holiday. As such, Macapagal had the authority to declare official holidays, so he can also declare June 12 as a holiday and hold an independence day on the same day (Macapagal, n.d.). The change of our Independence Day was a political decision and Macapagal's personal agenda. The change was not based on historical accuracy.
Needless to say, on January 25, 1965 Macapagal spoke to the Filipino people for his last State of the Nation Address (SONA) to proudly enumerate his major accomplishments. On this very important occasion, Macapagal made the pronouncement of his administration's success of the $73 million War Damage Act and he also reminded Filipinos of The Philippines Independence Day in 1946. Macapagal (n.d.) addressed the United States and The Philippines relationship this way:
Let me recall that it was under our administration that the late Pres. John F. Kennedy signed into law U.S. Public Law 88-94 which amended the Philippine War Damage Act of 1962 and authorized payments of the balance of war damage reparations amounting to $73 million to some 88,000 claimants. (para. 5)
In the same SONA speech, Macapagal said, "it has been almost two decades since we attained independent nationhood…" (para. 7). In this speech, he acknowledged that The Philippine Independence and nationhood occurred in 1946.
My strong belief is that we need to restore the true Philippine Independence Day because that significant day must be preserved and honored when The Philippines and her citizens became a sovereign nation. Our freedom to self-govern from Spain and the United States was not born until July 4th, 1946.
References:
British Pathe Ltd. (2010). Philippine independence. Retrieved from http://www.britishpathe.com/record.php?id=78721
John F. Kennedy Presidential Library and Museum. (n.d.). New york times chronology (may 1962). Retrieved from http://www.jfklibrary.org/Research/Ready-Reference/New-York-Times-Chronology/Browse-by-Date/New-York-Times-Chronology-May-1962.aspx
Macapagal, D. (n.d.). June 12 as independence day. Bibingka. Retrieved from http://www.bibingka.com/phg/documents/whyjun12.htm
Macapagal, D. (n.d.). Diosdado macapagal, fourth state of the nation address, january 25, 1965. Official Gazette. Retrieved from http://www.gov.ph/1965/01/25/diosdado-macapagal-fourth-state-of-the-nation-address-january-25-1965/
Roxas, M. (12 December 2010). President MANUEL LUIS QUEZON: Message to the People of the Philippines | Circa 1920's [Video file]. Retrieved from http://www.youtube.com/watch?v=663otOvJVGU&feature=related
Time Inc. (2011). The Philippines: debt of honor. Retrieved from http://www.time.com/time/magazine/article/0,9171,896234,00.html
Trivia-Library.com. (2010). United states history: late 1898 & the rough riders. Retrieved from http://www.trivia-library.com/a/united-states-history-late-1898-and-the-rough-riders.htm
Author's BIO:
R Sonny Sampayan-Sampayan hails from Binalonan, Pangasinan. He is an executive assistant for a major European bank in New York City. He is a University of Phoenix student, majoring in Public Administration, and expected to graduate in August 2011.
Author's contact information:
R Sonny Sampayan-Sampayan
rsampayan@aol.com
5812 Queens Blvd., Woodside NY 11377
Mobile phone: (646) 379-4487