Palay production in Eastern Visayas declines by 1.0% in 2017
By PSA-8
March 26, 2018
TACLOBAN CITY – Palay production in Eastern Visayas declined by 1.0 percent from 954,844 metric tons (MT) in 2016 to 945,565 MT in 2017.
Among the provinces, Leyte produced the highest volume of palay at 481,487 MT which comprised a little more than half (50.9%) of the total palay production in the region. Eastern Samar, meanwhile, had the lowest volume of production (59,754 MT) accounting for only 6.3%.
The total harvest area for palay in the region, on the other hand, inched up by 1.8%, from 268,110 hectares in 2016 to 272,889 hectares in 2017. Increases in palay area harvested were observed among all provinces, except for Biliran and Southern Leyte which exhibited decreases of 2.6% and 2.4%, respectively.
Leyte recorded more than two-fifths or 43.4% (481,487 hectares) of the total palay area harvested in 2017, while Biliran contributed the least (14,383 hectares) accounting for only 5.3%.
Yield for palay in the region went down by 2.7%, from 3.6 MT per hectare in 2016 to 3.5 MT per hectare in 2017.
Among the provinces, Biliran posted the highest yield per hectare at 4.5 MT per hectare in 2017. Eastern Samar registered the lowest yield per hectare at 2.6 MT per hectare.
Army encounters NPA terrorists in Eastern Samar, recovers 1 rifle
By DPAO, 8ID PA
March 26, 2018
CAMP LUKBAN, Catbalogan City – A five minute firefight ensued between a squad from 14th Infantry (Avenger) Battalion and a group of about five members of the CPP-NPA Terrorists (CNTs) in Sitio Parik, Barangay Cansangaya, Can-avid, Eastern Samar on March 24, 2018 at 11:05 o' clock in the morning.
Said troops acted from information coming from concerned residents on the presence of an armed group conducting extortion activities in the said community. Troops immediately conducted a combat operation that resulted to the recovery of one M1A1 Garand rifle with serial number 2065519 and one bandolier with four clip of magazine with ammo. No reported casualty was reported on both sides.
The 49th Anniversary of the New People's Army falls within the holy week period, it is presumed that there is a possibility that they will take violent actions and terroristic acts by launching atrocities against AFP/PNP personnel, camps and detachments in Eastern Visayas.
Maj. Gen. Raul M. Farnacio AFP, Commander, 8ID said, "The Army will remain steadfast in its campaign in protecting the populace from CNTs and other threat groups criminal activities, and secure churches/cathedrals, places of religious worship, resorts, economic centers, seat of government instrumentalities, and other vital installations to ensure the peaceful observance of the Lenten Season, in collaboration with the PNP through the Joint Peace Security and Coordinating Center (JPSCC)."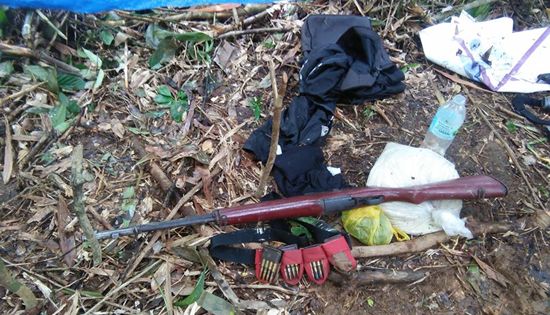 Continuing the fight against TB in prisons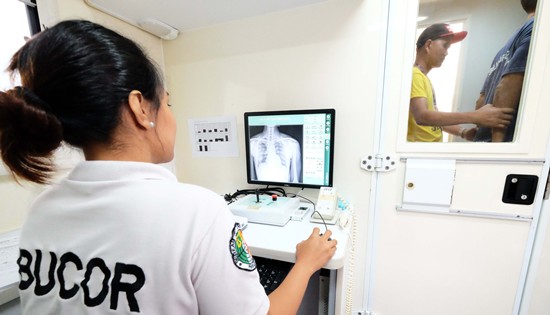 By ICRC
March 25, 2018
MANILA – Tuberculosis (TB) is a major public health concern in the Philippines, which remains among the most affected countries in the world. The country's overcrowded places of detention are particularly exposed to the disease. However, in New Bilibid Prison (NBP) in Muntinlupa City, some significant gains have been made in the fight to eliminate TB among inmates.
In collaboration with the Bureau of Corrections (BuCor), the International Committee of the Red Cross (ICRC) launched a pilot project at NBP in 2013 aimed at improving TB control strategies.
Through the project, more than 50,000 detainees were screened for TB. Around 2,800 of them with active TB, including 219 detainees with drug-resistant TB, were identified and enrolled for the treatment. Over 1,700 patients were cured, and the TB mortality rate dropped from 157 deaths to 112 per 100,000 people. The prison achieved the national and World Health Organization's target of 90 percent success rate in treatment of drug-susceptible TB cases.
On 20 March 2018, this pilot project, which is also intended to serve as a model for other detention facilities to enhance their TB program implementation, was officially handed over to BuCor for continuance. Speaking on behalf of the TB Treatment Unit, Dr. Maria Cecilia Villanueva was confident about the way forward: "I know that our TB team will continue to do our best."
"There are areas that require strong focus, such as screening upon entry in the Reception and Diagnostic Center, as it would allow us to efficiently diagnose inmates and give them the treatment they need at the earliest possible time. We now have the equipment and skills to do that," Villanueva added.
Owing to this collaboration, the NBP TB staff work in a renovated and functional treatment unit. It contains fully equipped offices, clinic, pharmacy, TB laboratory, and a 200-bed-capacity isolation dormitory with patients' access to open air and gardening.
On the occasion of World TB Day on 24 March, the ICRC affirms its commitment to continue its mobilization efforts to ensure access to quality TB care in detention.
"We believe that collaboration among the authorities and external partners is the best way forward in order for the Philippines to be TB-free by 2035," said Dr. Kester Maniaul, TB in detention program manager of the ICRC.
"TB in detention facilities is a serious public health issue. The gains we see now may not be substantial to eliminate TB among inmates sooner unless overcrowding, which contributes to the rapid spread of this preventable disease, and issues such as the overall lack of human resources in jails and prisons are addressed," Maniaul added.
The ICRC is a neutral, impartial, and independent humanitarian organization whose exclusive humanitarian mission is to protect the lives and dignity of victims of armed conflict and other situations of violence, and to provide them with assistance.
In the Philippines, looking after the rights of people detained in relation to armed conflicts in the past three decades, the ICRC has been visiting detention facilities across the country to monitor the conditions and treatment of detainees. And whenever necessary, it also supports the authorities in their efforts to address the causes of jail overcrowding and carries out projects to improve inmates' living conditions and their access to health care, water, and sanitation.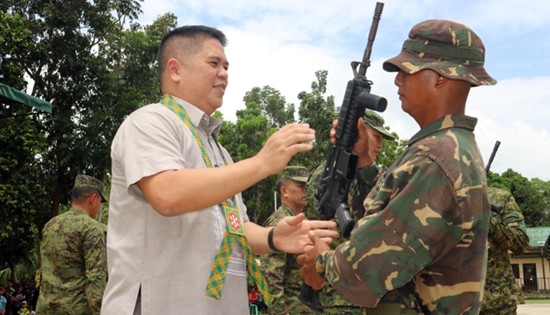 Hon. Edwin Marino C. Ongchuan during the Ceremonial Entrustment of Firearms to the Philippine Army Candidate Soldier Course Class 511-2017 at the 8ID Grandstand, Camp Lukban, Catbalogan City on March 24, 2018.
235 newly enlisted privates strengthens army in Eastern Visayas
By DPAO, 8ID PA
March 25, 2018
CAMP LUKBAN, Catbalogan City – The Philippine Army Candidate Soldier Course Class 511-2017 was formally closed on March 24, 2018 at 10 o'clock in the morning at the 8ID Grandstand, Camp Lukban, Brgy. Maulong, Catbalogan City, Samar.
The closing ceremony was graced by Hon. Edwin Marino C. Ongchuan, Representative, 2nd Congressional District of Northern Samar as the Guest of Honor and Speaker who further led the ceremonial entrustment of firearms, distribution of certificates and individual achievements. The entrustment of firearms to the 235 newly enlisted privates symbolizes their responsibilities and commitment to the people and the country.
Hon. Ongchuan emphasized during his inspirational message their duty as public servants of the country. "As new soldiers, you should always remember the law for the benefit of the country. You have undergone rigid training, and some bad make did not survive, but you are in today feeling victorious because after all the hardship you gained confidence. So my dear graduates, let us be full upright in performing our duties with dignity and honor, let us avoid getting involved in any wrongdoing that will tarnish you being a soldier and servant of the Republic of the Philippines," Hon. Ongchuan said.
Meanwhile, Maj. Gen. Raul M. Farnacio AFP, Commander, 8ID reminded the new soldiers of 8ID the value of sacrifice. "Natutunan niyo noong kayo ay nag-aaply at nagsasanay pa lamang na sakripisyo ang kailangan para maging sundalo. Sakripisyo na mawalay sa inyong pamilya para sa mas maginhawang kinabukasan. At sa mga susunod na araw bilang mga bagong sundalo ng Republika ng Pilipinas, mas mararamdaman niyo na para magtagal at magtagumpay sa propesyon na ito ay kailangan pa ng mas malalim na sakripisyo. Ito ang sakripisyo para sa ating bayan," he said.
The youngest members of the Stormtroopers Division will join the fight against insurgency, illegal drugs, private armed group, and terrorism.
Eastern Visayas registers 96.3% employment rate in January 2018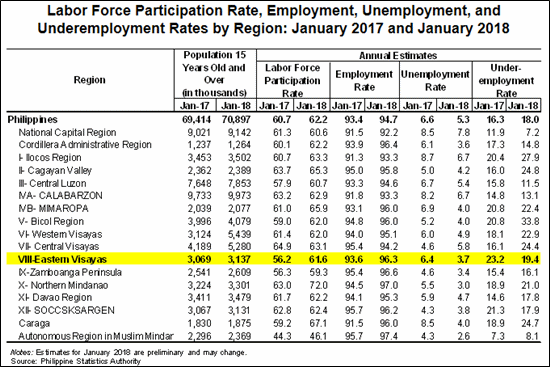 By PSA-8
March 23, 2018
TACLOBAN CITY – Employment rate in Eastern Visayas in January 2018 was estimated at 96.3%, ranking fifth among the regions with high employment rate in the country. This figure is higher than the 93.6% ER recorded in January 2017. Employment rate is the proportion of employed persons to total labor force.
Out of the estimated 3.1 million population 15 years old and over in January 2018, about 1.9 million were economically active or in the labor force. This number translates to a Labor Force Participation Rate (LFPR) of 61.6%. This figure is 5.4 percentage points higher compared with the 56.2% LFPR in the same period a year ago. Among the regions, Eastern Visayas registered the fifth lowest LFPR.
The underemployed persons or those employed persons who express the desire to have additional hours of work in their present job or to have additional job, or to have a new job with longer working hours was estimated at 361 thousand. This is equal to an underemployment rate of 19.4%, lower than the 23.2% recorded in the same period last year. The region had the ninth highest underemployment rate in the country.
Meanwhile, about 71 thousand persons in the labor force were unemployed. This translates to an unemployment rate of 3.7%, lower than the 6.4 percent rate recorded in January 2017. Eastern Visayas ranked fifth among the regions with low employment rate.
Data were based on the preliminary estimates released by the Philippine Statistics Authority from the Labor Force Survey (LFS) conducted in January 2018.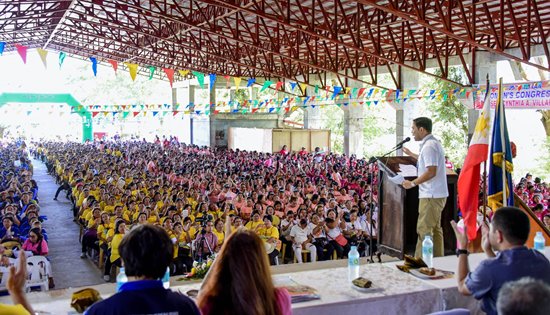 DPWH Secretary Mark A. Villlar graced the occasion as the keynote speaker during women's celebration in behalf of his mother Senator Cynthia A. Villar on Wednesday, March 14 held at the Activity Center, Capitol Grounds, Calumpang, Naval, Biliran.
Employees of Biliran DEO participate 23rd provincial women's congress
By CHELSEA QUIJANO-SALLOMAN
March 21, 2018
NAVAL, Biliran – Women employees of the Department of Public Works and Highways (DPWH) Biliran District Engineering Office participated the 23rd Provincial Women's Congress on Wednesday, March 14 held at the Activity Center, Capitol Grounds, Calumpang, Naval, Biliran.
There were an estimated 3,000 women-participants coming from the 132 barangays, 49 sitios, and 186 chapters of Women for Rural Development – Katipunan ng Liping Pilipino (WORD-KALIPI) province-wide, Provincial Council for Women's Welfare, Incorporated (PCWWI) officials and members, women legislators and other women sectors in the province who joined the said activity.
The event started with a holy mass followed with a parade going to the provincial capitol grounds for the opening and ribbon-cutting ceremony of the Trade Fair and the opening program.
One of the highlights of the celebration was the plenary session/ discussions on interesting topics to provide participants with knowledge on promoting gender equality and empowerment.
There were also slogan writing contest, dance contest and skills training simultaneous with the plenary sessions: skirting, stage decoration, marcotting and grafting, make-over and vermin composting.
Other activities during the celebration includes the trade fair which showcased the livelihood projects of women.
DPWH Secretary Mark A. Villlar graced the occasion as the keynote speaker during women's celebration in behalf of his mother Senator Cynthia A. Villar.
Senator Villar is known for providing livelihood programs to the people. Biliran Province is one of the beneficiaries of her legislation under Republic Act No. 10861 otherwise known as An act for the establishment for provincial fisheries and aquatic resources training, development, and product center.
On his speech, the DPWH Secretary highlighted the strong support of her mother to the group of women. He also vowed to continue supporting the Biliran women's organization especially when it comes to infrastructures and livelihood programs.
The National Women's Celebration every March is part of the worldwide observance of the International Women's Day pursuant to R.A. 6469 series of 1996.
This year's celebration is in adherence with the theme "We Make Change Work for Women which shall be used from 2017- 2022.
UPVTC wins over SPSPS, completes set of quarter finalists in the Intercollegiate Federalism Debate
By MA. FABIANA B. GARCIA and MYLES JOSEPH E. COLASITO
March 21, 2018
TACLOBAN CITY – The University of the Philippines Visayas Tacloban College (UPVTC) triumphed over St. Paul's School of Professional Studies (SPSPS) in the 2nd match of the Preliminary Rounds of the 2018 Intercollegiate Federalism Debate (Tacloban City/Leyte leg) hosted by the Department of the Interior and Local Government (DILG) at the 2nd floor, Student Center, Leyte Normal University on March 21, 2018.
Leonardo Dimatangal of UPVTC also stood out among other debaters by bagging both the Best Debater and Best Speaker medals.
The teams argued on the following proposition, "Resolve that the country shall adopt a unicameral legislature in a federal system of government", with SPSPS taking the affirmative stand and UPVTC tasked with the negative viewpoint.
The UPVTC team was composed of Brandon Ian Dela Cruz, Leonardo Dimatangal, Jeffrae Isaac Albert Damayo, and Gio Martin Ocfemia, with Prof. Dakila Yee as the coach; while the SPSPS team was composed of Jejomar Bru, Glydel Jain A. Tacad, Joshua V. Baldo, and Gil Kristopher C. Rosillo, mentored by Atty. Jose Aguinalde.
Prof. Arvin de Veyra moderated the debate, which aired live over DYVL AksyonRadyo Tacloban and on the DILG Region 8 Facebook page. The panel of judges were from the Integrated Bar of the Philippines - Leyte Chapter, Atty. Karah Jane A. Tamboong, Atty. Vincent Q. Piga, and Atty. Romeo Dax Calamaya.
UPVTC will be joining the quarterfinals with the rest of the winning colleges all over the region.
The quarterfinal rounds of the debate are scheduled on April 2 for the match between Leyte Normal University (LNU) and Maasin City College (MCC); April 4 for Visayas State University (VSU) vs. Naval State University (NSU); April 11 for the match between University of Eastern Philippines (UEP) and Eastern Samar State University (ESSU); and April 16 for the debate between UPVTC and Samar College. The semi-finals and grand finals are to be scheduled within the same month.
The 2018 Intercollegiate Federalism Debate is one of DILG Region 8's responses to the President's directive for the department to lead the information campaign on Federalism. Recognizing that the youth predominantly compose the voting population, DILG-8 decided to gear many IEC activities towards this age group. A debate on the merits and details of Federalism hopes to bring about improved awareness, knowledge, discussion, and appreciation of Federalism and other forms of government, and at the same time promote a culture of discussion on Federalism and relevant issues among various audiences.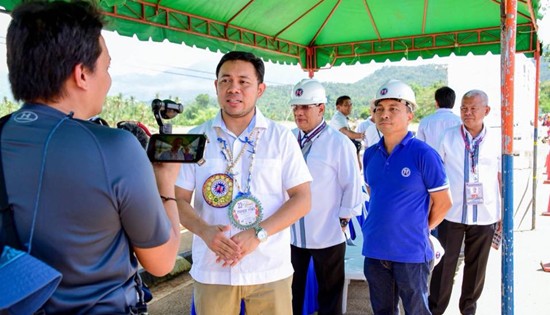 Interview of DPWH Secretary Mark A. Villar with Biliran Island.com during his visit on March 14 to Biliran Province. The DPWH Secretary attended the 23rd Biliran Women's Congress Celebration as a keynote speaker in behalf of his mother, Senator Cynthia A. Villar. He also conducted an on-site inspection of CarayCaray Bridge with Engr. Edgar B. Tabacon, Regional Director, Engr. David P. Adongay Jr. and Engr. Alfredo L. Bollido, Assistant District Engineer of Biliran District Engineering Office.
DPWH-Biliran DEO to construct detour across Caraycaray river for heavy vehicles
BY CHELSEA QUIJANO-SALLOMAN
March 21, 2018
NAVAL, Biliran – The Department of Public Works and Highways (DPWH) Biliran District Engineering Office (DEO) will construct a detour across the CarayCaray River.
This will reduce the travel time of heavy vehicles from two and a half hour travel (90Kms) to 30 minutes (19kms) from Biliranto Naval, the capital town.
DPWH Secretary Mark A. Villar said that the DPWH will prioritized the funding for the said detour to solve the problem of using the long route.
Villar was at Biliran on Wednesday, March 14 as the keynote speaker in behalf of his mother, Senator Cynthia A. Villar during the 23rd Biliran Women's Congress Celebration.
His visit was also an opportunity for him to conduct an on-site inspection of CarayCaray Bridge which was damaged by Tropical Storm Urduja last December 15, 2017.
According to Villar, there is really a need to speed-up the construction of the new bridge to lower the cost of goods in the Province of Biliran.
Since after typhoon Urduja, trucks, panels and other heavy vehicles were advised to take the alternate long route Naval-Almeria-Kawayan-Culaba-Caibiran-Cabucgayan road and vice versa, thus leads price hikes of other goods in the market.
Engr. David P. Adongay Jr., District Engineer of Biliran DEO also said that the completion of detour will also help contractors to fast-track their project implementation because contractors will no longer have an excuse for the delay of their projects.
The construction of detour across CarayCaray River has a length of 45m. with pavement width of 6.10m and a thickness of 0.28m with a budget amount of P4.760M. It is already under Preliminary and Detailed (PDE) activities.
Energy Research Institution:
Meralco, coal companies pushing high-cost, dirty electricity this summer
Press Release
March 21, 2018
QUEZON CITY – According to energy research institution Center for Energy, Ecology, and Development (CEED), higher consumer demand for power during the summer is now being utilized by Meralco and its affiliate coal generation companies to push for the approval of their power supply agreements sourced from coal (coal PSAs). Just three months ago, the Ombudsman ordered the suspension of four Energy Regulatory Commission (ERC) Commissioners over the anomalous coal PSAs.
CEED Executive Director Gerry Arances called out energy giants Meralco and Redondo Peninsula for bemoaning the delay in the approval of their coal PSAs but overlooking the interests of consumers, who opposed the said approval.
"Meralco and its affiliate coal companies have pushed for the approval and operation of their coal-fired power plants under the guise of protecting consumers from power outages," Arances noted.
"However, these coal PSAs are being contested by the consumers themselves, with the support of environment and grassroot organizations, for spelling out higher electricity prices and a dirtier environment for the next twenty years," said Arances.
CEED Legal and Policy Officer Atty. Avril De Torres also lamented the Temporary Restraining Order (TRO) issued by the Court of Appeals against the Ombudsman's suspension order, in order to prevent public service disruption.
"Public service disruption should not be used as a justification to stay the Ombudsman's suspension order and to approve the anomalous coal PSAs. Our remedies should be to immediately appoint acting commissioners, and to prioritize the approval of cleaner and cheaper energy. This is how we ensure that we are promoting public service and consumer interest over the interests of coal companies," said De Torres.
According to Arances, coal spells out higher electricity prices since coal is already more expensive than wind and solar energy. Under the seven coal PSAs, the average rate of coal electricity is PHP 3.65/kWh, meanwhile wind and solar are at a lower rate of P3.50/kWh and P2.99/kWh, respectively.
Arances stated that what is also usually left out in Meralco and other coal giants' pressure for more coal is the global transition away from coal, which puts facilities like coal-fired power plants at risk of becoming stranded assets.
He cited a study conducted by the Institute for Energy Economics and Financial Analysis (IEEFA) and the Institute for Climate and Sustainable Cities (ICSC) which showed that 'stranded coal assets' are a growing material risk that is inevitable in the Philippines.
Arances said that according to the IEEFA and ICSC study, trends in the coal-fired electricity generation sector, such as the over-build of coal-fired power plants, 'may leave ratepayers at risk of having to pay above-market prices.'
"If Meralco and its coal affiliates have their way in the approval and operation of their coal plants, Philippine electricity consumers are to be locked into not only twenty more years of dirty and steadily increasing electricity prices, but also into paying for stranded asset costs of these obsolete coal plants," Arances claimed.
"Necessarily, this will also prevent consumers from accessing cleaner and cheaper electricity from sources like renewable energy," he concluded.