Farms association in Leyte intensify production for bigger market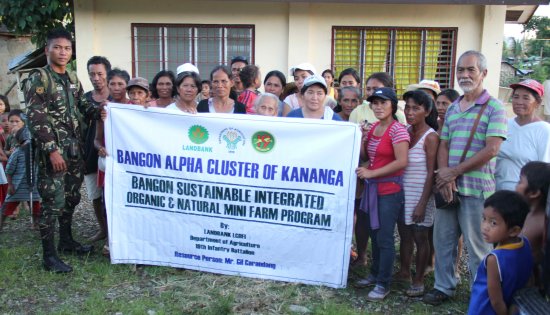 By JAZMIN BONIFACIO
July 23, 2014
KANANGA, Leyte – The Bangon Mini-Farms Association in Leyte is intensifying field test over their 19 varieties of vegetable plantation and slowly tapping in to big markets nationwide within the year.
It was learned that Department of Agriculture, Land Bank of the Philippines and the 19th Infantry Battalion Phil Army, a key facilitator of the project of Bangon Mini Farm concept in Super Typhoon Yolanda affected areas in Leyte will soon schedule a weeklong field unit audit to assess the productivity of all the 19 vegetables required by the would be market in Ormoc City and markets chains in Cebu.
Field audits shall cover Ormoc City, Kananga, Capoocan, Carigara, San Isidro, Calubian and Jaro all of Leyte province and will be assisted by the 19th Infantry Battalion based in Kananga, Leyte.
Bangon Alpha rouse their membership from 100 to 426 farmer-partners seven months after Super Typhoon Yolanda. This increase in number was caused when original members of Bangon conducted their own trainings to bring others to the program, similar to what the 19th Infantry Battalion did to its Farmers Associations in the municipalities of Kananga, Calubian, San Isidro and Jaro and in Ormoc City.
And, recently, Bangon's Ormoc City cluster opened its farmer's market in Brgy Camp Downes. The market sells organic vegetable products and is open Friday to Sunday every week.
According to Capt. Christopher Badong, Civil Military Operations officer of the 19th Infantry Battalion Philippine Army, the farmers are hoping more access to institutions and big markets that will lead them to bottom line growth. And with the market of their agricultural products they will have to expand their markets to viable, sustainable businesses.
"The idea is, rather than trying to bus people to farmers' markets we decided to take their agri products to where the neighborhoods are," Badong stressed.
Badong said that they continue to collaborate with other agencies to come up with different strategies to help farmers market their produce.
And this can be attributed, to various interventions being done by the government through the Department of Agriculture and its attached agencies coupled with the strong support of the farmers and stakeholders on various agricultural programs.
Meanwhile, Lt. Col. Nedy Espulgar, commanding officer of 19th IB, said the program is indeed beneficial to indigent farmers whose income is within the poverty threshold.
Filipinos are never destined to be poor, according to Lt. Col. Espulgar.
"We all deserve to live a life out of poverty for there are many ways of succeeding in life especially that our country is blessed with vast natural resources that we can capitalize on," Espulgar added.
He stressed that in the context of small farmers, many of them work very hard but still do not enjoy the quality of life that they deserve.
"Our advocacy wants to see this scenario change for the better and we hope to encourage future and present farmers to think like entrepreneurs and uplift their standard of living and hoping as well that the program will attract more people, especially the rebels who chose to fight in bloody battles rather than in ending poverty and hunger," said Lt. Col. Espulgar.
World skateboarding championships return to South Africa, October 1-5
Over 70 countries invited to compete in 2014 Kimberley Diamond Cup
By MARKETWIRE
July 23, 2014
SACRAMENTO, CA – World Skateboarding Grand Prix (WSGP) announced today it has extended invitations to over 70 countries to participate in this year's Kimberley Diamond Cup World Skateboarding Championships (KDC) October 1-5. Presented by Kumba Iron Ore, the event draws the best skateboarders from around the world to Kimberley, South Africa to compete for the largest prize purse in skateboarding, more than $500,000, and title of world champion.
"We have been working all year to develop our member countries and this year's event is poised to be the biggest international contest in skateboarding history with close to 250 athletes participating," said Tim McFerran, president of World Skateboarding Grand Prix.
The KDC championships include vert contests and street style contests that are held on the permanent state-of-the-art skatepark built specifically for the championships and donated to the community, serving as a year-round youth community center. The skatepark serves to foster youth development and cultivate the next generation of skateboarders.
"It's something that we have been doing for a few years now and we believe that more international sporting events should have legacy projects and sustainability," said McFerran. "We have already seen some countries pull out of bidding for major events because they don't leave any lasting legacy; it's a few days of events and then it's gone. We believe the future of sporting events, including Rio in 2016, lies in social responsibility and in creating long lasting benefits for host communities."
The WSGP championships, led by Mcferran, are innovating the way sports events operate by creating a real legacy and sustainable industry year-round in host countries, focusing on developing youth and helping the underprivileged.
For more information on WSGP or KDC and to learn more about sending representatives to compete in the World Skateboarding Championships, e-mail repmycountry@worldskateboarding.com.
TUCP: Yes to emergency powers, No to generator sets, No to ILP
By TUCP
July 22, 2014
QUEZON CITY – The Trade Union Congress of the Philippines (TUCP) welcomes the move of DOE Secretary Jericho Petilla in advising President Aquino to declare a state of emergency in the power sector.
"We fully support the invocation of Section 71 of EPIRA which will allow the President to step in with programs to provide additional generation capacity. We, however, strongly disagree with the proposal from the DOE and from the generation sector that the way out of the current crisis will be through the purchase of generation sets, to be financed through the National Budget," said TUCP Executive Director Luis Corral.
"Gen Sets are a quick fix but they will be very expensive and the power generated from gen sets will be in the vicinity of P12 to 15 pesos per kWh," he added. TUCP stated that the crisis is not just the lack of power security but the need to bring down power rates as well.
TUCP warned against the DOE knee-jerk /quick fix as the situation in Luzon, Visayas and Mindanao are vastly different from each other. "We also deeply disagree with the DOE recourse to the Interruptible Load Program (ILP). On the ILP, when was it ever a social good to allow SM's and Robinsons' to run their own generators for their own use air-conditioning and lighting in their malls and allow pass through of their power costs to the consumers of MERALCO," explained Corral.
Instead, TUCP proposes that the President using Section 71, convene a multi-agency and a multi-sector group to assist him develop and craft the necessary policies and strategies to address the power crisis. "We request the President to include the entire economic cluster of his cabinet, the business sector, organized labor and the consumers in fast tracking policies and strategies for the next 24 months to ensure that the crisis is addressed." A comprehensive set of policies and a strategy to temporarily allow government to build additional capacity should be put in place and this should be complemented by policies and strategies to bring power costs down.
To this end, TUCP suggests and recommends to the President for his consideration the following:
a. The return of the government to the generation sector temporarily until we establish a reserve for each island grid in the range of 20% to 30% reserve of the peak demand (The reserve requirement can be technically determined factoring in population growth, projected GDP, power demand, expected downtime for plants, and allowance for force majeure, etc.)
b. The suspension of the Wholesale Electricity Spot Market (WESM) until such time that there is sufficient capacity to provide a reliable reserve of 20 to 30 % reserve for each grid. Unless there is sufficient capacity and a reliable reserve, TUCP warns that WESM will remain a "seller's market" and there will be no competition, as prices will remain vulnerable to "gaming" as what happened in November to December 2013. Also, in a "seller's market", sweetheart deals will be rampant and prices will go up due to speculation or economic and physical withholding of supply in the market;
c. Ensure 100 percent Bilateral contracts between the distribution sector and the generation sector through public auctioning of both available capacity and committed capacity for plants that are respectively already built by the private sector and those that will be built if they have sure customers to purchase their power. This will ensure that we will approximate true cost and do away with the "gaming" and price gouging that has characterized market behavior of the generation sector in the WESM in recent years;
d. The replacement of the Performance-Based Rate Making (PBR) formula with a 12 percent cap on a simplified Return on rate Base formula for determining distribution tariff. This will dramatically bring down power rates and make our economy competitive in attracting investors and locators.
TUCP urged the President to call upon all sectors to join in crafting a national response in the face of this crisis. "We will be one with the President in this key concern because as we have repeatedly told the economic cluster and His Excellency in our meetings in 2012 and 2013: "If there is no power, there are no investors, and there will be no new jobs". Corral said, "We hope to solve the power crisis which is the key in bringing about new jobs and saving current jobs."
"We had the opportunity to propose to the President as early as 2012 the declaration of a state of emergency which we reiterated in 2013. It is unfortunate that it has come to this, but nonetheless we will stand with the President in addressing the crisis. We urge him to tap into the expertise of both labor and business groups, of academics and power professionals in sifting through the options of what will be the best way forward. Let us not adopt a one-size-fits-all solution but one that is based on a full-options approach, this crisis should be utilized by the President as an opportunity box to move collectively with the stakeholders in ensuring inclusive growth in the last two years of his administration," said Corral.
19IB and Bangon Mini-Farms Association eye nationwide market chain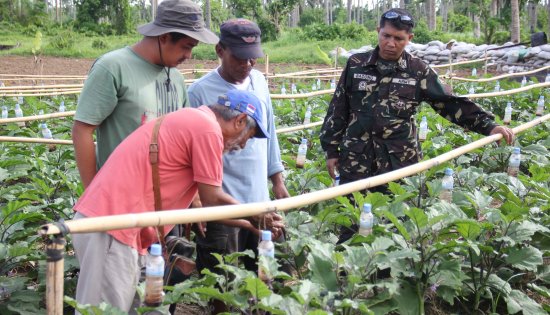 By DPAO, 8ID PA
July 21, 2014
KANANGA, Leyte – The 19th Infantry (Commando) Battalion and Bangon Mini-Farms Association in Leyte are eyeing a nationwide market chain for their vegetable products.
This development was pushed during the Board of Trustees meeting for the Bangon Mini-Farms Association Alpha Sector Inc. held on Wednesday, July 16 at Headquarters 19th Infantry Battalion in Brgy. Aguiting, Kananga, Leyte.
Director Domingo Diaz, member of LandBank Board of Trustees who pioneered the Bangon Mini Farm concept in Super Typhoon "Yolanda" affected areas in Samar and Leyte, said a memorandum of agreement is underway between Bangon and a market chain in Cebu.
With this significant progress, Mr. Gil Carandang, the Father of Philippine Organic Farming who also sits in the Board of Trustees for the Bangon Mini-Farms Alpha Sector Association Inc., is scheduled to conduct a weeklong field audit to assess 19 types of vegetables required by the would-be market. The vegetables requested by the market chain are currently on intensive field test at Bangon pilot farms.
Field audits will cover pilot farms at Ormoc City, Kananga, Capoocan, Carigara, San Isidro, Calubian and Jaro, all of Leyte province and will be assisted by the 19th Infantry Battalion.
During the meeting, Director Diaz handed over the Alpha Sector's Certificate of Incorporation (COI) which was issued by the Securities and Exchange Commission on June 18 this year. The COI contains Company Reg. Nr. CN201411778 and Company TIN 008-801-182 signed by Dir. Ferdinand B. Sales, of SEC's Company Registration and Monitoring Department.
The membership of Bangon Mini-Farms Association Alpha Sector Inc. is now placed at 426, seven months after ST Yolanda.
Lt. Col. Nedy Espulgar, commanding officer of 19IB said, "The program is beneficial to farmers whose income is within the poverty threshold. With this program, a farmer with 1000 square meters of tillable land can earn up to P16,000.00 per month."
TUCP, business and other labor groups meet to prepare for unemployment, retrenchments and business shut down due to power crisis
By TUCP
July 21, 2014
QUEZON CITY – The Trade Union Congress of the Philippines (TUCP) is scheduled to meet Wednesday with various business and labor groups to draw up measures amid the adverse ramifications of the current power crisis to employment and stability of businesses in the country, TUCP executive director Louie Corral announced yesterday.
"We have no national strategy to address the looming power crisis. So, the TUCP, other labor groups, consumer and business organizations will meet on Wednesday with the aim of figuring out a recommendation to the government on how to minimize the impact of a full-blown power crisis precluded by prolonged rotational brownouts currently prevailing in many key areas Luzon and in Mindanao. TUCP wants the government to be prepared when the 'perfect storm' caused by lack of power policy hits the country because it's the workers who'll be whip hard when the storm comes," Corral said.
With one of the highest electricity rates in the world, the country remains unattractive to new investments that create quality jobs resulting to a static unemployment of 3.046 million in April 2013 to 2.924 million in April 2014 while underemployed are 11.057 million and 11.501 million covering the same period. With the rotational brownouts in the equation, TUCP fears many jobs might be retrenched with companies affected by inadequate power supply.
TUCP and its labor coalition called Nagkaisa has recommended twice to President Aquino during the previous pre-labor Labor day dialogue since 2013 the creation of a multi-agency, multi-sectoral presidential task force headed by him and composed of the economic and infrastructure clusters of the cabinet, business chambers, labor, consumer and power industry players. The aim of the task force is to address the insufficiency of power and the need to determine affordability and competitiveness of power rates in the country.
Energy Secretary Jericho Petilla responded in May 2014 with the issuance of Department Order DO 2014-05-0009 which creates a study group under the DOE. The TUCP and the Nagkaisa, however, refused to participate because they are asking for a presidential task force and not a study group.
Before the onset of rotational brownouts in NCR before typhoon Glenda wrought havoc last week, Corral said the TUCP has urged Petilla to declare a national emergency on power 'so that collectively we come up with the right solutions.' However, Petilla said they are studying the suggestion.
"The fate of all industry roadmaps particularly the employment targets is dependent on how we address the power crisis right now. We need a truthful picture of our future power supply so that we can come up with clear strategies and coping mechanisms and avert companies shutting down and retrenchments of workers. A flawed power industry roadmap will be fatal to the economy. We cannot afford to hinge on the day-to-day weather predicament the fate of the employment of millions of workers," Corral stressed adding: "we emphasize that without sufficient and affordable power, there will be no investors and there will be no new jobs."
TUCP is recommending that government temporarily return to the power generation business until there is sufficient supply to restore business confidence, a return to tariff-setting based on 12% cap return-on-rate-base (RORB) to bring down the electricity prices to make the country regionally competitive, and the suspension of WESM in favor of bilateral contracting between generators and distributors overseen through a public auction by DOE and Energy Regulatory Commission to ensure true costs and not speculative and "gaming" costs.
Allege massive cronyism in DAP-infused projects
Anti-Poverty group reiterate demand of full-disclosure of DAP projects' details, says devil is in the details
By Kongreso ng Pagkakaisa ng Maralitang Lungsod
July 19, 2014
QUEZON CITY – An urban poor group called on Palace officials to reiterate their call for the full disclosure of the details of projects infused with Disbursement Acceleration Program (DAP) funds. They specifically wanted to know which companies were awarded with contracts stimulated by DAP.
The Kongreso ng Pagkakaisa ng Maralitang Lungsod (KPML) believes that the companies which were granted projects fueled with juggled public funds are heavily-connected with President Benigno Aquino III, they allege that they are either corporations identified with close associates and relatives.
Secretary Butch Abad of the Budget Department recently released a list containing 101 projects worth P144.4 billion that were implemented between 2011 and 2013 with the supposed economic stimulus program.
"The fiscal abuse hatched by the Palace could easily translate to anomalous and highly-dubious transactions since it did not go through budget deliberations in Congress for scrutiny. If not, then why did they not go through standard operating procedure and be a fiscal dictator," said KPML leader, Orly Gallano.
"The fleshy features of each transaction using DAP funds are what the people want to know. As the most religious taxpayers, we have the right to know where our taxes were spent, how and to whom they were awarded. The devilish side of DAP lies in the details," he asserted.
Despite the clamor for disclosure the Palace officials have not budged despite the obvious discrepancies with the document they submitted before the Supreme Court before it was declared unconstitutional and those recently released.
Documents submitted before the high court indicated that the Palace spent more than P177 billion.
The urban poor leader alleged that, "No amount of sanitizing could hide the fact that the DAP was used for political patronage, undermining of supposed co-equal branches of government, corruption and amassing of wealth of Aquino cronies and relatives through anomalous deals".
"The more Aquino and Abad refuse to heed the demands of the people for full disclosure and deny the people justice, will only fuel their emotions and heighten the clamor for his ouster and establishment of a political system that will genuinely serve the interest of the nation's poor majority," Gallano added.
The KPML together with ally Bukluran ng Manggagawang Pilipino just recently announced that they are now calling for the ouster of Aquino and the establishment of a government of the masses and not the constitutional takeover of the Vice President.
The groups vows to mobilize thousands of its members and affiliates on July 28, Aquino's 5th State of the Nation Address.
Roxas commends disaster-ready LGUs, calls on mayors to build better, safer communities
DILG Press Release
July 19, 2014
QUEZON CITY – Interior and Local Government Secretary Mar Roxas today lauded local officials who worked round the clock in leading their constituents to safer grounds before the onslaught of typhoon Glenda, saying their efforts were responsible for low casualty rate during the calamity.
"Binabati ko ang mga lokal na opisyal sa kanilang maagap na pagtugon sa panawagan ng ating pamahalaan na maging handa laban sa ano mang uri ng kalamidad. Ang mababang bilang ng casualty ay isang indikasyon na tayo ay unti unti nang nagiging handa," said Roxas, who is vice chairman for preparedness of the National Disaster Risk Reduction and Management Council (NDRRMC) said.
At the same time, Roxas expressed sympathy to families and friends of the fatalities who according to latest NDRRMC count has reached 51.
"Ako po ay nakikiramay sa mga kababayan natin na nawalan ng mahal sa buhay at patuloy po tayo na nanawagan sa ating local government units na kumilos para hindi lang paigtingin ang kanilang mga disaster risk reduction plans kundi para gawing mas maayos at mas ligtas ang mga komunidad na kanilang nasasakupan," the DILG chief said.
Roxas said that "one death is one too many" and local government units (LGUs) should work harder to achieve the "zero casualty" target of the NDRRMC, of which local DRRMCs are part of.
He cited as an example the Provincial Government of Albay which again achieved "zero casualty" owing to its effective disaster risk reduction and management plan that was put into place by the local officials and the people in so-called disaster-prone areas.
The disaster-readiness of Albay and other LGUs in the Bicol area, he said, is something worth emulating.
Last Monday, Roxas distributed to members of the League of Municipality of the Philippines – Luzon Cluster the LGU Disaster Preparedness Journal - A Checklist of Minimum Actions for Mayors prepared by the DILG to serve as guide to local chief executives to help them prepare against the impact of climate change-triggered natural calamities.
According to Roxas, LGUs are mandated by Republic Act 10121 or the Philippine Disaster Risk Reduction and Management Act of 2010 as "first responder" to ensure the safety and resiliency of communities in facing the challenges of disasters.
The "Checklist of Minimum Actions for Mayors" calls for the creation of the local disaster risk reduction management structures and systems to be mobilized before, during and after natural calamities; institutionalize policies and plans; enhance competency of the structures through various trainings; and compliment the competency by purchasing and preparing the needed hardware and supplies.
Call for resumption of GPH-NDFP peace talks generates support from broad array of sectors
Press Release
July 15, 2014
QUEZON CITY – "The peace talks have been stalled since 2011," said Bp. Deogracias Iñiguez. "We challenge both the GPH and the NDFP panels to muster the political will to resolve the current impediments to the continuation of the talks."
"All of those whom we have approached to support the call for the resumption of the GPH-NDFP peace talks readily agreed to be included as convenor, or at the minimum, to sign the unity statement we have drafted," said Bp. Elmer Bolocon of the Ecumenical Bishops' Forum.
"With more than 50 convenors representing peace advocates, church people, sectoral and people's organizations, and even some government officials, we have launched our campaign Kapayapaan, in a big way today July 15, 2014 at the Claret AV room, Mahinhin Street, U.P. Village, Diliman, Quezon City," said Bp. Bolocon.
"In looking at the state of the nation, we could not gloss over the reality that a civil war is currently raging in the country," Angelito Manalili, convenor of Kapayapaan and former dean of the UP-College of Social Work and Community Development said.
"It does not really matter who we believe – the AFP who is claiming that it is winning the war against the CPP-NPA-NDFP or the CPP-NPA who says that its forces are growing and are present in majority of the provinces in the country – the fact of the matter is that the civil war has been going on for decades already; it has been affecting the country; and it appears that it would be here to stay for as long as the roots of the armed conflict have not been addressed," said Manalili.
"This civil war is rooted in poverty, landlessness, joblessness, lack of social justice," said Manalili. "So if we want just peace, these problems must be addressed by the peace talks between the GPH and the NDFP."
"My son Jonas has devoted his life to better the conditions of farmers through his advocacy for genuine agrarian reform, harnessing the collective strength of farmers, and enabling them to increase their productivity," said Edita Burgos, mother of missing activist Jonas and wife of press freedom icon, the late Joe Burgos.
"For this, he was taken from us by the military and has been missing since. I think the peace talks could achieve a lot in addressing the plight of the farmers. Also as we in Desaparecidos pursue our search for our missing loved ones and seek justice, we also believe that the resumption of peace talks between the GPH and the NDFP would help us in our efforts. Isn't the Comprehensive Agreement on Respect for Human Rights and International Humanitarian Law (CARHRIHL) about justice?" Edith Burgos added.
"We believe that the implementation of the CARHRIHL and the reconvening of the Joint Monitoring Committee would aid us in our search for our kin," Edita Burgos said.
"We have to push for the resumption of the GPH-NDFP peace talks now. The window of opportunity is fast closing. In my experience of serving three presidents, I have observed that at the last year of an administration, nothing much could be done anymore. There is truth in the term 'lame duck president', said Rep. Silvestre Bello, former chief of the negotiating panel of the government, then called the Government of the Republic of the Philippines (GRP).
"We must urgently push for the resumption of the peace talks. Both the GPH and NDFP panels could start by honoring the previously signed agreements. A lot of efforts were put into the crafting of those agreements. The Joint Agreement on Safety and Immunity Guarantees alone took more than 100 drafts before being signed by both sides," said Rep. Bello.
The initial list of convenors and signatories to the unity statement include, Archbishop Sergio Utleg of Tuguegarao, Archbishop Paciano Aniceto of San Fernando Pampanga, Bishop Narciso Abellana of Romblon, Bishop Gerardo Alminaza of San Carlos, Bishop Arturo Bastes of Sorsogon, Bishop Joel Baylon of Legazpi, Bishop Pedro Arigo of Puerto Princesa, Bishop Broderick Pabillo, Auxiliary Bishop of Manila, Bishop Roberto Mallari of San Jose Nueva Ecija , Bishop Edgardo Juanich of Taytay, Palawan, Bishop Reuel Marigza of the United Church of Christ of the Philippines, Bishop Lito Cruz of the IFI, Re. Rex Reyes of the National Church of Christ of the Philippines, Bishop Felixberto Calang of the IFI in Mindanao, Bishop Joel Tendero of Southern Tagalog, Fr. Ramon Caluza, provincial superior of CICM, Sr,. Maureen Catabian, provincial superior of the Religious of the Good Shepherd, Makabayan president Satur Ocampo, Dr. Carol Pagaduan Araullo of Bayan, Elmer Labog of KMU, former Representatives Mong Palatino and Rafael Mariano, Councilor Leah Librado of Davao City, Atty. Roan Libarios, Joel Lamangan, Davao City Mayor Rodrigo Duterte, among others.
"We are addressing our calls to both the Aquino government and the NDFP: Resume the peace talks. Honor existing agreements. Address the roots of the armed conflict," said Bp. Deogracias Iñiguez.
"Resume, Honor, Address are our simple calls. If both the GPH and the NDFP heed our calls, we believe that a just and lasting peace could be made a reality," Bp. Deogracias Iñiguez concluded.
Meanwhile, during the launch of Kapayapaan, the chairman of the NDFP peace talks panel sent a message expressing willingness to engage in informal talks "without preconditions."
"This is a welcome development," said Bp. Iñiguez. This could push our campaign forward even more."