8ID joins the nation in commemorating the 116th Philippine Independence Day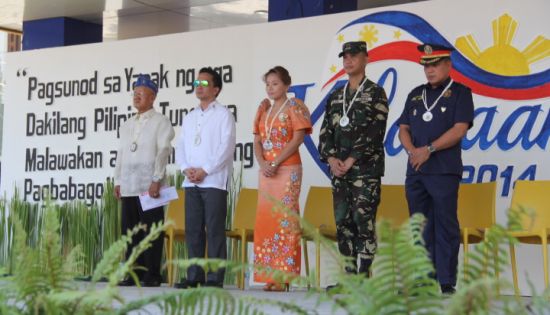 By DPAO, 8ID PA
June 13, 2014
CATBALOGAN CITY, Samar – The 8th Infantry (Stormtroopers) Division, Philippine Army celebrates with the entire country in the commemoration of the 116th Philippine Independence day with the theme "Pagsunod sa Yapak ng mga Dakilang Pilipino tungo sa Malawakan at Permanenteng Pagbabago."
The 8ID conducted a flag raising ceremony at Camp Vicente Lukban, Maulong and Catbalogan City Plaza to pay homage to the resolve of our forefathers for freedom, and their fortitude to attain Filipino Nationhood.
In support to the Catbalogan City's Celebration, the 8ID Stormtroopers launched a static display at the City plaza from 8am to 5pm.
Photo exhibit, armaments and armored vehicles were also put on display. Audio Visual Presentation on the 8ID's peace and development campaigns and its humanitarian efforts during the super typhoon Yolanda were viewed on widescreen. Recruitment flyers were also distributed to encourage the local aspirants to join the soldiery through the Philippine Military Academy, Officer Candidate School and Candidate Soldier School.
Maj General Jet B Velarmino, Commander 8th Infantry Division expressed his great enthusiasm in participating in the said celebration. "As we remember this historic event, let us also recognize the lasting contributions that every Filipino made in the past, in bringing development to this country. Every Filipino can repay their sacrifices by accepting his own identity and start believing in his own capacity to bring positive change in the country. The 8ID Stormstroopers believe that our continuous efforts in pursuing peace and development will bring progress in the Region and a positive impact in the country."
Andrea Rosal case
Mother and child plight raised on UN rights body floor
By KARAPATAN
June 13, 2014
GENEVA, Switzerland – International civil society organization Civicus World Alliance for Citizen Participation (Civicus) and Philippine human rights group Karapatan, through Karapatan secretary general Cristina Palabay, jointly responded yesterday to the report of the Special Rapporteur on Violence Against Women during the interactive dialogues at the 26th Session of the United Nations Human Rights Council.
Speaking on behalf of Palabay, Atty. Mary Kristerie Baleva of the International Coalition for Human Rights in the Philippines delivered a succinct yet vivid oral statement on the floor in the presence of various State Missions, international NGOs and UN Office of the High Commissioner for Human Rights (OHCHR) officers and staff disclosing the violations suffered by Filipino women detainees. She highlighted the case of political prisoner Andrea Rosal, who was seven months pregnant when she was arrested and detained in March on the basis of dubious charges.
The UN body holding sessions at Palais des Nations heard how Rosal did not receive proper, immediate and adequate maternal and pre-natal care due to the insensitivity and negligence of prison officials and guards, endured and continues to suffer inhumane treatment together with 31 other women detainees who shared her cramped and squalid cell. Still under detention, Rosal gave birth to a daughter, who died within two days.
In contrast to the inordinate delay of bringing the then expectant mother to the hospital from the infernal jailhouse, the prison officials, lawyer and doctor hastily whisked Rosal back despite the absence of any medical clearance from her attending doctors.
The statement publicly asked the UN body and its pertinent mechanisms to look into the case of Rosal for multiple violations of the 1955 UN Standard Minimum Rules on the Treatment of Prisoners and the 2010 UN Rules for the Treatment of Women Prisoners and Non-custodial Measures for Women Offenders (the Bangkok Rules).
The oral intervention endorsed by the Philippine group Ecumenical Voice for Peace and Human Rights (EcuVoice) also called for the immediate release of Rosal and other women detainees especially the sick and elderly.
Aside from Palabay and Baleva, the EcuVoice delegation also includes one of Rosal's counsel Atty. Edre U. Olaia, Secretary General of the National Union of Peoples' Lawyers (NUPL) and Bureau member of the International Association of Democratic Lawyers (IADL) which has UN Ecosoc consultative status.
Thousands of workers and poor join broad anti-pork protests
Militants bring empty pots and pans to the streets, calls for freedom for corruption, poverty and trapo rule
By Bukluran ng Manggagawang Pilipino
June 12, 2014
QUEZON CITY – Some 4,000 members of the militant Bukluran ng Manggagawang Pilipino (BMP) – from trade unions and urban poor associations – took to the streets today to join the broad people's anti-pork movement. The protest is the biggest anti-corruption rally since the Million People March in Luneta last August 26.
The BMP converged at along Plaza Salamanca along Taft Avenue and Kalaw Avenue at around 1:00 p.m. before marching to the Bonifacio Shrine near the Manila City Hall for the 3:00 joint program.
Other groups had assembly points at Sta. Cruz Church, Liwasang Bonifacio and Welcome Rotonda.
Banging Empty Pots and Pans: Poverty for the Workers and the Poor, Luxury for Trapos and Political Dynasties
BMP President Leody de Guzman said, "Workers and the poor have brought empty pots and pans in today's Independence Day protests to highlight their worsening poverty amidst the affluence and luxury enjoyed by the trapos (traditional politicians) and political dynasties".
"Not only are starvation wages further slashed by withholding taxes, public funds are used to fill the pockets of corrupt politicians and their crafty cohorts like Janet Napoles and Godofredo Roque. Even the unemployed millions bear the tax burden when they pay the 12% VAT while buying their basic necessities. Worse, the national coffers are systematically plundered by both elected and appointed officials, whose sanitized SALNs (statement of assets, liabilities and net worth) blatantly reveal that the entire state bureaucracy is an elitist millionaires' club!," he clarified.
Freedom to Exploit the Toiling Masses, Freedom to Choose our Elitist Exploiters
He added, "As the Philippine government commemorates the country's so-called day of independence, the BMP finds no reason to celebrate under an elitist democracy that reeks with the stench of continuous corruption scandals. The kind of freedom that the Filipino people attained after the much-avowed restoration of democracy after the 1986 EDSA revolution is nothing but the freedom of the oligarchs to exploit the toiling masses and the freedom of the voting public to choose their exploiters".
Investigate, Prosecute and Jail All, Not Just Pogi, Sexy and Tanda!
Gie Relova, Secretary-General of the BMP National Capital Region-Rizal chapter, who led the group's contingent from Kalaw to the main assembly in Bonifacio Shrine, declared, "The workers and the poor are one with the Filipino people in its broadening protests against corruption. However, we emphatically emphasize that the present political controversies must lead to the investigation, prosecution and incarceration of all crooks and thieves in government, not just opposition senators Revilla, Estrada and Enrile. We challenge the Noynoy administration to "jail all" including its allies in government. If there is any truth to his electoral rhetoric "tuwid na daan", it must investigate all those implicated in the pork barrel scam, particularly Cabinet Secretaries Butch Abad and Prospero Alcala of the DBM and DA, respectively, TESDA chief Joel Villanueva and Senate President Franklin Drilon".
Privilege speeches by Revilla and Estrada did not gain support nor sympathy from the underprivileged masses Relova explained, "The BMP vows to educate the millions of unorganized Filipinos so that they will not used as cannon-fodders in the squabbling among rivaling elite factions. The recent privilege speeches by Revilla and Estrada did not gain an iota of support nor sympathy from the underprivileged masses. While their defense may expose the brand of selective justice by the Liberal Party to attack its rivals, it does not prove their innocence. The beleaguered senators have only justified the long-held public opinion that trapos, from whatever political party, are generally corrupt. Hence, the BMP is calling for total cleansing and meaningful reforms in government, particularly, in people's participation in governance and in the budgetary process".
"The Filipino people deserve to be part of the body-politic, not only as voters during elections and as taxpayers when we receive our salaries or buy our families' needs. We demand not just transparency in government records, through the Freedom of Information (FOI) bill but also democratic control in the drafting and implementation of the budget. After all, the people – especially the workers are the most tax-compliant sector of Filipino society," he concluded.
Expert Global Solutions opens new flagship site in the Philippines
New headquarters to be "home" to 6,000 employees
By MARKETWIRE
June 10, 2014
PLANO, TX – Expert Global Solutions (EGS), a global leader in Business Process Outsourcing (BPO), proudly opens its new flagship site in the Philippines, EGS Centris. The Company will commemorate the occasion Wednesday, June 11, during a grand opening ceremony hosted by Bong Borja, President and Country Head. The event will be attended by local dignitaries and industry leaders, as well as EGS employees and executives.
With approximately 14,000 employees in the Philippines, EGS Centris is the seventh site for EGS in metro Manila and its eighth site in the Philippines. EGS Centris is located in a premier section of the Quezon City Triangle Park Central Business District, an emerging growth area, north of Metro Manila.
"We consider Centris a center of excellence for EGS' operations. It offers a state-of-the-art work environment for our employees, which facilitates the delivery of best-in-class service to our clients and their customers," said Ron Rittenmeyer, EGS Chairman, President and Chief Executive Officer.
The new site occupies the entire South Tower of Cyberpod Centris Three (21 floors) and reflects EGS' brand and image. The building has close to 4,000 seats and is expected to be home to 6,000 employees when at full capacity. In addition to offering advanced technology and a superior working environment, EGS Centris promotes work-life balance with its own recreation area and gym.
"EGS Centris is a reflection of our outlook toward growth and our investment in our people. We're proud to offer our employees such an exceptional workplace in which to service our world-class customers," stated Jack Jones, EGS Chief Operating Officer.
EGS' Philippine operations are led by Bong Borja, one of the founding fathers of the Philippines BPO industry, and an outstanding and iconic leader.
"Our move to EGS Centris is a testament of our business growth and commitment to further invest in the development of EGS in the Philippines. We are excited about the growth potential for our current business and employees and look forward to welcoming new clients and talent to EGS," commented Mr. Borja.
In celebration of the new site, local, industry and EGS leaders will commemorate the grand opening of the new building on Wednesday, June 11.
Cayetano: Allow live media coverage of pork scam trial
By Office of the Senate Majority Leader
June 9, 2014
PASAY CITY – Senate Majority Leader Alan Peter "Companero" S. Cayetano said the Supreme Court (SC) should allow live media coverage on the plunder trial of the P10-billion pork scam, saying the matter is imbued with public interest.
Cayetano said real-time coverage of the court proceedings at the Sandiganbayan will allow the Filipino people to render their own judgment on government officials involved in the scam, including three of their elected senators.
"Kung naka-live yan, kung ano ang nakikita ng huwes, yun din ang nakikita ng bawat mamamayan o kaya naririnig sa radyo," he said.
"Lahat ay nililigawan ang publiko. Ang judiciary, gustong ipakita na fair siya at nanliligaw sa public opinion at mataas ang standards ng judiciary natin. Ang prosecution, nililigawan ang tao para ipakita na guilty talaga ang accused. Ang depensa, nililigawan din ang tao para ipakita na pinulitika lang o hindi totoong guilty ang kanilang kliyente. So makikita mo, win-win situation ang isang coverage."
The senator also backed the request of Ombudsman Conchita Carpio-Morales for the SC to designate at least two special divisions in the Sandiganbayan to exclusively try the pork barrel cases.
He noted the magnitude of the pork scam trial considering that only three senators, Janet Lim-Napoles, and five other personalities have so far been accused of plunder before the Sandiganbayan.
Cayetano said that the pork scam controversy should be considered case closed within 500 days before the change of administration in 2016.
"Alam natin na kung sino man ang Presidente, malaki ang impluwensya kung may makakasuhan o hindi, kung may mako-convict o hindi. Tingnan mo ang attitude ni Vice President, sinabi ba niya diyan sa Dasma gate na imbestigahan ang anak niya? Ngayon lumabas na meron din silang foundation, sinabi ba niyang imbestigahan? Kung sinuman ang magiging Presidente sa 2016, huwag tayong magbulag-bulagan, magkakaroon ng epekto yan sa kaso nitong tatlo," he said.
Cayetano stressed that a swift trial would also benefit Senators Jinggoy Estrada, Juan Ponce Enrile, and Ramon "Bong" Revilla Jr, who all claimed innocence and had nothing to do with the plunder of the people's money.
"Kung ikaw ay isang inosente na inakusahan at kinulong, hindi ba mas gusto mo din mapabilis? So walang dapat magreklamo talaga kung mapabilis ang kaso basta fair," he said.
Cayetano lauds granting of immunity to whilstleblowers, praises decision to reject Napoles immunity plea
By Office of the Senate Majority Leader
June 6, 2014
PASAY CITY – Senate Majority Leader Alan Peter "Companero" S. Cayetano lauded the Office of the Ombudsman for granting immunity to pork scam whistleblowers and for recognizing Janet Lim-Napoles to be the "most guilty" in the misuse of government funds.
"Tama ang desisyon ng Ombudsman to side with the whistleblowers. This will give them the assurance na magpalit man ng administrasyon, protektado pa rin sila. I laud the ombudsman for her decision" Cayetano said.
As it approved immunity for Luy and other witnesses, the Ombudsman denied Napoles' bid for immunity for "not meeting the qualifications to become an immune witness."
"I have always been 100 percent against any type of immunity for Napoles and I'm happy with the Ombudsman's decision," Cayetano added.
He also said that the administration should provide more incentives and protection to whistleblowers to encourage them to step forward and reveal what they know in hopes of exposing corruption in government.
"There is a need to finally pass the Whistleblowers Act and expand and strengthen our Witness Protection Program to protect witnesses from threats and make sure that their role in exposing anomalies will not harm their family's safety and livelihood." Cayetano said.
He added that we must learn from other countries where the safety and livelihood of whistleblowers are protected and ensured long after they have testified.
"Many potential whistleblowers are now watching this case and if we show them that people like them will be protected and taken cared of by the state then we will see more courageous people willing to risk their lives to expose and weed out corruption from government." Cayetano said.
Cayetano: PNoy will not sweep pork scam under the rug
By Office of the Senate Majority Leader
June 5, 2014
PASAY CITY – Senate Majority Leader Alan Peter "Companero" S. Cayetano said President Benigno Aquino III, unlike the previous administrations, is not the type of leader who sweeps issues of corruption under the rug.
"To be fair sa Presidente, I think si President Aquino is very sincere sa anti-corruption drive. Nakita naman natin, siya ang nag-umpisa nito, siya ang nagpa-imbestiga sa COA (Commission on Audit); siya naman ay very consistent sa anti-corruption (drive)," the senator said.
Over the weekend, Secretary Herminio Coloma Jr. of the Presidential Communications Operations Office appealed to the public not to blame Malacanang over the alleged misuse of priority development assistance funds (PDAF).
Cayetano said he believes that the President is committed to Reveal, Investigate, and Prosecute (RIP) all those who were involved in the pork barrel scam.
He also advised the President not to let critics get in the way of the administration's anti-corruption drive and instead focus on ensuring that all pork scam conspirators are made accountable.
"Ang gawin ng Malacanang, huwag pansinin ang mga kritiko na tinuturo ang Presidente o ang Malacanang, i-push lang nila ng i-push ang mga ginagawa nila ngayon," Cayetano said.
He added that Malacanang should not let Janet Lim-Napoles confuse the public and destroy the credibility of the whistleblowers in favor of her "political supporters."
"Si Ms. Napoles ang nakikinabang dahil nagugulo ang usapan at nahihirit niya ang kanyang immunity o pagiging state witness. Nagagantihan niya ang mga nag-i-imbestiga sa kanya sa pagdawit ng pangalan nila. Nakikinabang din dito yung mga makapangyarihan sa likod niya na hindi pa napapangalanan pati na rin ang mga political supporters niya," Cayetano said.
Hot jobs for 2014 business school grads
Look beyond traditional fields to technology, healthcare, manufacturing
By MARKETWIRE
June 5, 2014
RESTON, VA – MBAs and other business school graduates on the job market might do well to look beyond traditional sectors to fields such as technology, manufacturing, and healthcare. A global student exit survey taken by the Graduate Management Admission Council in February and March found job seekers in those sectors were more likely to have an early job offer than those searching in larger, more traditional fields such as finance/accounting, products & services and consulting.
Overall, some 57 percent of class of 2014 MBA and other business school graduates seeking jobs had at least one early offer. That's down slightly from 60 percent in last year's survey but nearly double the 32 percent who had offers at the same time period in 2010. The survey of 3,049 business school graduates at 111 universities was conducted by GMAC, the non-profit organization that conducts the GMAT exam on behalf of graduate business and management programs worldwide.
"This snapshot of the early job market for business school graduates demonstrates that graduate business degrees are useful in a wide variety of careers. While demand remains strong among traditional industries, business school graduates shouldn't overlook alternative sectors, which are actively seeking MBA and other business school talent," said Gregg Schoenfeld, GMAC survey research director.
The 15th annual Global Management Education Graduate Survey looks at how business school graduates view their programs and offers a snapshot of their early job search and career intentions. A total of 62 percent of the graduating students were involved in a job search, and another four percent were either self-employed or intending to pursue entrepreneurship at graduation.
Although salaries vary widely by industry, job level, and work location, the median increase in salary of those with job offers was 80 percent over their pre-degree salary. That's up from the 73 percent increase reported by business school graduates with early job offers in 2013.
Some key findings regarding job sectors for business school graduates:
Technology is emerging as a promising sector for business school graduates, as 61 percent of those seeking jobs in the tech industry had job offers, accounting for 15 percent of all students with early offers. In 2010, just 9 percent of students with early offers were in the technology industry.
Manufacturing and healthcare/pharmaceuticals may be the undiscovered beaches of the business school job market. Although they account for just 7 percent and 5 percent, respectively, of the students with early offers, students searching in these sectors had the greatest success rate, with 74 percent reporting at least one offer.
Consulting is the most popular field for career-switchers, as 27 percent of all career-switching graduates with job offers were in consulting. Among all job seekers, 21 percent of those with job offers are in consulting, on par with 2010 (20 percent).
Finance/accounting is the top sector for graduates with job offers who are not switching industries after graduation. Twenty-six percent of all those with job offers were in this sector, slightly higher than last year (24 percent) but still lower than in 2010 (30 percent).
Government/non-profit remains a steady sector for business graduates, accounting for 5 percent of the graduates' early job offers. Some 62 percent of those seeking jobs in government/non-profit had early offers, about the same as last year and five years before.
"The job market for business school graduates has rebounded nicely since 2010, and employers in all sectors recognize they need the business skills and acumen these graduates bring," Schoenfeld said.
For a copy of the Global Management Education Graduate Survey report, go to gmac.com/globalgrads. For more information, contact Tracey Briggs, GMAC media relations director, at 703-668-9726 or tbriggs@gmac.com.
8ID troops clash with NPA rebels anew, seized another high-powered firearm
By DPAO, 8ID PA
May 29, 2014
CAMP LUKBAN, Catbalogan City, Samar – Troops under the 34th Infantry Battalion, 8th Infantry (Stormtroopers) Division clashed with New People's Army rebels at around 10:32 a.m. on May 28, 2014 at Brgy. Osang, Catubig, Northern, Samar.
Based on the report of Lt. Col Rodrigo Illustrisimo, Commanding Officer of 34IB, his troops were conducting routine security operations at Brgy. Osang, Catubig, Northern Samar when they were fired upon by around fifteen (15) NPA rebels. Troops immediately fired back, prompting the rebels to flee after a 15-minute firefight. The encounter resulted to one (1) NPA rebel killed. The troops also recovered one (1) M14 rifle and two (2) M14 rifle magazines loaded with ammunition. Government troops did not incur any casualty during the said encounter.
Meanwhile, pursuing troops under 43IB also clashed with NPA rebels for 25 minutes on the same day at around 11:10 a.m. at Brgy. Mahayag, Matuguinao, Samar. There were no reported casualties on both sides during the encounter. It can be recalled that on May 26, 2014, the same unit encountered the same group of NPA rebels at same barangay where two (2) rebels were killed and three (3) high powered firearms were recovered. The second encounter was just 400 meters from the previous encounter.
According to Maj General Jet B. Velarmino, Commander of the 8th Infantry Division the series of encounters between the 8ID troops and NPAs is a sign that the mass base of the rebels is now dwindling. "It is now the people that pinpoint rebel hideouts which made it easier for our troops to track them down. We are now in a situation where rebels can run, but cannot hide."
Further, he stressed that there is a considerable increase of surrender feelers from the NPA ranks. "We expect influx of surrenderees in the coming days and we assure assistance for those who wish to avail of the incentives and benefits intended for rebels from local and national government."
"These are the reasons why, I am very optimistic that we can hand-over the internal security operation to the LGUs of Samar and Northern Samar by June and December 2014 respectively. I am elated with this development since this is what we have been working for and this is what we have planned and hoped to achieve," he added.