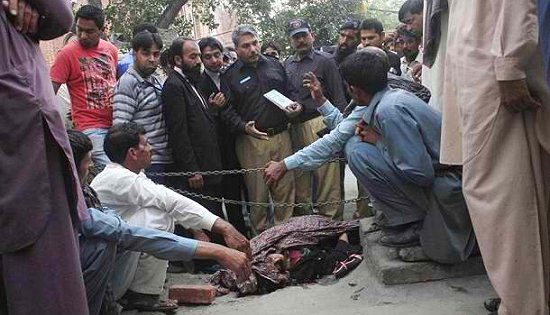 Police collect evidence near the body of Farzana Parveen, who was killed after being set upon by members of her own family outside a court in Lahore, Pakistan. (Image courtesy: www.nationalturk.com)
Government's failure leads to a pregnant woman being stoned to death
By Asian Human Rights Commission
May 29, 2014
HONG KONG – The world is once again shocked by the news of the stoning to death of a 25-year-old pregnant woman, Farzana Parveen Iqbal, in Pakistan. The stoning took place before the Lahore High Court where she had attended due to a summons. The stoning was carried out by 20 members of her own family including her father and two brothers.
The reason for the stoning was that Frazana had married a person of her own choice and she was pregnant with a child from that marriage. Her family did not approve the marriage and was forcing her to marry another person of their choice who happened to be her cousin. The father who was aware of Farzana's marriage filed a false complaint of abduction against her husband. The police filed charges on the basis of the father's complaint. It appears that the filing of the complaint was done with the purpose of bringing her out from hiding with the intent to kill her.
It is evident that the police have been a part of this conspiracy as they should have investigated the complaint before filing such a charge. Bringing persons to court with the intent to kill them, particularly in cases relating to honour killings and blasphemy cases is a common practice in Pakistan and the police would have naturally been aware of the situation in this instance. It was when Farzana arrived at the court in order to present her case to the judge that she was already married that the brutal killing took place.
The culprits who took part in the stoning did so in broad daylight and in full view of crowd of people and then manage to escape as there was no attempt to stop or arrest them. As the incident took place before the High Court of Lahore the police would have been present in large numbers at the scene as they are always present when the High Court is in session. In fact, Mr. Iqbal, Farzana's husband told the BBC that the police stood by and did nothing to prevent the stoning. He stated, "We were shouting for help, nobody listened. One of my relatives took off his clothes to capture the attention of the police but they did not intervene. They watched Farzana being killed and did nothing".
No attempt whatsoever was made to protect the victim or to obstruct the perpetrators. Farzana's father later surrendered to the police but as is usual in such instances showed no regret no remorse and admitted openly that he has done this murder.
According to the Human Rights Commission of Pakistan (HRCP), the number of women falling victim to the so-called "honour killings" is enough to dispel all illusions about any interest in saving their lives. In 2013 alone, the HRCP recorded the deaths of nearly 900 women in "honour" crimes from media reports. These women were killed because the state did not confront this feudal practice supported by religious fundamentalism and bigotry.
The Aurat Foundation, a NGO working on the rights of women, states around 1,000 Pakistani women are killed every year by their family members in honour killings. The true figure is probably many times higher since the Aurat Foundation only compiles figures from newspaper reports. The government does not compile national statistics.
In any case, the killing of persons who marry against the consent of the family, which is usually identified by the term 'honour killings' is a frequent and a common phenomenon in Pakistan. Furthermore, using a summons of a court as a subterfuge to bring persons out of hiding so that such killings can take place is also a frequent phenomenon. Such situations have arisen both in terms of honour killings and killings relating to allegations of blasphemy.
The most famous incident of protest against this whole manipulation of law in order to kill victims involved Bishop John Josephs, who as a symbolic act of protest shot himself to death.
Thus the government of Pakistan is fully aware of this horror that is being regularly perpetrated but has failed to take any meaningful action in order to bring this practice to an end.
The issue is not about arresting a few persons after the incident. The fundamental issue is the lack of a comprehensive plan on the part of the government of Pakistan to deal with the problem. As long as the government fails to develop a comprehensive plan and implement it, with the cooperation of the law enforcement agencies, honour killings will continue to take place in Pakistan.
The Asian Human Right Commission (AHRC) over a long period of time has consistently drawn the attention of the government of Pakistan about this practice and on every incident of this sort renewed calls to the government to give due consideration to this abominable practice. Similar calls have also been made to the government from the local sources as well as from the international community.
Following the killing of Farzana Parveen Iqbal the UN High Commissioner for Human Rights, Navi Pillay, issued a comprehensive statement in which, among other things, she has stated that the Pakistani government must take urgent measures to put an end to the continuous stream of so called honour killings and other forms of violence against women. They must also make a much greater effort to protect women like Farzana. The fact that she was killed on her way to court, shows a serious failure by the state to provide security for someone who – given how common such killings are in Pakistan – was obviously at risk.
In 2004, former President Pervez Musharaf, defined honour killings as murder, and brought in a law to that effect. However, the eradication of such heinous criminal acts cannot be achieved only by public announcements or through the enactment of laws. Any genuine and effective action lies in the area of the implementation of the law.
It is in this area that the government of Pakistan has proven itself completely ineffective. The system of policing and law enforcement in Pakistan is a law unto itself and even the government is unable to move it even for the purpose of dealing with the worst of the crimes.
The failure of the government to carry out its responsibility lies in its unwillingness and incapacity to exercise control over the policing establishment. If the government proves powerless to move its police to implement the law, and in particular, to deal with the such heinous crimes then no one can feel safe within the territory of Pakistan.
The AHRC also wishes to highlight the need that greater pressure must be brought on the government by the international community to ensure that it takes suitable action to end the police neglect relating to honour killings and all other forms of violence against women. Mere ritual condemnation after honour killings take place is unlikely to bring about any improvement in the situation at present.
The international community including the UN agencies must engage with the government of Pakistan in order to come with an agreement on a practical scheme of action to deal with this situation once and for all. If no such serious attempt is made by the international community it will not convince the persons who are threatened with future attacks of this nature as well as the population of Pakistan which faced with a powerless situation in the face of such horrendous crimes. The failure of the law enforcement agencies to deal with such crimes will only increase the vulnerability of women in the country.
The AHRC calls upon the government of Pakistan not to let Farzana Iqbal's death be in vain. The people of Pakistan and people of goodwill throughout the world have a right to expect that the government will show its moral indignation and outrage against the horror perpetrated by way of honour killings and other severe violence against women and vulnerable groups.
Army encounters NPA rebels, seizes high-powered firearms
By DPAO, 8ID PA
May 27, 2014
CAMP LUKBAN, Catbalogan City, Samar – Troops under 43rd Infantry Battalion, 8th Infantry (Stormtroopers) Division, Philippine Army, encountered New People's Army rebels operating in Samar at around 5:30 p.m. on May 26, 2014 at Brgy. Mahayag, Matuguinao, Samar.
Based on the report of Lt. Col. Glen Jun C. Calambuhay, Commanding officer of 43IB, his troops were conducting security operations at the vicinity of Bgy Mahayag, Matuguinao, Samar when undetermined number of NPA rebels fired upon them.
A firefight ensued afterwhich the rebels withdrew. Two (2) NPA rebels died as a result of the firefight. Likewise, the government troops were able to recover one (1) 5.56 armalite rifle, one (1) 5.56 Baby armalite rifle and one (1) 40mm M203 grenade launcher. The government troops suffered no casualties in the said encounter. Pursuit operation is ongoing as of press time.
Maj General Jet B Velarmino, Commander of the 8th Infantry Division lauded his troops accomplishment, "I take pride as your commander of your dedication to service which resulted to the accomplishment of your given mission."
However, he expressed his sympathy to the families and relatives of the NPA rebels who were killed. "It is very tragic that they have taken arms against the Filipino nation when only through peace can development and social justice be attained."
Further, he stressed, "45 years of armed struggle have not solved any of our problems. Rather, it has caused more problems to our society. I am therefore encouraging NPA members to take advantage of the government's social integration program and other local programs designed to bring back rebel returnees to the mainstream of the society. It will provide you an opportunity to be with your loved ones and community and together we shall solve our problems in a peaceful way."
Hawaii lawmaker visits Philippines
Vice Speaker Mizuno in Leyte assisting with typhoon relief efforts
Press Release
May 24, 2014
HONOLULU, Hawaii – Hawaii State House of Representatives Vice Speaker John M. Mizuno is currently in the Philippines visiting relatives and government officials while assisting the Gawad Kalinga Community Development Foundation (GK) in the location of two sites where GK plans to build two villages. One village will be built in Bohol where a 7.2 magnitude earthquake struck on October 19, 2013 and one in Leyte, which was devastated by super typhoon Yolanda.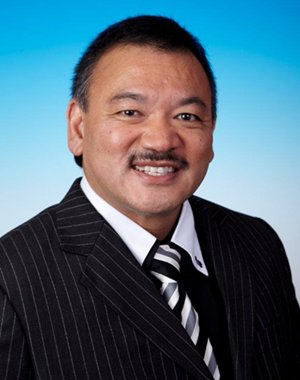 On Tuesday, May 27th, Vice Speaker Mizuno plans to visit with officials in Tacloban City between 10am and noon, and meet with officials in Barugo Town around 2pm. On Thursday, May 29th he will be visiting Bohol and make a site visit for a possible village.
Funds were raised in Hawaii by the Congress of Visayan Organizations (COVO) through various activities, such as concerts and the selling of T-shirts. COVO president is May Besario Mizuno, wife of the Vice Speaker. Last month a Memorandum of Agreement (MOA) was signed between COVO and GK-USA committing a dollar-for-dollar match with funds raised by COVO to build two villages with a minimum of 20 houses that will bear the name "COVO Aloha GK USA Village".
"The transformation of our relief efforts, focused on rebuilding housing projects in these devastated areas, will be retrofitted to withstand future typhoons" said May Mizuno, COVO President. "We believe this MOA brings our efforts in helping the victims of typhoon Yolanda full circle."
"I am proud of my wife's work to unite the Filipino community in Hawaii for a great cause" added Vice Speaker John Mizuno. "This touches our hearts on a very personal note because our family members survived super typhoon Yolanda and they too are working to rebuild their home."
COVO continues to raise funds for relief efforts following typhoon Yolanda and hopes to have similar opportunities in the future to rebuild devastated Philippine communities.
Ortigas names finalists of Build Forward archi-design competition
Ten most innovative designs to undergo structural review
Press Release
May 13, 2014
MANILA – Ortigas & Co. recently unveiled the names of the 10 student finalists, who topped Build Forward, a nationwide competition for the design of climate-adaptive houses and school buildings.
Earlier this year, the developer, in partnership with the Department of Science and Technology (DOST) and Habitat for Humanity Philippines, launched a landmark campaign, which challenged architecture students from different Philippine colleges and universities to come up with designs that can adapt to the changing weather conditions in the country. Three major factors were considered, namely: strength, feasibility, and innovation. The use of locally sourced and readily available materials was also encouraged.
The finalists for the house design category are:
• "Haligi" by Jonie Agas and Regine Deximo, 3rd year students from UP-Diliman (advised by Arch. Nicolo del Castillo) is typical of a traditional Filipino house. The design proposes wood and bamboo as primary materials with a concrete core to serve as storage of food and emergency kits.
• "Bambox Hut: Amphibious Housing for Taclobenos" by Lara Therese Cruz, 5th year student from UST (advised by Arch. Jonathan Manalad), boasts of its ability to stand rigid through strong winds and earthquakes and to float in the gush of floods.
• "Bahay Panalag Laban sa Kalamidad" by Menard Navarro, Joyce Mari Linchangco, Paul Allan Bansil, and Jon Ilio are students from Mapúa (advised by Arch. Albert S. Zambrano), is made of multiple hexagonal units, a design that makes the structure more resistant to strong earthquakes and flood loads.
• Odessa Kaye Bulahan, 5th year student in the University of San Carlos (advised by Arch. Danilo Ravina), uses an Earth Technology called ICEB. Interlocking Compressed Earth Block (ICEB) is a cement stabilized Earth-based construction material that has high compressive strength, which could be used as a load-bearing wall or shear wall for a two or three-storey building.
• "Neobalay" by Christian Jay Noble, 5th year student from the Technological Institute of the Philippines (advised by Arch. Simoun T. Ong), attempts to have a modified neo disaster-resilient bahay kubo that could withstand intensity 8 earthquakes and a typhoon that has a wind gust of 250 kph.
The finalists for the school design category are:
• "Taklob: A Low-Cost and Disaster Resilient School and Evacuation Center" by Mervin Afan, Corenne Martin and Rafael Khemlani, 4th year students from UP- Diliman (advised by Arch. Nicolo del Castillo), proposes a structure which can easily adapt during summer and typhoon seasons because of its openness for wind circulation as well as storm shutters.
• Emmanuel Ornos, Everette Rabbon and Christopher De Vera, 4th year students from the University of Northern Philippines (advised by Arch. Fatima Alonzo), focus on elevation which can easily adapt in times of typhoons and floods.
• "Incubator: A School-Disaster Relief Structure" by Marvin Arellano and Colleen Ong , 4th year students from UP-Diliman (advised by Arch. Nicolo del Castillo), presents a plan featuring louvered vents ideal for tropical climates and a wide corridor as an activity area in times of disaster.
• "Talukab" by Jose Ruel Fabia, Kurt Cleon Yu and Maria Angela Luna, students also from UP-Diliman (advised by Nicolo del Castillo), is designed as a school and an evacuation with a square plan that will protect people from different types of calamities.
• Gino M. Diongzon and Michael P. Lagason, 4th year students from the University of the Assumption (advised by Erick Embang), offer collapsible walls ideal for emergency evacuations and desks, which can be converted into beds when needed.
The said designs will be sent to Magnusson Klemencic Associates, based in Seattle, Washington, USA and Rowan Williams Davies & Irwin (RWDI) Consulting Engineers and Scientists headquarters in Guelph, Ontario, Canada to undergo structural review by experts, and the designs will also be reviewed by experts in the Philippines. The winning entry will be used by Habitat for Humanity Philippines in the construction of new houses in Yolanda-ravaged areas.
"In less than two months since we launched the competition, we were able to generate more than 100 entries from architecture students in different colleges and universities across the Philippines. Finalist selection proved rather tough because of the excellent quality of designs we received. The future of architecture in the Philippines is looking bright, and so are the prospects for an ongoing campaign to Build Forward," says Joey F. Santos, General Manager of the Real Estate Division, Ortigas & Co.
All designs are posted online atwww.buildforward.com.ph and are public documents, which every designer can build on. The grand winner will be announced early June. For more updates, like Build Forward on Facebook, or follow its twitter handle @BuildForwardPH.
DESIGN PERSPECTIVE

A team from University of the Philippines – Diliman advised by Arch. Nicolo del Castillo, made a house design which modernizes the traditional bahay kubo by adding a cement core in the house to act as storage for food and emergency supplies.


"Bambox Hut" is a home design concept by Lara Therese Cruz from the University of Santo Tomas, under the tutelage of Arch. Jonathan Manalad, which is designed to withstand strong winds, earthquakes and floods.


Under the guidance of Arch. Albert S. Zambrano, a team from Mapúa has conceptualized hexagonal-shaped house, a design which makes the structures more resistant to calamities.


The home concept of Odessa Kaye Bulahan of the University of San Carlos, advised by Arch. Danilo Ravina, uses Interlocking Compressed Earth Block (ICEB), an earth technology which ensures the house to have high compressive strength.


The octagon shaped home design concept, dubbed "Neobalay", by Christian Jay Noble from Technological Institute of the Philippines, advised by Arch. Simoun T. Ong boasts not only its ability to withstand calamities, but also its resource efficiency.


"Taklob" school concept by a team from University of the Philippines – Diliman advised by Arch. Nicolo del Castillo, was designed to adapt easily between the sunny and rainy seasons through its features.


A team from University of Northern Philippines advised by Arch. Fatima Alonzo conceptualized a school design with a high elevation which will allows it to withstand floods.


A team from UP Diliman, advised by Arch. Nicolo del Castillo, created a school concept named "Incubator", which has vents which expel hot air suited for the tropical climate in the Philippines, and had wide spaces for its restrooms and classrooms, enough for evacuees.


Inspired by the shell of a turtle, a team from University of the Philippines - Diliman with the guidance of Arch. Nicolo del Castillo designed a school concept, "Talukab", which gives much protection to evacuees during calamities.


Under the guidance of Erick Embang, a team from the University of Assumption crafted a school concept, which could easily be turned into an evacuation center with features such as collapsible walls, and desks that can turn into beds.
Related article: DOST, Ortigas, Habitat for Humanity join forces to build climate-adaptive houses
Philippine Army Engineers and Republic of Korea Armed Forces completes rehabilitation of Naga-Naga Elementary School in Leyte
By DPAO, 8ID PA
May 10, 2014
CAMP LUKBAN, Catbalogan City, Samar – Joint effort of the Philippine Army Engineers and Republic of Korea Armed Forces led to another successful completion of the rehabilitation of the Naga-Naga Elementary in Palo, Leyte. The school suffered much damage during the onslaught of ST Yolanda which left most of its school buildings and classrooms inoperable.
No less than the commander of the 8th Infantry Division, Philippine Army attended the completion celebration of the rehabilitated school facilities Naga-Naga Elementary at Barangay Naga-Naga, Palo Leyte on May 9, 2014 along with Hon. Remedios Petilla, Mayor of Palo Leyte and Ms. Divina M. Monhe, Ph.D. Principal of Naga-Naga Elementary School.
Also present during the celebration were the troops under South Korean Joint Support Group Philippines (SK-JSGP) military contingent led by Col. Lee Chul-won and troops under Philippine Army Engineer units led by Maj. Danny Rey Montemayor. The combine troops of SK-JSGP and Philippine Army Engineers were instrumental in the repair and rehabilitation of the school facilities. It was the 8th school rehabilitated and there are still 10 schools currently undergoing repair and rehabilitation works.
Various performances on dancing skills were presented by the South Korean troops, Philippine Army Engineers, PNP personnel and students from different elementary schools of Palo Leyte. The performances were highlighted by the surprise appearance of RAINBOW, a popular South Korean girl K-Pop group. The performance of the K-Pop group mesmerized the crowd especially the South Korean troops and egged the group for more songs. The K-Pop group obliged and ended up performing three songs to the delight of the crowd.
Meanwhile, the first batch of students of the heavy equipment seminar initiated by the SK-JSGP graduated last May 9, 2014. The graduation was graced by Hon. Leopoldo Dominico Petilla, Governor of Leyte and Maj. Gen. Jet B. Velarmino AFP. From March 31, 2014, the students underwent a series of heavy equipment operation training for crane, excavator, pay-loader, bulldozer, and buck hoe. The training of the 39 heavy equipment operation students was accredited by TESDA.
In his message, Maj. Gen. Velarmino AFP lauded the endeavors of the SK-JSGP. He said, "I would like to express my deepest admiration and high regard to our comrades from the Republic of Korea Support Group Philippines "Araw contingents" whose love and passion for our fellow Filipinos brought new hope for the country. Your sweat and sacrifices might not be enough to bring back the lives lost in the super typhoon, but your sweat is more than enough to keep us going with our lives and your effort will forever be etched in our hearts and minds."
PH-US Balikatan 2014 Cooperative Health Engagement in Tacloban City
By DPAO, 8ID PA
May 10, 2014
CAMP LUKBAN, Catbalogan City, Samar – Troops under the Armed Forces of the Philippines and the United States Armed Forces that formed part of the Balikatan Exercises 2014 conducted cooperative health engagement or medical mission at Fishermen's Village Elementary School, Brgy. 88, San Jose. Tacloban City on May 10, 2014.
Maj. Gen. Emeraldo C. Magnaye AFP, the Balikatan 2014 AFP Lead Directorate and Brig. Gen Nelson of U.S. Marine Corps led the troops in conducting medical treatment and veterinary services from 9:00a.m. up to 4:00p.m.
The activity was also attended by Atty. Irene Chiu, the executive assistant of the City of Tacloban and Hon. Emelita S. Montalban, Barangay Chairwoman of the host barangay. The activity benefited 544 medical patients broken down into 196 pedia and 348 adult patients. Likewise, 50 dogs and a cat received anti-rabies vaccinations from the veterinary service.
Atty. Chiu in her message appreciated the presence of U.S. and AFP troops in rendering medical mission in their city even after six months when the tragedy struck the city. "You were here during the aftermath of the super typhoon and you are here again six months after. With that, I would like to acknowledge and thank the unsung heroes of the Philippine Army and the U.S. Marines and everyone who responded to Tacloban City during the early part of the tragedy and helped us regain our strength," she said.
On the part of U.S. forces, Brig Gen Nelson commenting on why they have chosen Tacloban City for the medical mission said, "We felt that after the super typhoon Yolanda, Tacloban City is a great place to anchor Balikatan. We want to show our friendship, and this activity is also a good way to get back to the great people, the Filipinos. I was here three days after the super typhoon and what I see now six months after the typhoon is vast improvement. People have come together in rebuilding communities. The resilience of the Filipino people is amazing and very heart warming."
Commenting on the Balikatan medical mission in Tacloban City, Maj. Gen. Jet B. Velarmino AFP said, "The Balikatan 2014 cooperative health engagement or medical mission at Brgy 88, Tacloban City manifests that the 'Bayanihan' spirit knows no boundaries, as it lingers even among other nationalities, even among U.S Forces. Your Army in Eastern Visayas strongly supports this kind of activity as it puts the people's welfare and well-being above all other considerations."