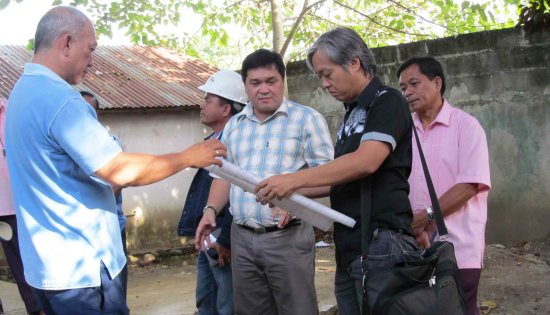 RAFI Education Development Engr. Ronald Referente (leftmost), with Dalaguete Mayor Ronald Allan Cesante (center) along with LGU staff, visit the site of the two-storey, six-classroom building in Dalaguete NHS for the High School Building Project.
RAFI, Dalaguete LGU address lack of classrooms
By Ramon Aboitiz Foundation Inc.
March 19, 2013
CEBU CITY – The Ramon Aboitiz Foundation Inc. (RAFI) conducted a pre-construction meeting last March 7 with school administrators, barangay officials, Parent-Teacher Association officers from barangays Balud and Obong and Dalaguete National High School (NHS), and Dalaguete Mayor Ronald Allan Cesante for the Gabaldon Restoration Project (GRP) and High School Building Project (HSBP).
The pre-construction meeting marked the start of the implementation stage of the GRP, which will benefit the elementary pupils in barangays Balud and Obong, and the HSBP, which will benefit Dalaguete NHS. Both projects aim to improve the quality of education by providing an environment conducive for learning.
GRP focuses on the rehabilitation, protection, and conservation of the decades-old Gabaldon structures in the province. On the other hand, the HSBP addresses the shortage of classrooms in public high schools by constructing two-storey, six-classroom buildings in areas with extreme classroom shortfalls, as indicated by reports from the Department of Education (DepEd).
RAFI, the LGU of Dalaguete, the Province of Cebu, and DepEd-Cebu Province Division signed a memorandum of agreement for the said projects last Feb. 15.
Highlighting the participatory nature of RAFI's school infrastructure projects, Mayor Cesante urged the stakeholders in attendance to be more involved so that education infrastructure concerns can be addressed. Under both projects, teachers, parents, and the barangay officials will monitor the progress of the rehabilitation and construction, and will ensure the safety of the construction materials.
GRP and HSBP are programs under the Education focus area of RAFI, creating a conducive and engaging learning environment to nurture the love for learning. Its other focus areas are Integrated Development, Micro-finance & Entrepreneurship, Culture & Heritage, and Leadership & Citizenship.
For more information about these projects, please contact 418-7234 loc. 205 and look for Ma. Rizza Labao, or visit www.rafi.org.ph or www.facebook.com/rafi.org.ph.
'Earmarking' to solve dilemma of P500-B unfunded laws – Chiz
By Office of Senator Chiz Escudero
March 18, 2013
PASAY CITY – Senator Chiz Escudero wants closer coordination between the executive and the legislative branches of government in the crafting of relevant laws as he revealed that P500-billion worth of laws remain dormant because of the absence of government funding.
Escudero said a solution to this perennial problem of law creation and funding would be the earmarking of funds on laws coming out of the legislative mill.
He cited as example the assigning of funds raised from the sin tax amendment law or income coming from state corporations such as those raised from gaming operations of the Philippine Amusement and Gaming Corp. (Pagcor) to particular expenses.
For instance, under Pagcor's charter, five percent of the state gaming firm's income is earmarked for the Philippine Sports Commission.
Earmarking would be a good way of ensuring that laws serve the purpose for which these were created since the funding does not need to pass through the Department of Budget and Management (DBM) or the need for funds to first go to the national treasury before these are released to a particular undertaking.
Escudero said among these unfunded laws is one which seeks to improve the welfare of persons with disabilities (PWD).
"The PWD law has a worthy cause but it is effectively not implemented even among government offices because it was not funded," the reelectionist senator said.
The situation is similar to asking which comes first, the chicken or the egg, Escudero said, and noted that it is the responsibility of Congress to craft laws but it is the Executive's task to allocate the budget to implement laws.
"If Congress becomes remiss on the enactment of laws, the government will not have any authorization for programs it espouses but on the contrary, the enactment of a law becomes meaningless if there is no budget for it," Escudero said.
He said that in the current 15th Congress, some 70 bills were enacted, creating about 300 courts which did not have funding.
"If Congress did not pass the bills, the Department of Budget and Management will not have authority to allocate funding for the new courts in the budget, so it's a cat and mouse game," Escudero said.
Ensuring that laws and funding match is a joint responsibility of government, meaning the Congress and the executive branch itself, he added.
"Under PD 1177, the President has powers over the budget to decide which items to fund and which items not to fund. We do not have a provision in the Constitution which requires laws to be funded on a first-come, first-served basis," Escudero said.
"Nobody should be lulled by the comfort of believing that simply because we amend the law and say that funding should be automatically appropriated, it will already be released by the DBM," he added.
Escudero explained that the only items that are automatically appropriated would be debt servicing and the Internal Revenue Allotment (IRA) under the Local Government Code and the budget for constitutional commissions.
Cayetano fights for students' right to affordable education
By Office of Sen. Alan Peter Cayetano
March 18, 2013
PASAY CITY – "The number one concern of the country's youth is that education is becoming too expensive. This factors in everything – from tuition fees to transportation costs to go to school," Senator Alan Cayetano said yesterday in his dialogue with the students of the Pangasinan State University at Rosales, Pangasinan. "I have personally confirmed this through my Listening Tours. This concern resonates among students from the Cordillera Region to Cagayan de Oro in Mindanao."
Cayetano gave his message as he expressed condolences to the family of Kristel Tejada, a 16-year-old Behavioral Science student from UP Manila who committed suicide, allegedly due to her inability to pay for her education.
Cayetano underscored the need to implement more effective student assistance schemes to address this problem.
Cayetano gave the assurance that he, along with his fellow lawmakers, will continue to push for reform and work hand-in-hand with the government to make their promise of a truly accessible education system a reality. "Kristel symbolizes hopelessness. But I promise the country's youth that a better tomorrow is being built for them. Don't lose hope," he said.
"Even if Kristel's case might be an isolated one, we cannot ignore the reality that so many students' lives are affected because of high tuition fees, school policies, and insufficient support from government," he said as he revealed how half of high school students drop out, and of those who graduate, only 23 percent enroll in college. "Of this number, only 15 percent graduate from college."
Lack of quality education means lack of jobs
Cayetano said that the next concern is the quality of education, given the shortages in facilities still hounding our public education system. "We are still lagging behind our Asian neighbors when it comes to education because our public schools lack the facilities needed to produce quality education," he said.
The senator said that these concerns are rounded up by the lack of employment opportunities that greet students after they graduate. "Now 50 percent of graduates fail to get jobs. All their hard work at making sure they finish college becomes wasted," he said.
Partner with banks
Cayetano proposed that the Commission on Higher Education (CHED) make it easier for their scholars to access their stipend and loans by partnering with banks. "So instead of them missing a day of study just to get their money, they can instead just withdraw what they need from the partner banks," he said.
Cayetano is running for reelection under a platform aimed at addressing issues related to PTK: Presyo, Trabaho, Kita. One of his proposed solutions to increasing jobs in the country is through an Education for Employment program that seeks to aid students gain employment after they graduate through a partnership between schools and private companies.
Zero backlog in courts nearing reality, says Chiz
By Office of Senator Chiz Escudero
March 17, 2013
PASAY CITY – The Senate is heading towards a milestone in achieving zero backlog in the creation of courts that would address complaints of a snail-paced justice system which is embodied in the phrase "justice delayed is justice denied," Sen. Chiz Escudero said.
Escudero said the delivery of justice among courts has vastly improved after the Senate passed or is processing measures for the creation of 304 different courts throughout the country.
He said 89 new courts were created by law while bills for 215 new courts were approved on 3rd reading.
Escudero said total courts including those already created and with pending bills are 211 RTCs, 11 Municipal Trial Courts in Cities (MTCCs); one Municipal Circuit Trial Courts (MCTCs); and 71 Metropolitan Trial Courts (MTCs) under the current Senate session.
Escudero authored or sponsored bills for the creation of one regional trial court (RTC) in Region I; two RTCs in Region II; 25 RTCs in Region III; 80 RTCs and 10 municipal trial courts (MTCs) in Region IV; 10 RTCs, 71 Metropolitan Trial Courts (MeTCs) plus the conversion of seven RTCs of Pasig to Taguig; one Municipal Circuit Trial Court and 10 RTCs in Region VI;
Thirty-one RTCs and eight Municipal Trial Courts in Cities (MTCCs) in Region VII; three RTCs in Region VIII; six RTCs in Region IX; six RTCs and two MTCCs in Region X; 27 RTCs in Region XI and three RTCs in Region XII.
Escudero, chair of the Senate committee on Justice and Human Rights, said more courts in the countryside means less of "justice delayed, justice denied."
"This is the first time that the Senate has approved this many new courts," he added.
Escudero called on lawyers to consider filling up the new positions created in government service through the new courts.
"All lawyers, both new and those who have long practiced the profession should not hesitate to apply for positions in the local courts. I call on lawyers to advance their careers in the judiciary and apply for the position of judges," Escudero said.
The Constitution requires three names to be submitted for each vacant court positions. One of the three names shall be appointed by the President.
"Sometimes we cannot get three applicants for one branch of court that we create in some parts of the country," Escudero said. He added that a pending bill in the Senate seeks to provide additional benefits and allowances for judges.
Philippine Eagle abounds in the rich forests of Taft, Eastern Samar
By Philippine Information Agency (PIA 8)
March 16, 2013
TACLOBAN CITY – The ecologically important bird species, the Philippine Eagle with the scientific name of Pithecophaga Jefferyi naturally inhabits the rich forests of Samar.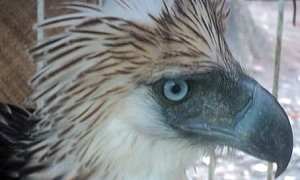 The recent citing of the Philippine Eagle at the Taft Forest Wildlife (Philippine Eagle) Sanctuary confirmed this, Department of Environment and Natural Resources Regional Executive Director Manolito Ragub informed.
"The sighting of the Philippine Eagle is something which the people of Eastern Visayas must be proud of," RED Ragub said. It is in this part of the country where this important bird species naturally abound.
The presence of the Philippine Eagle is an indicator that there is still an ecologically-balanced forest in Samar, RED Ragub informed.
He added that while the government is spending so much money just to propagate this species in captive breeding like what is being done by the Philippine Eagle Foundation Center in Davao, Eastern Visayas has its own naturally breeding Eagles in the forests of Samar.
The Taft Forest Wildlife¸ the Philippine Eagle¸ was sighted on March 10, 2013 in the forests of San Rafael, Taft, Eastern Samar which is part of the Philippine Eagle Sanctuary, Samar Island Natural Park Protected Area Superintendent Angelito Villanueva informed RED Ragub in a report.
The Philippine Eagle was sighted in the by Ms. Ruth Francisco, a member of the Wild Bird Club of the Philippines in the course of her birding activity. Together with Ms. Francisco was Mr. Joselito Sierra, a local tour guide of the SINP.
Ms. Francisco who has been conducting birding activities for two years already, has been to different forested areas in the country like the Mt. Kitanglad in Bukidnon.
Francisco said that she usually sees wild birds in flight and the Philippine Eagle in captivity.
At the Taft Philippine Eagle Sanctuary, however, she actually sighted a Philippine Eagle in the wild just about 100 meters away from her standpoint.
Ms. Francisco was on her second visit to the SINP to look for the Mindanao Bleeding Heart, a species of bird in the pigeon and dove family (Columbidae) so named because of a red blotch on its breast, which is endemic to the Philippines.
At 7:55 in the morning of March 10, "While hiking amidst the forest on a cloudy with occasional rains morning, we heard the call of a Rufus Hornbill," Ms. Francisco excitedly shared to DENR Region 8 Regional Public Affairs Officer Purificacion Daloos.
"Expecting that the Mindanao Bleeding Heart will follow, I positioned my camera and was excited to see a raptor… the Philippine Eagle," Ms. Francisco narrated.
"The Philippine Eagle was preening while perching for about five minutes, on a leafless tree on top of a cliff. It stayed there until three Rufus Hornbills flew in and perched on a nearby tree. Disturbed by the noise of the Hornbills, the Philippine Eagle flew away," Ms. Francisco recounted.
She added that other birds seen in the thickly forested area with surrounding perching trees were two Samar Hornbill, two Yellowish Bulbul, one Amethyst Brown Dove, four Red-keeled Flowerpecker, four Orange-bellied Flowerpecker, two Philippine Bulbul, and one Sunpride Species.
RED Ragub said the sighting of the Philippine Eagle is not only a moment of pride and rejoicing, but more so, a challenge and reminder to every Filipino especially the people of Samar to help protect the remaining forest of Samar.
The continued existence of the Philippine Eagle and other wildlife species depends on the condition of the forest, their habitat, RED Ragub said.
The Philippine Eagle was first sighted in Paranas, Samar on June 15, 1896 by a British collector John Whitehead. The various sightings of the Philippine Eagle in the forests of Samar prompted then President Joseph Estrada to declare on July 31, 1999, the 3,720 hectares of the said forests as Taft Forest Wildlife (Philippine Eagle) Sanctuary through Presidential Proclamation No. 155.
13 year old Malaysian girl wins Greenpeace's Flag for the Future Arctic competition
By GREENPEACE
March 16, 2013
LONDON – Dame Vivienne Westwood, the world renowned fashion designer, has selected the winning flag design that will be planted on the seabed at the North Pole next month, closing the global competition run by the World Association of Girl Guides and Girl Scouts and Greenpeace as part of Greenpeace's campaign to Save the Arctic.
The contest inspired youth from around the world to create a flag that would symbolize peace, hope and global community, as a statement of the commitment of millions of people who have signed a petition to protect the Arctic from oil drilling and overfishing. The contest ran for three months and inspired designs from young people from 54 countries.
The winning design was submitted by Sarah Bartrisyia, a 13-year-old Girl Guide from Malaysia, whose winning entry featured seven brightly colored doves and an Arctic starflower. The seven doves, she said, represented each of the seven continents; each carrying an olive branch which when brought together formed a laurel wreath, a symbol of Arctic protection.
Sarah's winning design will be produced as a titanium flag to be planted at the North Pole, four kilometres beneath the ice, and put on the seabed in a time capsule containing the signatures of millions of Arctic defenders. At the moment, no single country owns the international waters around the North Pole, but as climate change causes the sea ice to melt, countries and companies are moving in to exploit the resources including oil and fish in the Arctic Ocean.
"We need to protect the Arctic because it is the home of many indigenous peoples and many animal species. It should be declared a global sanctuary," said Sarah.
"The creativity of young people is one of the most powerful tools we have to build a better world. The winning flag for the future is a fantastic representation of peace, hope and global community, and I am proud that it's on the way to the North Pole," said Dame Westwood.
The judging panel also included artists and atv presenter, as well as15-year-old Aishah Morshed, a Girl Guide from Ireland. Aishah is passionate about the environment, which she learns about through guiding, school and from regular visits to see family in Bangladesh where she has witnessed the impacts of climate change firsthand.
"I can't bear to think of an Arctic without icebergs and polar bears; even though the North Pole is far from where I live, I feel a personal sense of responsibility to protect it, which I hope others will share and join the campaign to Save the Arctic," Aishah said.
The Arctic is one of the last pristine places on earth, home to more than four million people as well as unique animals found nowhere else on the planet. Greenpeace is working with youth organizations like the World Association of Girl Guides and Girl Scouts to ensure that this precious region is protected for generations to come.
ProGay welcomes new Pope with open mind, wariness
By PROGAY Philippines
March 14, 2013
MANILA – The Progressive Organization of Gays in the Philippines (ProGay), a gay rights alliance in Roman Catholic majority Philippines, welcomed the election of Argentine Cardinal Jorge Bergoglio as the new leader of the world's largest organized religion with guarded hope for reforms in the scandal-tainted hierarchy.
"The marginalized lesbian, gay, bisexual, and transgender (LGBT) communities especially the discriminated, poor, and jobless millions living in the slums welcome a leader who has publicly criticized neoliberal economic policies that destroy livelihoods, the ecology, and health," said Jomar Amores, spokesman of ProGay.
Amores however said that the newly elected Pope Francis made negative statement in 2010 about same-sex marriage as a "a destructive pretension against the plan of God." Before the law allowing marriage equality was passed in Argentina, he preached that "We are not talking about a mere bill, but rather a machination of the Father of Lies that seeks to confuse and deceive the children of God."
The ProGay leader also noted that in the 1970s, he was silent as the military dictatorship persecuted fellow Jesuits who sided with the oppressed Argentinians during the Dirty War.
"However, we remain hopeful that Pope Francis continues to become more attuned to a world in conflict. He is known for his outreach to the poor, his simple lifestyle, his demonstrated compassion for persons hospitalized with AIDS complications, and his disdain for hypocrite church officials. He once reminded his fellow priests that Jesus went around with prostitutes and thieves," Amores said.
ProGay wishes to see the Vatican open new frank discussions on the increasing inclusion of LGBT persons in the life of the church and proposals to increase legal protections of LGBT rights in secular institutions with less meddling from local church leaders in the Philippines.
PRO8 intensifies "Oplan Katok" to ensure peaceful polls
By RPCRD, Police Regional Office 8
March 13, 2013
CAMP SEC. KANGLEON, Palo, Leyte – At least 510 long and short firearms with expired licenses were turned-in for safekeeping at different police stations in the region as the Police Regional Office 8 (PRO8) continued its campaign against unrenewed and loose firearms.
Police Chief Superintendent Elmer Ragadio Soria, PRO8 Regional Director said they expect to account for more as the police intensifies its campaign against loose firearms and guns with expired licenses as part of the effort to have secure and fair elections this year.
"We thank those gun owners who responded to our call to renew their gun licenses or voluntarily turned-in their firearms. Those who did not heed our call may face further discomfort as they will be then subjected to Search Warrant, to be followed by filing of criminal case for violation of the RA 1866 as amended by RA 8294 or Illegal Possession of Firearm, Explosive and Ammunition," Soria added.
Soria directed all unit commanders to strengthen their efforts with firearms being one of the most common weapons used in violence.
PRO8 is trying to account for 10,407 firearms with expired licenses in Eastern Visayas as written notices were sent and a total of 13,901 house visitations were conducted to the owner's addresses and reminded those who have unrenewed firearms licenses of their obligations and for those who have unlicensed firearms to surrender such.
The police official added that most of the firearms with expired licenses were from Leyte, followed by Samar and Northern Samar.
Of the figure, 908 licenses were already renewed while 579 are on-process of renewal.
A total of 5,372 gun owners with expired licenses were advised to renew their respective licenses while others were either not contacted, deceased, denied ownership, transferred residence or the firearms were either sold, lost or carted by communists-terrorists.
Forty firearms, meanwhile, are in different courts as exhibits.
Soria, however, clarified that even if the PNP is issuing licenses to firearms, the release of permits to carry firearms outside of residence is still suspended as the police is strictly implementing Commission on Election (Comelec) gun ban.
The top police official further informed that as the midterm elections draw nearer, a more protracted and intense campaign against loose and unrenewed licenses of guns will be implemented by his office.
East Visayas LGUs, agri offices support Matuwid na DAAN website
By Philippine Information Agency (PIA 8)
March 13, 2013
TACLOBAN CITY – The Department of Agriculture expressed appreciation for the overwhelming support from the local government units and agriculture and veterinary offices in Eastern Visayas for the institutionalization of the agricultural related on-line project.
Dr. Wilson Cerbito, DA-8 Regional Technical Director for Research and Regulations and the concurrent AGRO-Project manager, informed that said project (AGRO) is a major component of the Matuwid na DAAN or Department of Agriculture Accountability Network.
Dr. Cerbito announced during a recently-held gathering of local government units and various stakeholders that the regional office has come up with its new official website, which prides itself as the first of its kind in the country.
Commenting on the usefulness of such communication tool, Mr. Edgardo Codilla, the Chairman of the Regional Agriculture and Fishery Council (RAFC) said "the website is the agency's answer to what is being espoused under the law of the land calling for upholding of the right of the people to information on matters and documents of public concern."
Meanwhile, Dr. Amando Apoderado, the City Veterinarian of Ormoc said "this project inspires us to do more and excel in the development of the agriculture sector in our locale. What we have been doing for our people would reflect in the website."
Northern Samar Provincial Veterinarian Dr. Jose Luis Acompañado said that this is a challenge for them considering that the supply of data for the sustainability of the website will come from the local government units.
On the other side, he proposed to spearhead a similar project for their province, for them to follow the example set by DA on good governance.
The Matuwid na DAAN website provides a readily-accessible and fully-dedicated medium for the Department of Agriculture's advocacy of adhering to transparency and accountability in pursuing food security while promoting public awareness of its community-focused projects and activities nationwide, Dr. Cerbito said.
Among the features in the website are the profiles of all the DA projects vis-a-vis their fund allocation and cumulative disbursements, completion period, percentage of accomplishment and other relevant data, including regularly updated photos, which were provided by the attached agencies, corporations and regional field units of DA.
Dir. Gary Glenn Fantastico of the Information Technology Center for Agriculture and Fisheries, shared that the website empowers the DA constituents and the rest of the nation because they can track down and report the actual status of the agri-related projects, validate the delivery of government assistance and evaluate the utilization of the resources.
"Thus, the successful operation of the project hinges largely on the people's vigilance," he said.
Aside from the Matuwid na DAAN section, users can also find the online database of the DA-Leyte National Farmers Registry System (NFRS) and the Inventory System of Agriculture and Fisheries Investments (ISAFI), and the online marketing hub called Agri-Biz Market Place.
PRO8 arrests 2 more "shabu" pushers
By RPCRD, Police Regional Office 8
March 12, 2013
CAMP SEC. KANGLEON, Palo, Leyte – The Police Regional Office 8 (PRO8) is up on its toes collaring high value targets in its watchlist as two more shabu pushers fell in the hands of police authorities as vendors of the popular illegal drugs continue to make their way into different jails in the region.
"The successful anti-illegal drugs operations were conducted as we confirmed the reports we are getting from members of the community," said Police Chief Superintendent Elmer Ragadio Soria, Eastern Visayas police director, adding that the continued support from different sectors is a big boost in the anti-illegal drugs campaign.
The top police official informed that one Larry Dee Conato Gonzales, of Brgy Matin-Aw, Maasin City, was cornered with eleven sachets of shabu in a buy-bust operation at Espina Blvd, Tunga-Tunga, Maasin City by the Provincial Anti-Illegal Drugs Special Operations Task Group of Southern Leyte Police Provincial Office (SLPPO-PAIDSOTG) led by PSInsp. Delfin Tan.
Gonzales was caught at around 10:30 p.m. on March 7 selling two small-sized, heat-sealed and transparent plastic sachets weighing more or less .04 grams of shabu for P1,000 to a police poseur-buyer.
The police further confiscated from the suspect's possession 9 more small heat-sealed transparent plastic sachet containing suspected shabu weighing more or less 1 gram with estimated market value of P4,500.00, the two P500.00 buy-bust money, one Cherry Mobile cellphone, one unit Kawasaki rouser 135ls motorcycle and cash amounting to P2,500.00.
Meanwhile, a joint operation at Brgy. Dawahon Island in Bato, Leyte conducted by a police team from Leyte Police Provincial Office under PSInsp. Jonathan Camacho and Bato Municipal Police Station led by PSInsp. Roger Octaviano on the evening of March 6 resulted in the arrest of one Rolecito Gudes alias Cito, a fisherman from said area, after selling one small sachet of shabu worth P500.00 to a poseur-buyer.
The team further recovered from the actual possession of Gudes two more small heat-sealed plastic sachets of shabu with an estimated street value of P1,000.00 and the P500.00 marked money.
Recovered illegal drugs were brought to the Regional Crime Laboratory 8 for quantitative examination while cases for violation of Section 5 and 11 (Sale and Possession of Dangerous Drugs, respectively) of Republic Act 9165 (The Comprehensive Dangerous Drugs Act of 2002) were filed separately on Monday against the Gonzales and Gudes by the arresting police units, Soria further informed.