PRO8 arrests 169 drug offenders, seized 21M worth of illegal drugs
By RPCRD, Police Regional Office 8
December 12, 2012
CAMP RUPERTO K. KANGLEON, Palo, Leyte – The intensified crackdown by the Philippine National Police against the proliferation of illegal drugs in Eastern Visayas has netted a good number of drug suspects and a seizure of a significant amount of illegal drugs as the Police Regional Office 8 (PRO8) vowed to make the area free from the drug menace.
"The campaign against illegal drugs remains to be one of our top priority as we want to make Eastern Visayas illegal drugs-free," Police Chief Superintendent Elmer Ragadio Soria, Eastern Visayas regional director said.
Soria informed that from January 1 to November 30 this year, intensified anti-illegal drugs operations conducted by the Anti-Illegal Drugs Special Operations Task Group (AIDSOTG) of PRO8 resulted in the confiscation of P21,024,242.90 worth of illegal drugs in 152 anti-drug operations across the region.
"The confiscated illegal drugs includes 4 bricks of cocaine; 74.646 grams of methamphetamine hydrochloride or "shabu"; 286 uprooted marijuana plants, 13 marijuana sticks, 1,599.638 grams of dried marijuana leaves, 10 marijuana teabags and 1.13 grams marijuana seeds," the police official disclosed.
Soria added that a total of 169 violators of RA 9165 or the Comprehensive Dangerous Drugs Act of 2002 were rounded-up by the police in drug buy-bust operations, raids and searches, and marijuana eradication operations, resulting in the filing of 150 drug charges in different courts regionwide.
This developed as AIDSOTG operatives arrested another suspected drug pusher Monday morning in a buy-bust operation in Villaba town in Leyte.
Soria identified the suspect as one Rudy Pregoner, carpenter, married, who was nabbed by narcotics operatives infront of Akis Bakeshop in Brgy. Poblacio Sur of said town.
The police were able to buy from the suspect 2 small heat sealed plastics sachets with white crystalline substance suspected to be "shabu" and confiscated 3 more small heat-sealed transparent plastics sachets with suspected "shabu" and the buy-bust money amounting to P800.00. Drug charges are being prepared against the suspect who is currently detained at the Villaba PNP lock-up cell.
"While the illegal drugs situation in the region is not alarming, it needs close monitoring due to geographical and economic factors," the Regional Director averred.
He explained that geographically, Eastern Visayas has wide coastal areas with several ports and terminals that could serve as the entrance and exit points of illegal drugs.
On the other hand, EV's reputation as one of the fastest growing regions attracts both legitimate and illegitimate businesses.
Soria informed that he had already discussed the matter to his counterparts in the Department of Interior and Local Government (DILG), Philippine Coast Guard (PCG) and Philippine Ports Authority (PPA) during the Regional Law Enforcement Coordinating Council (RLECC) conference for the activation of anti-drug councils and intensification of security measures in seaports and terminals in the region aside from soliciting support from the members of the community.
"An intelligence driven information will make any anti-illegal drugs operation successful," Soria said.
Chiz pushes bill for indigents to be released on bail sans posting bond
By Office of Senator Chiz Escudero
December 11, 2012
PASAY CITY – The Senate approved on third reading yesterday the proposed Recognizance Act of 2012 that allows the release of any person in detention unable to post bail bond due to poverty.
Senator Chiz Escudero, chairman of the Senate Committee on Justice and Human Rights and sponsor of the measure under Committee Report Number 405 (CRN 405), said "the bill upholds the right of a person to bail or to be released on recognizance as guaranteed by the Constitution."
The proposed legislation allows detainees to be released to the custody of a qualified member of the barangay, city or municipality where the accused resides.
"There are detainees who languish in jails albeit qualified to bail simply because of abject poverty. Their inability to post bail bond deprives them of their guaranteed rights. CRN 405 seeks to address this aspect and other problems that the country's criminal justice system faces," the senator said.
Escudero said the bill will also address setbacks in the Philippine justice system such as: case congestion and prolonged resolution of cases in different courts all over the country, lack of legal representation, congestion in jails, and the lack of opportunity to reform and rehabilitate offenders.
The bill says that any person on custody or detention can be released on recognizance only if the offense committed is not punishable by life imprisonment or death.
The application for recognizance must be filed by the accused or any person on his behalf before or after conviction by the Metropolitan Trial Court, Municipal Trial Court, Municipal trial court in Cities and Municipal Circuit Trial Court.
However, detainees or accused may be disqualified under the following circumstances: (1) they have made untruthful statements in their affidavits regarding their circumstances, (2) they are recidivists, habitual delinquents, (3) those who have previously escaped from legal confinements, (4) the accused had previously committed a crime while on probation, parole or under conditional pardon, and (5) there is the great risk that the accused may commit another crime during the pendency of the case.
FBI fugitive Ilonggo priest surrenders to NBI
By FLORENCE F. HIBIONADA / PNS
December 11, 2012
ILOILO CITY – Ilonggo Catholic priest, Reverend Father Lowe Dongor who is subject of manhunt by United States (US) authorities have surrendered.
Officially tagged as US "Federal Bureau of Investigation (FBI) fugitive," Father Dongor voluntarily gave up to the National Bureau of Investigation Western Visayas Regional Office 6 (NBI WEVRO 6).
This, following months of negotiations as the bureau got official FBI request for assistance middle of this year to locate Dongor.
A native of Barotac Nuevo, Iloilo, Father Dongor fled the US in October 2011 after entering a "not guilty" plea on charges of possession of child pornography. He has since visited his hometown and likewise fled thereafter when the Catholic Bishops Conference of the Philippines (CBCP) issued a warning on his "not in good standing" status with the Church. Local media then got wind of his presence and tried to reach him however the beleaguered priest managed to flee anew.
"The National Bureau of Investigation - Western Visayas Regional Office (NBI-WEVRO) confirms the voluntary surrender and repatriation to the United States (US) of the person of Reverend Fr. Lowe B. Dongor," the NBI WEVRO 6 in an official press statement said. "The 36 year-old native of Barotac Nuevo, Iloilo, Philippines stands accused in the US District Court of the District of Massachusetts of Unlawful Flight to Avoid Prosecution (UFAP). Fr. Dongor was the subject of an Arrest Warrant requested by the Federal Bureau of Investigation (FBI) for 1 count of UFAP, a felony act. His UFAP charge came after he fled the US in October 2011 amidst charges of possession of child pornography. He was the Associate Pastor of St. Joseph Parish of the Diocese of Worcester in Massachusetts and asked to go on administrative leave when charged and arraigned of the said charge."
"We are officially confirming the surrender of Fr. Dongor and turn-over to US authorities through our counterparts in the US Embassy in Manila. In close coordination with Embassy officials, we have effected Fr. Dongor's return to the US. It was one successful operation, which was made possible through the support of concerned and civic minded individuals, who worked with the NBI WEVRO team headed by Agent Arnold Diaz, the agent on case who was entrusted to lead the negotiation process. Fr. Dongor is now in custody of American authorities where he will have his due day in a US Court. We thank Fr. Dongor and his family for cooperating, trusting the bureau and the justice system," NBI WEVRO Regional Director Elfren Meneses Jr. said.
Agent Diaz as lead agent personally escorted Father Dongor and left last night for the US. The duo is expected to be met by joint US Homeland Security Investigation (HSI), the FBI and Immigration and Customs Enforcement (ICE) team upon arrival.
It was not immediately clear when Father Dongor will be made to appear in Court.
Philippine News Service (PNS) in an independent investigation learned that Dongor stands accused before Judge Robert Collings, US Magistrate Judge of the John Joseph Moakley US Courthouse in the District of Massachusetts.
Docketed as 12-mj-1065-RBC, the FBI filed the UFAP felony charge in February 23, 2012 with the offense a "Category II."
The FBI was called in by the Office of the Worcester District Attorney following Father Dongor's failure to appear in an October 2011 Court hearing. Dongor has since fled the US and went into hiding here in the Philippines.
The UFAP charge carries a $5,000 bail and/or 5 year imprisonment.
In a PNS interview, Father Dongor expressed readiness on whatever outcome awaits him in the US. Such, as he admitted having "no resources at all….poor as a rat," thus not able to secure for himself a private counsel.
"I have to, and ready to pay for the terrible mistakes I committed to my God, my Church, my community, my family and myself," he said. "I wish I can change things and go back to my priesthood for that is what I have been dreaming of since I was 6 years old. But all of that is gone now. I have nothing to offer, no money even to hire a lawyer for my defense but I still have my faith in God and that is more than enough for me now."
PRO8 activates special task group for 2013 polls
Samar identified "hot spot" for 2013 elections
By RPCRD, Police Regional Office 8
December 11, 2012
CAMP RUPERTO K. KANGLEON, Palo, Leyte – In order to ensure a fair and secured midterm elections next year, the Police Regional Office 8 (PRO8) had formed a special task group to be deployed in Samar province after it was included in the list of 15 "priority areas" for the May 2013 polls.
"We will make sure that upcoming elections is not only free and fair, but also secured, peaceful and orderly," Police Chief Superintendent Elmer Ragadio Soria, Eastern Visayas regional director told reporters during a press conference held at Camp Lukban in Catbalogan City, headquarters of Samar Police Provincial Office on Saturday morning.
Recalling his own experience as Commander of Task Force: ABRA during the 2010 national and local elections, Soria assured that he will ensure that the will of the people is truly reflected in the upcoming elections.
"The election-related violent incidents that took place in some areas of the region that has defined the past electoral exercises is an indication that there exists an impending disturbance on peace and security in the May 2013 midterm elections. One of the greatest concerns we hold close to us is the need for security and peace. A truly peaceful electoral process is an indication that we will hear the voice of the people, our real "bosses", Soria said.
Police Senior Superintendent Edgardo Orduña Basbas, the PRO8 Deputy Regional Director for Operations will head the Regional Special Operations Task Group (RSOTG) to be assisted by Police Senior Superintendent Eusebio Adamero Mejos, Samar Provincial Director.
The task group will be assigned troops coming from Samar provincial command, the Regional Public Safety Battalion (RPSB8) and PNP Special Action Force (SAF) and will be based at the Samar Police Provincial Office in Camp Lukban, Catbalogan City, Samar's capital.
"We aim to neutralize the two remaining Partisan Armed Groups or PAGs in Samar province before the campaign period," the Regional Director averred, adding that he ordered the RSOTG to conduct a stepped up crackdown on PAGs and to continue the massive drive against loose firearms that may be used as an "instrument of violence" in next year's polls.
Earlier, the Department of the Interior and Local Government (DILG) classified Samar province, as well as Pampanga, Nueva Ecija, Maguindanao, Abra, Pangasinan, Masbate, Lanao del Sur, Ilocos Sur, Basilan, La Union, Cavite, Cagayan, Batangas and Misamis Occidental as priority provinces for the elections based on how these fared in various factor that includes having histories of election-related violence, presence of intense political rivalry and threat groups, and number of loose firearms and PAGs.
Soria added that a province that lands in the priority list means it would receive greater focus from state security forces as the electoral season formally begins in January.
"This is aimed at deterring any untoward incident that could affect the integrity of the electoral exercise," the Regional Director added.
Earlier, the Philippine National Police launched the "Secure and Fair Elections" program (SAFE 2013) which detailed, among others, the estimated number of loose firearms and the presence of private armed groups and other threat groups that could cause violence in the identified high-risk areas and the police action to be undertaken against these factors.
Gov't takes lead in crafting nat'l agenda on human rights
Press Release
December 11, 2012
MALACAÑANG – The government has set the stage for the crafting of a national agenda on International Humanitarian Law (IHL) with the hosting of a multi-sectoral human rights summit in Malacanang on Tuesday.
The 2nd National Summit on International Humanitarian Law was organized by the Presidential Human Rights Committee (PHRC), chaired by Executive Secretary Paquito N. Ochoa Jr., to further strengthen the country's policies in upholding and protecting human rights, particularly during armed conflict.
In a statement read by Deputy Executive Secretary Teofilo S. Pilando Jr. on his behalf, Ochoa said: "We are honored to host this event because it highlights and places great value on strong and productive discourse between government and human rights defenders to identify and collectively resolve critical issues."
"Moreover, it situates human rights and international humanitarian law within the same breadth as the promotion and protection of our people's overall welfare and well-being, especially in situations of armed conflict," he added.
According to Ochoa, the Philippine government's commitment to the IHL further leapt forward under President Benigno S. Aquino III's administration, citing several key measures and initiatives that it has taken since coming to office.
Among these are the ratification of the Rome Statue of the International Criminal Court in August 2011 and its adoption months later to boost human rights protection in situations of armed conflict; the implementation of the Armed Forces of the Philippines' 2011-2016 Internal Peace and Security Plan: Bayanihan; and the issuance of Administrative Order No. 35, which created an inter-agency committee to probe human rights abuses allegedly committed by state and non-state forces.
Other initiatives include the signing of the Framework Agreement on the Bangsamoro on October 15, and the signing of the terms of reference that rendered operational the government's Complaints Monitoring Working Group under the Philippine Government Monitoring Committee to further enhance compliance with the Comprehensive Agreement on the Respect for Human Rights and International Humanitarian Law (CAHRIHL) between the government and the National Democratic Front (NDF).
Since the first national summit held in August of 2009, the government has likewise put in place Republic Act No. 9851, which defined and penalized war crimes, crimes against humanity and genocide.
"Significant as they are, these developments should encourage all of us to revisit the other commitments we made at the first IHL summit some three years ago. These are commitments that deeply relate to our institutional mandates as government instrumentalities, as an independent national human rights institution, as civil society, and as parties to the armed conflicts in the land," Ochoa said.
"In the end, these commitments – and the challenges that come with them – will be our measure of readiness to craft a National Agenda on International Humanitarian Law that will fuse and further our efforts."
Participants in the human rights national summit, the second since August 2009, include representatives from the government, non-government organizations, civil society groups, members of the diplomatic community and other stakeholders.
NBI files syndicated estafa raps vs. 17 bank execs
By FLORENCE F. HIBIONADA / PNS
December 9, 2012
ILOILO CITY – Criminal charges of Syndicated Estafa have been filed by the National Bureau of Investigation Western Visayas Regional Office 6 (NBI WEVRO 6) against 17 bank personalities of the Rural Bank of Badiangan (Iloilo) Inc.
The charges once upheld, carries no bail for all of the respondents.
With an initial 37 victim-depositors, the NBI WEVRO 6 concluded its probe and established alleged violation of Section 1, Presidential Decree (PD) 1681 in relation to Article 315 (2) (a) of the Revised Penal Code as amended.
At stake are over P13 million in depositors' money gone missing following the bank's closure in July of this year. The said amount though is expected to significantly balloon once the rest of the accounting and pending complaints are resolved.
To date, victim-depositors were segregated into three groups coming from Iloilo City and the Municipality of Januiay. Fourth group are Badiangan, Cabatuan and Sta. Barbara-based victim-depositors.
In an official NBI WEVRO 6 press statement, named suspects and charged before the Provincial and City Prosecutor's offices are former bank manager Samuel Hortelano and current manager Bella Buscar. Also charged are bank Vice President Joby Arandela, bank cashier Helen Rico, bank secretary Egleserio Rebustes and bank member of the board Josefina Arandela.
Likewise charged are "independent directors" Nena Mana-ay and Edgar Llave, current compliance officer Emilda Davoc, former bank secretary Herlyn Heda Salazar, bank clerks Lenie Abordaje, Cynthia Tacanloy, Ma. Cynthia Paula Tacanloy alias "Mar-Mar," former compliance officer Cres Davoc, account officer Ana Marie Balbasor, security guard Federico Abordaje alias "Idoy" and member of the bank's board of directors, Aileen Consumo.
The victim-depositors, the statement went, "were all enticed by Bella Buscar….to open an account due to the high interest rates….as well as the assurance that their deposits are insured with the Philippine Deposit Insurance Corporation (PDIC). All of the complainants personally entrusted their money intended for opening a time deposit account to Bella Buscar at her officer in Badiangan, Iloilo or at their respective residences in Iloilo City."
Certificates of Time Deposit were issued and renewed upon maturity as interests supposedly earned were personally delivered to the victim-depositors' homes. However when the closure happened in July, the PDIC disclosed that amount as purportedly deposited were never recorded in the master list of depositors.
"All of the complainants were shocked upon learning this since they were under the honest belief that they were depositors……After the denial of their claim, the respective amounts deposited could not be accounted anymore by Bella Buscar and her co-principals, and is now presumed to have been misappropriated for their own personal purpose," the bureau's statement continued.
As such, NBI WEVRO 6 probe established "false pretenses and fraudulent acts" by the respondent bank workers "who by their concerted over acts, conspired and confederated with one another."
"We have more than 5 suspects so it is Syndicated Estafa and yes, no bail recommended," Regional Director Elfren Meneses Jr. said in an interview. "All of the 17 suspects are to be held equally and solidarily liable."
The Rural Bank of Badiangan case was handled by NBI lawyer, Investigation Agent II Arnold Diaz.
"Clearly the scheme that became a scam did not happen overnight," Diaz said.
Meantime, yet another new complainant surfaced over the weekend with a similar story of having been duped of hard-earned family savings.
Retired and having to tend to a sick husband who has fallen ill to Cancer, the 72-year victim is a native of Cabatuan, Iloilo. She is thus far the latest of victims who sought NBI help.
"We lost everything, all of our lifetime of savings from our pension that we entrusted to the bank since 2005," she said.
RSOG arrests Catbalogan jail escapee in Calbayog City
By RPCRD, Police Regional Office 8
December 7, 2012
CAMP RUPERTO K. KANGLEON, Palo, Leyte – This man can no longer continue his fondness with guns as the Regional Special Operations Group (RSOG8) of Police Regional Office 8 brings him to his rightful place in jail.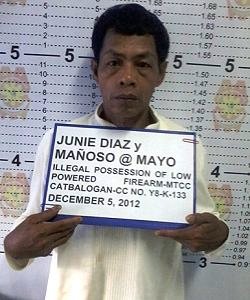 Eastern Visayas Regional Director Chief Superintendent Elmer Ragadio Soria identified the suspect as Junie Mañoso Diaz, also known as Mayo, 48, single, jobless, a resident of Brgy Peñaplata, a hinterland barangay in Gandara, Samar.
"The suspect is fond of bringing firearms which is illegal if you do not have license and permit to carry," Soria said. He added that Diaz was previously arrested in the past for illegally possessing firearms.
The Regional Director informed that an intelligence driven operation was launched in the early morning of December 5 at Brgy. Tumaligues in Calbayog City based on information given by an informant on the presence of a fugitive at said area.
The suspect was surprised but did not resist arrest when elements of RSOG under Police Inspector Constantino Jabonete, Jr. arrested him inside his residence.
The police team was armed with an Alias Warrant of Arrest for Illegal Possession of Low Powered Firearm under Criminal Case Number Y8-K-133 issued by Hon. Judge Alma Uy Lampasa of Municipal Trial Court in Cities, Catbalogan City.
Judge Uy recommended an amount of P60,000.00 for the suspect's temporary liberty.
Soria disclosed that aside from being an escapee, suspect is also a parolee for similar offense.
"He was arrested in Catbalogan City for bringing firearm on May 25, 2008 and while detained at the PNP lock-up cell awaiting trial, he managed to escape sometime in December that year," the region's top police official averred.
Soria further informed that suspect has previous records of arrest for similar offense and was sentenced on October 20, 2004 after he has been found guilty for violation of Republic Act 8294 in criminal case number Y4-D-186.
"He was on probation effective January 12, 2004 per order of Judge Salvador Jakosalem of Catbalogan Municipal Trial Court until he was re-arrested in 2008," he added.
The RSOG brought Diaz to the Bureau of Jail Management and Penology (BJMP) detention facilities in Catbalogan City for proper disposition.
Soria further assured Eastern Visayas folks on the continuous implementation of Manhunt: Charlie, the PNP's campaign against wanted persons.
"We will leave no stone unturned in conducting manhunt operations against those wanted by law for them to face the consequences of their committed crimes," the regional director ended.
On the Aquino govt's superbody
No need for frills and fuss, victims need resolution and end to EJK
By KARAPATAN
December 7, 2012
QUEZON CITY – Karapatan today held a picket in front of the Department of Justice (DOJ) to underscore the point that Pres. Aquino's 'superbody' is "extraneous and thus, inessential in solving the cases of extrajudicial killings and other human rights violations."
"The victims and their families need no more frills and fuss. If only the government listens to the voice of the people, they would say: Just get down to work; solve and stop extrajudicial killing," said Cristina Palabay, secretary general of Karapatan.
The members of the Manilakbayan mission, a 74-member delegation from Mindanao, joined the picket to highlight the cases of extrajudicial killings of indigenous peoples and peasants under the Aquino regime who are mostly killed because of their opposition to large-scale mining operations and destructive government projects in their lands.
With the Manilakbayan delegation are the widows of slain IP leaders who pressed the DOJ to "go after the identified perpetrators of extrajudicial killings is what the victims need such as the members of the 27th IB responsible for the massacre of Juvy Capion and two children who are both minors; the arrest of Alde Salusad of the New Indigenous People's Army Reform (NIPAR) who remains free despite a warrant of arrest for the killing of Jimmy Liguyon, a tribal leader in Bukidnon."
Palabay added that what makes things worse is the Aquino government's move to promote AFP officers who have pending court cases for rights violations, such as Brig. Gen. Eduardo Año was implicated in the abduction and enforced disappearance of activist Jonas Burgos and is held responsible for a string of human rights violation in Southern Luzon region; and Brig. Gen. Aurelio Baladad has a pending criminal case for the illegal arrest and torture of the 43 health workers or "Morong 43."
"With these AFP officers and PNP sitting in the Aquino 'superbody', the government expects us to hail and praise this 'superbody'? Palabay asked.
Manilakbayan delegates are one in saying that the people in Mindanao "do not only need relief goods because of typhoon Pablo, but also relief, or more exactly, an end to military presence in our communities; that we do not only need rehabilitation after the floods, but also rehabilitation of our communities from destruction of bombs during military operations and mining explorations that has long plagued us."
Karapatan earlier chided the Aquino government for its 'superbody' saying that it is only part of the GPH's effort to secure the more than $13 million in US military assistance to the GPH that it does anything to deodorize its human rights record."
Since 2008, the said military aid remains unreleased due to international pressure from various Philippine solidarity groups that campaigned on the issue of extrajudicial killings and other rights violations.