Soon to rise the Regional Health Service 8 Level 1 Hospital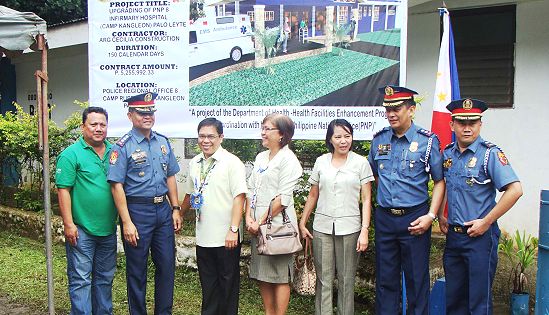 By RPCRD, Police Regional Office 8
January 9, 2012
CAMP RUPERTO K KANGLEON, Palo, Leyte – In line with the Third Key Result Areas (PNP Facilities Development) of the Philippine National Police (PNP) Integrated Transformation Program which aims to develop and upgrade the facilities of the PNP, PRO8 holds the Ground Breaking Ceremony that will signal the construction of the Regional Health Service 8 Level 1 Hospital at Camp Ruperto K Kangleon, Palo, Leyte, according to PSSupt Elizar Patano Egloso, Chief Regional Police Community Relations Division.
PCSupt Arnold Rayala Revilla, Regional Director represented by PSSupt Edgar O Basbas, Deputy Regional Director for Operations, PSupt Alvin T Opiniano, MD, MSPH, Chief, Regional Health Service 8 together with the Guest of Honor and Speaker Dir. Edgardo Gonzaga, Regional Director, DOH8 officiated the groundbreaking ceremony for the construction of P5.2 million worth of hospital for PRO8 inside this Camp which started at about 9:00 AM and witnessed by the PRO8 personnel and other members of the DOH personnel.
The ceremony marked the beginning of the construction of the said hospital to address the growing and changing health care needs of the PNP personnel and their family in the region.
Meanwhile, Guest of Honor and Speaker Dr. Edgardo Gonzaga, in his message, said that the project is inline with the Department of Health CY 2010 Millennium Development Goals Program and Guided by the 1987 Constitution Principle that "Health is a Right of every Filipino citizen", and the state is duty bound to ensure that all Filipinos have equitable access to effective health care services, identified health stations and hospitals for upgrading.
PRO8-RHS8 proposed a P5.2 million Level 1 infirmary hospital with a P2 million worth of equipment. This is a result of the instruction of Dir. Edgardo M Gonzaga MD, DOH Region 8 director dated May 20, 2010 thru the Coordination of then OIC, Health Service 8 PCI Jorge C Rueda III during one of the inter-agency conferences and inspection of DOH8, in compliance to its Supervisory Mandate on all Government Hospitals. This Level 1 Hospital aims to be more responsive to the health needs of its catchment population and to decongest the tertiary hospitals in the nearby places.
He added that through these, we will be able to attain an improved universal health care, with better health outcomes, responsive health system and equitable health financing, such as to improve the access and quality affordable medicines and to improve the plight of health education, placement, compensation, among others.
91 East Visayans pass PSHS entrance exam
By Philippine Information Agency (PIA 8)
January 8, 2012
TACLOBAN CITY – A total of ninety-one (91) examinees from Eastern Visayas passed the 2012 PSHS System National Competitive Examination (PSHS-NCE) held last September 10, 2011, DOST Region 8 Director Edgardo Esperancilla informed.
The Department of Science and Technology Region VIII (DOST8) and the Philippine Science High School Eastern Visayas Campus (PSHS-EVC) recently announced the names of the successful qualifiers in the 2012.
Director Esperancilla disclosed that passing the entrance examination would entitle the qualified students to scholarship privileges which include free tuition fee; free loan of text books, monthly stipend, uniform, transportation and living allowances for low income groups.
Of the total of 91 passers from the Region, 38 are from Tacloban City, 25 are from the province of Leyte, 9 from Calbayog City, 8 from Ormoc City, 6 from Eastern Samar, 2 from Southern Leyte, 2 from Catbalogan City and 1 from Biliran.
The passers from Tacloban City were identified as Abina, Jan Erin Pulga; Albano, Mary Grace Concepcion de Paula; Almaden, Kim Martin Pontilla; Baligod, Mark Isaiah Nicolasora; Ballon, Kyle Jasper Quilaneta; Borgueta, Chiara Lu Cajipe; Castillejos, Johan Yutangco; Castillo, Jason Rex Salino; Cayas, Ryan Roi Abuyen; Canete, Iris Marie Uy; Collantes, Claire Abigail Atillo; De Asis, Francis Flavianne Vicuna; De Veyra, Frances Kristine Diaz; Domingo, Rem Baron Miles Labrada; Ecaldre, Rabin Inciso; Enriquez, Mark Dominique Li; Espina, Raizsa Arielle Riel; Estanislao, Bianca Gonzales; Evite, Elijah Vince Tantuico; Garnace, Simon Julesvenz Lumanta; Gerez, Kristine Ann Colinares; Gomez, Enrico Jose Pacatang; Gualdrapa, Florenz Carlo Dy; Lauzon, Justino III Anagap; Longjas, Isabela Tabao; Loyola, Marna Montejo; Makabenta, Kyle Copley; Montecastro, Daniel Serviano; Negros, Mary Rahnee Faye Lobrigo; Omoy, Krischelle Marie Ibanez; Orbeta, Jan Adrian B.; Paran, Ma. Victoria Mendoza; Sarinas, Genneth Ellema; Sibonga, Matthew Don Jess Abarca; Sta. Maria, Sean Filamor; Trinchera, Honylene Lar; Umil, Mary Diane Casano; and Yepes, Bernard Myles Garado.
The successful examinees from the Leyte Division include Abano, Francis Louisse Modesto; Abrenio, Stephanie Mae Vencio; Abuda, Angel Louise Olarte; Apilado, Louis Jan Fallore; Cabanas, Jonalyn Ligahon; Cala, Miranlee Suca; Cerena, Dhendrev Basada; Fraga, Johan Kenneth Royo; Gavero, Chryssanne Gaye Paner; Llovia, Rio Ruby Dagalea; Mazo, Ivan Andrew Mendoza; Orbon, Louise Gene Fallore; Perez, Divizia Vera Alcover; Relente, John Ejie Cubio; Reveche, Kristoffer Dan Patrick Bincal; Sabejon, Hannah Florete B.; Salvacion, Leandro III Macalalag; Secular, Sequito, Nicole Kate Makabenta; Sosing, Aramelle Villamor; Tonolete, Angel Graciela S.; Topia, Elisha Maye Parala; Urmeneta, Krizner Dacoycoy; Yan, Royce Roger Faustino; and Zeta, Corky Philip Manlalangit.
The passers from Calbayog City Division include Barchita, Danilo Daguman; Callosa, Danella Trina Santiago; Faller, Nicolas Jr. Bracamonte; Mantal, Ma. Rosella Bernadit; Matranas, Regin Val Conise; Ricaplaza, Nicole Kyla Marie Serrano; Sumagang, Haj Cano; Tocayon, Anthony Castillon; and Tubal, Laurence Aliman.
From Ormoc City, the passers are Arones, Frether Jules Espa?ola; Bantasan, Tristan Marco Argallion; Barandino, Angela Mae Senoc; Bismark, Kent Kobe Cañega; Malate, Lea Luzares; Redulla, Ryejan Phillip Anduyan; Sulla, Cris Niño Sulla; and Tse, Lucy Jade Villasotes.
Meanwhile, from Eastern Samar, the successful passers are Aserre, Vince Rupert Oplimo; Añano, Bryan Gallo; Campomanes, Jemima Keren Lupos; Cesista, Franz Louis Tajantajan; and Gavan, Honeylee Tismo.
Southern Leyte passers are Orais, Michael Joshua Cataag; and Geraldo, Vea Praise Escasinas.
Catbalogan passers are Mabansag, Adrian Lorenzo Uy; and Lampasa, Timujin U. while the lone passer from Biliran is Boonrayat, Via Dame Sabile.
P15M goes to Eastern Samar LGU for Good Housekeeping Seal
By ALICE NICART, PIA Eastern Samar
January 8, 2012
BORONGAN CITY, Eastern Samar – Some P15,000,000 fund support has recently been awarded to the provincial government of Eastern Samar for its various programs and projects that is so reflected in their 2012 Annual Investment Program (AIP).
The amount comes from the Local Support Fund of the Department of Interior and Local Government (DILG) in "appreciation of the LGU's sincere adherence to the values of transparency, sound fiscal management and commitment to the national program thrusts".
DILG's announcement came in an official communication dated December 27, 2011, that was addressed to Governor Conrado Nicart, Jr.
Asked for comment, Gov. Nicart expressed elation at the said recognition as he hopes to build more farm-to-market roads and other farming facilities in the province.
A farmer in his own right, food sufficiency through agricultural production is one of Nicart's primordial concerns thus with this recent fund support he is certain to accomplish his primary mission.
As earlier said by Sec. Jesse Robredo the DILG policy on transparency is anchored on Pres. Aquino's campaign to rid the government of graft and corruption.
DBM reiterates call for gov't offices to use procurement service, PhilGEPS
By Philippine Information Agency (PIA 8)
January 8, 2012
TACLOBAN CITY – Department of Budget and Management Region 8 Director Imelda Laceras reiterated the call for all government offices to use the Procurement Service (PS) and the Philippine Government Electronic Procurement System in procurement activities.
This is in compliance to President Benigno S. Aquino's Administrative Order No. 17 series of 2011 directing the use of the Procurement Service (PS) and the Philippine Government Electronic Procurement System (PhilGEPS) in procurement activities in accordance with Republic Act No. 9184, and improving the operation of the procurement service.
AO No. 17 reiterates the policy that the procurement of government supplies, materials and equipment shall be done in the most transparent and competitive manner and that all government agencies shall procure their common-use supplies from the PS and use the PhilGEPS in all government activities, including publishing all their bid opportunities and posting all their awards and contracts in it.
In order to improve service delivery further, the PS shall strengthen its operations and shall undertake the following activities on a regular basis: Review of Product Standards and Specifications; Expansion of Product List; Price Monitoring; Expansion of Distribution System; Improvement of Inventory Management; and Additional Phil-GEPS features, Director Laceras said.
Director Laceras added that the AO shall apply to all National Government Agencies (NGAs), including Military and Police Units, Government-Owned and/or Controlled Corporations (GOCCs), Government Financial Institutions (GFIs), State Universities and Colleges, and Local Government Units.
Before the end of 2011, all agencies were directed to submit their Annual Procurement Plan which will serve as a basis for PS' projection of inventory requirements, scheduling of procurement activities and over-all management of the central procurement of common-use supplies and equipment.
Director Laceras said that the Procurement Service-DBM Depot became operational and open to business effective December 1, 2005.
All government agencies and instrumentalities including local government units were directed to procure all their common-use supplies through the depot and enjoy advantages such as significant cost savings due to bulk purchase direct from suppliers and manufacturers.
The use of the Procurement Service eliminates middlemen and the withholding tax which is usually added to the selling price, simplified and efficient negotiated procurement process, and items are covered by appropriate warranties, Director Laceras said.
Solons eye for independent body to probe media killings
By ALICE NICART, PIA Eastern Samar
January 7, 2012
BORONGAN CITY, Eastern Samar – Given the number of unresolved crimes against practicing media men and women in the country, some law-makers in the House of Representatives believe, it is high time to take a "firm resolve to end this impunity".
According to Congressman Ben P. Evardone of Eastern Samar, he and some of his colleagues are proposing for an independent body to investigate media killings as they condemn the latest killing of another journalist in Mindanao.
"We are proposing that the Aquino government creates an independent crack team of investigators and prosecutors from the private sector that will investigate all cases of killings of journalists", Evardone said.
He added that unless these crimes against journalists are not solved, the country cannot hope to end this carnage.
"Why the country is listed as one of the dangerous places for journalists, is because crimes against media men are not solved and since our law enforcement and prosecution are, so far, unable to solve these crimes, we believe that there is already a need to have an independent private-sector-led investigation and prosecution team", the be-medaled former Eastern Samar governor further said.
Congressman Alvee Benitez of Negros Occidental likewise expressed his assent. "We can't afford to be helpless in this crusade, and should our proposal be heard, we further propose that the independent private-sector-led investigation and prosecution team should be empowered and clothed with a vast authority to go after the perpetrators of theses crimes", Cong. Benitez said.
According to the two congressmen, these unresolved crimes against journalists have a chilling effect on the exercise of press freedom of media people.
DPWH-EV to use P130-M road user's fund for preventive road maintenance, road safety
By Philippine Information Agency (PIA 8)
January 7, 2012
TACLOBAN CITY – The Department of Public Works in Eastern Visayas Regional Director Rolando Asis gave the assurance that the Agency will use the proceeds of the motor vehicle user's charge (MVUC) otherwise known as the road user's tax with prudence and transparency.
Director Asis said that the DPWH Regional Office is expecting about P130-Million from the MCUV fees.
This will be divided among the DPWH Engineering Districts in the Region, Director Asis said saying that each district will receive about P10-Million each.
The vehicle owners pay motor vehicle user's charge (MVUC) as registration fee to the Land Transportation Office will be strictly used to serve its purpose as per Republic Act 8794.
The law imposes an MVUC on owners of all types of motor vehicles, whether for hire or for private use, including government motor vehicles, depending on the classification and/or vehicle model.
MVUC funds are allotted for the maintenance of national and provincial roads to ensure satisfactory service to road users, economic road transport operations and the preservation of road assets.
The MVUC funds are used solely for preventive road maintenance and road safety, Director Asis said. The MVUC funds shall help stimulate economic activities in the countryside, he added.
Road safety devices like directional signs will be installed in critical road sections to ensure safe travel or to locations called black spots along national roads," he said.
The DPWH official said the government recognizes the importance of road safety projects in reducing the negative social and economic effects of road accidents.
PhilHealth underscores case rate packages which may be availed of by members
By Philippine Information Agency (PIA 8)
January 6, 2012
TACLOBAN CITY – Case rate packages for selected medical conditions and surgical procedures are now available in institutional health care facilities accredited by the Philippine Insurance Corporation.
This was underscored by Dr. Noel Arteche of PhilHealth Tacloban during the Suruswerte Ha PIA radio program on Friday.
Dr. Arteche said there has been a shift from fee-for-service to case rates for these medical and surgical cases. This was prompted by developments taking place in the health care industry, most notable of which is the need to provide optimal financial risk protection especially to the most vulnerable groups, including the poorest of the poor.
He added that better member appreciation and faster reimbursement of fees to health care providers were also among the major considerations for introducing this new type.
Through this mechanism, members will be able to predict how much PhilHealth will be paying for each of the services provided.
"Gone are the days when we could not even give a definite amount of benefits for each of these common medical conditions and surgical procedures," Arteche said, "now, the member is empowered with the right amount of information he needs for a particular disease or illness."
Among the medical cases and the corresponding package rates are Dengue I (P8,000.00), Dengue II (P16,000.00), Pneumonia I (P15,000.00), Pneumonia II (P32,000.00), Essential Hypertension (P9,000.00), Cerebral Infarction (CVA I, P28,000.00), Cerebro-vascular Accident with Hemorrhage (CVA II, P38,000.00), Acute Gastroenteritis (P6,000.00), Asthma (P9,000.00), Typhoid Fever (P14,000.00), and Newborn Care Package in Hospitals and Lying-in clinics (P1,750.00).
On the other hand, the surgical procedures include Radiotherapy (P3,000.00 per session), Hemodialysis (P4,000.00 per session), Maternity Care Package (MCP, P8,000.00) coupled with the Normal Spontaneous Delivery (NSD) Package in Level 1 (P8,000.00) and Levels 2-4 hospitals (P6,500.00), Caesarian Section (P19,000.00), Appendectomy (P24,000.00), Cholecystectomy (P31,000.00), Dilatation and Curettage (P11,000.00), Thyroidectomy (P31,000.00), Herniorrhaphy (P21,000.00), Mastectomy (P22,000.00), Hysterectomy (P30,000.00) and Cataract Surgery (P16,000.00).
Since September, 2011, the new case rate packages have been made available for all member-types admitted in any of the accredited institutional health care providers nationwide, Dr. Arteche added.
PhilHealth premium to increase effective July 2012
By Philippine Information Agency (PIA 8)
January 6, 2012
TACLOBAN CITY – Effective July 2012, the Philippine Health Insurance Corporation will implement increases in the annual contribution of members.
The pronouncement was made by Dr. Noel Arteche of PhilHealth Tacloban during the Suruswerte Ha PIA radio program on Friday.
Dr. Arteche said the PhilHealth Board through Resolution No. 1571, series of 2011, approved the increases in the annual premium contribution effective 2012 in order to be able to implement enhancements in the NHIP benefit packages.
The premium contribution of all National Household Targeting System, for Poverty Reduction (NHTS-FR.) identified poor families of the Department of Social Welfare and Development (DSWD) under the Sponsored Program shall be Two Thousand Four Hundred Pesos (P2,400) per year, effective 01 January 2012. The Sponsored Program identification card that will be issued to the intended NHTS-PR beneficiaries shall have a two-year validity period. This is with the expectation for the National Government to sustain its subsidy until CY 2013.
The premium contributions under the Partial Subsidy Scheme shall be increased to Two Thousand Four Hundred Pesos (P2,400) per year effective 01 July 2012.
Dr. Arteche however said that for LGUs/Sponsors who enroll following the calendar year and pays their contribution within the First Semester of CY 2012, the annual premium contribution shall be computed at an annual premium of One Thousand Two Hunched Pesos (P1,200).
Meanwhile, for the Self-employed individuals under the Individually Paying and Overseas Workers Programs shall pay the minimum annual premium contribution of Two Thousand Four Hundred Pesos (P2,400) effective 01 July 2012, provided, that for members who pay their contributions within the First Semester of CY 2012, the annual premium contribution shall be computed at an annual premium contribution of One Thousand Two Hundred Pesos (P1,200).
Dr. Arteche added that for members who sign a policy contract within the First Semester of CY 2012 and commit to pay their contributions for two (2) consecutive years, the annual premium contribution shall be computed at One Thousand Two Hundred Pesos (P1,200).
NPA gains hundreds of new supporters as 8th ID daydreams of "insurgency-free" region
Press Release
By Efren Martires Command, NPA-EV
January 6, 2012
The Efren Martires Command of the New People's Army-Eastern Visayas today called 8th Infantry Division chief Gen. Mario Chan as daydreaming of an "insurgency-free" region while the NPA in fact is gaining hundreds of new supporters despite Oplan Bayanihan's offensive. "Phony press releases do not win a war; it is the people's support that is decisive," said Ka Ka Karlos Manuel, EMC spokesperson.
"In Leyte alone, which the 8th ID proclaimed as "insurgency-free" in December, the NPA organized at least 500 new revolutionary mass activists of peasants, women and youth in three months even as Oplan Bayanihan began its rampage. The NPA was also able to reach more barrios than ever in Leyte. The revolutionary mass organizations of peasants, women and youth constitute the mass base of the people's democratic government. They support the armed struggle and from their ranks the the best sons and daughters of the people are recruited into the NPA.
"The 8th ID may connive with local officials for a semblance of support, but its troops could not sway the people. For example, soldiers even threw a lechon party and held basketball tournaments just to pad attendance to its meetings in some villages in Leyte. Likewise, the Efren Martires Command is confident of defeating Oplan Bayanihan and of gaining strength in Samar, where the revolutionary movement has been deeply rooted among the people far longer than in Leyte. "
Manuel also accused Gen. Chan of twisting facts to make it appear the NPA is causing a reign of terror in Matuguinao town in Western Samar. "The NPA respects and observes human rights and international humanitarian law in giving the highest concern for civilian lives. The NPA has nothing to do with the suspension of classes in five elementary schools in Matuguinao as well as the harassment of local officials.
"On the other hand, the implementation of Oplan Bayanihan shows the continuing climate of impunity for human rights and international humanitarian law under the Aquino regime. For example, the 8th ID troops routinely base in civilian communities and camp out in civilian buildings such as schools, health centers and barangay centers. It should also be noted the 8th ID will be basing a battalion, the 14th IB, in Matuguinao which is a tiny town of some 5,000 residents. Now, who is the one looking to strike fear in the hearts of the people with overwhelming military presence?"
Meanwhile, the EMC spokesperson also ridiculed Lt. Col. Niceforo Diaz, civil-military operations chief of the 8th ID, for assailing the Dec. 20 NPA offensive in Las Navas, Northern Samar. "The NPA is thankful that Col. Diaz opened his mouth and removed all doubt that he is a fool. Let us state the facts: The Aquino government declared a unilateral ceasefire from Dec. 16 to Jan. 2. This was reciprocated by the NPA which declared a unilateral ceasefire from Dec. 24-26 and Dec. 31 to Jan. 2. But the 34th IB troops were still on military operations on Dec. 20, which is why the NPA was able to ambush them, as the NPA ceasefire had yet to begin. The 34th IB troops were therefore violating the Aquino government's own ceasefire declaration, while the NPA offensive was entirely legitimate, not only because there was no NPA ceasefire yet but also as a punishment of the Aquino government troops who could not keep their own word."
9 out of 10 visitors in East Visayas are domestic tourists
By Philippine Information Agency (PIA 8)
January 6, 2012
TACLOBAN CITY – Nine out of ten visitors in Eastern Visayas are domestic tourists, the National Statistical Coordination Board in Region 8 informed.
Ms. Evangeline Paran, head of NSCB-8 said that in 2010, the total visitor arrivals in Eastern Visayas totaled 199,705. Domestic tourists accounted for the bulk with a total of 186,670 or 92%.
The Statistical Office attributed the large number of domestic tourists to the competitive rates offered by various airlines and shipping lines.
The domestic tourist arrivals significantly increased by 14.3% in 2010, Ms. Paran disclosed.
Foreign tourist arrivals recorded totaled 15,860, comprising only 7.9% of the total visitor arrivals, Ms. Paran added.
Meanwhile, a total of 175 Overseas Filipinos visited the region. Tourists coming from America topped the foreign visitors at 5,104, with the majority or 5,082 coming from North America, particularly the U.S.A.
Europeans followed at 2,956, mostly coming from Western Europe at 1,780, with Germans topping the list at 824.
Asians came in third at 2,026, with the majority coming from East Asia at 1,502. Most East Asian visitors were Japanese, followed by Chinese, Koreans and Taiwanese.
Among provinces in the region, Leyte recorded the highest number of visitors at 126,172 or 63.2% of the total number of tourists. Southern Leyte came next with 41,510 tourists or 20.8%.
Meanwhile, Eastern Samar had a total 21,859 tourist arrivals; Samar had 5,199; Northern Samar had 2,917; and Biliran had 2,048 recorded tourist arrivals.
RAFI Micro-finance outstanding client gives business advice to nanays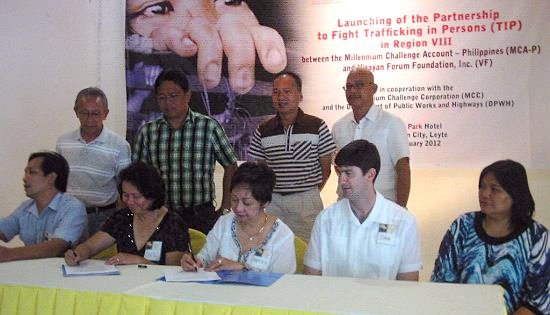 For being the Ramon Aboitiz Foundation Inc. (RAFI) Micro-finance 2011 Most Outstanding Client, Elvira Pantaleon (third from right) receives P25,000 cash prize and a plaque, which were conferred by (L-R) RAFI Micro-finance Executive Director Ma. Theresa Catipay, RAFI Human Resources Officer Jeanette Zulueta, Mercantile Insurance Micro-insurance Department Manager Jose Ma. J. Dadivas, RAFI Chief Operating Officer Dominica Chua, and RAFI Micro-finance Bogo Branch Manager Jacob Tanza.
Press Release
January 6, 2012
CEBU CITY – Have a vision for your business. Be determined to achieve it.
These were the words of advice of Elvira Pantaleon, Ramon Aboitiz Foundation Inc. (RAFI) Micro-finance 2011 Most Outstanding Client, to the 3,289 women clients who attended the RAFI Micro-finance 8th General Assembly held at the University of San Carlos gymnasium last Dec. 3, 2011.
"Don't waste your time. Persevere and work hard for your business because it can provide a bright future for your families. Be patient," she said during her acceptance speech.
She added that micro-entrepreneurs should be hands-on when it comes to managing their businesses and should learn from the challenges they encounter everyday while dealing with their employees and customers. This way, their ventures will be improved and their skills enhanced.
Pantaleon received P25,000 cash prize and a plaque, which were conferred by RAFI Chief Operating Officer Dominica B. Chua, Mercantile Insurance Micro-insurance Department Manager Jose Ma. J. Dadivas, and RAFI Micro-finance Executive Director Ma. Theresa G. Catipay during the General Assembly program.
The RAFI Micro-finance 8th General Assembly, which was attended by clients from various branches in Cebu, Bohol, and Leyte, also gave out awards to the Best Chairwoman, Best Secretary, Best Group, and Best Center Meeting Place.
Special awards were handed out to clients with the highest amount of savings, to one client with the highest referral of new members, to the loyal client with zero defaults, and to the most active Client Advisory Board (CAB).
An award was given to Virgilia Bonghanoy who made it to the semi-finals for the Citi Microentrepreneur of the Year Award for 2011.
Agnes Lacson, chief operating officer of City Savings Bank, was the keynote speaker. She pointed out three ingredients to becoming a successful micro-entrepreneur – vision, determination, and hard work.
The attendees were entertained by the talents displayed by the clients during the Nanays Got Talent contest as well as dance numbers and comical skits of the Buzy Buddies.
The sidelights of the General Assembly included trade fair where various products from the different towns in Cebu were showcased; medical mission conducted in partnership with RAFI's Eduardo J. Aboitiz Cancer Center, which offered consultations and cervical screening 450 women and children; and a Kid's Corner where the children of the clients enjoyed a film showing, courtesy of the Dolores Aboitiz Children's Fund of RAFI.
RAFI Micro-finance is a program under the Micro-finance & Entrepreneurship focus area of RAFI, providing financial resources and know-how to women micro-entrepreneurs to nurture financial independence and entrepreneurship. Its other focus areas are Integrated Development, Culture & Heritage, Leadership & Citizenship, and Education.
For more information on RAFI Micro-finance, please contact 418-7234 loc. 706 and look for Mary Donnavel Libron, or visit www.rafi.org.ph or www.facebook.com/rafi.org.ph.