LMP Leyte prexy being groomed to be the LMP national president
By Philippine Information Agency (PIA 8)
October 4, 2010
TACLOBAN CITY – Palo, Leyte Mayor Remedios Loreto Petilla, the president of the League of Municipalities of the Philippines Leyte chapter, is being groomed to be the national president of the League.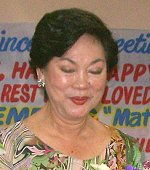 Mayor Matin Petilla
This was confirmed by Mayor Petilla who said that she was prevailed upon by partymates to run as LMP President for 2010-2013.
It is a common knowledge that Mayor Petilla who is a former three termer governor of Leyte and former congresswoman of the first district of Leyte, belongs to the Liberal Party.
This information was received with joy by the Visayas mayors as never before has there been an LMP President coming from the Visayas. With her experience in governance, there is no doubt that Mayor Petilla can lead the League to greater height of achievements.
As far as this writer remembers, in the past, the LMP Presidents have come from Luzon, Mayor Jose Sison of Pangasinan, Mayor Renato Reyes of Marinduque, Mayor Agnes Devanadera of Quezon, Mayor Jinggoy Estrada of Rizal. The current LMP President Mayor Ramon Guico is also from Pangasinan.
It would be recalled that the mayors from Mindanao have expressed their call to President Aquino, to give chance to the mayors from Mindanao and Visayas the chance to lead the leage of mayor in the country.
All the presidents of the LMP provincial chapters are scheduled to gather at the Crown Plaza Galleria on October 7 to 8 for the election of National Officers and orientation of the new set of national directorate.
By then, the LMP would have another milestone in its history – that of having the first ever President from the Visayas Islands.
The League of Municipalities of the Philippines is composed of all the 1,493 municipal mayor in the 82 provinces of the Philippines.
The LMP national executive committee is composed of the president, executive vice-president for internal affairs, executive vice-president for external affairs, executive vice-president for special concerns, island cluster presidents for Luzon, Visayas and Mindanao, national treasurer, national auditor, business manager, PRO, General Legal Counsel, Secretary General and Deputy Secretary General.
PhilHealth Sabado exceeds target in Samar
By NINFA B. QUIRANTE
October 4, 2010
CATBALOGAN, Samar – Philhealth Sabado target in Samar exceeded its target!
This was the conclusion drawn out by Task Force PhilHealth Sabado (TFPS) after its initial target of 500 grew into 895. The crowd that swamped in the Samar Gymnasium in downtown Catbalogan was so huge that the Task Force thought It was unmanageable. PNP Catbalogan provided some five policemen to assist in the crowd control.
As the PhilHealth registrants were seated a brief program ensued with DOH Representative Atty Annabelle De Veyra and the TFPS members told the audience the vision of President Benigno Simeon C. Aquino lll to achieve a universal health insurance coverage.
De Veyra read the Tagalog message of DOH Secretary Ona. "Half of the whole budget of social and health services has been alloted to the 21.6 M members as of June 2010." She mentioned especially the sidewalk vendors, tricycle drivers, farmers and fisherfolks as targets of the program.
"I urge all the local chief executives (LCEs) to sponsor all their indigent constituents for only P100 a month," De Veyra read Ona's prepared message. The speech also thanked the LCEs who are continuously enrolling their people in health insurance, also the private sector who supported the nationwide PhilHealth registration.
As if on cue, Samar Gov Sharee Ann Tan responded positively by saying she was willing to sponsor some 49 thousand families in the whole province.
The Task Force learned later that the number of registrants exceeded the target as some came to register under Governor Tan's program.
At least some ten paying members showed up. One former OFW who now works as 'job order' employee of the province confided to PIA how PhilHealth has helped her in hopitalization in the past. She claimed that a hundred pesos is too little for the 'bigger' benefits a family can have as PhilHealth member.
A family of four from Barangay 13 came, they did not know that only the head of the family was needed. Families came dragging along the elderly along with mothers nursing their babies.
Some misinformed thought it was a new registration for Pantawid Pamilyang Pilipino Program (4Ps).
The Task Force PhilHealth Sabado is composed of PhilHealth, DOH, PHO, DILG, DSWD and its provincial and municipal counterparts, DepEd and PIA. They will soon be rounding off all the towns in Samar province in a continuing registration of PhilHealth before the year ends. (PIA Samar)
Indigent folks get PhilHealth cards
By BONG PEDALINO
October 3, 2010
MAASIN CITY, Southern Leyte – As expected, poor people from near and far trooped to the city gym here on Saturday, October 2, to get their Philhealth identification cards as part of a simultaneous, nationwide activity to truly attain universal coverage on state-backed health benefits.
The activity was a fulfillment of President Benigno Aquino's promise during his first state of the nation address (SONA) for Philhealth coverage of the nation's poorest of the poor within three years.
As early as eight o'clock in the morning, Philhealth personnel began entertaining the horde of people coming in, most of them already bringing with them their filled-up registration forms, while others were just given the same forms at the city gym.
Aside from Philhealth, personnel from other government agencies deeply involved with this project such as the Department of Health (DOH), Department of Interior and Local Government (DILG), the City Social Welfare and Development Office (CSWDO), Department of Education (DepEd), and the City Health Units assisted in guiding the clients fill-up their forms, and in maintaining order in the crowded gym.
The DOH was the lead agency of the day's activity, paying the premiums of the 1,000 new enrollees.
City Mayor Maloney Samaco, by around midday, led the actual distribution of the Philhealth cards, together with former provincial board member Jason Calva representing the provincial government.
Earlier, in his brief talk, Mayor Samaco called on the recipients to take good care of their individual cards and not lost it, so in the event of hospitalization they can avail of the stipulated health benefits.
Misael Paigan, Philhealth Service Office Manager, informed that in Maasin City, there were some 1,800 indigent families still wanting to be covered through Philhealth's sponsorship program.
With the DOH-sponsored Philhealth members, only 800 remained, he added, suggesting that this balance will be covered during the next batch of a similar DOH-led registration.
City DOH representative Letty Tan disclosed that Health Secretary Enrique Ona thought of sponsoring the Philhealth cards following an incident during a routine visit to a barangay, in which he asked how many people already had Philhealth cards, and only a few raised their hands.
But when the health chief asked how many had cellphones, many hands were raised, Tan narrated. (PIA Southern Leyte)
New privates will uphold human, women and children's rights
By NINFA B. QUIRANTE
October 2, 2010
CATBALOGAN, Samar – Some 235 new privates will surely uphold not only human rights but the rights of women and children, so said 8th Infantry Division Commanding General Mario Chan.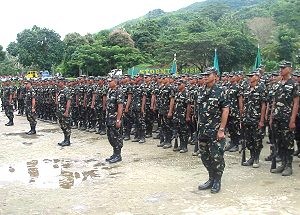 In yesterday's closing exercises of the 235 new army elements at Camp Lukban, Catbalogan, Samar, Chan stressed that they have been instructed to obey orders from their superiors.
And what better orders than asking them to follow the ten rules of engagement, as Chan said.
To uphold human rights, obey legal orders, be polite, don't be arrogant, be presentable, protect women and children rights, pay for what you buy and return what you borrowed, do not destroy crops, do not loot, do not maltreat POWs and their rights.
"As soldiers, you will be the protector of the people," he addressed the new soldiers.
This batch of soldiers that commenced training in May is part of the 8th ID quota of some 1,059 this year, Chan told the assembled crowd composed of friends and families of the new privates.
Geographically, some 36 soldiers come from Northern Samar; 97 from Samar, 51 from Eastern Samar, 37 from Leyte 10 from Mindanao and 4 from Luzon.
"This batch is also highly educated," Chan offered, "39 of them are college graduates, 103 are in college level while only 93 are high school graduates."
Initially, some 250 candidates submitted themselves to the training, but only the 235 hurdled the "physical and rigorous" training given to the "protectors of the state".
A couple from Can-avid witnessed the graduation of their son, Alice the mother said it was a son-in-law who convinced his son to be a soldier, she did not recall hearing any complaint from her son on the difficulties of training. "But as a mother, I was worried about his weight loss," she confided to PIA.
His son defended being light so he could be spright in the numerous walking and running exercises they had to do. "I believe him now, as I see them marched before us," Alice said.
A family of six by a new private traveled from a barangay in Borongan, Eastern Samar. Sister Mila said they wanted to see their baskeeter-brother whose head protruded among the rest of the new privates.
"He really wanted to become a soldier to help our farmer-parents." They saved their hard-earned money to see their "Botoy" graduate from the army training, bringing even their nieces and nephews.
This band of soldiers will be deployed to battalions and companies not of their own choice, because after all they are trained to obey legal orders. (PIA Samar)
PhilHealth 8 reorients Samar Provincial Hospital staff
By Philippine Information Agency (PIA 8)
October 2, 2010
TACLOBAN CITY – The Philippine Health Insurance, Inc. (PhilHealth) in Region 8 is set to conduct a reorientation seminar for the personnel of the Samar Provincial Hospital on how the PhilHealth benefits and the reimbursements work.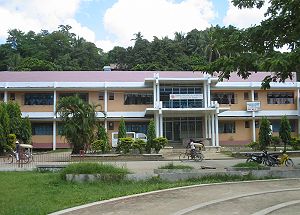 This was disclosed by Mr. Renato Limsiaco, Jr, division chief of PhilHealth 8 during the Harampang Ha PIA held at Gerry's Grill, Tacloban on September 30.
Mr. Limsiaco made the statement in answer to a media report that the PhilHealth members in Samar have been complaining that their PhilHealth cards are not being recognized at the Samar Provincial Hospital.
He said that there was a meeting of Philhealth and the representative of the provincial government and the hospital already met to thresh out the problem. The agreement was that the PhilHealth will reorient the hospital personal about PhilHealth.
Mr. Limsiaco also disclosed that Samar province has the lowest percentage of PhilHealth coverage in the Region. He noted that when Governor Sharee Ann Tan-delos Santos learned about this, she allotted P20.5 Million for the poorest of the poor in Samar. This will make Samar at par with the other provinces of the Region, in terms of PhilHealth coverage, Mr. Limsiaco said.
With regards to the reimbursements or claims of members on the medicines they buy outside the hospital when they are confined, Mr. Limsiaco said that the members must file their claim within 60 days after their release from the hospital.
The checks are sent to the claimant members through the post office. PhilHealth does not require the claimants to come to the PhilHealth Regional Office, Mr. Limsiaco said.
However, there have been instances when the claimants call the PhilHealth Office requesting that the check not be mailed because they will personally get the same at the Regional Office.
The PhilHealth officer gave the assurance that it is doing its best to provide the best service to the PhilHealth members no matter what sector they belong.
Greenpeace calls on Philippine government to abandon Bt Talong
By GREENPEACE
October 2, 2010
QUEZON CITY, Philippines – Greenpeace and other members of the Network Opposed to Genetically Modified Organisms (NO2GMOs) on Wednesday called on the government to immediately stop all field trials of genetically engineered Bt Talong, a.k.a. Bt Eggplant, and follow the example of the Indian government, which declared a moratorium on the commercialisation of the vegetable, citing safety concerns.
Dr. Pushpa Bhargava, one of the world's foremost biologists, and member of the Genetic Engineering Appraisal Committee (GEAC) of India, warned the Philippines' Department of Agriculture about the dangers of conducting open field trials of Bt Eggplant in the absence of adequate and accurate scientific data and testing of its impact on environment and human health. Dr. Bhargava spoke at a forum conducted by Greenpeace and the NO2GMOs network today at the Environmental Studies Institute of Miriam College.
The Bt Eggplant ("Brinjal" in India), purportedly designed to be Fruit-and-Shoot-Borer-Resistant, was created with the insertion of a gene [Cry 1Ac] from the soil bacterium Bacillus thuringiensis (hence the name "Bt"), along with other genes like promoters, markers etc. This gives the eggplant resistance against lepidopteron insects or "borers". It is reported that upon ingestion of the Bt toxin by the insect, its digestive processes are disrupted, ultimately resulting in its death.
"I was taken aback by the poor scientific quality of the report, which neither tells the entire truth nor has taken into account the enormous amount of highly reliable scientific literature on the various risks of GE crops," Dr. Bhargava said in reference to the recent report, submitted to the Indian government by the six science academies of India, which declared it safe for cultivation and human consumption. The report in question is based solely on the dossier and studies made by the local subsidiary of Monsanto in India, the Maharashtra Hybrid Seed Company (Mahyco), which created Bt Eggplant.
According to Dr. Bhargava, no proteomics studies were conducted to make sure that no harmful chemicals were generated during the process of genetic modification. Toxicity studies were also limited to a 90-day observation, when a longer chronic toxicity study is recommended to examine, for example, the possibilities of tumors or cancer development. An intergenerational study is also required to determine the effects of genetic modification on subsequent generations.
As for the eggplant itself, the Monsanto dossier used a different toxin (improper Cry1 toxin) from the one found in Bt Egplant, rendering the toxicity test in the report useless. Bt Eggplant also has a different alkaloid content, and much lower kcal can be obtained from it, compared to natural eggplants, which goes against claims by GE proponents that Bt Eggplant will be beneficial to Filipinos. It also has resistance to streptomycin, a widely used antibiotic. Scientists are worried that this trait may be transferred to other organisms, such as people or viruses, which may render antibiotic medicines useless.
"There are seven sites chosen for the field trials of Bt eggplant this coming October and the town of Sta. Maria in Pangasinan, where eggplant is the number one high value crop, is among them. Most of the government officials, farmers and residents are unaware of the risks that could result from conducting these field trials," said Atty. Lee Aruelo of the Third World Network another member organisation of NO2GMOs. "Contamination of traditional and indigenous varieties of eggplant will have a detrimental effect on the production of non-genetically engineered eggplant in Pangasinan and all the other trials sites."
NO2GMOs is asking the government to at least hold off plans to commercialize Bt Eggplant until plausible independent studies and proper public consultations are carried out.
"GE proponents should stop pulling their money and influence to force field testing in communities that are not informed, much less prepared. We need more conclusive scientific proof that risks are effectively eliminated before we can even consider field testing. It's very risky, the conditions are not as easy to control as in a confined lab. We don't know the rate of contamination and what this unnatural fusion can do to other crops, much less to other organisms and people who consume agricultural products. Where is the consultative process in all this?" asked Daniel M. Ocampo, Sustainable Agriculture Campaigner of Greenpeace Southeast Asia, one of the member organizations of NO2GMOs.
I want Pacquiao now, Mosley insists

By ALEX P. VIDAL / PNS
October 1, 2010
BOSTON, Massachusetts – Win or lose against Antonio Margarito, boxing sensation Manny Pacquiao might still end up facing the fading but veteran American terror Shane Mosley instead of the much-fancied Floyd Mayweather in his first fight in 2011.
This became apparent after Mosley (46-6-1, 39 KO) disclosed his management team will begin negotiating with Top Rank chief executive Bob Arum in October this year for a possible crack at the Filipino's lucrative name in another blockbuster showdown.
Mosley, 39, has been hot after the heels of the best boxer pound-for-pound from General Santos City in the Philippines since 2009 and is unfazed by his lackluster performance against Sergio Mora (22-1-2, 6 KO) at the Staples Center in Los Angeles, California last September 18 where he was criticized for being "over the hill."
The former world welterweight king, who boasts of two victories over Oscar De La Hoya and Fernando Vargas, salvaged a 12-round draw against Mora in what many experts believed was a fight dominated by the former "Challenger" winner.
If Pacquiao (51-3-2, 38 KO) wins against Margarito on November 13 at the Cowboys Stadium in Arlington, Texas, Mosley said he is willing to fight the 31-year-old Pacquiao in the light middleweight division. If Pacquiao loses, Mosley would be comfortable he said to tangle with Pacquiao in the welterweight division.
Mosley knocked out Margarito for WBA super welterweight title on January 24, 2009 at the Staples Center. The scandal-ridden match resulted in the stripping of Margarito's license after it was discovered he loaded his fists with hardened substance.
Margarito (38-6, 27 KO) however sideswiped Mosely for the right to face Pacquiao on November 13 when negotiations to bring on unbeaten Floyd Mayweather Jr. to fight the boxer-cum-lawmaker in a rich title match bogged down for good.
This was after he outpointed Roberto Garcia for WBC international light middleweight title Aguascalientes, Mexico last August 5, 2010.
Mosley came close to toppling Mayweather in their title fight but lost by unanimous decision on January 5, 2010 in Las Vegas, Nevada.
Arum however might ask Mosley to first beat WBC welterweight champion Andre Berto (26-0, 20 KO) in a tune up bout before he will be given the chance to meet Pacquiao.
Calbayog City enforces efficient tax collection, OR raffle promo opens
By GINA DEAN-RAGUDO, Samar News.com
October 1, 2010
CALBAYOG CITY – To monitor issuance of receipts and raise local collection without the burden of imposing additional taxes the city of Calbayog is set to launch "Kwarta sa Resibo" raffle promo on October 1, 2010 at the City Hall Stage with equitable prizes (P5thou, P3thou and P2thou respectively) at stake.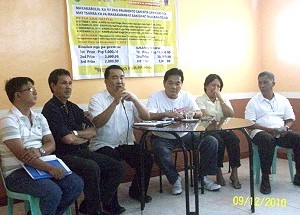 City Treasurer Federico Resente talks and from left is OIC City Assessor Jess Montealto followed by BPLO Chief Eduardo Galang, right to Resente is Mayor Rey Uy, follwed by BIR Collection Officer Manuelita Penaranda and extreme right is CUPS Exec. Dir. Teodoro Fortaleza.
In collaboration with the Business Permit and Licensing Office, City Treasurer's Office and the Tri- District CUPS (Calbayog Urbanization Program and Services), Mayor Reynaldo Uy called the attention of all commercial businessmen to issue original receipts to the buying public and reminded the latter to demand ORs in every purchase made.
City Treasurer Federico Resente said that in every P1 share, 40 cents go to the local treasury since the LGU (Local Government Unit) share comes from the BIR (Bureau of Internal Revenue) collection which is based on gross receipts.
But admission of entries is not limited to original receipts; "paktura" can also be accepted in drop boxes assigned in three designated areas such as the city hall's information booth, Mercury Drugstore (Gomez St.) and public market.
Every OR bears the name of the customer with contact number (if there is) and complete address which should be written at the back page; while "paktura" also bears the same as well as the name of the establishment. This is one way of monitoring BIR registered or non-registered businesses located in the city and even in the barangay.
Business Permit and Licensing Officer Eduardo Galang revealed that there are more than 2,000 commercial businesses registered in their office while the BIR have only 800 plus.
He however clarified that through Executive Order No. 646 signed by former president Gloria Macapagal-Arroyo; it allows the local treasurer or deputy to look into the businessmen book of accounts at the BIR. Since the basis of local government taxation is the gross receipt, an increase in the BIR tax collection carries the local tax collection, if the former cooperates, Galang said.
Through this raffle, the mismatched records of the BPLO and the BIR would be resolved as it would help in tracking down businessmen committing tax evasion.
BIR Collection Officer Manuelita Penaranda said that a receipt should be claimed in every P25 purchase and their office had been penalizing businessmen for non-issuance. Any alibi such as "still on the process or waiting for arrival and the like" is not acceptable, she stressed.
Aside from stores, apartments and boarding houses are also included in the strict implementation of issuing receipts. BPLO Chief Galang disclosed that they would continue to inspect those located in East and West Awang, Balud, Hamorawon, Aguit-itan, Rawis and Payahan. He cited the salient provision of the ordinance in allowing apartments or boarding houses to operate such as no mixed male and female boarder policy, names and address of the boarders should be listed upon application, standard dimension of the structure and others. No permit to applicant-operator will be granted in case of non-compliance of any of the requirement, he emphasized.
Mayor Uy on the other hand suggested that the BPLO should coordinate with the school's registrar in validating the names and addresses of the students. BPLO team can tap Christ the King College, Northwest Samar State University and Science and Technology Institute for record verification.
Real Property Tax Collection under Compromise Agreement
City Treasurer Federico Resente had assured the public that albeit non-availability of data on the exact figures of the first and second quarter collection, he was pleased with the recent tax performance, except for real property taxes. But with the authority given by the Sanggunian by allowing his office to enter into a compromise agreement with real property owners in settling the 3-year tax obligations through installment basis, he was hopeful RPT collections would improve.
To effectively implement the program, he accepted Uy's challenge to spearhead in enforcing collection of stall rentals in the Fishport area against delinquent occupants. Be it noted that said burden had been entrusted by the previous administration to the City Economic Enterprise Office, but the resistance of stallholders to pay their rentals religiously has confronted the local chief executive to impose what is mandated by the local tax ordinance.
"Kwarta sa Resibo" targets 3 Programs
An increase in local tax collection through "Kwarta sa Resibo" could help in implementing three priority projects of the city. Mayor Uy is determined to put up tenements in Brgy. Aguit-itan intended for informal settlers dwelling in the area; creating and setting up Hibatang River Cruise as an eco-tourism project; and building agriculture and road projects.
Involving all local government employees and stakeholders in the program would wind up success and the monthly draws of "Kwarta sa Resibo" is just an initial step in encouraging convergence.
Millennium Challenge Corp team of experts arrives in Tacloban on Oct 2
By Philippine Information Agency (PIA 8)
October 1, 2010
TACLOBAN CITY – The Millennium Challenge Corp. (MCC), an independent US Foreign Aid Agency under the Obama Administration, is scheduled to send a team of experts in Tacloban City on October 2, 2010.
This good news comes just a week after no less than President Benigno S. Aquino III witnessed as the Philippines formally received a five-year, $434-million grant from Washington-based Millennium Challenge Corp. (MCC) that will be used to finance poverty alleviation, road construction and tax administration improvement projects.
DPWH Director Angelito Twaño informed that the two-man team composed of Mr. Ben Campbell, Director for Environmental and Social Assessments, and Jozefina Cultura, Gender Specialist, will be accompanied by no less than DPWH Secretary Rogelio Singzon.
The team will have breakfast at the DPWH Regional Office where a briefing on Eastern Visayas will be conducted, Director Twaño said. From there, the team will inspect the area of implementation for the rehabilitation and concreting of the 222 line segments of Taft-Buray road project.
It would be recalled that the MCC granted $214.44 Million for the rehabilitation of 222 kilometers of road in Samar through the Secondary National Roads Development. After lunch at Borongan, the group will proceed to Guiuan where the team is scheduled to dialogue with government officials.
On Sunday, October 2, DSWD-8 ARD Jaime P. Eclevea who is the Regional Project Manager of KALAHI-CIDSS: KKB, informed that the team will be visiting Paranas, Samar, and Hernani and Balangiga in Eastern Samar.
The MCC, it would be recalled, has allotted some $120 Million for infrastructure and other community-based rural development programs covered by Kapitbisig-Laban sa Kahirapan - Comprehensive and Integrated Delivery of Social Services (KALAHI-CIDSS) scheme.
ARD Eclavea said that the team will dialogue with the LGU leaders and stakeholders like market vendor along Buray in Paranas, Samar, community volunteers, Mayors of KALAHI-CIDSS Local Government Units, among others, who will participate in and benefit from the newly approved MCC and Philippine Compact for the implementation of the KALAHI-CIDSS Project, a poverty alleviation and people empowerment project.