Samar mayor gunned down, died while being revived at the hospital
By NINFA B. QUIRANTE (PIA Samar)
July 17, 2009
CATBALOGAN, Samar – Matunguinao (Samar) town Mayor Carlos A. de La Cruz, 53, was gunned down by unidentified men in his residence at Azusena Street, San Pablo, Catbalogan, Samar last night July 16, 2009 at 7:20.
Based on PNP blotter, de la Cruz was rushed to Samar Provincial Hospital but died while being revived.
Further, police blotter said that the mayor was talking to a cousin named Joel Adel in the living room, when a gunman with two back up companions barged into the room and immediately opened fire with a .45 caliber pistol.
The mayor was hit on his right chest while Adel was hit on his waist. After shooting the duo, the three men lodged a hand grenade in the same room rocking the house. Presently, Adel is confined at the Eastern Visayas Medical Center (EVRMC) in Tacloban City. Police recovered seven empty shells of .45 calber pistol, four slugs and splinter of hand grenade.
It was not immediately clear as to the motive of the suspects, neighbors meanwhile alleged that the killers were very young and did not bother to put on masks, after the crime, the young men walked away casually as stunned neighbors looked on.
Meanwhile, the mayor's wife and children were unhurt as they were in another room when the shooting took place.
Although dela Cruz hails from Matuguinao, he also maintains a house in Samar's capital town. For security reasons, most mayors in the hinterlands of Samar have houses in the capital town of Catbalogan. (with report from PO2 Manicane)
In contrast to earlier report that Samar is one of twenty hotspots…
PNP paints a peaceful Samar
By NINFA B. QUIRANTE (PIA Samar)
July 17, 2009
CATBALOGAN, Samar – In contrast to an earlier report that Samar was tagged as one of the twenty hotspots considered by COMELEC and PNP, Samar Provincial Director PSSupt Pancho Hubilla said that Samar is 'very peaceful'.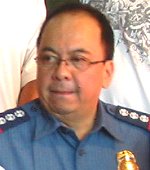 Samar Police director Hubilla
In an interview with local media on Tuesday, Hubilla said he is worried that a stark figure of Samar is being portrayed in the national arena and that this may pose a problem in investments.
He admitted however, that he is alarmed over the shooting incidents in Calbayog City some 87 km north of Samar's capital town of Catbalogan.
This problem has been and is being addressed, the PNP official stressed.
For one, he said that out of the 25 shooting incidents; five has been resolved where cases were filed in court, ten suspects have been identified and nine probable witnesses have volunteered information.
An augmentation of PNP force was also done with the deployment of a platoon size (35 elements) from the mobile group.
A Special Weapons and Tactics (SWAT) training is also being done which will finalize on July 25; the same elements will be deployed to municipal police stations in need. SWAT teams are highly trained in weaponry.
Hubilla stressed that in Calbayog, civic groups and the church react to the spate of killings and somehow this propels the public to volunteer information that could lead to witnesses or suspects.
Meanwhile, COMELEC Provincial Officer Atty. Corazon Montallana also informed PIA that reports coming from the 25 municipalities and one city as regards peace and order have been satisfactory, for now. The lady lawyer said her office requires Municipal Election Officers to report peace and order situations monthly.
Officials hold groundbreaking rites for concreting of interior provincial road
By BONG PEDALINO (PIA Southern Leyte)
July 17, 2009
MAASIN CITY, Southern Leyte – The momentum for cementing cross-country provincial roads in mountain barangays of this city that would eventually connect with the municipality of Bontoc has been underway.
Officials from the city led by Mayor Maloney Samaco, from the province led by Board Member Atty. Teopisto Rojas and Cesar Rey in behalf of Governor Damian Mercado, Cong. Roger Mercado, and the DPWH headed by District Engineer Carlos Veloso participated in the lowering of the time capsule at barangay Acasia here this morning.
The event signaled the construction of the San Rafael, Maasin - Paku, Bontoc road, the initial phase of which would cover the stretches from barangays Acasia, Baugo, and Lunas for Maasin, and Anahao, Mahayahay, Paku, in the side of Bontoc town.
Rev. Fr. Roy Royeras of Maasin Parish blessed the capsule and, by extension, the entire project, before the gadget was formally lowered.
"We are witness to history in the making," said Cong. Roger Mercado, as various officials took turns covering the hole with a ready mound of sand and gravel.
The project has an appropriation of P36 Million for 2.6 kilometers of road concreting, particularly the critical portions, said DPWH District Engr. Carlos Veloso.
Work had started July 6 and would continue for 250 calendar days by EC Rivera Construction, he added.
The entire length in this segement of the interior highway linkking Maasin and Bontoc through the mountains was estimated at about 30 kilometers.
At the neighboring barangay Baugo auditorium where a brief program was held, Cong. Mercado said another P60 Million allocation was in the pipeline to continue the project, adding that he will request President Gloria Macapagal-Arroyo to release the funds as soon as possible.
Other appropriations from his congressional fund were already set for Hantag-Matin-ao, P20 Million, and another P20 Million for the Bagtican-Lonoy-Malitbog provincial roads concreting projects.
"We are privileged to have worked on these projects during our lifetime," Cong. Mercado said as he stressed that the development would spur tourism, agriculture, and environment in the province.
City Mayor Samaco said that the entire stretch of the San Rafael-Paku Bontoc highway, when finished, would cut by thirty minutes travel time for land-based passengers from Panaon and the pacific area of the province to reach Maasin City via this new roadway, no longer the traditional Bato route.
"This project is a big help for the city of Maasin," Mayor Samaco declared.
Cokaliong Shipping Lines to ply Cebu-Calbayog route
By RON RICAFORT and NINFA QUIRANTE
July 17, 2009
CALBAYOG CITY, Samar – A vessel from Cokaliong Shipping Lines based in Cebu City will soon be plying the Cebu-Calbayog route and vice versa three times a week.
This was the news borne by Calbayog City Mayor Mel Sarmiento after attending a ceremonial ribbon-cutting that launched M/V Filipinas Ozamis in Cebu City on July 11, 2009.
M/V Ozamis City is the eighth ship of Cokaliong Shipping Lines, Inc.
According to Cokaliong Shipping CEO Chester Cokaliong, the launching of the new vessel will allow his company to serve Calbayog City via the port of Manguino-o in Tinambacan District.
They will utilize the M/V Filipinas Dinagat vessel which used to serve Iligan City. The ship will soon ply the Calbayog-Cebu route three times weekly.
Mayor Mel Sarmiento was in Cebu upon the invitation of the Cokaliong Shipping Lines.
The entry of a new player in the Calbayog-Cebu route is a welcome news to many Calbayognons. The City Government of Calbayog has invited the Cokaliong group to serve the route way back in 2006.
Sarmiento joined the other guests that included Inquirer Publications President Sandy Prieto-Romualdez, Cokaliong Shipping CEO Chester Cokaliong, MARINA Administrator Ma. Elena Bautista, Mrs. Gregoria Cokaliong, Transportation Usec. Thompson Lantion, Cokaliong Shipping VP for Marketing Lynee Cokaliong and Shell Philippines country manager Edgar Chua.
Number of A(H1N1) positive in Region 8 reaches 103 count, a sign that the surveillance system in Region 8 is working, DOH 8 says
By Philippine Information Agency (PIA 8)
July 16, 2009
TACLOBAN CITY – The number of A(H1N1) positive cases in Eastern Visayas has reached the hundred mark, has affected about 19 schools in the Region and is about to drain the P1Million funding of DOH.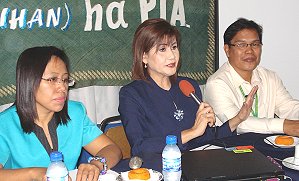 Ms. Sonia Salazar (l-r) of the Commission on Higher Education (CHED), PIA 8 regional director Olive Tiu and DOH regional director Edgardo Gonzaga reported to media that A(H1N1) cases are on the rise in the region and that more schools have suspended classes during the Harampang ha PIA, July 14 in Tacloban City. (Vino R. Cuayzon)
Department of Health Regional Director Edgardo Gonzaga informed the members of the local media during the special Tuesday episode of Harampang Ha PIA, that the number of A(H1N1) cases under observation, as of July 14, is now 256.
Of the 256 cases under observation, about 211 have undergone swab test and have already results while the results for the remaining 47 cases have not been received yet.
About 108 cases tested were negative while 103 have been confirmed to be positive, Director Gonzaga bared. All the 103 positive cases have already been given medications, most of them are now being cared in their own respective homes and only a few are at EVRMC and some other government and private hospitals.
Director Gonzaga added that 19 schools in Region 8 have been affected by the novel virus. Most of the schools are in Tacloban. Others are in Eastern Samar particularly Guiuan and Borongan; in Leyte, Samar and Northern Samar.
Clustering has been observed in several schools and the Department of Education, TESDA, CHED and the Department of Health and the various local government units concerned are now conducting monitoring, surveillance and evaluation.
There is already an outbreak or epidemic, Director Gonzaga said as he explained that there is an outbreak or epidemic if the disease has never been identified before and if there is an unusual increase in the number of cases.
The rising number of cases does not mean that the government is a failure but it only shows how effective the surveillance system in the Region is, Director Gonzaga said. Because the various sectors are aware, they report to DOH about such cases in their respective communities, the good director added.
There is already a community level transmission in Region 8 considering that about 80 percent of those affected are students in the elementary and highschool. However, there has been patients who are college students in medical school and one in a technical school.
"In fact the youngest case was 10 months old child from Mexico, who was brought home by his father right after medication," Director Gonzaga informed. The oldest on the other hand, was in the late 50s, he added.
Task Force 2010 Samar all set for an information caravan
By NINFA B. QUIRANTE (PIA Samar)
July 16, 2009
CATBALOGAN, Samar – Task Force 2010 Samar ll is all set to go town-hopping on July 24, 2009 to campaign for voters registration this coming election 2010.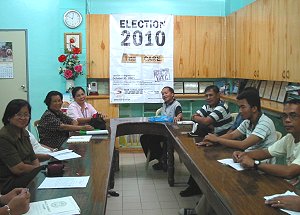 Task Force 2010 held their second meeting on Monday, July 13, 2009 at the St. Mary's College of Catbalogan.
The group has a multi-sectoral representation initiated by the Social Action Center of the Diocese of Calbayog.
The group will start from Basey and will motorcade from there, proceeding to Samar's capital town of Catbalogan and stopping for a few minutes in carline municipalities like Calbiga, Hinabangan, Paranas, Motiong and Jiabong. These are also called municipalities belonging to the second district of Samar.
The motorcade will culminate in a PRESS Conference to be held at the SMCC.
A separate group for Samar's first district from San Jorge to Calbayog was also organized, according to lead convenor Fr. Cesar Aculan, chief of the Calbayog Diocese Social Action Center (SAC).
Task Force 2010 is concerned with the meager turn-out of new registrants. In the latest data obtained from Samar's COMELEC, a number of 2,095 are considered new registrants.
According to a letter coming from the Catholic Bishops' Conference of the Philippines (CBCP), it is concerned that of the 8 million estimated new voters, barely 500,000 has registered all over the country.
Thus, Task Force 2010 was organized, to draft plans to increase the people's awareness on exercising their rights and responsibilities as voters.
Meanwhile, Atty. Corazon Montallana, Provincial COMELEC said that although there is an increase in the number of voters due to new registrants, there is also some kind of deduction because of the continuing cleansing of the voters list. The lady supervisor said that from her experience, the number of voters could increase by only 6% and not necessarily 10%.
Another factor, she added is that new registrants will wait for the deadline on October 30, 2009 wherein they will swarm the COMELEC offices.
So that Montallana joins TF 2010 in urging the new voters, whether really new or transferees to register today.
She assured the presence of her COMELEC officers in their official stations on weekdays and even on Saturdays.
Both TF 2010 and COMELEC Samar have prepared leaflets in the Waray dialect urging qualified voters to register.
Further, Montallana urged the public that if they want change, they must vote, and they should register and vote for someone they believe will really effect change.
Eastern Samar's multi-hazard map established
By ALICE NICART (PIA Eastern Samar)
July 16, 2009
BORONGAN, Eastern Samar – People in the barangays will now have a better position and direction in the event of storm surge, flooding, landslide or earthquake, with the establishment of a multi-hazard map for Eastern Samar province.
This was the assurance said by Ms. Mylene Villegas of the Philippine Institute of Volcanology and Seismology (PHIVOLCS) in a press conference tendered at the Villa Vicenta Hotel, Borongan City.
Villegas was a member of the project Ready Team which recently conducted a multi-hazard mapping in the various remote and coastal barangays of the province.
It was revealed in the team's study that barangays have diverse potential risk, thus, the team followed shortly an awareness and information campaign for the barangay leaders.
Barangay Chairman Ernesto Anacio of Canjaway, Borongan confirmed that his barangay is vulnerable to Tsunami and landslides. But with the recent information he got from the Ready Team's information campaign, he is confident he can guide his folks on better things during calamity in order to save lives and properties of his neighbors.
Governor Ben Evardone who visited the forum thanked the team which was headed by Dr. Cynthia Calebre of the Philippine Atmospheric, Geophysical and Astronomical Services Administration (PAG-ASA).
He specially thanked the team for coming up with the multi-hazard map which can be an effective tool for disaster preparedness and even land use mapping.
But Evardone was specially concerned on the already unpredictable weather, because according to him this is the most affective problem in the province.
"Many of our folks are fishermen, but it is sad to note that oftentimes they are not informed about the onset of a typhoon until they go offshore," Evardone raised his concern. He appealed to the team for a more up-to-date weather updates in order to prevent disasters on the part of the fishermen.
As he addressed the barangay officials, he likewise urged them help in the zero management of household wastes and heed to the change of climate as the main reason of sudden occurrences of typhoons.
"Our weather is very much unpredictable nowadays," Evardone added. "Unlike before when old folks could readily predict that it is going to rain heavily on full moons, today it downpours almost all year round. In fact, it rains during summers and rivers would dry up on wet seasons.
Leyte welcomes bilateral agricultural technology exchange with Taiwan's Kaohsiung County
By Provincial Media Relations Center
July 15, 2009
TACLOBAN CITY – Leyte Governor Carlos Jericho Petilla said he is open to bilateral exchanges in the field of agricultural technology with Taiwan's Kaohsiung County after the recent visit of Kaohsiung County Governor Chiu-Hsing Yang to Leyte.
The governor said both the Kaohsiung Country and Leyte province can benefit from exchanging issues and practices concerning increased agricultural produce, sustainable agriculture and even tourism agriculture.
Gov. Petilla, together with Mandarin and Fookien interpreters were in a dinner together recently at the Governor's Hall of the Leyte Provincial Capitol.
"We are very much open to the coming in of new-found and even long practiced technologies in other countries that we see can help our local farmers to increase their produce," Gov. Petilla said.
Initially, it was learned, a techno-demo farm would be established in Leyte that would feature the agricultural technology to be introduced by the Taiwanese county.
It was learned earlier through Kaohsiung County Gov. Chiu-Hsing Yang that Taiwan has its own research and development agency where new technologies are being developed to help the farmers improve their production.
"These are new technologies that our own local farmers and growers can use and improve from," Gov. Petilla said.
In exchange, the governor said, the province can provide their Taiwanese counterparts its best practices and success stories in high value crop farming and marketing the farmers' produce.
This as it was learned that although locally cultivated fruit and farm products are of high quality, local farms in Kaohsiung often run into a bottleneck in promoting exports of their products.
Fruits such as lychees, diamond pineapple, black diamond wax-apples, red-meat papayas, milk guavas, tropical peaches, red-meat prunes and large mangoes – a sample of which were brought by the Taiwanese governor during his visit – are among the cultivated fruit Kaohsiung County is producing in mass.
Governor Chiu-Hsing Yang said that partnership is being forged considering the proximity of Kaoshiung to the Philippines and same climate condition.
Meanwhile, in addition to producing a wide variety of fresh fruit, Taiwan is well-known for its excellent fish farming technology,
Kaohsiung is a major agricultural county, with 240,000 residents involved in agriculture and 52,000 hectares of arable land.
NGO sought solon's approval harvest of timber, more private groups plant trees
By ERNA SY GORNE (PIA Southern Leyte)
July 15, 2009
MAASIN CITY, Southern Leyte – For having been acclaimed by the United Nations Environment Program (UNEP) for his arduous tree planting programme in the province, NGOs here also sought Congressman Roger G. Mercado's approval in cutting their timber despite their permission from the Department of Environment and Natural Resources (DENR).
The Young Innovators For Social and Environmental Development Association (YISEDA), a community based Forest Management Project in Sitio Canlugoc in Barangay Lanao, Maasin City asked for the solon's approval for the harvest of their trees which were planted since 2000.
"For almost ten years now since the 44 families in the community have planted trees, it is just high time for the mature timber to be harvested. " Congressman Mercado said in an interview conducted.
He further said that upon learning about the harvest, he made an ocular inspection at the five hectares of timberland when he was asked of his approval.
The solon was also surprised to learn that the Association have also established their own nursery as one of their livelihood activities. That the nursery was also prepared to replace their harvest with their own seedlings grown in the locality.
It was also learned that both the municipality and barangay will receive their share from the proceeds of their harvest.
Cong. Mercado was glad that there are also nurseries being established by the private sector, namely the Bogo Women's group, YiSEDA and a private-owned one in Anahawan, this province.
He also mentioned that there are also the presence of non-government organizations who are concerned of the environment protection of the province like the GTZed, PLAN International, Limasawa Development Foundation (LIDEF), the Rural Development Institute and Coral Cay, an international organization who cares for marine environment, among others.
Number of A(H1N1) positive cases in Region 8 rises to 93 but situation under control, DOH says
By Philippine Information Agency (PIA 8)
July 14, 2009
TACLOBAN CITY – The number of A(H1N1) positive cases in Eastern Visayas continues to rise and has reached the 93 count but the Department of Health Region 8 Director Eduardo Gonzaga said that the situation remains to be under control.
The official records of the Department of Health Region 8 showed that the total number of cases under observation is 232. The total number of cases with results is 199. Of these cases, declared as positive are 93 in number, while those declared as negative are 106 cases. The results of about 33 cases are still being awaited by the Department of Health.
Most of the cases under observation are students in elementary and secondary level who are enrolled in private and government schools in the Region.
Several schools in Tacloban and in Eastern Samar have been suspended for 10 days because of some students and teachers who showed symptoms of the novel disease.
Classes in one school have been suspended because 75 percent of the pupils have been absent. Another school will start suspending classes on Monday because about 8 teachers and several students are sick and the school administration does not want to risk the health of the rest of the students.
Although the Department of Health has issued guidelines in the suspension of classes, in the end, it will all depend on the discretion of the school administrators, Director Gonzaga said.
The A(H1N1) virus will affect anyone anywhere, even children of rich or poor parents. Even the daughter of a local government executive has been tested positive and the LGE is also showing symptoms and has been given chemotherapy, Dir. Gonzaga confirmed.
What is important is for the patients to come out in the open and subject themselves to treatment which are being offered for free by the government.
Of course, the people must also heed the proper hygiene and coughing and sneezing etiquettes which are being promoted by the Department of Health.
The A(H1N1) cases in the Region are the mild ones and so the patients easily recover with the assistance of the health workers.
Director Gonzaga added that the local government units to facilitate the reactivation of the barangay health emergency team in order to mitigate the impact of the A(H1N1) in the Region.