Road rehab in Samar's capital city to usher in agricultural productivity
By NINFA B. QUIRANTE (PIA Samar)
September 11, 2008
CATBALOGAN CITY, Samar – The road rehabilitation project from San Vicente to Barangay Cagutian is expected to boost agricultural productivity!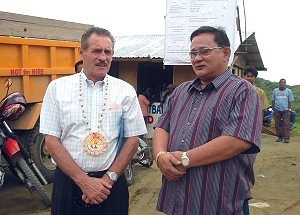 Catbalogan city mayor Tekwa Uy (right) with InFRES team leader and project management specialist Michael J. Allman at the road rehabilitation site.
This was bared by Infrastructure for Rural Productivity Enhancement Sector (InFRES) team leader and project management specialist Michael J. Allman, a Brisitsh national who came to attend the groundbreaking ceremony of the 12-kilometer road on Tuesday.
Allman added that the road opening would increase productivity and eventually decrease the incidence of poverty. Samar, is one of the poorest provinces in the country.
Punong Barangay Zosimo Dacles of Barngay Albalate, one of the benefited barangays committed to inspire his rural wards to plant more banana, gabi, cassava, pineapple and even rice now that transportation of their farm outputs would be easy.
Other barangay captains from Barangays Panlayogon and Cagutian also vowed to ensure their constituents to vigorously push for agricultural productivity as road construction is coming to their remote barangays.
The road rehabilitation and construction project will signal that four-wheel drive transportation will be operating in the 12-kilometer route from San Vicente (Maharlika Higway, Catbalogan City) to the interior barangay of Cagutian.
On Tuesday, Catbalogan City officials, Barangay Captains of the four remote barangays, officials and InFRES team leader Michael Allman, a British national, traveled some 20 kilometers from the city of Catbalogan up north to Barangay San Vicente, got together to celebrate with a mass and hold the groundbreaking ceremony.
The project costs some P30M which is the road rehabilitation of San Vicente to Cagutian passing two other barangays.
The project fund amounts to some P34 M and 30% of which will be shouldered by Catbalogan City LGU, beneficiary barangays 7.7%, national government 12.3% and Asian Development Bank 50.0%.
Catbalogan City Mayor Coefredo 'Tekwa' Uy said in his speech that the project will open the road to progress, provide various livelihood opportunities and ensure delivery of basic services, because, he added, "Tekwa cares!" The slogan sort is Uy's favorite expression attached to his billboards in his various infrastructure projects all around the city.
Meanwhile, Vice Mayor Van Torrevillas said that the road is life to the underprivileged. He added that it signifies hope and strength to rural barangay residents and that it is only a part of the larger role of community development leaders like him and Mayor Uy.
The project was proposed in 2004 and would be implemented for the next 365 days.
PGMA appoints PA for EV Vic Domingo as Presidential Adviser for New Govt Centers
By Philippine Information Agency (PIA 8)
September 11, 2008
TACLOBAN CITY, Leyte – President Gloria Macapagal-Arroyo appointed on Tuesday, Secretary Victor A. Domingo as the Presidential Adviser for New Government Centers.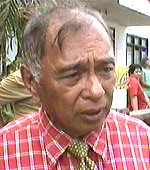 PA Vic Domingo
This was announced by Executive Secretary Eduardo Ermita in his weekly press briefing. Secretary Ermita said Domingo replaced Secretary Silvestre Bello who was earlier appointed by President as Cabinet Secretary.
As head of the Office of the Presidential Adviser for New Government Centers, Secretary Domingo's primary responsibility is to advise the President on matters pertaining to policies, programs and projects geared towards the promotion of regional development through the transfer of selected government agencies to specific regions or areas where they are needed the most.
Another responsibility is to conduct consultations with concerned local government officials, the business sector, the academe, concerned civil society groups and other interest groups, in order to gain insights, reactions, acceptability, viability and sponsorship of the identified sites for the establishment of NGCs.
Secretary Domingo will also evaluate and rank the identified sites as possible venues for the establishment of NGCs according to accessibility; proximity to the most number of target clients; peace and order situation; presence of adequate facilities; support of the local government units; capital requirements; and acceptability by the employees of the concerned department/agency and by the local residents.
The Office of the Presidential Adviser for New Government Centers (OPANGC) was created under Executive Order No. 352 signed by President Gloria Macapagal-Arroyo in 2004.
It would be recalled that one of the declared priorities of the Government is the promotion of regional development and the decentralization of government departments and agencies through the transfer and establishment of new government centers (NGCs) outside Metro Manila.
Its other main powers and functions cover the identification of ideal sites for proposed national government centers (NGCs) outside Metro Manila with emphasis on unutilized government-owned buildings and facilities that will house the departments and other national government agencies whose central offices have been previously decided to be transferred or relocated outside Metro Manila.
Maasin City dad pushes for second EVRAA postponement early next year
By ERNA SY GORNE (PIA Southern Leyte)
September 11, 2008
MAASIN CITY, Southern Leyte – Maasin City Mayor Maloney Samaco persuasively pushed for the postponement of the second Eastern Visayas Regional Athletic Association (EVRAA) regional athletic competition which was earlier scheduled this coming December instead to January next year.
This he raised during the meeting held at Catarman, Northern Samar together with Department of Education Regional Director Sol Matugas, Provincial Governor Jericho Petilla, among other local chief executives and different division superintendents last week, he said in his regular radio program over DyDM last Tuesday.
He further stressed that the local government units particularly the Maasin City could not afford to fund for another regional athletic competition within the same year since they have already disposed funds from the city coffers for participating the same event early this year. The city government of Maasin joined in the EVRAA competition held last April 2008 at Catarman, Northern Samar.
More so, the December-schedule falls at the end of the fiscal period and the funds are almost consumed. However, should the second EVRAA be pushed thru as scheduled, then Maasin City could not provide any financial assistance to the city delegation participating the athletic event.
That the city government will have to prepare especially for any savings generated by the LGUs which shall be intended for the benefits of the employees to be distributed every end of the year, he added.
He also reported that his bid for postponement also gained the support from Leyte Provincial Governor "Icot" Petilla. It was learned that the second conduct of EVRAA within this year was considered as part in the preparations for the forthcoming Palarong Pambansa to be hosted by the province of Leyte next year.
Gov. Icot is new EVRAA chair
By Provincial Media Relations Center (PMRC Leyte)
September 9, 2008
TACLOBAN CITY, Leyte – With Leyte province hosting the Palarong Pambansa in the summer of 2009, the chairmanship Eastern Visayas Athletics Association (EVRAA) has recently been turned over to Leyte Governor Carlos Jericho Petilla.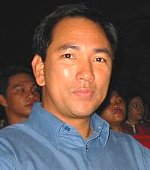 Gov. Icot Petilla
The turn-over was made in a simple ceremony in Catarman, Northern Samar that saw to the change of leadership from Northern Samar Governor Raul Daza to Leyte Governor Petilla.
The turn-over held also made way for an initial gathering by the various provincial and city chief executives including officials from the regional and city divisions of the Department of Education (DepEd) during who signified their intention to improve EVRAA's overall standing in the national sporting event.
It was learned both EVRAA's elementary and secondary divisions delegations were among those in the tail end in last year's Palaro in Puerto Princesa city in Palawan.
Gov. Petilla said the Palaro that would be held in Leyte in 2009 would not be a show for Leyte's athletes only but a fusion of the region's best athletes.
"It would not only be Leyte. It would be the whole region presenting their best representatives to this big sporting event. And I am glad that all our governors and other officials are going hand in hand in making sure that we make a better standing for our athletes in next year's Palaro," Gov. Petilla said.
EVRAA officials are proposing better coaches, training venues and a sports program that would target athletes in schools.
Also, the provincial and regional meets have been decided to be staged earlier than previously practiced.
This to make way for a longer training period for the winning athletes who would eventually be pitted in the national Palaro.
Meanwhile, it was learned that billeting areas have been identified for the more than Palaro delegates estimated to be more than 6,000 that would include athletes, coaches, chaperones and regional DepEd officials.
Playing areas and back-up playing areas have also been identified to house the different games such as athletics, badminton, baseball, basketball, chess, football, gymnastics, Sepak Takraw, softball, swimming, table tennis, taekwondo, volleyball, archery, boxing, and arnis.
UN body lauds Southern Leyte solon's tree planting initiatives
By Philippine Information Agency (PIA 8)
September 9, 2008
TACLOBAN CITY, Leyte – The United Nations Environment Programme (UNEP) extolled the tree planting initiative of Southern Leyte Congressman Roger Mercado, annually during his birthday.
The UNEP is also inviting Congressman Mercado to join the Plant for the Planet: Billion Tree Campaign, a unique worldwide tree planting initiative spearheaded by the United Nations Environment Programme which was unveiled in November of 2006 as one of the responses to the threat of global warming, as well as to the wider sustainability challenges from water supplies due to biodiversity loss.
The article "Solon marks 57th birthday with synchronized province-wide tree planting" written by PIA 8 staff Bong Pedalino and published on the September 2 online edition of PIA Daily News Reader, caught the attention of Ms. Leah Wanambwa, a consultant at the Division of Communications and Public Information of the United Nations Environment Programme.
On September 3, 2008, Ms. Manambwa e-mailed the Philippine Information Agency Region 8 with the request that the message be conveyed to Congressman Mercado.
The Plant for the Planet: Billion Tree Campaign, Ms. Manambwa said, which is placed under the patronage of Nobel Peace Prize laureate Professor Wangari Maathai and His Serene Highness Prince Albert II of Monaco, is aimed at empowering individuals, communities, business and industry, non-governmental organizations, civil society organizations and governments to take simple, positive steps to protect the climate.
Under the Billion Tree Campaign, participants enter tree planting pledges on-line at www.unep.org/billiontreecampaign/ and once the trees have been planted, they are required to revisit the website and register the number of planted trees.
A winner of the UN 21 award, the Billion Tree Campaign has become a practical expression of private and public concern over global warming, Ms. Manambwa added.
To date, the campaign's website registers 2.2 billion planted trees and 3.8 tree planting pledges from across the world. Participants come from all spheres of society, from the grassroots level to the highest positions in decision-making.
Due to its record success, and by popular demand, Ms. Manambwa disclosed that UNEP decided, in May 2008 to raise the objective to 7 billion trees, one tree per person on the planet, by the crucial climate change meeting in Copenhagen, Denmark in late 2009.
Furthermore, Ms. Manambwa said that the Intergovernmental Panel on Climate Change estimates that within the next forty years billions of people would be affected by climate change. Glacier melt will be followed by decreased river flows and freshwater availability is projected to decrease. In the face of such alarming data, the Billion Tree Campaign offers hope and a simple solution to climate change mitigation.
Seair landing in Eastern Samar is historic
We will continue to make history, Evardone says
By BRYAN M. AZURA
September 4, 2008
BORONGAN, Eastern Samar – Eastern Samar, a history-rich province, has once again witnessed another history unfolded before its eyes, the first landing of a commercial plane on a decade old airport in this city.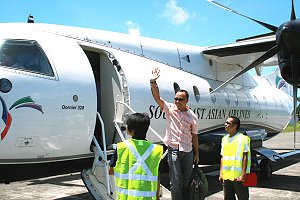 GOV. BEN P. EVARDONE disembarks the Seair Dornier plane during its historic inaugural commercial flight to Eastern Samar at Punta Maria Airport, Borongan City on Sept. 1, 2008.
South East Asian Airlines (Seair), which made the historic touchdown at Punta Maria Airport at around 12:45 on September 1, brought with it Gov. Ben P. Evardone and some top officials of Seair, province, city and some municipal mayors.
"We made history and we will continue to make history," Gov. Evardone addressed the welcoming crowd during a short ceremony held at the airport shortly after their arrival. The first arrival of Seair was welcomed by provincial officials, city officials, municipal officials and barangay official from various towns of the province.
Also in the first flight are Seair President Avelino Zapanta, Seair Vice President Patrick Tan, Borongan City Mayor Fidel Anacta Jr., Mayor's League President Javier Zacate, Judge Reynaldo Alconaba, Lawaan Mayor Nida Gabornes, Salcedo Mayor Melcho Gagante, BCTA Director Joel Mendoza, some members of the media and ordinary passengers.
The governor however stressed that the success of a continuous flight to the province will lie on the support of the travelling public. "Let us patronize the regular flights to our province," Evardone said to the public.
Initially, Seair will fly the Manila-Borongan-Manila route on Mondays and Fridays.
Seair President Zapanta said in his message that he is happy and that "he is confident the airline will sustain its Borongan regular flights. " I am asking the support of all sectors in the province fly with us to sustain our operations here," Zapanta said.
Mayor Anacta, on the other hand, thanked the management of the airline for considering his city as one of their primary destinations in the Philippines. "We have dreamed for this for a long time, and today our dreams have turned to reality," Anacta said in dialect.
Meanwhile, Gov. Evardone is optimistic that the plane's plying to Eastern Samar will bring about wider opportunities to the province. Evardone pointed out that the once insurgency-laden, poverty-ridden and calamity-stricken province will push forward to progress.
Among developments expected in the province is tourism industry. Bataan Cultural Travel Agency (BCTA) Director Joel Mendoza said that he expects to tourists both foreign and local, to flock to the province now the Seair has regular flights to Eastern Samar. "I personally am delighted to see this beautiful province with so many beautiful things to offer to tourists," he said in a conversation. BCTA is in charge of the commercial activities of Seair to Eastern Samar.
Earlier, Seair made a proving flight to the province. Some officials of the Air Traffic Office made an inspection of the airport in Borongan and experience for themselves the air travel from Manila to Borongan. The test of proving flight last August 25 is a pre-requisite of ATO before an airline brings actual passengers to its newest destination.
The airport in Borongan was first conceptualized 4 decades ago but the runway was built in the later part of 1980s. Byron Bugtas, station manager of radio station DYES, recalled that he was one of those who worked on the survey of the airport during the later part of 1970s.
Evardone said with the collaborative effort of all stakeholders in the province, the province will soar high to its aspirations especially now that there is already a plane coming. "Together we can make it, together we can," he stated.
Progressive leaders seek protection of court
Press Release
By KATUNGOD-SB-KARAPATAN
September 4, 2008
TACLOBAN CITY, Leyte – Bagong Alyansang Makabayan-Eastern Visayas (BAYAN-EV) Spokesperson Flor "Pong" Acbo and GABRIELA-Eastern Visayas Secretary General Geraldine Cordero filed a petition for Writ of Amparo and Writ of Habeas Data at the Regional Trial Court in Tacloban City Tuesday.
According to Katungod-Sinirangan Bisayas Secretary General and Counsel for the petitioners, Atty. Kathrina R. Castillo, they filed the said petition to seek for the protection of the court for Acbo and Cordero.
It can be recalled that there was an attempt to assassinate Acbo last January 2007 and he was illegally arrested and detained by military elements from the 62nd Infantry Battalion led by Lt. Col. Jonathan Ponce at their camp at Calbiga, Samar last October 2007. On the other hand, Cordero was among the Order of Battle (OB) list that was shown to Acbo while detained.
"The filing of the Writs is a way of taking concrete steps to assert and defend the rights of Mano Pong and Geraldine. This is just the beginning. We will be filing more cases against those responsible for human rights violations," said Castillo.
These extraordinary Writs of Amparo and Habeas Data were formulated to defend human rights and to protect those whose right to life, liberty, and security were violated, as in the case of extra-judicial killings and enforced disappearance.
96% of SOLECO consumers avail of "Pantawid Kuryente"
By BONG PEDALINO (PIA Southern Leyte)
September 4, 2008
MAASIN CITY, Southern Leyte – As of the last count, around 39,833 electricity users of Southern Leyte Electric Cooperative (SOLECO) have availed themselves of the "Katas ng VAT, Pantawid Kuryente" subsidy granted by the national government as a way of giving the people relief, to cope-up with high fuel and food prices.
The figure represents 96% of power users eligible to be granted the one-time electric subsidy, said Yul Gerong, SOLECO Manager.
Overall, the target consumers for the special program was 41,456, and Manager Gerong said he expected this to be fully covered within this month, September.
"Pantawid Kuryente" has been an initiative of the Arroyo administration to help people at the height of the fuel and food crisis make do with their purchasing power by giving P500 subsidy to households consuming from 1 up to 100 kilowatt-hour of electricity, or the so-called lifeline users.
The month of reckoning to serve as a basis for the granting of the power subsidy was May, 2008, and this was limited only to residential consumers, not business establishments.
Gerong told PIA that the power coop have already dispensed the amount of P8,487,258.43.
The granting of power subsidy for qualified SOLECO consumers began in July in this city for phase 1 of its implementation, and in August for the phase two for those living in the Panaon and Pacific areas of the province.
SOLECO had received an initial amount of P16 Million from the National Electrification Administration (NEA) representing 80% for this one-time subsidy granting, while another P4 Million is coming for a 100% disbursement under the program, Gerong said.
The windfall money used in this undertaking was taken from the accumulated revenues from the Value-Added Tax (VAT) which was plowed back to the people, it was learned.
BatCom bares downgrading of guerilla base to guerilla zones in Samar
By NINFA B. QUIRANTE (PIA Samar)
September 3, 2008
CATBALOGAN CITY, Samar – The battalion commander of the 34th Infantry Battalion (IB) of the Philippine Army LtCol. Larry Mojica said that there is no let up in their operations in the hinterlands of Samar in the pursuit of enemies of the state.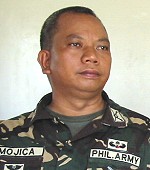 34 IB chief LtCol. Larry Mojica
In a taping episode of "Issues Today" produced by SamarNews.com and anchored by Emy Bonifacio, Mojica said that government troops has downgraded the guerilla base to guerilla zones.
When asked just what he meant, the army officer said that the army has regained support from the then rebel supporters.
"They (rebels) do not enjoy the support of the rural barangay folks, anymore, especially in Villareal and Hinabangan" said Mojica.
He attributed his accomplishments to the massive organization of KAIBIGAN chapters innovated by 801st commander Col. Francis Lanuza.
He said the civilian populace provide them information as to the movement of the 'enemies'.
He also added that the Civilian Military Office (CMO) Unit also embarks on medical dental missions and the like that brings basic services of the government closer to the people in the hinterlands.
Also, the military has been very visible in assisting the rural folks in times of calamities and disaster. He alluded to the flooding and the advent of typhoon Frank when the men of 34th IB started clearing the Maharlika Highway of uprooted trees. Because of this, traffic flowed smoothly just a day after Frank devastated Samar island.
He also mentioned that the army is implementing "Reward and Punishment" and that the earlier activity where CenCom chief LtGen. Pedro Inserto awarded some gallant men for their bravery and heroism during encounter with the enemies of the state, prove just that.
As for punishment, he enjoined all aggrieved parties to come out in the open and charge any of his men found to be violating human rights and investigations will roll immediately and the culprit meted punishment.
His men were earlier reminded by Inserto to uphold human rights, conduct themselves properly by not drinking too much and to serve the army in their best effort and capacity.
Mojica also echoed his higher supervisor by constantly reminding his men that the army is for people's security and peace of mind and not to be causes of the people's distress and woes.
Finally, he stressed that his men will continue their combat operations and officials to perform significant acts that will inspire the troops that the job is being recognized.
And yes, like all other men in uniform, they claim they are not far behind in delivering the order of PGMA, to vanquish insurgency by 2010.
InFRES-FMR project to stretch 12.4 km road in remote barangays of Samar's capital City
By NINFA B. QUIRANTE (PIA Samar)
September 2, 2008
CATBALOGAN CITY, Samar – A Farm-to-Market Road (FMR) under the Infrastructure for Rural Productivity Enhancement Sector (InFRES) will stretch some 12.4 kilometers to remote barangays of Catbalogan City.
In an interview with Mr. Leo Almeria from the City Hall office, he said that the groundbreaking ceremony is set on September 8, 2008 in Barangay San Vicente, Catbalogan City.
The project fund amounts to some P34 million and 30% of which will be shouldered by Catbalogan City LGU, beneficiary barangays 7.7%, national government 12.3% and Asian development Bank 50.0%.
The project is said to run for 365 calendar days.
Mayor Coefredo 'Tekwa' Uy expects visitors form the Department of Agriculture Field Office number 08 (DA-RFU 8) on the special date.
Presently, there is no road that connects the remote barangays of Panlayugon, Albalate and Cagutian. The road project is hoped to facilitate transport of agricultural products from farm to the markets.
Indirectly, Barangays Bangon and Cagodalo will also benefit from the project with the opening of the new access road.
Through this project of improving rural infrastructures, attendant objectives such as increased agricultural productivity and decreased poverty incidence would be achieved, the city official added.
Meanwhile, the city engineering department is busy rehabilitating the major thoroughfares in the city and construction was not prevented by the hodge-podge of activities that stirred Catbalogan City during the fiesta days in August 23 and 24, 2008.