10 Samar towns figured in the top twenty nutritionally depressed municipalities in Region 08
By NINFA B. QUIRANTE (PIA Samar)
August 23, 2008
CATBALOGAN CITY, Samar – Ten Samar towns figured prominently in the top twenty nutritionally depressed municipalities in Region 08.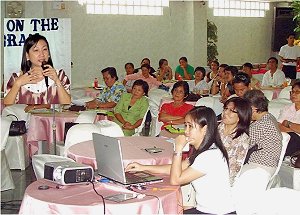 In the Advocacy and Consultation Meeting on the Accelerated Hunger Mitigation Program (AHMP) the data was revealed as shown by Operation Timbang data.
In the order of their appearance in the top twenty table, the list placed Jiabong, Samar in number two; San Jose de Buan in number 5; Motiong in number 7; and Tarangnan in number 9.
Gandara followed as number 13; Basey in number 15; and San Jorge and Tagapul-an in number 19 and 20 respectively.
Ironically, only Mayors Wilfredo Estorninos of Basey and Nancy Grey of San Jorge were present during the meeting of the mayors whose LGUs were listed in the top twenty.
A municipality is nutritionally depressed when it has the highest number of malnourished children as compared to others.
Other mayors who came were San Sebastian Mayor Arnold Abalos, Mayor Cornelio Bersales of Talalora, Mayor Lisandro Kim Adolfo of Sta. Rita and Mayor Edwin Figueroa of Zumarraga.
Talalora Mayor Bersales was all smiles as he saw that his town of Talalora has only some 15% of children who are underweight. Talalora is followed by Calbiga with only some 17.4 %.
LCEs were also told that the Municipal Nutrition Committees (MNCs) are non-functional with the exception of Catbalogan, Hinabangan, Motiong, Sta Margarita and Calbayog City. Mayor Abalos of San Sebastian though refuted the record saying they even had a grandiose Nutrition Month celebration in July 2008.
National Nutrition Council (NNC) Regional Director Carina Santiago was saddened that only a handful of LCEs came, she however praised those who cared to come to discover how their constituents stand as regards nutrition.
Aside from advocating for a strengthened nutrition program to rehabilitate malnourished children, Santiago also urged the LCEs to support their nutrition workers in a series of seminars and training that will be conducted later this year.
NNC said the training aims to recognize the LGU as primary implementor and as such should increase number of community-based workers, improve their capacities, equip them with logistics and support them with mentoring supervision.
Samar is considered a Priority Two province in the AHMP Priority Area as based on surveys conducted by NSO.
President Gloria Macapagal Arroyo mandated Executive Order 616, creating the Anti-Hunger Task Force composed of national government agencies to implement the component programs of AHMP.
Although the Regional Task Force has started implementing the component programs of the AHMP, it has failed to correlate how the accomplishments translated to a better nutritional status for Samar children.
Bontoc ALS program is regional entry for National Literacy Awards
By BONG PEDALINO (PIA Southern Leyte)
August 23, 2008
BONTOC, Southern Leyte – This municipality received Wednesday night at the Department of Education (DepEd) Regional Office in Tacloban City its award for being the regional winner in the category of local government units (LGUs) that have functional and existing Alternative Learning System (ALS) program.
In a long-distance interview Wednesday shortly before he left for Tacloban, Bontoc Mayor Pedro Fustanes said that his town is the regional entry for the national level competition.
The awarding ceremony on Wednesday night, it was learned, was part of the activities marking the 33rd anniversary of the DepEd regional office, where the guest speaker was DepEd Secretary Jesli Lapus.
Mayor Fustanes said he learned that the province and the city LGUs would also get their corresponding awards in the same awarding ceremony but he did not know any details.
He revealed some salient highlights on why the municipal ALS program got the grade of 99% in the regional evaluation, saying that over the past five years the municipality had set aside an annual budget of over P200,000.
Part of the funds was used for the pay of trainers who would conduct livelihood skills training to organized women's groups in the barangays for the purpose of augmenting the family income.
The same source of fund was used for Gender and Development (GAD) activities of the local Department of Social Welfare and Development (DSWD) office, the same agency that handles the livelihood component of the ALS program.
A number of women have already learned skills in cooking and sewing and some of them had been employed outside the country already following the conduct of the trainings which were sanctioned by the Technical Education Skills and Development Authority (TESDA), Mayor Fustanes said.
The ALS skills trainings were purely an LGU initiative, aside from the regular TESDA-supported trainings on the Galing Masahista Ako and the Galing Mekaniko Ako, he added.
In the past five years that the ALS program has been underway, this was the first time it became an entry in the national awards, and the Mayor expressed high hopes it can hit its mark there at the national level during the awarding rites scheduled in September.
Leyte dads create council to protect Leyteño OFWs
By Philippine Information Agency (PIA 8)
August 23, 2008
TACLOBAN CITY, Leyte – In an unprecedented move to protect the welfare of Leyteño Overseas Workers, the Sangguniang Panlalawigan (SP) of Leyte approved in the third and final reading the Ordinance Creating a Provincial Council for the Protection and Welfare of Leyteño Overseas Filipino Workers (LOFWs), on Tuesday, August 19.

Board Member Carlo Loreto
Leyte Senior Board Member Carlo Loreto, the principal author of the ordinance, said that currently, tens of thousands of Leyteños are employed and working in various companies and establishments in the United States, Canada, South Korea, Middle East, Australia, and other countries. Many of them, however, are undocumented and will therefore, have to be profiled and assisted in every possible way for their own protection.
Loreto said the ordinance would be an instrument in effectively protecting the rights and promoting the welfare of LOFWs.
He added that with the help of Overseas Workers Welfare Administration (OWWA) and other partners, the Provincial Council created by the ordinance will cater to the needs of OFWs and their dependents.
"I had in mind parallel efforts with that of OWWA from our part at the provincial government to be undertaken, among other functions, by the Provincial Council for LOFWs Welfare. In the same way that the NBI and the PNP have parallel efforts to combat crime, we'll have a provincial council doing its mandated tasks which may effectively complement efforts of the OWWA and other national agencies," Loreto stressed.
"Considering the importance of the said ordinance to the welfare of LOFWs and their dependents, we are glad that this has finally been approved with finality," said Loreto, who has also authored several other landmark ordinances, among them: Anti-Illegal Logging and Timber Poaching Ordinance and the Gender and Development Code of Leyte.
The LOFW Ordinance creates a Provincial Council for the Protection and Welfare of LOFWs with specified functions and responsibilities. The Provincial Council created by this ordinance would be tasked, among others, to provide trainings on financial management and entrepreneurship for LOFWs and their families.
Board Member Loreto's idea is that LOFWs should be afforded every opportunity to develop meaningful opportunities back home for their immediate families, relatives, neighbors, and even barangays, by creating business enterprises which may start small but eventually blossom and provide employment opportunities for a great many people.
The approved ordinance also provides that the Council would be composed of the Provincial Governor of Leyte (chairman); OWWA Regional Director and SP chairman of the Committee on Women, Children, and Family Welfare (vice chairpersons);
The members of the Council are the following: Provincial DSWD Director-Leyte, Provincial National Movement of Young Legislators (NMYL) president; Philippine Councilors League-Leyte Chapter president; provincial legal officer, and Philippine National Police (PNP) provincial director;
Other members are the Provincial Mayor's League president; Provincial SK Federation President; Provincial ABC Federation president; provincial planning and development officer; and two members from the private sector to be appointed by the governor and confirmed by the provincial board.
Basey aims to beat own record for the longest mat (banig) woven
By NINFA B. QUIRANTE (PIA Samar)
August 21, 2008
CATBALOGAN CITY, Samar – The Local Government Unit (LGU) of Basey, (Samar) aims to beat its own record of stretching a 2.0 kilometer woven mat for Guinness Book of World Records during their town fiesta on September 28, 2008.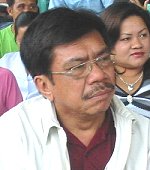 Mayor Didi Estorninos
This was bared by Mayor Wilfredo 'Didi' Estorninos in a talk with PIA, Samar on Tuesday.
Estorninos said that the last mat laid on display was in the year 2000 when hundred of community folks paraded a one-meter wide mat, claimed now as the world's longest mat.
The event was covered by giant network ABS-CBN along with Kabayan and incumbent Vice President Noli de Castro who was then an anchor of Magandang Gabi Bayan.
Weaving mats is Basey's prime industry, and has always been a top seller on trade fairs organized by the Department of Trade and Industry (DTI) be they held in SM Megamall or in Cebu and anywhere else in the country.
Basey aims to highlight the municipality's One-town-one-product (OTOP) mat weaving that gives livelihood to the barangays.
At the Adona's (known producer of mats) where mat displays adorn their home, mat weavers claim their mat throw pillows are used by Pinoy Big Brother.
Aside from trying to covet and set a new world record, Basey will also hold a float competition in a grand parade to feature floats with intricately designed mats from sedge grass locally known as tikog (Fimbristylis milliacea).
On August 11, 2008, during the Samar Day celebration, Basey LGU garnered first prize in the float competition made of colorful mats besting Hinabangan and Sta. Margarita.
Basey Fiesta will also feature a kuracha dance competition in groups, Mayor Estorninos added.
In addition the Sohoton-Bankathon Challenge will also be held where contestants in two will row their boats as in a relay race to terminate in Sito Rawis, Barangay Guirang. This is a total of ten kilometers, Mayor Didi bared.
Basey will be celebrating its 106th fiesta in honor of patron Saint Michael the Archangel come September 29. (with report from Ricky Bautista)
Some 1,184 indigents receive medical, dental services in People's Day of Catarman
By NENE A. MANZANARES (PIA Northern Samar)
August 19, 2008
CATARMAN, Northern Samar – They called it convergence. Observers said it was public service. Program "think tanks" dubbed it as "People's Day of Catarman".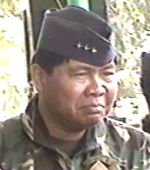 LtGen. Ike Inserto
But whatever title it carried, the recently conducted two day medical and dental services at Barangay Baybay in Catarman was a product of dedicated service as the Central Command of the Armed Forces of the Philippines, the 803rd Infantry Brigade, Philippine Army and the Philippine Charity Sweepstakes in coordination with the provincial government and the municipality of Catarman joined hands to serve the needy of the four barangays of Airport Village, Talisay, Abad Santos and Baybay.
According to Lt. Col. Ernesto M. Simon of the 803rd Brigade, there were 932 patients who got medical attention, while 252 beneficiaries got dental services. In his report, Simon said that while the actual conduct of the medical and dental services were done in Barangay Baybay, the recipients of the program came from the nearby three other barangays.
Lt. General Pedro Ike I. Inserto was guest of honor and speaker during the opening ceremony which was attended by Vice-Governor Antonio P. Lucero, Catarman Mayor Alita E. Rosales and Col. Eduardo D. Del Rosario, commanding officer of the 803rd Infantry Brigade. It was likewise attended by Brgy. chair Mila Edria of Brgy. Baybay, Brgy. Chair Yolanda Talavera of Brgy. Airport Village, Brgy. chair Pilar Adriasola of Brgy. Talisay and Brgy. chair Luiz Marino of Brgy. Abad Santos. Baranagy health workers and school teachers of Brgy. Baybay Elementary School supported the noble undertaking by witnessing the opening program and by suspending their school classes to make way for the conduct of the two day "People's Day of Catarman".
In his message, Lt. General Inserto who initiated the activity acknowledged the role of PCSO-Cebu regional director William Medici, a kindhearted Catarmananon who made possible the release of P75,000 for the purchase of medicines.
The "People's Day of Catarman" has been conceptualized by Inserto who integrated this in one of the flagship programs of the Central Command of the Armed Forces of the Philippines.
Simon also reported that during the closing ceremonies, both the military led by Lt. Col. Lucino E. Astrero, brigade executive officer who represented the 803rd brigade commander and the barangay captains of the four barangays expressed their gratitude for the cooperation extended by both the military and civilian groups. Active support was provided by the Barangay officials, barangay health workers and the barangay tanods.
Special thanks were extended to the medcap volunteers from the Provincial Health Office headed by Dr. Alejandro Lucban and the Municipal Health Office led by Dr. Myrna Trongcoso.
PNP Catbalogan readies to transfer to new building
By NINFA B. QUIRANTE (PIA Samar)
August 19, 2008
CATBALOGAN CITY, Samar – Very soon, the Philippine National Police (PNP) Catbalogan City Police Station would be transferring to a brand new building worth P4.5 million.

The all new P4.5M Catbalogan City police station building.
In a PIA interview with Catbalogan City police Chief Ramil Ramirez Monday, the officer said that the building lacks the accordion door and it is only what is needed for them to transfer.
Ramirez said they hope to transfer this last week of August when the accordion door is installed.
The PNP temporarily occupied some market stalls at the Catbalogan City Public Market as the new building was undergoing construction in the so called 'Barracks" area of the city.
With the coming fiesta on August 24, PNP is confident that it would be able to handle security as it is now a 100-pax strong force, Ramirez added.
PNP financed the construction but Ramirez was quick to underscore the City LGU's contribution of more or less P200,000 for furniture, fixtures and the panaflex signboard the building has.
To this, he graciously thanked City mayor Coefredo Uy who has supported his unit in providing patrol cars for the city police force.
Meanwhile in the PNP General Headquarters in Camp Crame, 359 modern vehicles were inaugurated to be deployed to the field units all over the country, the procurement of the vehicles is said to be part of the P10B Modernization fund promised by President Gloria Macapagal-Arroyo.
Sen. Estrada gives P5M to Leyte hospital improvement
By Provincial Media Relations Center (PMRC Leyte)
August 19, 2008
TACLOBAN CITY, Leyte – In his recent visit to Tanauan, Leyte to witness the town's Pasaka Festival, Senator Jinggoy Estrada has assured a financial support in the amount of P5 million to be given to Leyte province for the latter to build another hospital facility or improve its existing one.
The P5 million would be coming from Sen. Estrada's Countrywide Development Fund (CDF).
It was learned the senator himself asked his Ateneo high-school classmate now Leyte Governor Carlos Jericho Petilla on what project he may be able to contribute to the province.
Gov. Petilla readily cited the province presently needs more health facilities to accommodate local patients.
Thus the P5 million promised amount is eyed to be used to fund a new Out Patient Department Building at the Leyte Provincial Hospital (LPH) at the Government Center. The LPH is being run by the provincial government of Leyte.
The new building, if finally would push through, is being aimed to decongest patients at the Leyte Provincial Hospital, particularly those that concerns out-patients or just simple physical check-ups.
According to Gov. Petilla, donations or help such as this is always a welcome respite for the hospitals under the province which is currently managing to stand on its own whose operational expenses are being covered by one-third of the province's whole annual budget.
The Leyte Provincial Hospital is a secondary level medical hospital that caters to the patients and medical needs of the people from Tacloban, Palo and nearby municipalities of the province.
It is a public hospital among several other district hospitals under the provincial government of Leyte.
12th Samar Day conjures political figures, the religious, men in uniform and ordinary Samarnons
By NINFA B. QUIRANTE (PIA Samar)
August 15, 2008
CATBALOGAN CITY, Samar – In the tradition of Samar Day commemoration, Governor Milagrosa Tan was able to gather political figures, LCEs, the religious and ordinary Samarnons in a day of celebrating the 12th Samar Day event.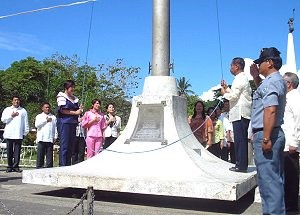 The commemoration was highlighted with the flag raising ceremony led by Samar Governor Milagrosa Tan, Vice-governor Jesus Redaja and Congresswoman Sharee Ann Tan.
The day, August 11, 2008, started with a mass concelebrated by five priests from the two parishes in Catbalogan City.
It was followed by a flag-raising ceremony attended by Gov. Tan, Rep Sharee Ann Tan, Vice Governor Jesus Redaja and at least 80% of the Board Members from the first ad second districts.
The Samar mayors that included Calbayog City Mayor Mel Senen Sarmiento, himself a birthday celebrator met their fellow LCEs at the WESAMAR building where the provincial government hosted a sumptuous luncheon.
Barangay folks too swarmed the capitol for a taste of a grand raffle draw where cash as high as twenty thousand pesos and goodies from rice to grocery items abound. A sofa set, mountain bikes and electric fans also were for grabs.
Rep. Sharee Ann Tan distributed scholarship and livelihood skills training certificates to some 400 beneficiaries as in make up and hair styling, manicure and pedicure, fish and meat processing, motorcycle repair, health massage therapy and Auto Computer Assisted Drawing and Design (Auto-CAD).
She also gave out certificates for some 25 Botika ng Barangay (BnB) operators whose training she sponsored. With Department of Health (DOH) Regional Director Teogenes Baluma, she also distributed boxes of medicines worth P25,000 each for sale to barangay folks.
A week earlier, nightly concerts, medical-dental missions, cataract operations, supplemental feeding and Gov Tan's unstoppable rice giving has stirred this capital town into a frenzy of activities.
On August 11, the grand parade and float competition drew out a mammoth crowd which stayed on despite the power outage and the heavy rains that prevailed in the afternoon.
Winners to the Mutya han Samar quest paraded in grandeur in the major thoroughfares of the city of the Samar capital.
Although, the elder Tan was unable to deliver her Samar Day message, Rep. Tan summarized her mom's sentiments which said that her mom is very happy that this 12th Samar has brought all the forces of Samar together to mark a historic event and conjure plan out for the development of the province.
Provincial chief taps DepEd to boost food production
By BRYAN M. AZURA
August 15, 2008
BORONGAN CITY, Eastern Samar – Gov. Ben P. Evardone, seeing the potential of the workforce of the public schools in the province, forged a partnership with the Department of Education Eastern Samar Division through Gulayan sa Paaralan program to further boost food production in the province in a meeting with division officials and district heads at the Capitol Conference Hall, this city.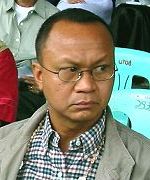 Gov. Ben Evardone
The program, initiated to let the schools come up with vegetable gardens through the students and even parents and guardians, is a brainchild of DepEd and is being adopted by the province to sustain the program.
"We want to inculcate the value of food production not only to the students and employees but more importantly and generally to every ordinary Eastern Samareño," Evardone addressed the more than 60 education officials from all over the province.
"We are facing a problem on food," Evardone continued. The governor said that supply is decreasing but the demand (on food) is increasing.
In the latest census of the National Statistics Office (NSO), population in Eastern Samar has skyrocketed to more than 420,000 from 375,000 in 2001 NSO report. "That increase of population is a substantial number of mouths to feed already," the provincial chief added, "and if we will not do something about it, then we are in for greater problems."
"That is why we have come out with initiatives on food production," Evardone said. The governor is thankful the DepEd is supportive to the said program.
Initially, the province will be providing the planting materials which include seedlings, fertilizers and other planting equipment necessary to start gardens inside the school premises. The Office of the Provincial Agricultural Services (OPAS) will be closely involved in the implementation of the program.
Jesus Agda, the provincial agriculturist, advised the school heads to plant nutritional vegetables and not the easy to plant ones but not nutrition-rich.
Edukasyong Pantahanan at Pangkabuhayan (EPP) teachers who were present in the meeting said they are thankful the province is providing them with necessary materials as they are basically having a hard time producing vegetables and fruit-bearing plants in their schools.
Governor Evardone meanwhile said to the participants that he personally is bent on sustaining the program. "This is not just a one-time program and will stop after sometime but we will sustain this," he said.
Meanwhile, the education people are asked to provide the province some important data such as the number of hectares available for project's use, materials and the kind of seed or plant that will be planted in their respective schools.
"As much as possible, we want to procure all the necessary materials the soonest possible time so we can plant before the month of September ends or before the rainy season begins," Evardone said.
Senator Pia Cayetano opens RP's first human milk bank in Makati
Press Release
By Office of Senator Pia Cayetano
August 15, 2008
PASAY CITY, Philippines – Senator Pia S. Cayetano led the launching of the country's very first community milk bank in Makati City Thursday as part of efforts to raise public awareness to revive the dying practice of breastfeeding.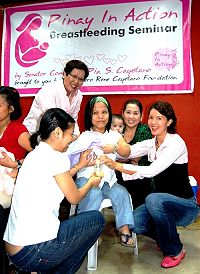 Senator Pia Cayetano and volunteers help 26-year-old Maricris Capote express milk using a manual breast pump at the launching of a community milk bank in Makati City.
Some 200 mothers all over Makati showed up at the Guadalupe Nuevo Barangay Hall to donate at least five ounces of breastmilk.
The community milk bank is a project of the Compañero Rene Cayetano Foundation, named after Senator Pia's late father, in coordination with the Makati City health department and Makati Representative Abigail Binay.
Medela, a supplier of post-natal care equipment, donated 10 manual breast pumps for the activity worth P1,800 each.
The launching was timed with "World Breastfeeding Month" which is celebrated in August.
Maricris Capote, a 26-year-old mother from Barangay Pembo, stood out among the mother-donors who lined up to express milk using a manual breast pump for at least 15 minutes.
Capote, who came with her eight-month-old son Iazethn and mother Virgie, stands barely three feet tall.
Cayetano took notice of her and even assisted Capote in expressing her milk.
"The idea [of this project] is to tell moms who are breastfeeding to take it a step forward, to help other moms who cannot immediately breastfeed," Cayetano, chairperson of the Senate Committee on Health and Demography, told reporters in an interview.
The milk collected from each mother was stored in a sterilized container, transferred to a cooler and sent to the Dr. Jose Fabella Memorial Hospital in Sta. Cruz, Manila.
The hospital maintains a milk bank which has a pasteurizing equipment and three freezers that can preserve the milk for up to six months. The milk will be given to newborn babies who are too weak to suck due to prematurity or congenital diseases, as well as babies whose mothers could not immediately breastfeed because of complications such as hypertension or diabetes.
The setting up of human milk banks in hospitals providing maternity services is one of the highlights of Cayetano's Senate Bill 1698, also known as the "Expanded Breastfeeding Act," which has passed third reading in the Senate.
The bill also encourages the establishment of lactation stations in public places and private and government offices to allow mothers to continue breastfeeding once they return to work after giving birth.