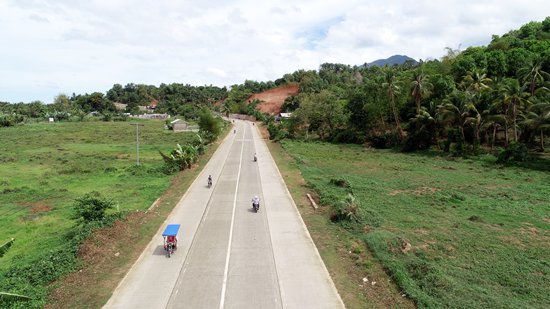 The completed road widening project at Brgy. Sabang Section, Naval, Biliran provides a wider lane for safer, faster and convenient passage of the traveling public as well as transport of goods and services to market centers. This is also an access road in going to several Tourist destination of the Island and to the only Provincial Hospital and Port of the Province. The completed project will serve 5 Municipalities and 33 Barangays.
DPWH-Biliran DEO gets P1.276B based on approved 2019 budget
By DPWH Biliran
May 24, 2019
NAVAL, Biliran – The Department of Public Works and Highways (DPWH) -Biliran District Engineering Office (DEO) receives an additional budget based on the approved General Appropriations Bill (GAB) of 2019.
The district office gets a total of P1.276B for 2019 project implementation from only P813.9M budget allocation based on the National Expenditure Program (NEP). This excludes the construction of P80M Caraycaray Bridge and P50M Catmon Bridge to be implemented by the DPWH Regional Office.
David P. Adongay Jr., District Engineer said that under asset preservation program, Biliran DEO will be implementing asphalt overlays, road rehabilitation, slope protections and drainage projects amounting to P351.518M.
"Projects under asset preservation program will earn the government savings in rehabilitating damaged pavement in the future," said Adongay.
Adongay added that the district office will also undertake the rehabilitation of Mainit and Talibong Bridges along BCR and the Construction of new Macalpe Bridge along Naval-Caibiran Cross Country Road (NCCCR) amounting to P55M under the Bridge Program.
Meanwhile a total of P110M is allotted for the construction of bypass road in Almeria town, road widening project in Biliran town and Off-carriageway improvements along Biliran Circumferential Road (BCR), all under network development program.
A total of P305.6M is also allotted for the construction of 13 flood control projects along BCR and Maripipi Circumferential Road under the Flood Management Program.
Under the Convergence and Special Support Program, the district office will implement the construction/ improvement of access road leading to Kawayan port in Kawayan town with an allocation amount of P13M and a total of P70M for the construction of three access roads leading to tourism sites in convergence with the Department of Tourism (DOT) and a total ofP106.972M for the construction of six access road projects leading to trades, industries and economic zones in convergence with the Department of Trade and Industry (DTI).
Moreover, 55 projects are to be implemented under Local Infrastructure Program (LIP) amounting to P264.260M. These includes the construction of local roads and bridges, flood controls and drainages and multi-purpose buildings.
Adongay said that the additional allocation for 23 projects under LIP and three projects under convergence and special support program are now being advertised and waiting to be bid out.